11 of the Best Marketplaces to Find an Online Business For Sale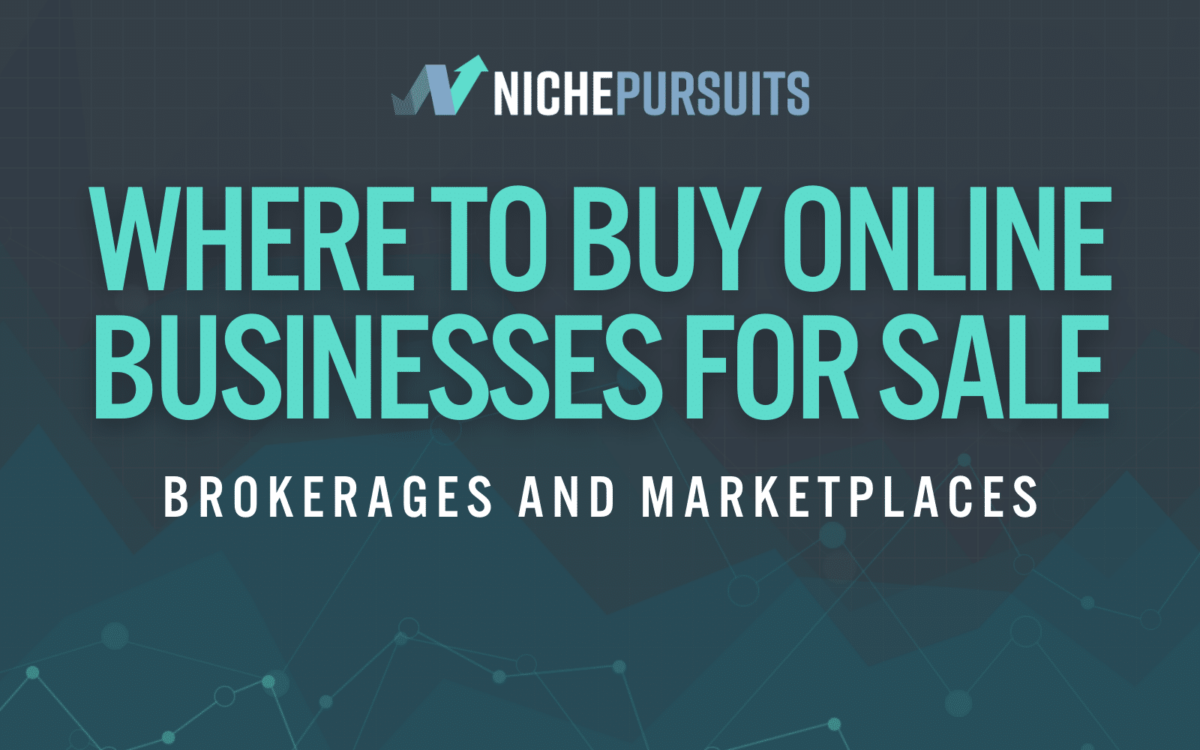 When you buy something through one of the links on our site, we may earn an affiliate commission.
Where can you find an online business for sale? Online businesses are booming and growing at an alarming rate. That means that there are now more opportunities to buy an internet business than ever before.
There are many ways to go about buying legitimate businesses, and the process can be daunting at first. Working with professionals is often the best way to go about it, particularly if it's your first time and especially if it's a high-priced site like a growing e-commerce business.
Here are 11 sites where you can buy online businesses for sale, from brokerages to business listings on online marketplaces!
Types Of Online Businesses You Can Buy
Looking for an online business for sale? Do you know what type of business opportunities are available? We will try to answer some questions you may have so that you can find the right business for you.
Here are some of the most common types of profitable internet businesses you can buy on the sites shared below.
More often than not, a website will have multiple ways of generating revenue. It's not uncommon for an affiliate site to also have ads running, for example. It depends on the business model. However, one or another method is usually the primary source of money.
Affiliate sites – These online businesses are very popular. Affiliate sites often service a niche market and generate revenue by linking to products in content that visitors can purchase. A commission is earned when a sale is made.
Ecommerce – This is a huge market and ranges from Amazon FBA to Shopify stores. Essentially this is a website selling a product and taking care of fulfillment. Some affiliate sites also have an e-commerce element to them.
SaaS – A SaaS business offers Software as a Service. Members pay a regular subscription fee to gain access to a digital tool or software.
Apps – There are tens of thousands of apps available in the Apple and Google app stores, and some of them are for sale. They relate to every topic imaginable and may or may not be making any money.
Advertising – Advertising is a common method of monetization for niche sites and other online properties. This is often mixed with affiliate or e-commerce methods of monetization.
Lead Generation – Lead generation companies help other businesses gain qualified leads.
Subscription – Besides Saas products, there are other types of subscription services. Online courses and newsletters are just two examples.
Where To Buy Online Businesses For Sale
You can buy online businesses listed in many different ways:
On a marketplace – where there is little interaction from a third party
Through a broker – where everything is closely vetted, and you are led through the process
In a Facebook group – where there is even less oversight (essentially none)
And some companies that sell online businesses have a mixture of different ways they list sites for sale. Motion Invest, for example, sells sites that they personally own, as well as listing sites owned by others.
Where you buy will depend on how much you have to invest and your comfort level in buying digital assets. It will also depend on whether you want to buy a small or larger business.
We've got 11 different sites where you can buy an internet business – consider them all and decide which is best for you!
Motion Invest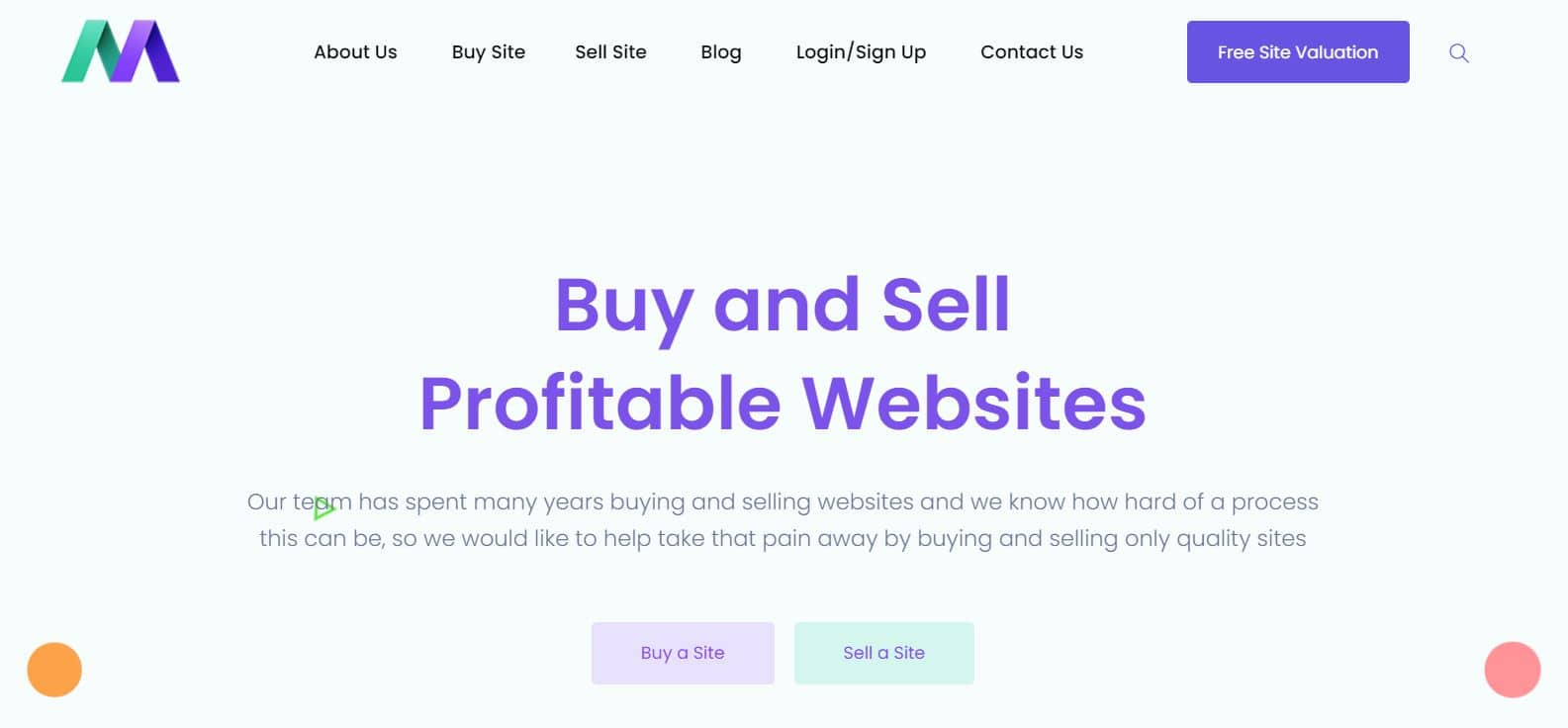 Motion Invest is a highly recommended place to buy websites! Though, full disclosure, the founder of Niche Pursuits, Spencer Haws, is one of the founders of this online business marketplace.
This platform was set up especially for buying and selling internet businesses quickly!
There are two different types of sites for sale on Motion Invest:
Marketplace listings – where anyone can list their site for sale (though fully vetted)
Portfolio listings – sites that have been purchased or built by Motion Invest and then listed for sale
On top of this, sites are sold by either:
Buy now – the price is listed, and you can buy it now
Submit an offer – make a fair offer
Dutch auction – price decreases $503 every 2 days until sold
From Motion Invest's 'About' page:
"We want to create a place for people who… want to buy a quality site that has long-standing experts in the space vetting and doing the due diligence on them. We offer a simple standardized process when… buying, and we make it easier, more efficient, and more reliable when buying and selling sites."
Price range: $5000 to $200K
Types of online businesses for sale: Mostly niche content websites monetized with affiliate offers and ads
VIEW SITES FOR SALE
Empire Flippers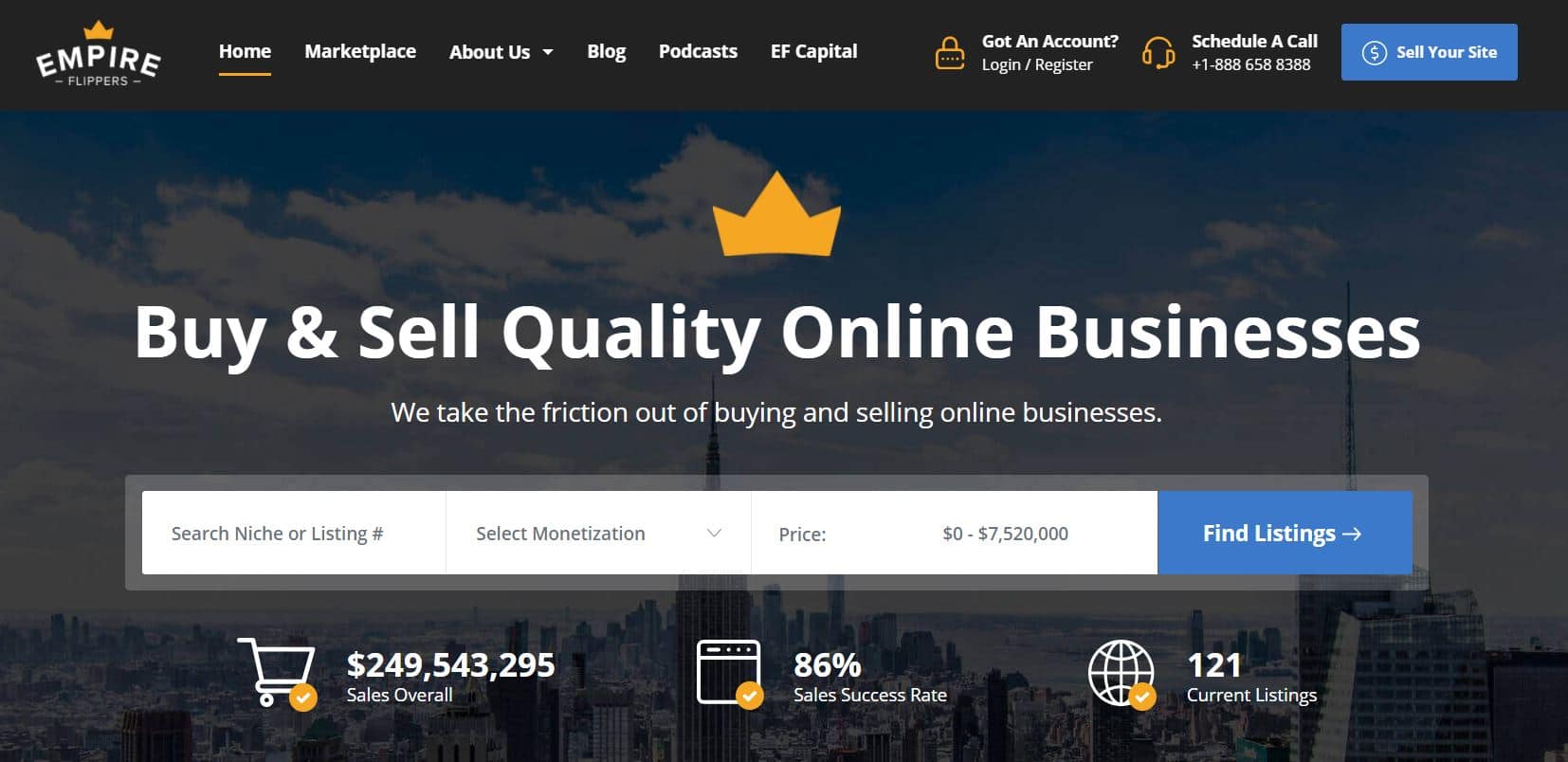 Empire Flippers are one of the major players when it comes to selling and buying online businesses.
They have a great site that is easy to navigate, and many listings which can be filtered in helpful ways.
The information displayed with listings is also very good. For example, you can easily see the pricing multiple, whether or not the seller is available for interviews, and the monthly net profit.
Empire Flippers goes through a vetting process with all listings, so you can be sure the details you received are legitimate. As with all online business purchases, you will still need to go through your own due diligence process.
Empire Flippers have been selling online businesses for many years now and are highly recommended. They have done over $250 million in sales, have around an 85% sales success rate, and usually have over 100 listings at a given time.
Price range: $20K to $10 million+
Types of online businesses for sale: Advertising, Affiliate, Dropshipping, E-commerce, Lead Gen, Software, SaaS, Subscription, Apps
VISIT EMPIRE FLIPPERS
FE International
Don't let the website design from the 1970s fool you; FE International means business.
This company is known for rigorously vetting the online businesses that they sell. They are very hands-on with the process, working closely with both the buyer and the seller.
They sell many types of online business, from content niche sites to SaaS companies. You will find listings at a range of price points, from $50K to the multiple millions. However, they specialize in the higher value range.
The team is extremely professional and will be there throughout the whole process.
Unlike most sites where you can buy online businesses, FE Internation charges a buyer's fee. You will need to pay 2.5% of the final sale price of the business, up to a maximum of $1,000.
Price range: $50K to $10 million+
Types of online businesses for sale: Advertising, Affiliate, E-commerce, Lead Generation, Software, SaaS, Subscription
VIEW SITES FOR SALE ON FEINTERNATIONAL
Flippa

Not to be confused with Empire Flippers, Flippa is one of the most used services for buying an online business.
This company is less hands-on when it comes to buying a site, and more due diligence is required from buyers. They are not online business brokers like FEI or Empire Flippers, but instead, provide a platform for buyers and sellers to meet.
You will find that you can buy sites from $1 to $1 million, but metrics and other details have not necessarily been vetted. When buying on Flippa, you will need to work out the transfer of finances and assets yourself.
There is no buyer's fee, but you can order a Due Diligence Report from them for $1000+. If you are seriously interested in a particular deal, this report is well worth the cost. The Due Diligence Report covers:
Seller analysis
Financial analysis
Traffic analysis
Sales and marketing analysis
Operations and legal analysis
Industry and competition analysis
Pricing analysis
Risk assessment and recommendations
You can find out a whole lot more in our extensive Flippa review.
Price range: $1 – $1 million+
Types of online businesses for sale: E-commerce sites, Content sites, Advertising, Affiliate, Dropshipping, SaaS
VIEW LISTINGS ON FLIPPA
Digital Exits

Digital Exits are website brokers for online businesses valued mostly in the $250K+ range.
All of their listings are fully vetted and presented in a prospectus that outlines revenue, expenses, traffic, and the story of the business.
Digital Exits can also help arrange or facilitate financing in order to buy one of their listings. This allows the seller to receive a cash payout and not require a structured payout of some form (preferred by most sellers).
They do not have a huge number of websites listed for sale at any given time, but you can get plenty of info on what's available.
Price range: $100K – $5 million+
Types of online businesses for sale: E-commerce sites, Content sites, Advertising, Affiliate, Dropshipping, SaaS
VIEW LISTINGS ON DIGITAL EXITS
Latona's
Latona's is another good online business brokerage.
The business is named after one of the co-founders, Rick Latona. They describe themselves as a 'boutique Mergers and Acquisitions broker specializing in cash flow positive digital assets.'
They only sell businesses with annual profits of at least $20,000 that have at least 1 year of positive trading. But, at any given time, they have a wide range of websites and other online businesses for sale.
You will find the likes of:
Online eCommerce Platform for Art
Boutique Watch eCommerce
Clothing and Accessories Subscription Business
Price range: $15K – $10 million+
Types of online businesses for sale: E-commerce sites, Content sites, Domain portfolios, Lead gen, Membership sites, Saas
FIND OUT MORE ABOUT LATONA'S
Exchange Marketplace

As stated above, Exchange is Shopify's marketplace to buy and sell e-commerce businesses.
This is solely a platform for buying and selling Shopify e-commerce sites. Shopify doesn't intervene in any deals in any way unless fraudulent behavior is detected.
While business details like sales numbers are not vetted manually, this is a marketplace for selling businesses built on the Shopify platform. Therefore, all the numbers are pulled from the Shopify account and are 'verified' in this way.
You are able to communicate with sellers through the Exchange platform, and using Escrow is recommended for making the financial transfer.
Quiet light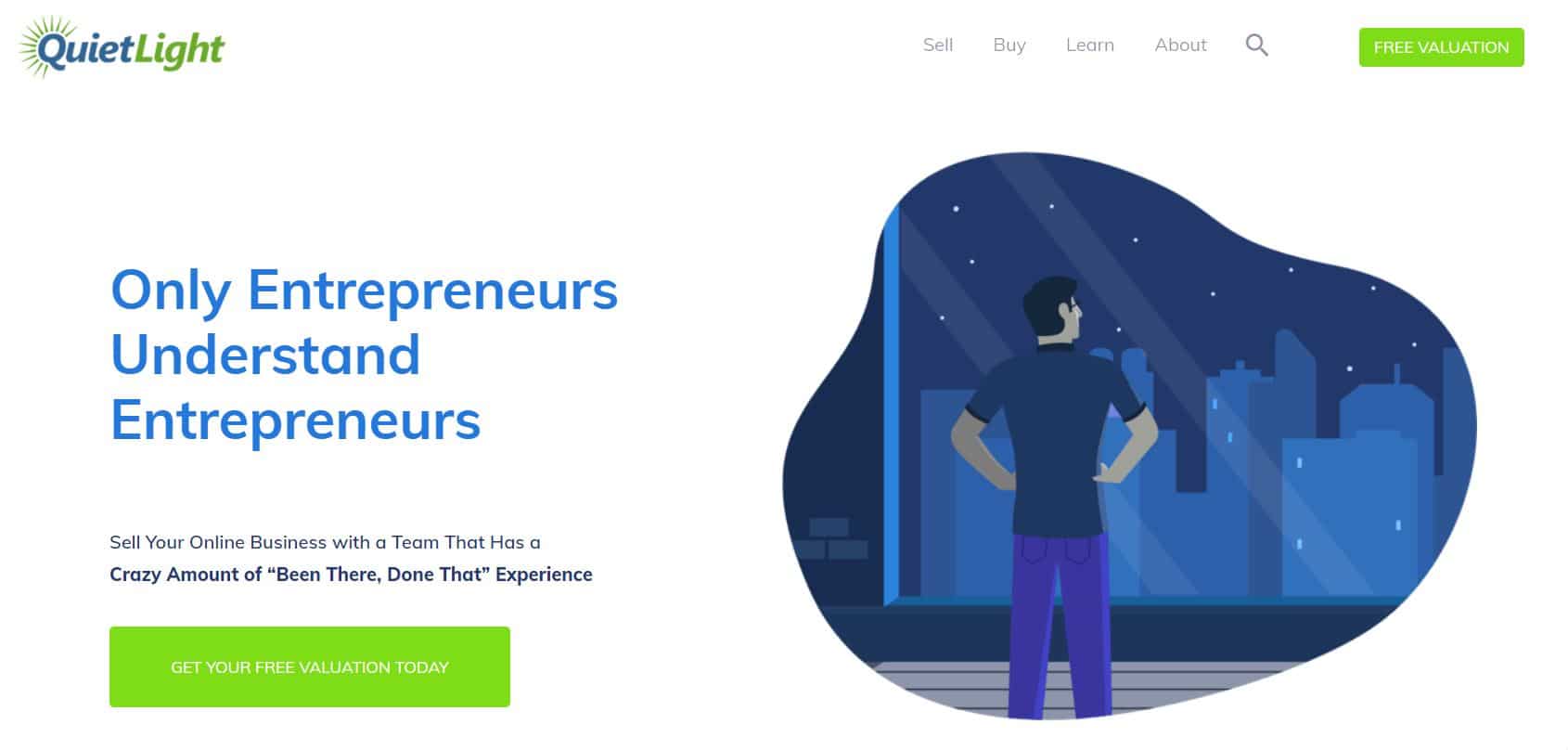 Quiet Light is an e-commerce and website brokerage. They will work alongside sellers and buyers to facilitate a deal.
Quiet Light has many experienced and knowledgeable advisors. Unlike many other brokers, they all have firsthand experience in buying, selling, and starting their own Internet-based businesses.
Their focus is on selling online businesses at higher price points. They want both buyers and sellers to walk away happy from a deal and strive to ensure this is the result.
Price range: $100K to $20 million+
Types of online businesses for sale: E-commerce sites, Crypto, Review sites, Saas, Subscription
VISIT QUIET LIGHT
Website Properties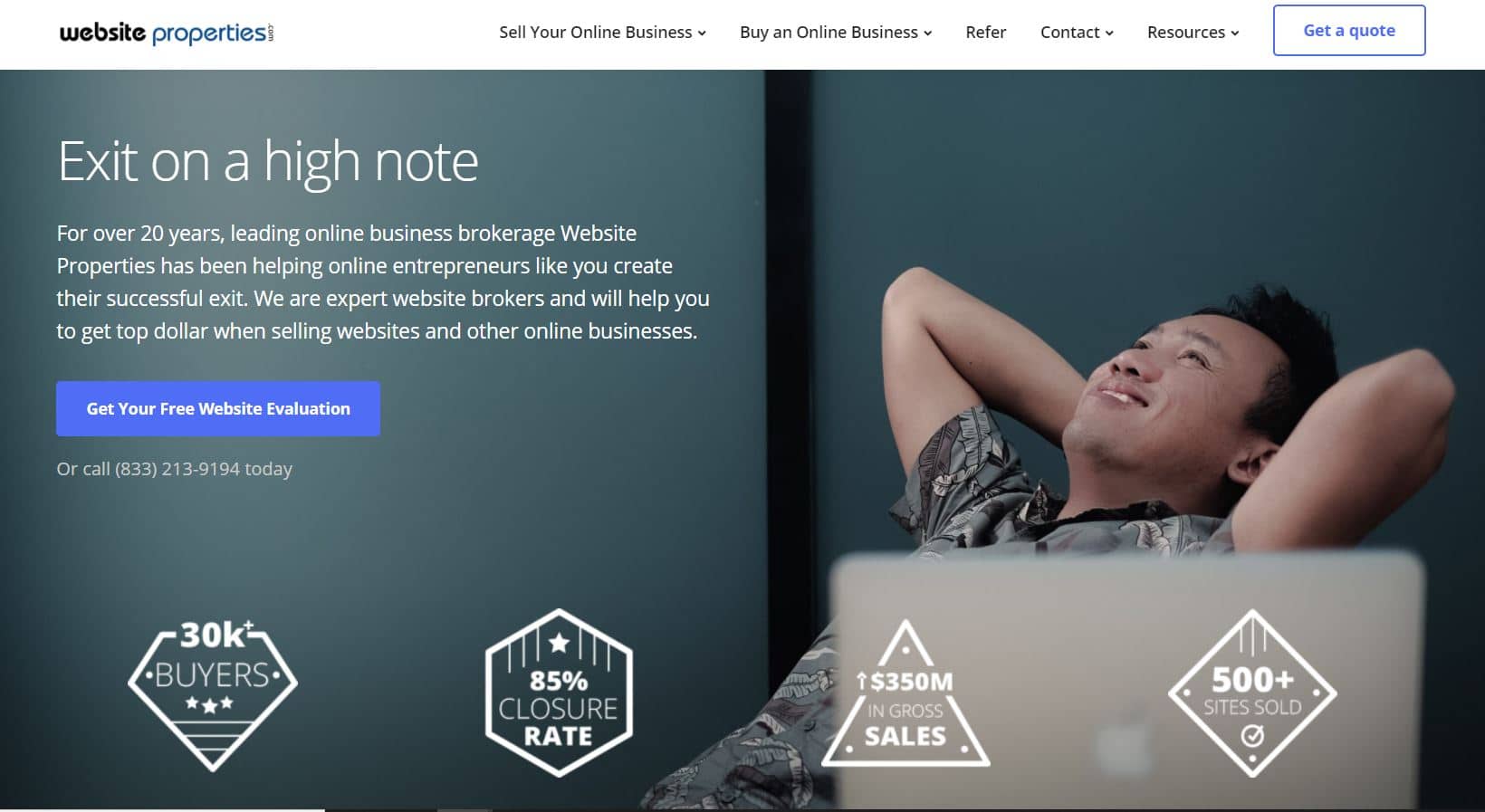 Website Properties are another website broker where you can buy digital assets.
They have sold well over 500 online businesses and have the experience needed to make buying a website smooth.
They fully vet all of the online businesses they list so that buyers are confident that what they see is what they get. The team will support both parties through the process to ensure that everyone is satisfied.
As stated in the screenshot above, they have:
an 85% sales rate
done more than $350 million in sales
sold more than 500 sites
It's another great spot to go to when you are looking for higher-value and higher-priced sites to buy.
Investors Club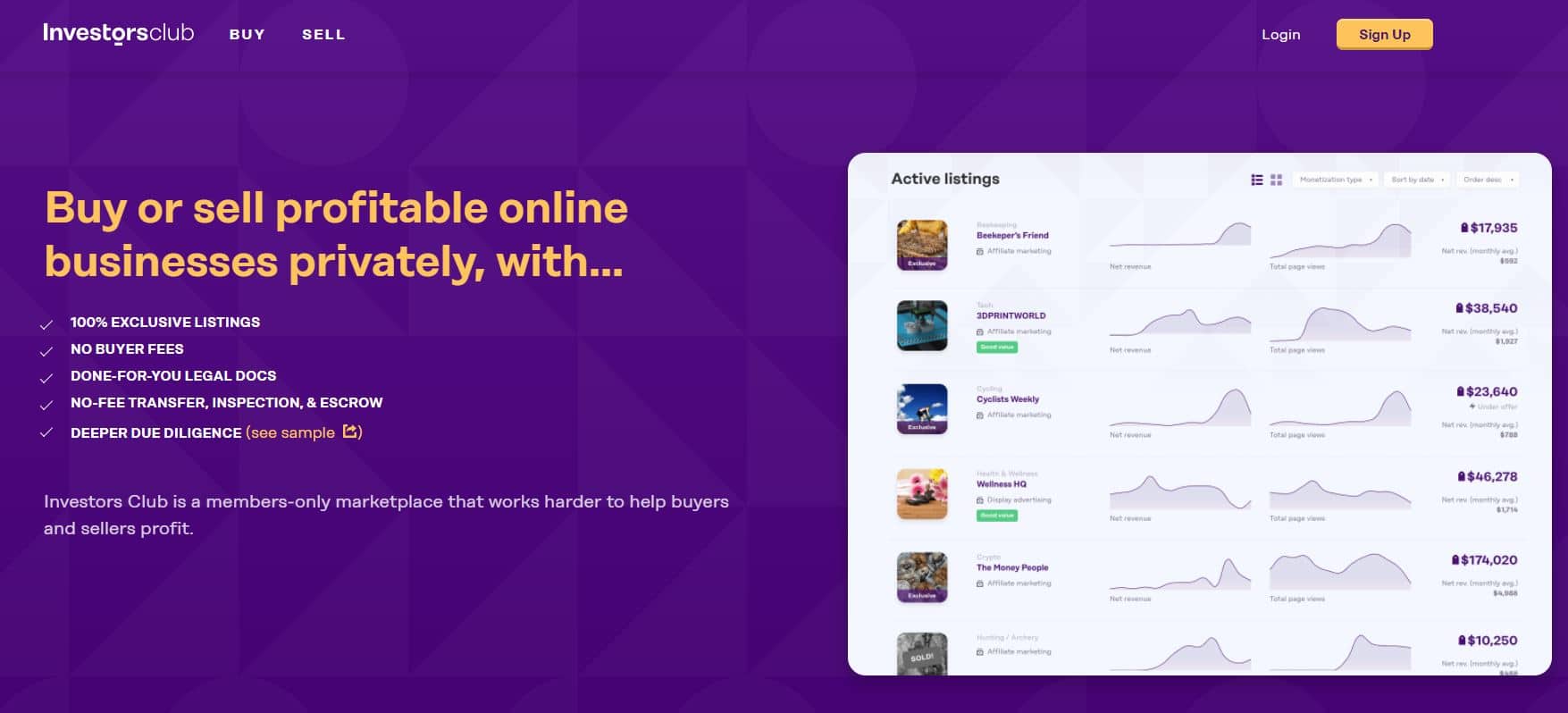 Investors Club is quite different from the other sites that list online businesses for sale.
As the name suggests, it's a club. You pay a yearly fee for membership and then get access to all the listings on the online marketplace.
Other features of this service include:
Exclusive listings
Extensive vetting/due diligence
Chat with sellers through the app
They handle the legal docs, site transfer, and there are no escrow fees.
Price range: $10 – $500K
Types of online businesses for sale: Mostly affiliate and display advertising sites
JOIN INVESTORS CLUB
Flipping Websites Facebook Group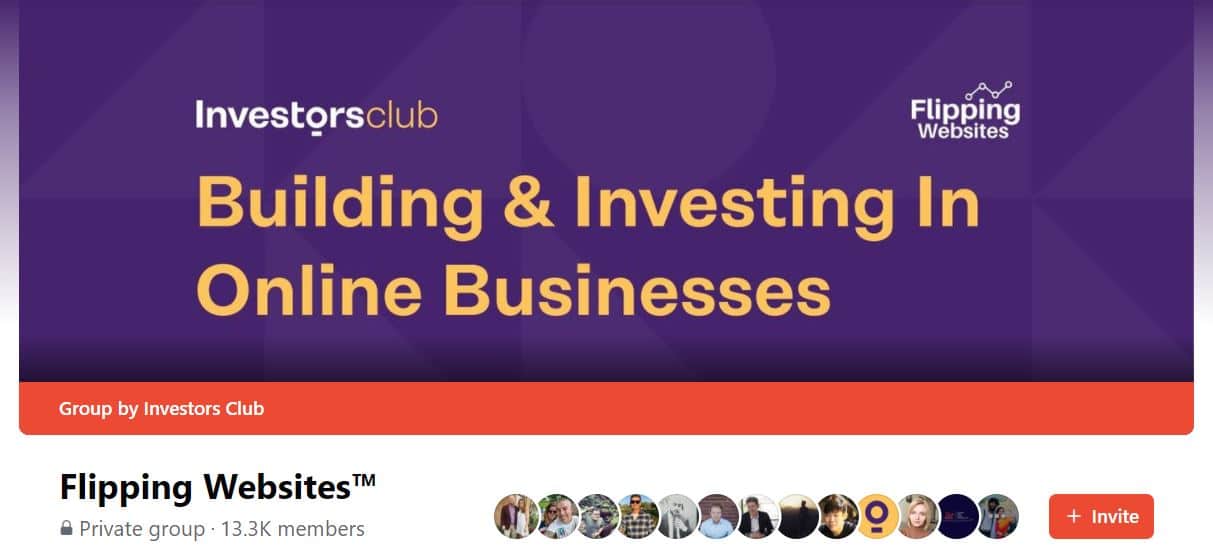 Flipping Websites is one of the many Facebook Groups where you can buy and sell online businesses.
Social media may not seem like the best place to buy an existing business, but this group is best for buying small sites making under $500 per month. However, you do see sites making more than this come up every now and again.
The group is run by Investors.club, but they are almost totally hands-off. Listings need to be approved before being posted, but that's about it.
You will need to do your own rigorous due diligence, especially if it's a site listed for a higher price.
Price range: $100 – $100K
Types of online businesses for sale: Mostly niche content sites monetized with affiliate offers
JOIN FLIPPING WEBSITES
How To Price an Online Business For Sale
Follow these steps when pricing an online business for sale.
Choose The Business Model
Firstly, choose a business model that fits in with your short and longer-term strategies. There are many different business models to choose from, including product-based, lead-generating businesses, full-service turnkey solutions, done-for-you advertising, subscription-based, and many more.
Evaluate the Essential Metrics
Evaluate the essential metrics to assess the health of the business. Look at the business' balance sheets and Profit and Loss statements. Then evaluate annual revenue and gross and net profits. These metrics determine the sustainability of the business.
Use the Correct Mode of Valuation
Valuating a business can be complicated. And each business is different. However, there are some common practices you can use.
For example, eCommerce business valuation is often done by multiplying the annual revenue by a factor of three. In the case of content sites or blogs, the value is usually determined by multiplying by a factor of six.
Fortunately, many online business marketplaces offer valuation tools you can use.
What to Consider When Looking for an Online Business for Sale
Not everyone is interested in building an internet business from scratch. And buying an established business can have many benefits. For example:
Established demand – the product or service would have already been market tested
Quicker cash flow – startup time is hugely reduced
Fewer unknowns
An established brand – with an established following
Access to the business' customer base
Possibly an established social media presence
Having said that, the business you buy should at least have a proven record of positive cash flow and (hopefully) huge growth potential!
Consider these factors when looking for an online business for sale.
Monthly Traffic
Traffic should come from a mix of organic, paid, direct, social media, and referral sources.
Use Google Analytics to verify the traffic sources. Backlinks are another important factor affecting ranking and, therefore, organic traffic. Make sure that the site has high-quality backlinks with a tool like Ahrefs.
Revenue Generation Potential
Unless you can see huge revenue growth potential, go for profitable online businesses. Have a look at monthly financial statements. That will give you a clear idea where the business is heading.
Examine Expenses
Firstly, make sure that expenses do not exceed the annual income. Then see that the existing owner is practicing sound spending habits and that the expected expenses such as website hosting, domain referrals, digital marketing, and SEO are covered.
It is also a good idea to look for "missing" expenses. These could include content creation, payment processor fees, integrations, and plugins.
Assess the Growth Potential
Obviously, avoid buying a business that has reached its peak and shows no further signs of growth potential.
There are ways to scale a stagnant business, though. Consider improving the conversion process, starting an aggressive social media marketing campaign, or expanding the services or products on offer.
Find Out Why the Online business is for Sale
It is important to find out why the business is for sale. These reasons may raise some red flags. Or you may decide that you have the ability and resources to overcome these obstacles.
Look at Customer Reviews
Find out how customers feel about the business. What are they unhappy with, and are these issues you would be able to address?
Conclusion: Online Business For Sale
So that's where to buy online businesses for sale!
Always make sure you seek out the right advice from a legal, accounting, and business perspective.
You can learn more about buying and investing in websites in the Investing.io community (requires paid membership). It's a place especially for those who are buying and selling online assets to get support, advice, and to grow together.
Other things to keep in mind when buying an online business:
Escrow fees
Will you have support to transfer the website into your care?
Will there be ongoing training and support after the sale?
There have been a number of stories about buying an online business from Motion Invest featured on the Niche Pursuits Podcast.
Check out these episodes to hear how others have bought and grown online assets:
Gaurav Dhir bought a site from Motion Invest, making $70 a month, and grew it to $6000 per month in well under a year
Yoyao Hsueh also bought a site that was making very little and quickly scaled it to multiple thousands per month
Aspiring entrepreneurs can also join the Niche Pursuits Facebook Group to learn more from a great online business community!
Want to learn step-by-step how I built my Niche Site Empire up to a full-time income?
Yes! I Love to Learn
Learn How I Built My Niche Site Empire to a Full-time Income
How to Pick the Right Keywords at the START, and avoid the losers
How to Scale and Outsource 90% of the Work, Allowing Your Empire to GROW Without You
How to Build a Site That Gets REAL TRAFFIC FROM GOOGLE (every. single. day.)
Subscribe to the Niche Pursuits Newsletter delivered with value 3X per week