17 Of The Best Website Brokers You Should Know About
When you buy something through one of the links on our site, we may earn an affiliate commission.
If you want to sell a website, you have two options: hire website brokers to do the legwork for you or do the work yourself. If you do it yourself, you'll have to identify someone interested in buying a business in your specialty. Then, you have to work out a deal and close the sale.
One thing is certain: whether you're buying or selling a website, you should do as much research on the subject as you can - regardless of whether you do it alone or use a broker. Buyers require a willing seller, and sellers need a willing buyer.
This article will discuss why you need a broker and give some great examples of good website brokers. Please continue reading to learn more about how a broker may assist you and our reviews of some of the top website brokers available.
What are Website Brokers?
Website brokers are individuals or businesses who act as a go-between for website buyers and sellers. They are typically hired to help smooth the selling process and obtain a fair price. In exchange for their services, they are paid a commission.
How Do Website Brokers Work?
Website brokers assess your site in all respects. They look at your traffic and how much is paid versus organic. They also determine how much competition there is in your niche and how much money you make. Plus, your search engine positioning, revenue streams, and your adaptability to market changes. Finally, they'll calculate how much your website is truly worth on the open market.
During the evaluation phase, a website broker will search for potential problems that may be limiting the value of your site or that may be rectified or changed to raise the site's value.
They have access to a database of qualified buyers in addition to their successful marketing strategies. Website brokers will present purchasers with bids within the website's predetermined value range. They will negotiate on behalf of the sellers to reach a final selling price and conclude the transaction through contract signing and website ownership transfer.
How Do I Choose A Website Broker?
Most website owners excel at creating, growing, and monetizing their sites. Finding a buyer, negotiating a deal that maximizes the sale price, and dealing with legal agreements are frequently afterthoughts. Make sure you choose the right fit for you and do some research.
A good broker should pay for themselves by:
Increasing the sale price
Avoiding the expense of a lawyer or *escrow service, or having a connection to one at a reduced rate
Preventing you from making a bad emotional decision
Saving you a lot of time - which is worth money.
*escrow - A legal arrangement in which a third party holds money or property until a specific condition is met (such as the fulfillment of a purchase agreement)
Your broker must assist you with the migration process, ensuring that you are not taken advantage of and that the buyer is satisfied with the deal, depending on their level of involvement.
Not all brokers will assist you with legal paperwork. It can be difficult to figure out the legal aspects on your own, so make sure you have a reliable broker to help you. If this is a service you need, make sure you choose a website broker who provides this level of service.
Our Choice of the Best Website Brokers
Motion Invest
Motion Invest is the best option for excellent content sites under $30,000.
They are set up as a Dutch auction marketplace, meaning that the price on the site is reduced by $275 every two days until it receives a bid or reaches the reserve amount. The first bid received is the winning bid and will be awarded the asset.
This is a one-of-a-kind model because it allows online listings to reach stable pricing over time. Some purchasers may need to "wait it out" to see whether the price reduces before committing to the buy.
How long does it take to sell a site? Have a look at some Motion Invest statistics. And find out about the Motion Invest listing bonus.
Pros
Access to lower-cost content websites – prices are beginner-friendly
Reasonable market values
SEMRush, Google Analytics, earnings screenshots, and SiteBuddy.io reports if the website is Amazon monetized
Cons
All members have access to website URLs, so the new site owner may face copycats
---
Empire Flippers
Empire Flippers can help you if you have a medium to large website. They began over a decade ago in 2011 as "AdSense Flippers" and have since achieved well over 400 million in sales overall. They have a claimed success rate of 79%.
By far, the most vetted private marketplace is Empire Flippers. They perform preliminary sales screening to confirm that the traffic, profit and loss, and seller intent, among other things, are correct. You must still assess the contract to ensure that it meets your requirements.
Most of their transaction flow is $100,000 plus, and they feature content sites, e-commerce, and SaaS businesses. Every Monday at 10 a.m. USA Pacific Standard Time (PST), Empire Flippers sends out assets for sale. You must first join up on their website to gain access to these emails.
They also produce outstanding quarterly reports that summarize their business and the website brokers industry.
Pros
Excellent track record
Verified deal flow
Transactions are not made public unless evidence of cash is provided
The buyer is given a due diligence period to check assets
Cons
Only for buyers with huge budgets – they have no lower-valued deal flow
Broker fees of 15% on transactions up to $700,000, with a sliding scale down to 2.5% charged to the seller
High valuations often above market norms may be used to drive fees up
Empire Flippers have a great reputation, and you get help with every step of the sales process.
---
Flippa
Flippa is the largest marketplace for websites for sale. Deals can be for up to $7 million. But because the listings have not been reviewed, you must verify everything.
Flippa is a marketplace where buyers and sellers can post and discover small websites. Though they do provide a broker service, they are primarily a marketplace.
Flippa is massive, but there are high-grade assets to be found on their platform, as well as a large number of genuine purchasers. Because it is such a huge source of deal flow, many other website brokers sell on their marketplace. Though they provide less assistance than others on our list, they do include some important features, such as a connection with an escrow provider and an NDA function. And the information they provide for free can even be a helpful resource to help you find your blog niche for your next project.
You can use an auction system or simply list with an asking price. You'll get a variety of packages that include services such as homepage marketing, newsletter features, etc.
However, nearly all sales are negotiated. This is a good choice if your website isn't hitting the profit targets set by other website brokers. You may think it's the low-cost choice for selling, but depending on the sale price, their added fees can eat into what you take home.
Flippa success fees are:
10% for businesses sold for less than $50,000
7.5 percent for businesses sold for $50,000 to $100,000
5% for businesses sold for more than $100,000.
And the success fee for businesses sold through Flippa's Partner Broker service is 15%.
Pros
Can be a good option for small websites
You can see past trades between buyers and sellers and some reviews
Cons
Many time wasters
Less anonymity than other platforms
Additional service fees can build-up
Their exclusivity clauses are quite stringent – even if you cancel your listing, you can't list with anyone else for another 90 days
Read this Flippa review to find out more about the platform.
---
Digital Exits
Robert Kale founded Digital Exits back in 2013. But before starting this company, he established a digital marketing business and sold it a few years later. He has first-hand experience - as a website broker, this is invaluable.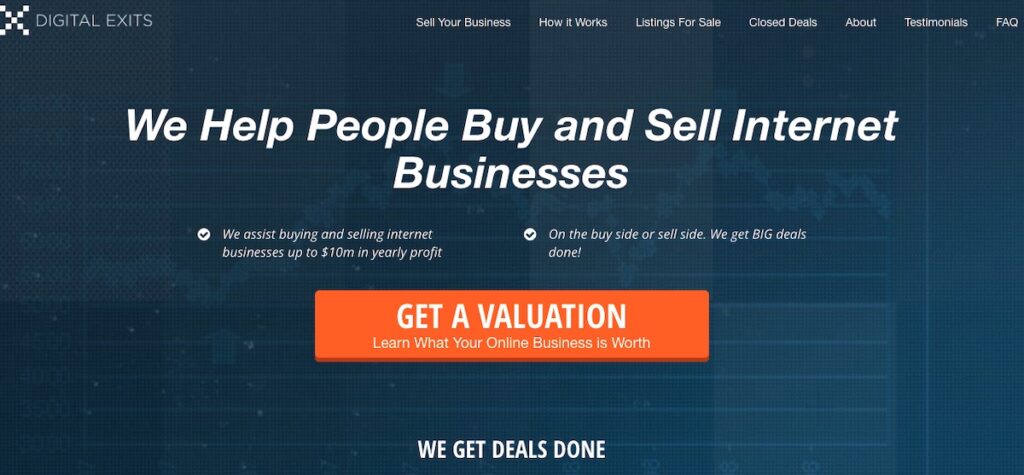 Digital Exits is a boutique brokerage company – it's small, and you'll get great service from them. Their listings vary, so check them often, and you'll see digital services businesses, eCommerce, in-person IT services, commercial cleaning, etc.
The company's sole broker is its creator. Because their attention is divided across multiple projects, yours may not receive their complete attention. When it comes to single-broker firms, this can be a concern. These do not always have the resources necessary to meet deadlines, obtain the cheapest pricing, and so on.
However, we have discovered that Digital Exits is more than competent in handling its large number of clients. Its broker relies on knowledge and expertise to close deals.
Pros
Boutique service
Very private
Reasonable 10% commission
Serious buyers
Cons
A net profit of at least $250,000 per year is required
Collaborates with a diverse range of businesses
---
Digital Point Forum
Digital Point Forum isn't exactly a broker. This marketplace is a bit of a relic regarding selling websites, but it deserves mention.
Remember, with this one, you're basically on your own. You can expect some deal flow as a broker service, but that's about all you'll get. This is essentially a website classifieds site with no minimum requirements.
Pros
It costs you nothing to list
You won't have to pay them a commission
Cons
Plenty of timewasters and scam artists pretend to be interested
A small pool of serious buyers
No help with asset purchase agreements or escrow
If you can't (for some reason or another) list with some of the more reputable website brokers on our list, Digital Point Forum might be worth your time.
---
DotMarket
Multiples (a valuation theory based on the assumption that identical assets sell at comparable prices) for non-English properties have typically been substantially smaller, owing to fewer buyers. DotMarket fills a significant vacuum in the market. Their primary goal is to assist website owners in the European market in selling their websites.
Right now, it's evident that France is where most of their connections are, so you'll mainly find sites in French. But this will probably change dramatically in the coming years as news spreads.
Pros
Operates in French, may be able to assist EU-focused web enterprises
Claims 95% sales success rate after 40 days
Reasonable 10% commission
Assists with site preparation
Cons
Limited inventory
Significantly lower multiples than English brokers and markets
---
Exchange Marketplace
If you like Shopify, Exchange is a terrific alternative for you. Use the power of this marketplace, which Shopify brings to you - whether you want to purchase or sell a Shopify-powered website. It has different business listings, including industry type, sales channel, business type, location, and more. You can also look through several established firms.
Use Exchange to establish a private or public listing for your Shopify store. You can choose to hide your company's URL and name until it sells. Don't be concerned about transactions because it offers a secure and safe transaction method via anonymous chat and an escrow agreement ( a contract that specifies the terms and conditions of the parties involved, as well as their respective responsibilities.)
To simplify life, Exchange employees will produce a list of the best hand-picked firms to assist you in identifying the online business that is right for you. This marketplace provides a free valuation tool and a secure messaging network where sellers and buyers may exchange business terms, discuss future potential, and learn about the business history.
Pros
Shopify-owned
User-friendly UI (User Interface)
Simple purchasing and selling process
Anonymous messaging between buyers and sellers
Safe Payments via your escrow agreement
Cons
Works only with Shopify eCommerce sites
---
FE International
FE International also highlights the advantages of owning specific firms. Use their valuation tool to estimate the value of your website when you're ready to sell. You'll get comprehensive documentation such as market trends, opportunities, and financial performance. Armed with the correct information, you'll be able to decide on the business you're interested in pretty quickly.
FE International provides advisory services to investors who want to sell or buy an online business. You will get simple access to select pre-qualified and established investors.
Choose from current ads that include information about the company and the price, and the platform alerts you when a listing is now "under offer." This is great because you avoid wasting time studying postings that may have sold by the time you are ready to make an offer.
You can also choose a private company listing to protect your interests during the sales cycle. By doing so, only qualified and serious purchasers can examine your company's data. In addition, they have offices in London, New York, Hong Kong, and San Francisco.
Pros
Many brokers are on hand to help with the sales process
Provides fair values
Connects sellers with buyers all across the world
High sales success rate when compared to other similar businesses
Provides extensive details on its internet selling process
Every transaction ensures buyer and seller satisfaction
Transfers monies and assets through a third party
Focuses on mid-market operations
Cons
Because of the wide variety of asset quality, low-rated sites are also posted
FE International maintains its integrity in its marketing techniques and client connections.
---
IndieMaker
IndieMaker is a complete community marketplace with over 16k members where you can sell your side projects, established businesses, and unused domains.
With its straightforward UI, you may add an unlimited number of organizations, domains, and projects. You can easily negotiate with possible buyers, transfer assets, and transact money securely. They usually accept your listing within 24 hours.
To become a community member, simply visit its official website and create an account by clicking "join today."
Pros
There are numerous intriguing listings for sale at reasonable costs
They claim to promote your company to a network of over 16,000 potential buyers
Cons
The platform only provides basic information on a website, so you must do your own research
IndieMaker is not for you if you are looking for established companies with a track record
The fees are not newcomer-friendly
---
Investors Club
Investors Club is a newer player in the industry that focuses on servicing buyers and sellers of content websites.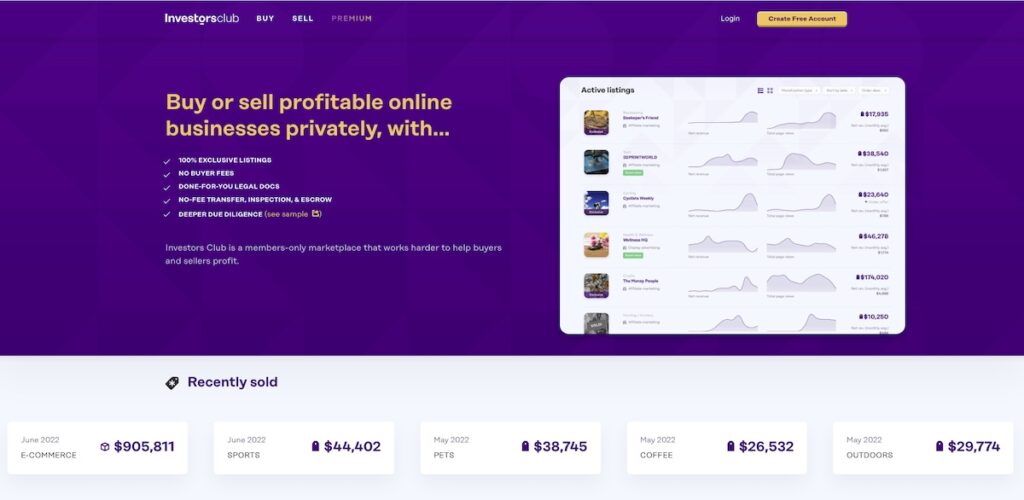 Their model is one-of-a-kind. They charge the seller a 5% broker fee (compared to Empire Flippers at 15 percent and Flippa at less than 10 percent). They also charge a membership fee to the buyer to gain access to the deal flow and due diligence reports.
Investors Club gives you access to high-quality deal flow. They also offer comprehensive website migration and, if needed, a no-fee escrow solution to manage cash during due diligence. The majority of the websites on this site are Amazon Associates sites, with some displaying advertising.
They help with transfers, legal documents, and escrow, which might set your mind at ease if all this is unfamiliar to you. Their website buyers' due diligence service is an added bonus. Whereas some brokers may mention a few token 'hazards' of the product, it is evident that they are not informing you of any actual risks that could jeopardize their commission.
Pros
Members receive detailed due diligence reports
You can bargain with the seller
Excellent dashboard with business indicators
Fair market valuations
Help with every stage of the process
Extremely fair 5% commission
Cons
Only for content sites (no SaaS, eCommerce, etc.)
45 days of exclusivity
---
Latona's
Latona's is another reputable agency to consider if you need to sell your website. They are suitable for all types of websites, large or small. Latona's was founded in 2008 and has established itself as a trustworthy broker and consistently closes deals in the 5- to 8-figure range.
Latona's also has a founder-first mindset; each broker has prior experience running their own firms. They understand entrepreneurs.
The platform specializes in content, e-commerce, lead generation, Amazon FBA, and SaaS companies. Surprisingly, and also unique to them, they assist in the sale of domain portfolios.
Pros
A 66% success rate
Premium sales pricing
An established network of vetted purchasers
Buyer and seller support throughout the sales and migration process
Cons
15% commission
Sales timelines are generally four months
---
MicroAcquire
You can begin a prospective acquisition conversation with MicroAcquire and meet the appropriate buyer. They have over 30k trusted buyers to whom you may gain fast access while remaining completely anonymous. It enables buyers to evaluate the company based on important data before engaging in a conversation to determine whether they want to continue further.
Sellers can reply to data requests from buyers and then choose which to pursue. MicroAcquire assesses businesses based on the number of clients, monthly recurring income, customer acquisition cost, and more than 15 additional indicators.
They introduce you to potential buyers or sellers, which leads to acquisitions within a month. You can get started in three easy steps:
Create an account
Respond to requests from inquiries you fancy
Make a decision
Pros
Almost no costs, or none at all, for both buyer and seller
A large quantity of potential leads for sellers chatting to reputable buyers
Buyers can choose from a wide range of business opportunities offered by eager vendors
A strong increase in the number of buyers and sellers is a very positive sign
The variety of enterprises is a fantastic source of inspiration
Cons
Unlike many brokerages, it does not provide full selling and migration help
Negotiations might be difficult for newcomers
When you have greater control, you have less assistance if anything goes wrong
MicroAcquire is an excellent platform for selling or purchasing SaaS firms.
---
The Website Flip
The Website Flip operates a boutique content-site brokerage and primarily sells sites to subscribers via their newsletter. This keeps the site relatively private (fewer copycats) and allows for a faster close with serious buyers. To gain access to deal flow, you must be an email subscriber.
While the brokerage prefers to sell through their newsletter, they are also known brokers on Flippa's platform.
Pros
Primarily sells sites for less than $50,000
Deals are vetted by reviewing earnings, traffic, SEO, and more
Each deal has highlights, setbacks, and easy wins listed
Fair website valuations around 32-38x monthly multiple
Cons
Minimal deal flow as they are still growing
Deals shared only through the newsletter
Subscribe to get access to sites for sale
---
Trustiu
Trustiu is one of the most secure markets for purchasing and selling digital properties. This platform provides complete professionalism, security, and transparency throughout the entire sales process.
Their experienced team thoroughly examines each YouTube channel, blog, and website included in their marketplace to ensure their legitimacy. You can find businesses with low and high values, but they are all of excellent quality and present fantastic chances for growth.
Pros
Clear and easy process
Helpful and patient staff
Smooth YouTube account transfer
Cons
Lack of flexibility in payment services
With their professional staff working to make the deal happen, Trustiu safeguards the interests of sellers and purchasers.
---
Quiet Light Brokerage
Mark Daoust launched Quiet Light Brokerage in 2006 after talking with a buddy who was contemplating selling his web hosting company. Throughout its history, the company has sold over 600 websites, totaling more than $300,000,000 in transactional value.
Quiet Light Brokerage currently has at least ten advisors that help the company's clients achieve the best deals possible. This broker will provide excellent service if you want to sell or buy a domain, and you can access transparent information, no-obligation consultations, and comprehensive business analyses.
Whether you sell or acquire, the company will sign a confidentiality agreement with you before receiving any business information, so you can be confident that your trade secrets are secure with them.
It's also worth noting that Quiet Light Brokerage uses a decentralized system, which means that the processing of your transactions heavily depends on the broker given to you by the company. This implies that if your adviser is unavailable for any reason, you may experience a disruption in the services you receive. In this situation, you will eventually be allocated to another team member who will work on your deal.
Pros
Professionals with extensive experience who clearly know what they're doing
Supportive procedure on both the buyer and seller sides
Excellent fees in comparison to market averages
Great collection of eager buyers has been gathered over 15 years of business
Cons
Strong exclusive agreement
The typical period from initial interest to final payment and transfer after the sale is concluded is longer than others
Not suitable for minor content sites with fewer than 100,000 visitors
---
Website Closers
​​Website Closers is a broker that has been active for over 20 years, assisting in selling internet businesses.
They are one of many brokerages that specialize in helping the purchase and sale of internet businesses, but few have the industry experience that Website Closers does.
Pros
Open to selling a wide range of businesses
Over two decades of expertise as a business broker
Excellent team assists customers in obtaining financing
Can sell pricey or valuable enterprises
Fabulous listings
Cons
The commission structure is not very clear
Not appropriate for small online enterprises
It may take more time to close a deal since more effort is needed in negotiating conditions and finding the proper fit
They have a solid web presence, with several testimonies and hundreds of verifiable reviews, despite not being as well-known as Flippa or Empire Flippers. This extensive track record provides a wealth of facts and first-hand feedback to analyze over the years.
---
Website Properties
Website Properties have been in the business since 2007. They began by brokering domains and have now expanded to work with many types of online businesses. These include affiliate, dropshipping, eCommerce, information products, and newsletters. And they do still sell some domains.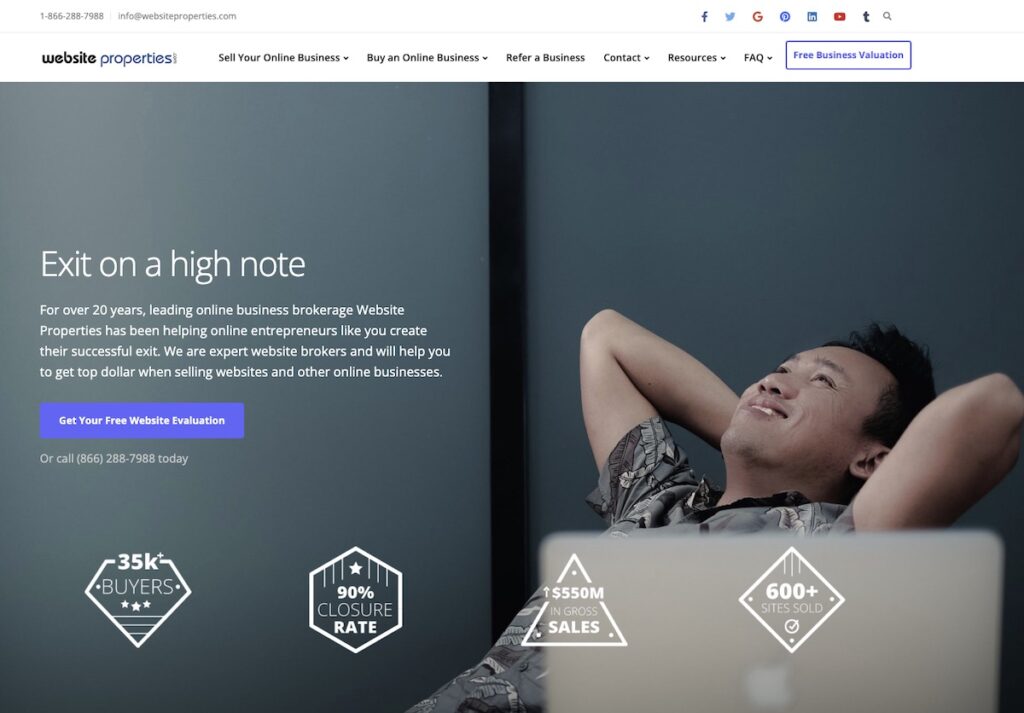 Their website has a customer list of 25,000 online entrepreneurs, which pales compared to Empire Flippers' list of lifestyle business entrepreneurs. Of course, a few serious purchasers are all that is required to close a terrific deal.
Pros
Boast a success rate of 85-90%
20 years of experience
Commission as low as 6% on larger transactions
Cons
Six months of exclusivity
Deals normally close in 3-4 months
Not appropriate for small websites
---
Final Thoughts: Best Website Brokers
Buying from website brokers, marketplaces, groups, or newsletters can be rewarding if you work with the best.
The website trade, like any other market in which commodities are bought and sold, offers significant potential value to those willing to take a risk. Maximizing success requires specialized knowledge, which is where broker sites come in.
Using a broker to help sell your business is an excellent option for those who are short on time or simply do not know where to begin. A broker will present your company in the best light possible to maximize the sale price. If you're in the market to buy or sell, good luck!
Want some valuable advice? Read about Joe Valley's strategies and advice after brokering over $100 million of online businesses.
And if you want to turn flipping websites into a profitable business, read this: Buying Websites for Sale: What you Need to Know - How I Make $3K/Mo.
Want to learn step-by-step how I built my Niche Site Empire up to a full-time income?
Yes! I Love to Learn
Learn How I Built My Niche Site Empire to a Full-time Income
How to Pick the Right Keywords at the START, and avoid the losers
How to Scale and Outsource 90% of the Work, Allowing Your Empire to GROW Without You
How to Build a Site That Gets REAL TRAFFIC FROM GOOGLE (every. single. day.)
Subscribe to the Niche Pursuits Newsletter delivered with value 3X per week