How to Find Your Blog Niche [9 Great Ways to Speed up the Process]
When you buy something through one of the links on our site, we may earn an affiliate commission.
Struggling to find your blog niche?
Then look no further.
Use the steps in this article to find a profitable niche for your blog, even if you're a complete beginner.
This post will help you:
Understand why you need a niche
Discover what makes a good blog niche (and a bad one)
Uncover the right niche for your blog
By the end of this article, you'll know what your niche is and feel confident in making your blog a success.
Let's dive in.
What is a Blog Niche?
First, let's define a niche. A niche is a category or niche topic within a market where people buy products or services.
Niche definition according to Wikipedia: "A niche market is the subset of the market on which a specific product is focused."
So any company which sells a specific product is a niche.
For example, the niche for Nike is clothing or footwear. The niche for Redbull is soft drinks.
Amazon's niche isn't as clear because they sell everything, but their niche is technically eCommerce or online retail.
So a blogging niche is a niche market which can be spoken about with written content.
You can blog about microphones, laptops, and cellphones, which are in the technology niche.
Gold fish, cats, lizards, and rabbits are the pet niche, and keto, Paleo, and Atkins are in the diet and nutrition niche.
The important thing to consider is that your niche is in a market where consumers buy products, software, or information.
Does Your Blog Need a Niche?
Yes! But not just any niche, a smaller niche.
Unless you have the budget (potentially millions of dollars) to take on huge generic brands, you'll need to niche down.
The best kind of niche for a blog is one that has products you can write about or information that helps people solve a problem.
For example, instead of starting a golf blog, which is highly competitive, you could go smaller with a golf blog for left-handed players or a golf blog for women.
The reason you want to choose a tighter niche is because a brand new blog will get lost among all the other blogs out there.
You will find success faster when you narrow down.
Another good reason to niche down is that it is easier to become an authority in a very specific niche than it is to take on other experts in the market.
Blog Niche List: What Are the Best Blog Niches?
Finding your successful blog niche is a fine balance between having enough profitability and not being too over-saturated.
Often, the most profitable niches are too saturated because it's where all the money is.
You want to choose your niche based on the interest you have in it, not just because of how much money you can make.
More on that later.
For now, here's a list of the most common blog niches, from super competitive to uncovering low competition niches.
Most competitive blog niches
The most competitive niches are usually the most profitable. That's because people go where the money is.
When launching a new blog, it makes no sense to go into a niche that no one's ever heard of.
Here's a short list of the most competitive niches:
Personal finance
Health and Fitness
Technology
Travel
Internet marketing
Cooking and recipes
Fashion blog
Lifestyle blog
Over-saturated blog niches
It's hard to say which blog niches are the most saturated, but fashion, fitness, tech, and finance would be tough to crack without careful planning.
Should this stop you from entering an over-saturated or competitive niche, though?
Not at all. Instead, you need to get creative and drill into a popular niche to find something more specific.
Often, the answer isn't to avoid a competitive niche, but to focus on solving a specific problem within one.
Let's look at finding a low competition niche within the ones that seem to dominate the market.
Low competition niches
The best way to narrow down a competitive niche is to combine it with multiple topics or interests.
For example, a generic and highly competitive tech blog could be drilled down into smart homes for off-grid living.
You could then expand into other tech areas such as security for off-grid living and renewable energy sources such as solar panels.
Let's look at some other examples:
Personal finance – Getting out of debt for single moms or budgeting for students.
Health and wellness – Juicing for weight loss or minimalism for mindfulness.
Fitness – Biofeedback and activity trackers or HIIT for seniors.
Technology – Drones for wedding videographers or 3D printers for creatives.
Digital marketing – Email marketing for freelancers or podcasting for artists.
Cooking and recipes – Pressure cooker meals for keto diet or vegetarian meals for large families.
Fashion – Fashion for cosplay and ComicCon or fashion and style tips for entrepreneurs.
As you can see, these niches are super specific by taking a sub niche and combining it with an interest or type of person or discipline.
Pro tip: When it's time to register your domain name, go slightly broader that you niche you choose. This will give you some wiggle room to expand in the future.
How to Find Your Blog Niche: 9 Practical Ways to Define Your Niche
Use one of these tips, a combination of a few, or all of them to really nail your niche.
1. Use a blog niche generator
The quickest but least effective way to find your blog niche is to use a random niche or product generator.
How to Start an LLC has an interesting tool where you select a few interests, refine your search with a few parameters, and review the results.
Randomicle is another tool that displays a random Amazon product within a category you choose.
And Random Lists does something similar to the last site, but with a selection of more products.
If you've got any experience with growing a niche site, this might be all you need to spark your next blog niche idea.
But I wouldn't recommend this for most people.
2. Sneak on other blogs
Here are a few clever ways to find active niche blogs you can sneak on for inspiration.
First, look at this list of successful niche websites or do a Google search to find other lists.
Note the niches that stand out to you from these lists. I recommend creating a spreadsheet and adding your niche ideas to it.
Here's mine:
Then, take any of your ideas and search for "your niche" + blogs. So, if I wanted to find more blogs in the home gym niche, I would search:
"home gym" blogs
or "home workouts" blog
I ended up finding quite a few home gym blogs I could get a lot of inspiration from.
Here's another trick you can use to find blogs that are monetizing with affiliate products.
Search your niche + "affiliate disclosure", so a search in the knife-making niche would look like:
knife making "affiliate disclosure"
or how to make a knife "disclosure"
With this search, it was quite hard to find many knife-making blogs, which might be an indicator that it's too narrow or that YouTube might be a better platform for this niche (check out this article on how to find your YouTube niche).
Either way, it's an excellent way to determine if the niche you're thinking about is good to go into.
3. Look at blogs that are for sale
Here's another sneaky way to spy on what is already working and can help you find your niche.
Go to Flippa.com and look at their website listings. In the sidebar, select the following:
Websites and website businesses under asset type
Blog and review under website types
Monthly profit minimum of $100
I found a health & wellness blog that had recently sold for $33,000, a crypto miner tips blog which sold for $71,000, and a blog in the baby niche making $400+ per month.
I would have thought about these niches if I hadn't checked a website like Flippa.
4. Look at what's trending
Using a tool like Google Trends can be a great way to find trending topics and products you could blog about.
I used this search term:
best * for
And here are some results:
You don't need to specifically target the products it suggests, but the results can spark some ideas for your niche.
For example, "best shoes for walking all day" could inspire you to start a hiking blog other hobbies that require walking for a long amount of time.
Here's another excellent tool for finding trends.
It's called Exploding Topics.
You can select a range of categories and a time frame. Scroll through to see what you can find.
Here's what I found: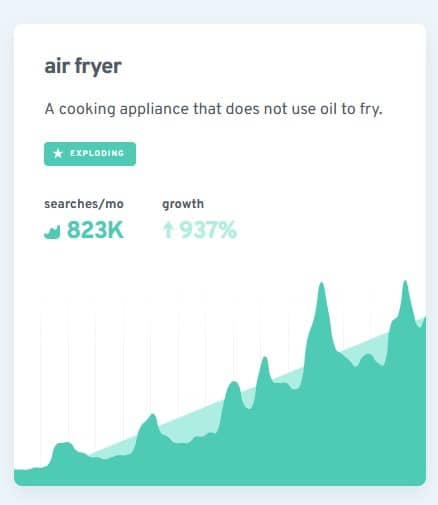 I also came across:
massage gun
freeze dried dog food
massage chair
Two of the things here pertain to massages. You could start a tech blog reviewing massage equipment.
A quick search on Amazon reveals a few interesting massage products that range from $40 to $315.
Reviewing products like these can bring in a decent amount of commission. You could also write information content to help people relax more.
5. Check your search and YouTube browsing history
You can learn a lot about yourself by browsing through your browsing history.
Much of our browsing activity is done on autopilot or we forget everything we search for because it's too much information to retain.
Revisiting things you have searched for online can uncover tons of niche ideas.
To see your Google search history, head over to Google.com, click your profile icon, then Manage my Google Account:
Scroll down to History Settings and click on My Activity: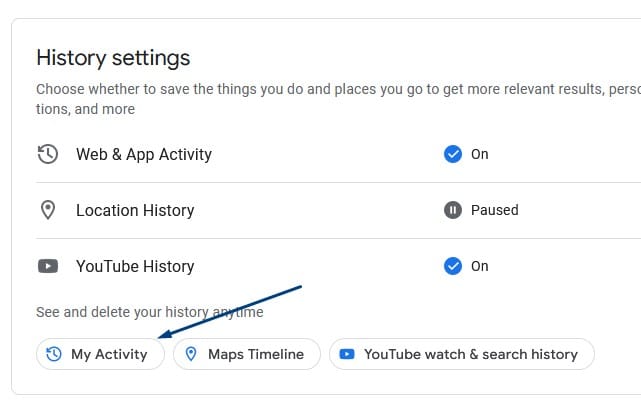 Click on the filter, select a date range and choose "search" from the list below:
This will show you a list of everything you've searched within the time frame you choose.
To do the same with YouTube, go to YouTube.com and click on History from the sidebar:
This will show you all the videos you have watched on YouTube.
Note any search results of videos that include things like:
Products
Tutorials
How-to content
Other questions you've queried
Anything that seems like it would make for a good blog topic could be the perfect niche for you.
If you notice a theme or trend in your browsing history, that is a good indicator that it's something you're interested in and have enough knowledge to write content on.
6. Check your bookshelf
Who would have thought that the best niche idea for your blog could be sitting on your bookshelf?
If you have a lot of books, it might be easy to determine, especially if you read a lot of the same stuff.
I have tons of books on personal development, which is why I started a personal development blog.
You might have books on how to cook a certain type of food, or maybe own a magazine about travel or the newest tech gadgets.
How about journals? Do you write in a diary or use a daily productivity planner?
Or maybe the only books you own are your kids' books? What does this tell you?
You could start your blogging journey sharing the best books kids should read. Who knows, maybe you could end up writing your own kids' book!
Let your bookshelf do the work for you.
7. Base it around bestselling products
Did you know Amazon has an entire section on their website of their bestselling products?
Take a look:
You can choose a category you like the look of and dive in. Ideally, you don't want to choose the number 1 bestselling product on Amazon.
Why?
Because you'll be up against sites like TechRadar, CNET, and TechHive. See for yourself:
Instead of going for the top products at first, drill into the categories a bit: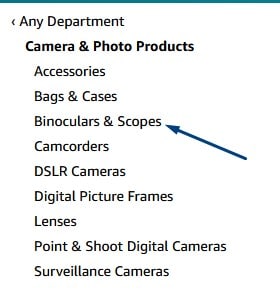 That's more like it!
This Google search for "best celestron telescope" is giving me results I think would be easier to compete with.
This could be an excellent niche and a cool blog that I would have never thought of before.
8. Choose something you're passionate about
What are your hobbies, interests, or things you love talking about?
Whatever it is, it can probably be monetized with display ads or affiliate marketing.
Choosing your blog niche based on what you're passionate about has other benefits too.
It motivates you to learn and share what you know
It's easy to think of content ideas
You won't get bored
It can turn into a huge business if you decide to expand
If it's easy to think of what you're passionate about, great. But if you're struggling, you could ask your friends or family.
It's often the people who know us best who know what we're passionate about, because we don't stop talking about it.
Or, you can refer to what information you consume online the most to give you some ideas.
9. List your past achievements
Sometimes, the most valuable things we can blog about are the things we've achieved that others struggle with.
Your past achievements might not stack up alongside an Olympic athlete or a TED talk speaker who captivates an audience of millions.
But, what has come naturally to you can change the lives of many people, no matter how small.
Here are just a few ideas to get you thinking:
Gotten out of debt
Achieved good grades in college
Got your ex back
Fixed a broken marriage
Can type 80+ words per minute
Everyone loves your cooking
Can solve a Rubik's cube
Can read 500+ words per minute
Fixed your diet and lost weight
Can speak multiple languages
Get tons of work done effortlessly
You're a wizard with technology
Grow your own fruit and vegetables
Helped a friend organize their house
Recovered from bankruptcy
The list could go on forever! The key is to look at your life from an outsider's perspective and realize that what you've accomplished could be highly valuable, and that it's definitely something to blog about.
Blog Niche Selection Checklist
Before you make your final decision, check off each of these so you have a better chance of succeeding.
It's a profitable blog niche – This is essential. If you choose a niche where no one spends money online, you'll be forever spinning your wheels.
You won't get bored and give up – If you can't afford to hire writers, then you'll need to write content yourself. And if the niche you choose bores you to death, it'll be tough to motivate yourself.
There are enough topics to write about – Make sure you choose a niche where there's enough to write about. A blog with 30 articles isn't enough these days.
It's not too narrow – If your niche is too narrow, it'll be hard to generate enough blog traffic or build a big enough target audience.
The niche isn't a dying fad – Avoid trending topics that die out fast, like fidget spinners.
It's a niche you can be proud of – The rule of thumb is that you wouldn't be embarrassed telling your grandparents about your blog.
Frequently Asked Questions
Here are some answers to some of those burning questions most people seem to have when choosing their niche.
Which niche is best for blogging?
There is no "best" niche when it comes to blogging. If you are asking this question, then you might be overly cautious about failing. I know, I've been there!
If that's the case, then realize that failing is part of the process. Choose any niche and just get started.
If it doesn't work, then you will be closer to choosing a niche that does work.
What is the most profitable niche?
The most profitable blogging niches include health, wealth, relationships, tech, and pets.
Is it worth starting a blog in 2022?
Yes! Don't let the competition put you off. There is always room for blogging.
If you need some motivation, check out my other blog post Why Start a Blog.
How do I start a niche blog?
You start by purchasing a domain name and web hosting, installing WordPress and then doing keyword research to find topics to write about.
Read our blog post How to Start a Blog to learn more.
How to Find Your Blog Niche: Conclusion
I hope this post has helped you find your blog niche.
The bottom line is to not get too caught up in making the "right decision". Focusing too heavily on getting it right will keep you stuck in analysis paralysis.
Instead, pick 1 of the most common niches, narrow it down, combine it with something related, and make sure it's within an area you're interested in.
Good luck!
Want to learn step-by-step how I built my Niche Site Empire up to a full-time income?
Yes! I Love to Learn
Learn How I Built My Niche Site Empire to a Full-time Income
How to Pick the Right Keywords at the START, and avoid the losers
How to Scale and Outsource 90% of the Work, Allowing Your Empire to GROW Without You
How to Build a Site That Gets REAL TRAFFIC FROM GOOGLE (every. single. day.)
Subscribe to the Niche Pursuits Newsletter delivered with value 3X per week