How To Make A Collage On Instagram Story in 2 Easy Ways
When you buy something through one of the links on our site, we may earn an affiliate commission.
Choosing a single picture from your vacation or night out for an Instagram story is a tough decision.
When you start adding up multiple photos, your story can become too lengthy — triggering most of your followers to close it mid-way.
But did you know that you can create a variety of collages inside your Instagram app with a few clicks?
In this article, we'll teach you step-by-step how to make a collage on Instagram and review our favorite third-party apps that will help you add more elegance and sparkle to your photo collages.
Let's get started:
How To Make An Instagram Collage Using Stickers
One of the coolest "hidden" features of Instagram is the 'Photo' sticker. It allows you to add as many photos as you want in a single story and edit them in many ways. Here's how you can use the sticker to make cool collages on your own: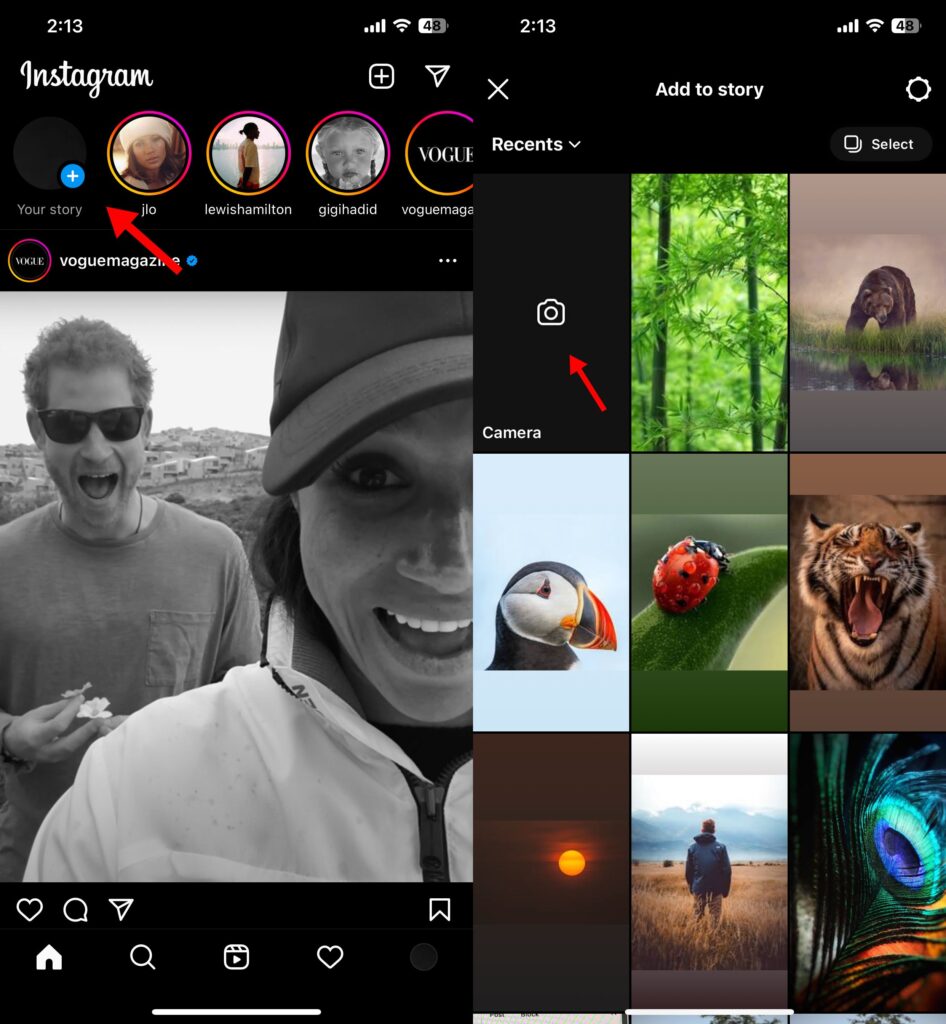 1. Open Instagram and tap on your profile picture to create a story.
2. Select a picture from your gallery or click the camera icon to take a photo.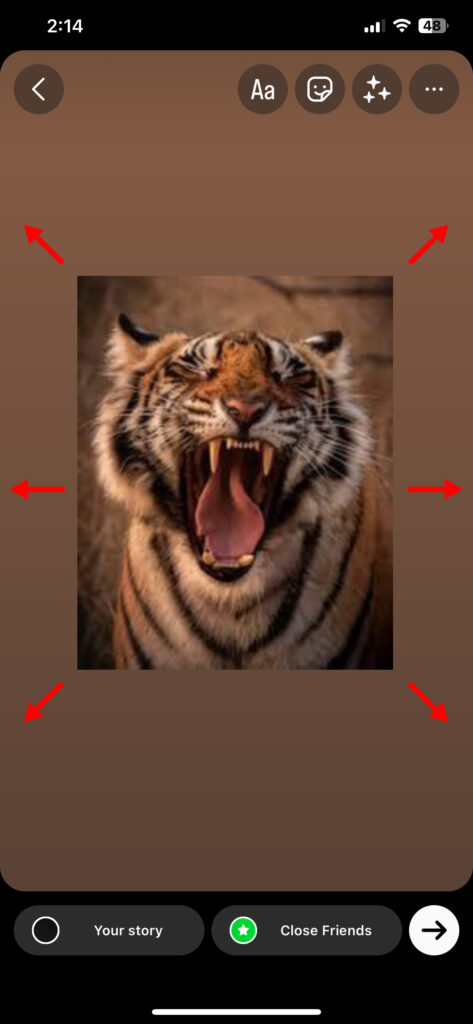 3. Resize the picture by using your thumbs to pinch in or out. You can also move and rotate the picture by holding it down with two fingers.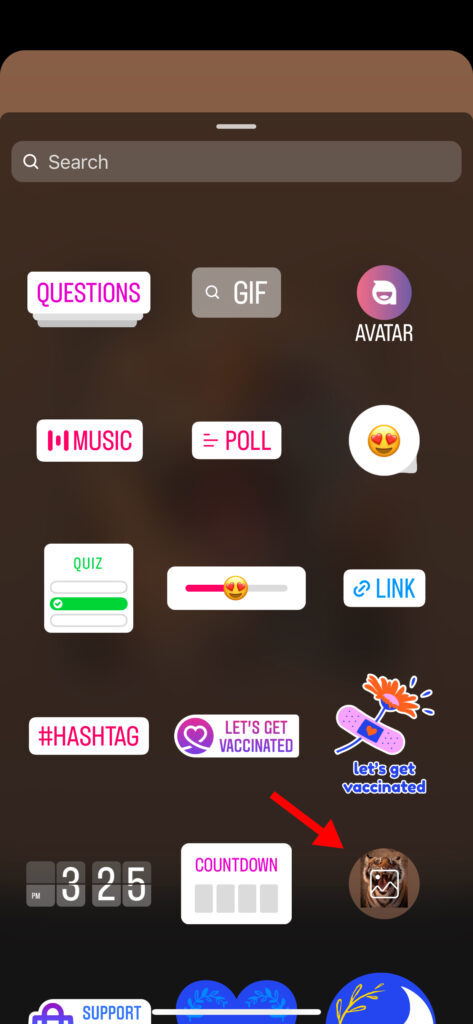 4. To add multiple photos, swipe up on the screen or tap the sticker button. Scroll down and select the 'Photo' sticker.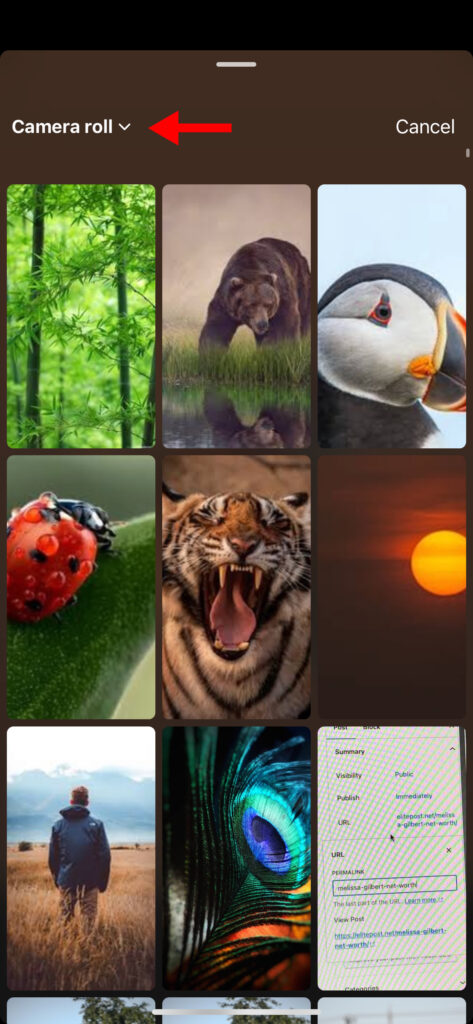 5. Select which photo you want to add to your collage and tap on it. You can also click on the 'Camera roll' icon to browse a different album on your phone.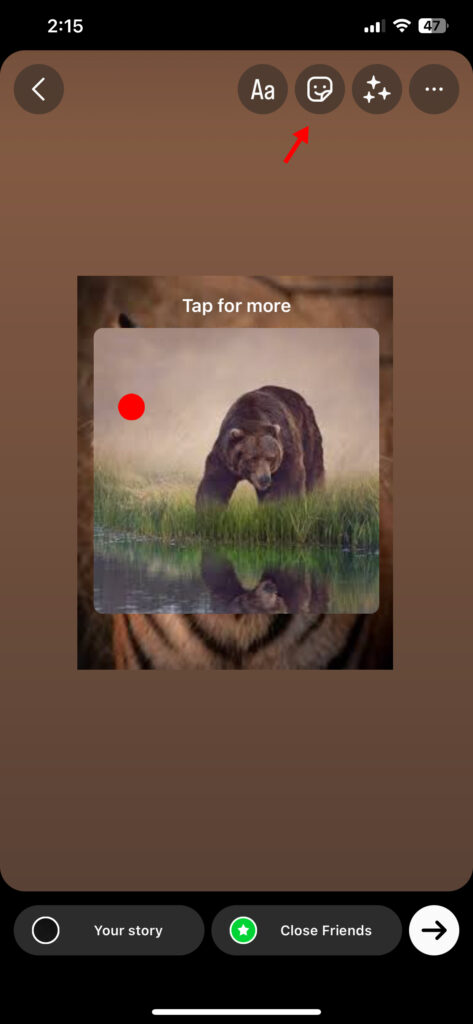 6. Tap on the image to scroll between different frames. You can resize, rotate, and move this photo by holding it down with two thumbs.
7. To keep adding more photos, tap the sticker button once again and select a different picture from your gallery.
8. If you want to add a solid color background, tap on the three dots in the top right corner and select 'Draw.'
9. Tap on the brush tool from the top of the screen, choose a shade from the palette and start coloring the backdrop. (Bonus tip: Hold your finger on the pre-defined colors to access the full spectrum)
10. Once you're done, publish your Instagram collage by clicking on either 'Your Story' or 'Close Friends.' If you want to post it on your feed, click on the three dots in the top right corner and tap 'Save.'
How To Make An Instagram Collage With Layout Feature
The Layout mode is a lifesaver for those who don't have time for editing or want to share a quick collage. It allows you to select from various preset grids and click/add images from your gallery in just a couple of minutes. Let's take a look at how to utilize the Layout feature on Instagram:
1. Open Instagram and swipe right to open your camera.
2. Tap on the 'Layout' icon from the left toolbar.
3. Select a grid size by clicking on the icon right under the Layout button. You can choose from six different preset collages that Instagram provides.
4. From here, you can take individual photos to fill the collage. Alternatively, you can tap the image icon in the lower left corner to select multiple pictures from your camera roll.
5. Once your collage is complete, tap on the 'Check' button to proceed to the editing screen.
6. Add text to the collage by tapping on the 'Aa' button in the top toolbar. Click on the 'Sticker' icon to tag people or post stickers. If you want to play some songs, check out our guide on how to add music to Instagram posts or stories.
7. Finally, click on 'Your Story' or 'Close Friends' to publish your Instagram story collage.
Best Apps To Make A Photo Collage For Instagram Stories
One of the biggest cons of using stickers or Layout mode to make collages is that Instagram only allows a certain degree of customization. If you want to go the extra mile to make your collages look beautiful, it's best to use third-party apps.
Here are some of the best apps we found to make attractive photo collages for your Instagram stories on both iOS and Android:
1. Canva
Canva is a no-brainer when it comes to any editing. It offers pro-level editing tools to make stunning collages for Instagram stories free of cost.
The greatest feature of Canva is its diverse library of pre-designed templates. All you have to do is swap out the stock photos with your own, change the colors, and publish them directly to your Instagram app!
If you're feeling a little artsy, start from a blank canvas and craft the perfect collage using various elements, stickers, and fonts. Or, you can create a vibrant video collage to stun your followers with beautiful visuals.
2. Fotor
Fotor is a highly intuitive photo editing app that allows you to create breathtaking collages with minimal effort. It has many built-in templates for Instagram stories and feed posts that can be edited with just a few clicks.
The only downside to Fotor is that you have to pay a subscription fee. But if you're an influencer or business owner, the creative freedom that Fotor provides is well worth the price.
3. Adobe Express
If you're looking to create intricate Instagram collages with advanced photo editing options, you'll love Adobe Express. The app is full of artistic templates, unique elements, and cool fonts that can take your collages to another level. Although the free version will be enough for most users, we highly recommend businesses purchase the premium package to unlock logo integration and even more design assets.
4. Unfold
Create minimalistic yet striking collages for your Instagram stories with Unfold. The app is ideal for users who want to create images and video collages with little effort. You'll find a variety of monochrome and pastel templates in their library and loads of stylish fonts, filters, and stickers. Available on both iOS and Android, the app also offers Premium and Pro subscription plans that allow access to even more editing tools and complete brand kits.
FAQs
How to get a photo sticker on Instagram?
If the photo sticker isn't available in your sticker library, try updating your Instagram app from the Play Store or App Store. If you still can't see the sticker, try logging into your account again a few times.
Can you make a photo collage on Instagram feed post?
As of 2022, Instagram does not have a built-in collage maker for feed posts. However, you can save a story collage to your camera roll and later upload it as a feed post. You can also use third-party apps to create 1:1 aspect ratio collages and publish them to your feed.
How do you add videos to an Instagram story collage?
Instagram only allows you to add one video in a single story. To create an Instagram story with multiple videos, we recommend using third-party apps like Canva or Fotor.
Conclusion
An Instagram story collage can provide a mesmerizing experience to your followers, whether you're publishing it on a private or business account.
If you're confused about buying collage-making apps, we recommend you first learn how to start a profitable blog on Instagram to make your investment worthwhile.
Or, if you want to share an interesting YouTube video with your followers, check out this guide on how to share a YouTube video on Instagram stories in a few simple steps.
Want to learn step-by-step how I built my Niche Site Empire up to a full-time income?
Yes! I Love to Learn
Learn How I Built My Niche Site Empire to a Full-time Income
How to Pick the Right Keywords at the START, and avoid the losers
How to Scale and Outsource 90% of the Work, Allowing Your Empire to GROW Without You
How to Build a Site That Gets REAL TRAFFIC FROM GOOGLE (every. single. day.)
Subscribe to the Niche Pursuits Newsletter delivered with value 3X per week