Thinkific Review – Is This The Best Tool for Creating Online Courses?
Creating an online course is one of the best ways to establish authority in your niche and generate passive income for your business. And thanks to the rise in popularity of online education, selling online courses can be extremely lucrative too. And Thinkific isn't the only online course platform to choose from, so deciding which one to use can be a task in itself. In this Thinkific review, we'll walk you through every aspect of this popular online course builder software.
We'll discuss the advanced features on offer, the pros and cons, and the pricing options so that you can see how it measures up against its competitors. By the end of this article, you will have all the information you need to decide whether or not Thinkific is the right tool for you.
You can try Thinkific for free right here
Let's take a look.
Thinkific Review
Ease of Use -

95

Stability -

90

Customer Service -

95

Price -

98
Summary
Thinkific is a powerful tool that allows creators to monetize their knowledge by creating online courses. The software is refreshingly easy to use, and you can have a professional-looking course ready to go in a matter of hours. Thinkific offers a free plan to get you started, as well as a range of affordable paid plans with access to additional features. Check out Thinkific here!
Pros
Free option for those that only want to create one course

Priority phone support for those on higher plans

Everything is customizable

Voiceover tool available for creating presentations

Can set up and offer monthly payment plans
Cons
No built-in marketplace to promote your course

Email marketing has to be done via 3

rd

party email providers

No built-in sales funnel options

No app
---
About Thinkific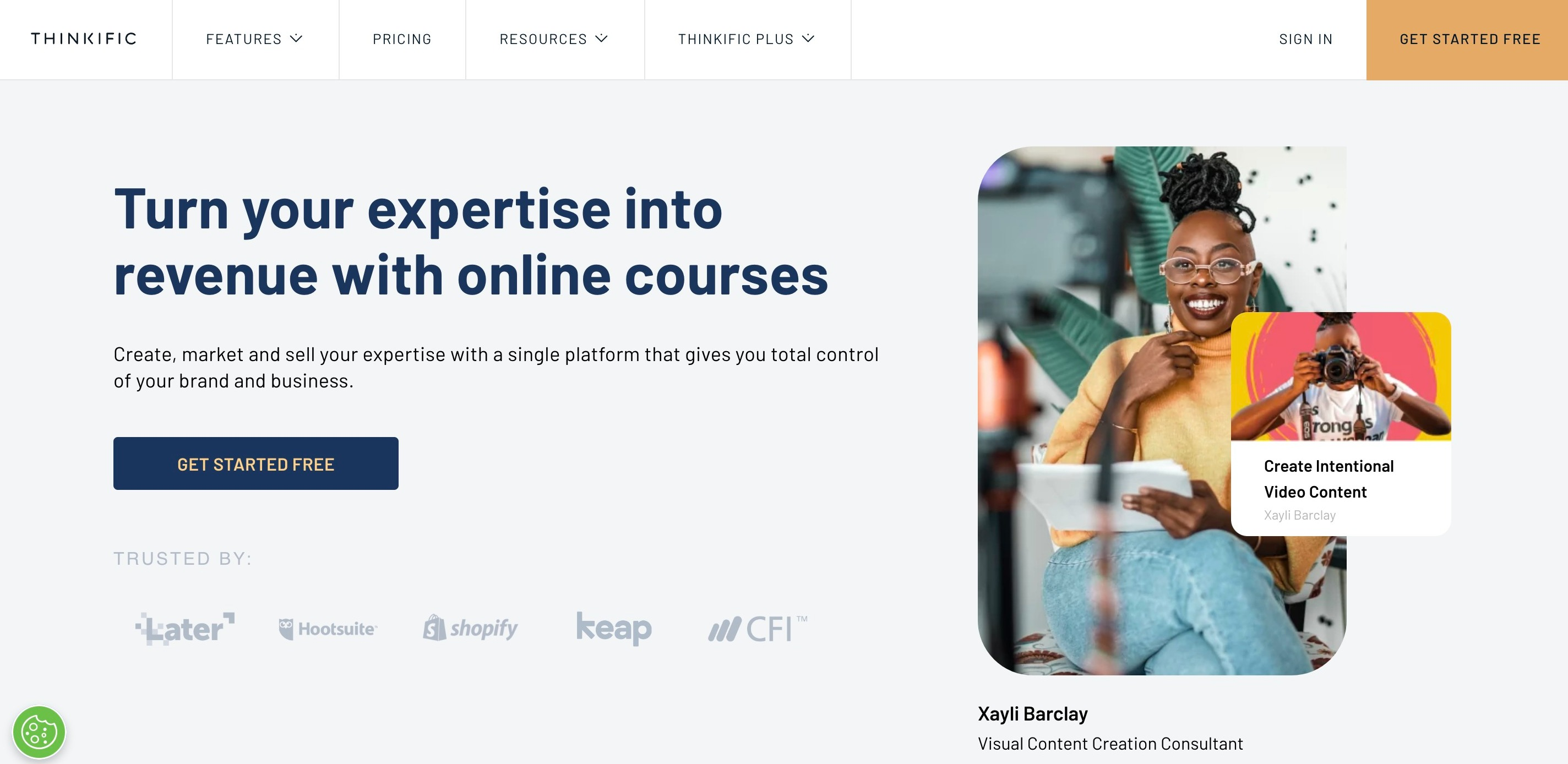 Thinkific is one of the most powerful online course platforms designed for creators who want to make money online by sharing their knowledge with others.
One of the best things about Thinkific is that it's designed to support creators in making courses for audiences of all sizes.
This means that even if you're entirely new to creating online courses and sharing your knowledge in this way, you'll generally find it easy to get started.
Technically, Thinkific is an online course platform, but in reality, it does much more than that.
Whether you're a start-up business or someone with a few more years under their belt, the software will help you create your own online course.
However, it doesn't just help you create a Thinkific course and piece together the content but also offers customer support on how to market and sell online courses. This helps to ensure entrepreneurs are as successful as possible.
Thinkific essentially allows anyone to turn their expertise and passion into a sustainable business that makes a difference. The marketing features that their course software offers certainly back this up, giving content creators full control over their content the whole time.
Thinkific Review: The Main Features
One of the best things about Thinkific's online course platform is its wide range of features. This means that if you're in the business of creating online courses, Thinkific has something for you.
Some of the popular features they have include course templates, quiz creation, live lessons, and assignment settings. It even offers a website and page builder to help you market and promote to sell courses you have created.
Let's take a closer look.
Course Templates
You need to consider several things when creating a successful online course. However, one of the most essential elements is the actual content that the course offers.
Not only do you want your content to be accurate and informative, but it needs to be laid out in a way that is overall easy for students to consume, digest and follow.
This isn't about just writing down everything you know and allowing people to read what you have written. Instead, you want a course that flows naturally. Your course should keep students engaged as they follow through the different lessons you have put together.
The course templates within Thinkific go a long way to helping make this happen.
Thinkific courses are easy to design. There are several templates that you can use and customize to create your online course.
They even offer a tutorial to guide you through the template options and help you decide which is best. You can start with a blank page or use a template based on landing page creation. You can also see their mini course templates and even start off with one of their flagship course options.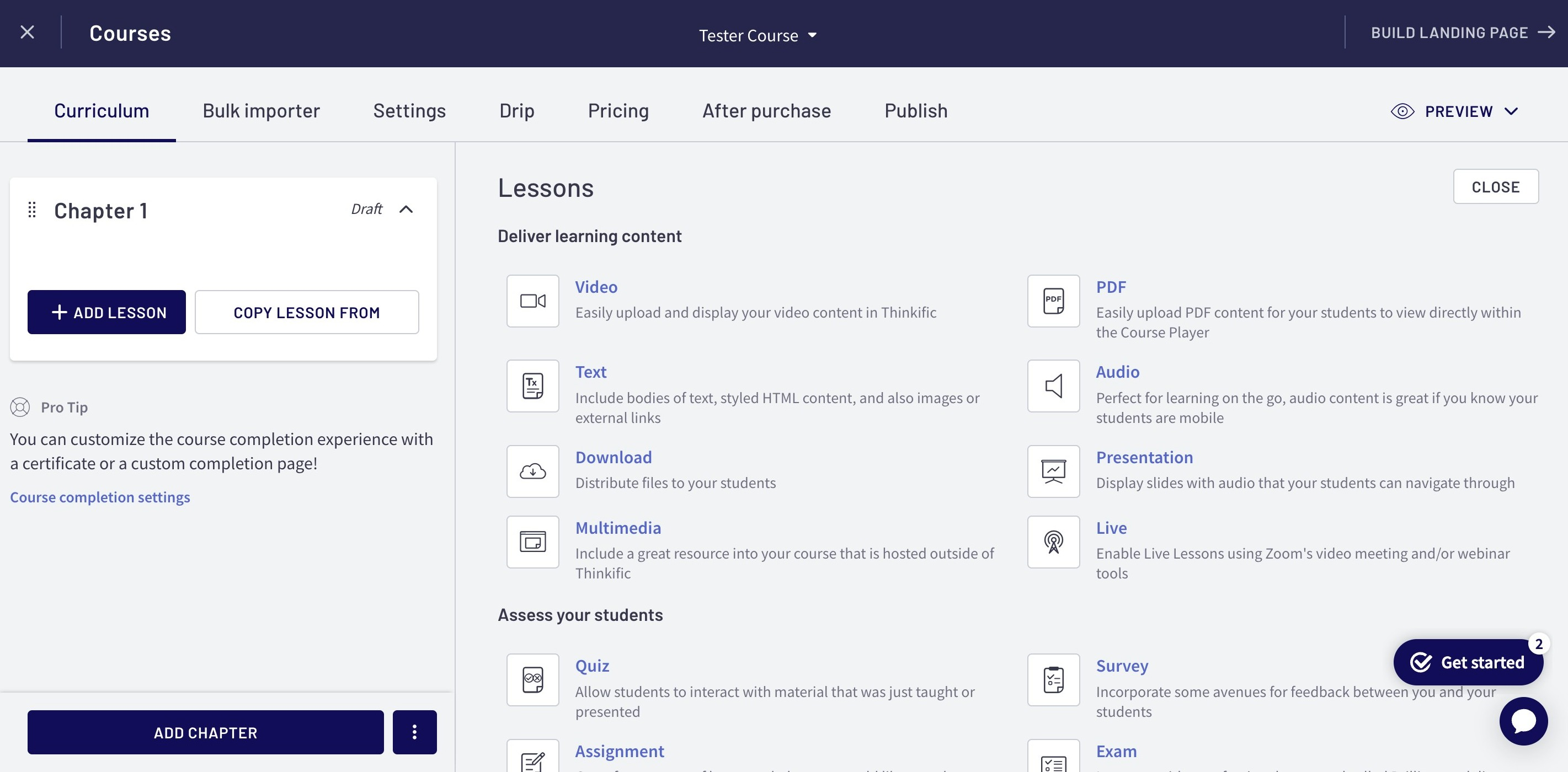 Each template comes with a lesson at the start. This helps ensure that you have the knowledge to be able to make the most out of it. It also includes instructions on adding, deleting, and rearranging the various sections within your template.
Quizzes
Thinkific's quiz course creation tool enables quizzes either as an online learning tool (and as such are ungraded) or as an assessment of previous learning with an achievement score.
This structure allows you to use quizzes to help unlimited students learn and assess their progress. Thinkific enables course creators to set multiple choice questions to which there can be more than one correct answer.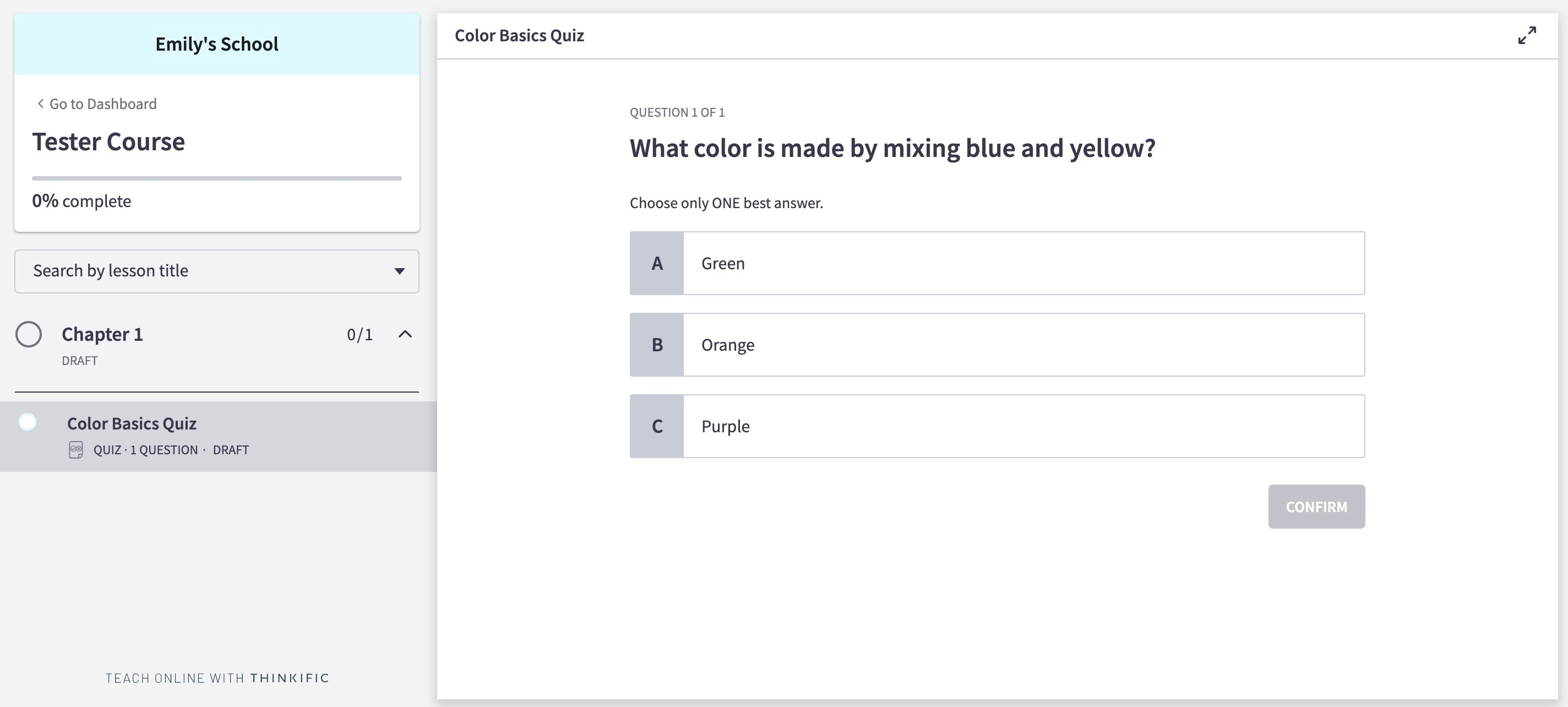 Written quizzes are sometimes hard for students to engage with, and Thinkific solves this by including a WYSIWYG text editor.
This can be used to add embedded images, videos, or audio files to improve the ease of engagement. Quizzes can also be included within a course. For example, the student can take a quiz at the end of each course module to assess progress.
Creating a Quiz
Creating a quiz is straightforward using the tool.
First, select the course you are working on as an overview, and on the curriculum tab, select add a lesson.
Secondly, select a quiz from the lesson types and add a title.
Finally, select the number of correct answers to your question and enter the question in the field provided.
You can use the WYSIWYG editor to add any required media.
Here, you can select whether your first question will have one correct answer or one or more correct answers. You can also add the required number of answers and indicate the correct one with a tickbox.
If you subsequently wish to remove an answer, you can do this by using the trash symbol on the right-hand side of the page. If the quiz is to be used for information only and not grading, you can include an optional explanation field with an explanation of the correct answer.
You can also choose a passing grade, which can be used as a gateway to the next section of your course. Students will be required to achieve a passing grade before moving on to the next section of the course.
The randomized question bank allows you to build up a database of questions for a random quiz generator to use. This feature is enabled by a tickbox and is useful for students who retake the quiz knowing the questions are likely to be different each time they attempt it.
If you have previously used Excel to create a quiz, this can be imported to Thinkific as an XLSX file. The student's quiz results can be easily exported as a CSV file over email for assessment.
Assignments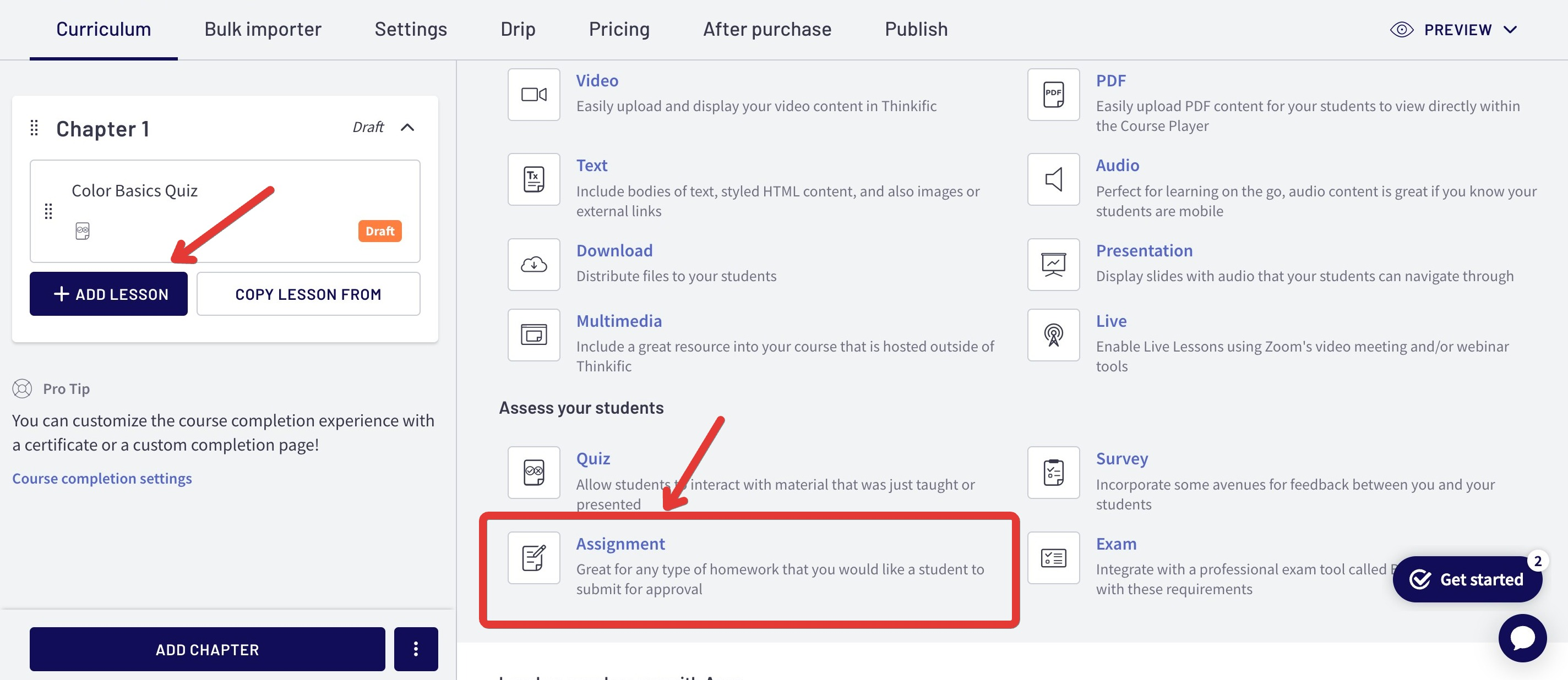 As well as creating an online course platform for people to follow, Thinkific allows you to create assignments and set students' tasks to do as part of their homework.
They have to submit this to you, and you can set it to be approved before they can complete the course. You can also set these up as milestones throughout the course. This means the student must complete the assignment and show student engagement that they have learned the necessary knowledge before moving on to the next stage.
One of the best things about Thinkific is the dashboard. It's easy for course creators to follow, so creating a lesson and adding an assignment is easy.
You simply need to log in, select the course in question, and follow the prompts to add a lesson. After that, simply select the relevant stage to insert into your assignment.
Once you have set up the assignment and it starts to be assigned to your students, you'll be able to collate a range of data. This includes pass rates and even feedback from students on each particular assignment.
The data allows you to see which parts of your online assignments are working well and which you may want to tweak. This helps you ensure you have maximum client satisfaction.
Completion Certificates
Many elements go into creating a successful online course, but giving students a sense of pride and achievement definitely helps. You want students to leave feeling like their course helped them achieve something positive. This is where certificates help!
Thinkific allows you to design and award several certificates to students for completing your course. And not only does Thinkific enable you to design the certificate, but it also offers many pre-made templates. Data can also be auto-filled in to help make life easy.
You can add your own logo and a background image if you want one. You can also tweak any color schemes you want, and you'll quickly and easily have a digital certificate that can be sent to your students.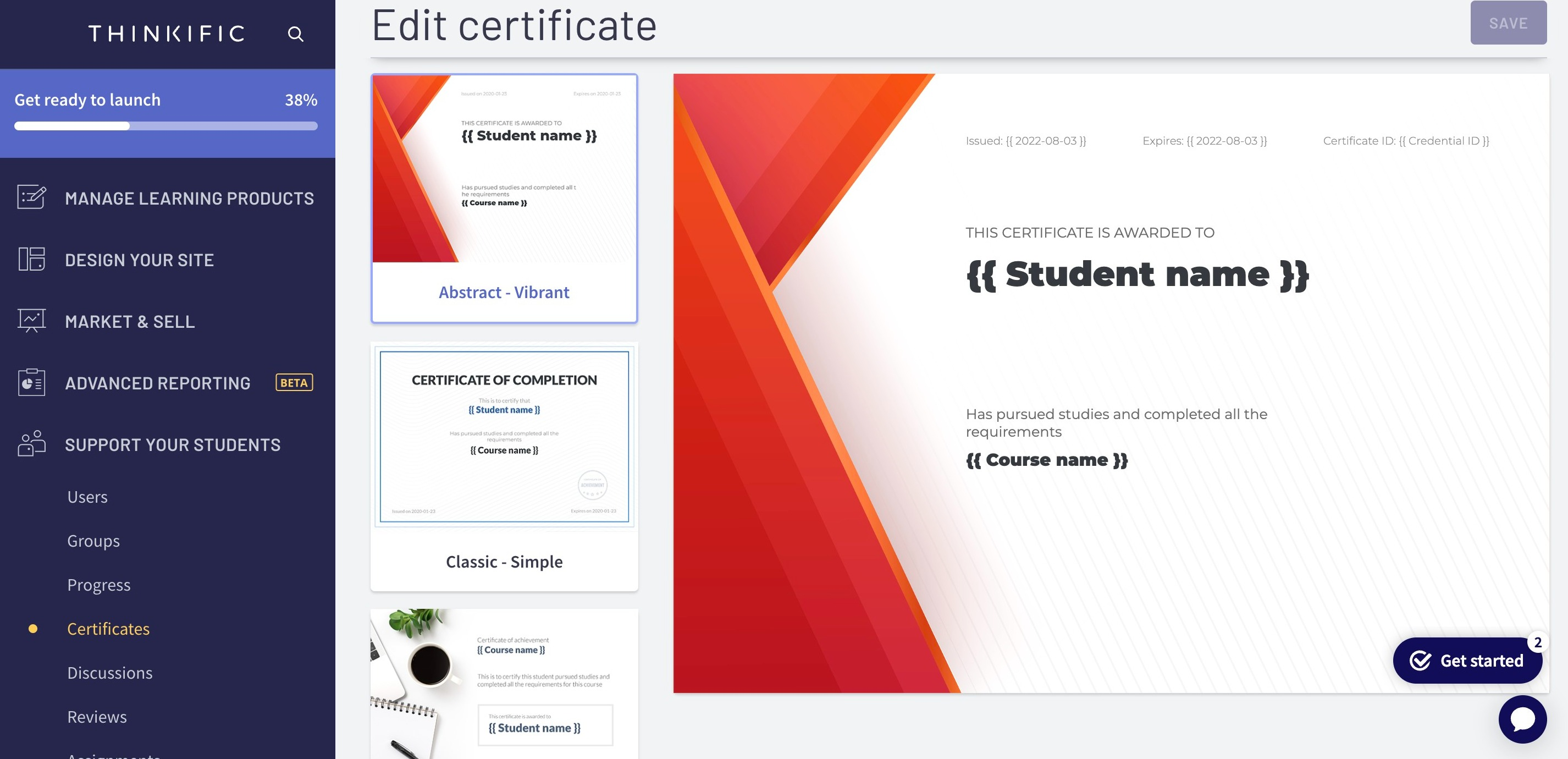 Not only does this help motivate and reward your students, but it also gives them something that they'll be proud to show off to friends and family. This can be great for business too and one of the best marketing features for online businesses!
Creating the certificate is easy. Simply pick a template, customize the design, and customize the text and content. Once you have done this, you can assign it to the course it is for.
Once a student reaches 100% completion, the certificate is issued to them. The certificate can be downloaded in a PDF format from the student's own dashboard.
The certificate dashboard within Thinkific has lots of data and information that you can look up too. This includes certificate history and the option to reissue certificates to any students who request them at the click of a button.
Live Lessons
Creating an interactive course is a great way to motivate students and keep them interested in your course.
Hosted via Zoom, the Live Lessons feature allows you to offer both meetings and webinars to your students. This is ideal for when you want to demonstrate something that may not be easy to show in a more structured, text-based lesson.
You'll need a Zoom account to get started. Once you're signed up, it allows you to go ahead and schedule as many live sessions as you like. It will even help you set the right time and date and let your students know it is happening.
Once the lesson time arrives and you're live, students that are signed into their course account with you will be able to log directly into the lesson via Zoom, and watch your live lesson as it happens.
Currently, you're able to live broadcast to up to 100 students at a time as the feature is still in Beta. However, there are talks of expanding this to allow you to offer your live lessons to more students if needed.
Drip Schedule
Most successful businesses rely on the correct timing for things like product launches and company updates, and online courses are no exception.
The Drip Schedule feature within Thinkific allows you to schedule your course content ahead of time. This makes it easy to ensure that your students access your course content at exactly the right time.
The Drip Scheduler currently has three options when it comes to scheduling content. You can schedule it based on:
The student enrolment date
The course state date
Or picking a specific date in the calendar
This is great for a course you're promoting for the future, and you want people to sign up now to gain a place on the course.
The software also manages students' expectations. It does this by setting up a page that lets them know when the content will be available if they try to access it ahead of schedule.
It also allows you to drip content based on your student's timeline. For example, you can set it that chapter two is only available when they have been enrolled for 7 days. This is great for spacing out lessons and helping to ensure that students have had sufficient time to take in all of the information presented to them in one chapter before they can move on to the next one.
Communities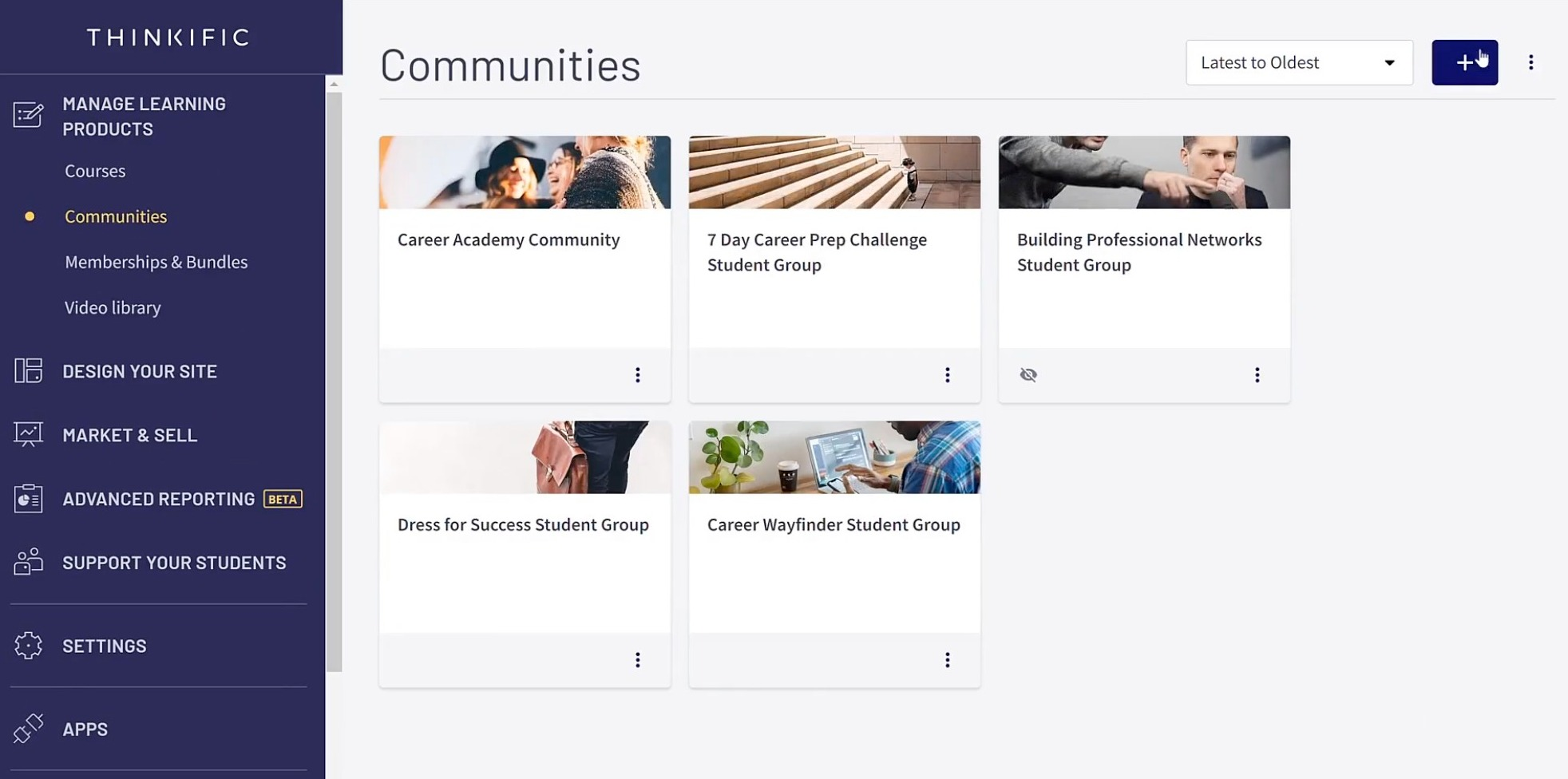 One common gripe students have when completing online courses is the lack of interaction with their tutor and fellow students. Thinkific has fixed this problem by allowing course creators to offer the facility to have online conversations between students and tutors. This also encourages students to interact and help each other.
Like a forum, both students and verified instructors can communicate through posts and comments. Students can ask for assistance and offer help to others when they can. Communities can be set up to be able to be accessed across the whole site, based on an individual course or attached to a bundle.
Course creators keen to offer value for money from selling courses and build up trust with their students often find that being accessible to their students works well.
You can even create membership sites, offering communities to different tiered membership levels if you wish. To help build trust within your brand, this allows you to create branded content throughout your online community. Choosing the right imagery, colors and even hosting it on your own custom domain helps to keep everything in-house.
As the communities are integrated with your Thinkific course, it automatically adds or removes members depending on their enrollment in your course. This makes it easy for you to manage the online community and ensure it is truly for students only.
Coupons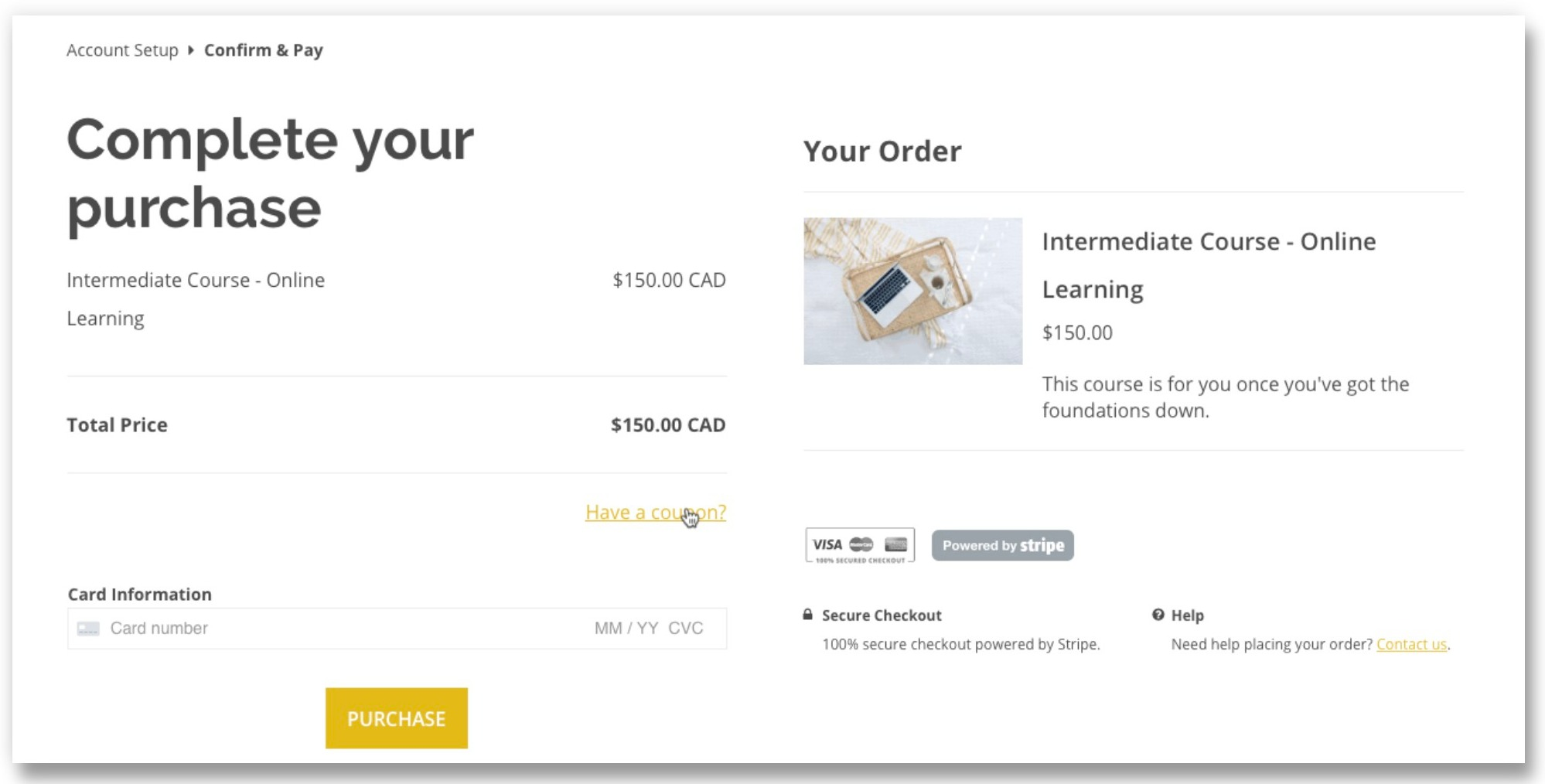 Offering course discounts and promotions are a great way to attract customers and students, so it's something that most online course creators want to explore. Thinkific offers the opportunity for you to create coupons and even provide tools that you can use to help promote these and market your online course.
The Thinkific dashboard has been designed to be user-friendly, and the creation of coupons is no exception.
You can simply head to your account's Market and Sell section and create any coupons you wish here. From this section, you can decide on a coupon name and description and, if you want, choose a coupon expiry date.
It also helps you set up how you wish to configure the discount and what discount each coupon code is going to offer when it is redeemed. There are several settings you can choose and customize here, including how many times students can redeem a particular coupon.
On top of that, they have made it easy for students to redeem the code because you don't want anything within their sales journey to be complicated and put them off completing their purchase.
On the checkout page of your course platform, there is simply a coupon code section where the students enter the necessary code. This automatically gives them a discount, showing them what they have saved and what they have left to pay.
Building websites
Thinkific's Site Builder tool lets you quickly construct a course website customized to your needs. The Site Builder provides for creating a suitable homepage, sales page, course landing pages, product pages, and content pages. Thinkific's site builder is easy to use with no coding skills required.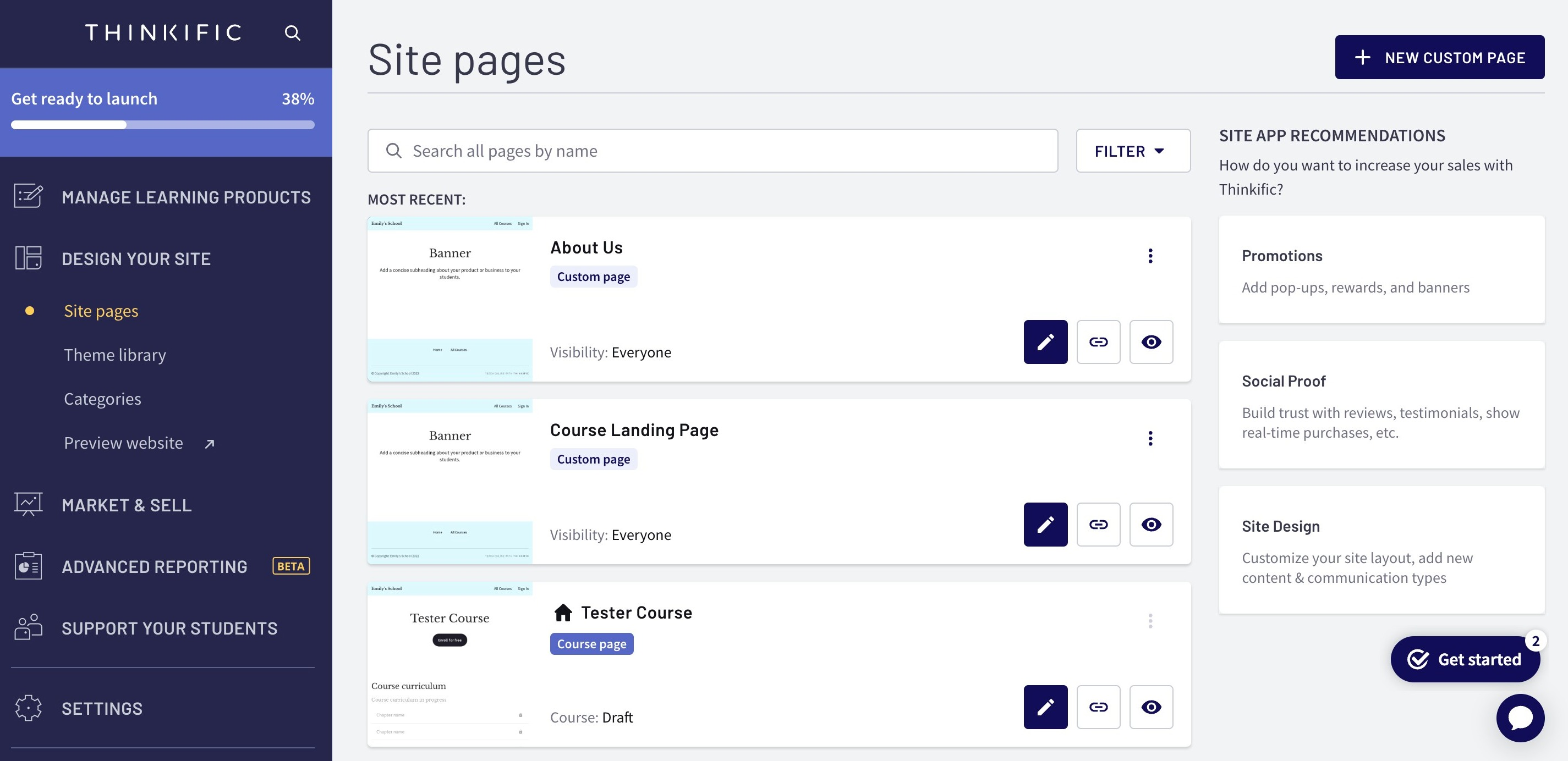 The first step to creating a site with Thinkifc is to choose from one of the three available themes, Vision, Vogue, or Empire.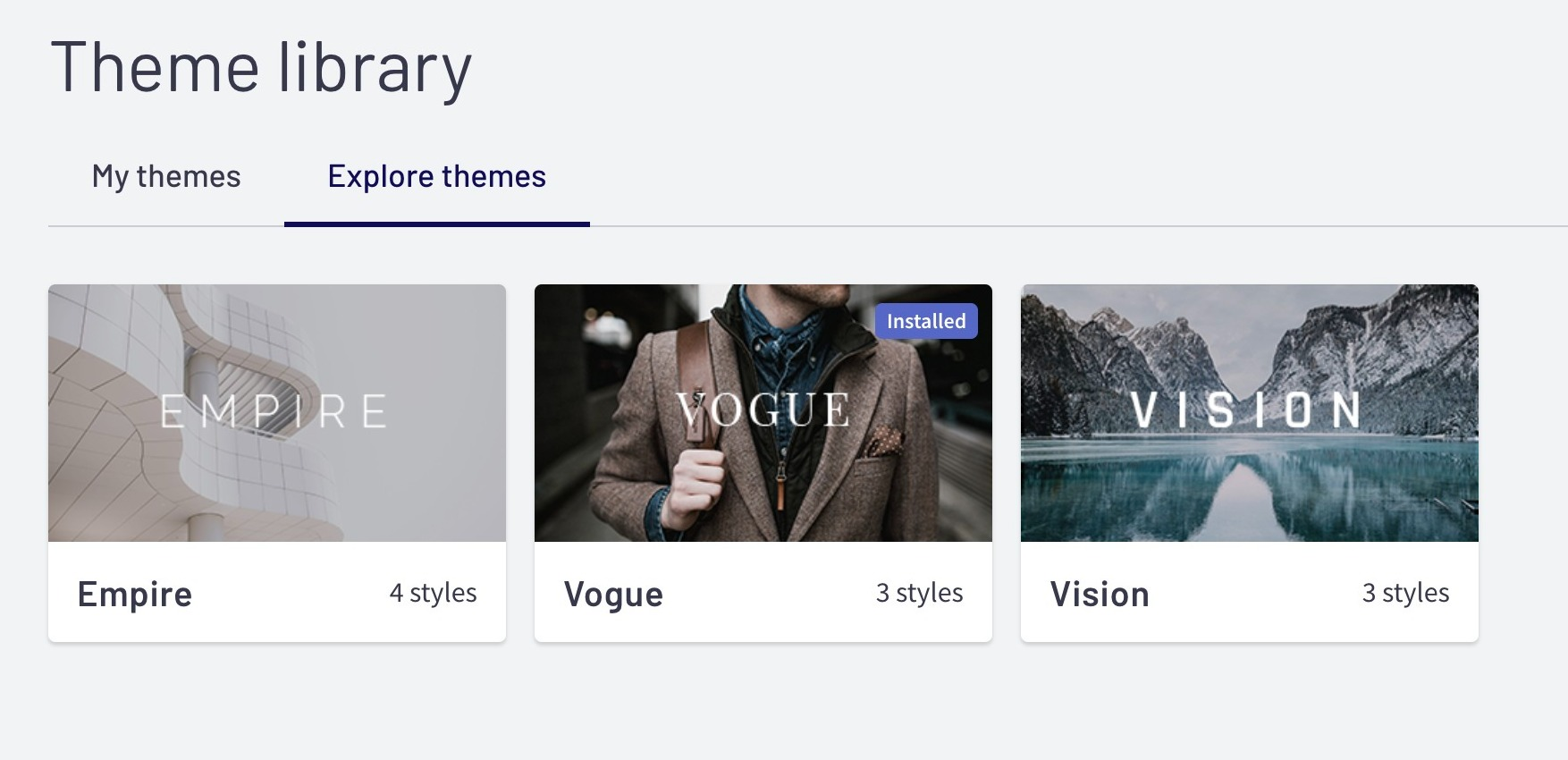 Each theme has a different selection of user interface with 3 or 4 sub-styles. You are given plenty of choices over the colors and fonts within each theme. You can choose to change your style without changing the content of your site. But changing themes will reset all the information you have entered.
The theme settings allow you to customize your site to the style of your brand. Altering settings can give your site a wide range of looks without resorting to a theme change.
Page layouts can be changed easily using drag and drop elements to create bespoke landing pages that fulfill your needs. Thinkific provides Smart Sections which enable you to automate the addition of content without the need to update your course manually.
Choose from Curriculum, Video, Checklist, or Countdown timer, depending on the webpage you are creating at the time.
The required layout for page elements can be changed using a drag and drop method. Which means no special skills are required to complete your website.
Thinkific Payments
For any digital product to be successful, it must be easy for customers to complete the checkout process. Anything too lengthy and complicated will likely put people off from completing their purchase, and signing up for an online course platform is no exception.
Thinkific software allows course creators to manage payments, take payments, and even offer refunds to students if needed.
With all of this in one place via the Thinkific dashboard, managing your online course payment options is made as easy as possible.
Various apps can be integrated into this section of your Thinkific course website to make the checkout process as easy as possible. These include Sumo, Facebook Pixel, Google Analytics, and ActiveCampaign.
Managing payments is easy too. Thinkific gives the option to offer one-off purchases, ongoing subscriptions, and even payment plans to your students. Customers can opt to pay using various methods, including digital wallets such as Apple Pay, Google Pay, and PayPal. This means that there should be a payment options to suit everyone.
Is Thinkific Easy to Use?
Thinkific is not a new player in the game of online learning and training courses, and this really shows in its comprehensive offering.
However, as well as offering a massive range of features, they have spent time and effort perfecting their dashboard behind the scenes.
Although everyone will have different experiences with any software like this, most reviews agree that the drag and drop feature of the Thinkific dashboard makes it really easy to navigate. Although there is a slight learning curve at the beginning, everything is fairly easy to get to grips with.
Being able to drag things to where you want them to be and preview what they will look like in real-time makes it as simple as possible to create a course that matches in with the look that you want.
One thing that many people mention is the comprehensive tutorial section within the Thinkific website. It seems that Thinkific is keen to ensure everyone gets the best value out of their software. They have a range of tutorials and guides to help talk people through anything they want to set up or know more about.
That said, setting up and letting you create courses is something that they have worked hard on to ensure it is as simple and easy to follow as possible.
Many reviews even show how easy all of the analytics and data sections are to read, helping to ensure that Thinkific course creators have easy access to all the data they need to ensure the success of their online course and, of course, to allow their eLearning business to grow.
Integrations

Thinkific offers 28 supported native integrations to improve ease of use and save time. Zapier offers over 1500 further integrations for use with Thinkific. To enable these integrations, log into your Zapier account and link it to Thinkific using an API KEY and subdomain.
Available integrations fall broadly into the following categories:
E-Commerce Integrations - Enable your Thinkific profile to integrate with accounting and inventory systems. This makes data collected in Thinkific available seamlessly in your other systems. Ecommerce integrations can be made with Shopify, Keap, DropInBlog, Poptin, CartStack, and SamCart.
Automation Integrations. Automate your workflow by enabling two or more apps to be displayed on the same page without the need to rely on external features. This saves time and simplifies data transfer. Some of the available automation integrations are Zendesk, Stunning, eWebinar, Segment, Zoom and Slack.
Analytics Integrations - The means to measure course sales. They help you ascertain the revenue generated by your course, paid adverts, and email campaigns. Data is integrated and provided for review in a simple format. Commonly required integrations in this sector are Airtable, Quaderno, Facebook Pixel, Google Analytics, Mixpanel (check out Amplitude vs Mixpanel), and Wizebank Analytics
Email Marketing Integrations - these integrations help by messaging potential customers as they use your website. Common integrations for Email marketing are MailerLite, ConvertKit, MailChimp, Flodesk, Constant Contact, and AWeber.
Student Engagement Integration. From creating certificates to improving marketing, these integrations are available to help. They help make your courses fun and brandable. Choose from Typeform, Accredible, Community Box, Lessonspace, intercom, PlaYEAH, and WordPress
Growth Integration - Tools to help grow that amalgamate sales and marketing features seamlessly into a single integration. Choose from Sumo, ActiveCampaign, Hello Audio, Capture, Motrain and SalesForce
The full list of integrations is a formidable one, with over 1500 integrations to ease your workflow available through Zapier.
Reporting and Analytics
It is all well and good creating an online course that you think is great, but without the feedback and data to back this up how can you be sure?
Thinkific offers a range of data reports and analytic options. This enables you to keep up with how all your courses perform. The easy-to-read dashboard gives you access to data such as:
Revenue - Where is your revenue coming from, and how are people choosing to pay?
Orders – How they were placed, what coupons are popular, who is placing orders?
Enrolments – Look at who is enrolling and what percentage of courses have been completed
Engagement – Are students engaging with your content? Which content gets the best engagement rates?
This data can all be seen and filtered down on your Thinkific dashboard. This allows you to see exactly what you need, analyze this and adjust your online course offering as needed. You can also filter down into advanced reporting mode. From here, you can export the data in CSV format to allow you to view the data offline, place it in a spreadsheet and/or share it with someone else.
Training and support
The Thinkific website has a built-in help center. Here, you can search articles for answers to any questions that they have. This part of the website is generally positively reviewed, with people happy that they have been able to take advantage of this easy-to-access information.
The main page has an FAQ section with answers to lots of popular questions. This includes how to get started and accept payment – two pretty important pieces of information for those wanting to sell online courses.
They also have several sections on their help page that break down the questions they are answering and the information they are giving. This gives anyone struggling with a section of the website easy access to the information they need.
Additionally, there is a pretty comprehensive training section which has Thinkific's own free courses on offer. Courses include guides on how to create content, fast-track your content creation, and even advice on pricing options for your online course. This ensures that even those new to this sector have as much information as possible to ensure their success.
Thinkific Pros and Cons
Free option for those that only want to create one course
Priority phone support for those on higher plans
Everything is customizable
Voiceover tool available for creating presentations
Can set up and offer monthly payment plans
Unlimited students
No built-in marketplace to promote your course
Email marketing has to be done via 3rd party email providers
No built-in sales funnel options
No app
Thinkific Pricing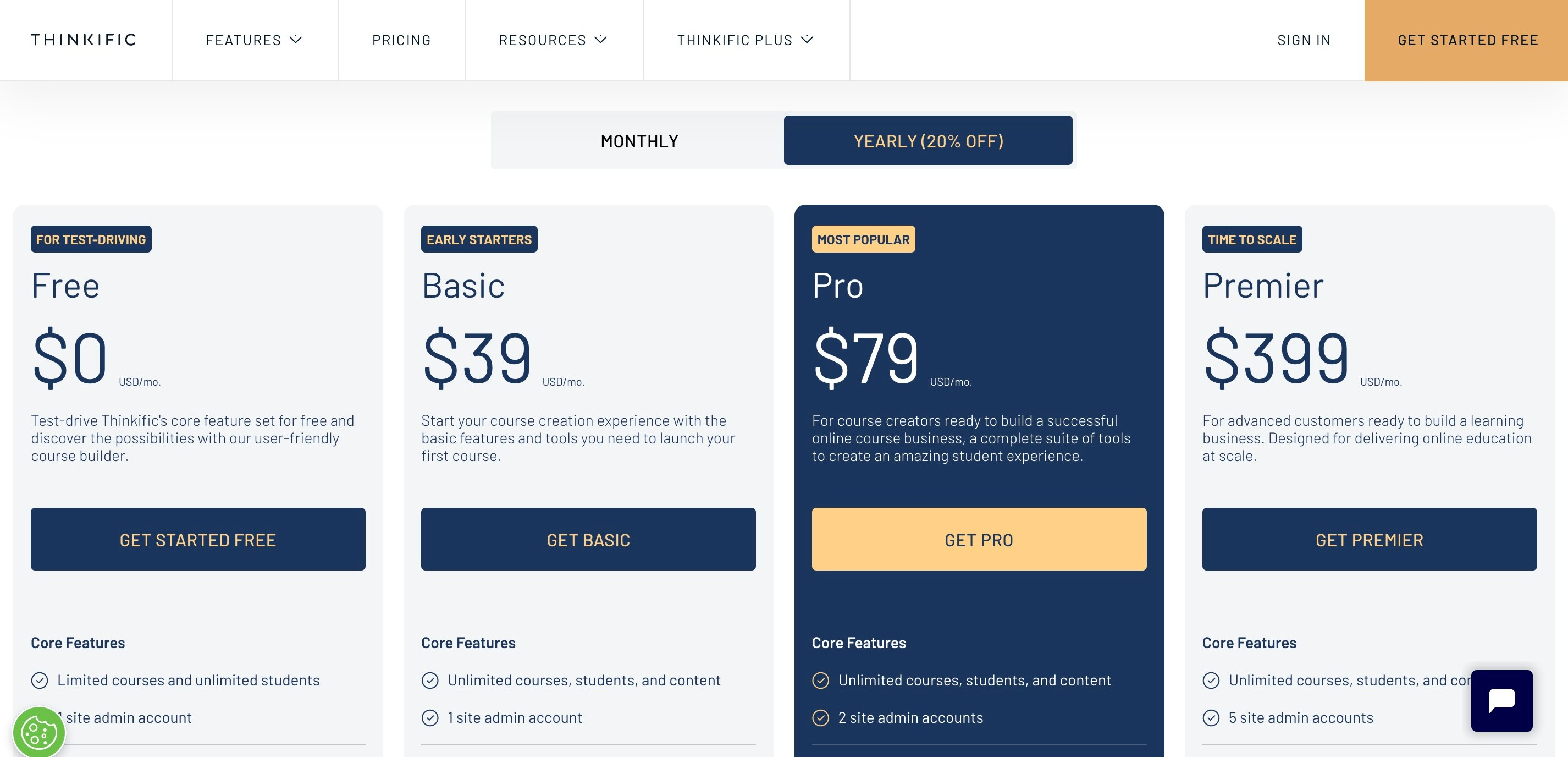 When it comes to pricing, Thinkific is one of the most affordable options out there. Thinkific offers monthly subscriptions with costs increasing as additional features are added. All paid plans subscriptions benefit from a 20% reduction in price if they are paid for yearly.
Thinkific's pricing structure starts with a free plan. This enables you to try the software's core features without the Thinkific cost. However, it is limited in the number of courses you may offer.
As you may imagine, each package comes with a range of features, clearly detailed on their website.
Free Plan – With this basic plan one site admin and access to their basic features, including website templates and drag-and-drop Thinkific course builder.
Basic Subscription (one site admin account) - $49/month ($39/month if paid yearly) offers unlimited courses, students, and content. This slightly less basic plan offers additional features include access to drip scheduling, using a custom domain, site builder, and also access to their live chat support.
Pro Subscription (two site admin accounts) - $99/month ($79/month if paid yearly). This plan offers additional features such as flexible pricing, subscriptions, user completion certificates, live lessons, a site builder, and priority customer support.
Premier Subscription (five site admin accounts) - $499/month ($399/month if paid yearly) offers the opportunity to operate completely white label. You can also set up unlimited communities, have full API access, and take advantage of a full onboarding package.
Thinkific's Pro + Growth package
You can add Thinkific's Pro + Growth package's on top of your Pro plan for an additional $50 per month. This gives you access to all the features such as:
Groups - For selling your courses to organizations or colleagues, assigning analysts for reporting.
Remove Thinkific branding - Thinkific's branding will not be featured on your website or landing pages.
Advanced segmentation - This feature enables search filters and bookmarks to collate student communications, reporting, and progress tracking.
Communities - This feature allows for the construction of a community around your content.
Zapier actions - Requiring a Zapier subscription, you can enroll students based on actions through other tools using Zapier.
Brillium exams integration - Requiring a Brillium subscription, this provides an assessment service for exams with additional features.
Thinkific Review - The Verdict: Is Thinkific Worth the money?
Overall, Thinkific is a great option for anyone looking to make money online by selling courses.
Thinkific's marketing and content delivery platform support information marketers to sell their content online easily. And its initial free plan trial subscription is a great way for beginners to experience the main features risk-free.
It also does a good job of syncing with well-known and accepted software and payment services like Zapier, Stripe, and PayPal.
The only downside is that it does not offer a mobile app. This may prove problematic for some students, especially as Thinkific's competitors offer this. Although Thinkific mobile friendly aspects are significant. Also, Thinkifics onboarding systems can occasionally be slow, and there are limited features for students with disabilities.
That being said, it still offers excellent value for money, and thanks to the free plan, there's nothing to lose if you want to try it out for size.
---
Best Thinkific Alternatives
If, after reading this review, you're still undecided whether it's the learning management system for you, don't worry! Thanks to the rise in other online course platforms, selling online courses has never been easier, and as you might imagine, Thinkific is not the only online course creation software on the market (see Thinkific vs Teachable).
Although Thinkific has a range of features and benefits that would suit most people, there are some solid alternatives and other platforms out there.
Teachable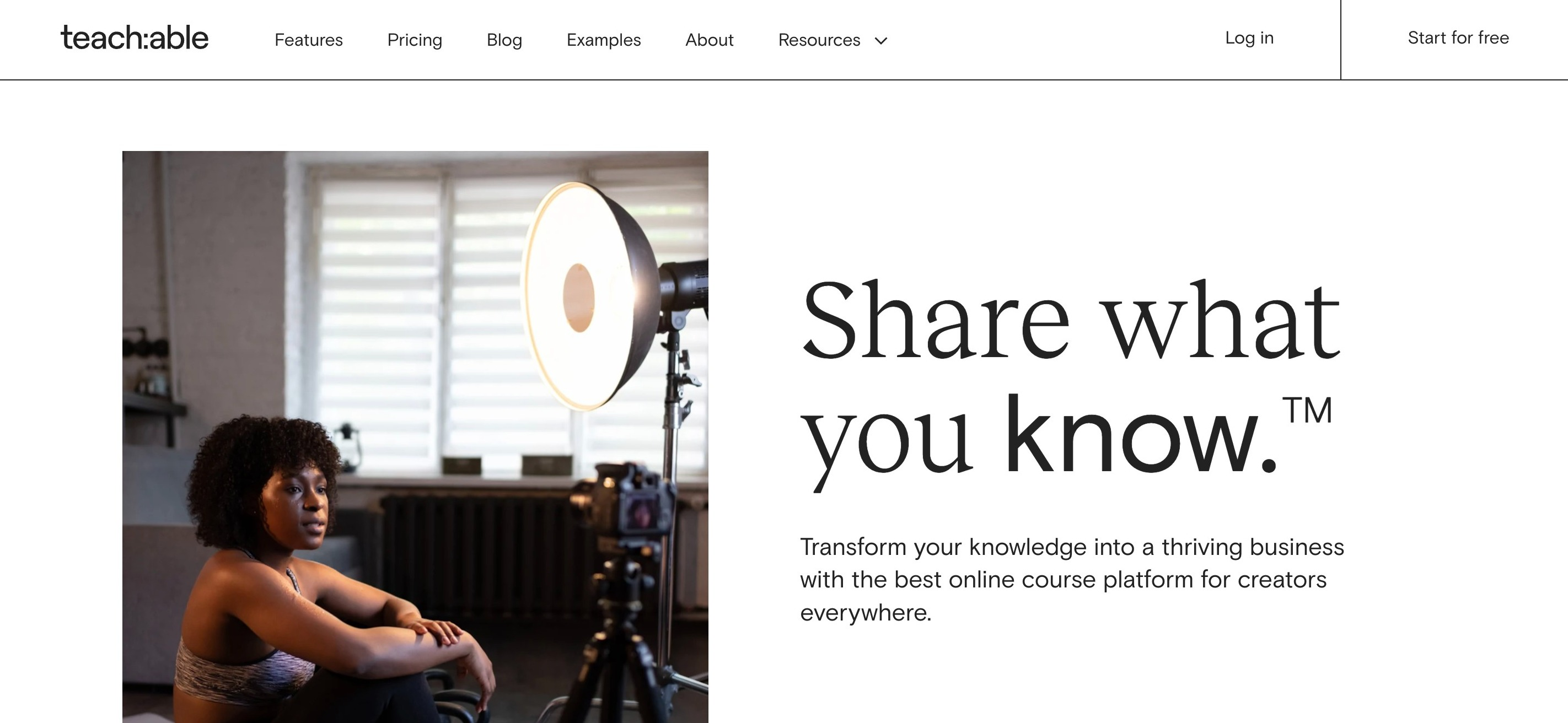 Teachable is one of the most popular learning management systems around. It allows you to offer an online course with unlimited courses and coaching programs across a range of their plans.
Course content can include text, create quizzes, and also videos, depending on what the creator wishes to put out there. It's also super easy to use, making it one of the best options for beginners. We have a comprehensive Teachable review you may want to check out!
---
Podia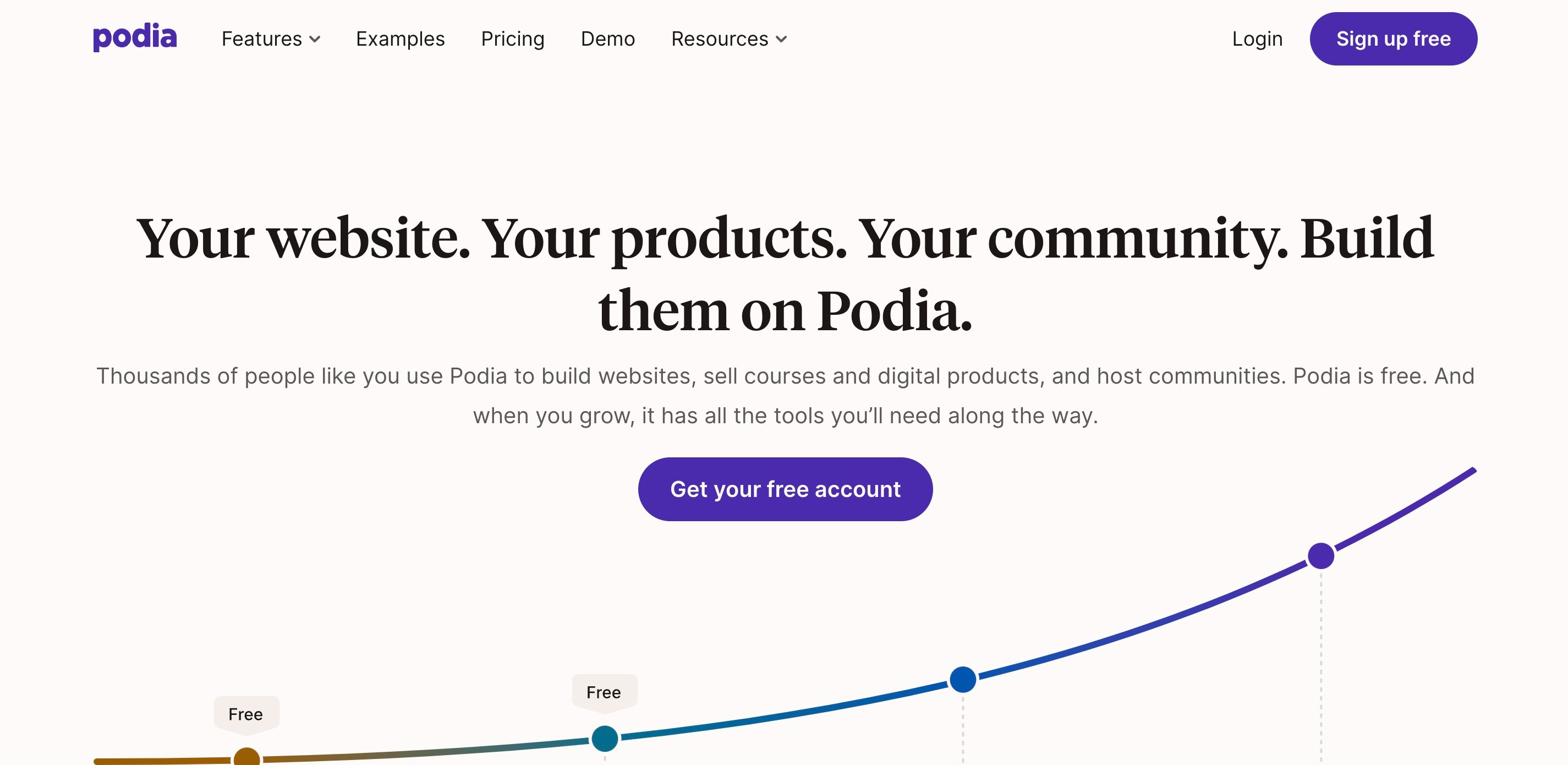 Podia is a successful all-rounder that offers a little bit of everything when selling digital products and courses online. The only downside is that the free plan doesn't offer full courses. However, you can still use it to create draft courses if you want to give it a test run. You can check out our full Podia review here for everything you need to know.
---
LearnDash
Learndash is a powerful learning management system for WordPress. It also has some features that Thinkific doesn't, such as live chat customer support and some out-of-the-box email marketing tools.
Want to learn step-by-step how I built my Niche Site Empire up to a full-time income?
Yes! I Love to Learn
Learn How I Built My Niche Site Empire to a Full-time Income
How to Pick the Right Keywords at the START, and avoid the losers
How to Scale and Outsource 90% of the Work, Allowing Your Empire to GROW Without You
How to Build a Site That Gets REAL TRAFFIC FROM GOOGLE (every. single. day.)
Subscribe to the Niche Pursuits Newsletter delivered with value 3X per week