Teachable Review: The Best Platform To Create And Sell Online Courses?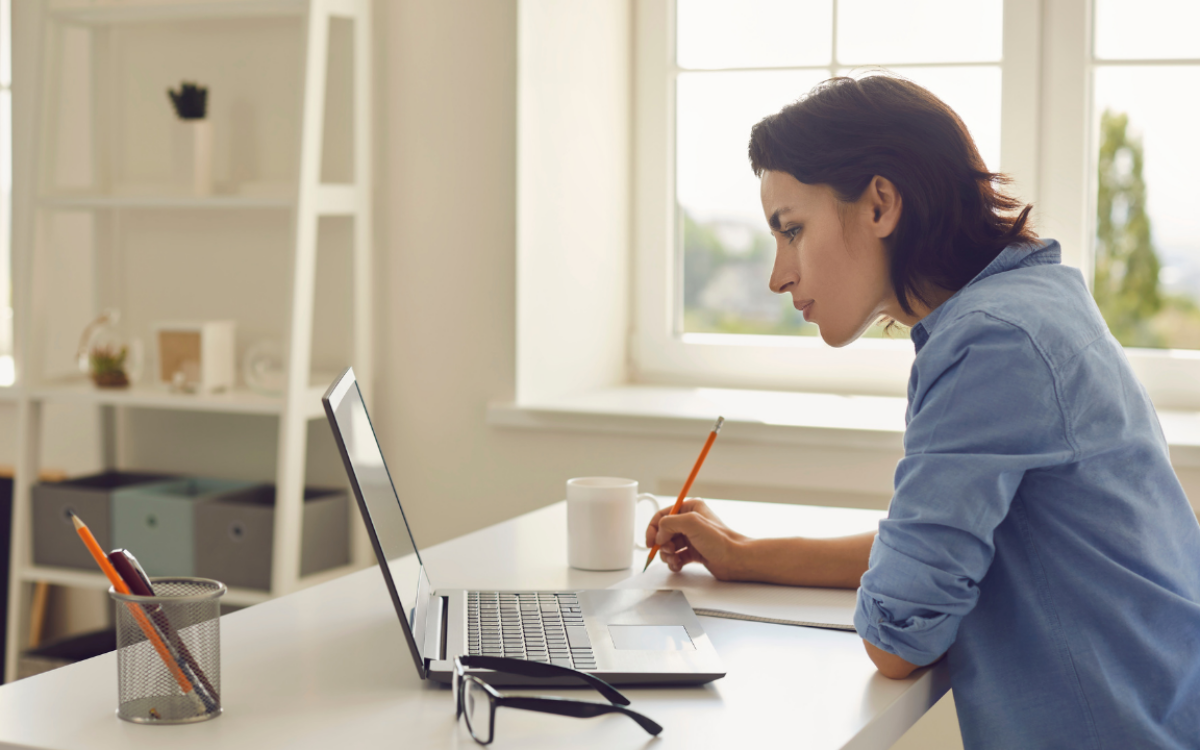 Our Teachable review will tell you everything you need to know about this one-of-a-kind online learning platform.
No time to read the whole article? Sign up for Teachable right here!
If you're searching for a learning management system designed just for instructors, Teachable could be the one. The Teachable platform is easy to use and great for the average course maker who wants to start selling online courses (check the results of Teachable vs Podia here).
Online courses are a popular and rapidly growing alternative to traditional education. An increasing number of people choose them as a viable option for all educational levels.
According to current eLearning data in the United States, the online course industry could be worth $25.33 billion by 2025. This means that now is an excellent time to start for anyone interested in profiting from selling their knowledge and talents online.
But, with such fierce competition, it's critical to have the necessary tools. These can ensure your success as an online course creator, which takes us to Teachable.
Teachable for Creators
Teachable is a user-friendly platform to explore if you want to get started with online learning. It offers an infinite number of courses and a variety of pricing options. Moreover, I also think Teachable has the potential to disrupt the traditional learning management system market in a big way.
Not sure if Teachable is right for you? In this Teachable review, we cover:
What Teachable is

How Teachable works

Its best features

Pros and cons

Teachable alternatives
By the end of this Teachable review, I am sure you will be able to decide if it is the right platform for you.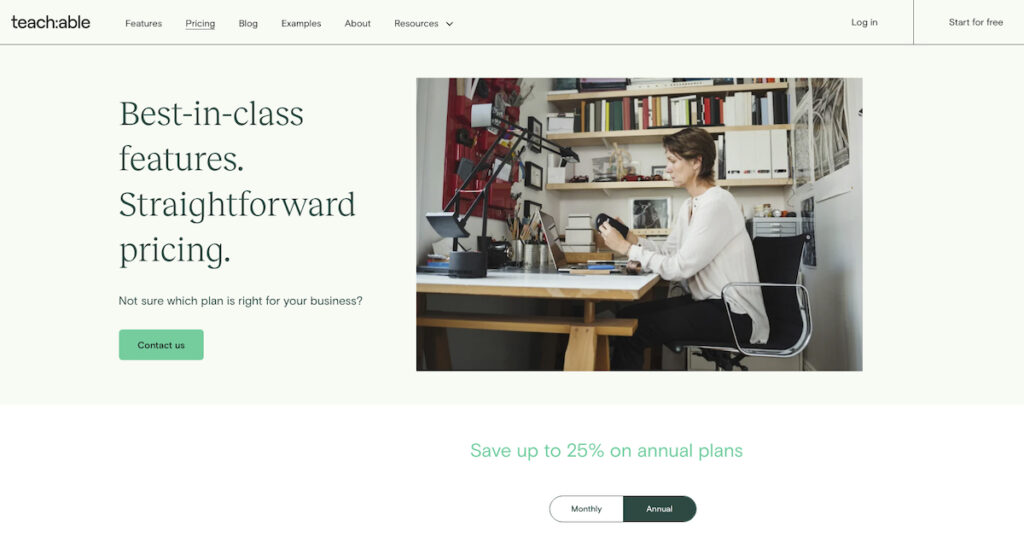 Sign up for Teachable right here!
---
Teachable Review
Features -

93

User Friendly -

95

Customer Support -

90

Price -

95
Summary
Teachable is currently one of the most popular online course platforms. Their low entry-level pricing and plenty of features make it a good choice if you're just starting out. You can have your school online in a matter of hours. And you'll have access to a ton of lessons and advice to help you along the way. Try Teachable here!
Pros
Easy to get started with
Has the majority of the features you'll need
Active blog with helpful insights
Pricing choices that are both flexible and low-cost
Cons
Limited design and customization options
Difficulty keeping up with help requests at times
Teachable Review: Overview
Our Teachable review concludes that it is a simple, solid teaching platform for instructors to design and manage online courses. It also helps you sell your product via various sales tactics. Equally important on the list are email marketing and discount codes.
Also, the platform provides video hosting with limitless bandwidth. Teachable courses can be purchased outright or as subscriptions with recurring payments. There are handy integrations with third-party services such as Zapier and Stripe. These increase its capability through automation and email marketing.
Here's a bit of background on Teachable LMS (Learning Management System). Ankur Nagpal created Teachable in late 2013. Nagpal, a UC Berkeley graduate, was teaching a marketing course on another online course platform. He got frustrated with the course platform's limited accessibility. As a result, he opted to design something with a more profitable payment method and greater customization features.
Teachable began as Fedora before evolving into a broad online course platform. It offered anything from baking to business analytics two years later. Teachable has more than 100,000 instructors who have created thousands of programs. Furthermore, it has earned more than $500 million as of 2020. Nagpal sold Teachable to Hotmart in 2020 for around $250 million!
Who is Teachable Best For?
Teachable is a platform for bloggers, creatives, and content providers to create and sell online courses. It can also be used to create a membership site and communicate with your students.
Teachable is a good option if you need an all-in-one teaching solution for your online school. This platform is highly suited for folks who aren't tech-savvy. The user interface is simple and intuitive. It simplifies the creation and organization of your materials and provides several customization choices.
Over 100,000 teachers have used Teachable to create over 34,000 training courses for millions of students worldwide. Top online developers like Pat Flynn of Smart Passive Income and Tiago Forte of Second Brain also use it. As a result of using Teachable, they have sold seven-figure courses to their followers.
Best Teachable Alternatives
Teachable is an excellent platform, but in case you wanted to compare and contrast... Here is a list of the best Teachable alternatives.
Thinkific - an all-in-one platform for creating, marketing, and selling courses
Podia

- for online courses, subscriptions, and digital downloads

Learndash - a learning management system and WordPress plugin
Kajabi - with built-in tools to assist course developers
FreshLearn - create a course in less than 60 minutes
Continue reading to find out everything you need to know.
Teachable Platform
Teachable differs from many other online course providers or MOOCs (massive open online courses.) This is because it is more of a course hosting service than a course publisher.
Teachable has some of the top online courses, and you won't be limited in what you may teach and study here.
Here are some of the most popular categories and examples of Teachable courses in those categories.
Arts
Watercolor Painting
Hand Lettering
Make Fabulous Cakes
Sketch Master
Acrylic Pouring
Paper Flower
Health
Fitness Bootcamp
Triathlon Training
Nutrition
Yoga
Healthy Cooking
Breastfeeding
Niche
Blacksmith
Home Cooking
Houseplant Care
Shoemaking
Academics
A-Levels Tutoring
Languages
3D Design
Self-Published Authors
Music Production
Trading Skills
Coding Classes
Jewelry
Photoshop Training
Marketing
You can use Teachable in your organization to offer value to your customers. And you can also train employees or sell Teachable courses.
The following are examples of organizations that successfully use Teachable:
Product Marketing Alliance
Pearson
Intuit Quickbooks
How Does Teachable Work? An Overview
Teachable is a unique cloud LMS (Learning Management System). You won't have to worry about finding a host for your Teachable course. This is because it's a dependable hosting solution. You also don't have to use up your valuable time maintaining a website or even need to install software on your computer to get started.
The Platform Handles Everything For You
Everything is entirely online. You can decide to work on your Teachable course whenever you want. Simply sign up for the basic plan, pro plan, or business plan, log in, and you're working!
Teachable simplifies course design with a drag-and-drop interface. This allows you to add content from other sources (like Google Drive). The software makes it easy to design an online course, allowing nearly unlimited students to find your course appealing and professional.
Teachable also offers a variety of engagement features, such as quizzes and assignments.
The platform has an interface comparable to a Word document, thus making it simple for users unfamiliar with HTML to construct their own site. Many pre-made templates are also available for individuals who like to develop their site from scratch.
And the dashboard makes it easier for educators to keep track of student development.
Teachable also interacts with Google Analytics to track the traffic to your course pages. It enables you to apply custom CSS code (these are Cascading Style Sheets - the code that styles web content to your course pages). These ensure they look exactly how you want them to when published on the Internet.
You can check out the platform right away by joining up for the free plan. You'll receive a complete demo, build a completely functional course, and can even offer it for sale.
Teachable Review: Best Features
Teachable provides plenty of choices for setting and branding the site where your course material will be hosted.
There are enough options and customization capabilities if you're just starting out. You could rely on Teachable for your web presence for a time without too much difficulty. Here's a quick rundown of the main areas you can influence.
Theme
The Teachable administrative panel's "Site" section provides a user-friendly interface. You can adjust key elements of your course site's branding. It's also possible to add your logo and upload a background image or select an image from a wide range of visual content provided by Teachable. You can also change the fonts and colors that you'll use throughout the site.
Even with these basic tools, you can create a fabulous-looking site. But more expert users can input custom CSS in the "Code Snippets" tab.
Custom Domain
You can use Teachable's domain to link to your own. It's simple to add a custom domain to your existing website. You'll also be able to tailor your learners' experiences completely. You can use the power editor to create fascinating lectures, coaching sessions, and videos.
A custom domain is critical for long-term SEO performance and growth. If you want to start a business creating and selling products online, you should think about getting your own domain. Teachable's default address is a subdomain of Teachable.com.
But with any Teachable paid plan (beginning with the basic plan at $39 per month), you have the option of creating a custom domain.
At the Professional level and higher, you can disable Teachable branding. This normally appears as "powered by Teachable" on all your site pages.
Teachable Review: Data Tracking and Marketing Tools
Teachable makes it super easy to keep track of your numbers and facts. With the platform's complete dashboards, you can develop beautiful sales pages. These increase visitors and keep track of purchases and student information.
You get lots of methods for Teachable course designers to earn a living - and you don't have to pay a boatload to sign up. You can provide coupons and advanced price choices. These include memberships, subscriptions, bundles, one-time payments, and so on. Teachable also provides affiliate marketing tools. These help you spread the word about your business while earning money.
Teachable takes care of everything for you, from pixel support to affiliate payouts, so you don't have to worry about it. Plus, the teaching platform accepts worldwide payments in over 130 currencies and offers mobile and PayPal payment options.
Interaction With Students
Teachable is one of the best platforms to consider any online course creator who wants to communicate with their students. It has built-in call hosting, task creation, and other capabilities, so creating classes and milestones is simple.
You can use Calendly to arrange and host events. It also helps you in managing your intake and booking, learning, and other scheduling responsibilities. Calendly is a free online appointment scheduling software.
Teachable comes with preset navigation links and some stock Web pages. You can edit the web pages if you choose to do so. You can also quickly add links to Teachable's main navigation and footer menus. These can point to pages you design. You can simply control whether the menu items are visible to logged-in users, logged-out users, or all users.
The Teachable features let you add as many pages to your site as you want and regulate who sees them. But just be aware there is no drop-down or sidebar navigation, so your menus can start looking pretty messy quite quickly.
Blog
Unlike many of its competitors, Teachable allows you to write a blog on your school website. If you have a blog somewhere else, this may not be important to you.
But it can be quite useful if you don't have a blog or simply want somewhere to publish stuff related to your multiple courses.
As you are probably aware, a decent blog could be one of the most valuable assets and marketing tools that any edupreneur (educator with an entrepreneurial mindset) can build.
Custom Text
Teachable includes options for altering the system's default text to a language of your choice. Everything from e-commerce links to Teachable course navigation buttons to error messages is included. Overall, there doesn't appear to be anything you can't alter to your preferred language.
Custom Code
As previously noted, you can insert custom CSS in the Teachable's Code Snippets area. This is also where experienced users can add HTML and Javascript to the head tag.
Advanced users with a Professional or higher license can use Teachable's Power Editor. You can use it to make major changes to your Teachable theme. It is worth noting that Teachable says that this capability is still in the works and that no help is available. Act with caution if you go this way.
Teachable Review: Creating A Course
As the course creator, you'll supply the course name and teacher as part of the course setup process. And you can also specify a search engine optimized (SEO) URL, page title, and meta-description for each course you create.
You can quickly upload a thumbnail image that will appear in the catalog and on the course interface and a marketing video on the course's sales page.
Teachable's approach to course design is pretty basic, prioritizing on-demand, video-based courses. But, this is likely to be enough for the majority of online course developers.
You can use the Custom Text tool described above to add lectures. Your lectures can incorporate multimedia files such as video, audio, PDF, text that you type directly into Teachable, quizzes, or any combination of these. The courses are divided into sections that are loaded with lectures. You name the parts as you create them (for example, Introduction, First Module, etc.).
You can also use the "Add Code" option for Lectures to incorporate live video streams or webinars straight into a lecture. This is a good feature, but it's probably too advanced for most course entrepreneurs. It'd be nice to see a more user-friendly choice for streaming video and Webinars.
Except for the "Add Code" feature, most online course makers will find it pretty painless to put up their first online course in Teachable. And the finished product will look appealing and very professional.
Author Creation
One of the great Teachable features is Author Creation. Once created, authors have the right to do most of what I've described above and also earn a revenue share from course sales. So, if you want to create a Teachable site and then have several teachers create some or all of the content, Teachable makes it fairly simple.
Creating Quizzes
Teachable provides course creators with easy, uncomplicated multiple-choice quizzing. You can specify as many potential questions as you want. For any question you make, you can identify as many alternative answers as you want, and questions can have one or many correct answers. You can also indicate it will be a graded quiz. If it is, the results will be available in Teachable's reporting section.
While making quizzes with Teachable is simple, your options are limited. There is no mechanism, for example, to provide students with feedback on their answer options. And no question randomization and question bank storage. There is also no way to import quiz questions in bulk. If you already have a collection of graded quiz questions, you will have to enter them into Teachable one by one for each course.
Marketing and Selling Your Courses With Teachable
Once you've created a course and are happy with it, you need to sell it! You can provide a free course to go with a book, product, or service. However, most course creators want to make money.
Teachable offers various sales page templates optimized for conversion using a drag-and-drop builder. You can customize these templates if you know how to design a page in WordPress. Preparing your sales copy and finding images for the course is advisable before creating the sales page.
Users can also link their Teachable school to a custom website domain. Or, you can use Clickfunnels or LeadPages to construct a landing page that links directly to the Teachable purchase page.
Pricing
You can establish different costs for a course, and various pricing models are available. These include free plans or subscriptions, one-time purchases, and payment plans (to allow learners to pay for the course with multiple payments over time).
Under Settings, students can choose whether or not to opt out of their payment plans (basically, cancel their enrollment). By default, the setting is that they are not allowed to opt out.
Coupons and Bundling
Teachable coupons can be created to provide discounts to certain clients. A Teachable coupon can be made for any payment plan and can be a fixed value or a percentage off (requires Basic or higher plan). You can sell several courses in a single transaction by bundling them together.
Sales Pages (Also Known As Landing Pages)
Teachable course creator allows you to design and personalize sales pages, including:
Customizing the "hero" headline at the top of each sales page with a picture of your choice
Including a coupon banner, if applicable, to promote any discounts you are offering
Creating a course description
Displaying a bio for the course author/instructor on the sales page
If the course is a part of a bundle, displaying all of the courses that comprise the bundle
Course page closing letter (this can help you seal the deal)
You can delete any of the "blocks" listed above and, if you choose, insert your own custom or pre-made blocks, such as:
Rich Text
HTML
Background Image
Embedded Video
Embedded Form
Testimonial
Featured Courses/Other Courses
Overall, Teachable provides everything you need to create an efficient sales page for selling courses.
The Checkout
When a prospective student hits the "enroll" button, Teachable creates a checkout page. This includes the normal e-commerce choices for entering payment information, but you may optionally include three components to help you seal the deal.
Testimonials - Easily insert testimonials from up to two customers.
Value Proposition bullets - highlight the primary beneficial outcomes students will receive from participating in your course.
Guarantee - use one of Teachable's 30-day guarantee pictures or submit your own custom image.
Thank You Page
Teachable focuses on helping you extract as much value as possible from the sales process right up until you thank your new student for the order. You can just say "thank you" and provide a button for the student to easily access the course platform content on this page. You can also include a video with a personalized thank you or other messaging from you. This is an excellent way to increase engagement and communicate with students.
Finally, by inserting an "upsell" box on this page, you can persuade clients to enroll in other course content you offer. This allows you to sell courses easily by inserting a purchase link for many courses or bundles. You have an opportunity to set the price, including a discount.
As simple as it is to offer an upsell item, Teachable could substantially improve this process. For the time being, the only option to "set up" the upsell is to include a video block on the page. While this is a nice approach, there is no way to add explanatory text or visuals. These would help the prospective buyer understand what the offering is and why they should consider it.
Affiliates
Working with affiliates is possible with the Teachable Pro Plan. You can decide how much they will be paid for selling your course. Teachable will provide a unique URL to use and handle tracking and payouts. You can also set up as many affiliates as you want, including students.
Tracking Course Sales and Enrolments
The Teachable dashboard displays how many students joined up in the previous month and how much revenue you earned from each course during that time period.
Managing refunds and cancellations are necessary components of conducting business online. Within Teachable, canceling a student's subscription and issuing a refund to another student is a simple process.
Communicating With Students
You can communicate with your students using the Teachable program. This function allows you to develop a genuine relationship by providing comments. You can check to see if they are satisfied with the course or keep track of their progress.
Teachable gathers a student's name and email address when they initially enroll in your course. The site then allows you to communicate with pupils directly.
You can also enable comments on a per-lecture basis, allowing your students to provide feedback or remarks.
Teachable Review: User Learning Experience
Most of us, especially novice course creators reading this Teachable review, will need some help figuring out how the teaching platform works and getting it up and running.
Teachable provides adequate "inline" help throughout the platform. This consists of explanations that appear when you click the question mark icon next to a specific feature, but the question mark icon's use throughout the platform is inconsistent and incomplete; you may or may not find one when you need it.
There is also a knowledge base that looks like it's kept up to date and has articles on all important areas of the system. Any subscription plan includes access to Teachable U. This is a collection of online lessons, live and recorded Webinars, and other resources to help you. These are there to create, launch, and develop your business. Overall, a useful and valuable addition to the Teachable offering.
Teachable Completion Certificates
Teachable has great capabilities for designing certificates that can be awarded on course completion. You must have a Professional plan or higher to access them.
You can make completion certificates using one of three templates. Or, if you have the skills, you can construct a completely bespoke template using HTML or Liquid coding language.
You can insert your logo, modify the colors, add a signature (as a JPG or PNG file), and change the template's pre-set text. When a student's certificate is generated, Teachable automatically includes your own online school name, the student's name, and the name of the course.
Teachable Integrations
Most online course platforms allow for connectivity with other platforms (e.g., e-mail marketing and customer relationship management). Teachable provides integrations with several third-party services.
These integrations allow you to connect your Teachable school to various email service providers, community platforms, analytics, and other services. Setting up third-party integrations will enable you to connect your school to other products you use, resulting in a more seamless online experience.
Teachable has a relatively small number of pre-configured connectors compared to other systems. Instead, Teachable mainly relies on Zapier. This is a popular platform for establishing integrations. Zapier is only offered as a subscription plan option.
You can embed Google Analytics code and link to the marketing platform Sumo. You do this with a free Teachable account. This allows you to create forms for collecting e-mail addresses on your Teachable site. Note that Sumo is only free for the first 200 subscribers, then plans start at $29 per month.
Any commercial plans include integrations with ConvertKit and Mailchimp. These are two of the most prominent e-mail marketing platforms. (Teachable doesn't offer a pre-configured integration with Aweber.)
Teachable does make it simple to access a handful of the most popular "Zaps". Zaps are Zapier-created connections between software applications. Zaps for Aweber, Keap (formerly InfusionSoft), Drip, and Google Sheets are just a few examples. Zapier is only free for the first 100 tasks per month, and then fees begin at $20 each month.
Teachable Payments and Backoffice
No Teachable review would be complete without talking about payment. Teachable Payments have the following features:
Notification of probable fraud alerts to aid in the prevention of chargebacks and fraudulent student purchases.
Teachable payments are made directly to your bank account daily, weekly, or monthly.
Teachable offers BackOffice to help you with the issues of running an online school. BackOffice is also for schools that have set up Teachable Payments. Each transaction will cost you 2% of the final amount. BackOffice is not available to schools that use their own payment methods. Enabling BackOffice currently gives you access to the following services:
Automated affiliate and author rewards
Automatic affiliate and author tax form collections
You can use PayPal as a method of course payment
Customer Support
Email is used for the majority of the customer service team and help. The experts are friendly, helpful, and incredibly knowledgeable. In response to a question, you will frequently be given a link to a tutorial. Send a question, and you'll generally get a response within a day.
Teachable Pricing
Teachable prices and plans are pretty easy to understand, and the following features are included with all plans:
No fees on free courses
Basic quizzes and lecture commenting
Student management
Integrated payment processing
Unlimited courses, video, and hosting
EU VAT
If you are a new customer, registering a new account and enrolling in school will automatically put you on the Free plan. You can continue on the Free plan indefinitely and get access to several fantastic features.
If you are a current customer and downgrade to the Free plan, you will lose features that are not included in the Free plan.
Basic Package
The basic package starts at $39 per month ($29 if paid annually). This is a good option for beginners. The basic plan gives you access to everything possible, including unlimited courses, unlimited students, course creator, and automated signups. On this plan, you'll pay the monthly cost plus 5% transaction fees and 2.9% of the total course price in credit card processing fees (and processing fees of 30 cents, again).
Teachable Pro Plan
The next option is the Teachable Pro plan, which costs $99 per month or annually at $1,188. The professional plan includes everything from the basic plan plus the ability to interface with PayPal or Stripe. You'll be able to receive quick payouts, so you won't have to worry about fees.
Or you can use the Teachable payments processor and pay just 2% plus credit card processing fees of 2.9% of the course price. As with the basic plan, there is also a $0.30 processing fee.
You can add additional owners or authors and provide students with graded quizzes and personalized progress reports. Plus, you'll be able to access branding options and even deliver course completion certifications with the Professional plan.
Business Plan
The Business plan is the last option. This is best suited for experts creating large course platforms with several course authors and high sales. It costs a hefty $249 per month or $2,988 a year.
The Teachable Refund Policy
If a student can't attend a class they have registered for due to extenuating circumstances, they may be able to use the amount paid for a later class or a recorded webinar if they email the instructor no later than five days before the session begins. Refunds are not usually provided once students have paid for an online class.
Our Teachable Review: Is It Worth it?
Let's say you want a solution to create and sell courses that handles all details. These include affiliates, email automation, VAT, taxes, author Teachable payments, and so on. Our Teachable review concludes that it is a fantastic alternative for creating passive income.
Thanks to the easy, unified dashboard, you'll be able to run your knowledge business with no IT issues.
Aside from being a smart passive income and investment platform, the Teachable platform comes with an incredible range of capabilities, including:
Synchronous and Asynchronous Learning
Blended Learning
Built-in Course Authoring
Course Publishing
Data Import/Export
eCommerce Management
eLearning Companies
Instructor-Led Courses
Learner Portal
Teachable Mobile Friendly site for mobile learning
Progress Tracking
Surveys and Quizzes
Self-Paced Courses
Tests/Assessments
Videoconferencing
Storyboarding
Selling Courses
You receive all these capabilities and more for pretty affordable prices. This is how Teachable provides such a high ROI (Return On Investment).
Teachable Pros and Cons
Teachable is not flawless, and no software is. While it has an impressive feature set, it also has a few downsides. So here are some of its primary advantages and disadvantages.
Pros
Transactions are handled through Teachable payments (a secure gateway).
The built-in email marketing automation feature makes direct communication with your students possible.
Students are given a certificate of completion.
The Teachable iOS app allows students to access your course.
For more expensive courses, a monthly payment option is offered.
For continued access to a course, a monthly recurring subscription is available.
Teachable's free courses provide 3 hours of video training on building, producing, and selling a profitable online course.
Cons
Course and site customization possibilities are limited.
The transaction cost for the Basic Plan is 5%.
You will need to employ a third-party platform to design your sales funnel (e.g., ClickFunnels or LeadPages).
Teachable support may only be reached by email.
There are no continuing education credits available.
There is little multilingual support.
Teachable Review Alternatives
Thinkific
Thinkific is a powerful, all-in-one platform to create, market, and sell courses.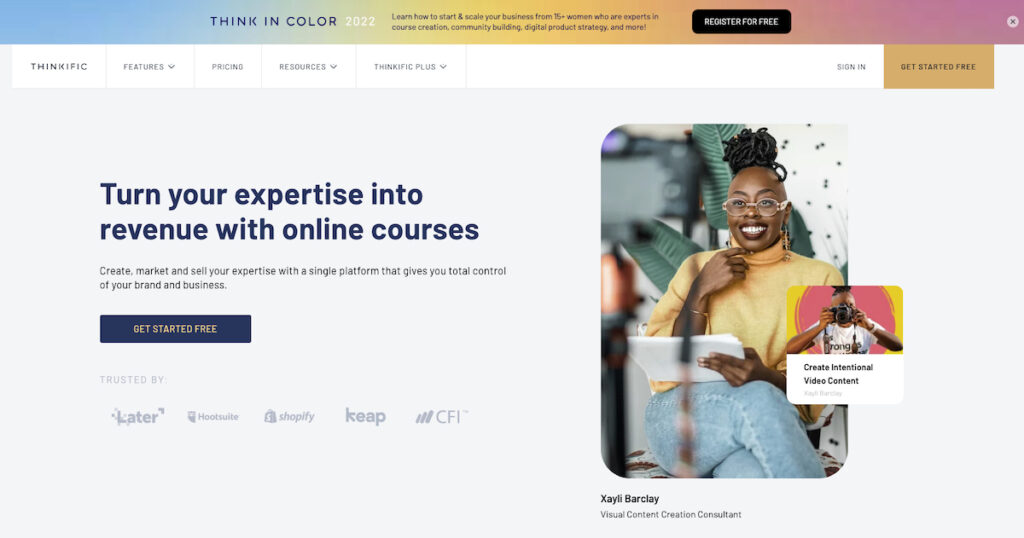 Podia
Podia is a web-based course creator platform for both creating and selling online courses, subscriptions, and digital downloads (e.g., ebooks).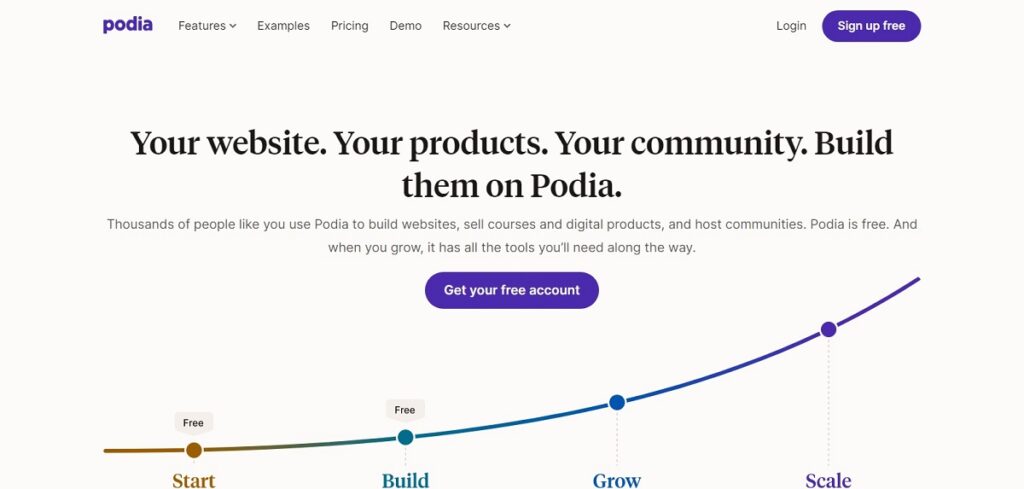 Learndash
LearnDash is a learning management system (LMS) and WordPress plugin for corporations, universities, training organizations, and other industries.
Read this LearnDash review to find out more.
Kajabi
Kajabi is a great platform to create online courses. It includes a set of built-in tools to assist course developers in creating, marketing, and selling their courses.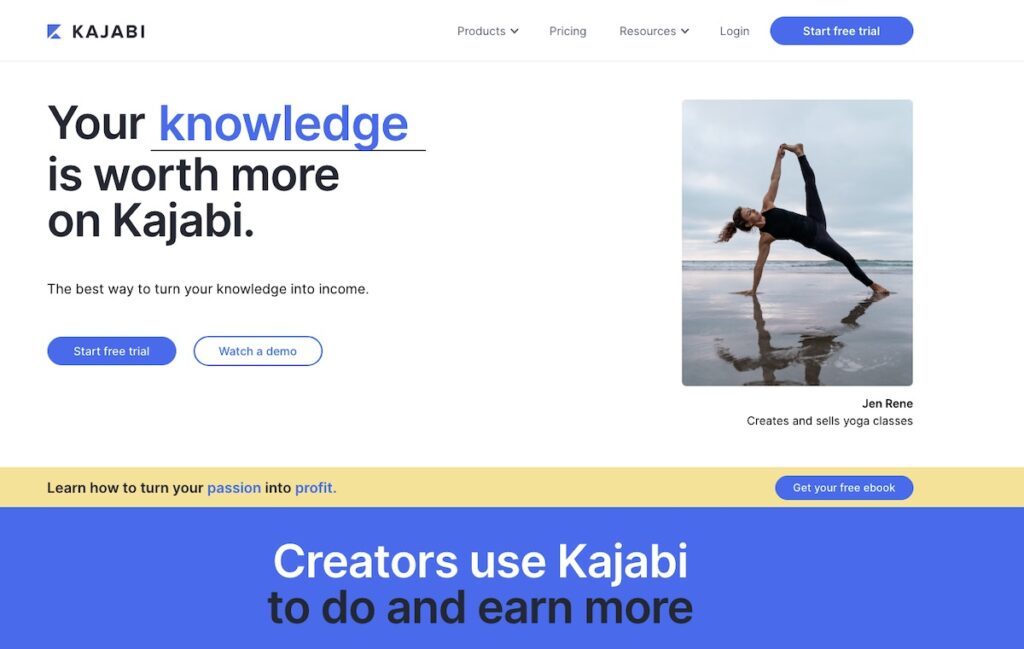 FreshLearn
FreshLearn is a one-stop shop for creating and selling online courses in less than 60 minutes.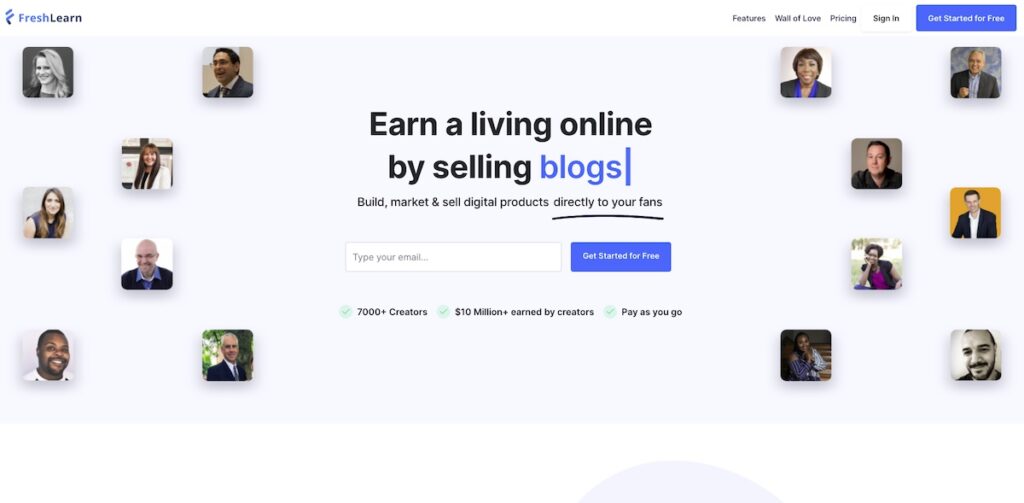 Concluding The Teachable Review
It's worth noting that Teachable is a major player in its platform category, if not the dominant one. This is a crucial point considering the vast number of organizations attempting to provide online course platforms. Many of them will be gone within a few years. Teachable will still be around, no doubt.
Overall, Teachable is hard to beat for anyone searching for a reliable, uncomplicated course creator platform to design and sell online courses.
That said, let's take a last look at the best Teachable alternatives.
Alternatives for Our Teachable Review
Thinkific is a powerful platform for creating, marketing, and selling courses.
Podia is great for creating and selling online courses, subscriptions, and digital downloads.
LearnDash is an LMS and WordPress plugin for businesses and training organizations.
Kajabi offers a set of built-in tools to assist course developers in creating, marketing, and selling courses.
With FreshLearn you can create an online course in less than 60 minutes.
I hope our Teachable review gives you enough information to be able to decide whether it's the best platform for you.
Here is an interesting story to listen to: How Hilary Erickson makes $16K per month from courses helping her readers.
And some advice on building an online course that actually makes money or how to start a 7-figure course business.
Want to learn step-by-step how I built my Niche Site Empire up to a full-time income?
Yes! I Love to Learn
Learn How I Built My Niche Site Empire to a Full-time Income
How to Pick the Right Keywords at the START, and avoid the losers
How to Scale and Outsource 90% of the Work, Allowing Your Empire to GROW Without You
How to Build a Site That Gets REAL TRAFFIC FROM GOOGLE (every. single. day.)
Subscribe to the Niche Pursuits Newsletter delivered with value 3X per week