33 Tagline Examples to Get Your Creative Juices Flowing
When you buy something through one of the links on our site, we may earn an affiliate commission.
The best tagline examples are timeless, catchy words or phrases that we remember long after noticing them. A great tagline brings the brand to life and lives on in our memories.
If you want to establish a bond with your customers and stand out from the competition, you must have a punchy tagline that nobody will forget!
This article discusses 33 such taglines – ranging from pet food to insurance and everything in between! We also give some advice on how to create your own great tagline and list a few tagline/slogan generators that may help you.
33 Memorable Tagline Examples
What is the difference between taglines and slogans? These terms are often used interchangeably, but they are actually slightly different.
A tagline represents a brand, while a slogan represents a specific product or advertising campaign. Learn more with our complete breakdown of brand guidelines!
Sometimes, though, a catchy slogan can become so well known that it becomes a brand's tagline. Apple's "Think Different" is such a case. It was used for a particular marketing campaign but was so successful that consumers now associate it with the brand name.
A tagline or slogan usually consists of a memorable short phrase, but sometimes a single word says it all.
Enjoy the famous tagline examples below!
1. Nike: "Just Do It"
Nike initially specialized in creating shoes for marathon runners. The introduction of their now world-famous "Just Do It" tagline opened up their target market – suddenly, you did not have to be an athlete or even super fit to use their products.
This inspirational line invites everybody to just go for it – whatever their dreams might be!
Thanks to this ingenious tagline, today, Nike is so much more than just a sports clothes store – it is a state of mind!
2. Red Bull: "Gives You Wiiings"
The original Red Bull campaign brought them instant brand recognition as the energy drink that will make you feel powerful and free (and if you're ever in the mood to compete with Red Bull, check out our list of energy drink name ideas).
Interestingly, it started off as "Red Bull Gives You Wings." But a lawsuit was brought against Red Bull for not literally giving you wings and actually containing about the same amount of caffeine as a standard cup of coffee.
So, Red Bull simply changed their tagline slightly (by introducing the three "i"s in "wiiings). This has only made the brand stronger and the line more memorable!
3. M&Ms: "Melts in Your Mouth, Not in Your Hand"
M&Ms has a fascinating backstory: the little chocolates with their hard outer shells were originally designed for soldiers to carry around and eat during the war. The shells ensured that the candy would not melt and make a mess all over the soldiers' gear.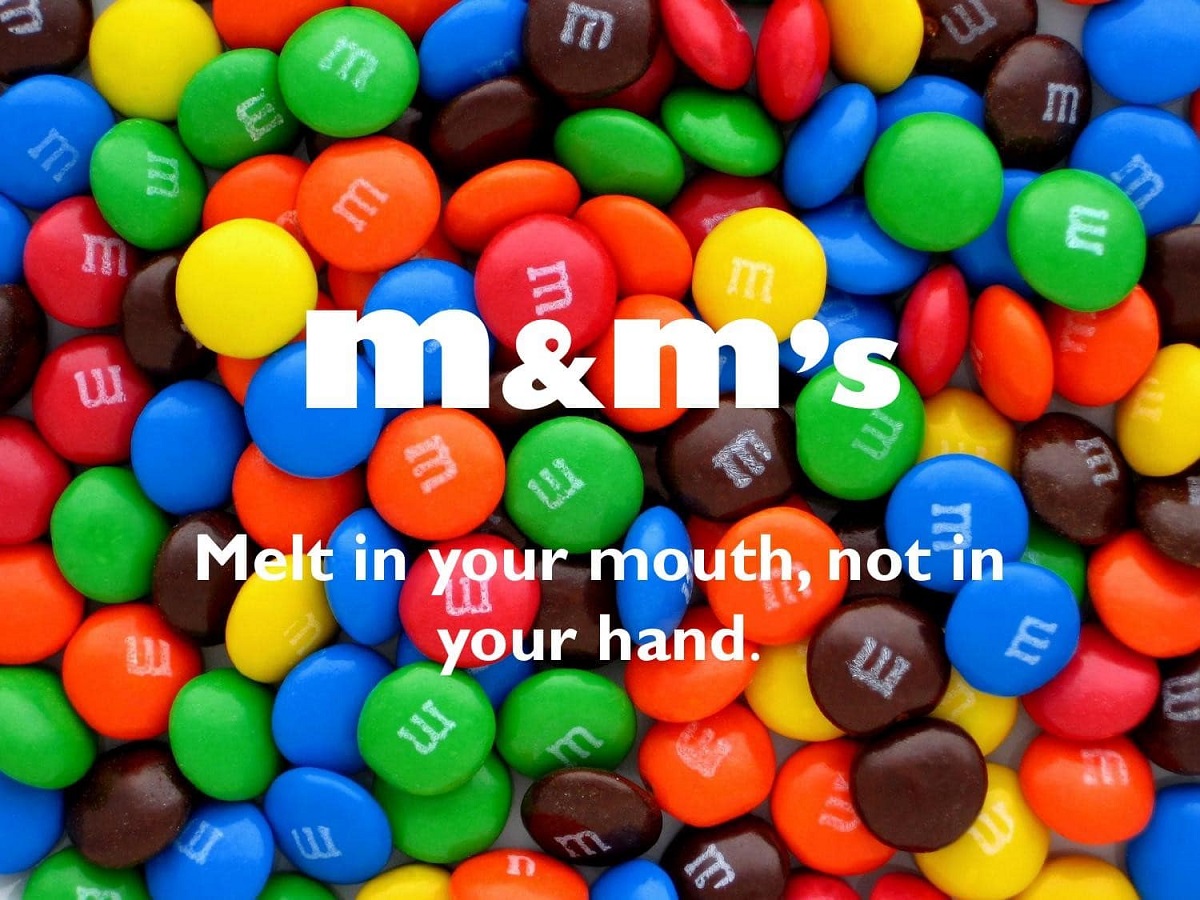 The "Melts in your Mouth, Not in your Hand" line was introduced in 1954 and paid homage to these carefully designed candies' early beginnings.
4. MasterCard: "There Are Some Things Money Can't Buy. For Everything Else, There's MasterCard."
The MasterCard slogan, created in 1997, ran in 98 countries and was translated into 46 languages. This slogan breaks all the rules – it is 12 words long and consists of two sentences! Yet, it has been remarkably successful because of the emotional response it elicits.
Used alongside TV commercials that highlighted special moments, this tagline made it clear that MasterCard understands that not everything is about money. That successfully set them apart from their competition.
The success of this approach gave rise to MasterCard's current single-word tagline: "Priceless."
5. BMW: "Designed for Driving Pleasure"
For over 30 years, BMW was known for its slogan "The Ultimate Driving Machine." Bold and aspirational, this line appealed to those who wanted to stand out among their peers. It was one of the most recognized and successful taglines among car manufacturers for many years.
BMW's current tagline, "Designed for Driving Pleasure," has an emotional angle. It is designed to convince consumers to buy into the brand despite the high price point.
6. McDonald's: "I'm Lovin' It"
The McDonald's tagline, coined in 2003, has become a well-loved household jingle known worldwide. And it shows no signs of slowing down – one of the best tagline examples when it comes to resonating with the brand's target audience.
This line does a great job of communicating the company's emphasis on tasty fast food (even though it may not be the healthiest food choice). The focus is on convenience and enjoying great-tasting food.
7. Tesco: "Every Little Helps"
Tesco aims to market itself as a brand for the people, and its modest slogan captures that beautifully.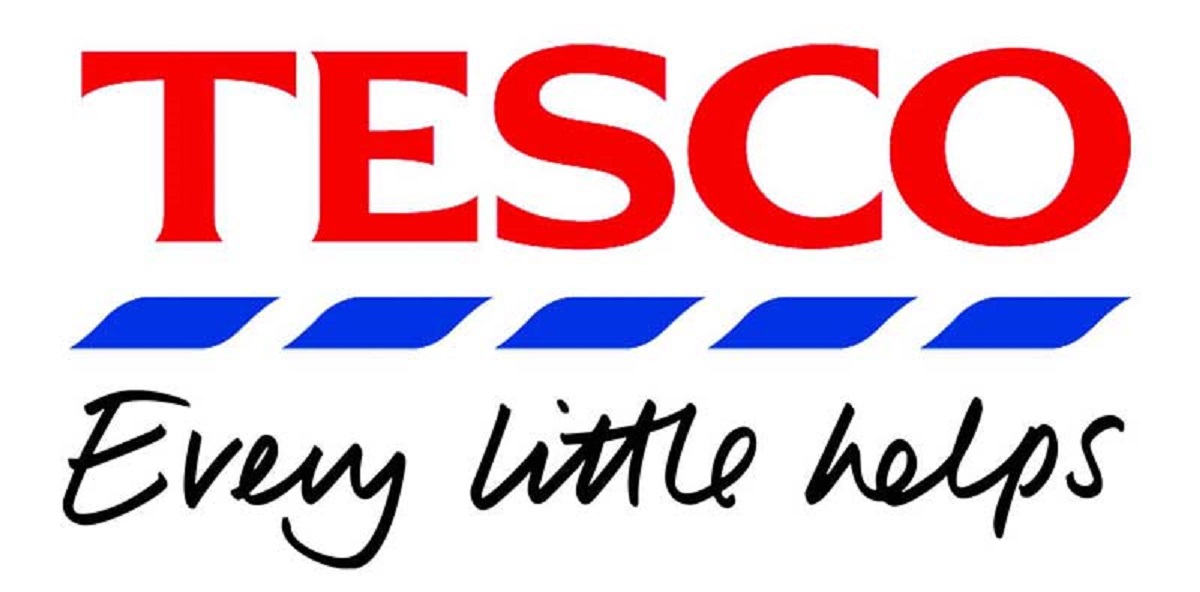 "Every Little Helps" is a catchy slogan and can apply in any one of Tesco's campaigns. It refers to the value for money, quality, service, and also environmental responsibility, which the company is proud to put forward as one of its core values.
8. Maybelline: "Maybe She's Born with It. Maybe It's Maybelline."
Every woman wants to appear naturally beautiful and confident without looking like she is wearing a ton of makeup. Maybelline New York puts this message across beautifully.
Although this line, created in the 1990s, consists of more words than most other taglines, its song-like character ensures that it is not easily forgotten.
In February of 2016, Maybelline's tagline was changed to "Make IT Happen," but everybody who grew up with the old line is sure to repeat the little "Maybe She's Born with it. Maybe it's Maybelline" tune every time they think of this well-known cosmetics company.
9. California Milk Processor Board (CMPB): "Got Milk?"
CMPB's "Got Milk?" campaign was designed to re-awaken consumers' awareness of the benefits of milk over soft drinks in sustaining a healthier life. It was not particularly brand-specific. But it worked!
The long-running campaign was active from 1993 until 2014. It showed celebrities, children, and animals with milk mustaches with the simple words "Got Milk?" written above. The appealing images reinforced the message – and the message stuck!
10. The U.S. Marine Corps: "The Few. The Proud. The Marines."
Nothing symbolizes strength, honor, and courage like the U.S. Marine Corps. And few people make the grade. This tagline gets right to the heart of the organization and the nation!
This is one of our best tagline examples. In fact, in 2007, it even won a place on Madison Avenue's Advertising Walk of Fame!
11. Bounty: "The Quicker Picker Upper"
Bounty paper towels, produced by Procter & Gamble, have a catchy tagline that they have been using for almost 50 years now. This line's sing-song character makes it easy to remember and puts a positive spin on the mundane task of cleaning up spills.
Over the years, Bounty has varied its tagline slightly to fit in with specific marketing campaigns. There were, for example, "The Quilted Picker Upper" and "The Clean Picker Upper." But they have always stuck to the central theme of the original line.
12. Disney: "The Happiest Place on Earth"
Who could argue with this slogan for Disney? It personifies a company set on bringing happiness and childlike wonder to the world.
Interestingly, the slogan on the gateway to Walt Disney World in Florida was updated in 2020 and now reads: "The Most Magical Place on Earth."
13. Airbnb: "Belong Anywhere"
Every traveler wants to feel like they belong – especially when it comes to accommodation. Hotels are generally impersonal and do not offer Airbnb's cozier atmosphere.
Airbnb reassures travelers that they will have the luxury of a private space where they will feel like one of the locals.
14. De Beers: "A Diamond is Forever"
"A Diamond is Forever" was conceived by ad agency N.W. Ayer in the early 1900s, and it has appeared in every De Beers advertisement since 1948! In 1999, Ad Age named it the best slogan of the century.
This brilliant tagline has made diamonds a symbol of wealth, power, and romance. It captures De Beers' sentiment exactly: that a diamond, like a relationship, lasts forever.
It also encourages people to hold on to their diamonds and not resell them, as this would devalue the price of jewelry.
15. United Airlines: "Fly the Friendly Skies"
United Airlines operates a massive domestic and international route network covering small and large cities across the United States and all 6 continents. In fact, it is the third-largest airline in the world.
In the 1970s, United used the slogan: "Come Fly the Friendly Skies of United." Following various mergers and a variety of slogans, United returned to its roots in 2013 with "Fly the Friendly Skies." This clever tagline makes flying (and the whole world, for that matter) seem accessible and inviting.
16. Meow Mix: "So Good, Cats Ask for it by Name."
Meow meow meow meow … which cat lover could forget the catchy tune sung by cats, for cats, in Meow Mix's television ads?
Cats can't help "asking for Meow Mix"! This brilliant tagline has helped establish the brand as one of the best in a very competitive market.
17. Coca-Cola: "Taste The Feeling"
In 2016 a reduction in sales due to health concerns led Coca-Cola to re-think its branding. "Taste The Feeling" positioned Coca-Cola as the drink to enjoy to make every moment special.
In 2021 Coca-Cola again changed its tagline – it is now "Real Magic." This tagline accompanies beautiful commercials demonstrating the magic of sharing life and sharing a Coke. And consumers seem to love it.
18. Verizon: "Can you hear me now? Good."
One of our timely tagline examples, this campaign ran for nine years after being launched in 2002. It was a brilliant tagline as cell phone signals were notoriously unreliable in those days.
Verizon stood out as they promised to provide a more reliable clear signal for all calls – and they made good on their promise.
Their new tagline, "We Can Hear You Now," followed, confirming their commitment that you will always have service with Verizon.
19. Ronseal: " It Does Exactly What It Says on the Tin."
Ronseal is based in the United Kingdom and manufactures wood stains and dyes. Their down-to-earth tagline (the same one that they have used for the past 20 years) appeals to their target audience – there is no emotional or idealistic nuance here!
They just plainly promise that the product will do what it says it will do. That speaks directly to their credibility and assures customers of the quality of their products.
20. L'Oréal: "Because You're Worth It"
L'Oréal's uplifting tagline positions their cosmetics and beauty products as something women deserve rather than something they need. Women do not need these products to be more beautiful or desirable – they deserve them!
This is quite a powerful message in a world where women often feel taken for granted!
21. Burger King: "Have It Your Way"
Burger King's "Have It Your Way" campaign ran for about 40 years and became synonymous with the brand's flame-broiled beef, crisp lettuce, ripe tomato and ketchup, creamy mayo, fries, croissant sandwiches, crunchy pickles, and a lot more.
Over the years, they have run a few campaigns: "Eat Like a King, Not a Clown," was a fun and competitive slogan that referred to Ronald McDonald.
And "Quality Just Tastes Better" was also related to the lighthearted competitiveness between the different fast-food brands.
But recently, Burger King introduced their new tagline: "Be Your Way." This new slogan reflects a change of focus toward their customers who, by the way, will still be able to have their food their way!
22. Lay's: "Betcha Can't Eat Just One"
Staying with food in our tagline examples, Lay's is one of the most well-known in America – and it's perfectly true too! Nobody can resist a bag of potato chips!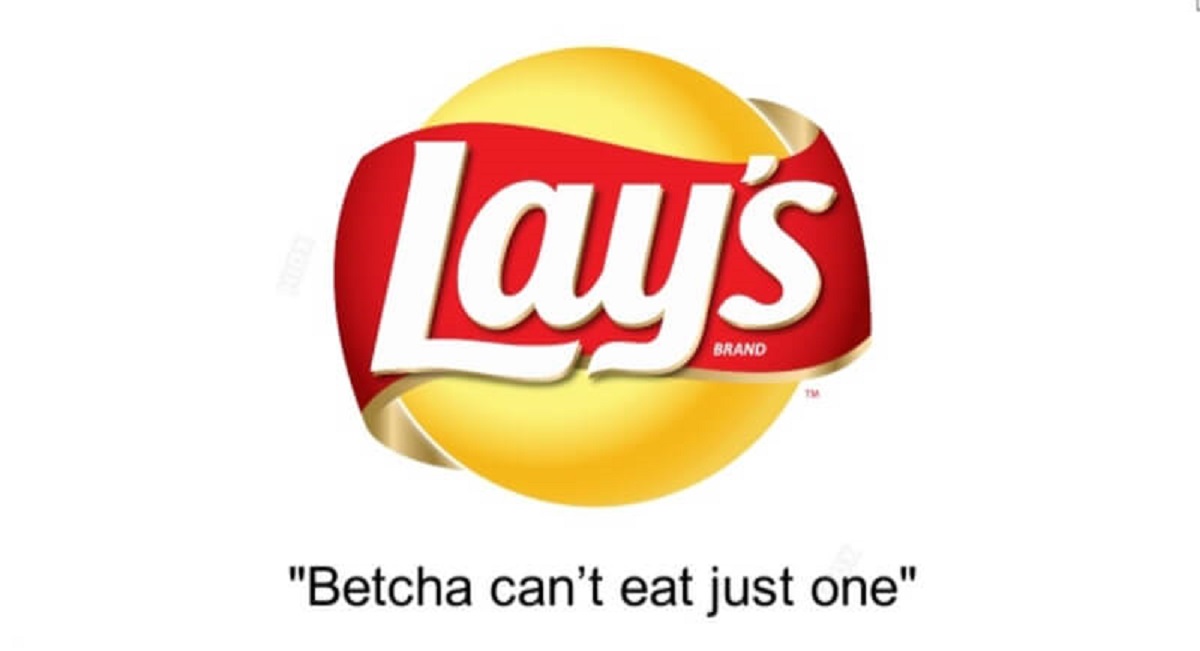 Of course, this is true for all chips, but Lay's made the line their own before any of their competitors did. The challenge in the tagline pulls you in and makes this slogan unforgettable even though it says nothing about the taste of the chips.
23. Audi: "Vorsprung Durch Technik" ("Advancement Through Technology")
This has been Audi's German tagline all over the world since 1971 – except in America, where the tagline is "Truth in Engineering."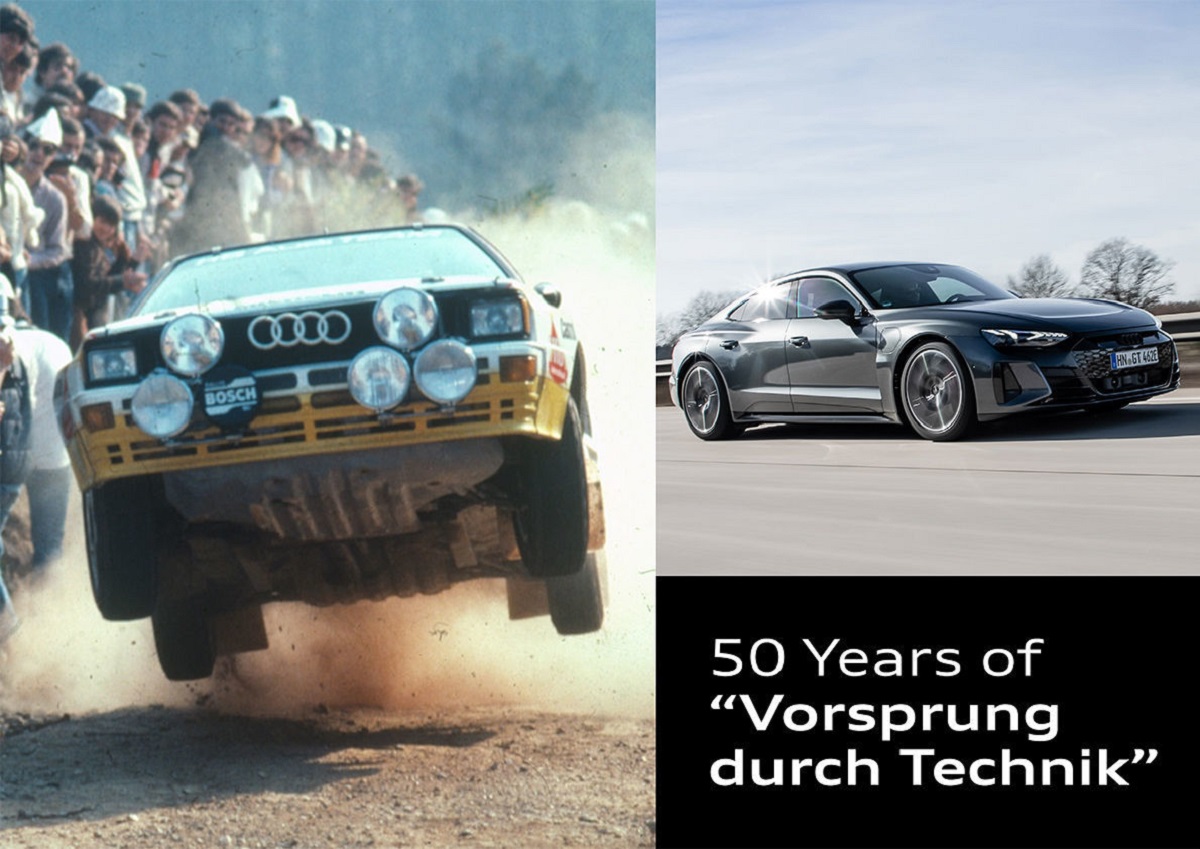 The first-generation Audi 80 (B1 series) was launched in 1972. With its many new technical features, this car was a great example of "Advancement Through Technology."
Throughout the 1970s, Audi established itself as an innovative brand by regularly unveiling new features such as the five-cylinder engine (1976), turbocharging (1979), and the Quattro four-wheel drive (1980).
Audi remains at the forefront as a car manufacturer today.
24. Dunkin': "America Runs on Dunkin'"
"America Runs on Dunkin'" was released in 2006. At that time, the brand was known as Dunkin' Donuts. This tagline reflected American values of hard work and fun, and most Americans could relate to the brand's message.

Ten years later, Dunkin' launched a modern version of its tagline with the "Keep On" campaign.
Chris D'Amico, SVP and Group Creative Director at Hill Holiday, said of this new slogan: "It's the idea that we're your partner in crime, or we're like your wingman, your buddy in your daily struggle, and we give you the positive energy through both food and beverage but also emotionally, we believe in you and we believe in the consumer."
25. The New York Times: "All the News That's Fit to Print."
This tagline was coined in the late 1890s and differentiated the paper from its contemporaries who were printing "news" for the sake of sensationalism. Unlike the other papers of that time, The New York Times focused on important facts and stories that would educate the public.
By being discerning and literally printing "All the News That's Fit to Print," the New York Times grew into a company that paved the way for other papers to publish credible news.
26. State Farm: "Like A Good Neighbor, State Farm Is There."
State Farm, an insurance company, has had a number of taglines like "Get to a Better State," "No One Serves You Better than State Farm," and more recently, "We're Here to Help Life Go Right."
But one of the best tagline examples is the "Like a Good Neighbor, State Farm is There" jingle. This jingle, written by Barry Manilow and released in 1971, made a big impact on television-watching Americans.
The words emphasize the company's commitment to the community they serve and set them apart from the large, bureaucratic insurance companies they compete with. This tagline quickly forms a close relationship with the customer in a friendly and neighborly manner.
27. KFC: "Finger-Lickin' Good"
This tagline is marketing gold! When you hear it, you can just imagine images of tasty fried chicken and other KFC specialties. This slogan relates perfectly to KFC's unique selling point of producing tasty fast food that you can eat with your fingers.
While it was successful elsewhere, this campaign unexpectedly ran into problems when released in China. It turns out that "Finger-Lickin' Good" translates into "Eat Your Fingers Off" – not quite what was intended!
It just goes to show that one should take extra care when writing a campaign for a foreign audience.
28. Pitney Bowes: "We Power Transactions That Drive Commerce"
Pitney Bowes is a mailing and shipping software provider. Rather than focus on the end-user, their tagline emphasizes their role in the industry.
Its products don't just help businesses track and deliver parcels – it makes the whole eCommerce community more efficient!
29. Rice Krispies: "Snap, Crackle & Pop"
Who does not know Rice Krispies' "Snap, Crackle & Pop"? This brilliant catchy tagline focuses on the sound the cereal makes in a bowl when milk is poured over it. The line is concise and highlights the product's unique selling point – perfect!
30. Dollar Shave Club: "Shave Time. Shave Money."
This clever tagline brings home two important benefits of using Dollar Shave Club's services: cost and convenience. The line is straight to the point – and it shows humor and creativity, perfectly matching the tone of the brand.
31. Apple: "Think Different"
This tagline, released in 1997, first appeared in an Apple commercial called "Here's to the Crazy Ones. Think Different." The ad paid tribute to all the well-known visionaries who had challenged conventional thinking and, in so doing, changed the world.
The tagline also referred to IBM's "Think IBM" slogan, which at that time was used to promote its ThinkPad.
The tagline "Think Different" soon appeared on all Apple advertisements even though Apple had not released any significant new products. Soon people started to realize that Apple was different; powerful and straightforward to use, Apple products became hugely popular.
According to Forbes, Apple's stock price tripled within a year of the release of that original commercial. Although the tagline is no longer in use, many Apple users still consider themselves to be among those who "think different."
32. General Electric: "Imagination at Work"
This is the perfect tagline for a company whose products cover such a broad spectrum – from power and aviation to healthcare and renewable energy.
Instead of focusing on products, General Electric's tagline reflects the culture of the brand – in fact, it was an internal theme before it became their tagline.
Jeff Immelt became CEO of General Electric in 2001 and announced that his goal was to reconnect with GE's roots as an innovative company. "Imagination at Work" was born out of this culture shift. It embodies the idea that imagination drives human endeavor and allows us to excel at what we do.
33. The Mosaic Company: "We Help the World Grow the Food It Needs"
The Mosaic Company manufactures fertilizer. Its tagline is also its mission statement, ensuring perfect alignment between the brand's strategy and its main interests. "We Help the World Grow the Food it Needs" expresses the company's ideals for itself and its customers.
How to Write a Tagline Your Customers will Remember
There is no magical formula to come up with the perfect tagline – it usually requires a lot of brainstorming and many iterations. But 3 things stand out when it comes to the success of a tagline:
Message clarity
Creative phrasing
The inclusion of a benefit
So, how do you write a great tagline that your customers will like and remember? Try following the steps below.
Step 1
Write a paragraph that explains who you are as a brand and what you do. Just write what comes to mind.
Step 2
Refine that paragraph into 1 or 2 short lines – I know, easier said than done!
Remember to make it likable and include some emotion. To make your tagline compelling, you need an emotional hook tied to the benefit you bring as a brand.
Step 3
Condense what you have even further. Come up with a few variations if necessary.
Step 4
Test people's responses – ask your employees what they think and continue to refine until you have a great tagline that is not only memorable but that people like.
Lastly, remember that the rules can be broken. Sometimes a catchy slogan can consist of just one word! And at other times, you may need 2 short phrases to create a great company slogan.
The aim is always to capture the hearts and minds of your potential customers.
Get Some Help with Tagline Generators
Here are 6 free tagline/slogan generator tools that you can try to get the creative process going. Some of the suggestions they come up with are just silly, but you may find a gem in there too!
Shopify Slogan Maker
Oberlo Slogan Generator
Getsocio
Slogans.xyz
Slogan Generator
Procato
Did These Tagline Examples Inspire You?
I hope they did! There are so many excellent tagline examples to choose from it was difficult to select just 33!
Now it's your turn – take your time; your tagline will define how your brand is perceived and will hopefully be with you for a long time! Use the process we outlined above to come up with the best tagline for your business.
Want to learn step-by-step how I built my Niche Site Empire up to a full-time income?
Yes! I Love to Learn
Learn How I Built My Niche Site Empire to a Full-time Income
How to Pick the Right Keywords at the START, and avoid the losers
How to Scale and Outsource 90% of the Work, Allowing Your Empire to GROW Without You
How to Build a Site That Gets REAL TRAFFIC FROM GOOGLE (every. single. day.)
Subscribe to the Niche Pursuits Newsletter delivered with value 3X per week