Brand Guidelines: Waste of Money or The Best Investment You'll Ever Make?
When you buy something through one of the links on our site, we may earn an affiliate commission.
Brand guidelines are essential to make sure your brand is instantly recognizable to the outside world.
You may decide to design your brand guidelines yourself, but if you're not a skilled designer, you'll likely have to redo them later. Creating a comprehensive brand style guide can cost money. However, it is an investment rather than a business expense.
Expert brand guidelines will assist in enhancing your brand and increasing your market share. They work almost as a business strategy would, and you should look for professional help to expand and improve your firm.
In this article, we'll break down and explain all the aspects of brand guidelines you'll need to know about.
What Are Brand Guidelines?
Brand Guidelines help organizations ensure consistency in showing who they are, what they do, and what they stand for.
Brand guidelines, also known as brand style guides, are essentially a how-to manual and rule book for communicating your brand. You could think of it as a brand guideline template centralizing your brand identity's overall appearance and feel.
But before we go further, and for the sake of clarity, let's explore what a brand means.
A product or service gets a name called 'a brand' that gives it an identity of its own and solidifies the brand's vision.
In today's economy, there are thousands of commercialized products and services. And so your brand will need to stand out to attract attention.
A brand name can develop and represent loyalty, trust, faith, and mass-market appeal.
A brand that uses its brand guideline template develops a consistent feel and is more likely to survive than an undifferentiated product.
Branding is all about designing and implementing a striking feature or collection of qualities for your organization. This is so that consumers may begin to identify your brand with your products or services.
What's The Purpose of Brand Guidelines?
A brand has an identity, a brand personality, a name, culture, vision, emotion, and intelligence. Branding guidelines provide a set of directions or a map, so everyone inside and outside your business is on the same page.
Your brand guideline book also has answers to any questions about how to use your brand's colors, typefaces, and other elements.
Creating a set of brand standards is an exciting but time-consuming process for a designer. But, there are various reasons why the effort of developing a set of brand rules is worthwhile.
Companies that establish powerful brands understand that their brand must live everywhere. People should be able to recognize them from their Instagram captions or the color palette of their current billboard. The brand style guide can even include the materials used in packaging.
In a nutshell, you want every element associated with the brand's vision you worked so hard to establish to be consistent - and instantly recognizable.
Key Elements in Brand Guidelines
Brand guidelines are all about your brand identity.
Your brand identity includes all visual aspects and vital information about the company's voice, tone, and messaging. This data is usually kept in a physical or digital brand guideline book.
Since no two brands are exactly alike, the features contained in your brand standards may differ from those of another brand.
However, there are six essential elements that should be present in all brand identification guidelines and must be fixed in your brand book.
6 Essential Elements Every Brand Guideline Needs
Details about your company's history, mission, values, and vision
The color palette, file formats, most petite and maximum sizes, contexts, spacing, and usage rights
Guidelines for how designers can use the logo
RGB and CMYK color codes in the color palette
Text and font sizes (both print and digital)
Grammar and tone of brand voice
Design components and graphics, iconography, and photographs
Letterhead and business card design
Brand Coherence and Consistency
One of the reasons you need brand standards is to help develop a strong brand identity. Brand consistency is essential for this.
It is a lot easier to construct an identity, no matter what it is when you have a set of standards to assist you in keeping a consistent image.
Consistent branding clarifies what your company stands for. It allows you to communicate your mission, brand personality, and promises. And so a consistent tone of the brand voice and brand identity helps to keep a company on topic.
Everything counts, from your primary colors to how many fonts your emails contain.
Brand Guidelines are excellent tools that lay out everything so there'll be no confusion. This guide is especially helpful when your designers use visual brand elements for promotional campaigns. If you need some inspiration, take a look at our exciting list of promotion name ideas.
By making your brand guidelines accessible to all users on your company's sites and ensuring the simplest possible experience for them, the company will gain more visibility for the brand.
Inconsistent branding breaks the mental relationship that the customer has formed with the brand. If you think about Coca-Cola and Nike – customers recognize them immediately due to their strong branding – I.e. consistency across all types of communication.
Brand consistency also refers to how a company delivers messages in keeping with its fundamental values. It guarantees easy recognition of your company's identity across marketing platforms and touchpoints.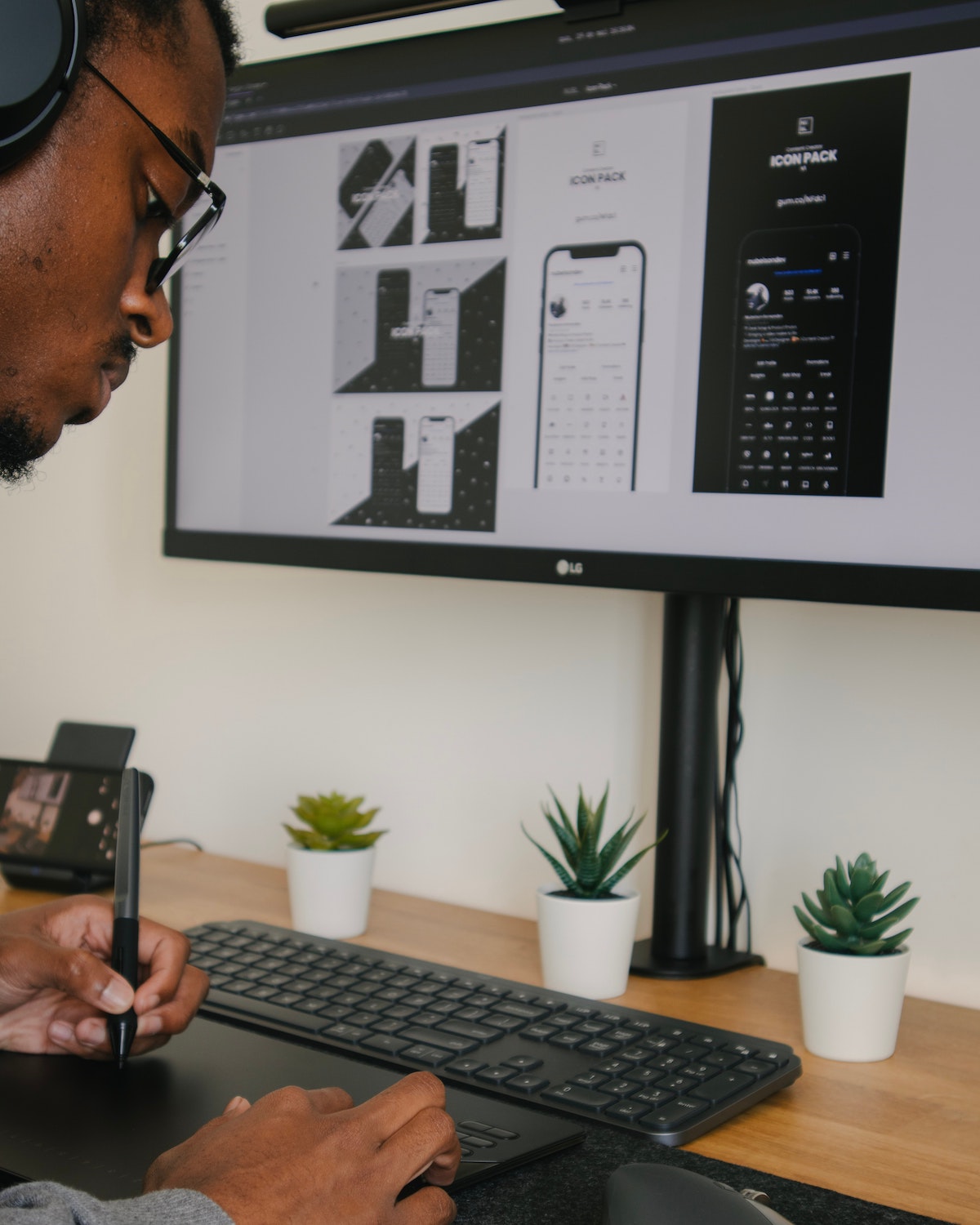 Consumer Psychology and Brand Recognition
Harvard professor Gerald Zaltman says that 95% of buying decisions are subconscious. This means that shopping is more emotional than practical. Meaning consumers inherently know what to expect.
Because emotions drive humans, savvy marketers use emotion-based visuals in their marketing material. By providing a dependable experience, you establish a sense of brand recognition, comfort, and trust in your customers.
And in turn, your customers will be more likely to buy from you often.
Inconsistent brands can appear haphazard, untrustworthy, and unlikable.
The brand is the firm's face, and it carries a lot of weight in convincing clients that they made the proper decision in entrusting their business to a particular organization.
Brand Guidelines Establish Standards and Rules
Recognize that maintaining brand identity is an internal team effort. It's important to encourage staff to learn about its values, mission, and stories. This helps organizations present a more professional image to clients and customers.
Employees from every part of the organization must understand the brand standards within the company's brand guidelines.
It provides clarity on things as minor as font guidelines and size on the firm letterhead, which many employees will encounter during their employment.
When several people come into contact with a brand, brand standards become even more vital.
Large corporations can have dozens, if not hundreds, of individuals releasing massive amounts of material for a single brand. The content must have the same look and feel.
Brand Guidelines Provide Tools
Your brand guidelines are more than just a set of rules. They're all about giving you and anyone else that sends out a message from your business the tools they need to keep your branding consistent.
Your brand guideline's elements are all intended to work together to create a coherent message. Each aspect is a tool, and you'll need basically everything to develop compelling messages and memorable marketing material.
Brand guidelines supply a brand book toolkit that will help your brand grow organically and provide your staff with the confidence and liberty to increase marketing efforts.
Whether you're just starting with your brand or are part of a well-established corporation, having the necessary tools to guarantee your brand appears consistently is critical.
Brand Guidelines Reduce Confusion
If your brand is inconsistent or disconnected, it could cause confusion. This means your company isn't clear about what it is and what it can offer to prospective customers.
While the difficulties caused by brand confusion can be daunting at times, the good news is that it is fixable.
Nobody knows a company better than the individuals who work at its heart. However, intimate knowledge of the company sometimes needs an unbiased third-party's outside perspective.
You could call on a branding agency to analyze your brand. They'll examine your brand book analyzing collateral, core values, communications, sales materials, visual brand elements, etc. to find inconsistencies and holes to fix.
Knowing how your competitors promote themselves, including the messaging and platforms they use, can also help your company be proactive in avoiding brand confusion. This includes anticipating misconceptions or questions that your team may encounter as a result.
Work Out the Source of the Brand Confusion
If you don't understand what's driving brand confusion, you'll find yourself in a never-ending cycle of trying to clear up misconceptions. The process is not only a huge waste of time, but it can also waste other company resources as well.
Again, branding is essential for differentiating yourself from the competition. Focus groups and stakeholder surveys are just two tools that might help you get to the bottom of what's causing your brand confusion.
Plus, if you trust someone's opinion enough, asking for their insights might help you drill down to identify areas of brand confusion.
Brands are established by consistently delivering on the brand promise at all stakeholder touchpoints.
You build trust via consistent, desirable experiences. And trust is the cornerstone for loyalty and promotion. Still, your branding efforts will be futile if you don't construct your brand promise on the reality you can deliver and constantly live up to it.
How Do I Get Brand Guidelines?
If your organization is just starting, cash flow can be an issue, so you may be forced to develop your own brand guidelines yourself.
But the good news is that you'll find it easy to research how from tons of information and videos available.
Your brand presents the face of your organization, and so it must be right from the very beginning.
As your company expands, you can add to your brand guidelines, but the foundations must be solid and contained within your brand book. It's not that simple to create brand guidelines, so try and get professional assistance, even if it's only one consultation.
Every company's own brand guidelines should include the following:
A compelling brand story
Your Brand essence - the tone of your brand voice and brand personality
The brand's value proposition
Taglines (Check out our list of tagline examples for inspiration!)
Messaging pillars*
Color palettes
Logotypes and permissible modifications
A typography hierarchy
The graphics and iconography that comprise your visual brand's essential elements
Examples of what is and is not authorized
*Brand message pillars are an important part of your brand message and an incredibly beneficial tool for content developers. Messaging pillars make up the primary themes, features, or selling aspects that distinguish your brand and enable convincing marketing material.
One Page Brand Guidelines
There is nothing more important than a brand book that covers your company's colors, font styles, and other graphic design components to keep a consistent brand message.
For smaller companies, you could distill the information into one webpage.
These simple guidelines can be easily shared with team members for the purpose of ensuring consistency in brand identity.
Examples of Great Brand Guidelines
In the beginning, we talked about branding: the sum of your customer's impression of you. In this sense, you need control over the entire interaction. Everything you do sends a message, and you have the responsibility of leading and directing your own brand messages.
Your brand identity needs to be your obsession and so it's best look at what iconic brands are doing.
Many companies even offer access to their brand-style guidebooks online – this gives us great insights into what they're doing.
Skype
Skype's excellent brand book feels like a cheeky comic book rather than a stuffy brand style guide.
Illustrations and speech bubbles are employed throughout to portray the brand's image ethos, and it's proof of what practical creativity can accomplish for your branding.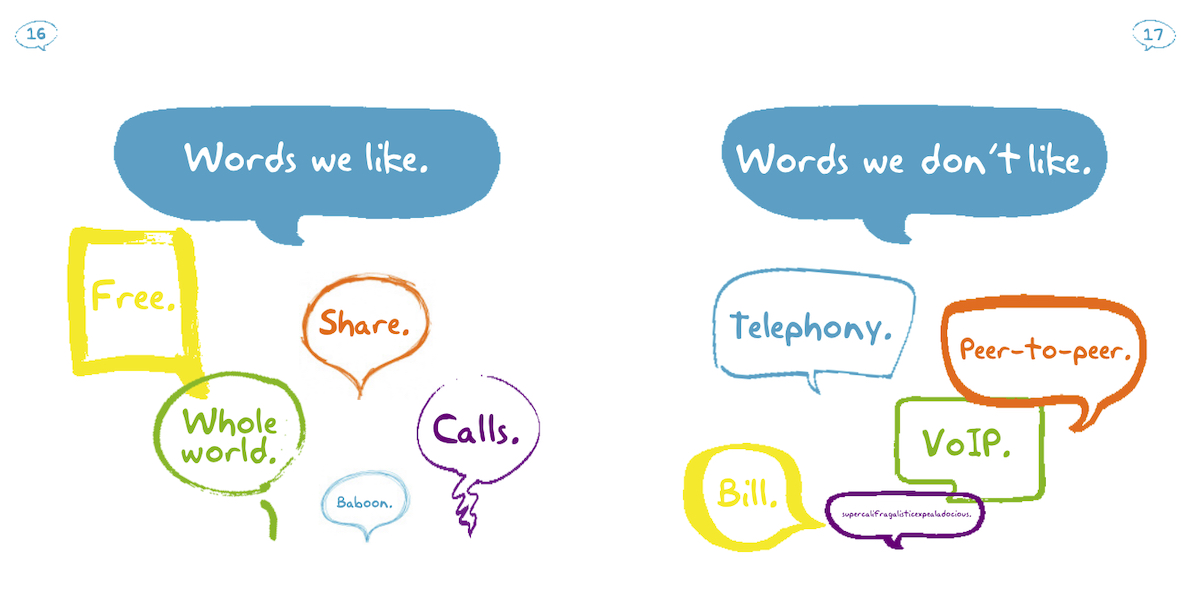 Skype's brand tone is entertaining, colorful, and full of jokes - what more could you want?
Look to Skype's standards when you need ideas for integrating fun into your brand message.
Google
We've included Google's Logo, the Dots, and the Google G for brand guidelines examples because the corporation is vast, with a hundred fingers in a hundred pies.
The new logotype has childlike simplicity (a Google video shows the new brand's logo written as if on middle-lined paper from a kids' school). It was created not only for a fresh brand image aesthetic but also to scale up and down while remaining consistent across all devices - a difficulty that the previous logo had.
The simple Google G is a circle with a bit of cut-out and a reconstructed horizontal. Within the brand style guide, you'll see that the new G is intended for minor uses wherever the full logotype wouldn't fit, but they've made it look similar in many aspects.
The G is the new Google G, with a thicker line weight and all colors from the complete word. It is immediately recognizable as the younger sibling of the larger logotype.
Finally, the dots were introduced, described as a dynamic and continually moving aspect of the logo. The dots are expressive, slowly rolling and waiting for a command, enlarging when spoken to, making a rotating circle when considering, etc.
The four dots have the same colors from the brand color palette in the logo typeface and the Google G: blue, green, yellow, and red. Google's brand story continues to develop over the years.
Twitter
The social media behemoth Twitter has abandoned the hefty twitter and lower-case t-in-a-square. The previous brand design attempted to be visually similar to other social networks, such as LinkedIn's "in," Facebook's "f," and Instagram's square lens.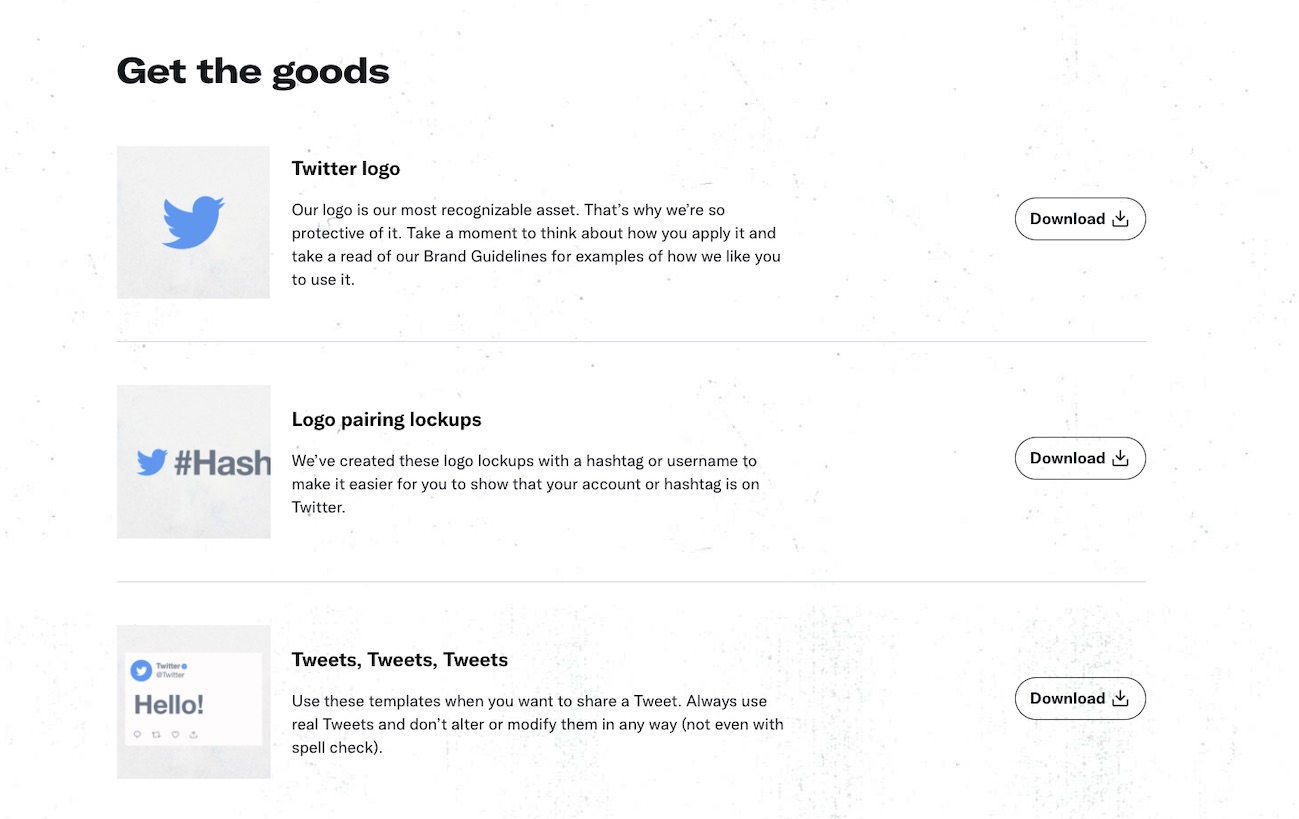 The new logo is a bird in blue-on-white or white-on-blue (with some controlled allowance for a white bird on a muted photograph).
Along with the brand's logo, there are criteria in the brand book for how usernames and hashtags should be formatted - Helvetica, with negative tracking.
The brand guidelines are plain and straightforward. Blue is the only permitted color in their brand color palette, aside from several hues of gray. The only fonts allowed are Helvetica and Roman. In addition, the handbook demonstrates how to format a tweet treatment properly.
Spotify
Another of the best brand guidelines examples is Spotify. The organization has a comprehensive brand style guide for the platforms it interfaces with. It offers a consistent user experience no matter where you listen.
Its guide is a valuable resource to have available if people will be experiencing your brand in various venues over which you have no control.
The design standards for Spotify address the why and how of attribution, browsing content, logo usage, brand colors, name restrictions, and more.
Build Your Own Memorable Brand Guidelines
Nowadays, consumers have so many options. It's hard to regularly make good choices when bombarded with advertising and other promotional materials. Your company's identity is known through its brand. It aids in the positioning of your company in the minds of customers.
Make yourself stand out from the crowd and avoid confusing your customer base with inconsistent branding; always refer to your style guide or brand book.
Here are a few valuable tips to focus on to make up your own brand guidelines.
Make Use of Distinct Naming Conventions
Create a system and style guide for naming your products and stick to it.
Apple labels its goods with a lower case (i) which helps brand positioning and ensures strong brand guidelines.
If you're looking for one of the great brand guidelines examples, then Apple is certainly one of them. People immediately think of Apple when they hear iMac, iPod, or iPhone. We've come to anticipate that from Apple because the company's naming convention has been constant.
Google named each successive Android OS release after a candy. KitKat, Jelly Bean, Lollipop, and Marshmallow. We also know that the following release will be similarly titled in keeping with its brand image.
Whatever convention you establish, you must adhere to it without exception when creating brand guidelines.
It demonstrates individuality, puts you in the market, and gets customers to remember you.
Consistently Use Your Logo
Do you use the brand's logo as it is, or do you alter it? There should ideally be no deviations. Utilize a single clever logo and use it regularly. It'll help you create a memorable brand.
Your logo assists clients with brand identification and should look the same everywhere it appears, whether in marketing material or Web/print ads.
If you have secondary logos like Google, make sure there are guidelines available for those as well.
Your Core Color Palette
Some designers use different programs and designs. There are hundreds of apps for design for businesses. There is a method to create similar design work. Various other brands may employ internal teams, or outsource the task to another business unit.
All of these points must be kept at your fingertips when building an online brand image guide, particularly in putting together the palette. If you use Pantone or RGB code this will be useful – it can also be included in your logo template.
Develop a Uniform Color Scheme
A good brand guideline example is Pepsi. Red is often associated with Coca-Cola, while blue is associated with Pepsi.
Pepsi uses its brand story to persuade us to identify the brand with blue via decades of advertising, even when that color may have nothing to do with its product. (And red has nothing to do with Coca-Cola's product either.)
Using the color blue is how Pepsi has marketed and presented itself, and that is what people are familiar with and have grown to expect. That brand's color palette within the brand manual has a comfortable sense of familiarity in its style guide. The lesson here is obvious. When you create brand guidelines, you want to convey a consistent brand image to the globe.
Your website, marketing materials, downloadable resources, software services, or even product descriptions – all of the pages and content you create for your audience's consumption should have a unified color scheme. Your brand style guide should be consistent with the brand colors and the brand name.
The brand guide will fulfill three primary functions:
It will provide your organization and brand with a professional appearance,
Give a unified user experience,
Leave a lasting impact on visitors.
That is ultimately what you want, what distinguishes a brand, and what gives designers reference points is firmly fixed in your brand manual. When there is harmony in design and color, a company's public presence is something buyers will remember.
Maintain Consistency in Job Titles
It's not simply the brand colors, the logo, and other frills. Customer service is also a component of your brand style guide. When customers contact your employees, they should be able to see your brand consistency even in your job titles.
Do you refer to Account Managers or Account Executives on your team? Marketing Executives or Marketing Managers? Who is the more senior? What exactly are they responsible for?
Customers need to know whatever job names you choose and whatever hierarchy you establish.
They should be aware of the Account Manager's (or Account Executive's) responsibilities. It's popular these days to utilize unusual job titles.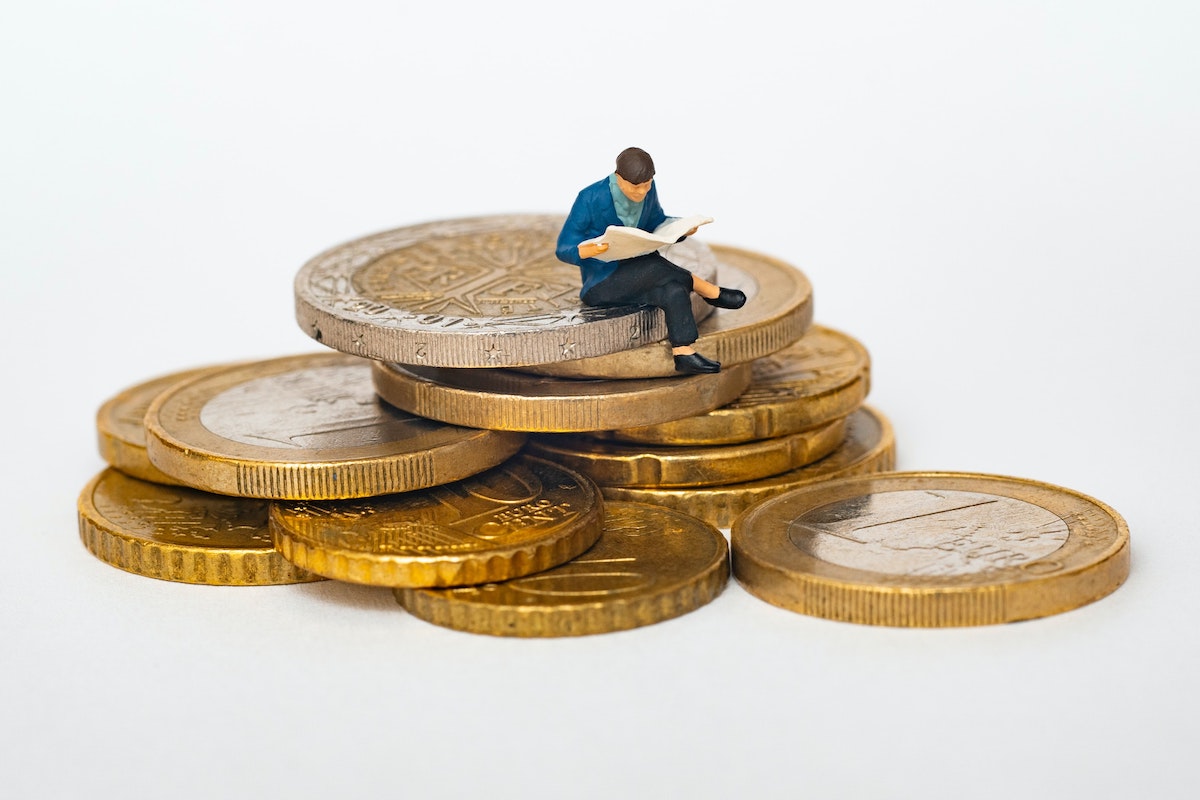 Brand Guidelines in Conclusion
Your brand is likely one of your company's most valuable assets. It offers your organization a sense of identity within your core values, makes your company recognizable, inspires customers to buy from you, promotes your marketing and advertising, and instills pride in your staff.
Strong brand guidelines will keep your brand identity consistent and ensure that anyone who has anything to do with your brand knows exactly what to do with it.
Your organization is not limited only to what you sell. Your brand style guide shows your staff how they should be kept in sync with the brand. The guides list everything you need to create your unique brand identity.
While many of these style guides have an underlying structure as thick as an encyclopedia, most have just an outline on one page. It all depends on your business requirements.
Without a visual brand identity established and enshrined in the company brand guidelines, businesses don't know how to handle their mission or purpose. They can't even tell others what objectives and goals they strive for. Brands cannot instantly give and explain the purpose of their existence without a visual identity. Brand guidelines templates for your teams need to show who they are, why they are here, and what the business can offer.
Finally, the effort and time spent establishing strong brand guidelines will pay off handsomely in the long term. It's a strategic play that helps your organization show the familiarity and dependability that leads to brand loyalty.​
If you are just starting out and defining your brand then here is another article you may find valuable: Where is the best place to get a logo designed for online businesses.
And if you have not settled on a name yet, take a look at our list of ideas for corporation names.
Want to learn step-by-step how I built my Niche Site Empire up to a full-time income?
Yes! I Love to Learn
Learn How I Built My Niche Site Empire to a Full-time Income
How to Pick the Right Keywords at the START, and avoid the losers
How to Scale and Outsource 90% of the Work, Allowing Your Empire to GROW Without You
How to Build a Site That Gets REAL TRAFFIC FROM GOOGLE (every. single. day.)
Subscribe to the Niche Pursuits Newsletter delivered with value 3X per week