Constant Contact Review: Build Your Brand With Email Marketing & More
When you buy something through one of the links on our site, we may earn an affiliate commission.
Welcome to my Constant Contact review!
Studies show that for every $1 spent on email marketing, you get a whopping $38 in return.
But your mileage may vary depending on your email marketing platform. In this Constant Contact review, we're going to look at how much power the software gives, how much it can automate your work, and whether it's worth the price.
And of course, we'll see how it compares to other email marketing tools.
Click here to follow along in my review with a 60 day credit card free trial
Try Constant Contact free with no credit card for 60 days
Constant Contact Review
Ease of Use -

100

Email Features -

95

List Management -

100

Branding Options -

100

Price -

95
Pros
Super powerful segmentation and tag features
Automation is super easy to use
You get stock photos
Easy integrations with lead gen and ad software
Offers much more than email marketing
Cons
Funnel building could be a bit easier (but this won't affect 95%+ of users, so it's a minor gripe)
Constant Contact Review: Pros
Here are some things that Constant Contact does very well:
Super Segmentation & Tagging System
One of my favorite things about CC is that their tagging and segmentation systems are on point.
There are two ways to segment your list:
At the opt in level, you can offer differing lead magnets to figure out what your list is attracted to. This helps you know what your audience wants.
At the list level, you can see how your subscribers are behaving when they get your emails. This helps you know what your audience is doing.
Constant Contact does a great job of helping you figure out what your audience is doing. With this info you can try to boost your subscriber engagement, reward or offer more to your raving fans, and keep track of everyone in the middle.
I love the list segmentation in Constant Contact.
Free Stock Photos
This isn't a make or break feature, but it's a super nice add on. Constant Contact can provide you with free stock photos to use in your email marketing campaigns.
Considering that most stock photo services will run you near $100+ per month, the software more than pays for itself with this feature alone.
Powerful Tools To Keep You In Front Of Your List
Constant Contact is more than just email marketing software. True to the name, this software's goal is to keep you in constant contact with your customer base.
Constant Contact has email marketing, and I recommend that you use it. But it also integrates with Facebook, Instagram, Facebook Ads, and Google Ads. You can set up and run your campaigns from the dashboard.
If you don't have a website (or have a site run by Wix, Weebly, or other site builders), then Constant Contact has a cool solution for you too. They offer a free website builder using drag-and-drop software.
It's not as powerful as a WordPress site with something like Elementor, but you know how the old saying goes:
It's better to have it and not need it, than to need it and not have it.
All in all, Constant Contact offers a ton of tools to keep you in front of your list at all times. It's more than email marketing. It's branding.
Constant Contact Review: Cons
Now let's talk about what CC could do better. I could only find 1 (minor) gripe:
Email Sequencing Could Be A Bit More Intuitive
The automation works great, but there's not a super simple way to build massive funnels for your audience.
That's not to say you can't do it: you can build amazing funnels using segmentation and trigger settings. But there's no super easy way to do it.
That said, this will not affect 95%+ of people who do email marketing. You can set up sequences, you can build email automation for subscribers. If you don't have your own products, I doubt you'll ever need any sort of email funnel.
So it's a minor gripe and I doubt it will affect you at all, but there it is.
Overall, Constant Contact is a super powerful tool with amazing branding features. I don't have any serious problems with it.
Try Constant Contact free for 60 days – no credit card required.
Build stronger brands with Constant Contact
Constant Contact Review Key Features
Let's take a look at all the features of the platform. I'll be using the trial version of the Constant Contact subscription since they don't restrict any advanced features for trial users.
Let's get started.
Getting Started With Constant Contact
I'm the first to admit that I'm not the best with tech. The platform provides a user-friendly interface that helps beginners with email, text, and social media marketing. Once you give them your email address and say that you want to start, they get some info about you:
If you're doing this step during business hours, they have a chat box where you can talk with a support rep on the spot.
Once you answer these first few questions, you're set up and ready to go. Time to jump in to the dashboard.
Constant Contact Dashboard
The dashboard is the first thing you'll see when you log in to Constant Contact. It looks like this:
I'm a pretty big fan of this dashboard. For one, it's allows you to get to the most important stuff at a glance. And I appreciate the shortcuts that Constant Contact puts up here.
As you advance more in your email marketing, your dashboard is still relevant. You can create new automations, check statistics, make new emails, or get help and coaching in a few clicks.
I like how everything is easy to get to and that this is a good dashboard for beginners or pros.
So let's look at the most important thing about Constant Contact: creating emails.
Creating Emails
There are a ton of ways to get to the email creation screen. I'm going to click the big honking box that says "Create an Email". Constant Contact will give you a pretty wide range of templates to choose from. I'm going to select the first one.
After you select your template, you get a very simple email editor tool.
The editor is off to the left side, and the email takes up the middle of the screen.
You can drag and drop elements to build an email:
You can select any element on the email and edit or move it somewhere else. If you click an element on the email, you get an editing menu off to the right. You can move the element, open settings, or click a neat little lightning bolt…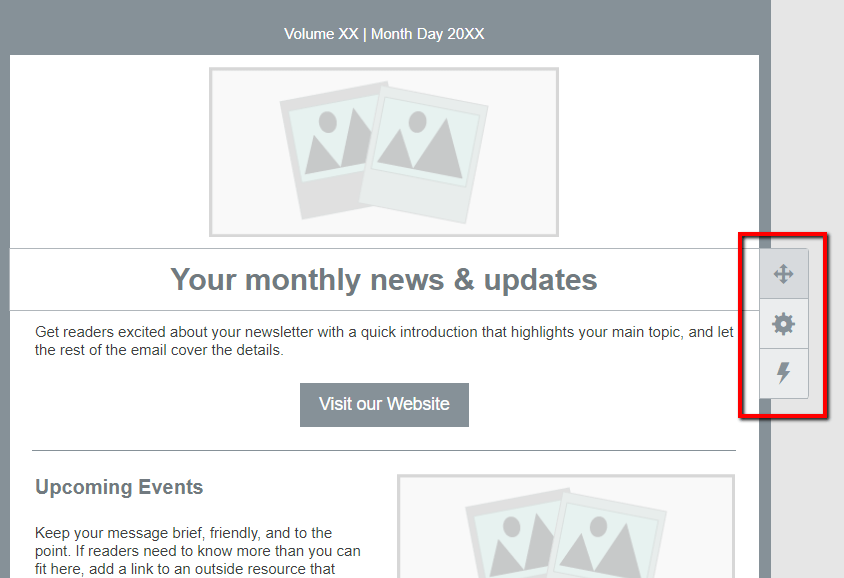 When you click that little lightning bolt, you open up options to use dynamic content.
Dynamic content is super powerful and I'm thrilled that Constant Contact has it. Dynamic content shows customized content based off of segmentation for your audience. So you could show them their city name, their business niche, or how you met.
You can insert any custom values into the dynamic content. This makes your emails super personal, increases response rate, and helps build that relationship with your list.
One downside is that you have to be in the Email Plus plan to get access to dynamic content: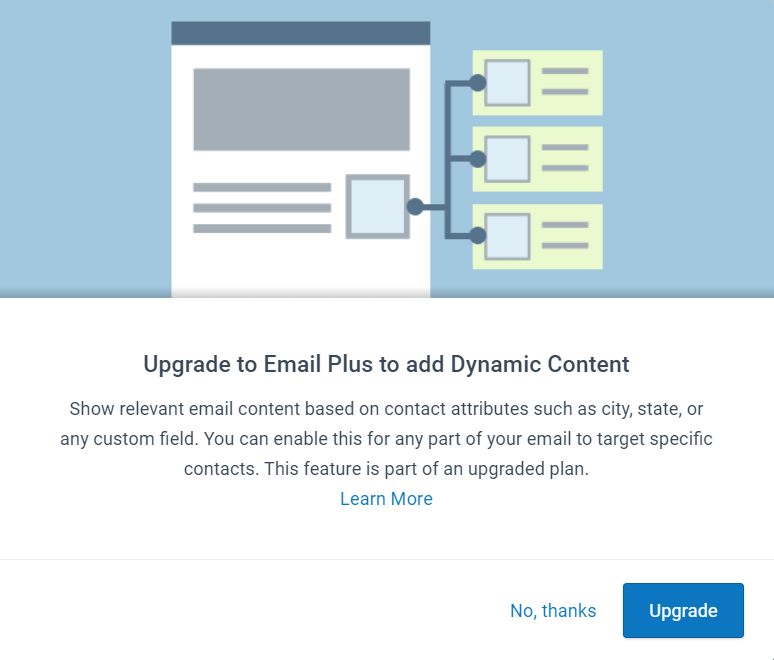 You'll need to be in a higher plan to get access to dynamic content. But most of the people who have super advanced segmentation will already be trending towards higher plans.
Once you have your emails set up, you click Continue and get to the next screen. You get a lot of options here.
You can set the campaign title, tell CC what lists you want this email going to, and the subject line that you want for your email:
Further down the page, you get some sats in regards to open rate, click rate, deliveries, bounces, and other metrics.
And then at the bottom of the page, you get some additional info about click through rates and stats.
Now that we've taken a look at composing emails, let's look at automating them.
Automation
Adding an automation is pretty easy with Constant Contact. You go to Campaigns on the header menu and then click Create. You'll get a little popup and you want to select Email Automations:
You'll get a few options you can choose from: a welcome email, a birthday email, an anniversary email, or building your own automation.
I recommend that each subscriber gets a welcome email, but I'm going to build my own automation for this example.
First you select your trigger. What event starts the automation? You can choose from link clicks, email opens, and subscribers joining a list. If you're building your automation from the ground up and wait it to be something of a funnel, choose the "When contacts join a list" trigger.
And then you specify the list:
And then you build your campaign like normal. You create your emails, specify how long subscribers wait between each email, and voila.
The campaign creation screen looks like this:
All in all, I'm a big fan of how Constant Contact's campaign creation looks. It's simple to build, easy to follow, and makes intuitive sense.
They don't allow you to create massive funnels by specifying what to do if a subscriber doesn't click, for example. But you can make your own "funnel" by segmenting your subscribers who don't click, or open, or whatever.
It's a bit more manual, but the process works just fine. Because segmenting with Constant Contact couldn't be easier. The list management is super powerful:
Lists & Contacts With Constant Contact
There are a couple of ways to get to your lists and contacts with Constant Contact. From the dashboard, you can click Simple Contact Management. From any screen, you can click on Contacts. Either one will get you to where we're going: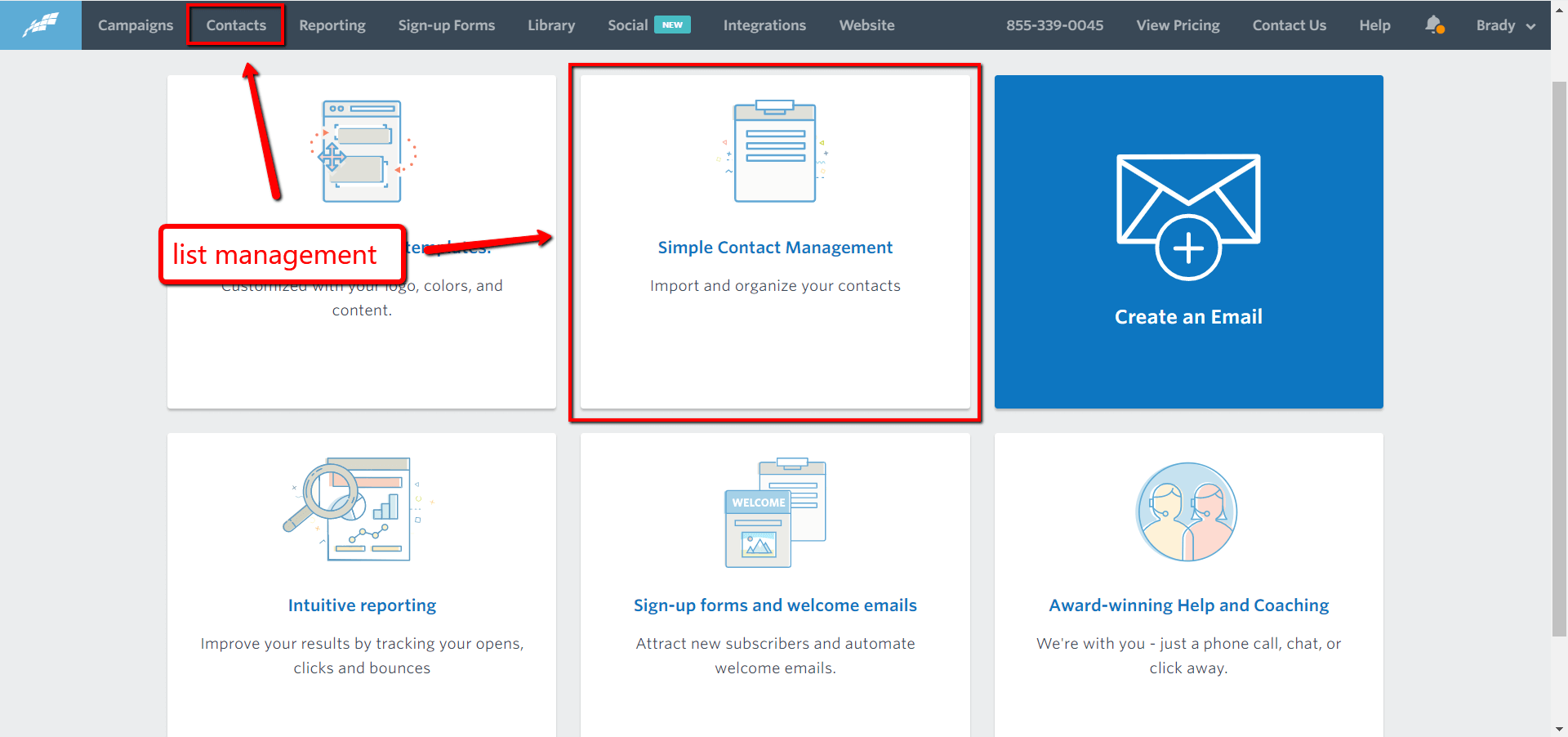 The Contacts screen has 4 sections you can look at: contacts, segments, reports, and activity.
And now we start getting into the true power of Constant Contact: list management. Constant Contact has a great system for segmenting your audience, adding tags, and knowing what your audience is interested in.
The Contacts tab is easy to navigate and helpful. The right side of the screen has a list of a few of your contacts. The left side shows your email lists and any tags you have:
I'm a big fan of Constant Contact's list segmentation. If you go into the Segments area, you get the option to create different segments for your audience.
I can't recommend segmentation enough. You'll get better opt in rates, convert more leads to sales, and develop more trust with your audience. With proper segmentation, you can help your audience get what they want.
One way to segment is to do it with your opt in. A DIY site might have one segment for crafts and another for carpentry.
But Constant Contact allows you to take that to the next level. You can segment your already-existing audience to get the most out of the list you already have. I love how I can set certain requirements for my segmentation:
In less than a minute, I set up a segmentation for my subscribers who were "losing interest". These subscribers will have not opened any of my last 5 emails to them.
There are a lot of settings here and I was very impressed at what all I could do.
And then we come to reporting for your contacts. I like the reporting sections pretty good. You can see your contact growth, get a nice graph, and can see the growth source.
I'm very fond of being able to see the growth source at a glance. That's a great way to get a bird's eye view of what is and isn't working for you and your list. If you want more detailed reporting stats, Constant Contact also has a dedicated section for reports.
Other Features In Constant Contact
I'm very impressed at what all Constant Contact offers. We've already hit a lot of the most important aspects, but there's a lot that we haven't discussed:
Not all of this is necessary for everyone so we won't spend as much time here. But here is a highlight of many of the other features Constant Contact offer:
Sign-up Forms: I recommend that people use a dedicated lead generation software for this (get some ideas in our ConvertBox review). I like OptinMonster and Convert Pro. But neither of these tools are necessary; Constant Contact can build lead gen for you. They impressed me too: they can do regular sign-up forms, but also stuff like pop-up boxes. Very cool.
Library: This is one thing I love about Constant Contact. All subscriptions get access to free stock photos to use in your emails. Stock photo subscription services are pricey, so this is an awesome feature that I'm thrilled about. You can also upload your own photos and use those in emails. All in all, Constant Contact gets top marks for including stock pictures in their plans.
Social: The social tab allows you to upload and publish social media posts from inside the Constant Contact dashboard. Constant Contact allows you to connect Facebook, Instagram, and Facebook/Google social media accounts to run ads and build your list. This is a super cool feature inside of Constant Contact.
Integrations: About what you'd expect here. This is where you integrate your account with different apps like Facebook, your lead gen software, etc. Pretty standard stuff, but I will admit that there are a lot of integrations you can make here.
Website: And here we get to a super unique feature. The Website tab allows you to create your own website for free using a drag-and-drop builder. I don't think I've seen this feature in other comparable tools, so it's pretty neat to see here. I would still stick to WordPress, but the option is here if you want to save a little bit of cash.
Overall, I'm very impressed with Constant Contact. They do a great job of allowing their brand to be more than just email marketing.
Constant Contact helps you to be in constant contact with your possible customers. The ability to create your own opt-ins, publish high-quality pictures, run social ads from the dashboard, and make your own website makes this more than just email marketing software.
Constant Contact is about keeping your brand in front of your customers at all times. There's never a moment when your ideal lead, buyer, or visitor won't be seeing you. By providing access to more digital marketing avenues for getting to your customer, Constant Contact allows you to build strong branding.
My favorite thing about Constant Contact is that it's more than just email marketing. It's branding.
Try Constant Contact free for 60 days – no credit card required.
Build stronger brands with Constant Contact
Constant Contact Review: Price
Now let's talk about the all-important issue of Constant Contact's prices. Constant Contact allows you to have a 60 day free trial where they don't require a credit card. After that, they offer 2 plans: Email and Email Plus. The pricing is based off of how many email subscribers you have and I will be giving the prices for 0-500 subscribers.
Let's talk about all of your options here.
Constant Contact Free Trial
The free trial lasts for 60 days and doesn't require you to input a credit card. You get access to most account features with this plan, but you'll be missing a few things.
You get all the integrations, list management features like segmentation and tagging, all the email templates, the website builder, and access to the awesome chat service.
You don't get full automation powers or the lead generation stuff like opt in boxes or pop ups.
Considering that the trial lasts for 60 days and doesn't require a payment method to get started, there's plenty for you to get a test run before you buy.
Constant Contact Review: Email Plan
Constant Contact's email plan starts at $20 per month. It's pretty comprehensive: you get everything in the free trial plus a few extra features.
You'll get some opt in features that aren't available in the free trial. These opt ins aren't perfect and I recommend something like OptinMonster or Convert Pro. But you get access to popups that have Constant Contact branding and aren't super customizable.
You can also start automations for welcome emails, birthdays, and special events. You don't get access to full automation power like email sequences or building funnels, but there's enough here to make this plan worth your while. It's still packed with tons of helpful tools for your branding overall.
Constant Contact Email Plus Plan
The Email Plus plan starts at $45 per month. It includes everything in the Email plan, but helps add rocket fuel to your email marketing efforts.
Email Plus unlocks several cool advanced features that you can take advantage of. You get access to very customizable opt in forms. This includes inline content and popups. You can customize the open time on popups, remove the Constant Contact branding, and set an open time.
You can also start using automated email sequences. This would include things like funnels to your subscribers, follow up messages, and so on.
Plus will allow you to split test your headlines, use dynamic content that we discussed earlier, add surveys or polls, and more. It's a powerful email marketing platform and this plan will include pretty much anything that you could want in email marketing software.
Best of all is that you can try it for free. Click here to use Constant Contact free for 60 days, no payment method required.
Use Constant Contact free for 60 days to build your brand
Who Is Constant Contact Best For?
Now let's discuss who Constant Contact will serve the best. We'll cover a few situations you might find yourself in and see if Constant Contact is a good fit for you.
The Beginner Email Marketer
I'm going to put you in this camp if your online business is making less than $1,000 per month. You're still looking for cost-effective tools and may not be sure about this whole internet marketing thing.
No worries. I get it. Everyone started there.
The question you're asking might sound like this: Is Constant Contact going to provide me with the highest ROI for my email marketing campaigns?
I think it can. Constant Contact provides a lot more power than other tools and does a great job of helping you get your branding out there. It can assist you in growing your email list, texting list, and social media marketing strategy. If you want to save some cash, you can use their lead generation service to keep you from having to buy something like OptinMonster or Convert Pro.
You can use Constant Contact's stock images to make your brand look high quality, beautiful, trustworthy.
It isn't the least expensive option for small businesses. But it gives you 2 free months to learn the ropes and provides you with super high-quality tools and advanced features in the process.
I think that Constant Contact works fine for a beginner email marketer.
The Complex List Owner
Your list is tougher to crack than the world's largest diamond. It's got odds and ends, subscribers here, subscribers there, and no sense to any of it.
I'm putting you here if your list has (or needs) serious segmentation. Maybe you offered too many lead magnets on your site, and now you can't figure out what the majority of your list wants. Maybe your open rates and plummeting, and engagement is taking a nosedive.
Whatever the cause, I think that you're right in Constant Contact's ballpark.
I love the list segmentation and tagging features inside of Constant Contact. Your ability to figure out what is and isn't engaging your audience can be mind-blowing. This whole software is about keeping you in front of your subscribers' minds and staying there.
You can segment those who are responding and give them a special "Thank you". You can find those who aren't opening your emails and send them some awesome content to figure out what they want.
Constant Contact has amazing segmentation and tagging features.
The Internet Marketing Guru (And Mad Funnel Builder)
Do your funnels look like crazy spaghetti? Could you turn your email sequences into a maze for grown adults and make a ton of money?
You might be an internet marketing guru and a mad funnel builder. You've been tried and split-tested. You earn a lot of money from the internet and spend your time making people jealous on Instagram.
How does Constant Contact perform for you?
I think you'll find the segmentation and tagging systems top-notch. As said before, Constant Contact's list management features are great at helping you boost engagement and earnings.
Constant Contact's real strength is that it is an awesome tool for keeping your brand in front of your visitors. The integrations with Facebook/Instagram, Facebook Ads, and Google ads are amazing. Those integrations represent a significant boost to your branding capabilities.
The only place you might find a little lacking is the email sequencing. Constant Contact doesn't have a super fluid interface for building email funnels, but it can be done without looking like spaghetti.
Building those long, powerful campaigns just takes a bit more leg work.
Constant Contact Review: Growing Your Brand
Constant Contact is more than an email marketing tool. It's a branding software.
It helps you get into the inbox, market how your subscribers want, and grow your branding through emails or ad campaigns.
Best of all is that you can try it for free before buying.
Click here to use Constant Contact free for 60 days, no payment method required.
Use Constant Contact free for 60 days to build your brand
Want to learn step-by-step how I built my Niche Site Empire up to a full-time income?
Yes! I Love to Learn
Learn How I Built My Niche Site Empire to a Full-time Income
How to Pick the Right Keywords at the START, and avoid the losers
How to Scale and Outsource 90% of the Work, Allowing Your Empire to GROW Without You
How to Build a Site That Gets REAL TRAFFIC FROM GOOGLE (every. single. day.)
Subscribe to the Niche Pursuits Newsletter delivered with value 3X per week