Should I Build Large or Small? Taking a Portfolio Approach with Niche Sites
When you buy something through one of the links on our site, we may earn an affiliate commission.
Over the past few weeks, I've been getting more and more questions from readers about the viability of building smaller niche sites.  They want to know, should I build 1 large site or should I build hundreds of micro niche sites…or do something in-between?
First of all, I feel honored that anyone would look to me for direction in their business.  I've answered many of these questions privately via email; however, today I want to do my best to lay out my advice for others looking to get into the internet publishing game with niche sites.
I've felt like I needed to write this post for a long time, and so I'm going to do my best to lay out some thoughts on the subject.  However, its also VERY important to understand that everyone's situation is different, so there is no "one size fits all" approach to starting an internet business.
In addition, Google has changed dramatically since I started building niche sites back in 2007 or so; as a result I want to give some clarify for people that are still taking an "old school" approach to building niche sites.  Overall, you need to treat your websites like a business portfolio.  If you can take steps to reduce the overall risk of the assets in your portfolio, then you should.
What is a Niche Site?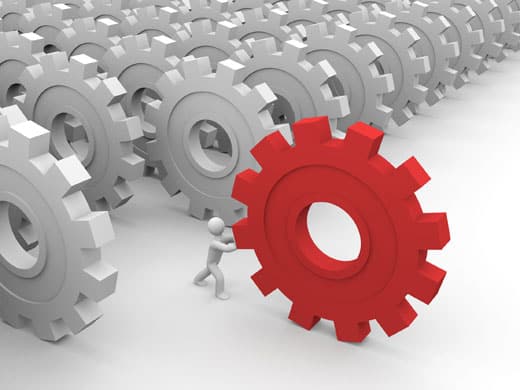 I want to start off by simply clarifying how I personally think of niche sites.  A niche site does NOT mean a small website.  There, I said it.
I think too many people think that a "Niche" website means building a site that only has 10 or 20 pages of content.  This is simply not the case.
"Niche" really means a small segment of an overall market or product.  It means laser focused on one particular topic…or niche.  As a perfect example, and to prove that I'm not the only one that thinks this way; check out the Wikipedia page of what a "Niche" Market is right here.
And even better, guess what example Wikipedia gives as an example of a Niche market/website?  ESPN.com!  That's right ESPN.com is a niche website.  It focuses exclusively (with laser focused intensity) on Sports.  Again, this isn't my example, this is from Wikipedia.  Yes, this is a VERY large niche site, but it is indeed a niche site.
ESPN.com produces dozens of articles, videos, and more each and everyday.
I share this simply to get the incorrect idea out of your head, that "niche" means a "small" website.  It doesn't.
However, its more common to think of a niche site as one that targets a more narrow niche than just Sports in general.  A smaller niche in sports would be perhaps, Little League baseball, or Curling in Canada, or Speed skating.  However, just because your niche site only covers curling in Canada, doesn't mean it can't be thousands of pages of content.  Make sense?
So, a niche site is a site that covers the sub-segment of any market.  The site could be one page or a million pages of content, its still a niche site.
Advantages of Building a Large Site
So, I don't think the question is whether or not you should be a niche site – you should.  The question is whether or not you should build a small niche site or a large niche site.  The other option would just to build a general blog or website that doesn't target any specific niche.  Sites like Wikipedia.com, eHow.com, CNN.com, HuffingtonPost.com, and others basically cover every topic under the sun.  They are not niche sites.
There are a few advantages to building larger niche sites that I would like to discuss.  For the sake of discussion, lets define a "Large" niche site as one that has over 100 pages of original content.
First, having a large site allows you to target lots of long tail keywords.  Because your site has more content, you can create content based on keywords that get very little search volume every month, but still do well because of the sheer volume of articles.
In fact, in my podcast last week with Jon Haver, he mentioned that even if a search term only gets searched for 10 times each month, he will write a piece of content on it.  He knows that in addition to the 10 searches per month, there will be plenty of related long tail phrases that he will hopefully rank for naturally as well.
I agree with this approach in theory (although ideally you can find easy to rank for keywords that get just a little more search volume).
In addition, having a large niche site or blog can allow you to truly get involved in your niche and establish relationships.  By actually participating in niche community (other bloggers, forums, etc.), you can garner links, guest posting opportunities, and eventually be viewed as more of an authority on the subject.
By taking this approach, you are also doing things more "naturally" when it comes to SEO.  The traffic from Google can either be a dream or a nightmare; so staying in their good graces can help you feel better about the long term prospects of your business.
And finally, you can obviously make WAY more money from one large niche site that you can with a small niche site.  The size of the site should equal more traffic, a larger following, and eventually more revenue.
Advantages of Building a Small Site
As you may know from reading my blog, I started off my online publishing career by building lots of very small niche sites.  I have done extremely well, because I've gotten very good at finding and ranking for long tail phrases.  However, if you keep reading you will see that my approach has changed over the past few years.
Small niche sites have traditionally had a few advantages.  First, you could have the keyword in the domain.  Having the keyword in the domain used to provide a large "bonus" in Google to help you rank better.  However, since the Exact Match Domain update; having the keyword in the domain has become less important.
Let me be clear that I don't think it hurts to have the keyword in your domain; but it doesn't help as much as it used to.  In fact, if you find a great keyword you may want to find a domain that is more brand-able, rather than worrying about whether or not it has the keyword in the domain.
Its just not a big deal anymore.
The other advantage is that you can tailor your homepage to one specific keyword, and really focus your link building and other SEO efforts on ranking for that one keyword.  Although, I suppose I see no reason that you couldn't do this with a larger site as well.
The final big advantage of building smaller niche sites is that you can build lots of them relatively quickly.  As a result, you can target lots of different profitable keyword phrases that are in different niches and ideally rank well for all of them.
So, if you feel like you can spot low competition keywords and you enjoy analyzing the competition in various markets, then building smaller niche sites may appeal more to your strengths.
And for sake of discussion again, lets call a "small niche site" one that has somewhere between 10 and 50 pages of content. A medium sized site would be about 50 to 100 pages of content.
A Micro niche site is one that would have between 1 and 10 pages of content usually.  I personally no longer build any micro niche sites, and haven't for quite some time.
My Advice for Someone Just Starting Out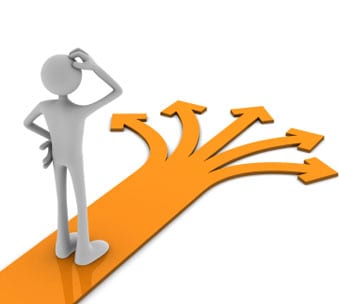 So, I've given some brief advantages to building both small and large niche sites; but what does that mean for you?
I have gotten a number of questions, but several of them essentially revolve around this theme:
"Should I focus on building 1 larger site or dozens (or even hundreds) of small niche sites?"
The answer obviously depends on your skill level, your existing portfolio of websites, how much money you have to invest in more.  However, for the most part, people asking have a similar background: they haven't built many (or any) sites before, they don't have much money to invest, they want to make money in 2 seconds.
However, the answer is almost always that you should focus on just 1 larger site.  Building a large site is by far the best way to build a real business with the potential for some serious revenue down the road.
In addition, its less risky in my opinion; as I'll explain below.  No one is guaranteed success, no matter how large or small their site is; and the reality is that a very large percentage of sites built will never do very well.
Learning from Small Sites
Now that I've said you should focus on building larger sites, I want to throw a curve in here and say that you can actually learn a ton from building smaller sites.  So, if you have never built a site before, maybe you can learn the ropes by trying your hand at one or 2 small niche sites first.
If you go into building these small sites with the mindset that you are just learning and not expecting to make much money from them, I think it definitely provides some great training ground.  But you should not expect these to be big money makers.  If you do everything right your first time around, then sure, you can make some money; but these should really just be seen as an investment into your education.
Once you've learned the process of finding and analyzing keywords, creating content, finding link building opportunities, and more, then perhaps you can move onto building a large niche site with the skills you've gained.
In reality, there are many different approaches your could take when you are just starting out; here are just a couple:
Build 1 large site and only focus on that.
Start a large site, but also start a couple of smaller niche sites to help you learn the ropes along the way.  Apply what you know to your larger niche site, which is likely to be your real money maker.
Start with 1 or 2 small niche sites and wait to build a larger niche site for a few months.  After a few months of learning and practicing, find a niche that interests you and build a larger niche site.  Focus on this niche site exclusively and build it into something significant.
Start 2 or 3 small niche sites and see if any of them take off.  If one starts doing well, focus on that one site and build it into your larger site.
Taking the Portfolio Approach
Notice that I am never recommending that you go out and build a couple of dozen small niche sites?  If you are just starting out, I think its a big mistake to try and do that.  Because of all the changes that Google has made, you are SO much better off focusing on quality and overall building a better site.
However, like any business, you should be taking a portfolio approach.  I want to dig in a bit on how you can take a portfolio approach with the internet publishing business.
All businesses have risk.  That point is very clear.  So, no matter what type of business you start or what type of website you start, you always have some amount of risk of losing money.  Some types of businesses or websites have more risk, and some have less risk.
Think of investing your money in stocks, bonds, etc.  Different assets have different amounts of risks.  Here are a few assets listed in order of least risky to most risky:
Savings Account
Municipal Bonds
Large Cap Mutual Funds
Small Cap stocks
Penny Stocks
In order to reduce your risk investing in stocks, you should diversify your portfolio.  You don't want all your money in Penny stocks; however, if you want to see your money grow much, you also don't want all your money in your savings account.  So depending on how much money you have to invest, when you plan to retire, what your current income is, and so much more, will determine how you divide up your money among the different asset classes.
The same portfolio approach should be taken with niche sites.  Now, I am going to list different types of sites and how risky they are in order of least risky to most risky.  (Think of the riskiness in terms of how likely Google is to penalize the site or how likely the site is to be severely impacted by a Google update).
Large Niche site/blog – using only natural link building
Small Niche Site – using only natural link building
Large Niche Site – using manual or outsourced link building
Small Niche Site – using manual or outsourced link building
Micro Niche Site – using manual or outsourced link building
Scraper site – content is not original
(Small Cap Stocks would be at the top of the list of these – Just to give you a reference of where an internet business lies on the risk scale.  Staring your own business is always going to be riskier than investing in an established company).
So, where are you least likely to lose your money?  Building a large niche site or blog that only uses original content and only collects links through natural methods.  As luck would have, one large site also has the potential to grow much more than a small site anyway.
However, building a scraper site or a micro niche site is MUCH more likely to get penalized by Google than any larger site.  But the reason people still build these sites is that you can potentially make some quick cash.  A large site might take a year or 2 before you see any returns; but a small niche site could be producing nice revenue after only a couple of months.
So, I see the strong appeal of small niche sites; I get it.  But if you want a long term business in internet publishing, you need to be focusing on a larger project that is as Google friendly as you can make it.
Gaming Google can be fun and can give you some really nice returns; but you can also lose everything overnight. Is that what you are looking for?
Fraser Cain, who I did a podcast interview with here, has always advised people to go out and find their passion and build just one large site.  I agree.  However, I also think as you have more experience and perhaps have a bit more money to invest, its okay to dabble a bit in the "riskier" side of the business.
But this should be a VERY small portion of your portfolio!  So, lets take a look at how someone that has time and money should diversify their portfolio among different types of sites:
70% – Large Niche site/blog – using only natural link building
10% – Small Niche Site – using only natural link building
10% – Large Niche Site – using manual or outsourced link building
5 % – Small Niche Site – using manual or outsourced link building
0 to 5% – Micro Niche Site – using manual or outsourced link building
0 to 5% – Scraper site – content is not original
To clarify, you should invest 100% of your time and energy on building 1 large site if you are just starting out or don't have any money.  And perhaps you can spend a bit of time and money on 1 or 2 smaller niche sites to learn the ropes or to test out a market.
If you get to the point where you have thousands of dollars to invest and you are just looking to take on some additional risk, then perhaps you can try out building more small niche site or do other things to try and game Google…be my guest.  But just realize that its extremely risky and is not likely to last very long.
Even so, 70%+ of your time and money should be focused and invested on a larger site that can bring is significant returns for the long term!
Outsourcing and Link Building

Closely linked to this entire discussion is outsourcing.  I think outsourcing is great because it can save you so much time, but you need to be concerned with quality..
The search engines are getting better and better at detecting quality content, so you should be giving readers and Google what they want.  So, if you have the time and ability to produce high quality content on your own, that is probably going to be the best way to go.
For example, I write all the content myself here at NichePursuits.com, because I know the content I produce is going to be better than what I could outsource (at least without spending a TON of money).  In addition, by producing all my own content for my blog, I'm much better in tune with my readers and can respond to their questions and comments more effectively.
Link Building
I also want to address the practice of outsourcing the link building for a site.  I've made it pretty clear, that for my smaller niche sites, I've almost always outsourced all the link building.  This is an extremely risky practice, and I know that.
As I've mentioned here, most of the link building done for my Niche Site Project Site: BestSurvivalKnifeGuide.com was outsourced to LayeredLinks.com.  This is obviously not white-hat or natural links.  I think everyone is aware of that, but I took the risk because I also knew of the potential rewards.
But, I wouldn't be taking those risks if I didn't already have an established business.  I am in this business full-time, and as such I have established websites or other revenue streams that make the success or failure less of a big deal.
By far, the safest approach is to never outsource any link building.  You should actually get involved in your niche and contact other bloggers, produce interesting content, and let people know about it.  The links will come on their own if you do those things.
This is a long term approach and may take years to see significant gains, but its the approach I recommend for the largest portion of your portfolio for sure!
Is This a Change in My Philosophy?
I've actually mentioned this approach many times in the past, but I often wonder if people only listen to what they want to hear.  They like to hear that a few years ago I built 200+ niche sites and quite my job.  They often don't like to hear what I've been saying for the past couple of years…which is that building hundreds of niche sites is super risky, and most people should focus on 1 or 2 larger sites.
In fact, the sole purpose for moving from my old blog and creating NichePursuits.com was in an effort to discuss ways to be more Google friendly and to attempt business ideas that didn't even rely on Google.   That's why I've built an iPhone app, created software products, and started other projects that do not involve small niche sites.
In fact, here are a few other posts that I've written over the past couple of years encouraging my readers to focus on higher quality and larger site:
As with any business focused on the internet or technology; change happens.  When I first got started in internet publishing, it was a different world.  In 2007 to 2010, I did very well with micro or small niche sites.  But over the past couple of years, I've really scaled that back big time, and have started focusing on larger sites.
My survival knife site is a decent example.  Right now its only about 50 pages of content, but I expect it to be over 100 pages of content soon, and I'll continue to grow it from there.  But even so, this is really still a small to medium sized niche site.
Rather than trying to build 10 or 15 of these sites, I'm currently focused on just 2 larger sites that I'm building out.  My portfolio is already pretty heavy with small niche sites (I built over 200 before 2010); so I'm diversifying to give me a heavier balance with larger sites that are more Google "friendly".
When I build smaller niche sites now, its only because I have money to invest and I fully understand the risks that come with trying to game Google.  If you are newer to internet publishing (and even if you are experienced), I would recommend focusing on 1 or 2 larger sites and creating an audience, brand, and empire there.
Overall and Your Thoughts
So, I've done my best to lay out my current thoughts on large and small niche sites, and the importance of diversifying your online portfolio.  Don't get me wrong, small niche sites are still fun and can still have their place for those that understand and can handle the risks. (But this is not most people starting out).
You can test different niches with smaller sites and learn the ropes; and perhaps you can grow a smaller site into something more significant if it performs well.  But going out and building 20 different small niche sites at once and using whatever tactic you can to rank in google, is simply not a good approach anymore.
If you want to risk 5 or 10% of your business portfolio on less stable small niche sites with outsourced link building, that's just fine…but just be aware of the risks.  You need a diversified and balanced approach.
Building a larger site might take you a few years, but if you focus with enough effort, you can build a brand that will last a lifetime.  The monetary returns are likely to be much better by owning a large asset that can produce recurring revenue for many years.
When my friends, family, or others close to me ask how they can make a living online, I always tell them that they should focus on building one large website or asset.  And now I hope I've been clear in telling all of you the same.
I look forward to the comments, questions, and discussion that will take place below.  Please let me hear your thoughts!
Want to learn step-by-step how I built my Niche Site Empire up to a full-time income?
Yes! I Love to Learn
Learn How I Built My Niche Site Empire to a Full-time Income
How to Pick the Right Keywords at the START, and avoid the losers
How to Scale and Outsource 90% of the Work, Allowing Your Empire to GROW Without You
How to Build a Site That Gets REAL TRAFFIC FROM GOOGLE (every. single. day.)
Subscribe to the Niche Pursuits Newsletter delivered with value 3X per week