7 Top Sites Like Wikipedia That You Should Check Out
When you buy something through one of the links on our site, we may earn an affiliate commission.
Wikipedia is a vast source of information. You can find everything from food recipes to current events. It's almost like the whole world is in Wikipedia. But are there any other sites like Wikipedia?
In this article, we'll be discussing seven alternatives to Wikipedia that are worth investigating. 
​​What is Wikipedia and Why Would You Need Alternatives?

Looking for sites like Wikipedia is not an easy task. Wikipedia has over six million English articles and over 43 million users. It's a valuable resource for information on pretty much any topic. It also contains links designed to direct the user to more information, and it provides countless references. 
However, lately, academics have denigrated Wikipedia for its failure as a reliable source. Anyone can edit a Wikipedia entry, and hackers frequently and maliciously rewrite or even delete some articles. 
So, you might not always know if what you're reading is true or false. If you are looking for another place to find credible sources of information, here are seven sites like Wikipedia. 
Encyclopedia Britannica 
In terms of conventional online encyclopedias, this is Wikipedia's main rival. Encyclopedia Britannica  online is the most dependable and esteemed encyclopedia in the world. It has been in existence for around 244 years, and in 2013, it discontinued the production of printed copies.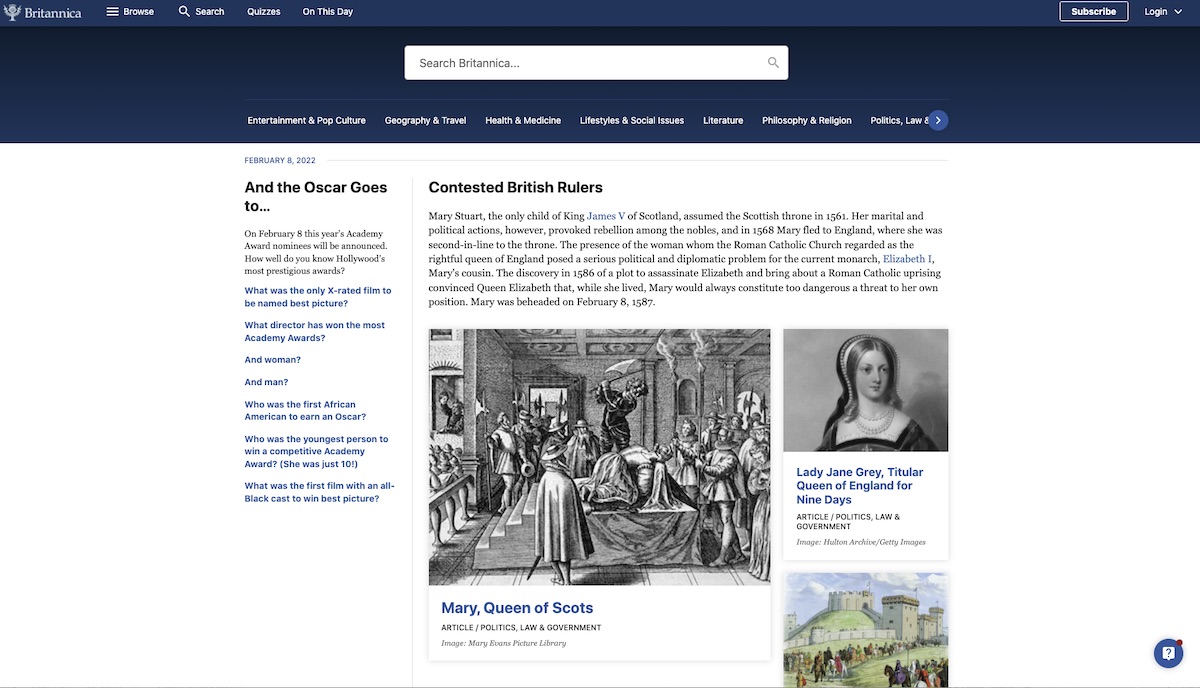 The company has been offering online editions of its encyclopedia for 20 years. The current Encyclopedia Britannica volume is packed with multimedia features and user-friendly search tools. 
Identifiable and credible authors write all the articles in Britannica and most give references. Articles are edited for length, the aim being to offer students and other researchers enough background information without drowning them. 
The online edition is updated constantly by professionals, and you can quote facts with an acceptable level of conviction. 
There is one catch with Encyclopedia Britannica online – it isn't free. To have full access to Encyclopedia Britannica Online, users must pay a subscription fee of $69.95 a year. 
Citizendium 
Larry Sanger, one of Wikipedia's founders, created Citizendium essentially as a sister site to Wiki. The main difference between the two sites is that Citizendium has a much better review process. Unlike sites like Wikipedia, Citizendium claims to have quotable certifications and disclaimers if the article hasn't gone through the peer review process yet.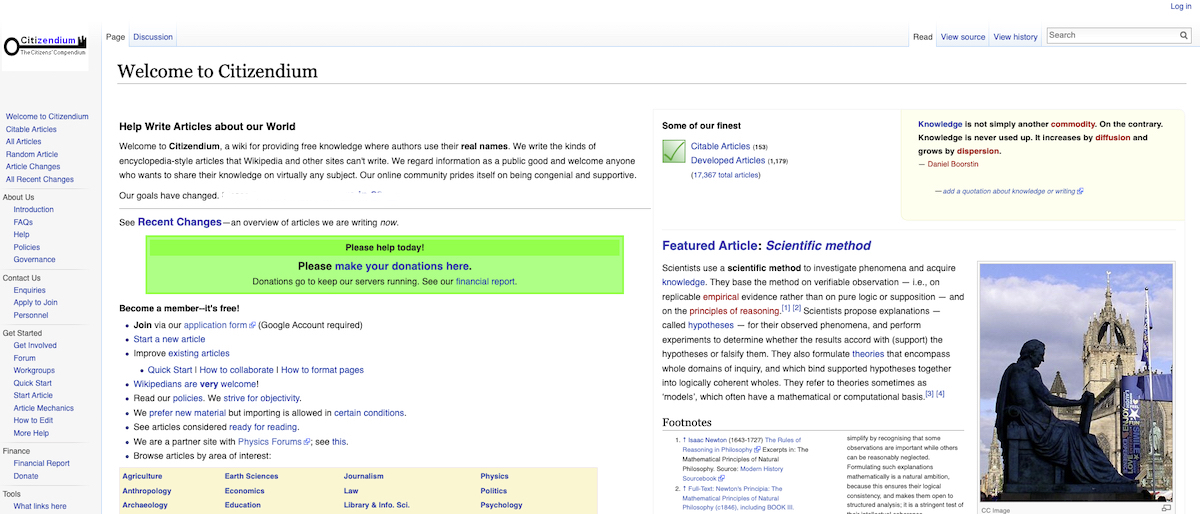 Editors are required to submit their resumes and a list of publications to prove they are experts in their fields before making editorial judgments. All contributors must sign up with their real names instead of usernames. 
Citizendium attempts to make it difficult for people who have been banned from the site to vandalize or return and hide behind a new username.
Fact Monster 
Another excellent site like Wikipedia is Fact Monster – a free online encyclopedia designed for children. The platform covers math and science, world history, arts, geography, and more. It also features other useful items like:
Dictionary
Thesaurus
Almanac
Spellchecker
Conversion tools
While you can get information on just about any topic on Wiki, the search results are not at all child-friendly. 
The Fact Monster free online encyclopedia is part of the Sandbox Learning family of educational tools for parents and teachers. Fact Monster also has tons of games, trivia games, and quizzes to educate children through entertainment. 
The information is brief and to the point. FactMonster is also quick to point out that experts write and edit all content, ensuring that the material provided is reliable.  
Conservapedia 
Conservapedia came about as an alternative to Wiki's so-called left-wing bias. It is an ultra-conservative, Christian-influenced Wiki encyclopedia that leans far to the right.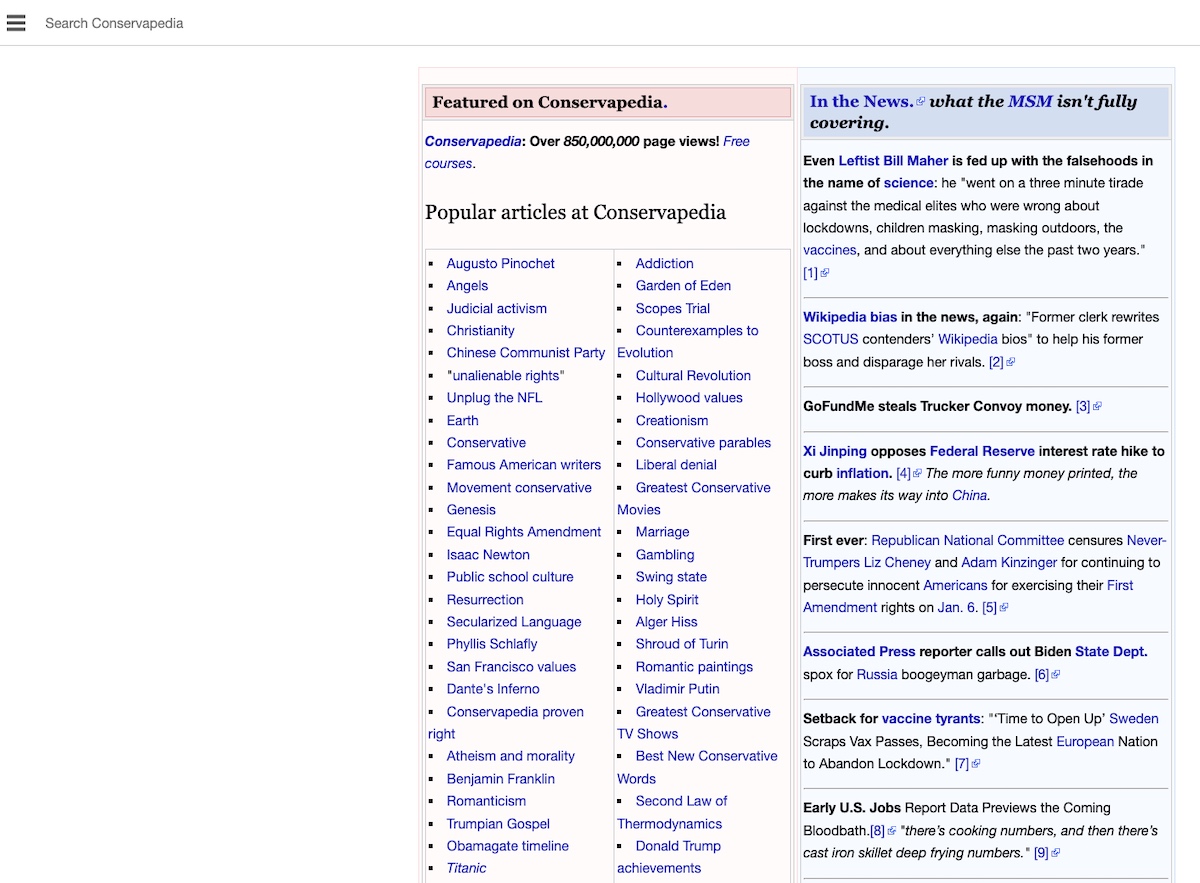 Conservapedia uses the same open-source software as Wiki, which gives it that distinctive "Wiki-look ." Its entries are strongly biased toward the views of the religious right, conservatives, and creationists. 
Bloggers even compete to find the most ridiculous entries. There's an often-quoted example "modern kangaroos are the descendants of the two founding members of the modern kangaroo baramin aboard Noah's Ark…". It has been the butt of hundreds of jokes. 
The site, launched in November 2006, is no joke and taken very seriously by the US Christian right. 
Infoplease 
Infoplease is a free online encyclopedia that provides an atlas, encyclopedia, dictionary, thesaurus, and videos. It also offers numerous almanacs rich with statistics, facts, and historical records.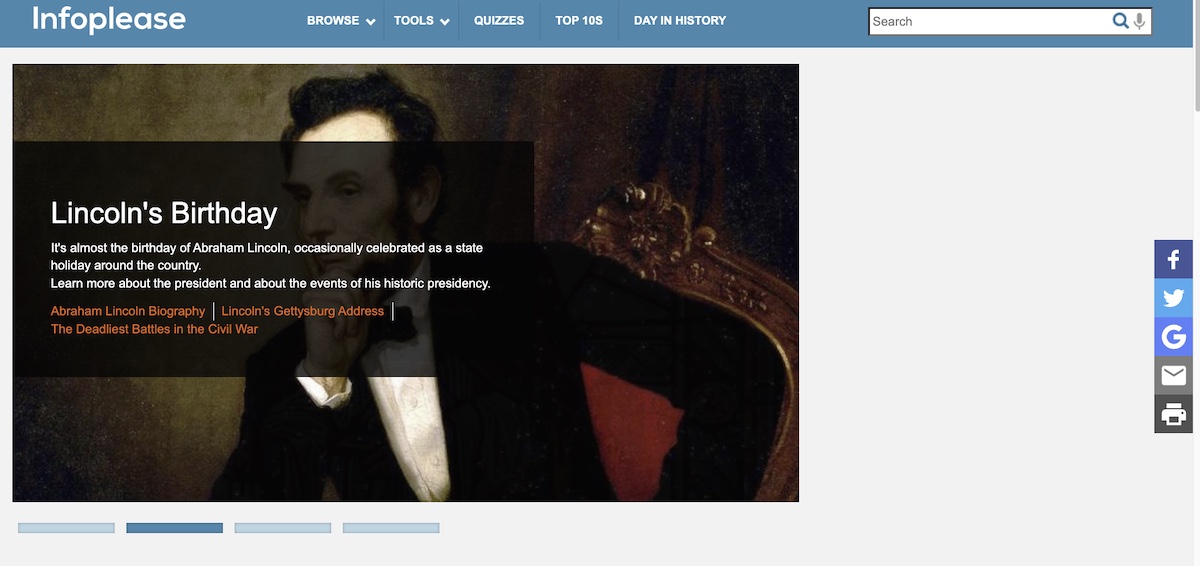 Infoplease is a part of Pearson Education, the largest global educational book distributor, and owner of Fact Monster. All the entries found on the site come from reliable sources, such as the Random House Unabridged Dictionary and the Columbia Electronic Encyclopedia. All content gets updated regularly.
Infoplease is comprehensive, covering a wide selection of topics from different points of view. Unlike Wikipedia, which offers full-length articles, Infoplease provides an alternative to Wikipedia by offering brief informative topic summaries. While appreciably shorter, the information is precise and edited by official Infoplease editors. 
Scholarpedia 
MediaWiki powers Scholarpedia, so it looks and feels like Wikipedia. It is designed to be a reliable alternative to sites like Wikipedia. Both also allow visitors to review and modify; however, Scholarpedia articles are peer-reviewed by experts in various sciences. 

Scholarpedia content is in separate "encyclopedias" on sciences such as astrophysics, computational neuroscience, computational intelligence, dynamical systems, and physics. 
Scholarpedia clearly states that experts write the articles, and all are peer-reviewed – no exceptions. Each article has a person in charge who has complete control over which edits are suitable for publication.
The actual names and affiliations of all authors, curators, and editors involved in an article must be stated. The use of usernames is strictly prohibited.  
Uncyclopedia
No article about sites like Wikipedia would be complete without giving Uncyclopedia an honorable mention. It is not that the site is precisely "honorable,"  and most certainly not a Wiki alternative, but it is fun. 

Uncyclopedia has fun with Wikipedia's tagline "The Free Encyclopedia" by calling itself "The Content-Free Encyclopedia."  It's full of misinformation and lies and pokes fun at everyone and everything in the name of comedy. 
The site explains how to be funny and not just stupid. At the minimum age of 13, writers can produce comedy content, fake news reports, and creative articles. Minimal profanity is permitted and no pornography. Just as sites like Wiki operate, anyone can edit, but diligent administrators run the site and keep users in line. 
Most of the Uncyclopedia articles include graphics linked to the equivalent Wikipedia entry. A characteristic description reads, "For those without comedic tastes, the so-called experts at Wikipedia have an article about [subject in question]."
Conclusion 
There's an old saying, "trust, but verify." No source is 100% reliable, so it's essential to check the facts in more than one reliable source to confirm their validity. 
There are competitors to Wikipedia but none as famous or influential. It really depends on what type of information you're looking for as to which encyclopedia or research resource to choose.
You have to agree it is very unusual not to find the information you're looking for, especially when Google plasters Wikipedia in most SERPs (Search Engine Results Pages). If you're looking for quick, free information, finding a better alternative to Wikipedia would be difficult.
Wikipedia does have an online store selling branded merchandise, but there is no advertising on the site, so it is interesting to see just how Wikipedia makes money. It is definitely a unique business model!
Finally, just in case you have ever wondered about it – the name "Wikipedia" combines the Hawaiian word "Wiki," meaning "quick," with "encyclopedia." Wikipedia = Quick Encyclopedia!
Want to learn step-by-step how I built my Niche Site Empire up to a full-time income?
Yes! I Love to Learn
Learn How I Built My Niche Site Empire to a Full-time Income
How to Pick the Right Keywords at the START, and avoid the losers
How to Scale and Outsource 90% of the Work, Allowing Your Empire to GROW Without You
How to Build a Site That Gets REAL TRAFFIC FROM GOOGLE (every. single. day.)
Subscribe to the Niche Pursuits Newsletter delivered with value 3X per week