9 Inspiring Shopify Success Stories and What You Can Learn From Them
When you buy something through one of the links on our site, we may earn an affiliate commission.
Shopify success stories might sound more like fantasy than reality if you're struggling with your online store. Boasting big brands like Fashion Nova, Kylie Cosmetics, and even the New York Times—Shopify has shown themselves as a platform for major league players. But what about the little guys?
These budding entrepreneurs who managed to turn their Shopify side hustle into a full time business prove that no matter who you are, there is opportunity out there ripe for the taking.
---
1. Best Self Co.
How it Started
Entrepreneurs Catheryn Lavery and Allen Brouwer are a clear-cut example of Shopify success stories. Best Self Co. started based on a product they wanted to use. A 13-week, goal-oriented planner to help them meet objectives.
They looked into printing options and quickly learned that printing in bulk is much more affordable. So they asked friends and contacts if this was something they would be interested in. This was the beginning of their market research.
How It's Going
The duo launched a Kickstarter campaign that quickly raised more than $300,000. This was a clear indication that Catheryn and Allen were on to something. They grew their following through Facebook groups, blog posts, and email marketing.
What started as a passion project, is now a full time business.
Since the launch of the Self Journal they've introduced a whole new line of products. They've grown their business to an eight-figure income by keeping up with what their customers want.
What Worked
Catheryn and Allen weren't just lucky in discovering a product that people wanted to buy. The key to their success was successful content marketing.
When considering their products they would write related posts that could attract new traffic. They also went out there, got involved in Facebook groups, and built a community.
At the heart of what they're doing is their customer's best interests. They read customer reviews to see what they are doing well and what they could do better, then act on it. Providing an elevated customer experience is key to any business.
2. Milk Tooth
How it Started
Based in New South Wales, Australia—Milk Tooth is the result of the entrepreneurial efforts of new mom, Kath, while on maternity leave with her daughter.
Kath wanted a way to bring in money while being able to stay at home with her new bundle of joy. Since her life now revolved around babies, it seemed only natural to get involved in the niche and find a way to make some money.
She started out by sourcing products from both local and overseas brands that she liked herself and felt that other moms would be interested in. These were a mix of boutique brands and more well-known names to generate traffic.
This worked well, considering her first few sales came from organic search traffic!
How It's Going
Since Milk Tooth first launched in mid-2014, Kath, and the business, have come a long way. They've been featured in multiple publications and Kath has even worked with some big name designers, incorporating some of the beautiful nursery items she sells at Milk Tooth.
However, Kathy makes it on to the list of Shopify success stories because she has fulfilled her dream of being able to work from home and be there for her kids.
What Worked
SEO has been the key to Kath's success. She learned early on how important organic search traffic was to her business and invested modestly in SEO before learning the basics herself.
She also uses MailChimp to send out her newsletter and has had a lot of success in converting through links in her email campaigns.
Milk Tooth is just one example of how moms can make money from home. We've got a great round up of 97 Side Hustles for Moms to check out if you want to spend more time at home with your kids.
3. The Bearded Bastard
How it Started
The Bearded Bastard himself, Jeremiah Newton, started making natural, scented, moustache wax out of his home in Austin, TX in 2011.
At first, it was a only a personal use product, that soon become one he handed out to friends. From there, his signature Woodsman Moustache Wax and Woodsman Beard Oil started to gain some reactions. Friends of friends would ask to buy some and unbeknownst to Jeremiah at the time, his business started as a string of text messages and Facebook DMs.
He soon began selling to barbershops and started an Etsy store, but soon moved to Amazon and Shopify.
How It's Going
By 2013, Jeremiah's brand had been featured in Esquire, GQ, and Men's Journal giving The Bearded Bastard a ton of exposure and cult status.
Social media influencers and men's bloggers also picked up on the product and building a good relationship with these outlets has meant even more business for the online store.
The store was doing so well that in 2020 Jeremiah decided to sell to a company that would be better able to manage the volume of sales.
In 2020, Jeremiah sold his brand to a bigger company. He hand picked the team that would take over his brand and maintain the high-quality of his products.
What Worked
Building brand recognition before moving online is something that happened to work well for Jeremiah. When he launched his Shopify store, people were already looking for it online. That said, finding the right platform and tools to be successful was also a big part of Jeremiah's success.
Although he started selling on Etsy and eBay, he wasn't comfortable with the platforms and they didn't offer any of the support he found he gained by switching to Shopify.
The Shopify community and on-hand experts were critical in the way Jeremiah was able to transition to online sales. Check out our comparison of Shopify vs Etsy.
Finding the right eCommerce platform can be crucial for the success of your business. Consider where to sell items online and which website works best for your niche and expertise.
4. Charley Chau
How it Started
When it comes to Shopify success stories, there's no obvious pattern for what made a brand successful. Founded by two sisters, Jenny and Christine Chau, Charley Chau started by accident.
When they couldn't find any stylish dog beds to match their interior decor, they decided to make one themselves. After posting a few photos on Facebook, they were suddenly overwhelmed by people asking where they could get their hands on the same dog bed.
Realizing their homemade creation actually had business potential, Jenny and Christine decided to make a go of it. They funded everything from their own pocket and even moved back home to save money so they could afford to put more into their business.
How It's Going
From there, Charley Chau grew into a household name for those invested in stylish, quality, dog bedding. After two years of selling online, Jenny and Christine were able to leave their full time jobs and focus solely on growing Charley Chau.
Now, they've partnered with major retailers in the UK and boast online customers from around the world.
What Worked
Being passionate about their product meant the long hours that go into building a business didn't feel so much like a chore. This was essential for two people that didn't come from a business background.
On top of that, cultivating a loyal customer base that would spread the word about their line to family and friends helped them grow. In that same vein, Jenny and Christine used social media to build brand awareness and connect with influencers in their niche.
5. Brilliant Business Moms/Brilliant Life Shop
How it started
What is now Brilliant Business Mums started out as an Etsy shop selling outdoor crafts and butterfly terrariums. Beth Ann and her sister launched a podcast just talking about motherhood and time management, which over time evolved to become more focused on juggling parenthood and business.
Fast forward a few years, the two sisters started interviewing other mompreneurs on their podcast. They focused on asking them what worked for them, what didn't work for them, and tips they had for being a present parent while also running a side business.
Their podcast allowed them to build a loyal following of a few thousand listeners who they were able to survey as their own means of market research.
They learned from their listeners that moms were looking for a better way to manage their time.
In response, the two women designed and launched their first planner, which, by their own admission, did not sell well.
But they didn't let that stop them. They refined their design and launched a new planner for a new year. Meanwhile Beth Ann put more energy into different marketing strategies, including using Pinterest and other social media platforms.
They also wrote an ebook, Time Management Momma, available for sale through both Amazon and their Shopify store.
How it's going
Today, Brilliant Business Moms has grown into a community of hundreds of thousands of women worldwide. And the business itself has really taken off. Their Brilliant Life Planner launched with the goal of making $15,000. Instead, they made $30,000 in one month.
As they've grown, they've expanded their team to include three other wonderful moms and pursued new avenues of revenue by introducing classes and other digital products for sale.
What Worked For Them
Beth Ann and her sister listened to what their audience wanted and created a product that already had a market.
Additionally, according to Beth Ann, an integral part of their success story was focusing on building their email list. Email marketing is fantastic because it is essentially algorithm-proof. The contacts that you build on your email list will always be yours and they aren't affected by the way social media platforms, like Instagram or Pinterest change.
That being said, Pinterest has also been a really essential source of traffic for their business. Their private Facebook group was also key for community-building and connecting on a more intimate level with their target audience. Facebook is a key player for many Shopify success stories because of the way you can interact with your customer base.
6. Dear Lash Love
How it Started
Lash + Love founder Lorena became involved in the beauty world in 2012. She started out as an esthetician before specializing as a lash artist (check out our list of esthetician business name ideas to get inspired). She noticed a gap in the fashion market through her work. She decided to create functional, casual apparel for people who wanted to showcase their passion for beauty (and killer lashes). For her, it was about making something versatile and stylish that she could wear to work.
She hired a graphic designer to help her with the t-shirt designs and sourced t-shirts from a local manufacturer. With absolutely no background in web design or ecommerce, she created her Shopify store.
She launched her page with no following of her own but asked friends and family to spread the word. She also focused her time on connecting and building relationships with other people in her niche that had a social media presence.
On her first day Lorena sold $900 worth of merchandise and says friends and family only accounted for 20% of those sales. More than half of what she sold was to complete strangers that were excited about her brand, proving she was primed to fill a gap in the market.
How it's going
Dear Lash Love has grown from a humble t-shirt business into a lifestyle brand. Lorena now has close to 65k followers on Instagram and shares everything from social media tips for other estheticians to how to run a successful business.
The t-shirt business is now a lash tee club, and she sells digital downloads for social media influencers and consulting packages to help grow your online business. She also offers web design and branding help for other entrepreneurs.
What Worked For Lorena
Coming from a beauty background, Lorena didn't know the first thing about running an online business but she adapted as she went.
She learned how to leverage the marketing power of Instagram and Facebook to her benefit and generates a ton of sales through social media.
Knowing when to scale her business and being mindful of what her customers say helped Lorena grow into the lifestyle brand she is today. And you can find out how to build a social media following of your own!
7. bluboho
How it Started
Bluboho is one of those Shopify success stories of a brick-and-mortar shop turned online retailer. With two offline stores, the Candian jewelry brand saw Shopify as a way to expand their business.
They already had their flagship store in Oakville and a second location in nearby Toronto, but that didn't mean drumming up online sales was easy.
Luckily, word of mouth helped them generate some traffic to their website through a strong content and social media marketing strategy.
How it's Going
Since selling online, Bluboho has increased their profits significantly by opening themselves up to the global marketplace. As a result, they've been able to open a third offline store in a new location.
Having an online presence has also meant that their brand awareness and social media followers has increased. This has created a platform for the brand to highlight ethical and sustainable jewelry.
What Worked
For founder Maggie, having a community of people that were interested in the values her brand stood for helped her grow her business. Even before launching Bluboho online, she spent a lot of time building relationships with her potential customer so that her brand was at the forefront of their mind when they thought about sustainable jewlery.
An appealing web design has also been important for conversion rates. Treating each product page like it's own landing page has meant that Bluboho has been able to capitalize on organic search traffic and backlinks to the best of their ability.
8. Jaq Jaq Bird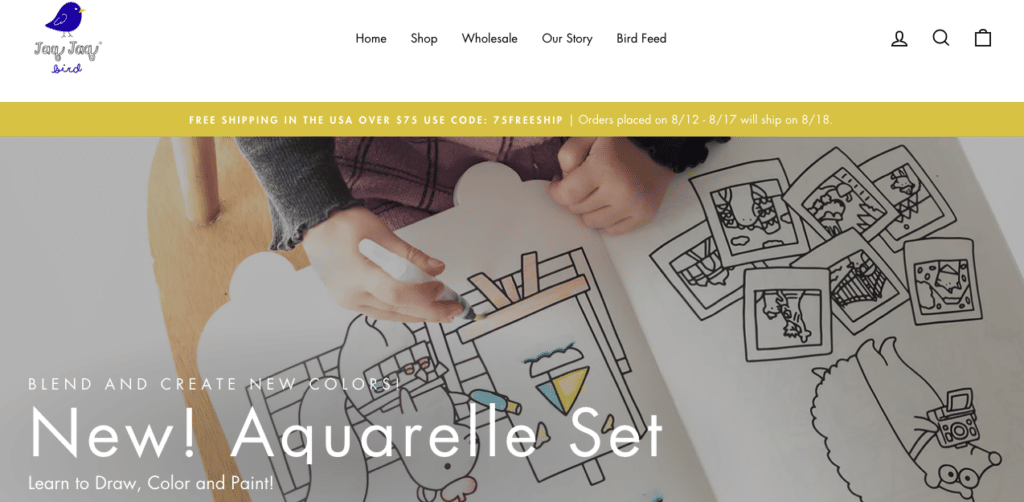 how it started
There are plenty of Shopify success stories of people who had great connections or a ton of money to get started. This isn't one of them. Grace was a military-wife and mom that created her Jaq Jaq Bird and her flagship product out of necessity.
Grace's story involves a conman renovator and the FBI. When her kitchen was left in shambles Grace also had a newborn baby and no money to hire a new renovator. As a result, they were eating out often as a family. Unfortunately. Grace's older children just weren't interested in sitting still and waiting patiently for their meal (go figure), so Grace sewed chalkboard placemats to bring to restaurants to entertain her kids.
After some interest from other moms, she later approached local stores with her product. Her budding business took off when HGTV caught wind of her product and did a feature on her brand.
How It's Going
Grace's humble home business was able to fund the restoration of their kitchen and the rest of their house renovations. As she's gained traction, she's gone from making her products at home by herself, to hiring an extra pair of hands, to outsourcing the whole production to keep up with demand. Grace sells online and is partenered with a host of international retailers.
She's also been featured numerous times in the press by big names like Forbes and the Wall Street Journal.
What Worked
Social media has been responsible for most of Jaq Jaq Bird's online sales. A lot of the store's traffic comes from influencers and bloggers raising brand awareness, and Grace's own social media efforts.
The site also incorporates a blog that helps increase organic search traffic using SEO best practices and has helped Grace build her backlink profile.
Finally, because Jaq Jaq Bird scaled so quickly, Grace found that the Shopify experts were really instrumental in setting her up for success. The resources and Shopify community have also helped her learn about marketing and what apps to use.
9. Hazel & Olive
How it Started
With $300 that she saved up by cutting coupons and slashing her budget, Taylor McMillian Johnson bought her first batch of inventory. And so Hazel + Olive was born.
The first pieces of clothes that Taylor had she sold to friends on Facebook and slowly began to build her business. She reinvested the money she made from her first sales to buy more inventory and launched her Shopify store.
As her brand grew, Taylor put in 18 hour days, 7 days a week to keep the momentum going and cement her brand.
How it's Going
Within eight months of opening her store online, Hazel & Olive had brought in over a million dollars in sales. The business was featured by Inc 5000 as one of the fastest growing private companies in America.
Reinvesting profits back into the business has allowed Taylor and her husband, Ben to open a brick-and-mortar store in addition to their online store.
They've also upgraded their stock facilities from their tiny apartment to a 6,000 sq foot facility and have a team to help them run things.
What Worked
Good old fashioned hard work, but with a purpose. Taylor poured her heart and soul into raising brand awareness. Social media and fashion blog backlinks were key to building her customer base.
In addition, Taylor has always made her customer the backbone of her business. She prides herself on being hands-on with her customers and listening to feedback to ensure she stays on top of what her market is looking for.
How to be successful on Shopify
With more than 3 million stores live, it might seem like you're facing a tsunami of competition when you launch your online store. In fact, after WordPress, Shopify is the most popular content management system for online businesses.
Most of the platform's business comes from Canada and the States, with the United Kingdom not far behind, but you can launch your store anywhere.
The key to success in a fiercely competitive marketplace is a solid strategy.
Focus on building your brand identity. Leverage tools like social media (including Facebook ads), SMS marketing, and email marketing to grow your brand. You want to utilize a multi-channel marketing strategy to ensure you are visible to your potential customer and have a clear brand identity. Don't underestimate the power of branding. Rather than sticking with a generic storefront, take the time to learn how to design an attractive and engaging website or pay someone to do it for you. It's a worthwhile investment.
Learn how to connect with your customers. This means not only providing outstanding customer service but telling your story, making yourself and your brand relatable to your target audience. It also means constant market research—listen to what your customers want and find a way to provide it.
Set realistic goals for your shop. This includes setting a deadline to achieve that goal. If you miss it, evaluate where you're at and consider what needs to change. You need to be adaptable to the market to succeed. Know when the right time to scale is and plan for it.
If you want more tips on how to turn your online business into one of these Shopify success stories, I recommend you take a look at our step-by-step guide on how to make money with Shopify.
Add Your Store to the List of Shopify Success Stories
Kylie Jenner didn't start from nothing, so maybe your story won't be the same as hers, but don't let that get you down. Chances are you've never heard of Tobias Lütke, he was just some guy that wanted to sell snowboards. Well, 15 years later he's the founder and CEO of the biggest eCommerce platform in North America.
Shopify itself is such an incredible success story. From a simple online store to Shopify payments, to the Shopify app, to the massive and ever-growing Shopify community, all it takes is a pebble to start an avalanche.
For most brands that have done well on the Shopify platform, the key to running a successful Shopify store is providing a positive customer experience. Keep that at the forefront of your mind and develop a plan to feature your brand on Shopify's own success stories page.
Check out Shopify review for more information!
Want to learn step-by-step how I built my Niche Site Empire up to a full-time income?
Yes! I Love to Learn
Learn How I Built My Niche Site Empire to a Full-time Income
How to Pick the Right Keywords at the START, and avoid the losers
How to Scale and Outsource 90% of the Work, Allowing Your Empire to GROW Without You
How to Build a Site That Gets REAL TRAFFIC FROM GOOGLE (every. single. day.)
Subscribe to the Niche Pursuits Newsletter delivered with value 3X per week