Is Stadium Goods Legit For Buying And Reselling Sneakers? Find Out Here!
When you buy something through one of the links on our site, we may earn an affiliate commission.
Is Stadium Goods Legit? Yes, Stadium Goods is legit (but it's not without flaws).
The secondary market for sneakers is a booming business, and it's only getting bigger. By 2030, the sneaker resale market is expected to reach $6 billion. But as the market grows, so do the risks of being scammed by fake sellers, overcharged for shipping, or the company simply disappearing after receiving payment.
That's why I was excited to check out Stadium Goods to see exactly how they serve the growing market for buying and selling sneakers, streetwear, and other collectible items.
I dug into their procedures, testimonials, and interviews with their co-founders to get a better understanding of how they ensure a safe and seamless transaction for both buyers and sellers.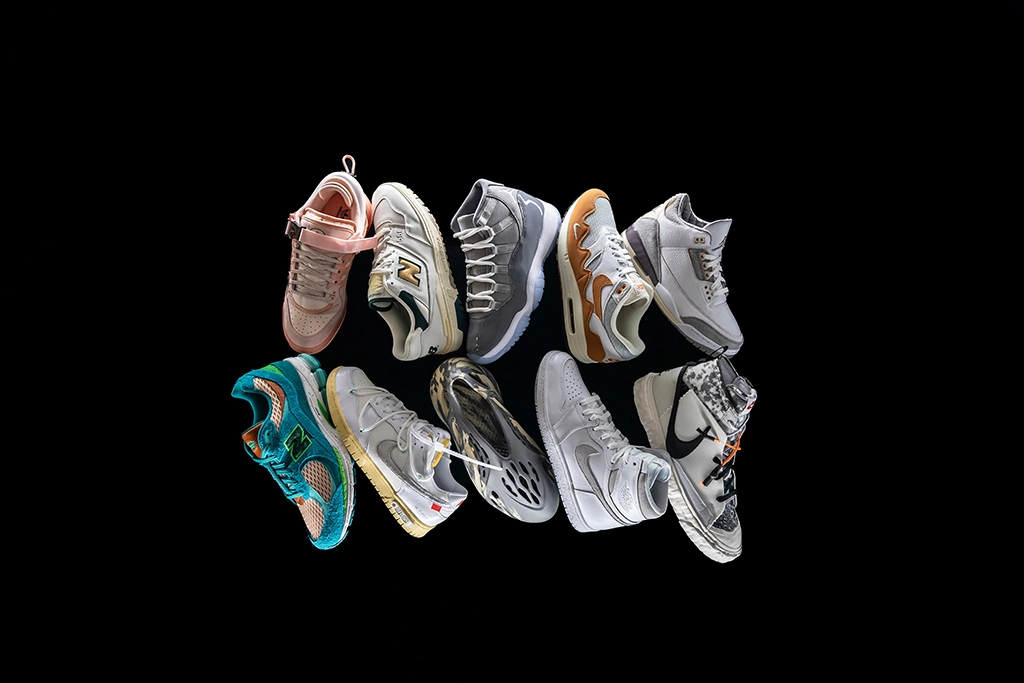 Here's what I found:
Stadium Goods Review
Ease of Use

Authenticity

Customer Service

Price

Moneymaking Potential
Summary
Stadium Goods is the ultimate destination for buying and selling authentic streetwear. They work with the biggest names in streetwear. Their mission is to provide a safe and easy platform for buying and selling authentic streetwear while championing the culture of streetwear worldwide.
Pros
Quick payouts for sellers
Favorable commission rates and selling prices
Authenticity guarantee
Can return if unhappy
Established brand
Cons
Strict return window
Slow or unhelpful customer service
Expensive for buyers
What Is Stadium Goods and How Did It Start?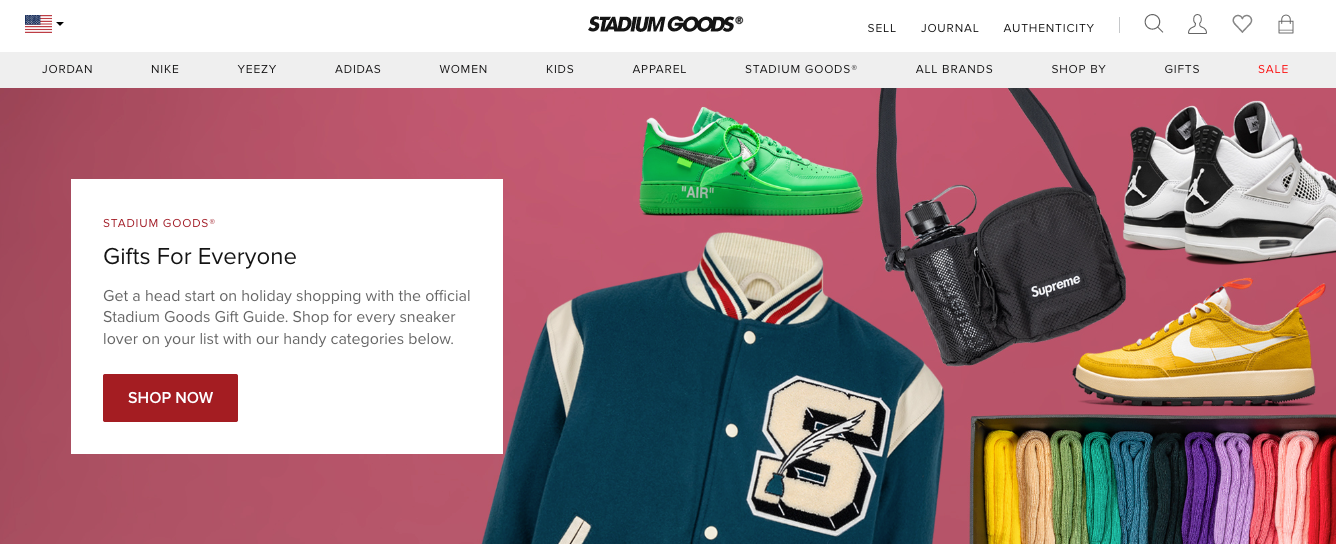 Stadium Goods is a premium consignment marketplace for buying sneakers and streetwear.
It was established in 2015 by John McPheters and Jed Stiller, two branding experts from Team Epiphany.
Stadium Goods specializes in rare, mint-condition pairs of sneakers, as well as apparel and accessories.
According to McPheters, he "saw an opportunity in creating a best-in-class digital destination where anyone could buy or sell authentic sneakers with confidence."
He noticed that people were already paying luxury prices in the aftermarket for rare sneakers – like the Air Yeezy 2 Red October, which retailed at $245 but sold on Stadium Goods for up to $5,500. All they needed was an easy and safe way to transact.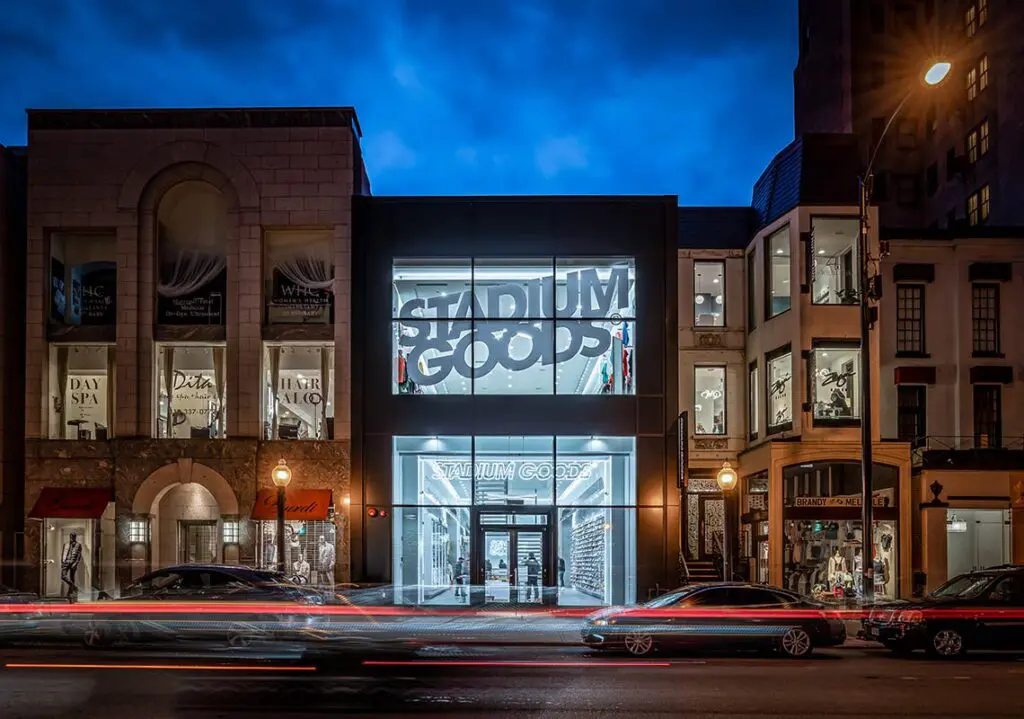 Customers can buy and sell online at Stadiumgoods.com, as well as in retail locations in New York and Chicago. Even though they have brick-and-mortar locations in strategic hotspots, e-commerce accounts for over 95% of their business!
In October 2018, Stadium Goods was acquired by the luxury fashion platform Farfetch for $250 million, giving the company a major boost in visibility and resources.
Is Stadium Goods Legit?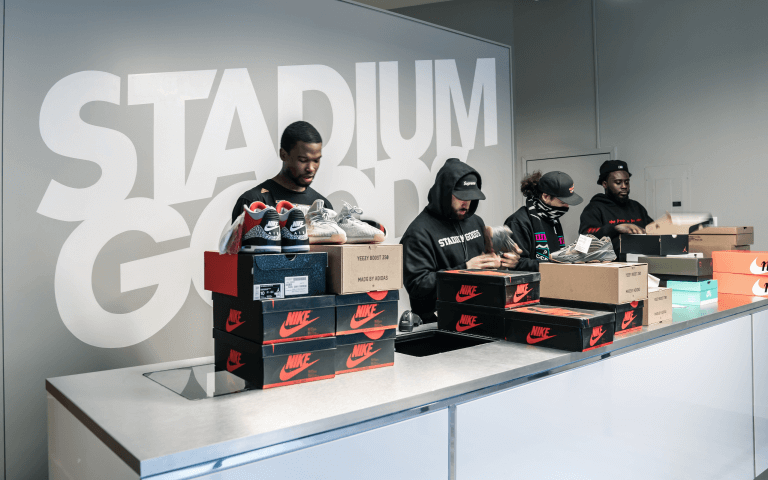 Yes, Stadium Goods is legit. We were able to determine this by evaluating a combination of factors including:
Size
Funding
Brand and Community Engagement
Authentication Policies
Proof of sales and payouts
Size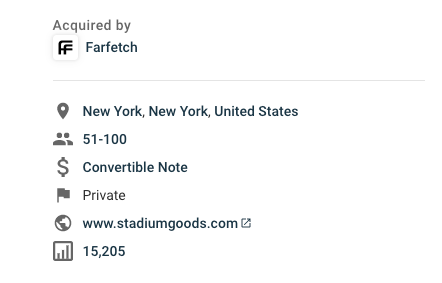 According to Crunchbase, the Delaware LLC registered company has upwards of 51 employees, indicating a healthy and growing team. Their headquarters in New York City and high-traffic retail locations in SoHo and Chicago also testify to the company's size and success.
Funding

Stadium Goods underwent multiple funding rounds until it was ultimately acquired for $250 million by Farfetch (we also found out if Farfetch is legit). This level of investment is a strong indicator that Stadium Goods is legit.
Here are the Stadium Goods Funding Rounds
Seed Round: $1 million seed funding from SM Ventures in 2015.
Series A: $4.6 million in venture capital from The Cernin Group, Mark Cuban, and Forerunner Ventures in 2017.
Convertible Note: $11.8 million from Blisce, LVMH Luxury Ventures in 2018
Authentication Policies
By looking at the way Stadium Goods presents itself, you can see that it established several measures to ensure the authenticity of all products sold on its platform.
First, they have a team of experts trained and experienced in identifying authentic items through close inspection of product details and materials.
Stadium Goods also has a 100% authenticity guarantee for every single item sold on their platform – whether it's bought or sold by them directly or through one of their verified sellers.
Do they deliver everything they promise, though?
According to sellers, Stadium Goods does an amazing job. They sell fast and offer sellers analytics to determine which hot-selling items need restocking. Plus, sellers also receive payments in a very timely manner.
Buyers seem to have a different experience with Stadium Goods, with some being left with a sour taste in their mouths due to tight return policies and authenticity concerns.
Stadium Goods Brand And Community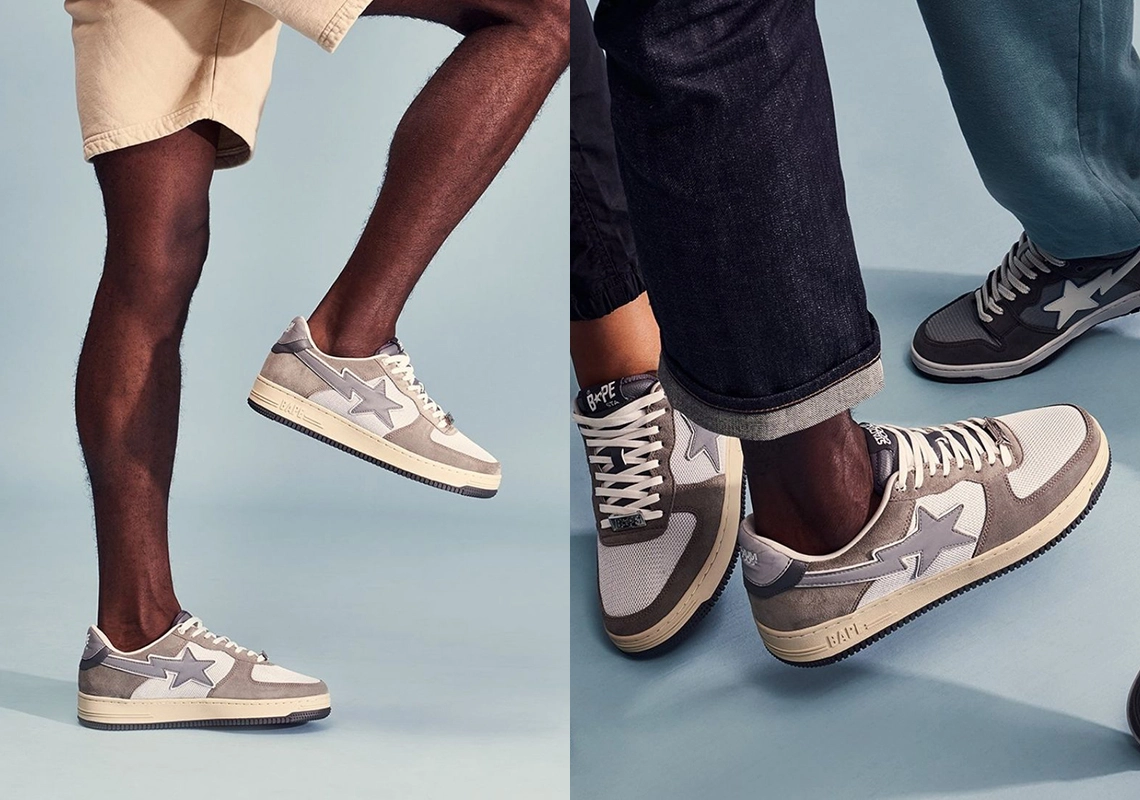 Stadium Goods' branding reflects its expertise and authority in the sneaker world. Their website features a clean, modern design with crisp photography of sneakers and streetwear.
Their social media presence is highly active, with daily posts on Instagram showcasing new releases and collaborations. They also frequently engage with customers by sharing user-generated content and hosting giveaways.
They even launched their shoe collaboration, SG x BAPE, in partnership with the iconic streetwear brand A Bathing Ape.
Proof of Sales and Payouts
All in all, Stadium Goods looks like a well-oiled selling machine. If you're a seller you're in phenomenal hands. Stadium Goods knows how to get your goods sold! And they'll pay you out quickly.
Entrepreneur Matt Sokol documented his 30-day performance on Stadium Goods. He says that Stadium Gods sells most of his inventory, and they pay him promptly via ACH or check. Hence why he was able to net over $6500 in sales in 30 days.

That said, if you're a buyer, you may want to read all the fine print before you purchase.
How Does Stadium Goods Work? An Overview

Sneaker Goods is a consignment store that helps people sell rare shoes and collectibles.
Create a Ticket (Request)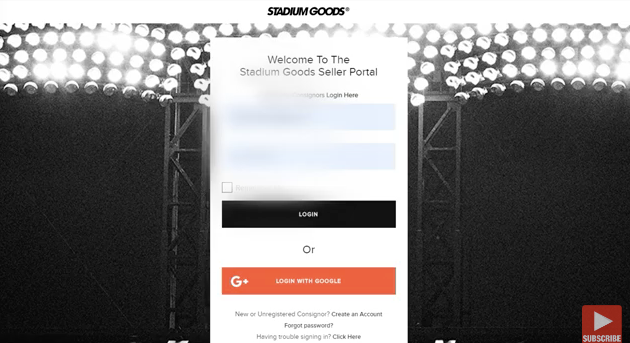 Sellers start by sending in a ticket. A ticket is simply a request to sell an item.
The seller will enter details about the item, including the size, model, and condition. Then the seller will set the price. Stadium Goods will either approve the seller's price or make a counteroffer.
After the ticket is approved, sellers can print out a shipping label and ship the goods to Stadium Goods for authentication.
Listing
Stadium Goods sells its products through several different channels, including its own website, eBay, Amazon, GOAT, TMALL.hk (Alibaba), FANCY, JET.com, and others. Once the listing is live, potential buyers can see it and make an offer. If you accept an offer, the buyer will send payment to Stadium Goods, and once the transaction is complete, Stadium Goods will ship the shoes to the buyer. 
After Your Item Sells
After your item sells, Stadium Goods will provide tracking information and handle the shipping process. You'll be able to monitor the sale through your account dashboard. There are updates to the inventory report every Wednesday.
To receive payment you can visit the store location, receive a check in the mail, or register for ACH.
How Much Money can Sellers Make With Stadium Goods?
Top sellers can make upwards of $30,000 per month. The company takes a 20% commission on all sales, which means that sellers keep 80% of the proceeds. Successful resellers typically reinvest a significant portion of their earnings back into inventory to maintain a steady supply of fresh stock. As a result, reselling sneakers can be a lucrative business, but it's certainly not a get-rich-quick scheme.
Stadium Goods Authentication Process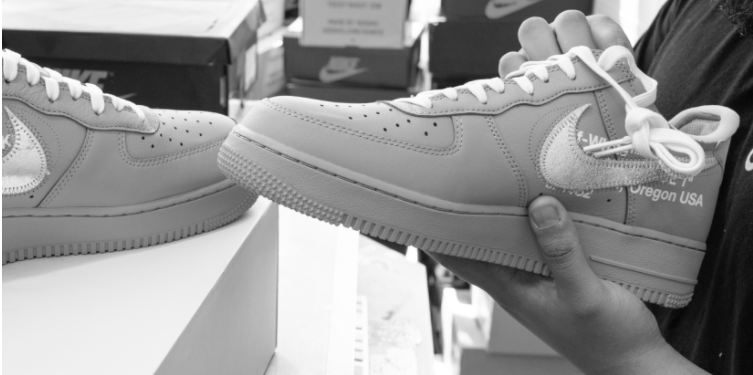 One of the biggest concerns for buyers and sellers in any marketplace is authenticity – nobody wants to pay a high price for a fake or counterfeit item.
Once an item is received, Stadium Goods puts the item through a 10-step authentication process.
Seller Onboarding
Stadium Goods takes several steps to ensure authenticity, starting with its seller onboarding process. All potential sellers must present a government-issued photo ID and proof of purchase for any items they want to consign with the company. In addition, they require sellers to provide proof of purchase of the item as part of the listing process.
Decades of Experience
The company's employees have been involved in the sneaker world for years, giving them in-depth knowledge of the products and the counterfeiting techniques used to imitate them.
Physical Examination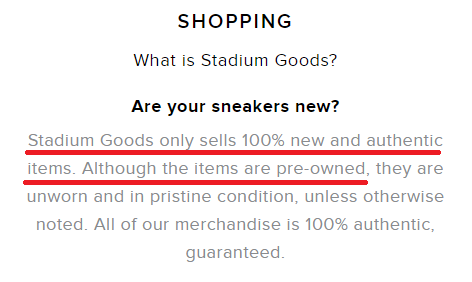 At Stadium Goods, they inspect every item that comes into the marketplace. That way, they can ensure that everything is authentic and as described.
Unlike some other marketplaces, they don't just rely on sellers to provide accurate information. They physically inspect each item to ensure it's up to their standards. This includes a close physical examination of materials, stitching, sole molding, and other details that can indicate a fake.
Technology
Their experts cross-reference the product with verified authentic versions in Stadium Goods' database and use special technology like infrared light to detect inconsistencies. Any item that does not pass this authentication process is immediately rejected and returned to the seller.
Authenticity Guarantee
Stadium Goods also has an Authenticity Guarantee, which promises that all products sold on their website and in their retail locations are 100% authentic, or the customer will receive a full refund.
What Does That Mean For Buyers And Sellers?
A safe and secure shopping experience would enable a buyer to shop confidently, knowing that all the Stadium Goods products are guaranteed authentic.
For sellers, the authentication process means they can command the highest value possible for their items. It also offers them protection from buyers since all of the authentication is done pre-sale, preventing any potential disputes about authenticity.
Does Stadium Goods Sell Fake Shoes and Products?

No, they don't sell fakes. Their policies are built to curb the sales of fake or damaged goods, but no policy is perfect. Some low-quality shoes might slip through the cracks.
For example, they take a strong stance against fake goods. "Here at Stadium Goods, the quality of our merchandise is paramount. We work diligently with our consignors to ensure that we only receive authentic products in excellent condition," reads their Authenticity Promise.
What Are Stadium Goods Users Saying?
Overall, it appears to be a tale of two experiences - sellers are often happy with the platform, while buyers either hate it or love it.
Many sellers appreciate the authentication process and report receiving fair offers for their items, as well as speedy payment once the item sells.
The Youtube videos we watched indicated that sellers make bank with Stadium Goods. Matt Sokol said his stock was "flying off the shelf" as soon as it was listed.
On the flip side, some buyers report receiving fake or damaged goods, leading to frustration and disappointment. However, Stadium Goods does offer a refund for any items found to be inauthentic.
It's possible that the tight inspection policies are not being enforced as strictly as they should, which could cause some issues for buyers.
One customer on Trust Pilot complains of receiving "damaged/worn shoes," - and he could not receive a refund. I think he inadvertently broke the return policies, which is what most negative reviews mention.
Other customers gave Stadium Goods a thumbs-up for authenticity. One Youtuber who runs the channel "Sneaker Talk" spent $400 on Jordan VI's and documented his unboxing. He says that the quality of the leather is the "best he's ever seen."
Another customer from "A Sneaker Life" Youtube Channel ordered a pair of $900 Off-White Jordan V's and says that the shoes were "very authentic" and that he plans to keep the pair of shoes.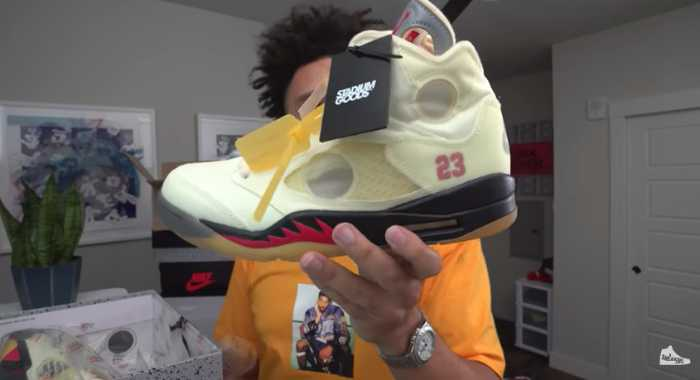 Yet another user on Trust Pilot was pleased when he received his real Jordan 3s. He suggests that you buy higher-priced Jordans instead of those in the $200 range. According to him, "you get what you pay for" with Stadium Goods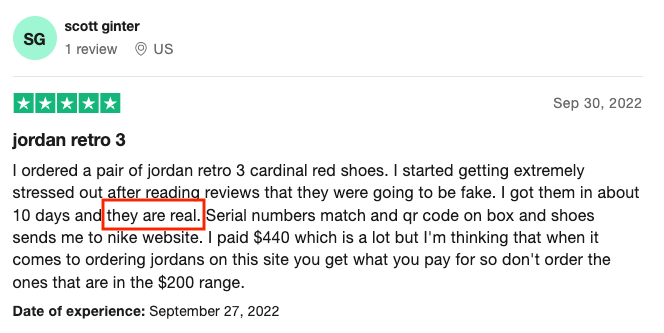 Key Takeaway If You're Going To Use Stadium Goods
If you're a buyer, it's important to always check the return and refund policies before making a purchase - and if you do happen to receive a fake or damaged item, make sure to take advantage of any guarantee offered by Stadium Goods. And if you're selling, ensure your items meet the authentication standards!
How Long Does It Take to Process a Stadium Goods Order?
It usually takes about three days to process an order from Stadium Goods. The company ships orders Monday through Saturday (excluding major U.S. holidays). So if you place an order on a Monday, it should ship out by Wednesday or Thursday at the latest. Of course, actual delivery times will depend on your location and the shipping method you choose.
Stadium Goods Return and Refund Policy
If you're unhappy with your purchase from Stadium Goods, you're entitled to a refund. Keep in mind they have a very strict policy!
Here's how it works: You can return the item(s) for a refund within 3 days of delivery if you submit a return request within that timeframe.
Once your return is approved, you'll have 7 days to ship the item(s) back to Stadium Goods. It's important to note that you can't use the item before returning it, and all original tags must be attached.
The item should also be returned inside its original box and shipped in a protective box to avoid damage during transit. Finally, remember that items marked as "Final Sale" can't be returned.
After your return is received and reauthenticated, a refund will be issued to you in the original form of payment.
Stadium Goods does not offer any cancellation or change requests for orders that have been completed.
How Does Stadium Goods Make Money?
Once your item sells, you will receive 80% of the list price. Stadium Goods receive 20% commission. For example, if your item sells for $100, you will receive $80, and Stadium Goods will receive $20.
Stadium Goods also makes revenue through sales of its merchandise, partnerships with brands, and advertising or sponsorship deals.
Pros Vs. Cons
Buyers
Can find shoes and streetwear not available on other sites
Established brand and long history of being in business
Authenticity Guarantee
Easy to use platform
Extremely tight return policy (read the fine print)
Customer service is slow or unhelpful
High selling prices
Run the unlikely risk of receiving fake or damaged items
Sellers
Shows "in demand" shoes based on real-time analytics
Good commission rates
Fast sales and payouts
High selling prices
Customer service is lackluster
Some issues of lost sneakers and lengthy resolution of these types of issues
The Final Verdict: Is Stadium Goods Legit?
Yes, Stadium Goods is legit and offers authentic products. If you're a seller, then I wouldn't have any hesitation about using the consignment shop. As a buyer, it's important to be aware of the risk of purchasing inauthentic shoes and take advantage of the Authenticity Guarantee if necessary.
You'll be protected if you are aware of the tight return policy and take extra care to follow the guidelines. Customers who unknowingly violate the return policies may not have the same protection, so read the fine print! Here's a quick recap:
Must reach out to Stadium Goods within 3 days of receipt.
Once approved, you have 7 days to ship the item(s) back.
Shoes must be in the same condition with all tags and boxes.
Items marked as Final Sale are not eligible for return!
For related reading, check out:
Want to learn step-by-step how I built my Niche Site Empire up to a full-time income?
Yes! I Love to Learn
Learn How I Built My Niche Site Empire to a Full-time Income
How to Pick the Right Keywords at the START, and avoid the losers
How to Scale and Outsource 90% of the Work, Allowing Your Empire to GROW Without You
How to Build a Site That Gets REAL TRAFFIC FROM GOOGLE (every. single. day.)
Subscribe to the Niche Pursuits Newsletter delivered with value 3X per week