SocialBee Review: Is It the Best, Affordable Social Media Management Tool?
When you buy something through one of the links on our site, we may earn an affiliate commission.
In this SocialBee review, we will share all of the features this social media management tool offers, along with its pros and cons, so you can decide if it's the right tool for you.
When it comes to creating a successful social media marketing strategy, consistency is everything. However, ensuring you publish social media posts regularly and at the right times can be difficult - especially when you've got a business to run - so a social media management tool like SocialBee can be a lifesaver. 
In a rush? Here's a quick TL;DR for ya!
SocialBee makes managing your social media marketing effortless. As well as providing a content calendar that gives you an overview of all of your social media channels, SocialBee also takes a lot of the work off your hands by automatically creating content for you from your blog posts and even re-queueing your evergreen content so that nothing is wasted.
It's also very affordable, making it a great choice for small businesses and bloggers!
SocialBee Review
Ease of Use

Stability

Customer Service

Price
Summary
SocialBee is hands down one of the best social media management tools currently available. It's super affordable and has everything you need to manage multiple social media accounts from one place. It's packed with useful features and even has an app to manage your social media on the go. Try SocialBee right here!
Pros
Easy to use
Affordable plans
14-day free trial
Includes a built-in AI content tool
Mobile app
Easily connect RSS feeds
Chrome Extension
Canva integration
Excellent analytics and reporting
Unlimited content categories
Supports carousel posts on Instagram
Cons
Loading time can occasionally be slow
The UI could be more intuitive
SocialBee Review: Everything You Need to Know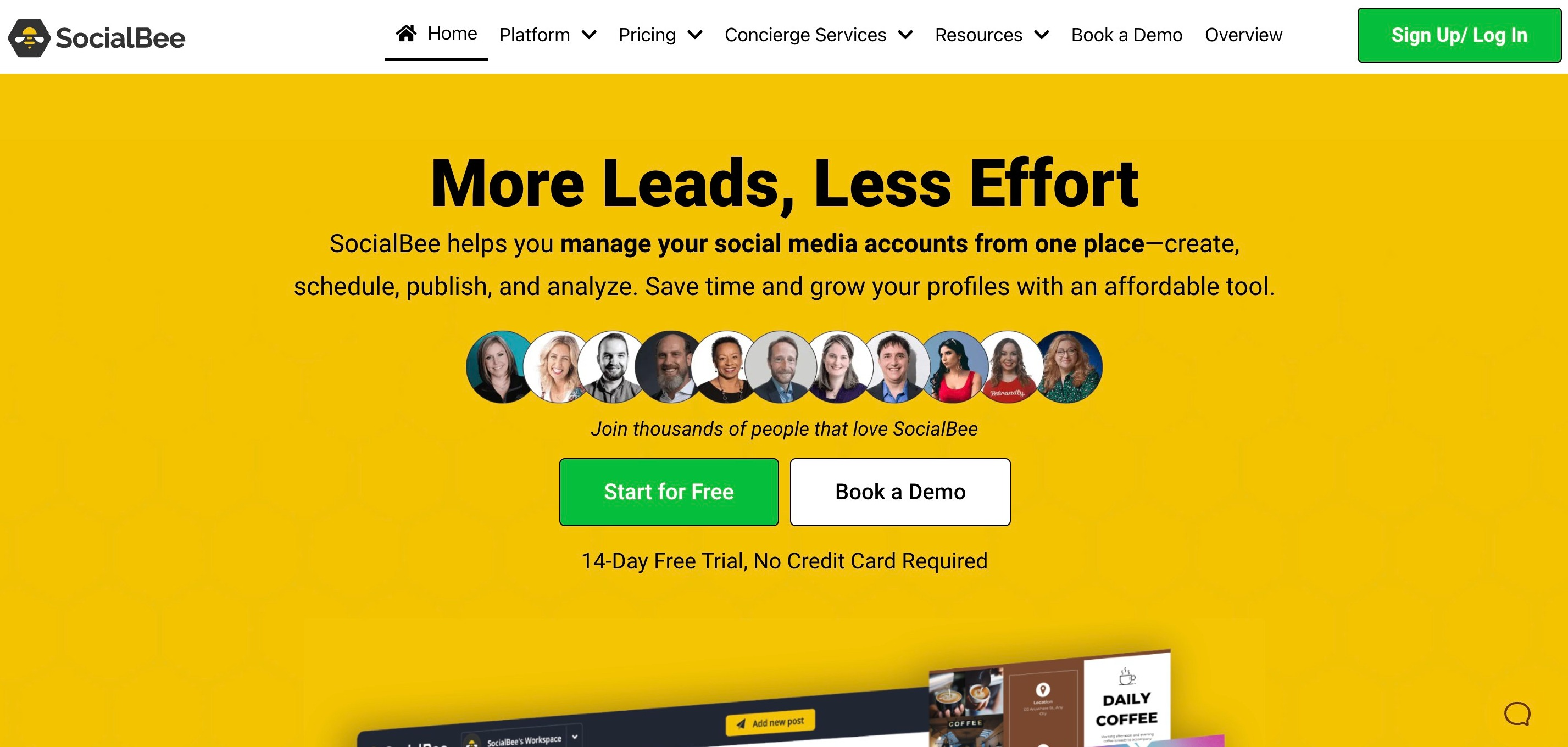 This social media scheduling tool allows you to create posts and schedule content across various social media platforms, including:
Facebook
Pinterest
TikTok
Instagram
LinkedIn
Twitter
YouTube
Google Business Profile
It gives you everything you need to manage all of your social media accounts in one place and includes scheduling tools, analytics, and even an AI content generation tool to help you create the perfect caption when you have writer's block!
As well as helping you come up with new content ideas, SocialBee can help you recycle your evergreen content. This ensures that your old posts don't go to waste and are re-queued in your calendar to maximize visibility.
Together, these tools can help you grow your business by ensuring that your brand is always at the forefront of your audience's mind.
Let's take a deeper look into some of the key features SocialBee has to offer.
SocialBee's Key Features
SocialBee has many features to help you manage your social media content. The features are split into five main categories, with various useful features within each category. This SocialBee review will look at each.
Social Media Management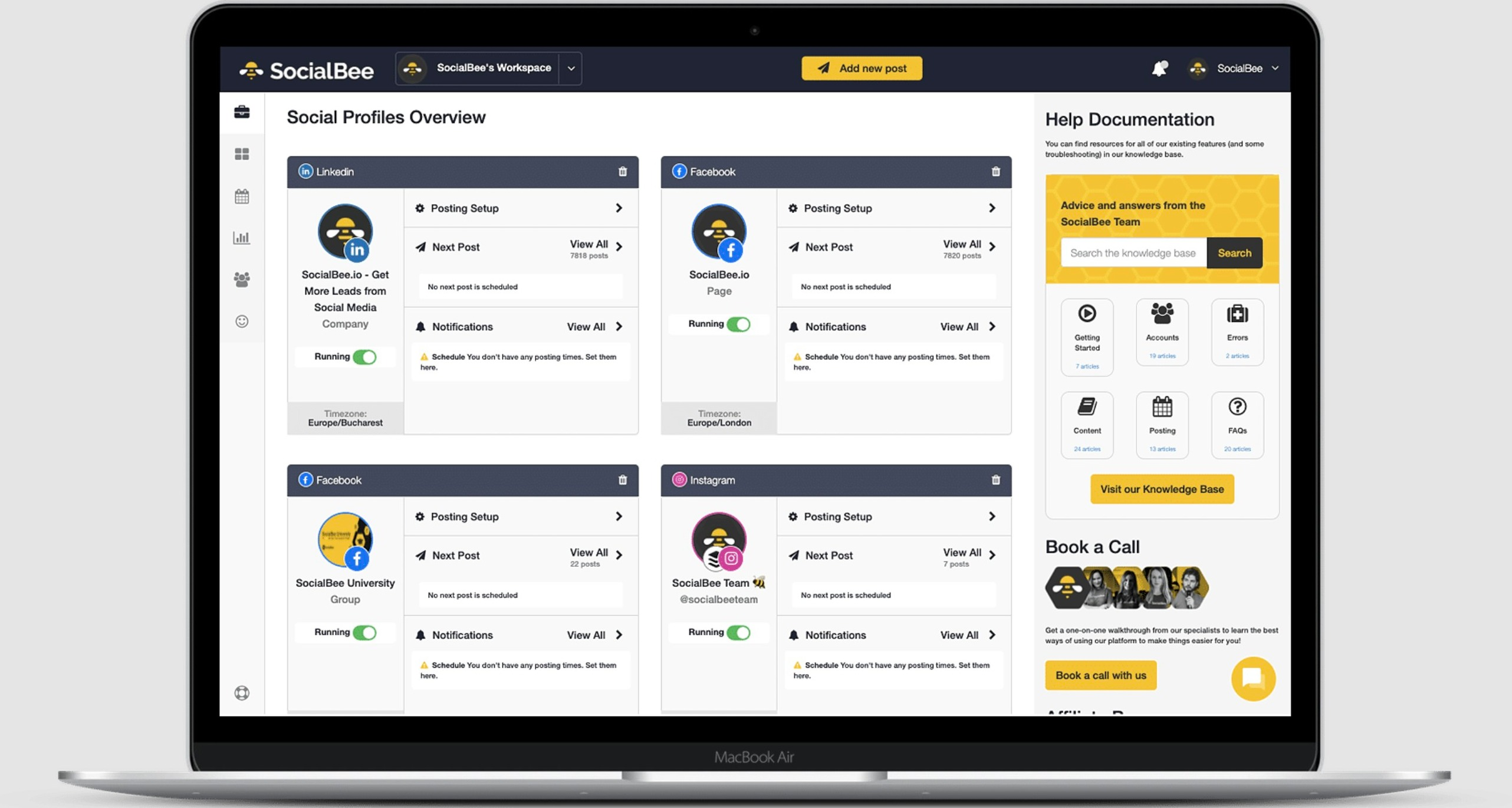 Being able to post across all of your social media accounts from one place can save you hours each week, freeing up more time and headspace for other tasks. The SocialBee dashboard gives you a comprehensive overview of all of your social media accounts.
It includes a detailed calendar so that you can see exactly when your next post is due and whether you need to start lining up more content. It also enables you to set up a range of notifications to help you keep on track with your social media accounts.
Content Creation
One thing that SocialBee does really well is to help you to create the perfect content for your social media channels.
Your SocialBee account will include access to a built-in Canva editor so that you can create beautiful graphics and posts to share on social media.
You can also use Unsplash and GIPHY to access GIFS to perfect any social media content that you want to put out there.
As well as graphics and images, SocialBee allows you to automatically generate hashtags based on your content and the hashtags you have already used. This means you won't miss any opportunities to reach a new audience.
You can even import feeds from your blog using SocialBee's RSS feed function. This clever feature will generate social media posts for you based on your blog content whenever you publish a new post.
And finally, SocialBee's newest feature uses AI to generate engaging posts and captions for you at the click of a button. So no more writer's block!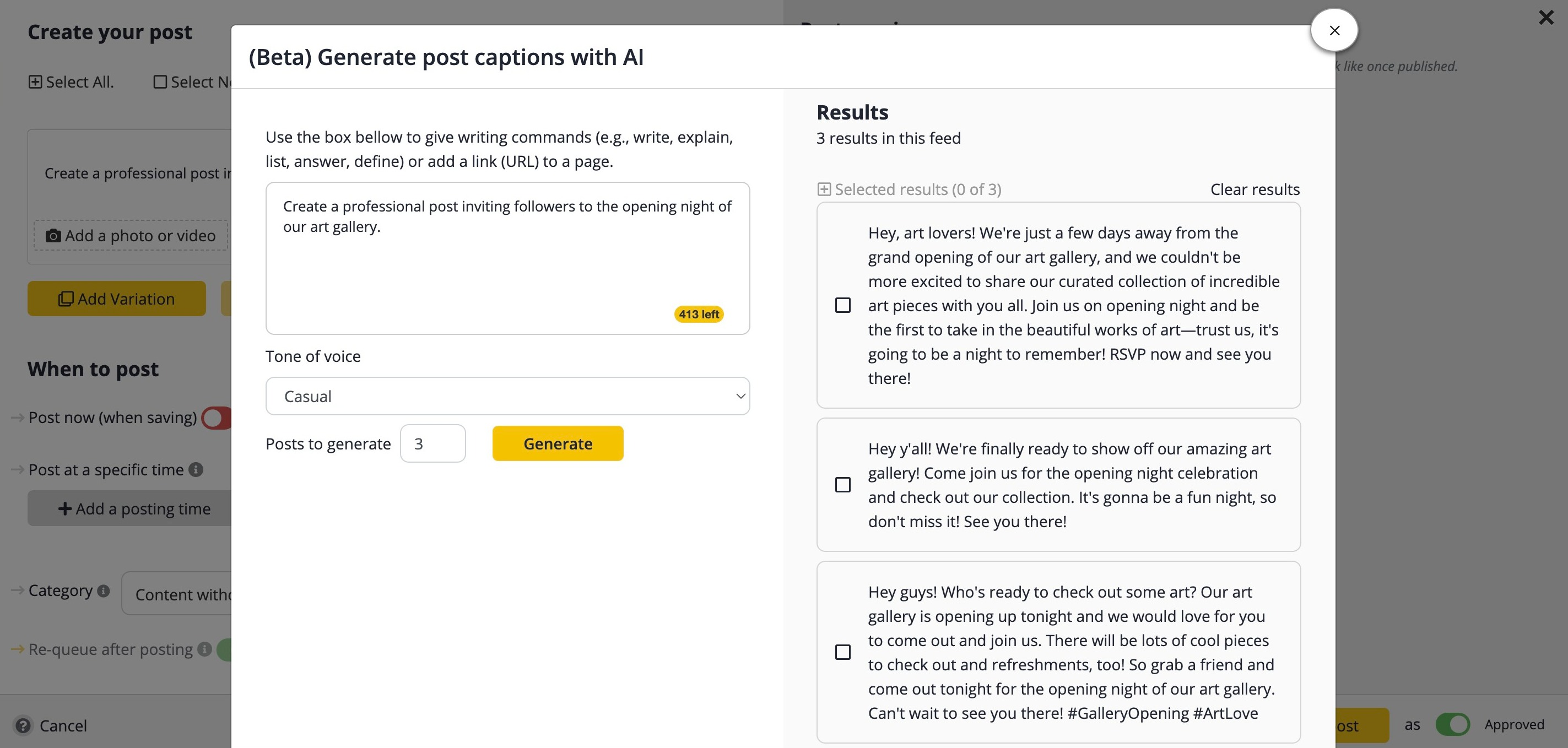 Schedule Content
Running a successful social media platform means putting out consistent, high-quality content but also having the ability to adjust any strategy when you need to.
Scheduling content in advance allows you to curate the perfect content for your social media accounts rather than rushing and trying to assemble something quickly. 
When creating content within your SocialBee dashboard, you can put posts into categories. This means that you can organize your content and post across several social networks at various times across the week.
This also allows you to pause a particular category if you need to. For example, news headlines may make it inappropriate for certain content to be posted so that you can put it on hold at the click of a button.
On top of that, your SocialBee dashboard gives you a chance to recycle and reuse content, meaning that you can ensure that your social media posting schedule remains consistent and that your readers can depend on your posts, which is great for social media account growth.
Team Collaboration Features
Running a social media account is often not a one-person job, so SocialBee has many useful team collaboration features.
You can create different workspaces for the brands you work with, ensuring that everything stays separate and streamlined.
You can also add team members to various workspaces, give them different permissions and roles, provide feedback within the dashboard, and even tag team members into posts you want them to pay attention to.
This allows you to post internal comments ensuring that everyone is on the same page when creating the content you want.
Analytics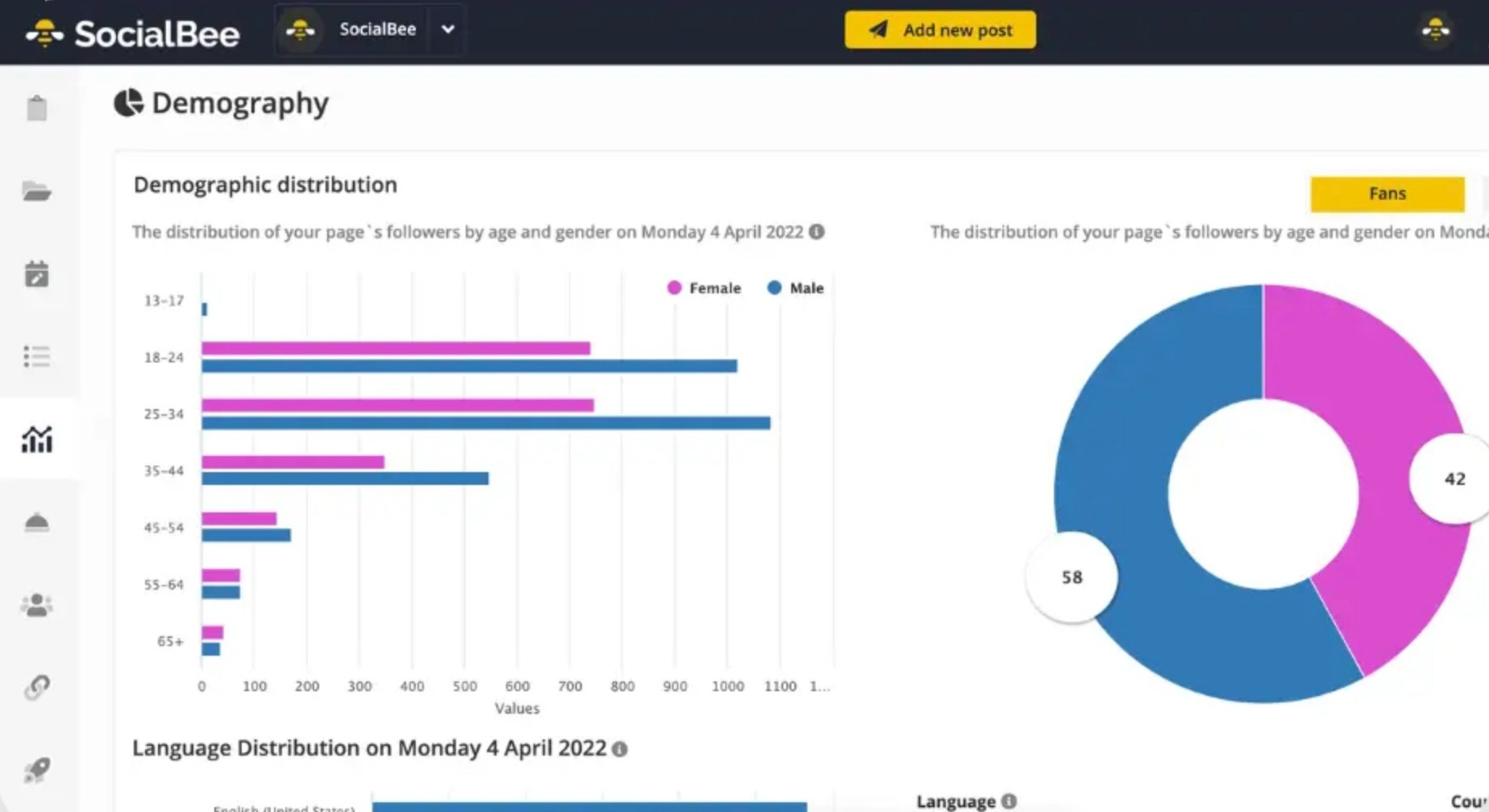 If you want your social media accounts to grow, paying attention to your content's performance is necessary. SocialBee gives you access to various analytics, meaning you always know how your content is doing. This gives you a chance to be able to tweak content if needed.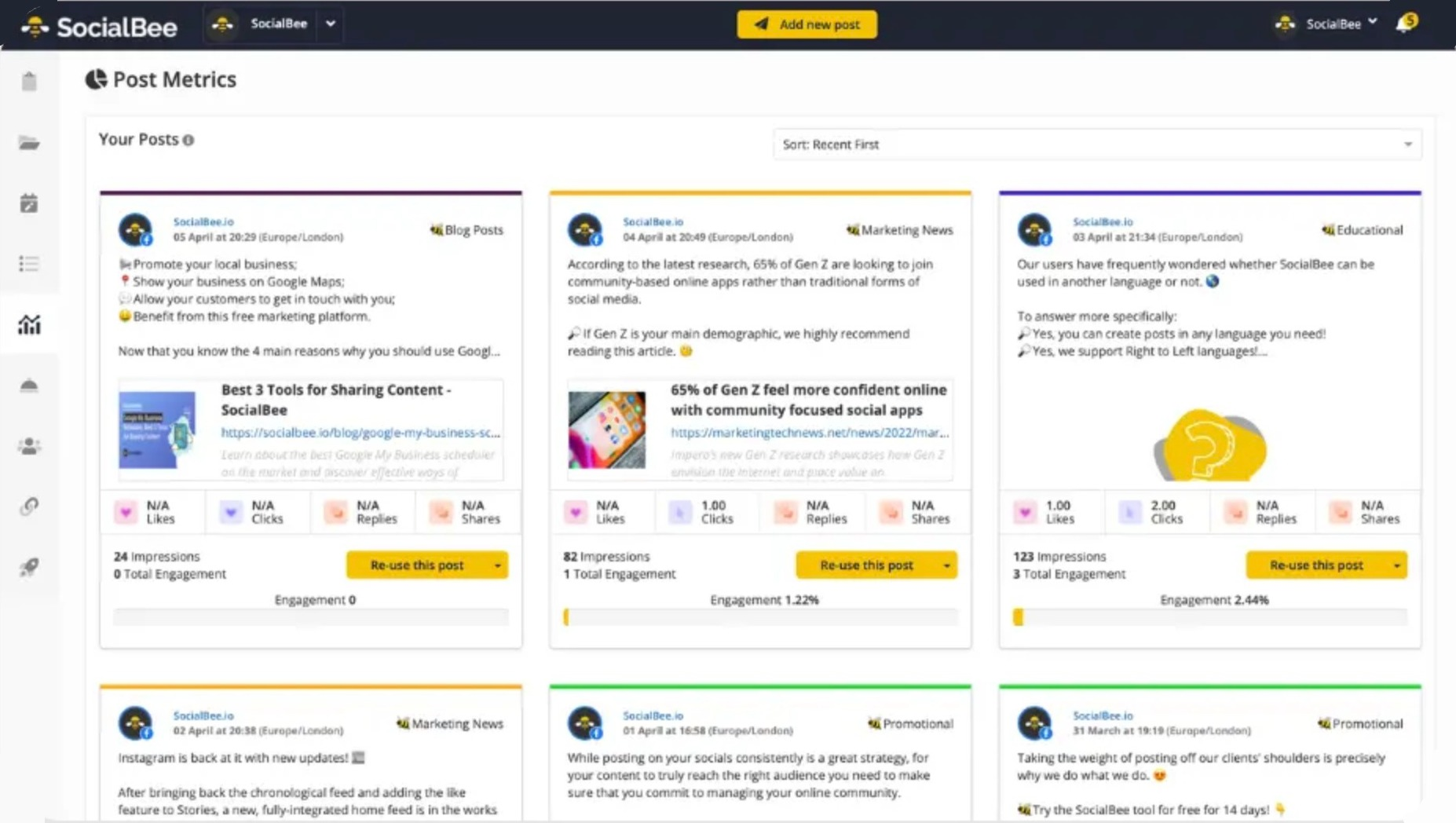 Stats that you have access to via your SocialBee dashboard include:
Audience Status - See a range of demographics for your followers
Page Analytics - See your social media activity and how your pages are growing
Post Analytics - See how individual posts perform in terms of reach and engagement
Engagement Levels - See what times/days get the best/worst engagement levels
This gives you the opportunity to see what content is working and what parts of your social media strategy you need to adjust next time. By examining your analytics data, you can ensure you're always putting out content your audience loves.
Is SocialBee Easy to Use?
Any piece of software like this is going to take some getting used to. However, if you look at SocialBee reviews, you'll see that many people talk about how easy it is to use.
The dashboard has clearly been designed with the user experience in mind, with everything easy to find and laid out in a way that is accessible to all team members that have been invited to each individual workspace.
The analytics section is also easy to access, and you get the option to export all of the data to a PDF, so you can access it offline and share it with people within your organization, should you wish to.
SocialBee Customer Service
As easy as it may be to use SocialBee, knowing you can contact them should anything go wrong is important.
Their contact page has a range of options for contacting them, including email and live chat.
If you have already been in touch with a team member, then you should also have their direct email address, and you're invited to get back in touch with them anytime you need to.
They also have a comprehensive FAQ and help section on their website, which aims to give you answers to questions without needing to contact their team - their error troubleshooting section should help with this too.
Integrations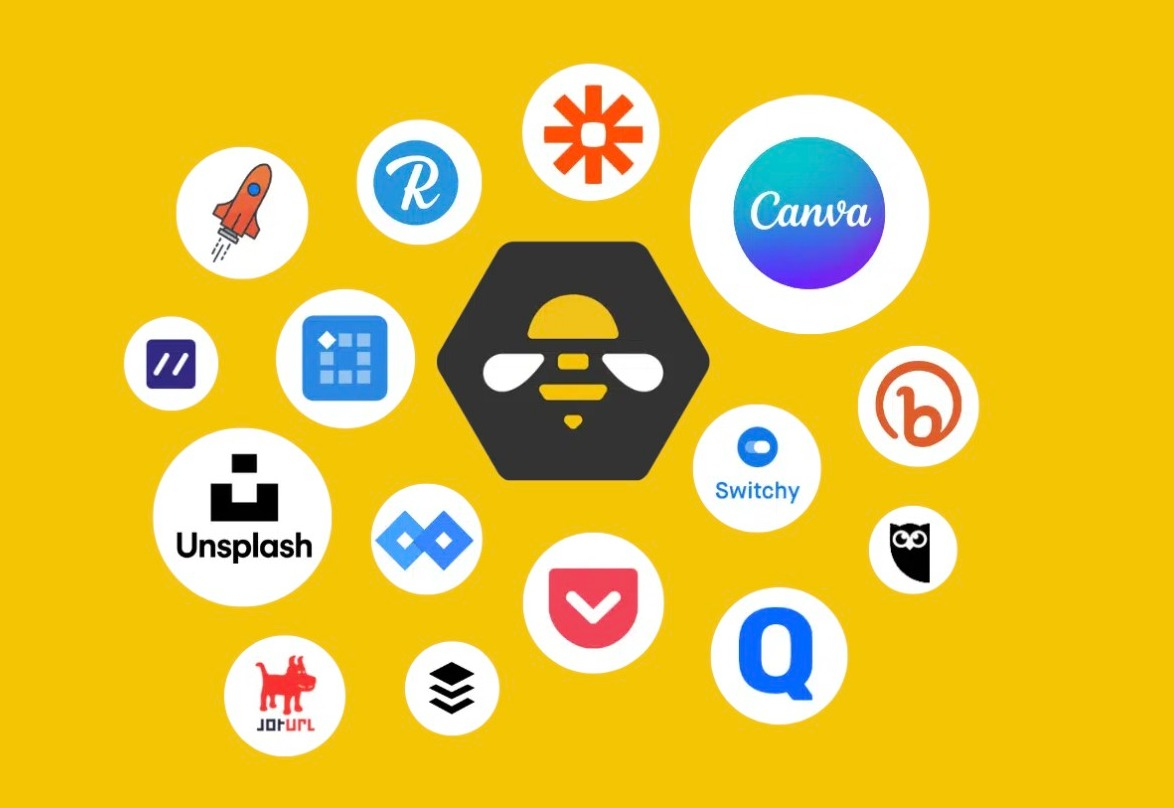 As much as SocialBee ticks all the boxes in terms of social media content creation and scheduling, integrations can kick things up a gear. SocialBee easily integrates with a number of other platforms to help you get the most out of the software. Whether you want help with designing images, creating content, or even just shortening URLs, with SocialBee, integrations are made easy.
Platforms that you are able to integrate SocialBee with include:
SocialBee Review - Pros and Cons
Easy to use

Affordable plans

14-day free trial

Includes a built-in AI content tool

Mobile app

Easily connect RSS feeds

Chrome Extension

Canva integration

Excellent analytics and reporting

Unlimited content categories

Supports carousel posts on Instagram
Loading time can sometimes be slow

The UI could be more intuitive
SocialBee Pricing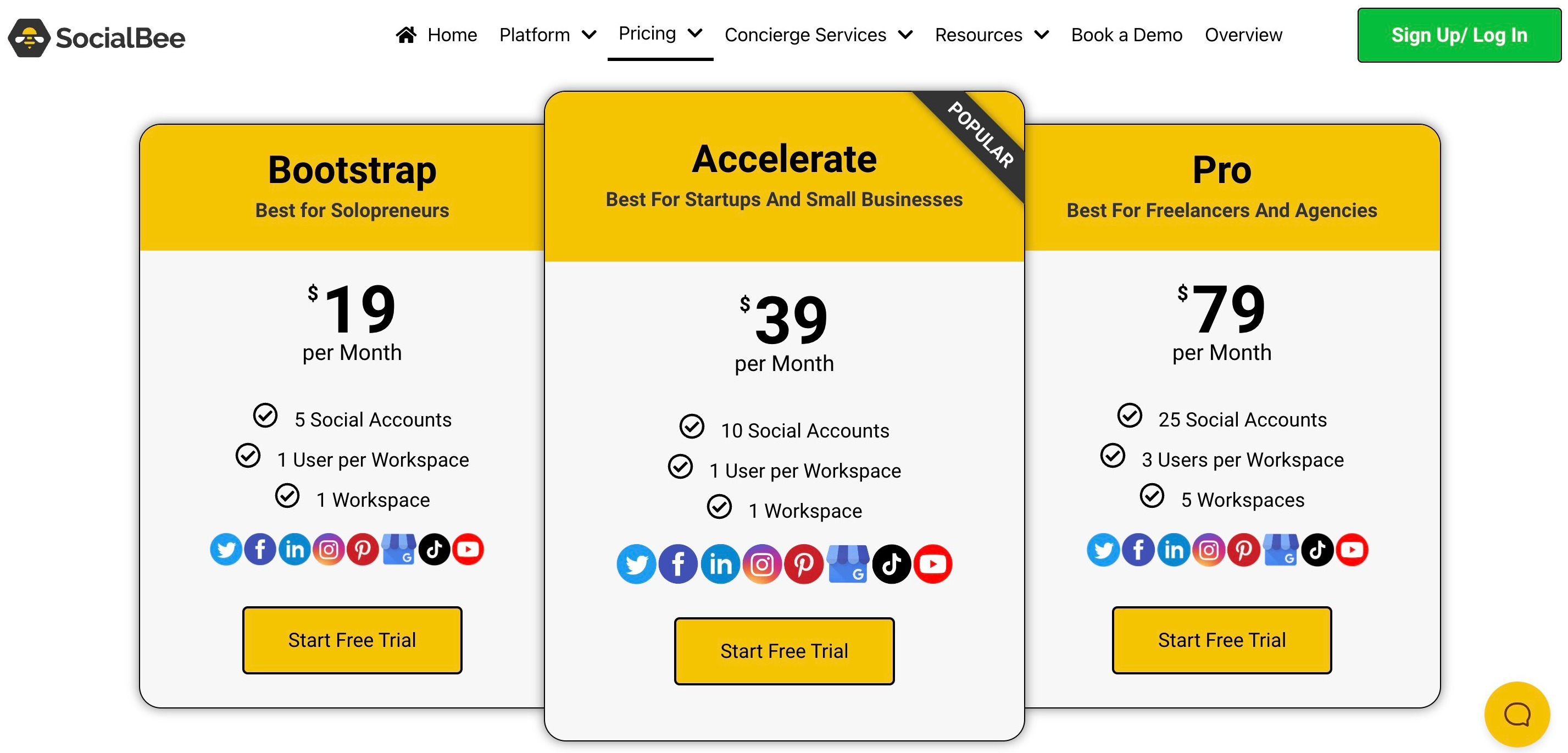 As well as offering new users a 14-day trial, SocialBee has a range of subscription options. This is great news because it means that whether you're in charge of a handful of social media accounts or something much larger, you'll be able to find a SocialBee option that suits you and your budget.
Bootstrap - $19/month (discount if you pay annually). Manage up to 5 social accounts, create one workspace, and have one user within this. Store up to 3 months of analytics data. (no ability to export to PDF)
Accelerate - $39/month (discount if you pay annually). Manage up to 10 social accounts, create one workspace, and have one user within this. Store up to 2 years of analytics data. (no ability to export to PDF)
Pro - $79/month (discount if you pay annually). Manage up to 25 social media accounts, create five workspaces, and have three users within each of these spaces. Store up to 2 years of analytics data and export to PDF if you wish.
SocialBee also offers agency plans for those who want to manage more than 25 social media accounts simultaneously. Agency plans range from $79 - $379/month, depending on how many accounts you need to manage.
Two SocialBee Alternatives Worth Considering
Hopefully, this SocialBee review has helped you decide whether or not SocialBee is the right tool for you. However, if you're still undecided, check out our favorite SocialBee alternatives below. You might also be interested in these free social media tools!
Sendible
Sendible is a social media management tool that allows you to create and schedule posts across multiple social media accounts. It's slightly more expensive than SocialBee, and the reporting isn't quite as robust.
That being said, it offers an excellent user experience, and the dashboard is a joy to use - it makes managing social media accounts a breeze. It's worth taking advantage of the free two-week trial if you're happy with the slightly higher price.
---
Crowdfire
Crowdfire is one of the most affordable social media management tools around, with a completely free plan available. This makes it an excellent choice for independent creators and bloggers who are just starting out. The paid plans are very affordable too, starting from just $7.48/month. If you're on a tight budget, it's definitely one to check out.
Want even more options? Then read our Hootsuite alternatives article that lists 13 products to help you grow on social media.
SocialBee Review: The Verdict
If you're looking for an affordable social media management tool that does it all, you can't go wrong with SocialBee. It's easy to see why users are switching over from other social media platforms when there are so many great features on offer for such a low price.
One of the best things about SocialBee is the app, which makes scheduling posts on the go easy. The categories feature is also super useful, allowing you to pause or stop posts from an entire category at once if needed.
Overall, we would definitely recommend SocialBee if you're looking for a solid social media management tool that will let you post across multiple social media platforms from one place.
Want to learn step-by-step how I built my Niche Site Empire up to a full-time income?
Yes! I Love to Learn
Learn How I Built My Niche Site Empire to a Full-time Income
How to Pick the Right Keywords at the START, and avoid the losers
How to Scale and Outsource 90% of the Work, Allowing Your Empire to GROW Without You
How to Build a Site That Gets REAL TRAFFIC FROM GOOGLE (every. single. day.)
Subscribe to the Niche Pursuits Newsletter delivered with value 3X per week