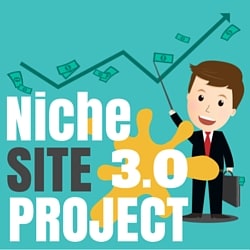 Hey guys! Perrin here, and I'm back for another exciting week of building websites.
First, though, here's a quick update on what Colleen accomplished on her own in the last seven days.
Colleen's 50% finished with her first round of content.
How cool is that? If you remember our last coaching call, Colleen confessed that she'd been feeling the weight of having to write so many articles.
And believe me… I feel her pain (I think we all do). Writing as much content as Colleen's been writing can be feel like a massive chore. And that's not good. Because when you start to get annoyed at the writing itself, it becomes really hard not to start rushing through articles, which (usually) has a big impact on the quality of your content.
So, Colleen tried outsourcing for the first time. We talked about three different outsourcing techniques on the last call:
Hiring an agency
Hiring a professional writer
Hiring a friend
Because Colleen is relatively new to outsourcing, she chose the method with the lowest barrier of entry: hiring a friend. She contacted one of her friends who knows how to write and who's moderately familiar with the subject matter.
Then, she negotiated a price (which was admittedly awkward), and sent off her instructions. Those articles are effectively "in the oven," and she can focus on other stuff.
So, she's focusing on more writing (ha).
Colleen outsourced some writing, but, of course, we're trying to stick to a $500 budget for this project, so she wasn't able to outsource all of it. Instead, she outsourced the articles she least wanted to write. For Colleen, she ended up not really liking the affiliate articles, so those were the pieces she delegated.
She does, however, really enjoy writing the informational articles. In fact, I'm pretty excited for you to see her site: she's going way above and beyond: she bought one of her products, she's making diagrams, taking photos and a bunch of other stuff that (gasp) real bloggers do.
I didn't tell her to do that. She's just rockin' it, man.
She's proud of her work, and it shows. Because she's going the extra mile, she's creating something that, as far as I can tell, is better than most other blogs in her niche. That's how you make money. I'm very optimistic.
So, on this week's call, we're going to be boring…
We're in a weird spot right now.
Colleen is grinding out the content over there, and we're probably going to be diving head first into marketing and promotion next week.
But for now, we have to talk about the most boring of the sub-fields of SEO: on-page optimization.
I'm really going to try hard not to reinvent the wheel here because on-page optimization has been beaten to death on more blogs than I can count, and it's not particularly useful to do here.
Plus, on the call, I'll take you into the back end of a blog and show you exactly what all of the on-page optimization stuff looks like.
However, I do want to take some time to make a case for the importance of on-page SEO. Because—even though it's relatively easy to learn—a surprising number of people don't get it 100% right.
Want To Build Smart & Relevant Internal Links...Quickly?
Link Whisper is a revolutionary tool that makes internal linking much faster, easier, and more effective.  It makes it simple to boost your site's authority in the eyes of Google. You can use Link Whisper to:
Bring out your orphaned content that isn't ranking

Create smart, relevant, and fast internal links

Simple yet effective internal links reporting: what has lots of links and what pages need more links? 
Click here to revolutionize your site's way of doing internal links
Additionally, a surprising number of people spend way too much time worrying about on-page SEO, and that can be equally harmful.
Why should you focus on on-page SEO?
Most people understand the technical benefits of on-page SEO: it tells Google what your page is about, and the more you get it right, the better chance you'll have to rank.
But that's not the only reason to do it. Here are two others:
On-page SEO can almost always yield a big competitive advantage.
On-page SEO is one of the few things totally under your control.
Say what? On-page SEO can yield a competitive advantage?
Yes. Always.
Always? Yes! Here's why: you can always beat at least one aspect of your competitor's on-page SEO (I'll tell you why this works 100% of the time in a second).
But here's the long and short of it: if you take a peek at any webpage, the vast majority won't have their on-page SEO correctly—at least not all of it. Maybe they've got a sub-optimal title. Maybe their images don't have alt tags. Maybe they don't know what an LSI keyword is.
Who knows. The important thing is that by simply using an on-page SEO checklist, you'll be edging out a good chunk of your competitors. And it's so easy (which you'll see in the video).
So why does this work 100% of the time? Isn't that too good to be true?
Because… if absolutely nothing else, you can always make your post longer and more in-depth than everyone else's. If everything else is equal, but your post is longer and more in-depth, you've beaten them.
I've done this. I've found a keyword I really wanted to rank for (that was within the realm of possibility for my particularly blog), and use content length to secure top spots in the SERPs.
The other major benefit is that on-page SEO is something you can control completely. SEO is a fickle mistress. She's wild. She's unwieldy. Most of the time, you're just playing the odds.
That's not the case with on-page SEO. Setting up your blog posts correctly is a relatively simply process with only about a dozen steps, and it's easy to get it right on every single blog post. In fact, some entrepreneurs, like Claire Smith, rely on almost solely excellent on-page SEO (and fantastic keyword research) and make tons of money doing it.
Want to see our exact on-page checklist and what it looks like in the actual backend of a blog post? Watch the video below!
---