18 Best Linktree Alternatives for Creating Social Media Bio Pages
When you buy something through one of the links on our site, we may earn an affiliate commission.
Linktree is the first to provide people with an easy way to build microsites containing links to socials, products, events, and more in a single place. Thanks to Linktree's success, other link-in bio tools have followed suit and provided content creators a way to create landing pages they can use as their Instagram bio link. In case Linktree isn't for you, we've compiled this list of the best Linktree alternatives.
Each option below shares features with Linktree and has unique features that make it stand out from the rest.
---
Bio.fm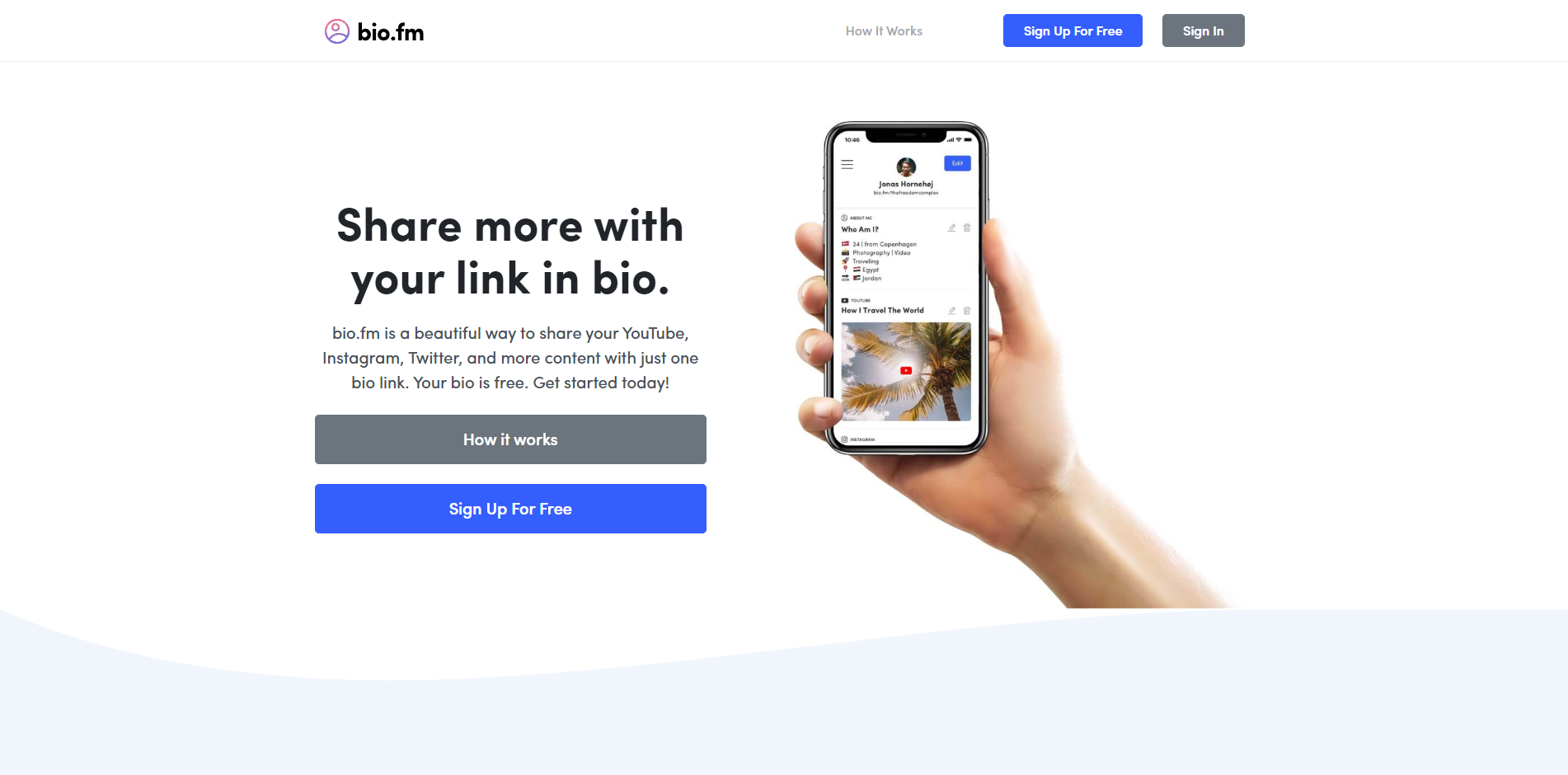 Bio.fm is for people who want to compile their YouTube videos, Instagram photos, and Twitter feed on a single page.
You can add multiple links to showcase your content from other social platforms.
For each block, you can share up to five social links or unlimited links to your chosen pages. You can also rearrange the blocks on the page to your desired order.
Additionally, there's an option to add blocks for your Soundcloud or Spotify music, Discord server invites, email newsletter sign-up form, or a question poll, among others.
Pricing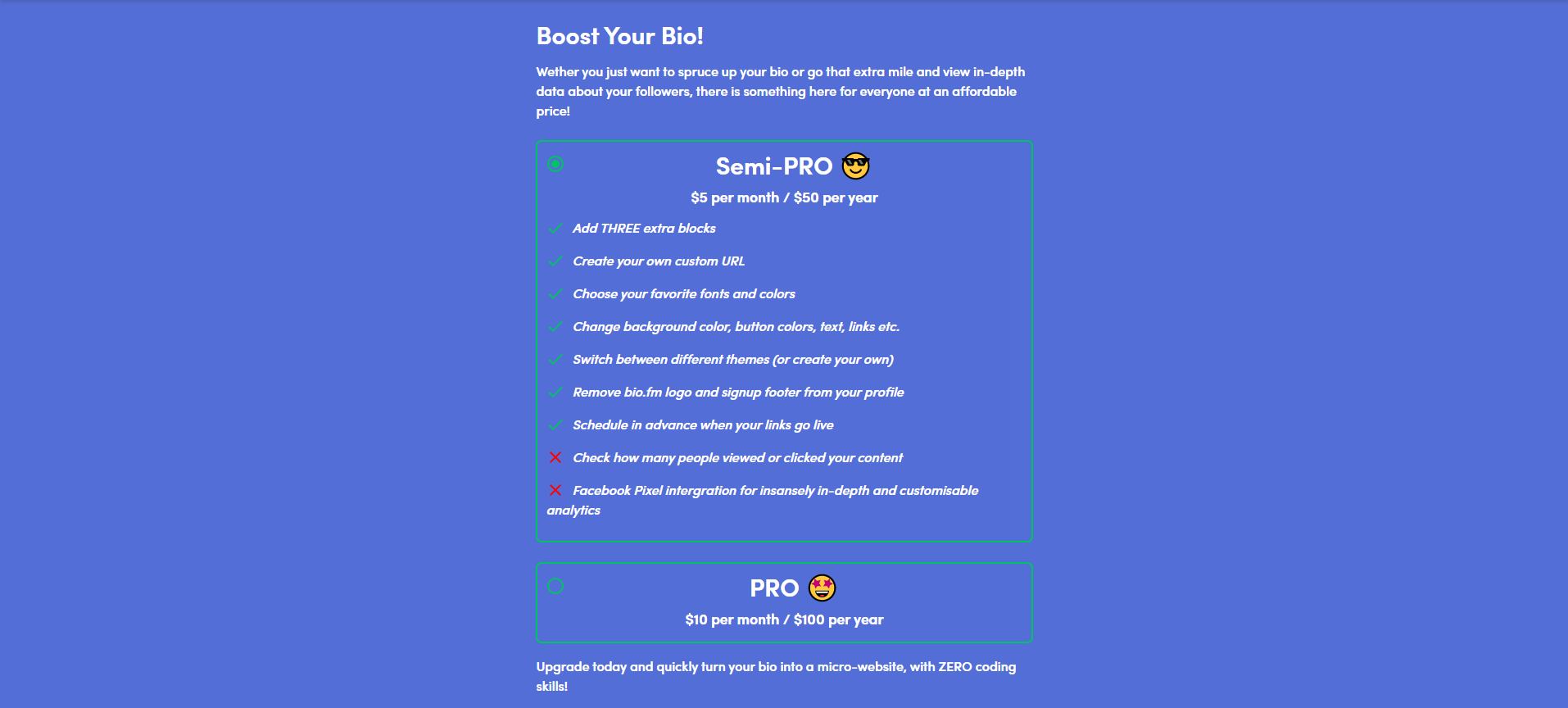 Signing up for a free account gives you access to three blocks where you can add links and content.
To access features like the ability to change theme and colors, remove Bio.fm branding from your profile, and link scheduling, you must sign up for its Semi-Pro Plan at $5/month ($50/year) or higher.
The upgrade allows you to unlock the last three blocks in your bio page so you can add more links and content.
Pros and Cons
Sleek and understated presentation on landing page
Limited third-party app integrations
No payment integrations to help you sell digital products from the platform
---
Bio.link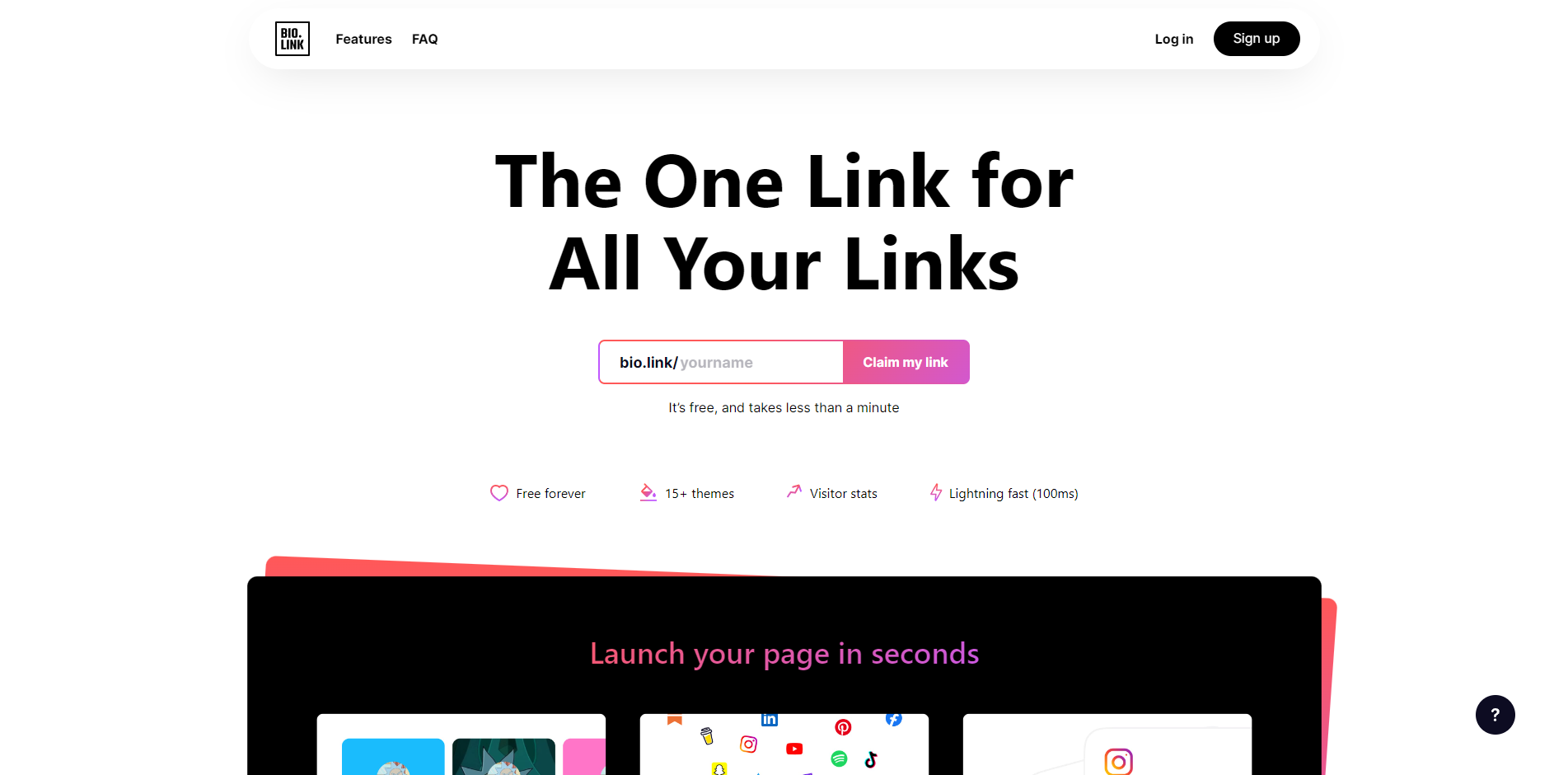 Bio.link makes creating micro landing pages fun and easy.
Aside from adding social links and images, you can embed content from YouTube, TikTok, Spotify, Pinterest, Soundcloud, and others.
The Stats & Insights section lets you see how many people visited your page, the number of clicks each of your featured links received, and where your visitors came from.
Another feature includes changing your page's URL as a subfolder (bio.link/username), subdomain (username.bio.link), or a custom domain.
Pricing
Bio.link is free forever—you can enjoy all its features without spending a single cent.
Pros and Cons
Simple way to showcase your links and embed content
Lots of themes to choose from, all with different designs to help you find one that matches your brand
No options to monetize your link-in bio (Buy Me a Coffee and Shopify features are coming soon)
---
Campsite.bio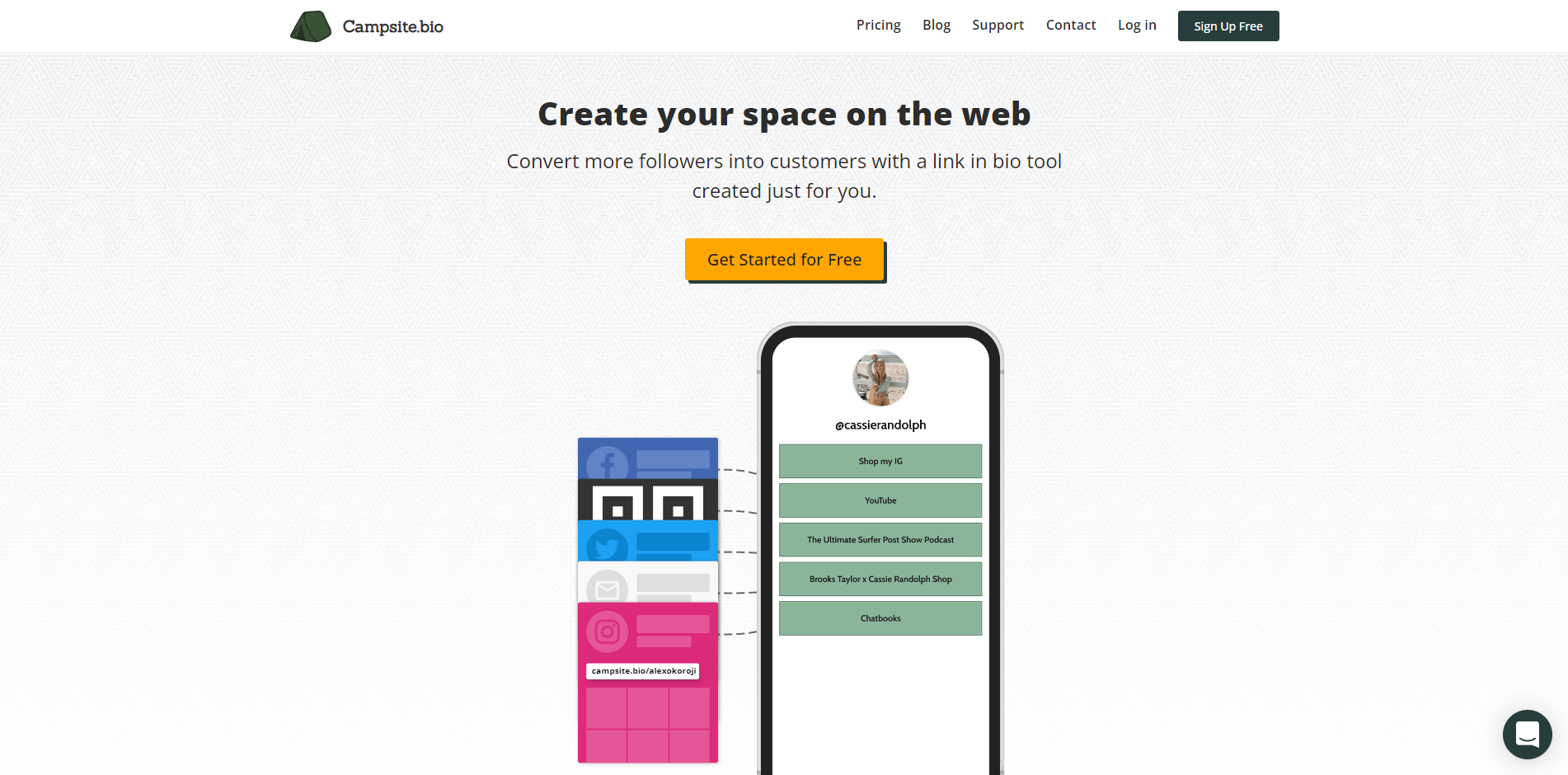 For small business and agency owners looking for a more robust link-in bio that caters to their needs, Campsite.bio should make your shortlist of Linktree alternatives.
You can feature an unlimited number of links and dynamic content like image carousels, grids, or media embeds on your page. If you integrate your PayPal account, you can also request donations from your followers.
Before publishing, choose from a variety of customization themes for your page. Other options like changing the image style and button size can help you design a page that matches your brand.
Pricing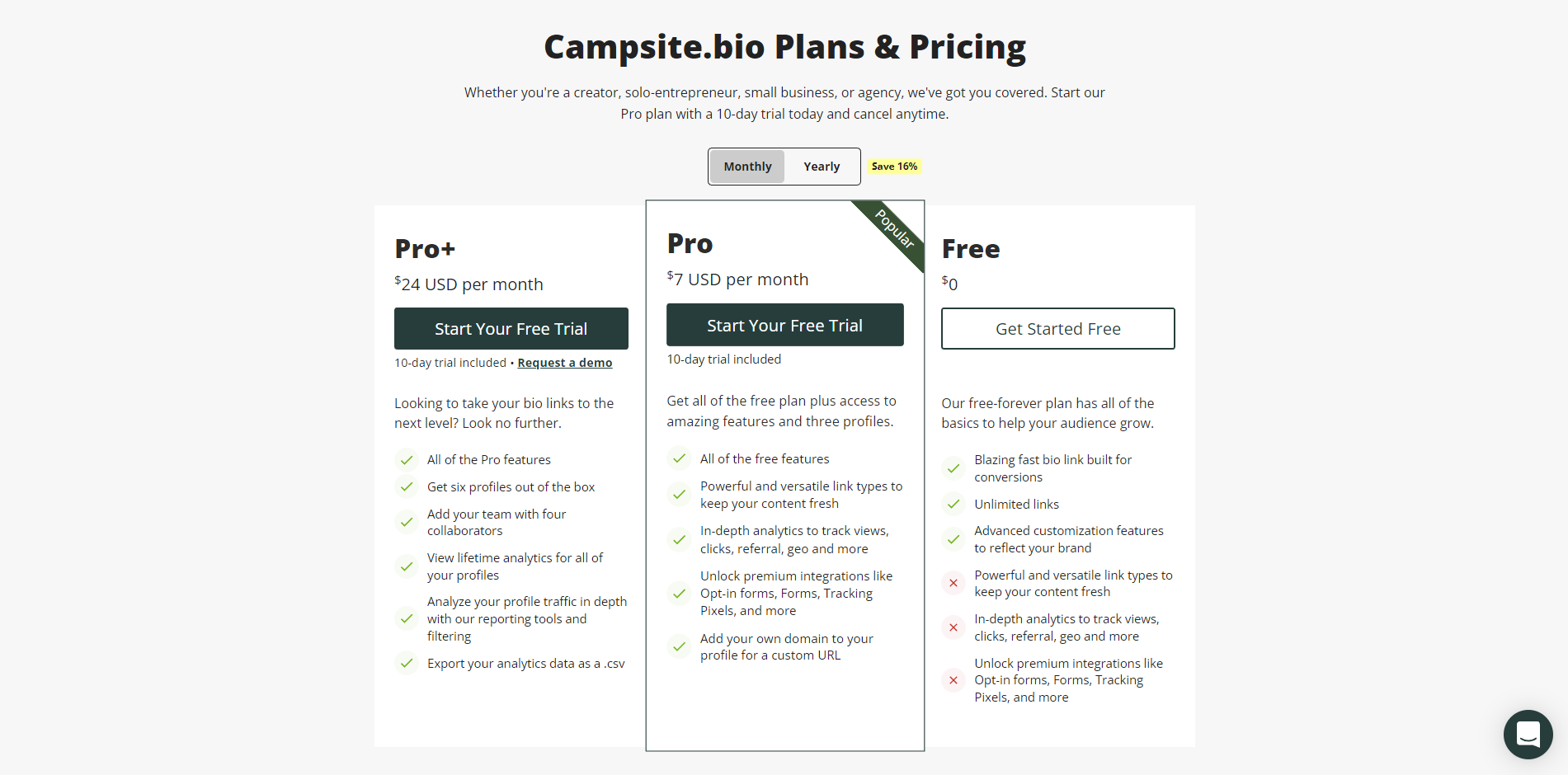 All of the features mentioned above are available in the free version.
If you want the ability to access analytics data on your page, integrate it with popular third-party apps, and use your custom domain, you must sign up for its Pro Plan at $7/month or $70/year.
The Pro+ Plan ($24/month or $240/year) lets you add a maximum of four (4) collaborators to help manage your page, plus reporting and filtering options to show stakeholders or clients.
Pros and Cons
Onboarding process ensures you create the best custom landing page using the link-in bio tool
Many options to help you customize your page to your desired look and feel
User interface could be much better (There are too many pages for all its features, so combing through each one to find what you're looking for is a chore.)
---
Carrd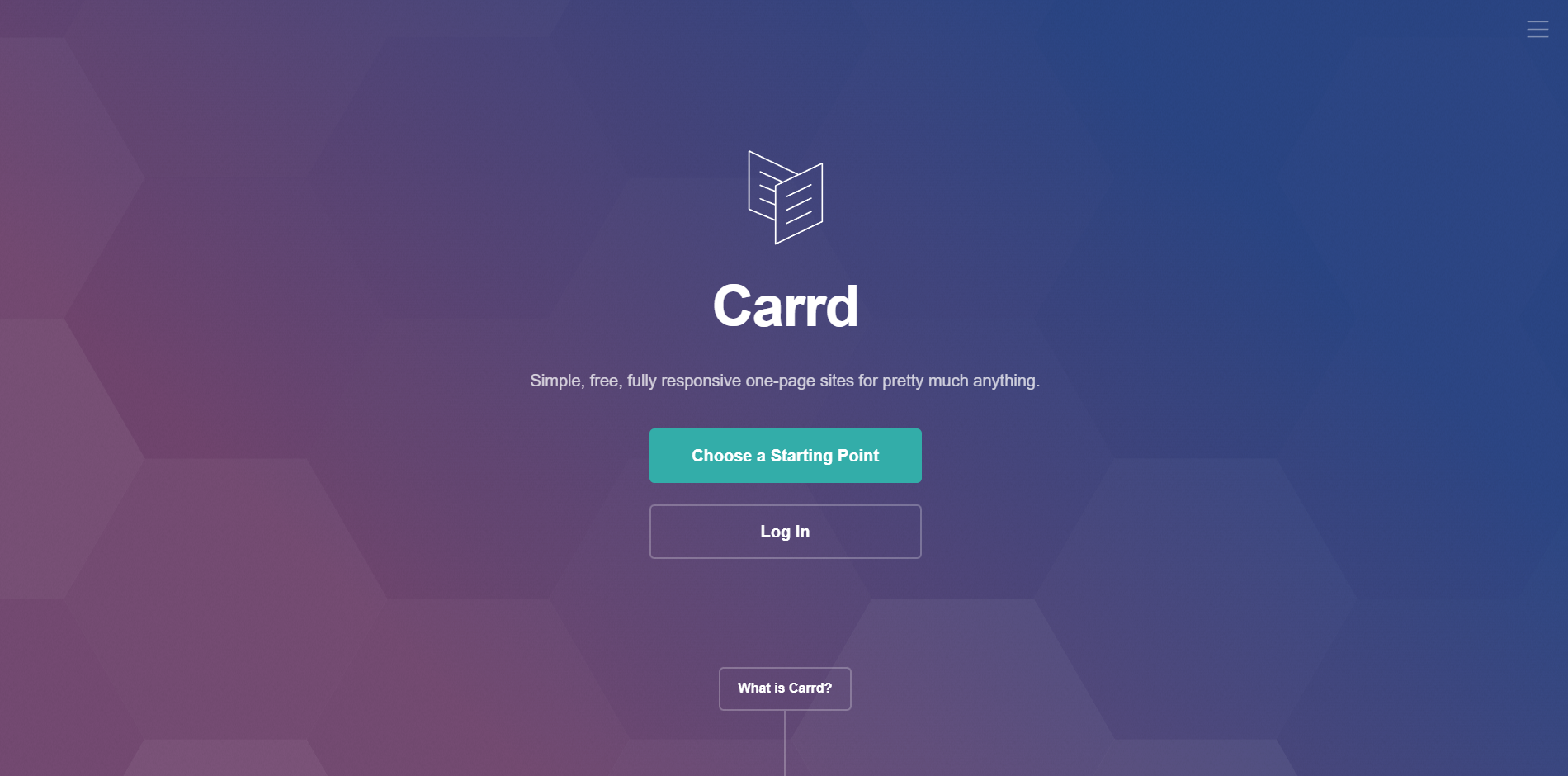 Unlike most Linktree alternatives in this list, Carrd is more of a traditional landing page builder than a link-in bio tool. The page you create from this platform has a responsive design, so it adapts to the size of your screen, whether you are on desktop or mobile.
Another unique feature of Carrd is how you can break parts of the page into sections. This enables you to better organize the links and content in your landing pages.
Besides these things, the tool shares the same features as your typical link-in bio platform. You can add social links and content such as video, audio, gallery, time, and others on the page.
Pricing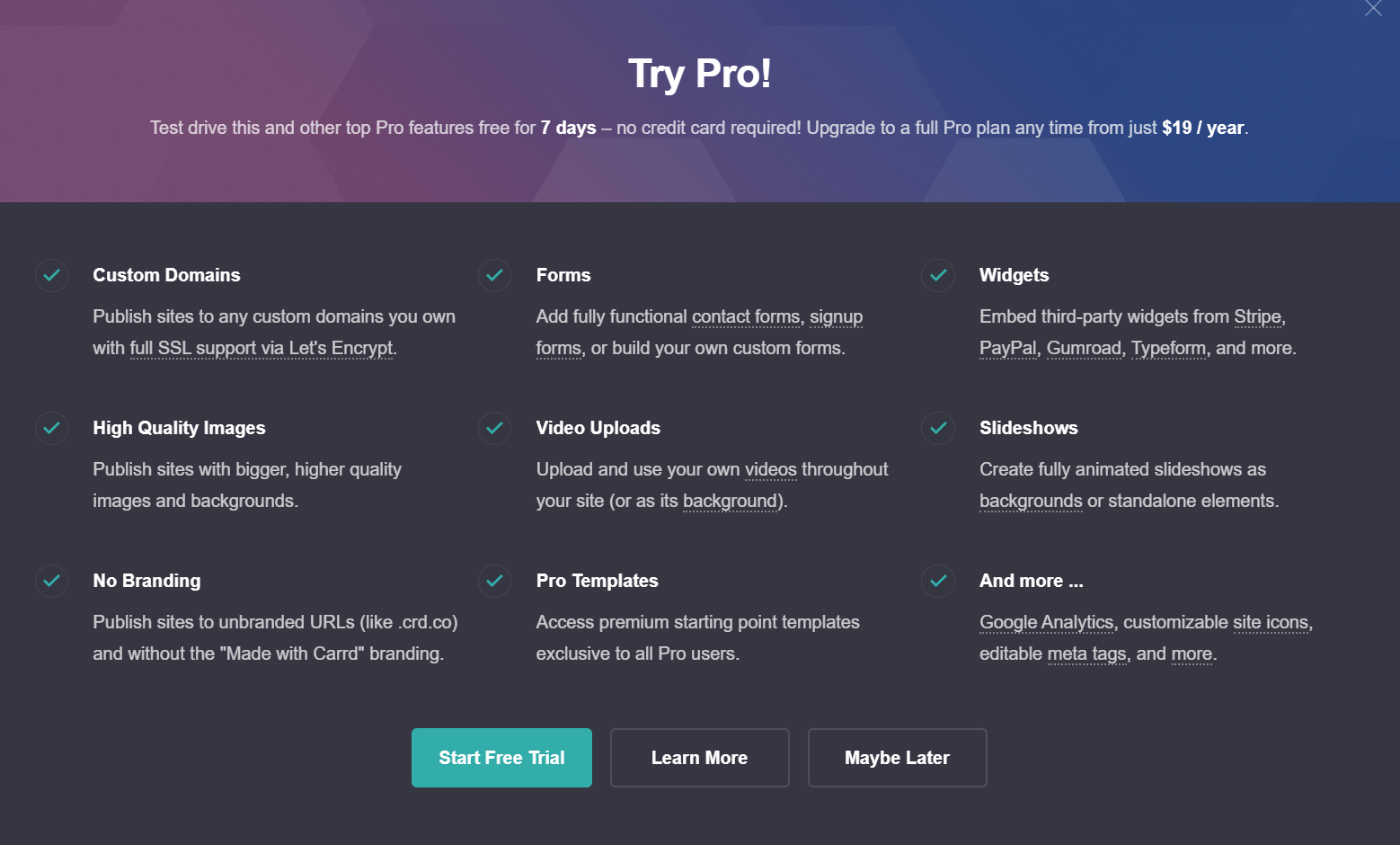 The free account lets you create beautiful landing pages that you can use as bio links.
But to create the best pages on Carrd, you must subscribe to its paid plans, starting with the Pro Lite ($9/year). It allows you to create three "websites" using premium templates and higher-quality images.
The Pro Standard ($19/year) gives you all the features available in the Pro Lite, plus the ability to create payment-enabled forms with third-party email app integrations on ten websites. You can also embed code on your pages and analyze their performances using Google Analytics.
The Pro Plus ($49/year) is a souped-up version of the Pro Standard plan. Create 25 websites with better customization options such as password protection, site file edits, and more.
Pros and Cons
Affordable plans for small businesses to create a bio landing page for clients
Not a link-in bio tool in the strictest sense, so you may have to undergo a learning curve before using this tool correctly
Must rigorously edit templates to achieve the page you want, similar to a link page
---
Feedlink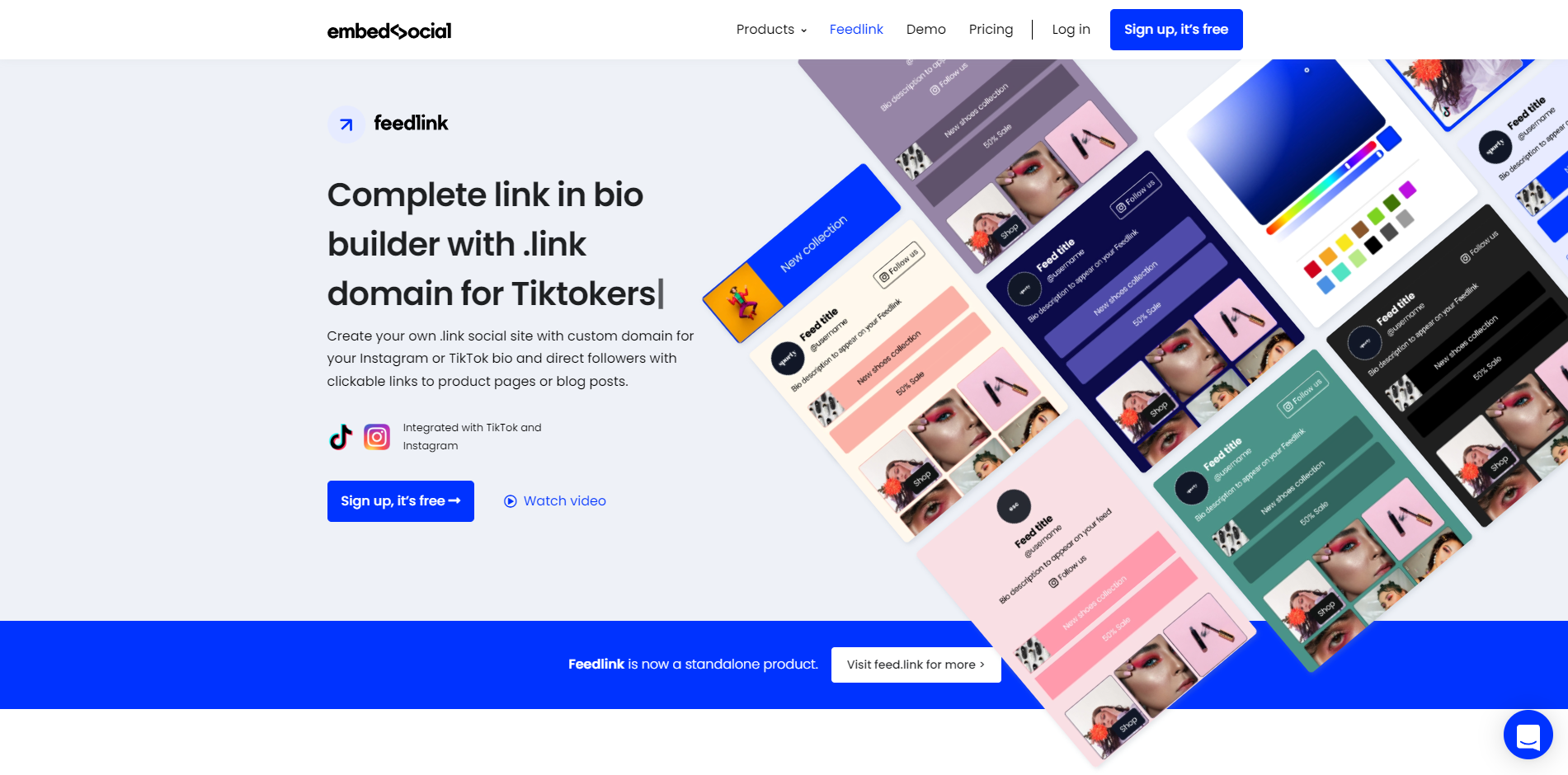 Feedlink is a link-in bio tool of EmbedSocial, a user-generated content platform.
The tool makes creating a micro landing page simple. Just choose from any of its professional-looking templates to get you started. You can edit the template's design by changing its background image and colors. A custom CSS option lets you change the design and layout through code for greater control.
Aside from links, you can add social media icons, videos, texts, and subscription forms so that people can receive your updates in their emails. Regarding the latter, you can create newsletters to be sent out from your EmbedSocial account.
The feature to add Instagram and TikTok feed blocks on your page is available for Pro users only.
Over time, you can monitor the performance of your page based on the number of visitors and clicked links.
Finally, you can sign up for a .link domain for your page. It's free for the first year, but you must pay for it in the following years.
Pricing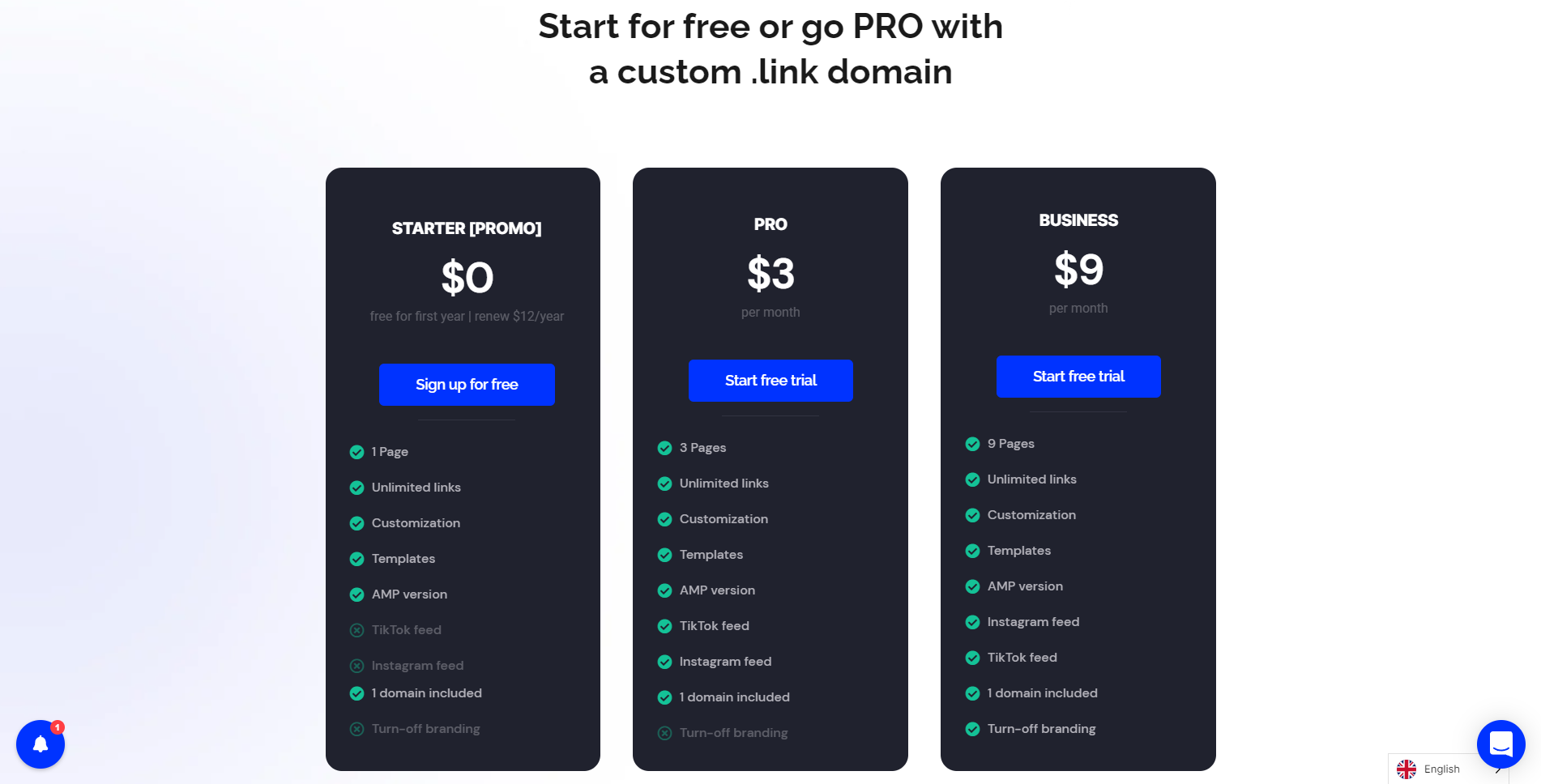 The Starter plan is free for the first year and renews for $12/year in the succeeding years. You can create a single customizable page with unlimited links.
Pro ($3/month) lets you create three pages and allows you to showcase your Instagram and TikTok feeds.
Business ($9/month) is the same as Pro but with nine pages and the ability to switch branding off.
Pros and Cons
Newsletter feature lets you easily engage with subscribers without a third-party email app
Custom CSS for complete control over your page's design
Lack of third-party integrations
No option to add your custom domain
---
HYPAGE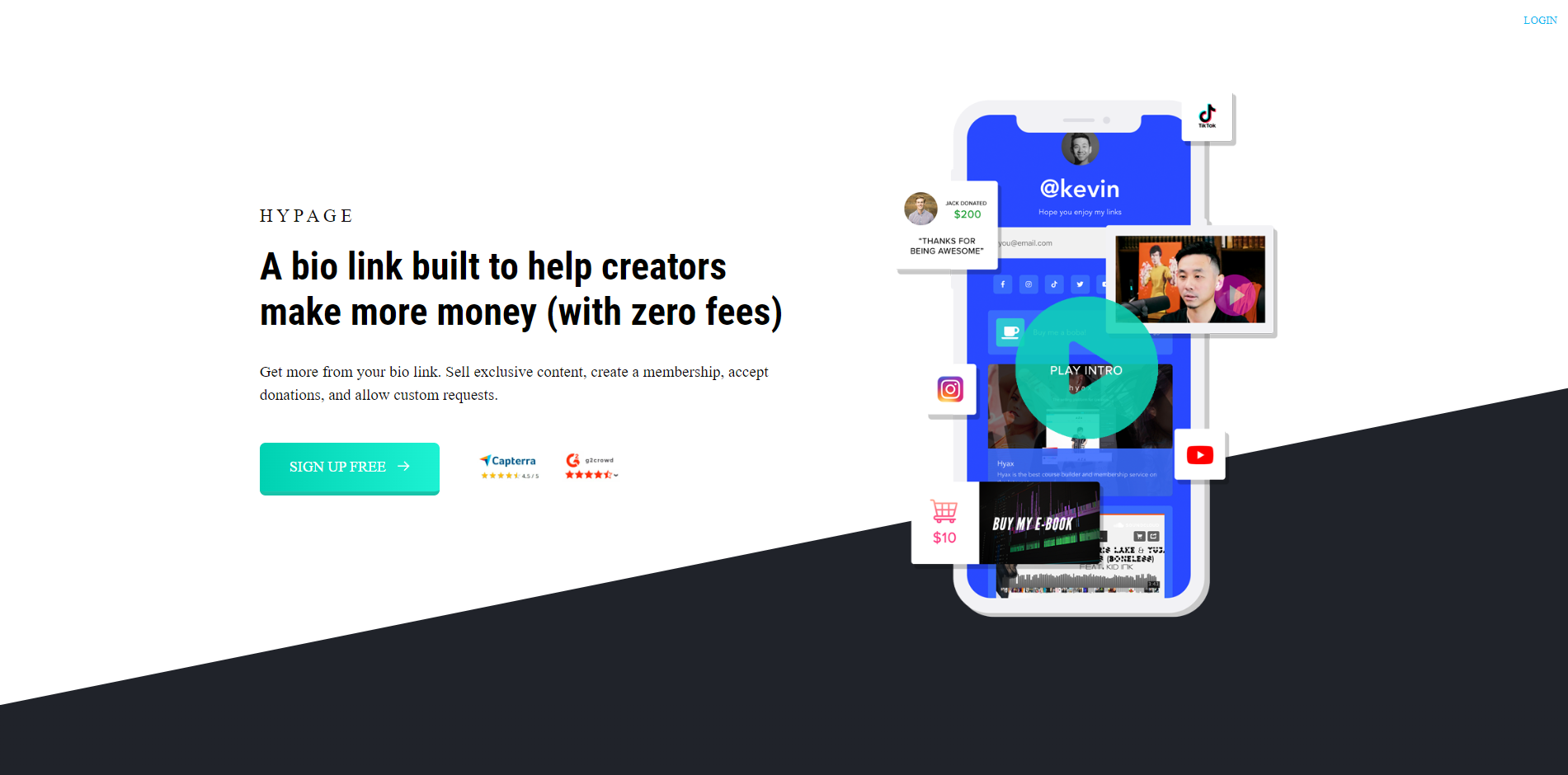 HYPAGE is one tool to watch out for. It compares favorably to Linktree as an alternative. Aside from curating all your links on a single page, HYPAGE lets you make money from donations and fan requests.
For higher plans, you can even build a paid membership to distribute exclusive content to your audience or sell digital products in the same place.
The wealth of features available in this tool allows you to replace the current ones you're using. This way, you can get the most out of your link-in bio page without third-party integrations.
Pricing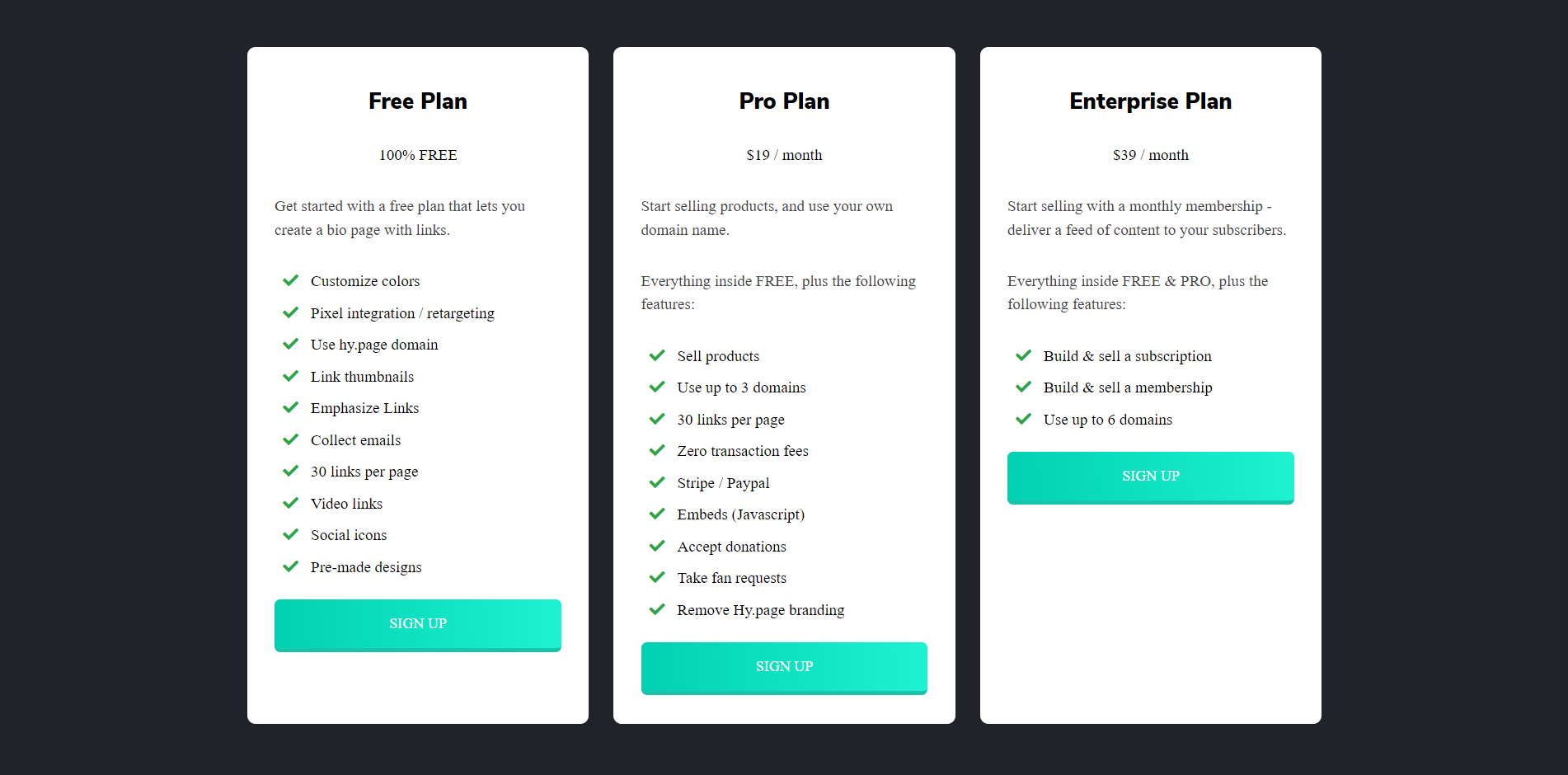 The free plan allows you to create customizable link-in bio pages from pre-made designs (which you can fill out with these bio generators). With this feature, you can make the most important links on the page stand out to increase the click-through rate.
The Pro plan ($19/month) lets you sell products and accept donations via Stripe or PayPal without transaction fees. Other features include embedding JavaScript and using up to three domains.
The Enterprise plan ($39/month) possesses the same features as the Pro plan. However, you can use up to six domains for this plan, each with the ability to build and sell subscriptions and memberships.
Pros and Cons
The recurring payment and digital product selling features let you maximize your link-in bio page's monetization options.
Gated content allows you to increase the value provided by your page to your audience, resulting in higher engagement with them.
Only lets you add 30 links per page

Lacks built-in analytics data (only tracks your product sales)
---
Lnk.Bio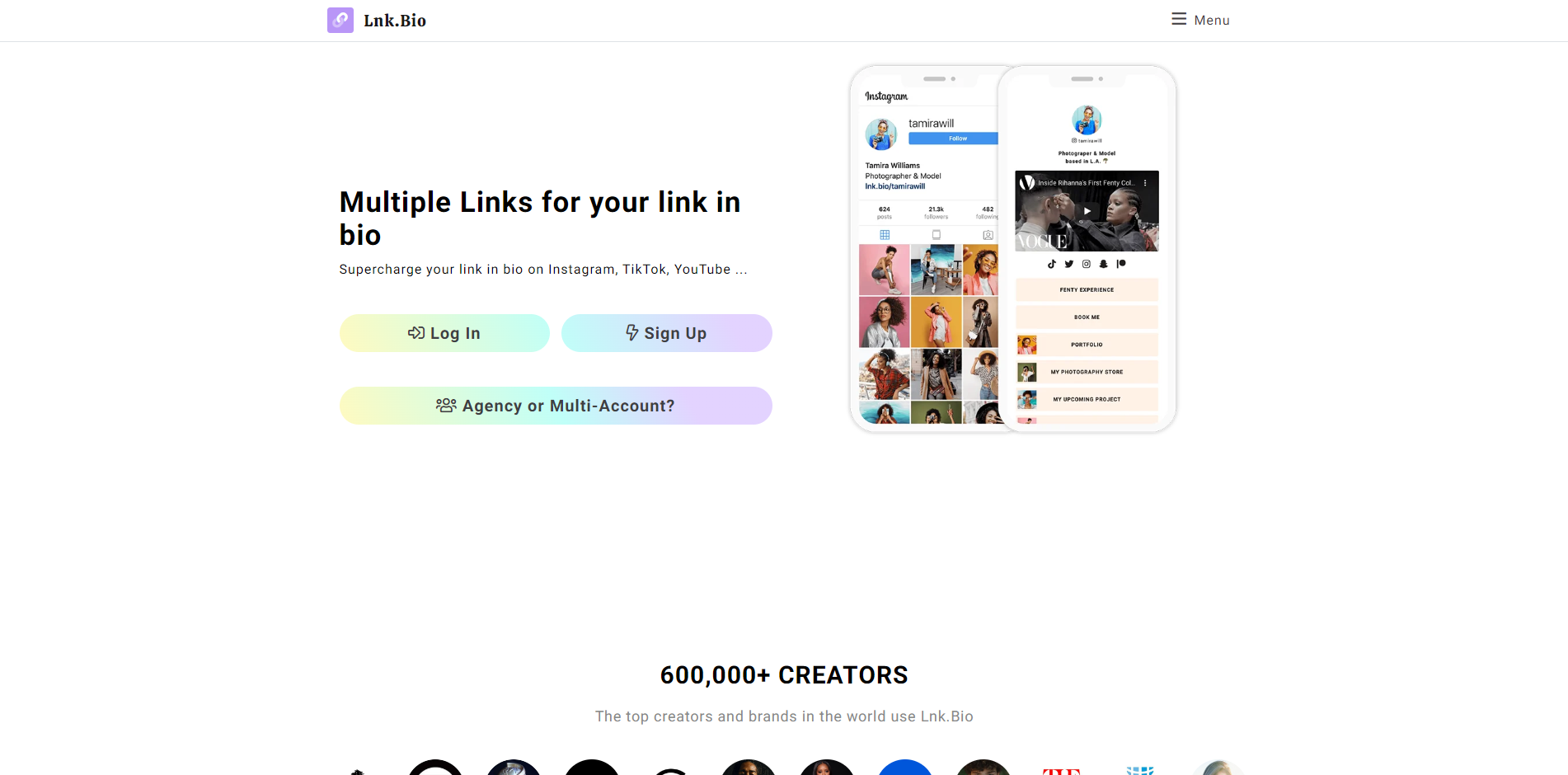 Lnk.bio lets you add unlimited links and embed music and videos visitors can play on the page to keep them engaged.
As one of the top Linktree alternatives, this tool is similar to HYPAGE, as you can also sell digital products from your page. Upload the product you wish to sell and integrate Stripe as your payment gateway. Remember that every successful transaction has a 5% fee (Stripe fee not included).
Lnk.bio has an extensive analytics feature that tracks the number of views your page received and clicks your links got over time. Regarding clicks, you can drill down which links, icons, buttons, images, and stories generate the most clicks.
Pricing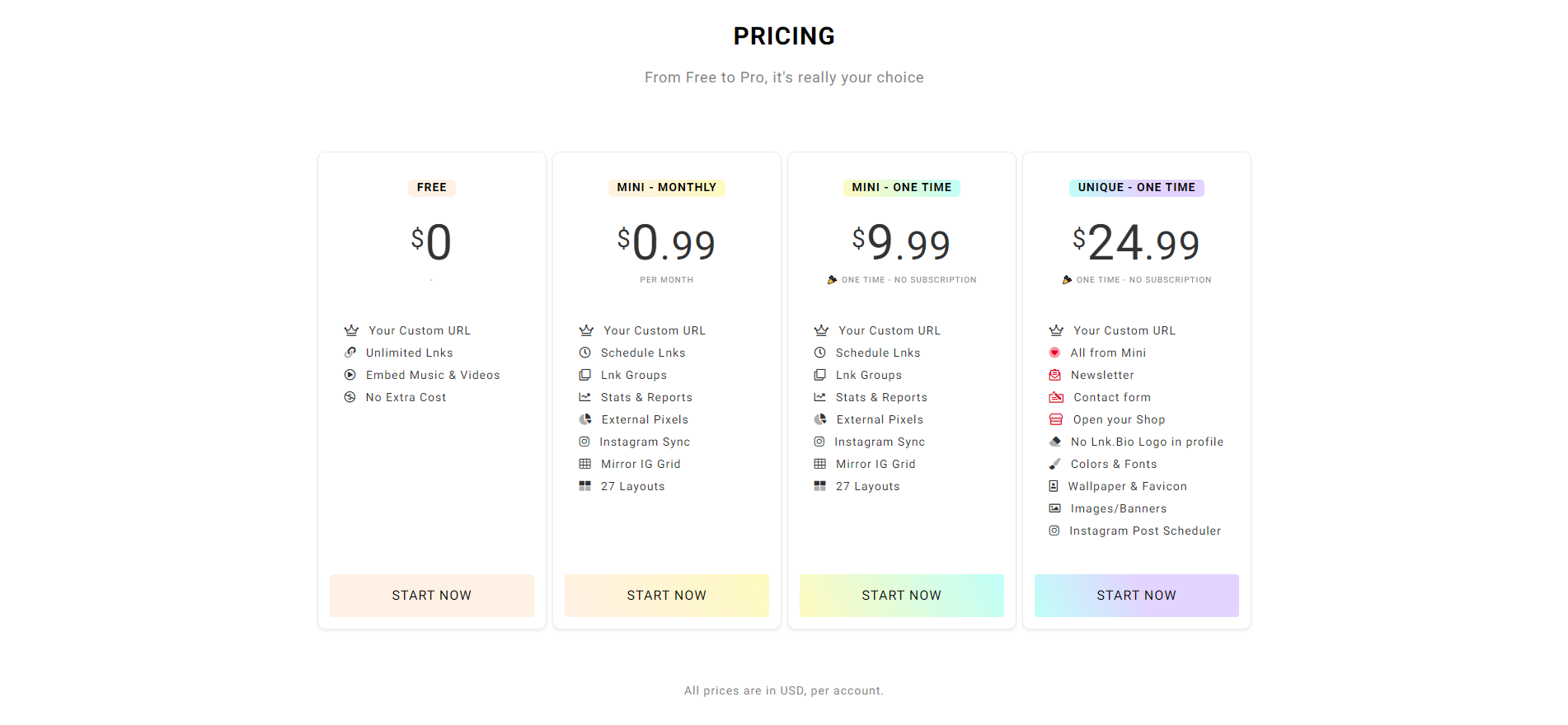 The free account should help you create a simple yet effective link-in bio to display your links and content.
The Mini plan ($0.99/month or $9.99/one-time) lets you use a custom domain and gives you a choice to schedule and group links on a page. Also, you can monitor the page's performance using stats and reports. Finally, it allows you to sync your Instagram account and mirror its grid layout onto your page.
The Unique plan ($24.99/one-time) offers the same as the Mini plan, with the addition of opening your online shop to sell digital products, build a newsletter list, and create a contact form for visitors to fill out.
Pros and Cons
Link scheduler lets you publish links on your page at a certain time and date. This is useful if you're running time-sensitive offers or wish to create a sense of urgency in your products.
Provides extensive analytics data—it may only be for paid accounts, but the low subscription costs are more than worth it.
Tons of free themes and button styles to choose from for your page.
You can only remove its branding when you buy its most expensive plan.
---
Later Link in Bio (Formerly Linkin.bio)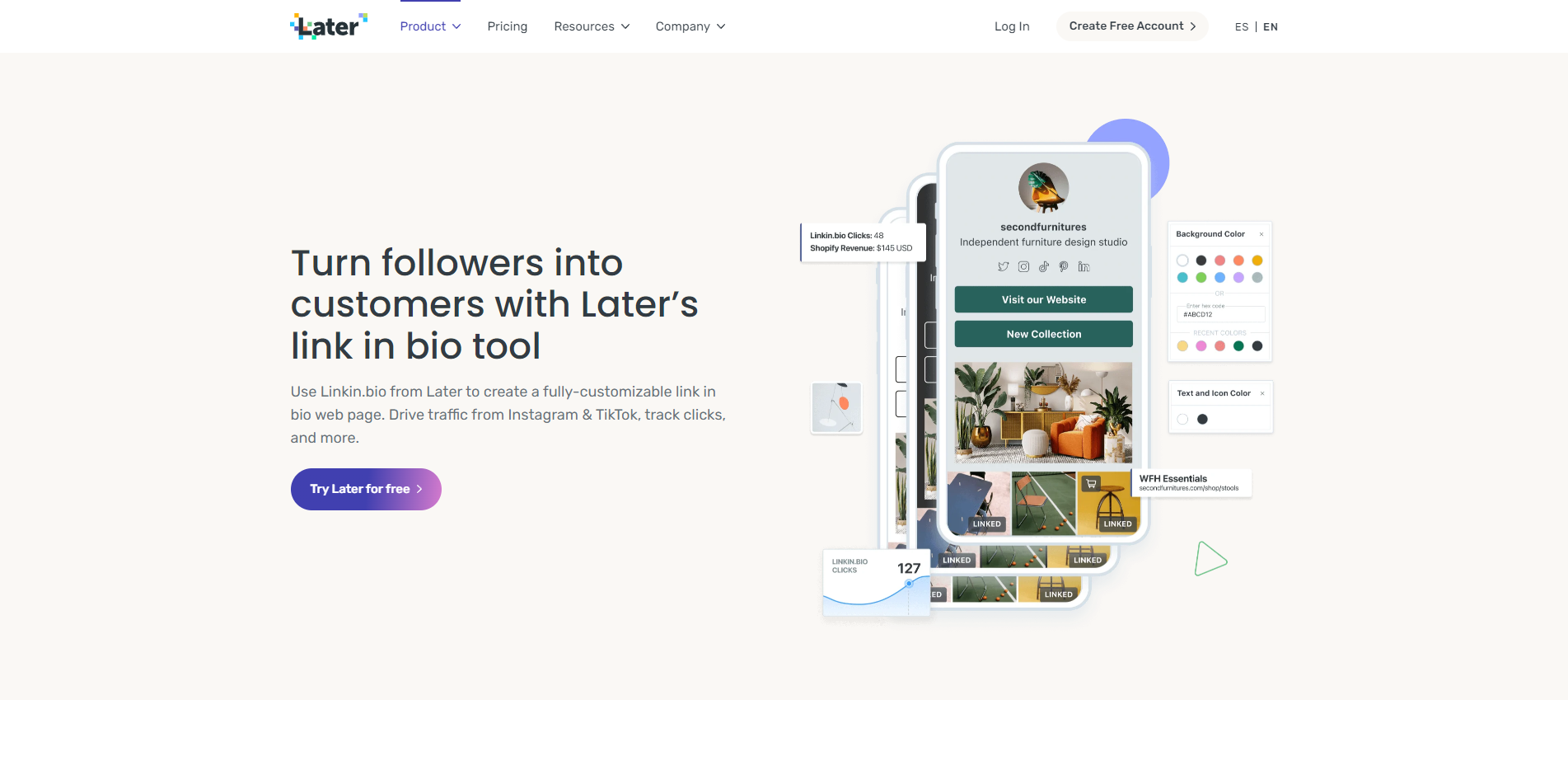 Later is a social media marketing tool geared towards growing your Instagram account. It lets you schedule posts in advance and tells you the best times to post on the platform.
To help users take better control of their Instagram profile, Later acquired Linkin.bio. This enables content creators to create a page containing all links and content relevant to Instagram while leveraging Later's robust set of features.
Pricing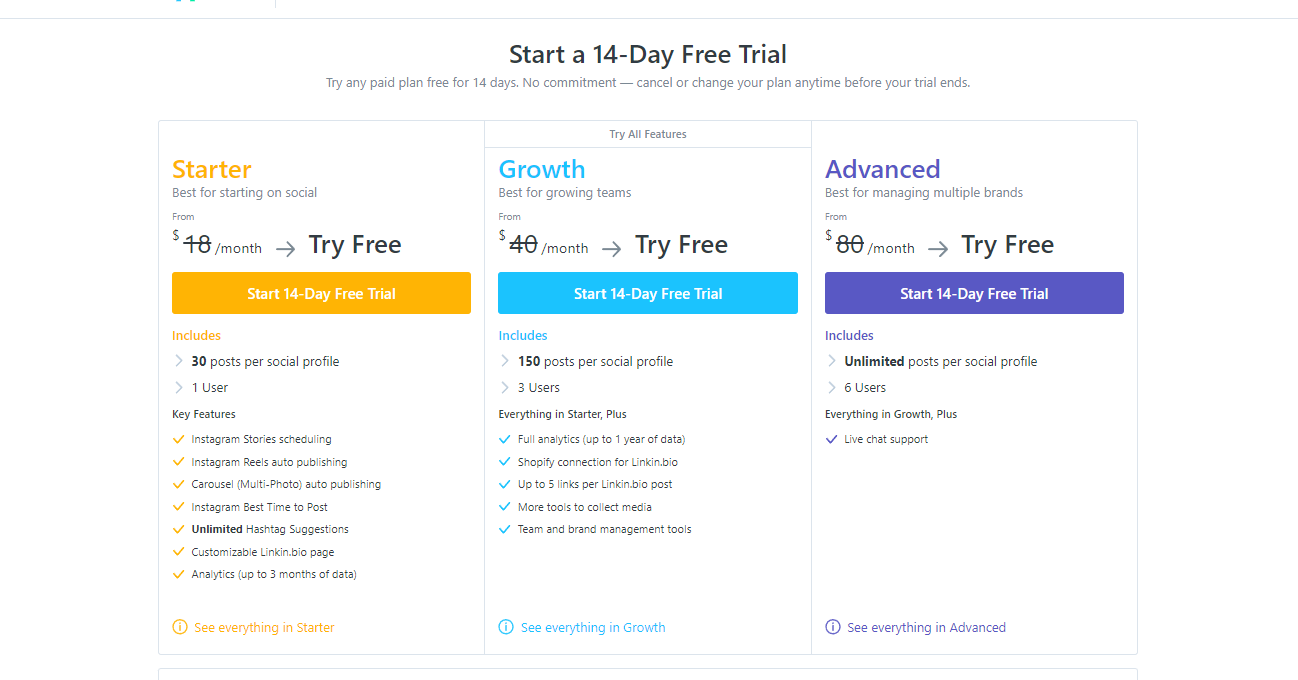 You can create a Linkin.bio from a free account right out of the gate.
But by signing up for one of its paid plans, you can remove the Later branding on the page and collect your audience's email via its MailChimp integration. If you have a Shopify account, you can also display your products on the page.
If you plan on using Linkin.bio only, you can subscribe to its Growth plan ($40/month) to remove its branding and get access to a year's worth of page views by location.
You also get a visual Instagram planner, hashtag suggestions, product tagging, auto-publish carousel, and Instagram Stories scheduling.
Pros and Cons
Lets you turn your Instagram grid on the page into clickable items linking to your desired page. You can include five links in a post to maximize engagement with it.
Limited choices and customization options
You have to subscribe to Later to be able to unlock Linkinbio's premium features even if you don't need them.
---
Link in Profile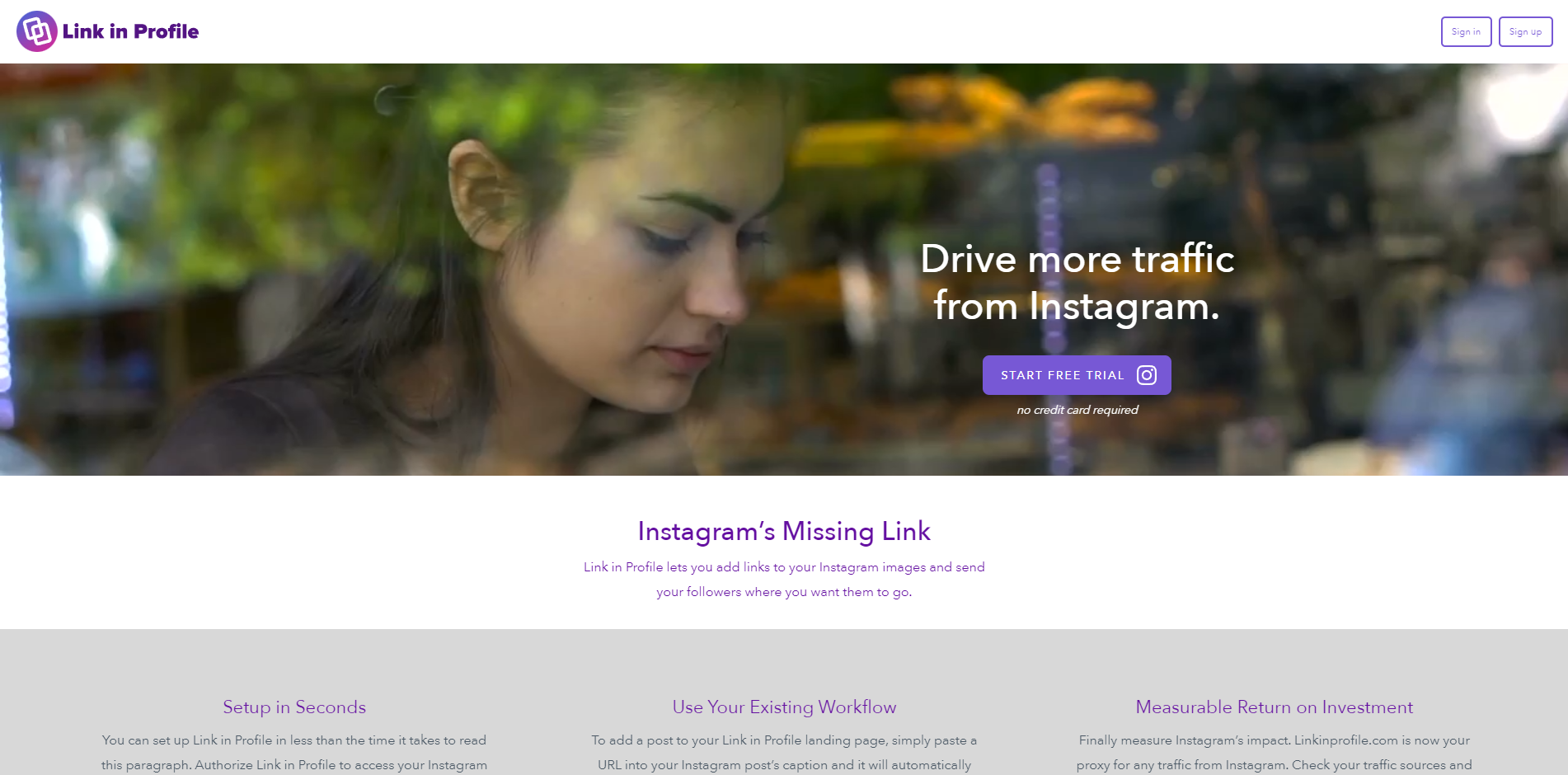 Similar to Linkin.bio, Link in Profile lets you connect your Instagram accounts and turn their posts into clickable links that point visitors to your desired pages.
You can write a title and description for each link to provide additional context to users.
Pricing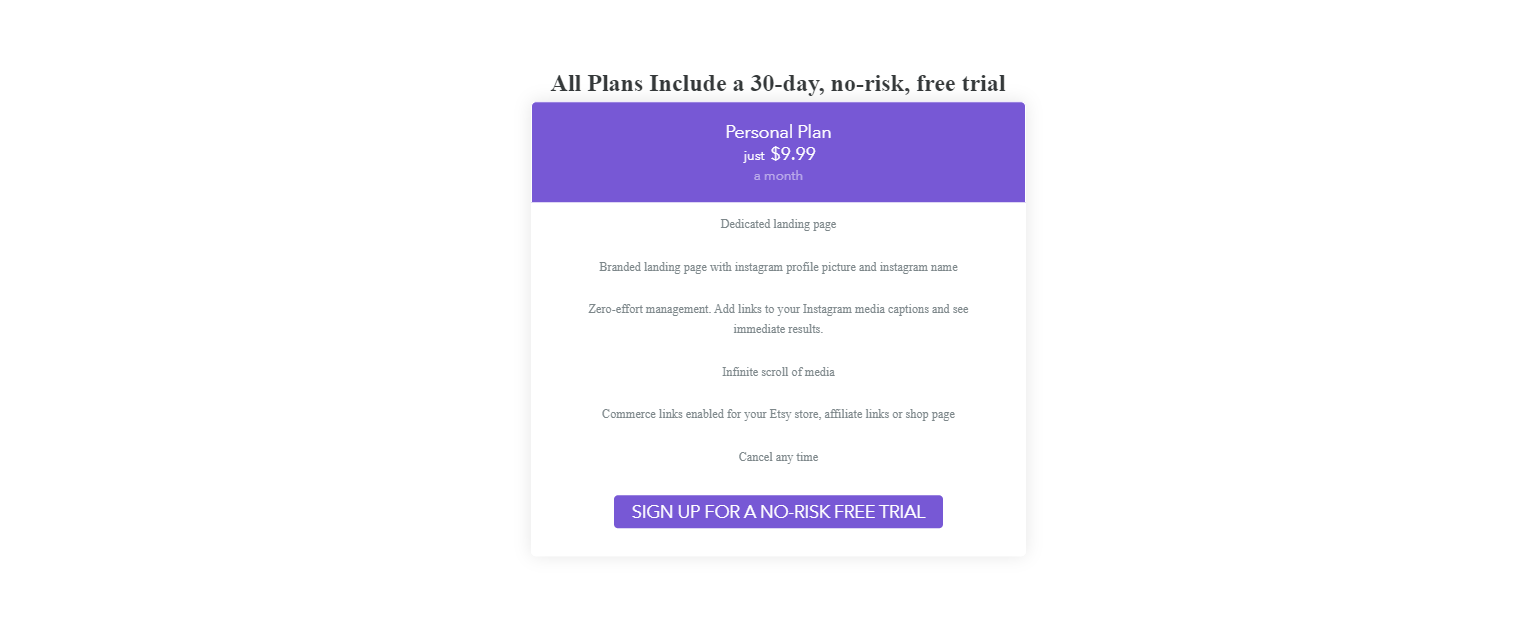 For $9.99/month ($99/year), you can create a brandable, set-and-forget landing page with the ability to create links to photos in your Instagram feed.
You can sign up for a free 30-day trial to test the tool out and see if it's something you can use in the long run.
Pros and Cons
Add any type of link in your Instagram photos, from product pages in your online stores or affiliate links, to help you maximize your feed's monetization opportunities.
Non-existent page customization options.
No ability to include additional links aside from the ones published in your Instagram feed.
---
Linkjoy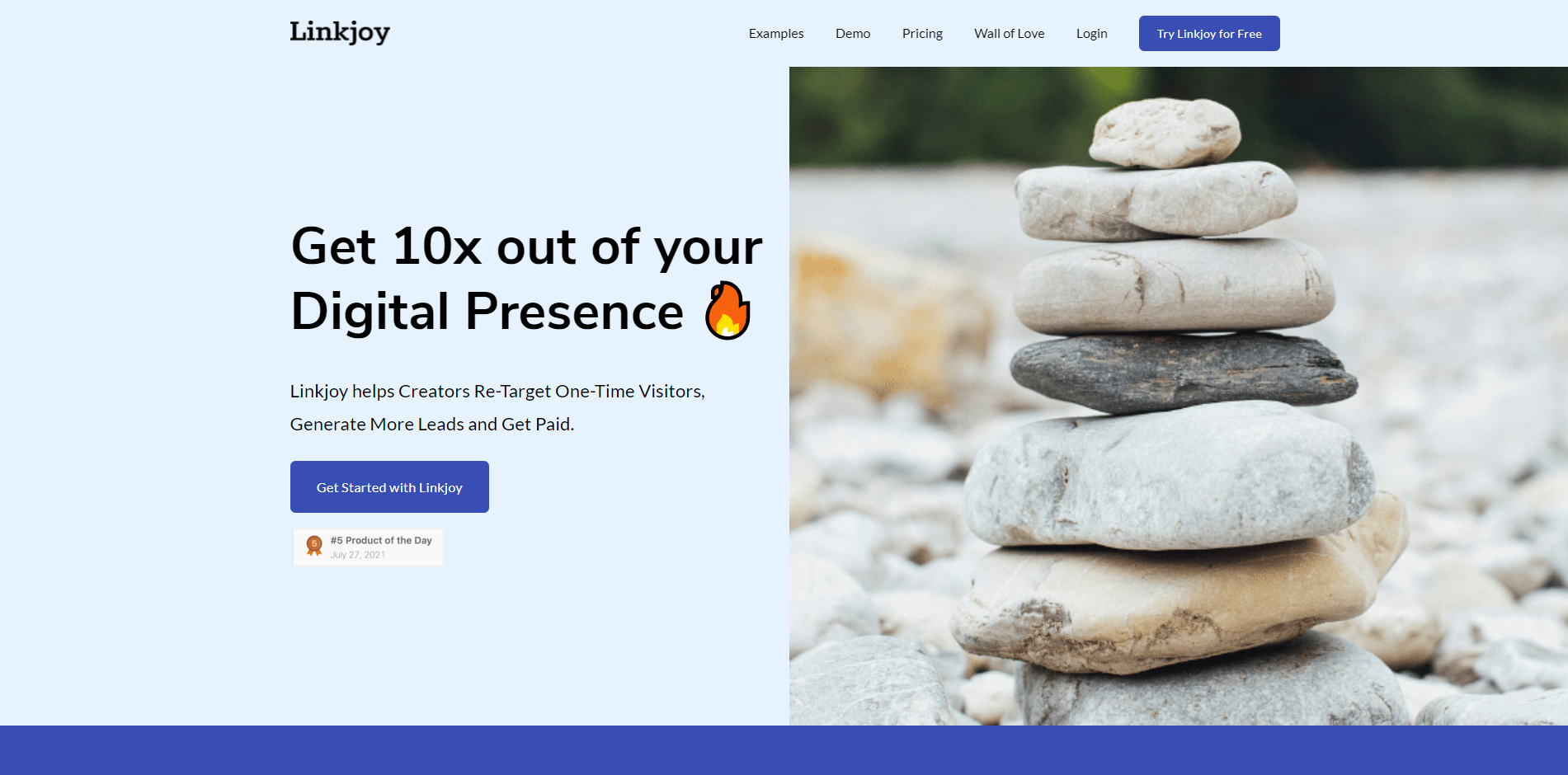 LinkJoy is a tool for agencies to create link-in bio pages for clients.
Create a portal your client can log in to using their credentials. Once logged in, they can view the link-in bio pages you've created for them and analytics data measuring their performance.
There's also an Instagram biolink feature so you can build a page and link your Instagram posts to product pages and affiliate links.
Pricing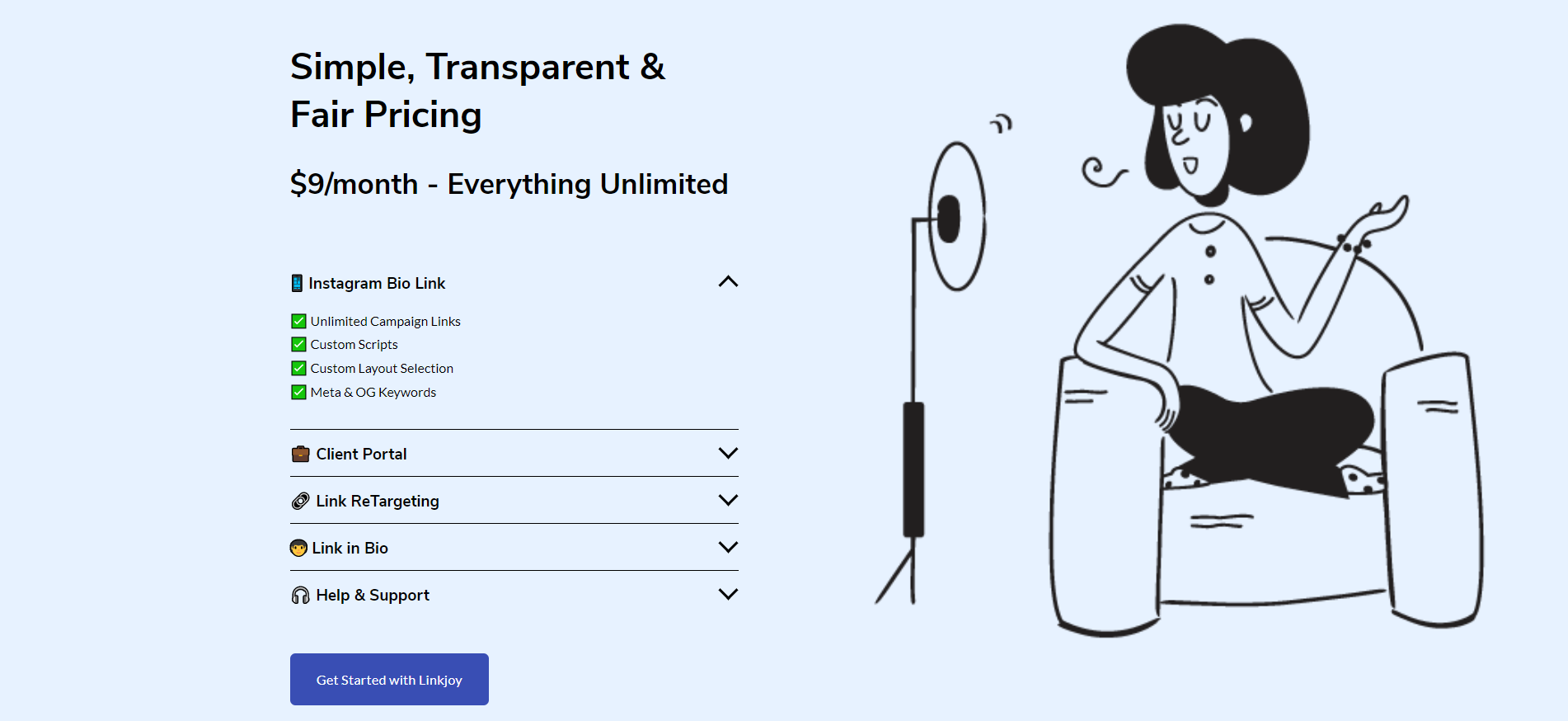 LinkJoy has the simplest and arguably fairest pricing plan among all tools in this list. For $9/month, you can create unlimited pages with an endless number of links and content in each.
The plan includes all the features above and a link retargeting feature for creating branded and shortened URLs for long ones with tags.
Pros and Cons
Lots of templates to choose from
Gives you control over your page's background image and color, button style, and fonts
Allows link retargeting so you can get more out of your ads from one-time page visitors
Does not have a true drag-and-drop interface, which makes editing blocks and actual pages a bit clunky.
The domain URL used for the created pages (lnkj.in) is tagged as riskware by Malwarebytes Browser Guard. In this case, you must use a custom domain to bypass this issue.
---
Linkpop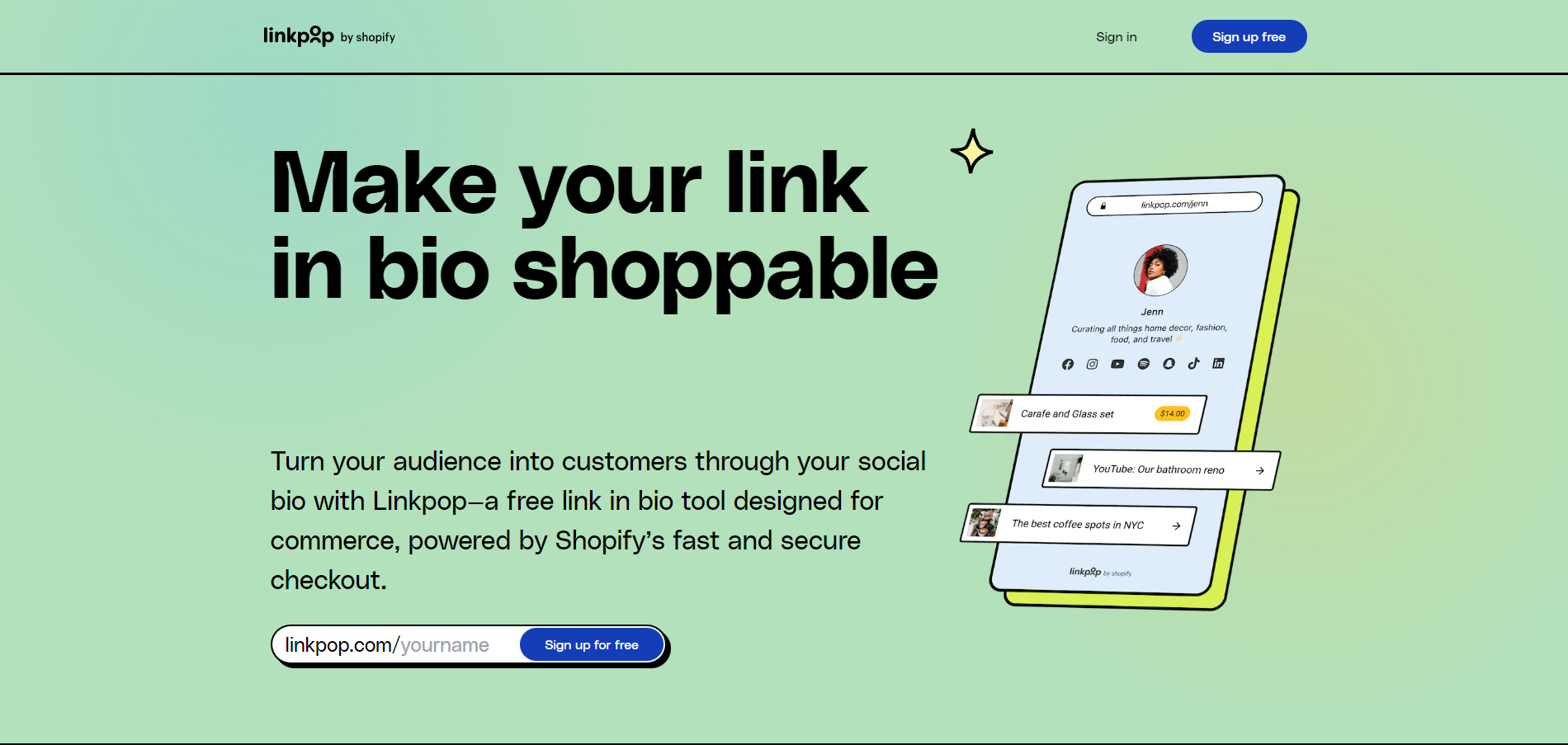 For Shopify store owners, you may want a simpler way to display your best products to potential customers. In that case, Linkpop lets you do this by creating a page that not only links to your best-sellers but also blog posts, podcasts, socials, and more.
Whenever people click on products linked from your Shopify store, Shopify Checkout loads from the page, so they don't have to load another screen to complete the transaction. This makes the checkout process more seamless than ever before.
You can also share affiliate links from Shopify Collabs to recommend other products from trusted sellers and make money off them.
To determine the page's effectiveness, you can collect the number of people who visited your page and clicked on its links. Then improve the page to increase user engagement with it.
Pricing
Linkpop is free of charge. You don't even need a Shopify store to create one. Just sign up for a free Shopify account, and you're good to go!
Pros and Cons
Works best with a Shopify store so you can make buying Shopify products from your bio link pages much easier
No drag-and-drop interface for building your pages
No design templates to choose from, on top of limited customization options
---
LYNX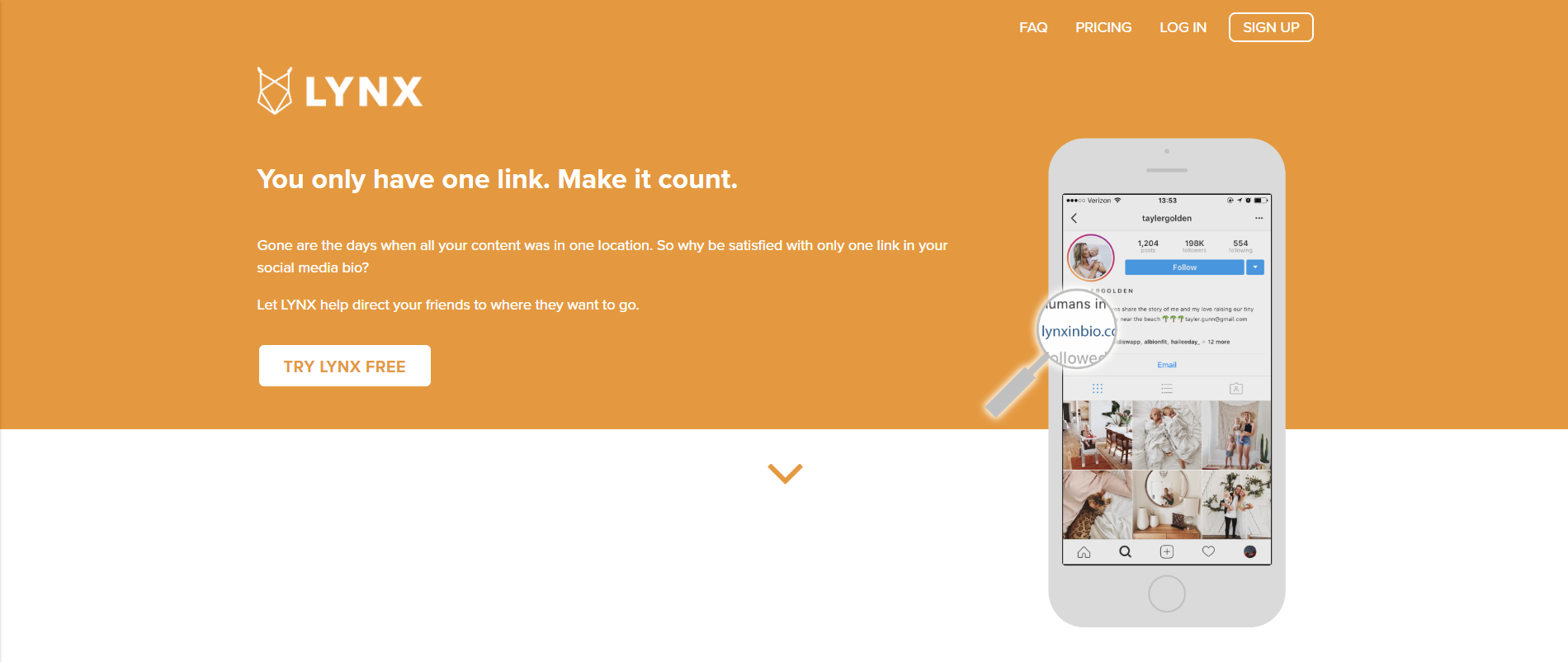 LYNX is as straightforward as it gets as a link-in bio tool.
Sign up for an account, edit the page with links to your favorite pages, tweak the design's colors, and click publish!
Pricing

The free plan only allows you to include five links on the page with a standard theme selection and click-tracking features. You also can't edit your URL shortcode aside from the random one assigned to you.
LYNX Pro ($5/month or $40/year) lets you customize your URL or use a custom domain instead. More customization options help you achieve the page design you want. Finally, you can include as many links on the page as you want.
Pros and Cons
This tool lets you create a page you can simply set and forget.
Limited design customization options.
There's nothing much about this tool that separates it from the pack. All the things it can do, other platforms can as well, and you don't even have to pay for them.
---
Many.Bio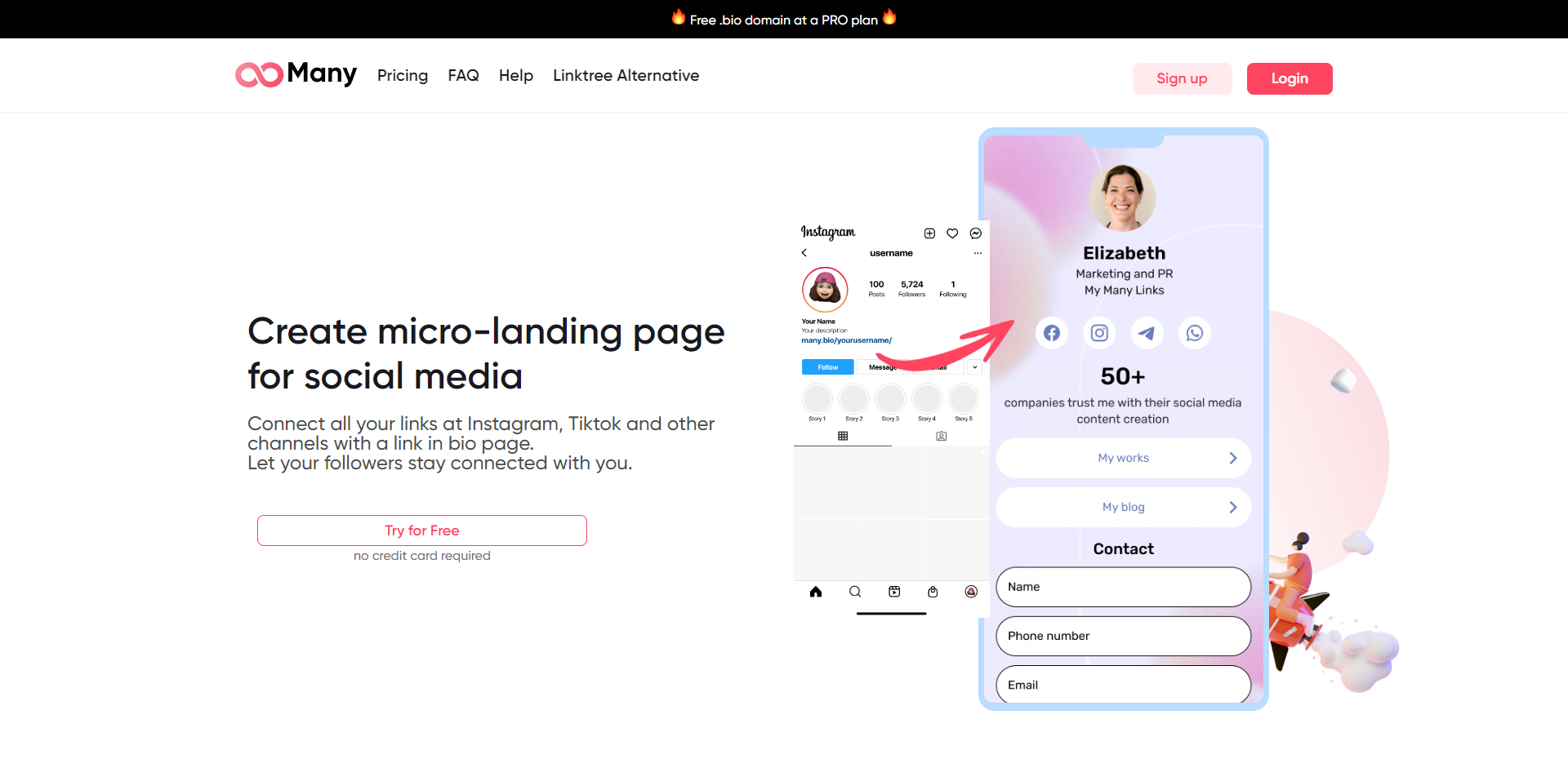 Many.bio is another solid choice to help you create attractive link-in bio pages that display your links and content in the most compelling way.
You must create a block for the link and content you plan on featuring on the page. From here, you can further edit how the block looks to make it stand out from the rest and get more people to click its link.
The same goes for the page's design layout. There are tons of ready-made themes to choose from, and users can customize them with their desired colors and background type.
Pricing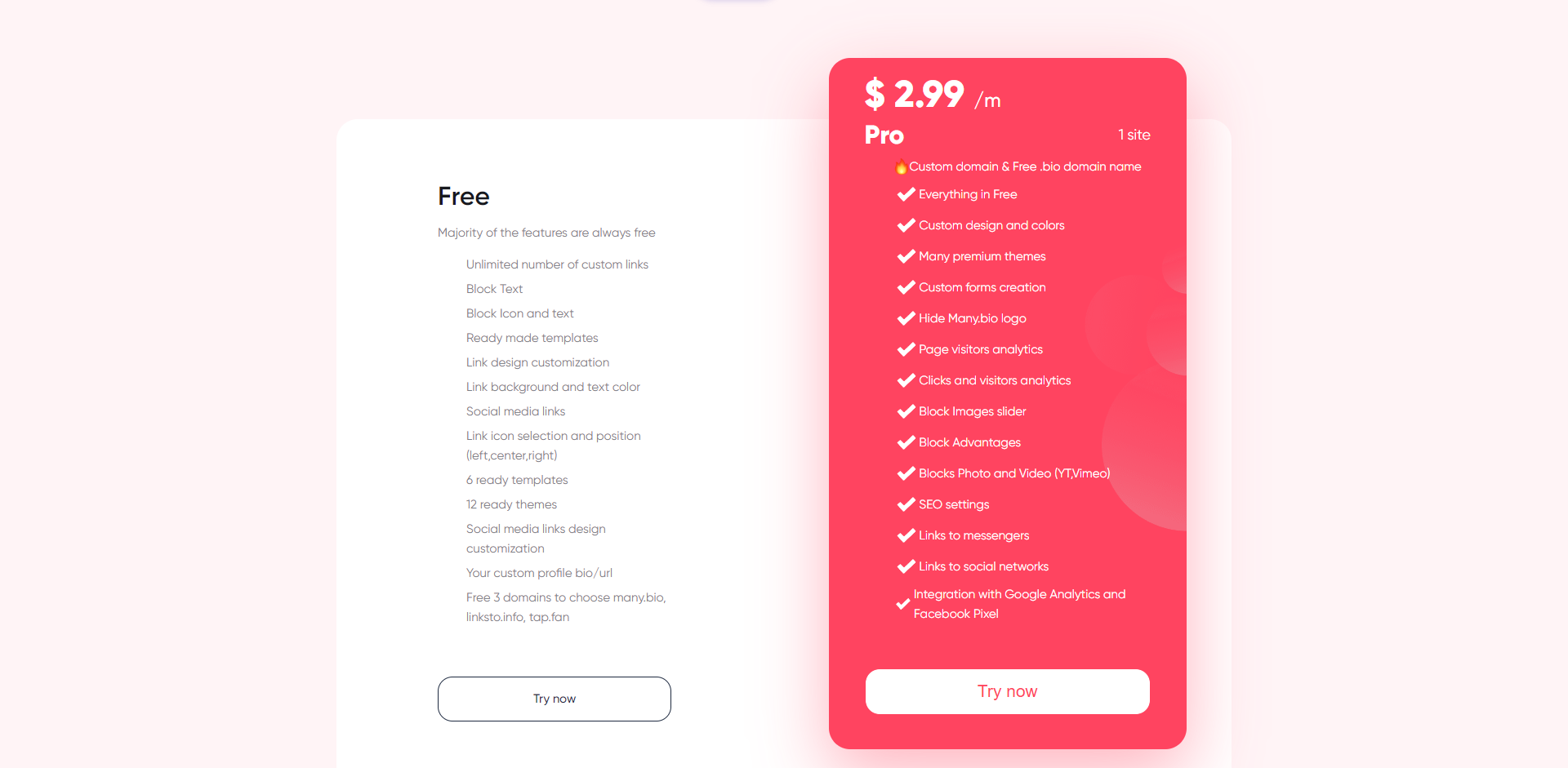 The free plan lets you create a link-in bio page customized to your liking.
But to get the most out of the page, you must pay $2.99/month for it. The paid plan lets you use a custom domain for your page, access more in-depth analytics, and choose from more block types, including videos and images.
More importantly, Many.bio allows you to link to the most popular messengers so people can reach out to you much faster.
Pros and Cons
Comprehensive block editing options, even for its free plan
No monetization options
Lack of third-party integrations (aside from Facebook Pixel and Google Analytics)
---
Shorby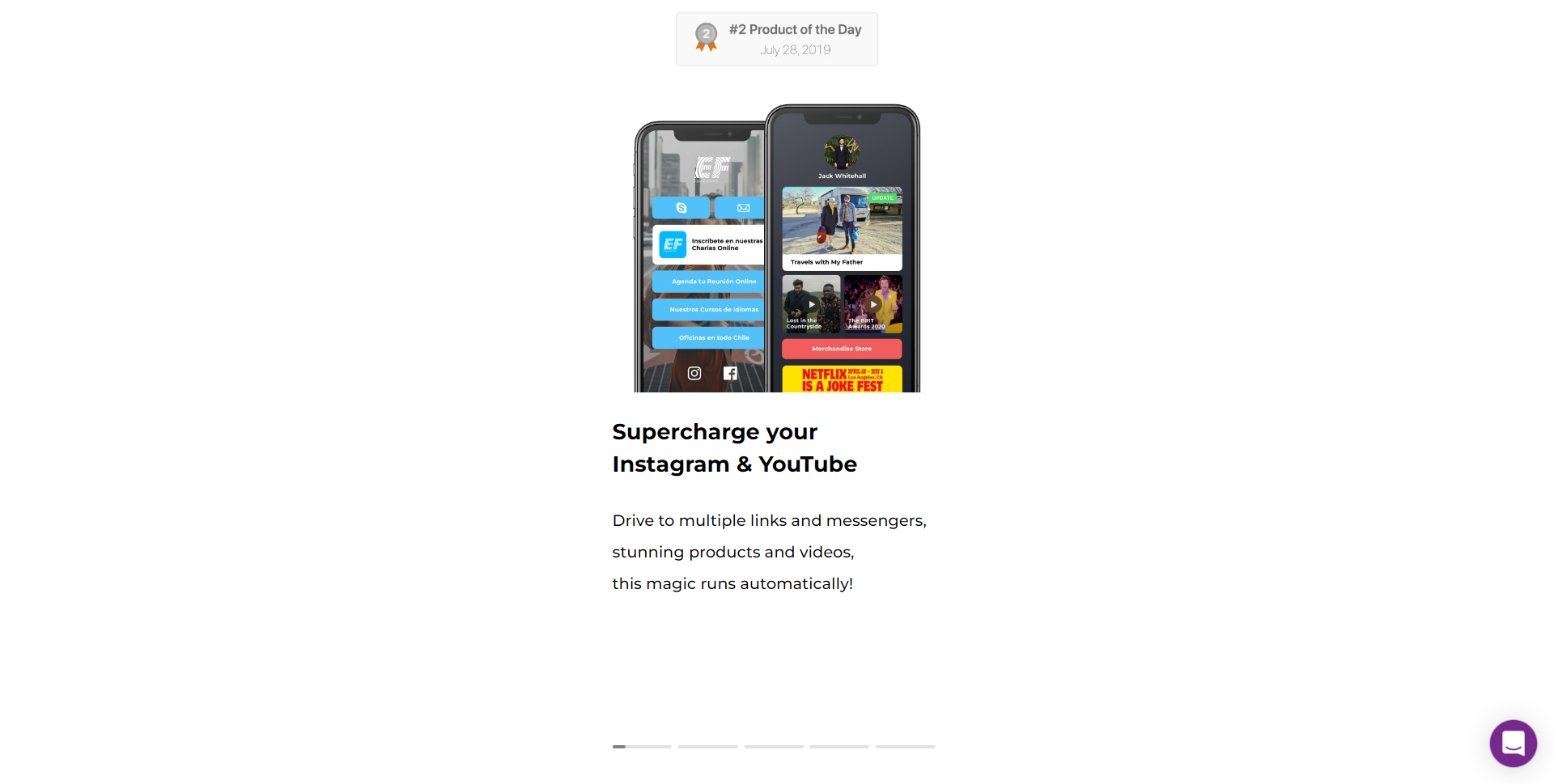 Shorby is unique among Linktree alternatives and is designed for content creators and brands to build link-in bio pages.
Aside from featuring your social links, the platform lets you create effects on your other links and change their respective appearances. These features help make your links stand out from the page and get more clicks.
You can also add your RSS feed to show your latest blog posts or content to your audience as they are published.
Finally, you can create a link with a countdown timer to remind people how much time they have left to take you up on your offer.
Pricing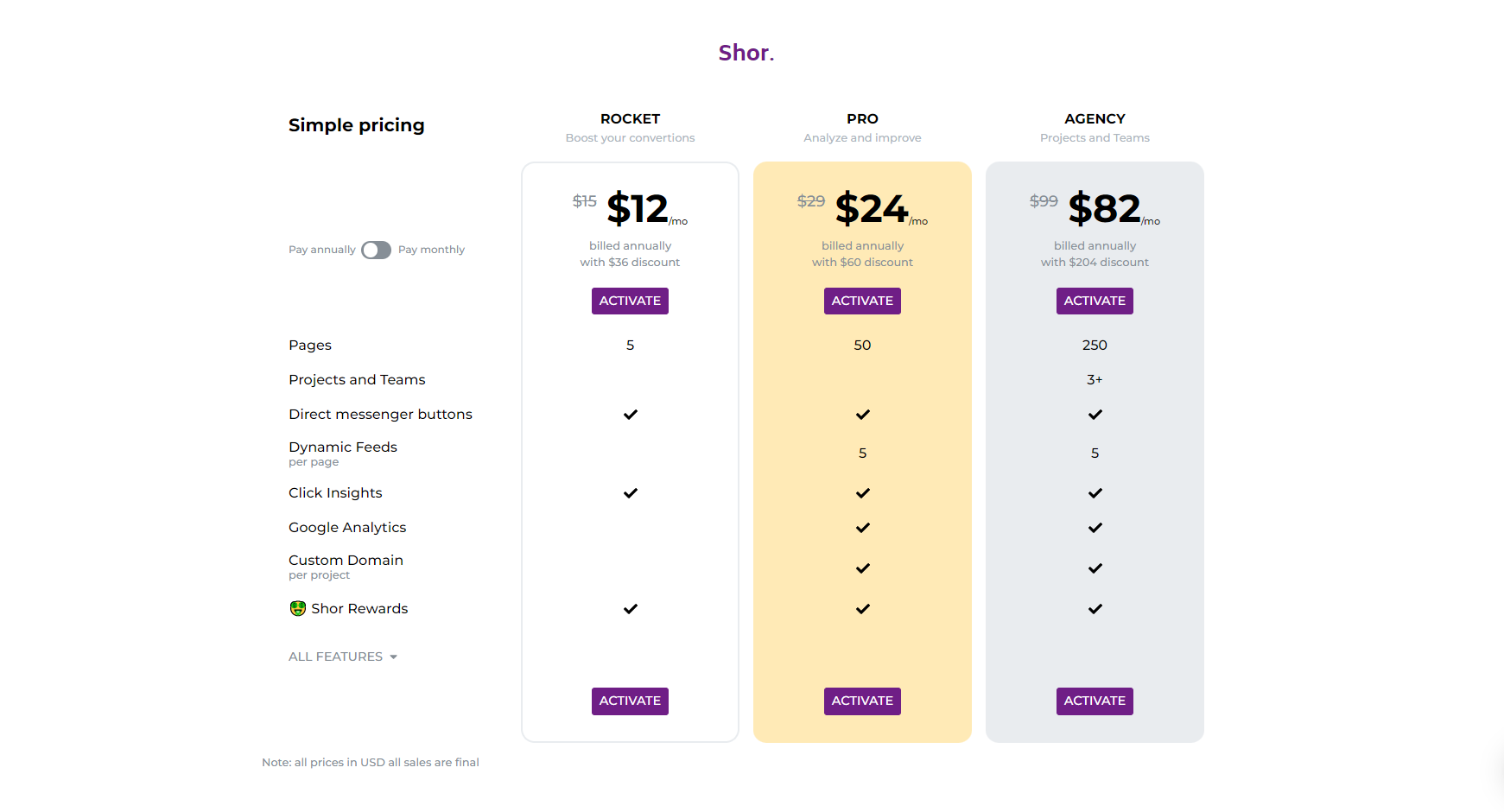 All Shorby plans are paid, with the lowest starting at $15/month (or $12/month billed annually). They let you create at least five pages, direct messenger buttons, click insights, and access its affiliate program.
Pro plan ($29/month or $24/month paid annually) and higher lets you integrate with Google Analytics and connect your pages with a custom domain. The Agency plan ($99/month or $82/month paid annually) lets you create multiple projects and teams for each.
Pros and Cons
Countdown timer feature is a great way to bring out FOMO from people and get more clicks on your links
Add links to your messengers (Whatsapp, Facebook Messenger, Telegram, Skype, Viber) to make you more accessible to your audience
Rigid link-in bio page builder without more content choices to add to the page
---
Smart.bio

Smart.bio is part of Tailwind, a tool to help you manage your Pinterest, Instagram, and Facebook marketing.
Its link-in bio feature is geared toward helping you get the most out of your Instagram accounts.
Once you've connected your Instagram, choose which posts to feature on your Smart.bio page by entering a link and its label.
You can also schedule Instagram posts on your link-in bio page using Tailwind.
Pricing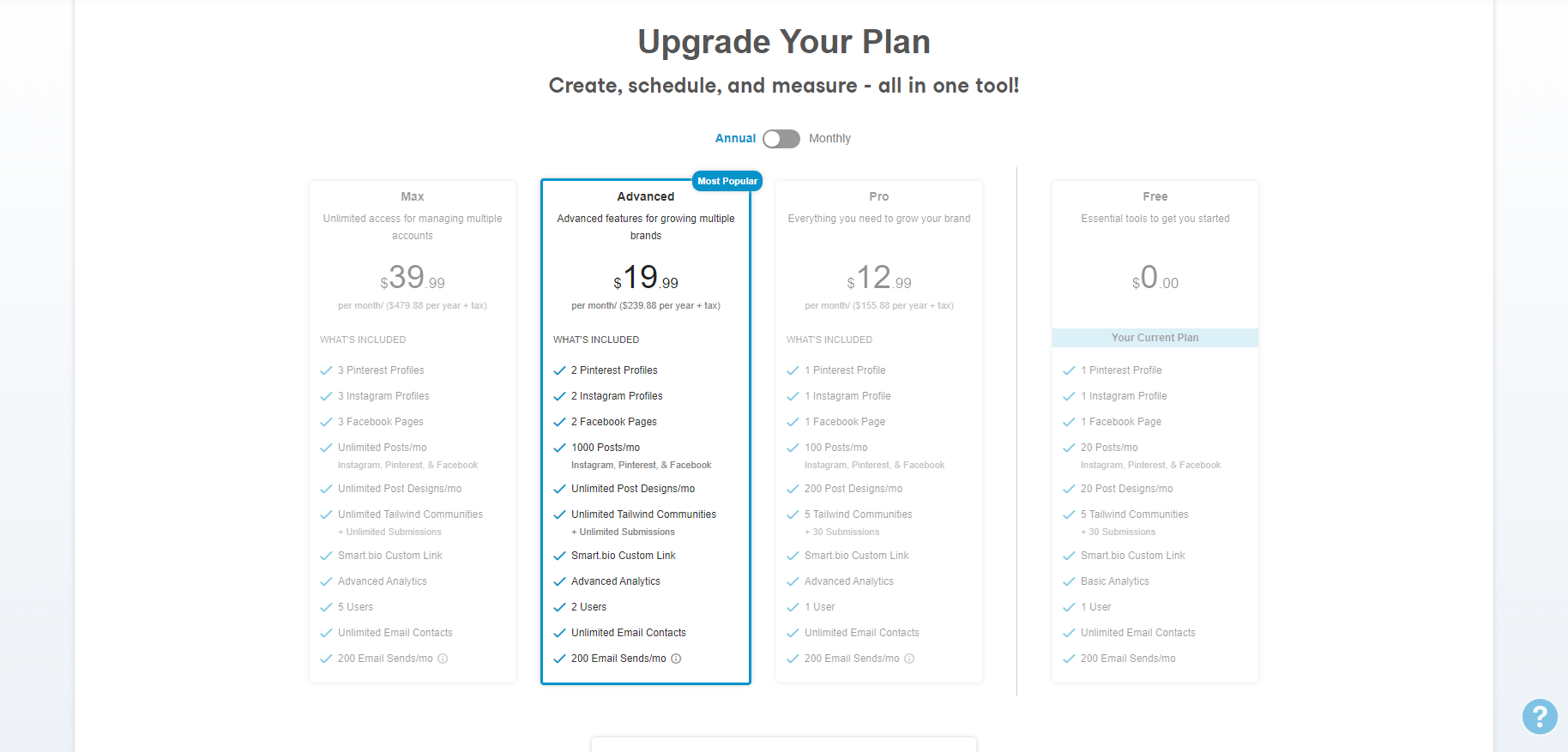 Smart.bio is free across all of Tailwind's plans. The only difference is the number of Instagram accounts you can manage per plan. The higher the plan, the more Instagram accounts you can connect (maximum of three).
Pros and Cons
The ability to schedule Instagram posts with clickable links helps you increase their visibility, primarily when published during times when most of your audience is online.
Limited design options and choices
---
Tap.Bio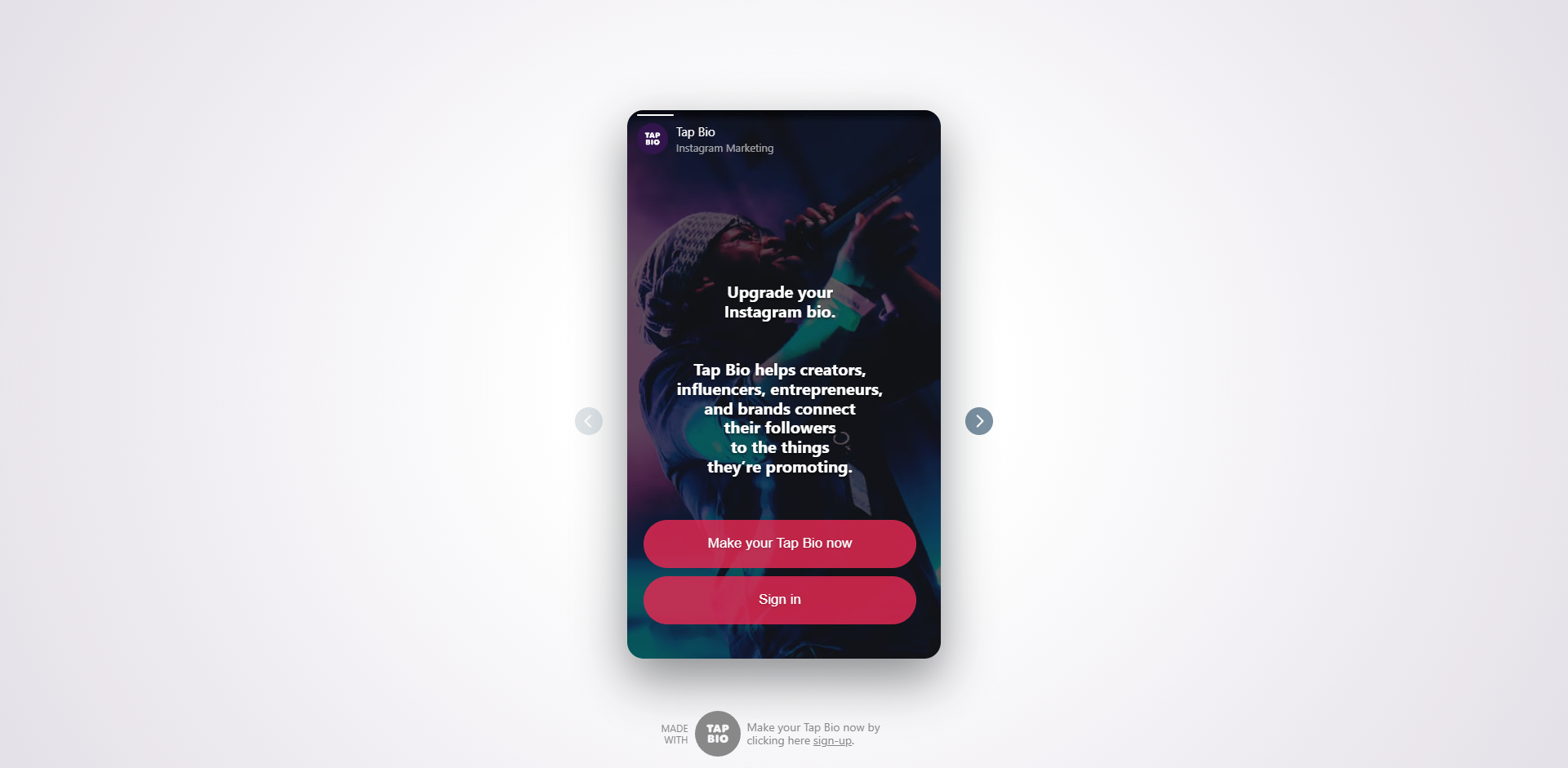 Instead of link-in bio pages found on many Linktree alternatives, Tap.bio lets you create "cards" that visitors can see by swiping left or right from their mobile devices (or clicking the left or right arrow from their desktop).
You can also create cards with multiple links, a single call to action, Instagram links, or even an email sign-up form.
Pricing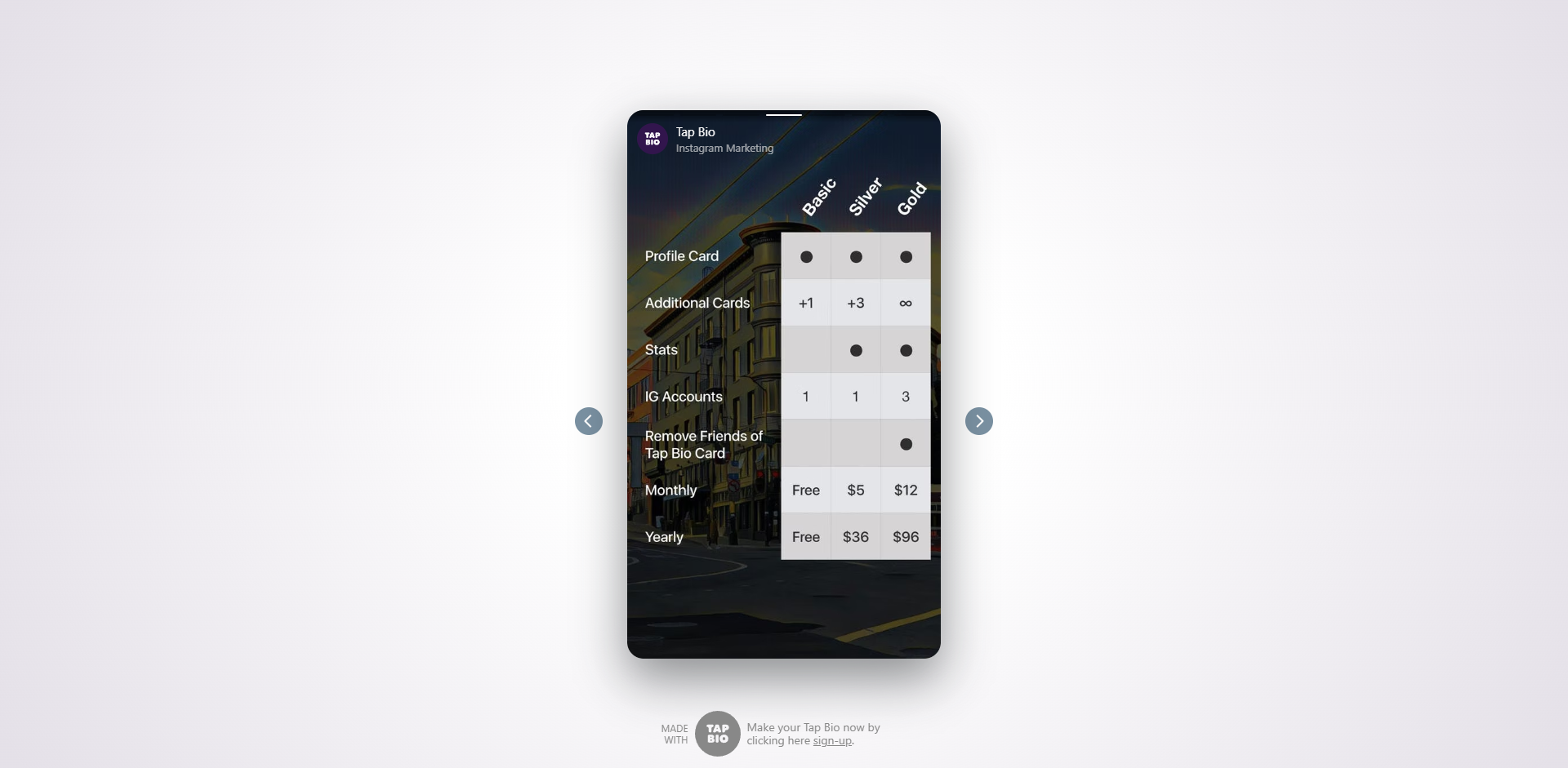 To get the most out of Tap.bio, you must sign up for its Gold Plan ($8/month). It lets you create unlimited cards, manage up to three accounts, remove the Friends of Tap Bio card on your profile, and set up Google Analytics and Facebook Pixel integration.
Those who only want to manage a single account should do fine with the Silver plan ($3/month), although you can only add up to three cards to your profile.
Pros and Cons
The fastest way to create link-in bio pages for content creators, entrepreneurs, and brands. Just sign up, add your profile photo, description, and links before publishing it!
Limited to non-existent design and customization options.
Shop and event features are not available at the moment.
---
Tapkit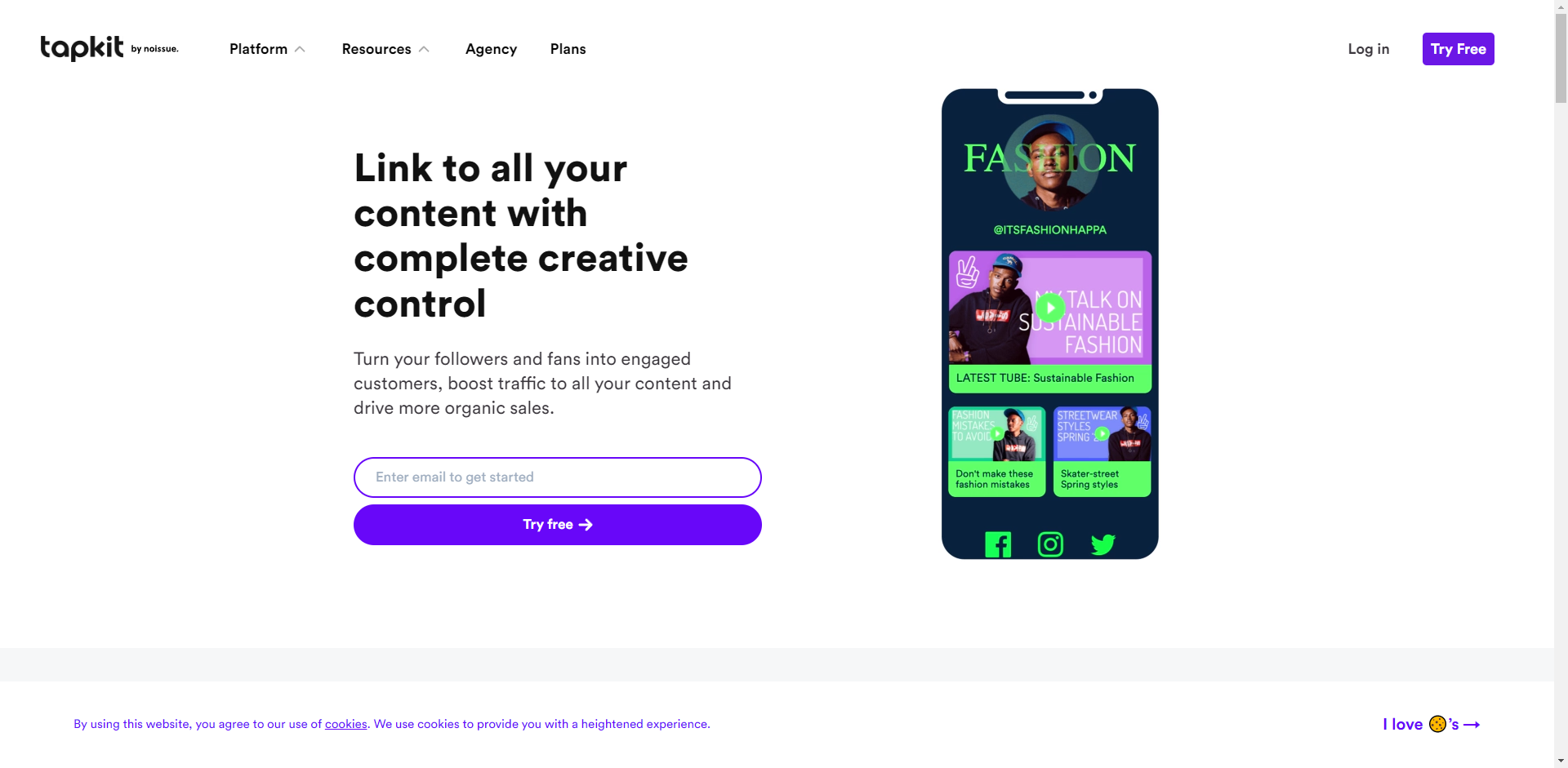 Tapkit gives you all the tools for creating beautiful microsites for your brand. Once you've signed up, you must choose from its pre-made and customizable templates or start from scratch and let your creativity roam free.
When building your page, you can add different cards for social follows, contact, images, YouTube social links, and more. Other options include button grids, email capture, and interactive content such as polls, emoji-ometer, or open ask.
All these should help you develop a unique link-in bio that speaks volumes about your brand or business, making Tapkit a solid option when it comes to Linktree alternatives.
Pricing

The free account should be enough for most people who want a single-page microsite where they can promote their links and content.
Agencies and small businesses would do better with at least a Grow Plan ($19/month) to create a minimum of ten multi-page microsites. Paid plans also include detailed analytics and third-party app integrations.
Pros and Cons
Create dynamic QR codes for your microsites instead of just links to help your audience find your pages much easier.
Templates are only available for the paid plans.
---
Taplink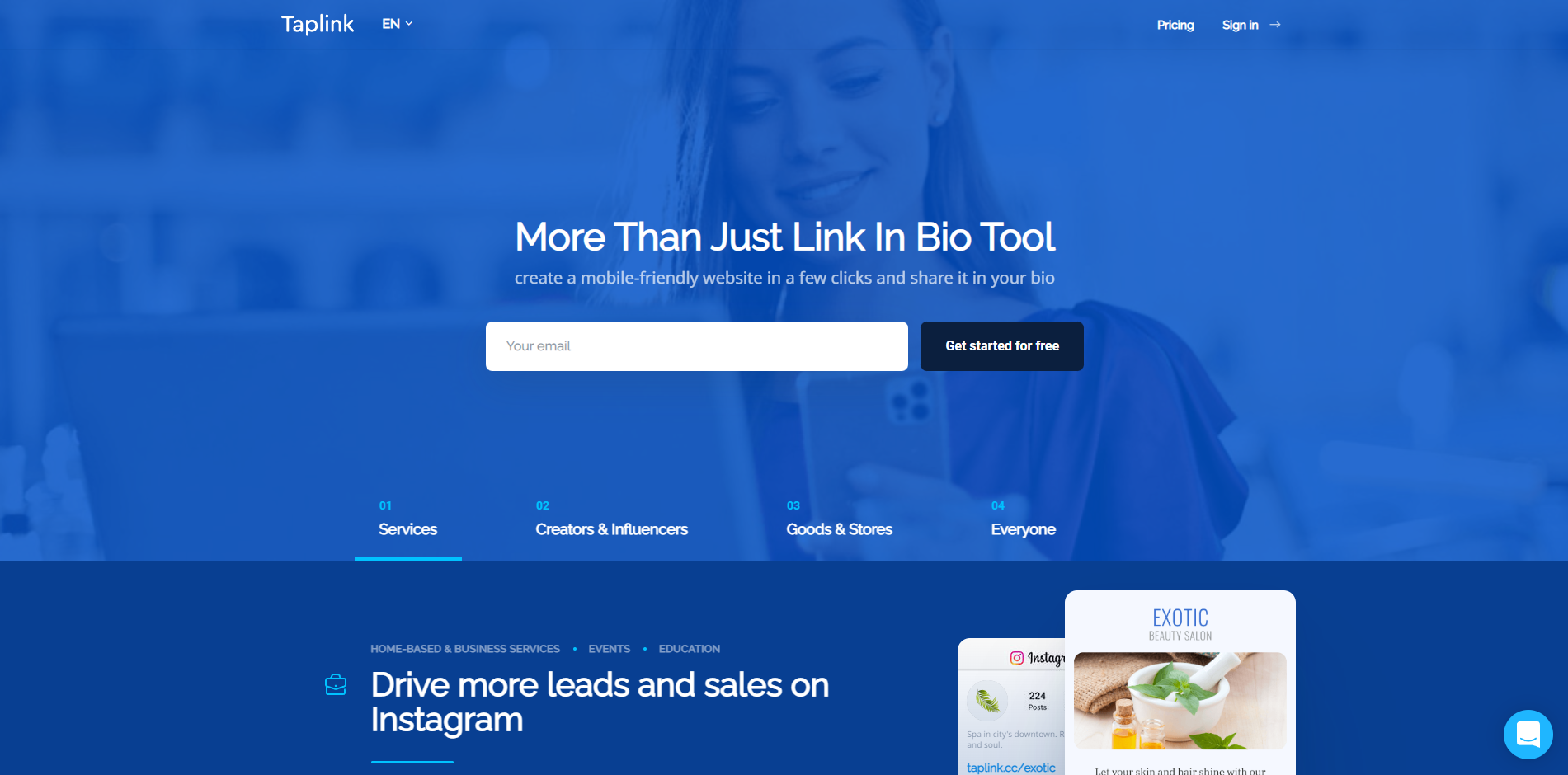 Taplink is one of the best Linktree alternatives because it lets you create link-in bio pages that function as mobile-friendly websites.
After choosing a pre-designed template, you can customize the page with unlimited links and blocks for text and question-and-answer sections. You can also give someone in your team access to your page so you can build and analyze its performance together.
Pricing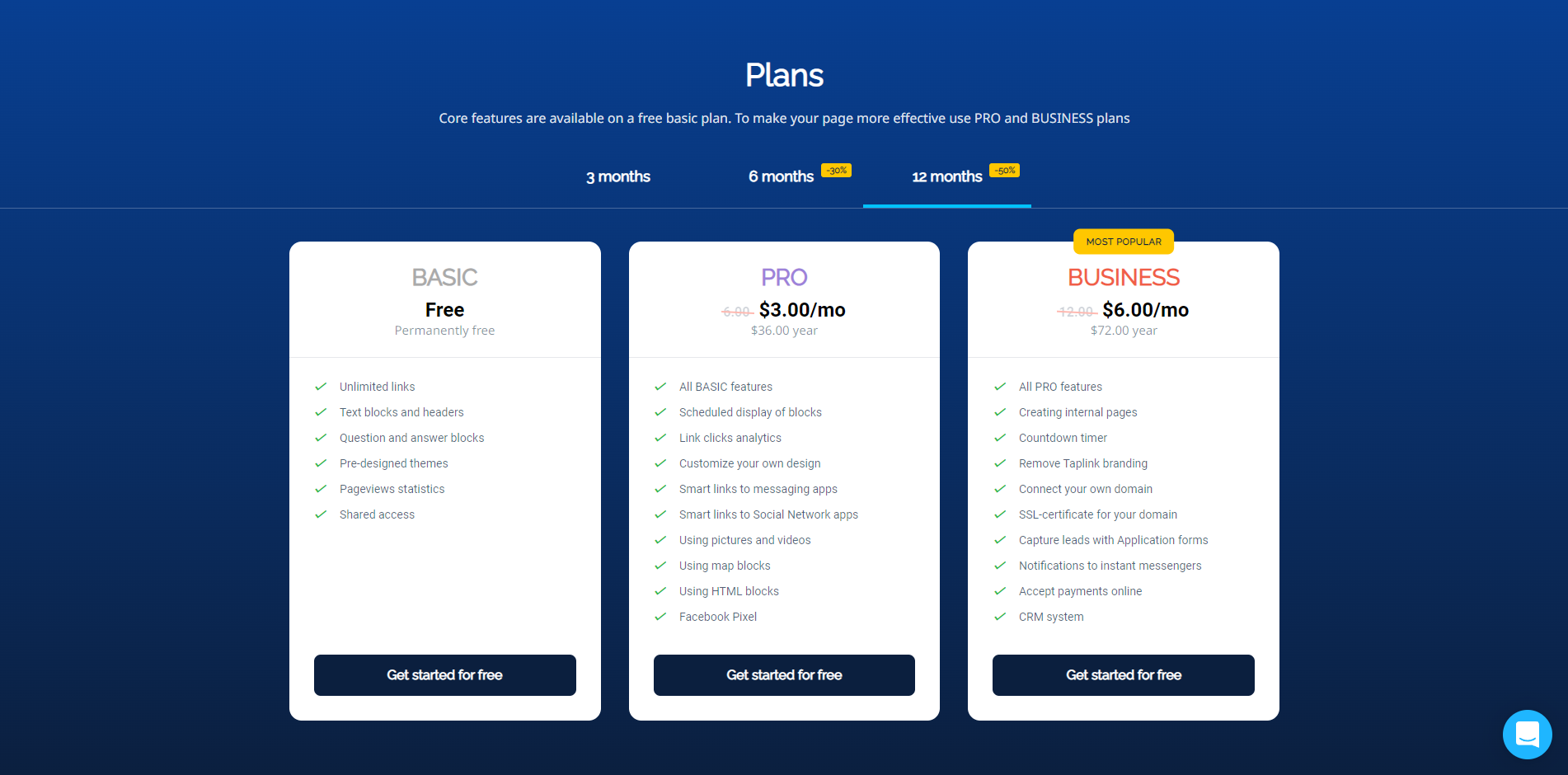 If you want to get more out of your Taplink page, sign up for its paid plans starting at $3/month. You can schedule when the block will appear on your page, better design customization options, and more block options.
The Business Plan ($6/month) lets you accept payments online, set up custom domains for your pages, and remove Taplink branding.
Pros and Cons
Robust link-in bio page builder with lots of options
Blocks for social links, images, and videos are only available for paid users, whereas they are accessible on other platforms.
---
Final Thoughts on Linktree Alternatives
To be clear, you can't go wrong with these Linktree alternatives. They will help you create a link-in bio page that suits your style.
At this point, it's just a matter of finding the best one for you.
For instance, if you want a simple link-in bio, a free tool like Bio.link should be good enough for you.
If you're an Instagram influencer who wants to sell products from their posts, then Link in Profile will do that for you.
Agencies working with different clients will want more juice from their link-in bio tool. In this case, Tapkit allows them to create multiple microsites for customers.
In any case, knowing what you're looking for in a link-in bio platform makes choosing the right tool above much easier for you.
Want to learn step-by-step how I built my Niche Site Empire up to a full-time income?
Yes! I Love to Learn
Learn How I Built My Niche Site Empire to a Full-time Income
How to Pick the Right Keywords at the START, and avoid the losers
How to Scale and Outsource 90% of the Work, Allowing Your Empire to GROW Without You
How to Build a Site That Gets REAL TRAFFIC FROM GOOGLE (every. single. day.)
Subscribe to the Niche Pursuits Newsletter delivered with value 3X per week