12 Great Ideas For How to Make Money on Discord
When you buy something through one of the links on our site, we may earn an affiliate commission.
According to Discord, over 140 million people use the service monthly. That's a lot of potential customers and a lot of potential revenue! So, how do you make money on Discord?
Discord has something to offer if you're a developer looking to sell your wares, a streamer, or a content creator wanting to monetize your fanbase.
In this article, we'll run through effective ways to make money on Discord. So if you want to earn some cash on this growing platform, read on!
What is Discord?
Discord is a chat app with millions of users. This simple-to-use app can be accessed on any device. Discord also allows for voice and video chatting, which makes it perfect for gaming, streaming, or just general chatting with friends.
While Discord was initially created for gamers, it has since been adopted by a wide variety of users, including businesses (but also be sure to check out Discord alternatives), artists, and more.
How to Make Money on Discord
There are a few different ways that you can make money on Discord. We'll go over some of the most popular methods below.
1. Sell Products or Services
One of the easiest ways to make money on Discord is to sell products or services to users.
You can also create a shop on your Discord server using a service like Shopify or WooCommerce. This allows you to sell physical or digital products directly to your Discord users.
Decide what you're going to sell
To sell products or services on Discord, you first need to decide what you will sell. Some of the top things to sell on Discord include:
Artwork
Physical products
Digital services
Courses
Software
If you're selling merchandise, you'll want to choose an easy-to-use platform with a wide range of products you can sell. Some of the most popular platforms are Redbubble, TeePublic, and Zazzle.
Real-Life Example: StockX Discord Server
The StockX Discord Server is a community of like-minded individuals who come together to discuss all things related to sneakers, collectibles, and more (and we even put together an in-depth look at whether or not StockX is legit). What began as a small group of friends discussing their latest purchases has grown into a thriving Discord server community of over 44,000 members.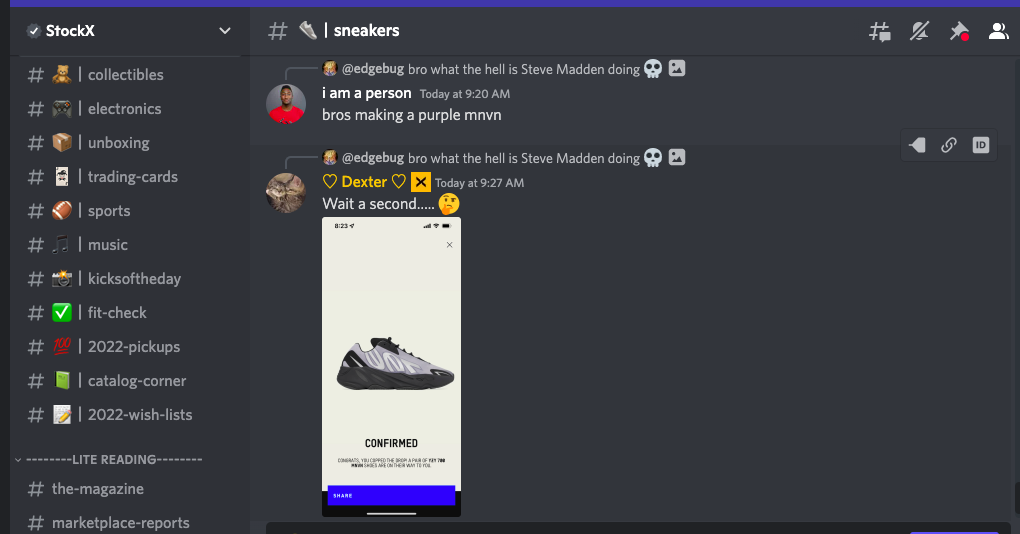 In addition to general discussions, the server also offers exclusive deals and discounts on StockX products. And for those who are looking to make a quick buck, the server features a vibrant marketplace where members can buy and sell items.
When you buy or sell on the StockX Discord server, you pay a small fee to StockX. So whether you're a seasoned collector or a complete novice, there's something for everyone on the StockX Discord Server.
What other sorts of things do people pay for?
Drawing from my experience as a Discord user, I pay a respectable amount for access to a Discord server specializing in Forex signals. This knowledge helps me immensely in entering and exiting trades and identifying key trading zones.
This essential information has helped me manage my risk better and maximize my gains. In addition, community members inside the Discord server are constantly sharing winning strategies, which help me refine my skills in real-time.
Set up a way to accept payments
You can accept payments for products or services in several ways. The most popular method is through PayPal, but you can use Stripe, Square, or alternative payment processors.
2. Offer Premium Features
If you have a Discord server, you can offer your users premium features in exchange for a fee.
This could include additional emotes, custom server badges, or bigger file uploads. You can also offer access to exclusive channels or content for paying users.
To start offering premium features, you first need to decide what those features will be. Think about what would be most valuable to your users and what they'd be willing to pay for.
3. Sponsorships
You can receive sponsorship deals from brands and businesses if you have a large following on Discord.
Sponsorships usually involve promoting a product or service on your Discord server or social media channels. You can also be sponsored to attend events or to wear branded merchandise.
As a Discord influencer, you have the unique opportunity to get paid for advertising products and services on your server. Unlike traditional social media platforms such as Twitter or Instagram, Discord lets you directly target your audience with laser-focused precision. And best of all, you don't have to sell any products or services to get paid - simply running the ads is enough.
To get started, simply reach out to brands or businesses that you think would be a good fit for your server. Once you've established contact, work out the details of the advertisement - what length of time it will run for, what products or services will be promoted, etc.
Finally, agree on a price and start running the ads. It's that simple! And unlike other forms of online advertising, you don't have to worry about clicks or impressions.
4. Offer Consultation Services
You can offer consultation services to businesses and individuals if you're an expert in a particular field. This could involve providing advice on marketing, product development, technical assistance, or any other area you know about.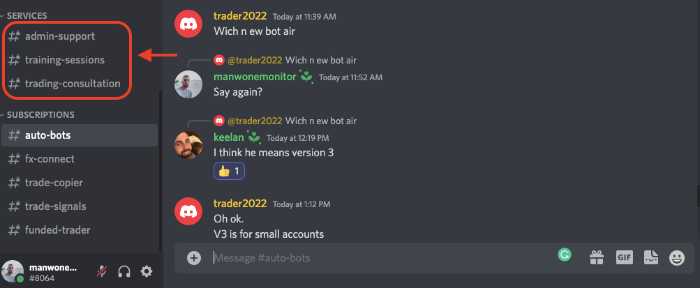 For example, let's return to the Forex server example from before. Here are all of the consultative services they offer:
- Installs: Admins help ensure the client knows how to correctly install MT4 (trading platform software). A bad install can cause all sorts of problems down the road.
- Setups: Once MT4 is installed, properly setting it up is crucial. This includes choosing suitable brokers and ensuring that all the correct indicators and bots are in place.
- Troubleshooting: Even with a good install and setup, things can still go wrong with MT4. Therefore, when clients need one-on-one help, they can schedule time with an expert.
- Forex Bots: Bots can be an excellent tool for traders, but they can also be a huge pain if they're not set up correctly. These services can help adequately configure and manage bots to avoid any headaches.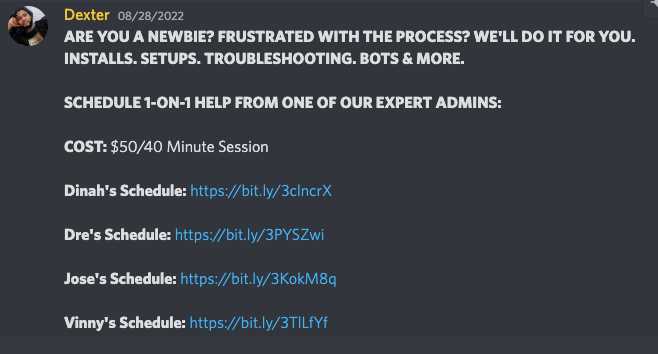 Remember, even small mistakes can be costly in forex trading. So paying a small consultation fee to get your ducks in a row is a no-brainer!
5. Make Your Server For Paid Members Only With Server Subscriptions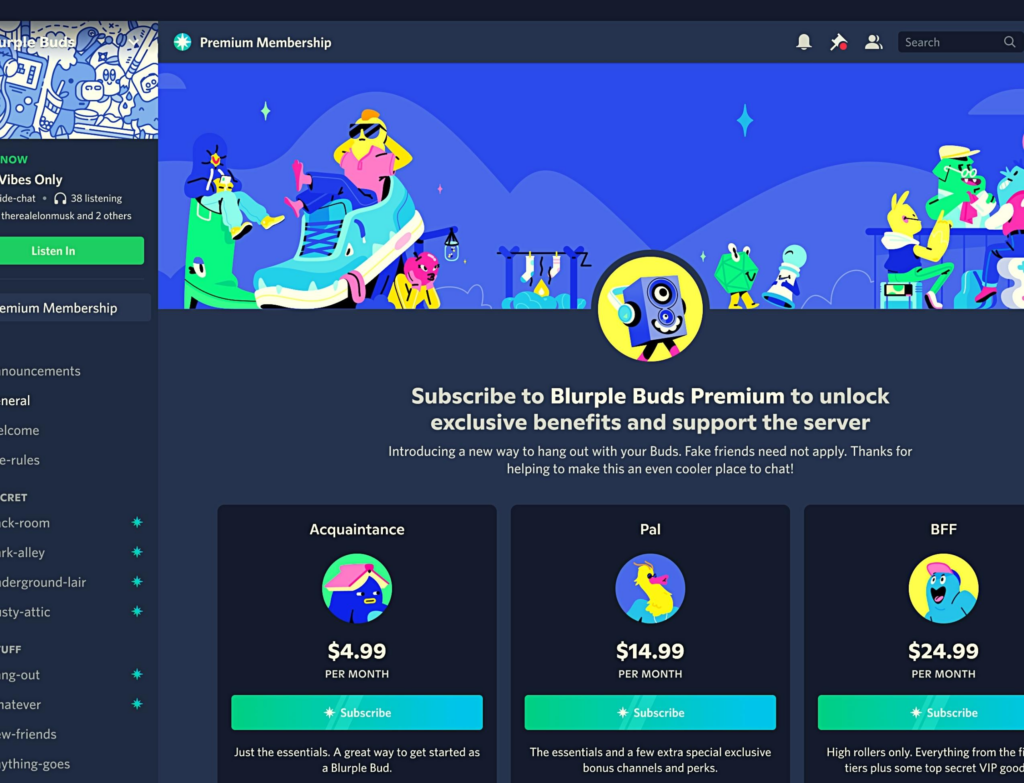 If you want to make some serious money off of Discord, then making your server paid-only is the way to go. Server subscriptions can be a great way to monetize a Discord server that offers unique and valuable content.
Setting up a paid server with LaunchPass
Creating a paid Discord server is easy with LaunchPass. Simply follow these steps:
Create your Discord server.
Connect and Activate your LaunchPass account to begin your trial.
Connect your bank to receive payment.
Create, publish, and share your paid Discord server.
Creating your server
First, you'll need to log into your Discord account. Once logged in, click the (+) button to create a new server.
Give your server an appealing name and select the region where you want it to be located. After that, click "Create."
Next, you'll be taken to your new server's dashboard. This is where you'll manage all aspects of your server, from adding channels and roles to changing the server's settings.
To add channels, click on the "Text Channels" or "Voice Channels" heading in the left sidebar. From there, you can either create a new channel or import an existing one from another server.
Connect LaunchPass
Now that your server is set up, it's time to connect your LaunchPass account. This will allow you to start your free trial and set up your paid server.
To connect LaunchPass, head to LaunchPass and click the "Sign Into Discord" button in the top-right corner. Then select your server from the dropdown and authorize the connection.
Start LaunchPass Trial
Click on "Billing" in the upper right corner of the screen.
Click the "Start Your Free Trial" button on the next page.
You will then be prompted to set up a way to receive payments.
Receiving Payments
Before you can start charging for access to your server, you'll need to connect a way to receive payments.
You have two choices: Connect a stripe account or connect your bank.
To start, you'll need to create a Stripe account.
Once you have your Stripe account, you can connect it to LaunchPass by clicking on the "Settings" tab and selecting "Stripe Account."
You'll be prompted to enter your Stripe account information and authorize LaunchPass to access your Stripe account.
You can also choose to connect your bank account directly to LaunchPass by clicking on the "Link your debit card" tab.
If you choose to connect your bank account, you'll be prompted to enter your routing number and account number.
You're all set! Now you can start receiving payments for your subscriptions through LaunchPass.
Create your paid Group Or channel
You must create a new offer to create a paid group in LaunchPass. Go to the "Offers" tab on your account and click the "Create Offer" button. You will then be prompted to give your offer a name and description.
Next, you will need to set the price. You can choose a flat rate or set it up so that members are charged monthly. Once you've chosen the price, you will need to specify the duration of the offer. You can choose from one day up to one year.
Now it's time to set up the details of your offer. Under "Type," you will need to select "Paid Group" or "Paid Channel." The main difference between a paid group and a paid channel is that members of a paid group have access to the entire server, while members of a paid channel have access to a private channel.
The next step is to specify members' roles when they join. You can choose from any of the available roles on your server. If you want members to have a specific role, you can choose that role from the dropdown menu.
The final step is to add a message displayed in Discord when someone joins your server. This can be used to let members know about the rules or expectations for your server.
That's it! Your paid server is now ready to go.
The Objective: Create a community
Discord is all about creating valuable communities. Discords are where raging fans hang out to discuss their favorite topics, show off their knowledge, and connect with like-minded people. By creating a Discord community, you can bring together people from all over the world who share your passion for your topic.
Not only will you be able to create a vibrant and active community, but you'll also be able to offer value to your members that they can't find anywhere else.
Suppose you run a Discord server that's all about League of Legends. As a server owner, you could create a paid-only section of your server where you offer exclusive game content, tips, and tricks. This could be anything from walkthroughs to secrets that most people don't know about. Once your paid members are inside, you can eventually up-sell them into one-on-one coaching or full-fledged e-courses to earn money online!
The possibilities of Discord servers are endless! Discord servers expand across many niches beyond gaming. Some of the most popular communities include:
Cryptocurrency
NFT
Film
Fantasy Football
Pets
Anime
Coding
Trading/Forex
Cars
6. Use Discord's 'Nitro' Features
Discord offers a premium subscription service called "Nitro." For $5 per month, Discord Nitro subscribers get access to exclusive features, such as animated avatars, higher-quality voice chat, and more.
What's excellent about Discord's Nitro service is that it provides a separate revenue stream from your server. So you can continue offering free content on your server while making money from Nitro subscriptions.
You'll need to sign up for a Discord Partner account to make money from Discord's Nitro service. Once you've done this, you'll be able to enable the Nitro features on your server. From here, people can subscribe to your server's Nitro service and pay the specified price.
You can then use this money to pay for server costs, advertisements, or whatever else you'd like. Just set a reasonable price, as people are unlikely to pay more than they feel your server is worth.
7. Discord Rich Presence
Another idea is to create a server devoted to a particular game under the Discord Rich Presence program. In this case, you could offer exclusive in-game content, such as items, currency, or power-ups.
This would be a great way to monetize a server that's dedicated to a popular game. People are always looking for ways to get ahead in their favorite games, so offering them exclusive content will entice them to pay for access to your server.
Of course, you don't have to limit yourself to video game servers. There are all sorts of Discord servers out there, so you can monetize any type of server you can think of. If you have a server with valuable content, there's a good chance people will be willing to pay for access to it
8. Donation or Tip Jar
This is an especially common way to earn money online among content creators such as streamers, YouTubers, and podcasters. When you produce consistent content that people enjoy, they may want to support you financially.
One way to do this is to set up a donation or tip jar on your Discord server. This could be done through a service like Upgrade.chat (lowest fee structure), Patreon, or even through Discord's built-in payments system.
There are plenty of reasons why people might choose to tip a content creator. Typically, fans enjoy the content and want to support the creator so that they can keep making more.
As a result, people are often willing to part with a few dollars (or more) to show their appreciation. And while it may not seem like much, those tips can add up quickly. Some content creators have reported earning hundreds or even thousands of dollars per month through tips alone.
Opening up a donation or tip jar can be a great option during content droughts or if you simply want to give your fans an organically tangible way to show their support.
9. Become an affiliate
You may see people promoting their products or services during your time on Discord. If you find a product or service you like and think your fellow Discord users would appreciate it, you can become an affiliate and earn a commission on every sale you generate.
To become an affiliate, contact the product or service owner and inquire about their affiliate program. Once approved, you'll be given a unique link to share with your Discord community. In addition, you'll earn a commission when someone clicks on your link and makes a purchase.
Some of the affiliate marketing options available on Discord include:
Game keys and in-game purchases
When you purchase a game key from a site like G2A, you can use your affiliate link to earn a commission on the sale (just make sure to check if G2A is legit first). Simply share your unique link with your Discord community, and when someone clicks it and makes a purchase, you'll earn money.
Virtual private networks (VPNs)
As an affiliate of a VPN service (such as some of these ExpressVPN alternatives), you can earn commissions on every new customer you refer.
According to Forbes, some of the top VPNs to promote are:
Private Internet Access
CyberGhost
Torguard VPN
IPVanish
Simply share your unique affiliate link with your Discord community, and when someone clicks it and signs up for the service, you'll earn money.
Web hosting and domain names
If you're familiar with web hosting and domain names, you can become an affiliate for web hosting companies.
Some excellent web hosting programs to use and promote are:
WordPress themes and plugins
If you're familiar with WordPress, you can become an affiliate for a WordPress theme or plugin developer and earn commissions on every new customer you refer.
WordPress themes and plugins can be a great asset for any community, especially those actively engaged online.
For example, communities that rely heavily on Discord for communication can benefit from having a WordPress theme that integrates with the platform.
This can make it easier for members to stay up-to-date on what's happening and quickly find the information they need.
Additionally, WordPress plugins can also add valuable functionality to a Discord-based community. For example, some plugins can add a searchable member directory or allow members to vote on polls and surveys directly within the app.
Ultimately, WordPress themes and plugins can help to make any online community more efficient and engaging (especially when you use the best community plugins).
10. Use Bots For Tipping
If you're a frequent Discord user, you may have encountered bots that let you tip other users in exchange for content or services. While this isn't a surefire way to make money, it can be a nice extra income if you can get in front of users who tip frequently.
As the name suggests, a tip bot allows users to send tips to others through cryptocurrency. Several types of tip bots are available, but they all essentially work in the same way. To use a tip bot, you simply need to send a message to the bot with a specific command.
For example, you might type !tip @username 5 DOGE to send 5 DOGE (a type of cryptocurrency) to the user @username.
The recipient will then receive a notification that they have been tipped and can claim their tip by clicking on a link. Tip bots are a great way to receive compensation for your quality content. You would be surprised how generous engaged users are!
11. Sell Your Discord Server
If you're like other discord server owners of a popular Discord server, you may be able to sell it for a decent profit. This is especially true if your server has many active community members.
There are a few ways to go about selling your Discord server. You can either find a buyer yourself or use a platform such as Discord Server Listing to list your server for sale.
Once you've found a buyer and agreed on a price, you'll need to transfer ownership of the server. This can be done by providing the new owner with your Discord platform user ID and/or changing the server's ownership settings.
When selling your Discord server, it's also essential to ensure that all of your data is backed up. This includes any important channel, user data, and custom bots or integrations you've set up.
12. Discord Server Management
Discord server management is the process of administering a discord server to create a positive and well-organized community. Server owners may choose to pay for server management to offload some of the work necessary to maintain a healthy server, or they may simply want to improve their server's chances of success.
One of the most important aspects of server management is moderation. This includes dealing with spam and rule violations and members with malicious intent. There are various ways to moderate a Discord server, including real-time moderation and bot auto-moderation.
Ticket support is also an important function of Discord server management. This allows members of the server to contact you with any issues or problems they may be having. It's also a great way to collect feedback from members about the server.
Finally, it's crucial to engage with your members on a daily basis. This helps keep the community active and engaged. Engaging in random day-to-day conversations is a great way to achieve this.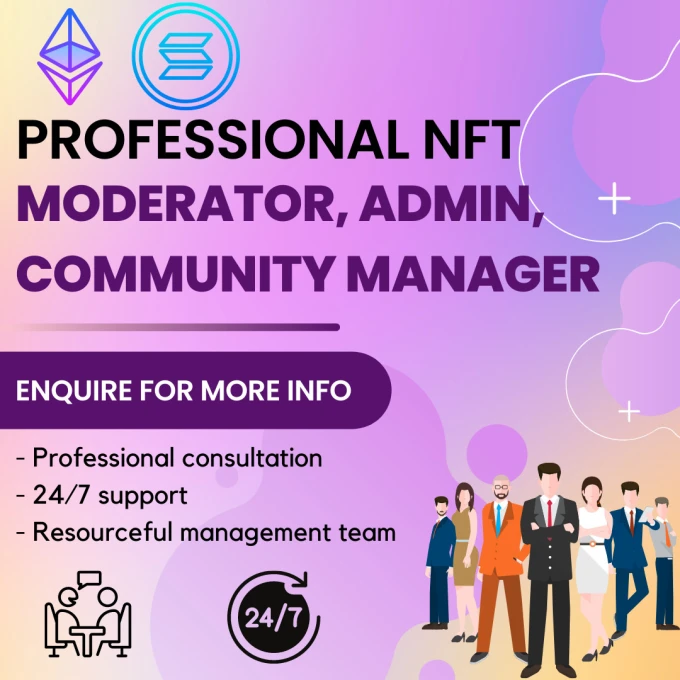 We did a little digging and found that Discord community management services on Fiverr range from $75 to $795 per month. We found the most expensive package for $795 per month included features like community moderation, content creation, and community growth.
How Does Discord Make Money?
Discord makes money through advertising, premium features, and partnerships.
Advertising
Discord shows ads in the form of "sponsored servers." These are servers that have been paid to be promoted to Discord users. Discord also shows ads on the Discord website and in the Discord app.
Premium Features
Discord offers several premium features, such as Nitro (a monthly subscription that gives users access to additional features), server boosting (which allows servers to have more emotes, bigger file uploads, and custom server badges), and merchandise.
Partnerships
Discord has partnerships with several brands and businesses, such as Xbox and Patreon. These partnerships allow Discord to offer discounts or exclusive features to its users.
Final Thoughts: How to Make Money on Discord
Discord is quickly becoming a go-to platform for online communication. With its growing user base, the platform is looking to expand its revenue streams. This includes testing new sources of income, such as payments and integrations with other platforms. These partnerships could prove lucrative for Discord, helping it to further its position as a leading online communication service.
As the platform grows, users will likely experience more opportunities to generate income. So if you're serious about learning how to make money on discord, keep your eyes peeled and be ready to capitalize on the next big thing!
For related reading, check out:
Want to learn step-by-step how I built my Niche Site Empire up to a full-time income?
Yes! I Love to Learn
Learn How I Built My Niche Site Empire to a Full-time Income
How to Pick the Right Keywords at the START, and avoid the losers
How to Scale and Outsource 90% of the Work, Allowing Your Empire to GROW Without You
How to Build a Site That Gets REAL TRAFFIC FROM GOOGLE (every. single. day.)
Subscribe to the Niche Pursuits Newsletter delivered with value 3X per week