Is Flight Club Legit? Get All the Info to Help You Decide
When you buy something through one of the links on our site, we may earn an affiliate commission.
Is Flight Club legit? My research shows it is a legit place for buying and selling sneakers. If you are a passionate collector of genuine, just-released, rare sneakers, you've probably discovered Flight Club.
The Club is a premium shop for genuine sneakers, street clothing, and accessories. Founder Damany Weir saw a gap in the market and created the Flight Club concept in 2005. Since then, it has evolved into a lively and popular marketplace.
This article researches if Flight Club is legit, how it works, and if the sneaker website delivers.
Is Flight Club Legit?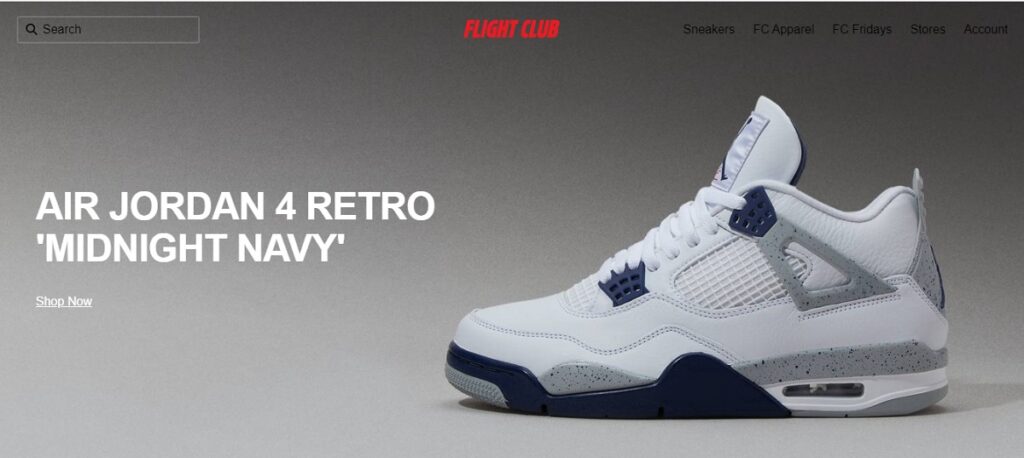 Flight Club is legit. I say this for several reasons:
It has traded for over 15 years. The site and stores are popular, so they attract many buyers.
A superb range of sneakers and streetwear are sold in three physical stores and online.
All merch is stringently verified before arriving in-store.
The company sells only genuine goods. Fans recognize the Club as a great place to buy rare, vintage, and special edition sneakers.
Flight Club Product Authentication
Flight Club is a ship-to-verify and consignment premium site. In other words, it's a platform to source products from independent sellers. Trained specialists authenticate and verify all shoes at brick-and-mortar sites in New York, Los Angeles, and Miami.
People are willing to pay more because all goods are guaranteed authentic. It's a guarantee of safety and authenticity.
A dedicated team ensures all goods sold are 100% genuine, so Flight Club only sells authentic sneakers.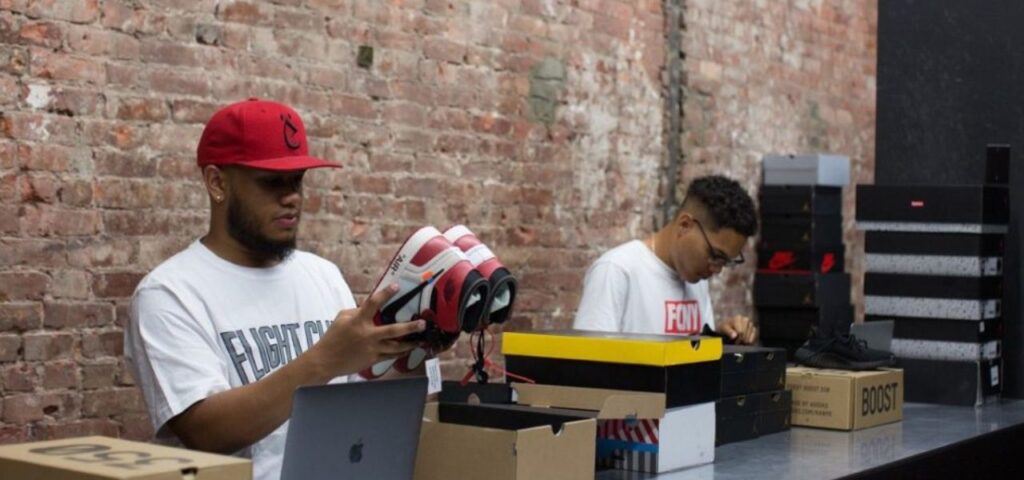 How Does Flight Club Work?
Flight Club sells new products sourced through retail channels and second-market goods using the consignment model. Sellers send in their shoes, and Flight Club verifies the sneakers before marketing them online or in one of three stores until they sell or are returned to the seller.
From a Seller's Point of View
A seller first opens an account on the website. Next, you load the sneakers you are selling. Trained staff work with sellers to determine sale prices using authenticity, shoe condition, rarity, and size availability. Rare and out-of-stock items are more expensive.
After your shoes sell, you can choose to be paid via PayPal or through a bank transfer.
Flight Club charges a commission fee of 9.5% plus a $5 seller fee. And when you want to get paid, there is an additional 2.9% cash-out fee.
From a Buyer's Point of View
As a buyer, signing up for Flight Club is easy. Log in and create an account. To get exciting specials and the latest news, tick the "Sign up for Flight Club News" box.
Flight Club's "How to Buy" feature allows you to search for sneakers for sale. And the "New Releases" button redirects you to the juiciest, latest, and most desirable sneakers.
If you want to complement your sneakers with some fresh designer streetwear and accessories, this is the place to go. However, the site's main emphasis is on selling sneakers.
A unique selling point for Flight Club is the "Price Drop" section. Here you can check out the latest sought-after sneakers available at a lower price for a limited period.
Pre-Purchase Information
Your first step to buying fabulous sneakers is to create an account. Know your shoe size - check the manufacturer's guidelines.
All orders are subject to a fraud review. This step can delay processing. You may have to provide additional information to verify your purchase.
To optimize processing speed and order accuracy, the retailer uses a third-party verification system that automatically approves or declines web order transactions.
Any buyer whose order is declined is informed by email and refunded.
Flight Club Purchaser Protection
The Club gives buyers a guarantee that the sneakers they purchase are authentic and in good condition. Every pair of sneakers is checked and verified by experts.
Time Taken to Process a Flight Club Order
Flight Club takes about 1 to 4 business days to process an order. After your order is processed, it will be shipped and arrive within 5 to 9 business days. The time taken depends on the shipping method.
To receive your order faster, select "Fastest To You" shipping at checkout. Then your order will arrive within five business days. Fast shipping costs $25.00.
Flight Club Delivery Policy
The seller's policy is to ship from a location within the country/region referenced in your seller account.
For example, if your return address is located within the US, your package will come from the US. Flight Club accepts no liability for customs fees or lost, missing, or damaged items.
Flight Club is not responsible for items not shipped in compliance with the guidelines above, including items that are sent using the incorrect prepaid shipping label.
The site currently ships DDU (Delivered Duties Unpaid) for most non-US deliveries. This means that the carrier collects duties and taxes at delivery time. As a customer, you are responsible for paying all duties and taxes.
Flight Club Return and Refund Policy
Only pre-owned sneakers get sold on consignment. New items can be returned and refunded if they have their hang tag and have not been worn.
The disadvantage of the consignment method is that these goods can't be returned or refunded.
Flight Club Payment Methods
The following payment methods are accepted:
American Express
Visa, Mastercard
Discover
China UnionPay
JCB
Diners Club
PayPal
Flexible payment is offered in the US via Klarna, Affirm, and Afterpay.
To use Klarna's payment methods, your data (e.g., contact information and order details) is given to Klarna to assess if you qualify for their payment plan.
Affirm offers buy now, pay later options for US-based customers.
US-based customers can also use Afterpay for purchases of less than $1,000. Payment is made in 4 interest-free installments.
Cancellation of a Flight Club Order
Note the cancellation policy: You can cancel sneaker orders within three hours or before the seller confirms your order - whichever comes first. After three hours, if your order is confirmed, you can no longer cancel it.
Customer Service
Telephonic, online, and social media support are available. Customers may have to wait after submitting their support request.
The main problem areas reported are customer service, sneaker sizes, and issues with defective Air Jordans.
Customer feedback on the support they have received from Flight Club is mixed. Many reviews complain about customer service. Here is an example from TripAdvisor.
Flight Club Advantages and Disadvantages
Advantages
Flight Club has existed for more than 15 years, and the Club is one of the most trusted sneakers and clothing retailers.
A large selection of sneakers is available from over 500 brands, including Air Jordans, Nikes, etc., and many styles.
They offer good discounts and specials on specific shoes; every shopper can find something to fit their needs and budget.
The Club offers a guarantee of safety and authenticity on its merchandise.
Disadvantages
Customer service can be improved.
There is no return policy for consignment items.
The prices for goods are higher than average.
Alternatives to Flight Club
StockX
Dan Gilbert, Josh Luber, Greg Schwartz, and Chris Kaufman created StockX in Detroit in 2015. StockX was established as a secondary marketplace for sneakerheads to buy and sell authentic sneakers. Now they also sell luxury handbags, watches, and electronics. This reselling platform has grown to around 1,000 employees across 197 countries and territories.
StockX provides a safe space for buyers and sellers to trade valuable sneakers and other items, indicating progress in sneaker retailing. Other sites have followed suit, and the idea of authenticating sneakers pre-shipping has improved.
Is StockX Legit? Find out everything you should know about this sneaker reselling site.
---
GOAT
GOAT is a reliable sneaker marketplace for sneakerheads. If you are wondering "is GOAT legit," then check out our article which will tell you all about it.
The concept for GOAT originated when one of the founders, Daishin Sugano, bought a retro pair of Air Jordan 5 Grapes, which were fake.
He was unhappy that he could not get a refund due to eBay's return policy. It was clear to him that fake sneakers were easily available, and numerous people had bought fakes instead of genuine products.
So he built up the world's most legitimate sneaker retail space. GOAT may be a good choice if you are looking for a legit and trustworthy source for sneakers.
GOAT's policy is to ensure that all sneakers sold on the platform are checked to be authentic. No fake shoes are sold on GOAT.
---
Frequently Asked Questions
Can I Withdraw my Sneakers Before They are Sold?
Yes, you can. Select "Remove Listing" for the item you'd like to withdraw. You pay a retrieval fee to cover shipping costs.
In the United States, the fee for retrieving an item is $33. This payment covers the cost of an inbound shipping label provided by Flight Club, as well as the cost of shipping the item back to you.
If you are not US-based, retrieval fees vary. First, the retrieval fee is deducted from your seller account balance. If the funds in your account are insufficient, the fee can be paid via American Express, Visa, Mastercard, Discover, China UnionPay, JCB, Diners Club, or Paypal.
Are There Physical Store Locations for Flight Club?
Flight Club's physical stores are in New York, Los Angeles, and Miami. The New York retail store, the first one to open, is the flagship. These stores are a popular destination for sneaker enthusiasts.
Visiting the stores and queueing with all the sneakerheads is a great experience. In-store you can inspect your sneakers before you buy. Shopping at the Club is a must for sneakerheads.
Conclusion: Is Flight Club legit?
In my opinion, Flight Club is legit and a great place to add to your sneaker collection. But the company must improve in terms of customer service.
The retailer's goal is to stock and sell the newest and most wanted sneakers from a wide range of manufacturers. And as such the site offers the most up-to-date and rare items for sneakers enthusiasts.
Damany's company has built a reputation for selling genuine streetwear, and it has earned more positive reviews than negative ones.
The main problem areas reported relate to customer service. But for the majority of sneakerheads, Flight Club is a great place to buy and sell authentic goods.
You may also want to have a look at these related articles on our website:
Want to learn step-by-step how I built my Niche Site Empire up to a full-time income?
Yes! I Love to Learn
Learn How I Built My Niche Site Empire to a Full-time Income
How to Pick the Right Keywords at the START, and avoid the losers
How to Scale and Outsource 90% of the Work, Allowing Your Empire to GROW Without You
How to Build a Site That Gets REAL TRAFFIC FROM GOOGLE (every. single. day.)
Subscribe to the Niche Pursuits Newsletter delivered with value 3X per week