How to Create an Effective Influencer Media Kit With Examples That Work
When you buy something through one of the links on our site, we may earn an affiliate commission.
An effective influencer media kit is a key component of any influencer's success. A media kit is one of the first things a brand will request from an influencer they're looking to partner with. It can help influencers win brand partnerships and create a more professional appearance.
Let's explore how to create an effective influencer media kit that gets brand attention.
How to Create an Effective Influencer Media Kit
The media kit you create should accurately represent your personal brand. It should include a balanced mix of important information and beautiful imagery, fonts, and colors, all while representing who you are as a person.
You can create a media kit yourself, hire a designer to build it for you, or you can use a premade template.
While it might be tempting to use an influencer media kit template, keep in mind that many other influencers might be using the same template. You want your press kit to stand out when presented to brands, not resemble the kits of other influencers.
Here are step-by-step instructions for creating your influencer media kit:
Whether it's Adobe Photoshop or Canva, create your template in the design program of your choice.
Choose colors and fonts that represent your personal brand.
Add in imagery like your headshot and other social media content examples.
Write a summary of who you are and what your personal brand represents, showcasing it clearly on the page.
Include important information like your number of social media followers, audience demographics, and client testimonials.
List your content offering along with pricing for each option.
Include your website or personal blog, if applicable.
Clearly list your contact information.
Before finalizing your media kit, make sure that each of its components are easy to read. You can make your media kit as short or long as you need it to be. You just don't want the design or information to be crammed on the page.
What is an Influencer Media Kit?
An influencer media kit is a representation of the influencer and their brand. The goal of the media kit is to provide potential clients with all of the information they need to know about that influencer before partnering with them with influencer contracts.
Think of a media kit as a resume, cover letter, and elevator pitch all in one.
What to Include in an Influencer Media Kit
Influencer media kits can include:
An overview of who you are and what your personal brand as an influencer represents
Client testimonials
Previous partnerships
The number of social media followers you have
Audience demographics
Social media reach and engagement rates
Pricing information
Your personal website or blog
Contact information
Branding
The different elements of your brand that you choose to incorporate into your influencer media kit are very important. Your press kit should be an extension of who you are as an influencer.
The fonts, colors, and pictures you incorporate into your media kit should also be suitable for your social media feeds. This means that your branding is consistent between your social media accounts and your media kit.
You'll want to add at least one headshot of yourself to your media kit, alongside images of additional types of content you create. Think of this as a sample of your social media feeds without them having to look you up.
For example, if your aesthetic is light and airy, it wouldn't make sense to create a media kit that's dark and moody. The fonts, colors, and images you choose should be consistent with the content you create for your social media accounts. This helps brands easily associate your media kit with what your account represents.
Think about it this way: any one of your followers should be able to see your media kit and instantly recognize that it belongs to you.
Overview of Who You Are
It doesn't matter if you have millions of followers: not every person who handles influencer partnerships at the brands you're reaching out to is going to know who you are.
Including an overview of who you are will provide your potential partners with a short introduction to your experience, the type of content you post, and who you are today as seen on social media.
For example, if your content is centered around the topic of marketing, explain your marketing experience and why you're so passionate and excited about this topic. Helping brands understand why you're passionate about the content that you create can help them better understand you and the value you'll bring.
Social Media Followers
An important number brands use to determine if they would like to work with you is the number of followers you have on social media.
While the amount of followers you have is not the only metric that factors into their decision, it helps them categorize you as a micro, macro, or mega influencer. A brand might prefer working with an influencer who has 10,000 followers over an influencer who has 1 million followers. The number of followers you have as shown in your media kit helps brands make these decisions.
Make sure to include the platforms you are active on, whether that's YouTube, Pinterest, TikTok, or Instagram. This will show potential clients the full extent of your reach and partnership offerings.
Audience Demographics
Brands will look to partner with certain influencers based on the topics their content is centered around. However, beyond just the topic of their content, brands also need to know who is consuming your content.
For example, even if your content is centered around the topic of books and reading, your audience within that topic is going to vary. Are you targeting women aged 18-35 who primarily read romance novels? Or are you targeting men aged 45-60 who mainly read books about history and politics?
Information about your audience, including their gender, how old they are, their interests, the country they live in, and more, will help brands determine if you're the right partner for them.
Client Testimonials
Incorporating client testimonials into your media kit helps show brands what it is like to work with you. It gives credibility to the claims you're making in your media kit by showing how you've helped your other partners in the past.
If you don't have any client testimonials on hand, make a list of your most successful partnerships. Reach out to your partners that were happy with your work and politely ask them for a testimonial.
Since you're asking a client that had a great experience with you, most of the time they will be more than happy to write you a short testimonial.
Pricing Information
You'll also want to make sure to include your pricing information in your media kit. List the services that you offer along with your price for each one.
Services that you offer can include:
TikTok videos, including the video length
Instagram posts
Product review videos on YouTube
Instagram Reels
Social media takeovers
Product giveaways
If you're struggling with what prices to charge, consider reaching out to a trusted influencer in the industry with a similar follower size. If this feels out of reach for you, you can also research this topic on different social media platforms.
The landscape on pricing is changing. Creators are becoming more and more transparent about what they charge and what brands pay them on social media than they ever were before.
Ultimately, in order to determine the proper pricing, you'll want to consider how much time and the degree of effort each type of content takes you to produce. Determine how much time and effort you have to put into each one of your offerings and price them accordingly.
Website or Blog
If you also have a website or personal blog in addition to your social media accounts, you'll want to include a link to it in your media kit. This further shows potential clients how serious you are about your career as an influencer. It's also an extension of your social media accounts, providing them with a portfolio of your work and brand aesthetic.
Tips for Creating an Influencer Media Kit that Gets Brand Attention
From the outside, being an influencer can look like a fun and easy career. However, becoming a successful influencer takes consistent effort. From figuring out how to be verified on TikTok to designing your own media kit, it's a time-consuming endeavor.
We want to help you create an effective press kit that gets brand attention. Here are our tips for creating an influencer media kit:
Be intentional about your design. From the colors to the fonts, each design element is important. The design of your press kit tells your brand story.
Make sure your "About Me" section is short but informative. You want to be respectful of other people's time, but you also want to tell the most important information about yourself.
Show off your best work! When you're creating your media kit, it's not the time to be humble. Include the big-name brands you've worked with. Show the best testimonial you have. Media kits have to be honest, but they're all about putting your best face forward.
It's not too early to create an influencer media kit. Even if you haven't reached your desired follower count, it's not too early to make one. Perhaps you're not pitching brands yet. However, a brand could reach out to you for a collaboration at any moment. If you already have your influencer media kit ready, this will create a positive impression. This also means you can create one at your own pace, instead of having to create one under pressure.
Influencer Media Kit Examples to Inspire You and Help You Boost Your Brand Outreach
To gain a better understanding of what a professional influencer media kit should look like, let's review a few examples.
Example 1
Our first example comes from a template that is available in Canva.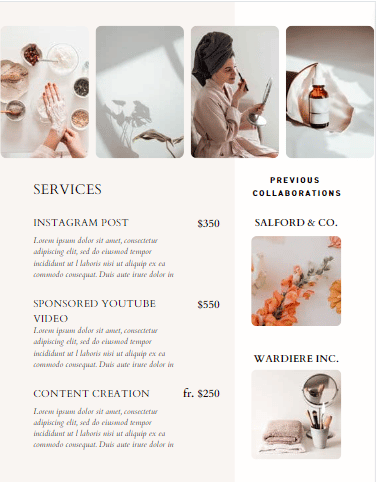 This template is a great example of how to include all of the necessary information without crowding the design. The look is classic, clean, and minimalist. This would be a great template for an influencer that has a similar aesthetic.
This media kit is in a succinct format while also being easy to read. There's plenty of images, and the contact information is easy to find. The way the services are listed are easy to find on the page, they stand out, and the pricing is easy to find. The number of followers is clearly listed in large font toward the top of the page, making it obvious to the person reading the media kit.
Example 2
This second example comes from a digital download available for purchase on Etsy.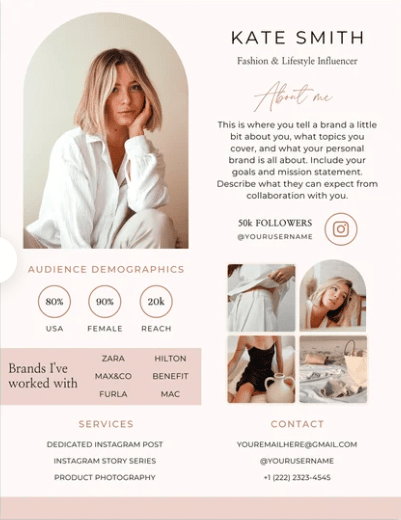 This 1 page media kit contains all of the necessary information in just one, easy-to-read page. It's a great option for influencers who feel like they might not have enough experience to fill more than one page.
This is a great media kit example because it expertly showcases the brands they've worked with before, the number of followers they have, and content samples. There's still space for the number of followers and an "About Me" section without the design feeling too crowded.
It also has a clean, neutral design with an emphasis on beautiful imagery. This would be a great fit for an influencer with a neutral color palette.
Example 3
Our third example also comes from a digital download available for purchase on Etsy.
This influencer media kit example is four pages long. The theme is black and white, giving it a classic, crisp, and striking appearance. Because this media kit example is four pages long, it has the feeling of a professional brochure. It provides a more detailed, visual look at the audience demographic. It also provides more space for the influencer to talk about themselves and their blog.
How to Distribute Your Influencer Media Kit
Now that you've spent a significant amount of time and effort calculating your reach, determining your prices, and compiling your personal brand's colors, fonts, and imagery, it's time to distribute your media kit.
Make a List of the Brands You Want to Work With
Start by making a list of the brands that you want to partner with.
The companies that make this list should align with your personal brand. The partnerships have to make sense for everyone involved, including you, the company, and your audience.
This doesn't mean that all partnerships have to be obvious. You can be creative with the brands you reach out to, but there has to be an angle with distinct reasoning as to why the partnership makes sense and how your audience will gain value from it.
Find the Correct Contact Person
In order to find the person at your target brands that you need to reach out to, you'll have to do some research. If it's a smaller company you're reaching out to, they might have a "Meet the Team" tab on their website that lists each person with their title.
On the other hand, larger companies typically aren't this transparent on their websites. For this, you'll want to take advantage of LinkedIn and other social media channels to try to find your person. Keep in mind that some companies might have a person who specifically handles partnerships, while other companies might have this duty fall under the duties of a Social Media Manager. It's going to vary from company to company.
Once you've found the full name of the person you think you need to email, you'll want to figure out their email format. Then, copy that format using the name you found. For example, if their email format is, "[email protected]" you'll want to copy that format using the name that you found.
You can also use tools like Hunter.io to help you find the specific email address.
After you've found their names, you'll want to personalize each email so that it's addressed to the proper person at each company. Recipients can tell when you're sending out a blanket email, and they'll recognize the minimum amount of effort you put into sending that mass email.
Craft a professional and engaging email to each of your contacts. Attach your media kit to the email, and you're ready to send it!
Tips for Distributing Your Influencer Media Kit
Sending out your first media kit as an influencer can be a daunting but exciting time in your career. Here are our top tips for disturbing your influencer media kit:
Don't let rejection deter you. Rejection is part of pitching. Don't be discouraged from your career as an influencer based on the number of rejections you receive. It's a numbers game, and as you send more out, you'll eventually start to receive positive responses.
Be professional. You're writing to other social media professionals, and they should be communicated with in a respectful manner. This is a business transaction, and you should treat it that way.
Include content ideas. In addition to sending brands your media kit, include in your email to them a few content ideas relevant to your collaboration. This further shows them how interested, professional, and serious you are about your collaboration and career as an influencer.
Be intentional about the brands you choose to partner with. Maintaining trust and credibility with your audience will be a key component to your success as an influencer. If you start partnering with brands who don't provide any value to your audience, you will quickly lose the trust of your audience. Once your engagement and following starts to decline, you'll then start losing your chances of gaining great brand partnerships. It's a cycle, one you'll want to avoid by being intentional about which brands you partner with.
Why Influencer Media Kits are Important
A media kit can make the difference between an influencer landing a partnership with brands or not even receiving an email response. When influencers are pitching to brands, whether large or small, a media kit is important for properly explaining to the company what the benefit is to working with that influencer.
Influencer media kits are important because they give influencers a professional appearance, they properly showcase your work, and they help build credibility with potential clients. Most importantly, influencer media kits show brands that you're serious about your career as an influencer.
It's Time to Create Your Influencer Media Kit
A media kit can enable influencers to level up in their businesses, helping them land the brand deal they've been wanting. Now that we understand the basics of creating an influencer media kit, it's time to create one and start reaching out to your dream brands!
Want to learn step-by-step how I built my Niche Site Empire up to a full-time income?
Yes! I Love to Learn
Learn How I Built My Niche Site Empire to a Full-time Income
How to Pick the Right Keywords at the START, and avoid the losers
How to Scale and Outsource 90% of the Work, Allowing Your Empire to GROW Without You
How to Build a Site That Gets REAL TRAFFIC FROM GOOGLE (every. single. day.)
Subscribe to the Niche Pursuits Newsletter delivered with value 3X per week