How to Become an Influencer In 10 Easy Steps
When you buy something through one of the links on our site, we may earn an affiliate commission.
It's no surprise that you're eager to learn how to become an influencer.
The influencer marketing industry has been on a steady incline since the birth of social media, and this year it is expected to expand to a $15 billion industry.
Influencer marketing brings influencers and brands together to market products while growing both social media accounts.
As an influencer, people see you as a trustworthy expert in your niche and often choose to buy products just because you said they are fantastic.
Brands are willing to pay top dollar for an endorsement from a leading influencer.
So, why not become an influencer and join in on the fun?
This blog will show you exactly how to become an influencer in just 10 easy steps.
The perks of becoming an influencer
I mean, who doesn't love the sound of making money talking about products you genuinely love?
There are countless perks of becoming an influencer, but to name a few:
Possibility to make influencing a full-time career

Collaborate with amazing brands

Free products (PR packages)

Loyal followers who trust your opinion & want to see you succeed

Flexible schedule & be your own boss

Possibility to build fame
Most influencers start their social media profiles as a hobby that turns into a full-blown career.
Some influencers even make more money influencing than they ever did at their traditional 9-5 jobs!
If you like the sound of these perks and want to get involved, follow these 10 steps and learn how to become an influencer today!
How to become an influencer in 10 easy steps
Get your notes ready and be prepared to follow along with these 10 steps!
Choose your niche
The very first step in becoming an influencer is to identify your niche.
Luckily, picking an influencing niche is relatively easy because it's always a good rule of thumb to follow your passions.
Here are some questions you should ask yourself when deciding on a niche:
What are my passions?

Will I be able to partner with brands in this niche?

Is my niche too broad or too specific?

Do I want to take on multiple niches?

What are my strengths and weaknesses?

Am I able to discuss this topic like an expert?
Write down your answers on paper or in a document, and decide what your niche should be from there.
As a social media influencer, you must research and create content for your profile's niche daily. So, make sure it is something you are thrilled to talk about.
Pro tip: There is a niche for everyone! Whether your title is as broad as fashion influencer or as specific as cereal rating influencer, there's something for everyone.
There will always be an audience. 
For inspiration, consider these influencer name ideas to get you started!
Decide on a platform
Similar to how you can't be an influencer of all niches, you also can't expect to be present on every social media platform at all times.
In fact, it wouldn't even make business sense to be present on all social media platforms.
The platforms you choose to be active on will depend on your niche because some audiences are more active on specific social media platforms than others. Usually, an influencer picks 1-2 platforms.
You want to be active where your target audience will discover you because let's face it: you can't influence your content to an empty room.
Finding which social media platforms to showcase yourself as an influencer on requires some research.
But luckily, I've done some research on the top 3 social media platforms for influencers, so you don't have to.
Instagram
Instagram amasses over 500 million daily active users, with the primary demographic being millennial women.
With the introduction of Instagram reels, video content is the best way to increase engagement and reach your target audience on Instagram.
Although, if your strong suit is written blog post content, you can learn about how to start a blog on Instagram to influence your content.
The top-performing Instagram niches for influencers on the platform are:
Travel

Health & Fitness

Lifestyle

Beauty

Fashion

Parenting

Animals

Business
TikTok
The social media platform taking over the video content scene, TikTok's 1 billion monthly users are mainly Gen Z'ers (find out how to be verified on TikTok).
The top TikTok influencers create content in the following niches:
Entertainment videos

Dance

Lifehacks

Educational content

#learnontiktok
Get ready to create lots of short videos if you decide that TikTok should be your primary platform because an average TikTok is 15-60 seconds long.
YouTube
YouTube is a great platform to start your influencer journey because you can discover every niche imaginable on the video streaming platform (and we've made a quick and easy guide on how to find your YouTube niche).
YouTube is a well-established platform for influencer marketing, and once you gain a following, you will have no trouble monetizing your channel.
If you're curious, follow this link to discover how long it takes to start making money on YouTube.
Optimize your influencer profiles
Next up on your journey of how to become an influencer, you need to optimize your profiles on the social media platforms you've chosen.
And here are 3 steps to follow to optimize your influencer profiles.
1. Switch to a Business or Creator Account
Switching your accounts from personal to business or creator will change your influencing career by helping you reach more people with less effort.
You can easily make this switch in your account settings, usually at the top right-hand corner of your profile.
With a business/creator account, you will have access to valuable statistics and analytics, such as:
Valuable tools and features to create content

Engagement statistics

Content performance analytics

Follow/unfollow metrics

Access to marketing features
2. Write an engaging bio
Your bio or "about me" section is the first thing someone sees when they visit your profile, so you want to make a lasting impression.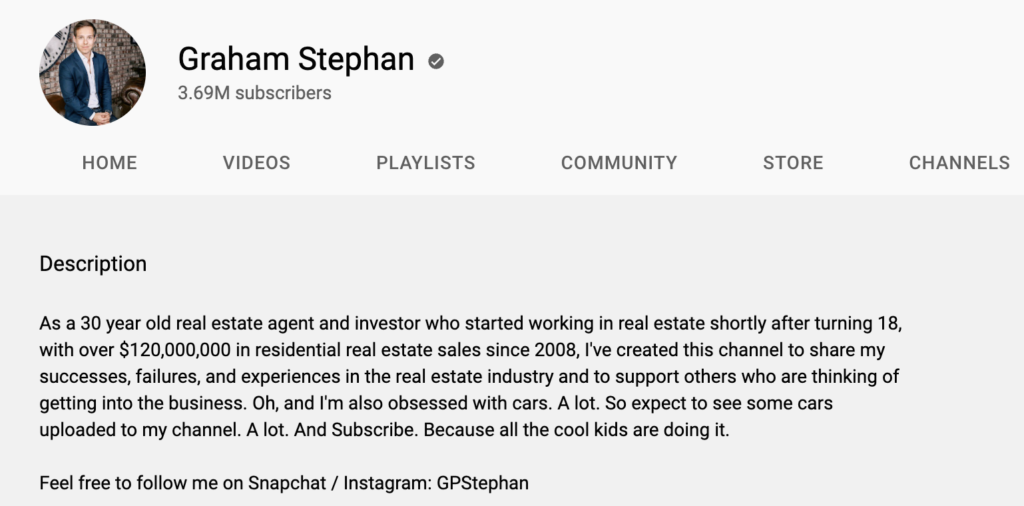 These short sentences should be captivating enough to tell a story and give your viewer a sneak peek into your content, personal brand, and what value you can provide them.
As an influencer, you should also include an email or form of contact for brands to reach out to you for partnership opportunities!
3. Include a clear profile photo
Brands want to know who they're partnering with, and followers want to know who you are to trust your opinion.
So, be sure to include a clear photo of yourself on your profile.
Be careful in selecting your profile photo because this will become a part of your influencer branding. Specifically, it'll be how followers and brands alike remember you and your content.
Picture this: When a follower is aimlessly scrolling through their feed, you want to stand out so that the follower stops scrolling to check out your content. They'll only stop if you catch their eye by having a profile photo consistent with your branding.
Get to know your audience
Before posting any content, it's crucial to do a little research on your target audience to understand the types of people who will find value in your content.
To become a successful influencer, you need to create content that your audience actually wants to see.
A great way to research your target audience and gain some ideas for content is to do a quick Google search for your niche.
For example, if you are interested in becoming a health and wellness influencer, type "health and wellness" in the search bar.
At the bottom of the first page, you will find other common searches related to your niche.
This search tells us that those interested in health and wellness want to know about:
The importance of health & wellness
Health & wellness products
Information about health & wellness
From this, you know you can add value to your target audience by creating content that answers these concerns!
To get a deeper idea of your target audience and their needs, it's good practice to lurk in Quora, Facebook Groups, or Reddit forums for discussions about your niche.
Groups like this are valuable for getting to know your target audience because people often come to them to vent about problems and share ideas. Following along in these conversations will help you understand your followers and relate to them.
When you start posting, dig into your social media analytics
Once you get in the rhythm of posting regular content, you can dive into your analytics section.
Your analytics will provide you with helpful information, such as:
Follower demographics (age, gender, location, etc.)
Audience behavior from post to post
Follow count according to posting
Aside from your analytics, listen to your audience!
Regularly read the comments on your posts and learn from your audience. Your followers may suggest some content they want to see from you or simply provide constructive criticism.
This is all a learning opportunity for you to create better content!
Define your personal brand
Your brand is what people say about you when you're not in the room.

Jeff Bezos
As an influencer, your personal brand is the most important thing about you and determines how you market yourself to your audience.
It encompasses who you are, what value you provide, and determines how brands and your followers see you.
Personal branding involves showcasing your unique skills, experience, and personality authentically (get more in-depth tips in our personal branding examples list).
A personal brand involves:
Your niche

Your messaging and tone of voice

Clear photos of your face

The color scheme and fonts you use on your posts

Logo (if applicable)
For example, health & fitness Instagram influencer, Kayla Itsines, has done an impeccable job at curating her personal branding by:
Staying true to her niche

Consistent messaging/tone of voice

Clear photos of her

Color scheme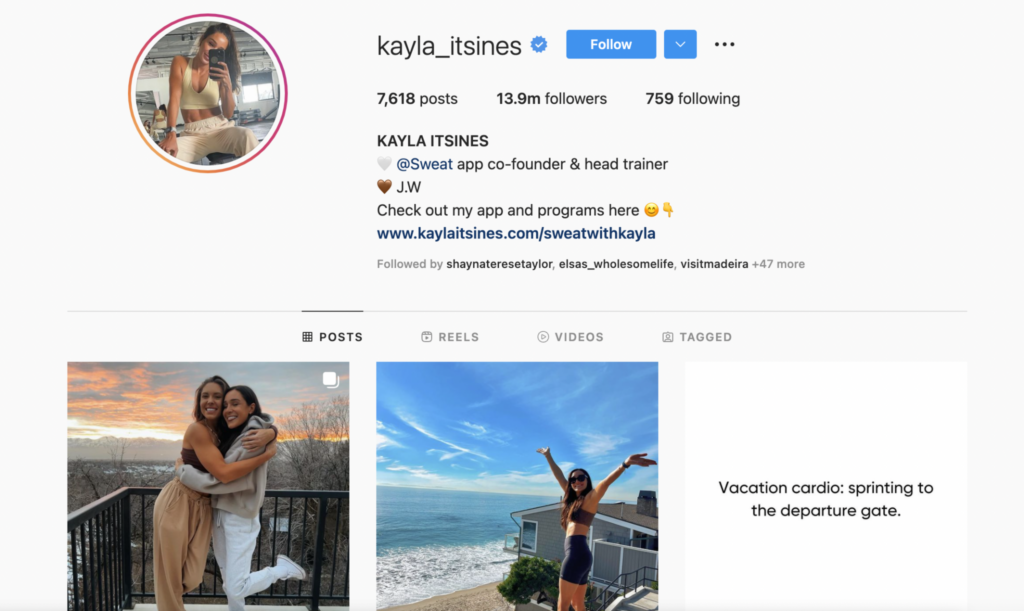 Whenever a reader comes to her Instagram or YouTube channel, they instantly recognize her page because of her strong personal branding.
Create a content strategy
Behind every top influencer is a solid content strategy.
A content strategy is the planning, development, and management of the content you'll be posting on your influencer profiles.
An effective content strategy will help you streamline your content, so you always know what you're posting and when.
It may sound unnecessary for an influencer just getting started, but if you start instilling good habits now, you'll have little stress when you grow your account to thousands of followers!
How to develop a content strategy as an influencer:
Decide on how often you'll post

Determine your tone of voice (professional, personal, informative, etc.)

Decide the format of your content (photo, blog, video, etc.)

Plan the social media platform you will post this content on

Begin content creation

Use an organized calendar to keep your posting schedule in one place. A great

free social media scheduler

for Instagram influencers is

Later.
Having a content strategy allows you to stay organized while still allowing your creative juices to flow and create fantastic content. An organized mind is a creative mind.
Always be consistent
When your content calendar is neat, and you've decided on a posting schedule, make sure you stay consistent and stick to it!
Once you start posting at a particular frequency, your followers will begin to expect your content at certain times of day and days of the week.
A huge contributing factor to becoming an influencer is maintaining trust among your followers and brands. When your audience expects you to be there, you need to show up!
Besides maintaining trust among your community, consistency is also crucial for engagement and reaching as many people as possible.
Depending on the social media platforms you use, there could be optimal times of day to set your content live.
The best times to post on social media will depend upon a few factors:
Your follower demographics
Your location and time zone
The platform you use
Have a look at your analytics to discover when most of your audience is active. If they're most active at 3 pm during the week, then that is when you should post your content to reach the majority of your audience!
Stay consistent with this posting schedule to increase engagement.
Engage with your followers & fellow influencers
The fun part of becoming an influencer: getting to chat with your community and other influencers in your space!
As you start posting engaging content, you'll likely begin to receive comments and messages from your followers.
An essential part of being an influencer is engaging with your followers and creating a community within them. This is how you build trust with your followers.
So, always do your best to reply to people as they write you!
Ways to engage with your followers:
Reply to comments and direct messages as much as you can

Host a Q&A on your page (Instagram story)

Go "live" to chat with your community (Facebook Live)
You also want to make sure that you're engaging with other influencers on social media.
Benefits of engaging with other social media influencers:
Partner up to attract followers from your followings

Learn from them

Get to know others in the space

Create a support system
Engage with other influencers by commenting on their posts and direct messaging them! You can help each other grow your channels while making new friends along the way.
Create a media kit
Think of a media kit like a portfolio or resume for influencers.
A media kit shows everything you have to offer brands and paints a picture of everything you can do for them if they choose to collaborate with you.
You'll present your media kit when a brand reaches out to you and when you pitch yourself to brands for partnerships.
A media kit will include all necessary details for an influencer, such as:
A brief bio about you and your niche
Your following and their demographics
Engagement rate
History of brand partnerships and reviews
Contact details
Your influencing rate per post
You can create an infographic media kit yourself using a website like Canva, or you can choose to host your portfolio on a website!
An excellent option for building your influencer media kit online is Iridium Hosting. With Iridium, you can enjoy fast, reliable service as well as WordPress maintenance services to take care of your site for you all in one place!
Reach out to brands
After a few weeks or months of influencing, it's time to tell the world that you're an influencer and go after brand collaborations.
Write down a list of brands you are interested in working with, prep your media kit, and reach out to them about the high-quality content you can offer them!
Here are a few ways to let brands know you're open for collaboration:
Send them an email that includes your media kit and why you would like to work with them
Tag brands in your photos as they appear and chat about them in your comment section
Send the brand a direct message on your social media platform
Join some influencer networks to connect with brands
Pictured above is a Paid Partnership between Four Sigmatic and Instagram travel influencer @chelseakauai. Eventually, you will have brand deals like this!
Pro tip: Remember to always collaborate with brands that are in your niche and complement your personal brand. Staying consistent and true to your niche will increase your credibility in the space.

How to become an influencer & make money fast: affiliate marketing!
Now that you're all set and ready to become an influencer, you can start making some quick money through affiliate marketing.
Affiliate marketing is when a brand pays a content creator to advertise their products for a small commission.
The great part is that you can get involved in affiliate marketing with a small following and scale it as you grow.
Best of luck on your influencing journey! You will do great!
Want to learn step-by-step how I built my Niche Site Empire up to a full-time income?
Yes! I Love to Learn
Learn How I Built My Niche Site Empire to a Full-time Income
How to Pick the Right Keywords at the START, and avoid the losers
How to Scale and Outsource 90% of the Work, Allowing Your Empire to GROW Without You
How to Build a Site That Gets REAL TRAFFIC FROM GOOGLE (every. single. day.)
Subscribe to the Niche Pursuits Newsletter delivered with value 3X per week