The Incognito Affiliate – Building A $10k Per Month Affiliate Site That Doesn't Look Like An Affiliate Site
When you buy something through one of the links on our site, we may earn an affiliate commission.
If you've been creating niche websites for long, specifically Amazon affiliate websites, you undoubtedly know that affiliate websites have a certain look about them.  
I'm not saying it's wrong or it's bad – but it's usually true. 
Niche affiliate sites are clearly pushing products, usually starting with a homepage that looks something like this: 
I'm not knocking this site owner – I hope he sells a lot of toasters.  
I've just never wanted to have an affiliate site that has that typical affiliate site look and feel – where the only things in sight are reviews and affiliate links. 
Don't Be "Just" An Affiliate Site
On the flip side of this discussion there are plenty of sites that are affiliate sites at the core, but they are in a disguise of sorts.
What I mean is, when you hit the home page, it doesn't just scream "I REALLY WANT TO SELL YOU STUFF."
Instead, it feels more like a lifestyle magazine where product reviews (affiliate content) is just one piece of the puzzle. An example I found  is CleverHiker.com – here's a screenshot from the homepage: 
Some of the articles featured on the homepage are affiliate articles, but they are mixed in among other great looking content like the best hiking spots in the Pacific Northwest, tips for beginner hikers, and many more. 
Though I don't share my highest earning website publicly, a very similar "incognito affiliate" model has worked well for me too. 
Today I want to share what I mean by that, and give you just 3 reasons why it works so well. 
What's An Incognito Affiliate?
Well, it's a term I made up that refers to a website that makes a significant portion of its earnings from affiliate commissions, but it doesn't look like a typical, in-your-face affiliate website.  
To be clear, this does NOT mean you should leave off your affiliate disclosures. For Amazon in particular, you need to make sure that you disclose that you're part of their program on every page of your site. The simplest solution is to put this disclaimer in the footer of your website. 
Instead, this is a shift in how you think about your site – both the look of it, and the content you create for it. 
How Well Is It Working? 
For my top affiliate site, this combination of top notch affiliate content mixed with shareable and visually appealing NON-affiliate content has been working very well lately. Here's a look at our traffic for the last 90 days (no paid traffic):
During that span of time we've been averaging about $12,000 per month in revenue, with around 2/3 of it coming from Amazon affiliate commissions: 
The rest of the earnings come from Ad Thrive,  a managed ad network that I heard about from a fellow member of Niche Pursuits Insider. 

[su_note]I realize our $12K/month average is inflated because of the holidays – but I am happy to report that we have been sticking right around $10K back in October and more recently January.[/su_note]

Here are a few of the key reasons the Incognito Affiliate model has worked so well:
1. More Social Media Traffic
Targeting low competition, long tail keywords has always been a primary focus of the websites we build. However, when you can leverage the power of social media to bring in even more free, targeted traffic – it's even better. 
The problem for many affiliate sites is, people aren't usually too excited to share your in-depth comparison of hiking boots on their Pinterest account. 
However, sticking with our Clever Hiker example (we don't know the owner of this site) – he's learned that the key to getting social shares is having plenty of helpful, shareable content that hikers will love. Here's a look from Buzzsumo at their most shared content, which includes a lot of comprehensive guides to popular hiking destinations: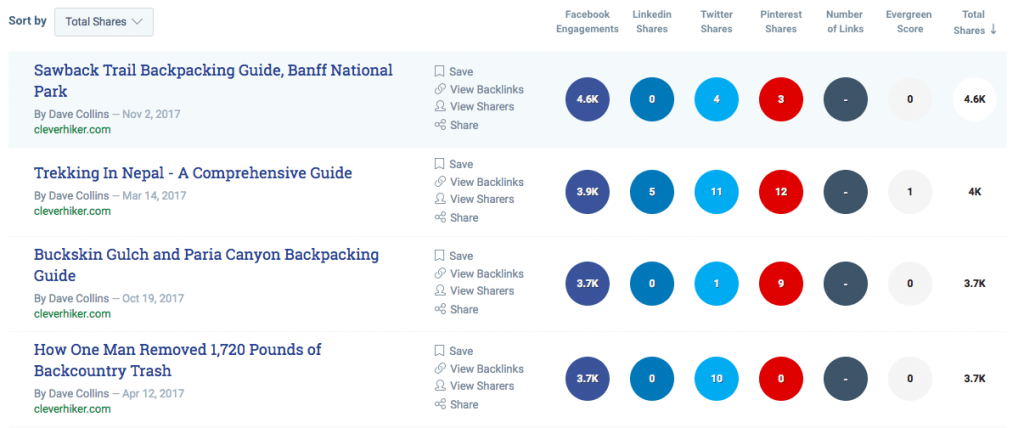 Not sure what's shareable in your niche? 
If nothing jumps to mind, run over to Pinterest and just type in your main keyword or some related keywords. Here's a look at some top results for "laundry:"
If you've got a site that is primarily an affiliate for washing machines, dryers, and similar appliances, this could be an awesome resource for you to discover new, shareable content ideas for your website. 
At a glance, I see things on Pinterest about stain removal tutorials, organization tips, and space-saving ideas for laundry rooms. Right there you know you've got 3 article ideas that are likely to be well received on Pinterest. 
Obviously, it doesn't have to stop with Pinterest – there are plenty of other social channels out there you can search and use to build a following to drive free traffic to your site. In my case, Pinterest happens to be the valuable social media channel – driving us over 165,000 visits in 2017. 
2. Attracting Links Is Easier
This is a similar case to the one I just made concerning social media. 
Other bloggers and websites aren't usually too excited about linking back to affiliate content. They know how the game is played,  so they see you as a greedy competitor who just wants a link so they can make more money.
On the other hand, they are usually happy to link out to content that provides real value to their audience. 
That's why having your homepage look more like a real brand is so critical. 
Using our examples above, most people wouldn't visit the toaster oven site and immediately think "I think my website's visitors would really like this site, I think I'll link to it." On the other hand, The Clever Hiker looks like an ideal site to link to if you're a fellow outdoorsy blogger. 
It looks professional and modern and is full of really useful, non-salesy content. 
To further prove the point, here's a look at the top 3 pages based on their link profile in Ahrefs for The Clever Hiker: 
One is the homepage, and the other 2 are about why you should hike without hiking boots and a list of blunders made by newbie hikers. 
Another perfect example of this is a site like TheSpruce.com which does plenty of affiliate content like this, but their home page is full content that is very attractive and easy to link to: 
I've seen this play out for my own site as well. I've not done much intentional link building, but it's not uncommon for me to pick up high quality links from sites that reference my listicles, how to posts, and other high value content. 
Why Does That Matter? 
The reason that it matters is because links from high quality websites help Google trust your site more. 

So you might link to an article on The Spruce about "8 ways to keep your cat healthy" and then they can use that article to link over to their guide to buying the best cat food – which is an affiliate article. 

Even though they may not pick up many links directly to their affiliate content, they can use internal linking to spread the love and link juice they are getting from other more link-worthy content on their site. 

[su_note]Interlinking to your money content is great, but I've discovered a fantastically simple way to monetize your informational content directly. Keep reading…[/su_note]
3. Your Income Is Diversified
In the last 6 months I've really changed how I think about the income generated from my site. 
I used to have some Google Adsense ad units scattered throughout the site, but the general idea was that everything pointed back to our "money" articles which were designed to get people to click over to Amazon and buy something. 
So while we had plenty of content like I've been describing – shareable lists, helpful tutorials, etc. we didn't really worry about making money from those pages directly. 
Since they had a couple Adsense units in the content, we'd make a few bucks here or there – but it was hardly anything to write home about. In fact, the earnings were so small that I had completely removed pay-per-click ads from the site. 
Rather than testing other PPC networks, I just (incorrectly) assumed that people were becoming increasingly blind to ads and wouldn't click on them. 
My thought was if we're going to make $20 per month from them, why even inconvenience our visitors by showing them? 
That's when I found out about AdThrive. 
Fortunately, we had enough pageviews to meet their threshold (100,000 per month) so I figured it couldn't hurt to try it out. 
What I discovered was exciting and frustrating at the same time. 
Leaving Money On The Table
At first, we worked with AdThrive and installed their ads only on our non-money pages.
So we didn't even touch all those affiliate articles which were bringing in all the revenue. I was a little worried about doing anything on those pages that would take away from our ultimate goal – getting people to Amazon. 
AdThrive manages your ads for you, so you have to wait a week or so before you see the first set of results while they are optimizing everything. 
When I got my first report I was shocked when I saw that we were making about $70 per day just from AdThrive.
In fact, here's a live look at my reaction to seeing the AdThrive dashboard for the first time: 
Utter disbelief. 
For a couple of years (literally) we'd had all these popular articles that we were making next to nothing on – now suddenly they are adding thousands of dollars every month to our bottom line. 
Why didn't I know about this sooner? 
What else is out there that could improve my life if I only knew it existed?!?
So if you're still thinking like I did – that the only content that makes meaningful income is affiliate content, you're wrong.
If you can leverage informational content to rank for great keywords, pick up gobs of free traffic from Pinterest with fun shareable content, etc. you can add a meaningful, secondary source of income to your site.
I've become a fan of AdThrive, but if you don't meet their traffic threshold there are other options like Ezoic that will let you test out multiple ad networks and layouts to make sure you're earning as much as you can from the traffic you already get. 
Wrap-up: Shift Your Mindset
I gave you 3 reasons going the Incognito Affiliate route has worked well for me personally, but the key takeaway is about a shift in how you think about your affiliate website. 
Sure, the main goal is to make money as an affiliate. 
But the question is what's the best, most sustainable way to get there? 
To me the answer is to think of yourself like a real brand, that speaks to a real audience.
Maybe your particular audience will want to know what camping tent you recommend – but they also want to know your best campfire recipes, how to keep bears away, camping road trip ideas, and so much more. 
If you give them all of that non-affiliate content, I bet you'll have a lot more success as an affiliate in the end. 
Spencer's note: Jake is one of three coaches for Niche Pursuits Insider.  If you liked this little tip, you'll find hundreds more in the member's area and as part of our Insider member's Facebook group.  It's closed right now, but you can get on the waiting list here.
standard
building-niche-sites
standard
building-niche-sites
Want to learn step-by-step how I built my Niche Site Empire up to a full-time income?
Yes! I Love to Learn
Learn How I Built My Niche Site Empire to a Full-time Income
How to Pick the Right Keywords at the START, and avoid the losers
How to Scale and Outsource 90% of the Work, Allowing Your Empire to GROW Without You
How to Build a Site That Gets REAL TRAFFIC FROM GOOGLE (every. single. day.)
Subscribe to the Niche Pursuits Newsletter delivered with value 3X per week