How To Start Your Own Lash Business From Home & Enjoy Life On Your Own Terms
When you buy something through one of the links on our site, we may earn an affiliate commission.
If you love makeup, beauty, and everything that goes with it, then learning how to start your own lash business from home could be the perfect opportunity for you. 
In this post, I will give you some tips and guidance on how to become a lash artist, lash vendor, or even start your own eyelash brand.
We're going to be covering points from deciding where to run your eyelash extension business, right through to how to do your initial marketing, leading to those first customers.
How To Start Your Own Lash Business From Home
The great thing about starting an eyelash extension business is that you can do so as a weekend side hustle. You don't have to go all-in right away.
Ultimately though, this business has a lot of potential to be a full-time career, and can even become a fully-fledged business with employees and all the rest!
If you enjoy helping people with their eyelashes then it's something you should pursue. Put together a lash business plan and start implementing it today!
Lash Business Pros
Running your own eyelash business can give you the freedom and flexibility that you wouldn't get in a typical 9-5. 
This makes it an ideal business choice for busy moms or anyone who wants a business that fits around their current lifestyle.
Some of the many benefits to starting an eyelash business include:
It's fairly recession-proof – people always want beauty treatments

You get to be your own boss

It's a job that a machine can't replace

Startup costs are low

Very flexible

Take as few or as many holidays as you want

Sociable and pleasant working environment

You are in control of how much you earn
As you can see, there are lots of benefits to becoming an esthetician or running a beauty business. Above all else, it's an enjoyable way to earn money. 
Although there are many benefits to starting an eyelash business, it's important to remember that it's not all plain sailing. 
Starting your own business takes work, so you will need to be prepared to put in the time and effort if you want it to be successful. 
Here are a few of the not-so-good bits about starting your own lash company:
No paid holidays or benefits
It can take a lot of effort to acquire your first few customers
Admin and tax issues are your responsibility
That being said, there are still many more benefits to owning your own business than working at a 9-5 job for someone else!
Qualifications and Business Licenses
Before you start your lash business, you will typically need:
A cosmetologist or esthetician license from the board of cosmetology in your state
An eyelash extension training certification
However, there will different regulations depending on which state or country you live in.
Once you are a certified lash technician, you will also want to register your new business for tax purposes. 
There are a few different business structures you can choose for your eyelash business, including:
Sole Proprietorship

Partnership

Limited Liability Company (LLC)

Corporation

S-Corp
The most popular business structure and simple way for smaller beauty businesses to get started is usually an LLC or Sole Proprietorship (just make sure you choose an available beauty business name). 
An LLC limits your personal liability when it comes to the business. If your business were to go into debt or run into legal trouble, you would not be personally liable.
You can find out more about the different business structures here.
You will also need an Employer Identification Number. This is also known as a Federal Tax Identification Number and is required if you want to open a business bank account or hire any employees for your business. 
Where To Operate Your Lash Business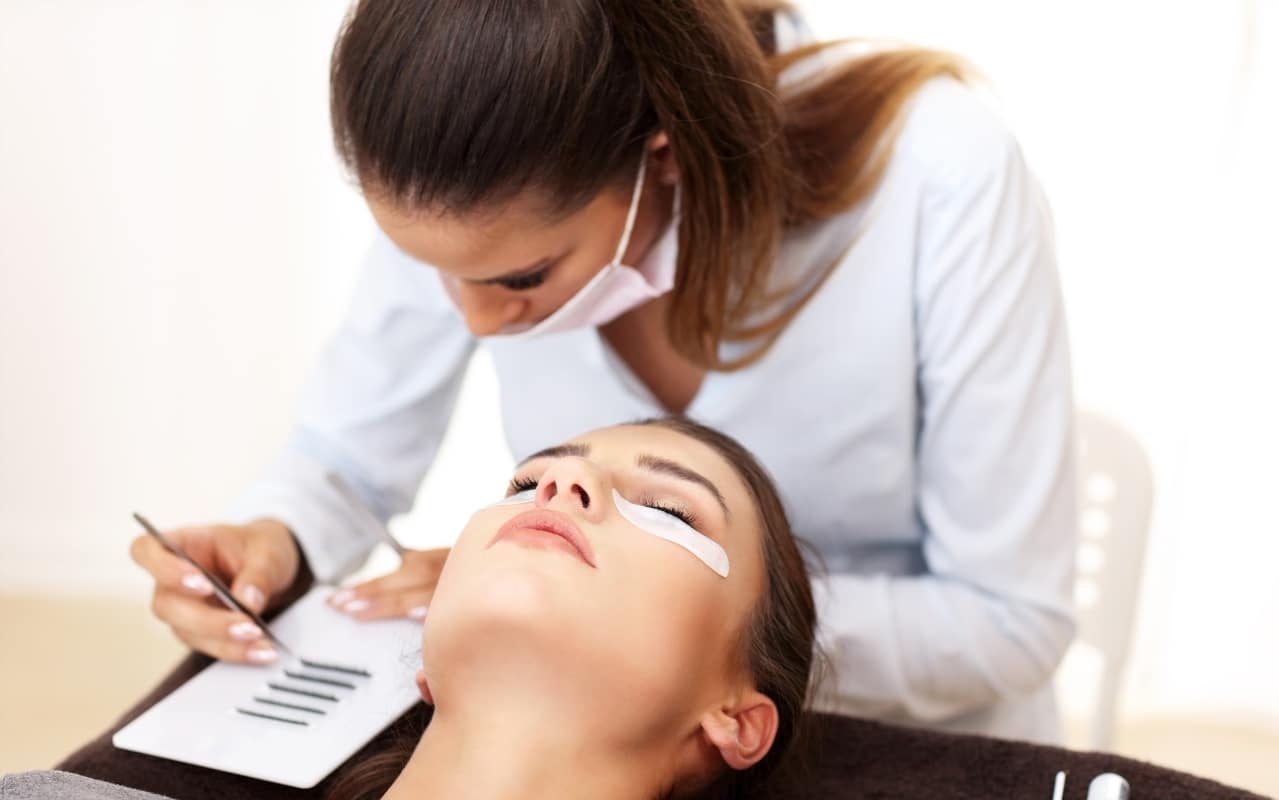 Next, you will need to decide where you want to operate your lash business. 
You have a few options when it comes to running an eyelash business.
Run your business from a room in your own home
Offer a mobile service visiting clients in their homes
Rent a chair in a lash salon
Rent a room or studio to run your business from
The key is providing your clients and potential customers with somewhere safe, clean, and comfortable where you can perform your lash services.
If you plan to start a lash business on a shoestring budget, then either visiting clients in their homes or running your eyelash business from your own home would be the cheapest option.
Even if you're working from your own home, you can still provide a professional-looking space to host your clients.
Here are some tips for creating a lash salon worthy experience at home:
Make sure the space you are using is clean and free from clutter

Provide a comfortable chair or massage table for your client to sit or lay on while you apply their lashes

Create a relaxing atmosphere with calming music and scented candles

Provide clean, fresh towels for your clients to use
As you start to grow, you could consider opening your own lash studio by renting a room or chair in a hair or nail salon (if so, check out our list of nail salon names). 
This would have the benefit of making your lash business appear more professional and trustworthy, as well as attracting more business from passers-by. And so you'll also want to carefully choose your lash business name. Then, find the perfect tagline from our list of clever lash business slogans.
Use Quality Products
Whatever you do, do not try to cut costs when it comes to your eyelash extension supplies! 
Investing in high-quality false eyelashes, glues, and other lash supplies is vital when it comes to starting your own successful lash business. 
Using quality products will ensure your work is of the highest standard possible, leaving your customers happy and satisfied. 
In turn, they will be far more likely to return again and recommend you to their friends.
Lash Extension Pricing
When deciding what to charge, there are a few things to take into consideration.
You will need to consider:
Cost of materials –

 eyelashes, glue, and other equipment

Your time –

 how long do you need to spend with each customer

Travel costs –

 if you are visiting customers in their homes

Business insurance –

 for worst-case scenarios

Website and marketing costs –

 whether you do this yourself or pay an expert
It's a good idea to figure out what other local lash technicians are charging to make sure you stay competitive but still make a good profit.
Once you have decided what to charge, you can create a 'menu' of eyelash treatments. List everything you offer clearly for customers to see in order to sell more.
You could even create a special offer for customers who want to come to you every month to have their lashes done. 
Offering a 6 or 12-month package discount could help you guarantee recurring revenue for the coming months.
How To Find Clients
Before you start offering your eyelash services to the general public, you will need to create marketing materials.
Because eyelash extensions are a very visual thing, it's essential to have amazing images of your work to show prospective clients.
You could begin by working on your family and friends who are happy to be used this way!
Take before and after pictures of your work.
You can then use these images in your marketing materials and on social media to promote your services.
Create A Website
If you want your business to be found by people searching for lash services online, you will need to have a professional-looking website. 
Your website will be the first impression your customers have of your business, so it's important to get it right.
The good news is, creating a professional-looking website is easy, and surprisingly affordable!
You can create your own website using Bluehost, which starts at just $2.95 a month and even includes a free domain. 
Once you have signed up for a hosting plan, you can install WordPress with just one click and have your site up and running in a matter of hours.
We have a special hosting deal for Niche Pursuits readers!
Get a free domain and special pricing on hosting plans from Bluehost today.
Once your website is up and running, you will want to make sure it looks the part. 
You can do this by installing the Astra theme. 
Astra is one of the most popular website themes around, and for good reason too! 
It's fast and intuitive to use, which makes it perfect for beginners. 
There are many different templates to choose from within the theme, so whatever look you want to go for, you can create it. Learn more in our Astra 3.0 review.
You might also want to include an appointment booking facility on your website. An excellent option for this is Calendly which you can install on your website for free!
Important Website Pages
You should include some important pages on a website to give your customers all the information they need.
They include:
About Page –

 Everything a customer needs to know about you

Services and Pricing –

 What do you offer? Extra services? How much does your eyelash extension service cost?

Gallery –

 Before and after pictures of your lash extensions

Booking Page –

 diary with availability

Contact Page –

 Phone number and email address

Terms and Conditions – 

A standard website requirement

Privacy Policy –

 Another basic website requirement
Including these pages on your website will give a customer all the information they need before making a booking with you.
Marketing Your New Lash Business
Now that your business is ready to start receiving customers, you will want to start marketing your business. 
Social media is one of the best ways to market your lash business. 
You don't need to be active on every social media platform, but it's a good idea to choose at least 2 platforms that your target audience might be spending time on. 
A key thing to remember here is that a lash business is a local business, so you will need to target people by location. 
A platform like TikTok might get you a large following, but they probably won't be looking to book your services.
For this reason, Facebook is an obvious choice, as well as Instagram.
Facebook allows you to target people with ads based on their location and other demographics such as gender, age, and interests. 
This makes Facebook a perfect way for local businesses to advertise their services!
Other marketing tools you can utilize for your lash business include:
Business Cards

Flyers

SEO (Local SEO)

Word of mouth

Repeat business
Aside from social media and SEO, word-of-mouth recommendations should not be underestimated. 
It costs over 5 times more to acquire a new customer than to get repeat business from existing clients. 
That's why it makes sense to provide the best customer experience possible!
How to Start Your Own Lash Business From Home in Closing
Hopefully, this guide on how to start a lash business has given you what you need to start!
Starting your own business can seem scary at first, but with most businesses it's well worth taking the leap. Having the freedom to create your own schedule can be life-changing.
And as you build up your lash business and attract more and more potential clients, you may find yourself building a highly successful and scalable e commerce lash brand. Check out my Amazon FBA in 30 days case study for even more inspiration!
Running your own business will also give you the power to control how much you earn each month, which is something you would never get in a 9-5 job working for someone else!
Are you still undecided on which type of business to start but want greater flexibility over your time?
Check out our article on how to make money online without paying anything for more business ideas!
Want to learn step-by-step how I built my Niche Site Empire up to a full-time income?
Yes! I Love to Learn
Learn How I Built My Niche Site Empire to a Full-time Income
How to Pick the Right Keywords at the START, and avoid the losers
How to Scale and Outsource 90% of the Work, Allowing Your Empire to GROW Without You
How to Build a Site That Gets REAL TRAFFIC FROM GOOGLE (every. single. day.)
Subscribe to the Niche Pursuits Newsletter delivered with value 3X per week