Is SeatGeek Legit And Reliable for Both Buyers and Sellers?
When you buy something through one of the links on our site, we may earn an affiliate commission.
So, you're thinking about buying tickets to that concert next month or a sporting event for this weekend. You go online and search for "tickets." Up pops SeatGeek - a site that promises tickets at a discount. But is SeatGeek legit? Can you really trust the site with your money?
The answer is yes! SeatGeek is a reputable and safe site to use for purchasing tickets. Let's take a closer look.
About SeatGeek
SeatGeek is a ticket resale marketplace and aggregator of tickets for concerts, sports events, and theater shows. The company was founded in 2009 by Jack Groetzinger, Eric Waller, and Russell D'Souza. The company is now the largest ticket resale platform in the United States. SeatGeek is headquartered in New York City.
The website allows users to input their desired event and location, then compares the prices of various ticket sellers and lists the tickets available.
They've been working with teams since 2016, becoming the official ticketing partner of many sports organizations. Through acquisitions and partnerships, SeatGeek has become one of the most popular ways to buy event tickets.
What sets SeatGeek apart from other ticketing platforms is its commitment to making the ticket-buying experience as simple and transparent as possible. They have a user-friendly interface that makes it easy to find the perfect tickets from SeatGeek at the best price. They offer best-in-class customer service to make sure you have a great experience from start to finish.
So whether you're looking to purchase tickets to your favorite team's home game or that sold-out concert you've been dying to see, SeatGeek is the place to go.
How Does SeatGeek Work?
There's nothing quite like the feeling of finding the perfect event and snagging tickets before they sell out. And with SeatGeek, it's easy to find and purchase tickets to the hottest events around. Just search for the event you're interested in and use the handy filters to narrow down your options.
Then, when you find the perfect tickets, you'll be taken to checkout where you can enter your contact and shipping information. Just sit back and relax - you'll receive an email once your order is confirmed and another one once your tickets are delivered!
When you're looking for tickets to your favorite event, the last thing you want to do is overspend. That's where SeatGeek's Deal Score comes in. Deal Score ranks listings by how good of a deal they are. The score is based on the listing price, ticket availability, and demand. The higher the score, the better the deal.
Is SeatGeek Legit?
Looking to score some tickets to your favorite event but not sure where to start? You might be wondering, "is SeatGeek legit?" Short answer: yes! SeatGeek is a legitimate ticket marketplace that's been in business for over ten years.
They've got partnerships with tons of sports teams and venues, so you know you'll find what you're looking for. The site is easy to use, and the handy Deal Score feature ensures you're getting a good deal on your purchase. So, if you're looking to buy event tickets, Seat Geek is definitely a great option.
SeatGeek as a Seller
If you've purchased tickets to an event that you can't attend, and you're looking to sell them, SeatGeek is a great option. Not only does it offer a huge selection of tickets to all sorts of events, but with the SeatGeek app it's also easy to use, whether you're buying or selling.
If you're reselling tickets, the process is quick and simple. Just create an account and input information about the tickets you have for sale. This includes the event, date, time, location, and price. Once your listing is live, buyers can purchase your tickets directly from SeatGeek.
And since SeatGeek fees are fairly low, you'll be able to keep more of the money from your ticket sales.
How Much Does it Cost to Sell on Seat Geek?
Selling tickets on SeatGeek is a great way to get rid of unwanted tickets. You can be confident that you're dealing with a reputable company, and there are no listing fees. Once your tickets sell, SeatGeek will take a 10% commission on the ticket price.
However, the convenience and peace of mind that come with selling through SeatGeek are well worth the service fees. You'll have the satisfaction of knowing that your tickets went to a good home, and you won't have to worry about scalpers or last-minute cancellations.
So if you're looking to offload some unwanted tickets, SeatGeek is the way to go.
Who Sets the Price on SeatGeek?
When you're looking to buy or sell tickets on SeatGeek, you might be wondering who sets the ticket prices. The answer is that the ticket seller sets the price. But SeatGeek provides some guidance to help sellers get started.
First, they take a look at similar listings and compare ticket prices to see what other people are charging for similar seats. Then, they give the seller a price range to consider. It's ultimately up to the seller to decide how much their tickets are worth, but SeatGeek's guidance can be helpful in getting started.
Of course, there are some exceptions to this rule. For some events, there may be a minimum ticket price. If you try to list your tickets for less than the minimum, you'll receive an alert telling you to adjust your price before your tickets can be listed. But other than that, it's all up to you! So set your price and get ready to sell those tickets!
How Will I Get Paid if I Sell Tickets on SeatGeek?
If you've decided to start selling tickets on SeatGeek, you're about to join a community of passionate fans and enter the exciting world of ticket resale. But before you get started, there's one important question you need to answer: How will I get paid?
The good news is that payments for tickets sold on SeatGeek are made by direct deposit to your bank account. So, as long as you have a valid account, you'll be able to receive your earnings without any hassle after you transfer tickets to your buyer.
According to their website, SeatGeek will send your payout after the event ends, but it will take up to 5 business days for the money to appear in your bank account.
SeatGeek as a Buyer
SeatGeek is a great resource for buying tickets. Not only is the process simple, but you can pay with a credit or debit card. SeatGeek also offers a great selection of tickets, so you're sure to find something that fits your budget.
And if you're not sure what you're looking for, SeatGeek's search engine makes it easy to find the perfect event. So, whether you're looking for a concert, sporting event, or theater production, SeatGeek is a great place to start your search.
Plus, with SeatGeek's great selection of tickets, you're sure to find something that fits your budget.
But, are SeatGeek tickets guaranteed? If your event is postponed, SeatGeek will secure you equivalent replacement tickets to the rescheduled date. If it is canceled and not rescheduled, SeatGeek provides a full refund of the purchase price or credit for use on a future purchase. So you can buy with confidence.
Is Seatgeek Legit? What do SeatGeek Reviews from Actual Buyers Say?
When it comes to buying tickets, SeatGeek is one of the good guys. With a Trustpilot score of 4.2, they're "Great" according to 77% of SeatGeek reviews. Most feedback mentions a quick and easy process to purchase tickets and a smooth transaction.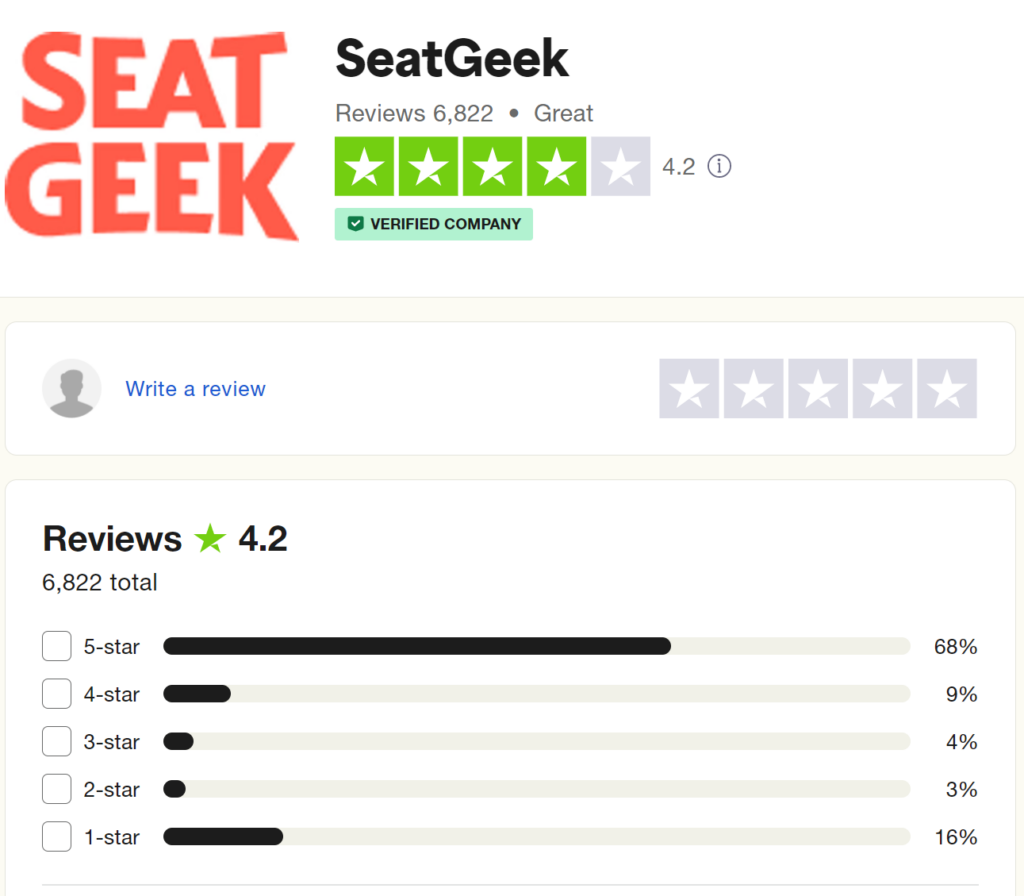 In other words, SeatGeek makes buying tickets painless. And that's saying something. So, if you're looking for a hassle-free way to get your hands on some sweet tickets, SeatGeek is the way to go. Just don't forget to give them a good review on Trustpilot!
Should You Be Worried About SeatGeek Complaints?
If you're considering using SeatGeek to buy tickets for an upcoming event, you might be wondering if you should be worried about SeatGeek complaints. While it's true that there are some negative reviews out there, the vast majority of customers seem to be happy with the service. So, what's the story with the 16% of 1-star reviews from other SeatGeek customers?
If you've ever tried to buy tickets online, you know that it can be a bit of a gamble. Will the tickets arrive on time? Will they be the seats you want? And what if there's a problem with the order? These are all valid concerns, and SeatGeek is no exception.
Ticket Delays
Most of the complaints seem to relate to ticket delivery issues, such as delays in the purchased tickets being delivered or not arriving at all. While this can obviously be frustrating, it's important to remember that SeatGeek is also a ticket marketplace, not just a ticket seller.
That means that they don't always actually have the tickets in their possession - in some cases, they're simply connecting buyers with third-party sellers and enabling the ticket purchase. So, if there are any delays, it's likely due to the seller, not SeatGeek.
Of course, that's little consolation when you've bought tickets for a sold-out show, and they haven't shown up, but it's important to keep perspective.
Fake Tickets
Very few reviews mention fake tickets, which may be because SeatGeek verifies tickets. They have a pretty strict process, and if reported, the seller's credit card will be charged for the final sale amount of the counterfeit tickets purchased by the customer.
So, while there's always a risk when buying tickets online, it seems that SeatGeek is doing its best to minimize it.
Customer Service
SeatGeek is generally a pretty reliable source for tickets, and their customer service is usually responsive and helpful. They have a very comprehensive help section on their website and instant live chat support to answer any questions you may have.
So if you do run into any problems, don't hesitate to reach out to them and see if they can help.
SeatGeek Alternatives
While SeatGeek may be one of the most well-known ticket marketplaces, there are a few other ticket sites that offer similar services.
Vivid Seats
Vivid Seats is another legit ticket platform that offers a great selection of tickets for a variety of events. Their Trustpilot rating isn't as good as Seat Geek, but they're still rated 5 stars by 59% of reviewers. Check out our article "Is Vivid Seats Legit?" for the full story.
Stubhub
This is one of the most popular ticket marketplaces and offers a great selection of tickets for a variety of events. StubHub is a legit ticket marketplace with a FanProtect guarantee, so you can be confident you're getting your tickets from a reliable source.
Their community forum is also a key feature, as it allows users to get guidance and advice from other experienced StubHub members. StubHub is always a great option if you're searching for tickets to your favorite event.
Check out more ticket resale sites and ticket brokers here.
Is SeatGeek Legit? Final Thoughts...
If you're looking for a great deal on concert tickets, then SeatGeek is a great option. With a user-friendly interface and a great selection of SeatGeek tickets, they make it easy to find the perfect event. And with a Trustpilot score of 4.2, you can be confident that you're getting your tickets from a reliable source.
The best part? The process is quick and easy, so you can focus on enjoying the event rather than stressing about the purchase. So, next time you're looking to purchase tickets, remember SeatGeek. Your perfect night out awaits!
Want to learn step-by-step how I built my Niche Site Empire up to a full-time income?
Yes! I Love to Learn
Learn How I Built My Niche Site Empire to a Full-time Income
How to Pick the Right Keywords at the START, and avoid the losers
How to Scale and Outsource 90% of the Work, Allowing Your Empire to GROW Without You
How to Build a Site That Gets REAL TRAFFIC FROM GOOGLE (every. single. day.)
Subscribe to the Niche Pursuits Newsletter delivered with value 3X per week