How To Easily Add Music To An Instagram Post, Story, or Reel
When you buy something through one of the links on our site, we may earn an affiliate commission.
Using the right song in your Instagram posts can make a world of difference in your videos' appeal, engagement, and earnings.
Instagram has a built-in music library that allows you to conveniently add songs to your stories or reels, but the same doesn't apply to feed videos.
In this article, we'll guide you on ways to add music to your Instagram post through royalty-free music platforms and how to use the built-in library to incorporate songs into your stories and reels.
So without further ado, let's dive into the article:
How To Add Music To Instagram Post
In June 2022, Instagram released an update that automatically converted any video less than 15 minutes into a reel. And for anything longer than that, you cannot use their built-in music library to add music.
Luckily, many intuitive third-party iOS and Android apps allow you to manually add your favorite songs to your Instagram videos. In this article, we're going to focus on two main ones; Canva and InShot.
1. Add Music in 10 Easy Steps With Canva
Canva is an excellent multi-purpose app that allows you to edit and add your own music to Instagram feed posts for free. You'll be able to export the video without any watermark (unless you're adding a paid element to the video) and edit it without any limitations.
The only catch is that you must only use royalty-free music in the video, or you risk getting a copyright strike from Instagram. Fortunately, we have a great list of free music sources that we'll discuss later in this article.
1. Open the Canva app on your phone and tap on the 'Camera' icon in the search bar.
2. Select 'Photo Library' and import the video that you want to add music to.
3. Once uploaded, choose a size for your video. Canva has a range of design sizes, including ones for Instagram Posts, Reels, and Stories. Tap on 'Create' to begin editing.
4. To add music to your Instagram post, tap the '+' button in the bottom left corner. Click on the 'Audio' tab and the 'Upload files' button. Select 'Choose Files' to import music or tunes directly from your phone's storage.
5. Once uploaded, click on your chosen audio track to import it into the video.
6. From the bottom toolbar, tap on 'Adjust' and then scroll to select which portion of the song to play in your video. Click the 'X' button to save changes.
7. Next, tap on 'Effects' from the toolbar. Here, you can dial in the 'Fade in' and 'Fade out' effects for the music track. Again, click 'X' to save and exit.
8. If you want to adjust the volume, tap on the 'Volume' button and use the slider to make adjustments.
9. Tap on the 'Play' button in the top toolbar to preview your video.
10. Once you're satisfied, press the 'Upload' button in the top right corner. You can directly share the video to your Instagram app using the share menu or save it on your phone by clicking the 'Download' button.
2. Add Music in 14 Steps With InShot
InShot is one of the best third-party apps for editing and adding music to your videos. It's available on both iOS and Android and has a simple user interface — not to mention a whole library of royalty-free tunes.
You can also purchase InShot Pro to remove watermarks and add unlimited effects and filters to your shots.
Here's how to use it to add music to your Instagram posts: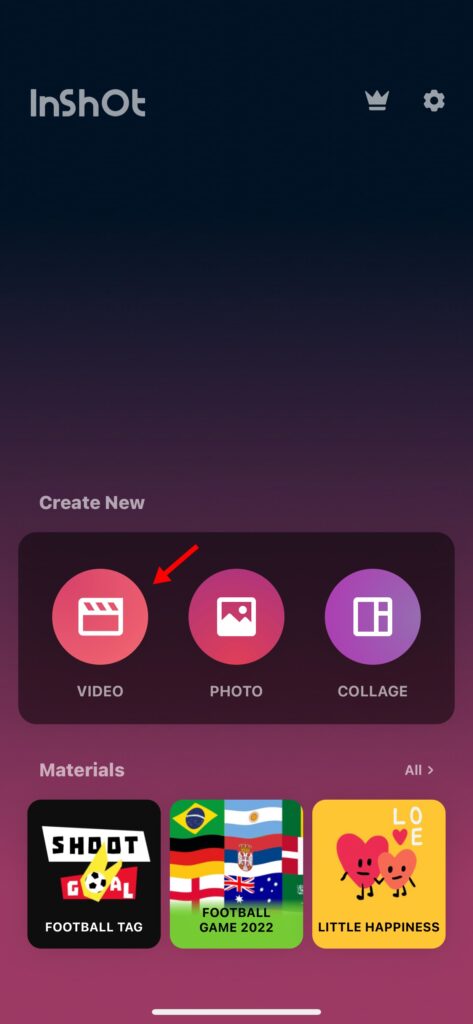 1. Open the app and tap on the 'Video' button.
2. Select the videos you want to import to add music.
3. From the toolbar, tap on the 'Music' icon.
4. Tap the 'Music' button again to access the music library.
5. Here, you can explore the different tunes and categories.
6. Select your favorite music to preview and click on the download icon. Once it's saved, click on 'Use' to edit the music.
7. You can also use downloaded songs in your video by clicking on the 'My Music' tab.
8. For sound effects, tap the 'Effects' tab to add them to the timeline.
9. Once you have imported your soundtracks, return to the timeline and tap on an audio bar to see two white arrows. Slide these to adjust the duration of each soundtrack.
10. For more options, click the 'Edit' button. Here, you can precisely adjust the duration, volume, fade-in, and fade-out effects for that specific soundtrack. Tap the arrow in the top right corner to save your preferences.
11. Preview your edits by tapping the 'Play' button in the center. Adjust the master volume by clicking on the 'Volume' button in the toolbar. If you're satisfied, click the top right arrow button once again to exit the timeline.
12. If you want to record music or voice notes for your video, click the 'Record' button in the toolbar. Otherwise, tap the arrow button to save all of your changes.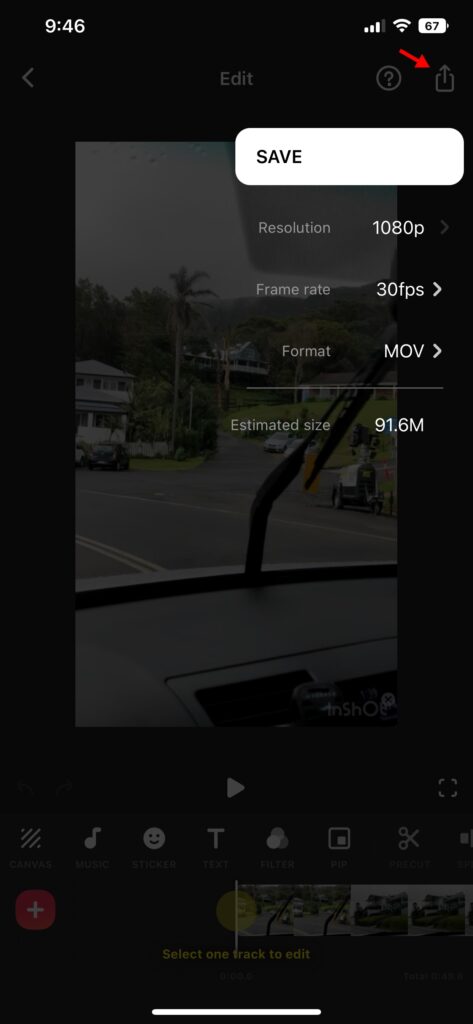 13. Tap the 'Upload' button in the top right corner to save your video. You can also change the resolution, frame rate, and format of your video from this panel.
14. After the video is done rendering, it will be saved in the camera roll or your phone's gallery. You can also directly upload the video to Instagram via the share button.
How To Add Music To Instagram Story
Since Instagram introduced its music library, adding music to stories has become a breeze. The feature is now supported in most countries worldwide and works on both iOS and Android devices as long as your Instagram app is updated.
Here's how to add music to your stories:
1. Open the Instagram app and click on the 'Your Story' button in the top left corner or the '+' icon on the top right and select 'Story.'
2. Record a story or tap on the image icon in the bottom left of the screen to select an existing video from your gallery. If you've run out of content, check out this amazing list of inspirational captions and quotes.
3. Pick one video from your camera roll or tap on 'Select' to choose multiple videos/images. Click the arrow button in the bottom right to continue.
4. Tap on the 'Sticker' icon from the top toolbar. Then, select the 'Music' sticker to access the Instagram music library.
5. From here, you can find any specific song with the search bar for your Instagram story. If you're looking for a specific genre, click on the 'Browse' tab. Press the 'Play' button to preview the music tracks.
6. Once you have selected a song, move the scroll bar at the bottom to choose which part you want to play in your story. (Tip: Tap on one of the pink markers on the timeline to select the most popular part of each song)
7. Next, adjust the duration of your song by clicking the '15' button beside the timeline. It's set at 15 seconds by default (maximum allowed) but can be reduced to 5 seconds minimum.
8. You can also select different font styles for the lyrics by scrolling through the slider above the timeline. To change the colors, tap on the color wheel button at the top. Alternatively, you can scroll till the end to display the album art.
9. Tap on the 'Done' button in the top right corner to exit the editing panel. After that, you can rotate, resize, and move the lyrics/album art by holding it down with two thumbs.
10. If you want to add music to other stories, select the video from the bottom left and repeat the same process from step 4.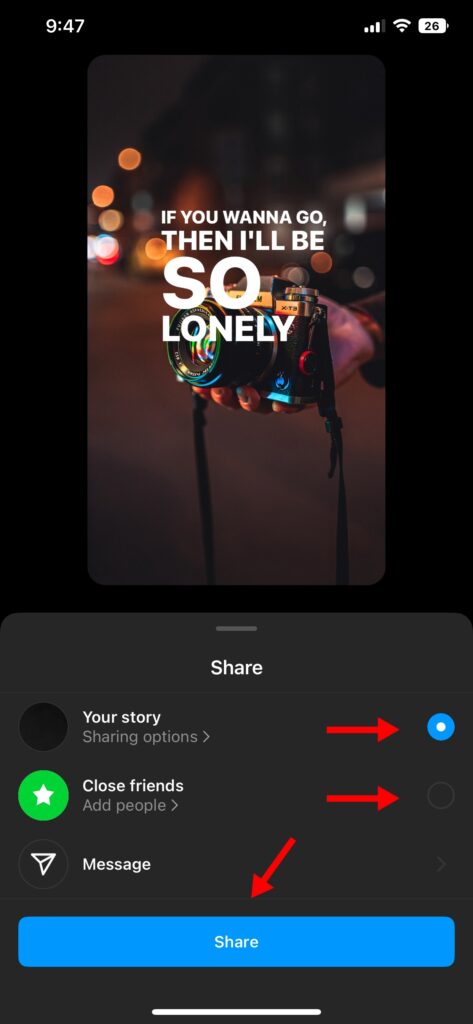 11. Finally, click the arrow button in the bottom right to publish your story. Choose between Normal story and 'Close friends' story and hit share.
How To Add Music To Instagram Reel
Instagram reels offer more customization options and control than stories. Combined with music, they're one of the greatest tools for content creators to increase their reach and engagement. Here's how you can add music to your Instagram reels:
1. Open Instagram and tap on the '+' button. You'll see a slider at the bottom. Switch from 'Posts' to 'Reel.'
2. Start recording your content, or add pre-recorded videos by swiping up or tapping the image icon in the bottom left corner of the screen.
3. Trim your video to the ideal length using the white markers in the timeline.
4. Tap the 'Audio' icon on the left side of the screen to open the music library.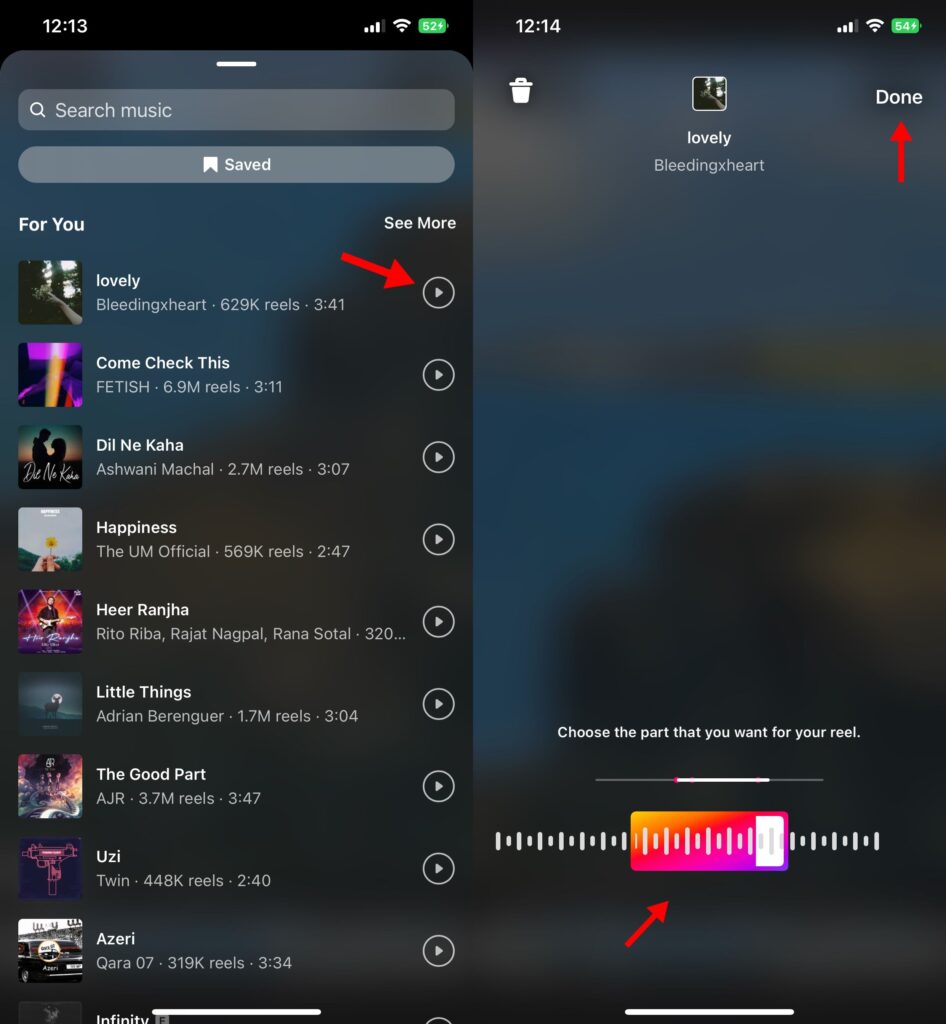 5. Find your favorite song from the search bar and press the 'Play' button to preview. Once decided, click on the song.
6. Scroll the slider to select the part of the song you want to play in your reel. Press 'Done' in the top right corner to then 'Add' to continue with the reel.
7. After editing your reel, press 'Next' beside the shutter button.
8. If you want to change the song, record a voiceover, add effects/stickers/text, and use the top toolbar to navigate each option. Press the 'Next' button in the bottom left to continue.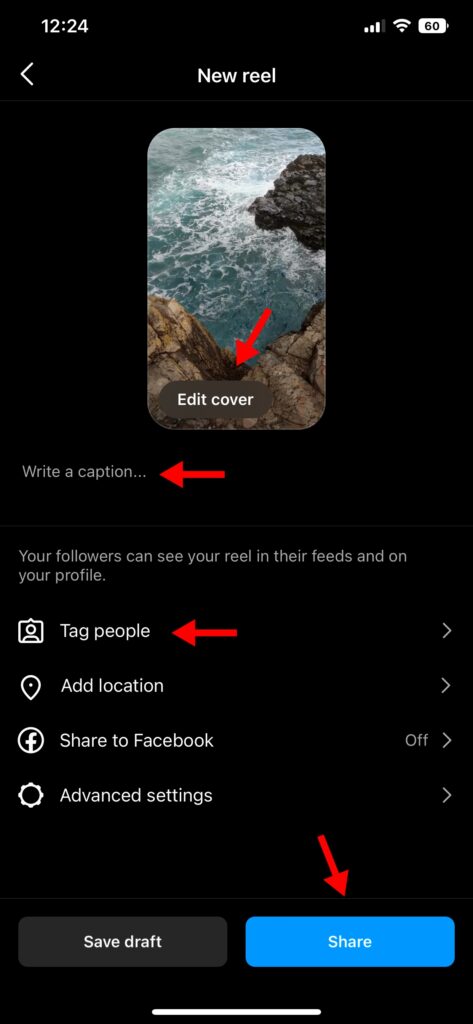 9. Click the 'Edit cover' button to change the cover image of your reel video. Add a nice caption in the text box. Tag any account or add a location using the bottom menu bar and hit the blue 'Share' button to publish your reel.
Best Royalty-Free Music Sources For Instagram Posts
Using a licensed song for your Instagram posts can put you at risk of a copyright strike. That's why it is crucial to take permission from the artist before sharing their songs.
Or, you could skip the hassle and use royalty-free music sources to spice up your Instagram posts. Each of these websites contains thousands of amazing background tracks in their library and is totally risk-free. Here's a list of the best paid and unpaid royalty-free music apps for you:
1. YouTube Audio Library
One of the most under-appreciated sources of royalty-free music is YouTube. As a content creator on the platform, YouTube provides you with a library full of cool background tunes to use in your videos. All of these songs are licensed under Creative Commons, meaning that you won't get a copyright strike when using them for personal or commercial use.
You can easily access this music library by switching to YouTube Studio from your account, selecting Audio Library from the navigation menu, and downloading your preferred songs. You can later add this music to your Instagram post through Canva or InShot.
2. Epidemic Sound
Epidemic is one of the biggest royalty-free music sources on the planet, with 35,000+ songs in their library. Besides background music, they also have over 90,000 sound effects and a wide range of catchy songs from different artists. It's a go-to for leading YouTube content creators and is available in multiple budget-friendly packages.
3. Audio Jungle
Audio Jungle has a massive library with over 1.7 million soundtracks for video and content creators. The tracks are neatly categorized according to the genres and ambiance of each song. You can access unlimited downloads at affordable rates and get notified about featured tracks and artists by the Envato team weekly.
4. Freemusicarchive.org
Free Music Archive is one of the best unpaid royalty-free libraries on the market. Loaded with high-quality songs, effects, and background music, the platform allows creators to download and use their audio tracks free of cost. New music from artists all over the globe is regularly added to the library, making Free Music Archive an excellent choice for Instagram content creators.
FAQs
How to know if your Instagram post got a copyright strike?
Instagram will remove any post/story/reel using licensed music illegally and notify you about the copyright strike. If you're using licensed music from an artist and someone reports your post for infringement, Instagram will give you three strikes before permanently deactivating your account.
How to adjust music length on Instagram posts?
After you have selected a song from the music library, tap the '15' button next to the slider to adjust the length of the audio track. For stories, you can play a song for 5 to 15 seconds. In reels, you can play the song for up to 90 seconds.
Why can't I use Instagram music?
Here are some reasons why Instagram music might be unavailable to you:
You're using a business account
Your Instagram app is not updated to the latest version
Instagram music is unavailable in your country/region
Conclusion
Instagram is one of the fastest-growing platforms for content creators and is driving millions of dollars in revenue as new features are introduced. And if you'd like to capitalize on this craze, we have a guide on how to start a blog on Instagram.
In this scenario, adding music to your Instagram post, stories, or reels can dramatically increase your reach and set the mood for viewers. The library is yet to be introduced for video posts, but till then, apps like Canva and InShot make the process just as easy.
If you're a content creator and want to increase your affiliate revenues or click-through rate, learn how to add a link to Instagram stories with this simple guide on how to add a link to your Instagram story.
Want to learn step-by-step how I built my Niche Site Empire up to a full-time income?
Yes! I Love to Learn
Learn How I Built My Niche Site Empire to a Full-time Income
How to Pick the Right Keywords at the START, and avoid the losers
How to Scale and Outsource 90% of the Work, Allowing Your Empire to GROW Without You
How to Build a Site That Gets REAL TRAFFIC FROM GOOGLE (every. single. day.)
Subscribe to the Niche Pursuits Newsletter delivered with value 3X per week