Master the Art of Design With The 11 Best Canva Apps
When you buy something through one of the links on our site, we may earn an affiliate commission.
You're probably familiar with Canva, the popular graphic design platform that has helped millions of people create stunning visuals for their projects. But did you know that there are several Canva apps out there that can help take your Canva designs to the next level?
These handy apps provide additional features and tools that both save you time and level up your design game. And they're great to use for professional and personal projects alike.
So look at these 11 best Canva apps and see which can help you master a handful of design skills quickly and eloquently.
Best Canva Apps for Basic Design
These foundational apps are cornerstones of the Canva platform and are easy to use, whether you're a solopreneur or collaborating with a team on your designs.
1. Background Remover App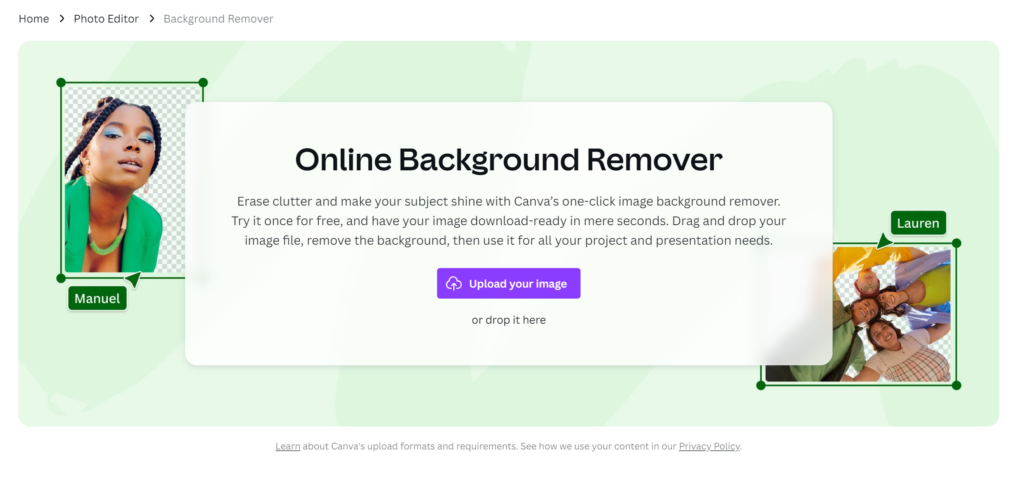 The Canva Background Remover is one of the fastest ways to delete a background from an image with a single click. With this app, you can remove the background in seconds and replace it with a new one or leave it blank.
Some unique features include:
An AI-powered auto-detection function
The ability to edit and refine the edges of images for a more precise deletion
Over 5 million free stock photos and backgrounds to replace the removed background
Compatibility with a wide range of image types
This desktop app is perfect for creating professional-looking cutout designs without manually tracing them. Even though Canva's AI automatic selection isn't always perfect, it's still a great time-saver and produces high-quality results.
2. Canva Photo Frame Effect App
Canva's Photo Frame Effect app is a user-friendly tool ideal for adding structure and color to your design. It allows you to add borders to your pictures, ranging from simple to intricate designs.
With this Canva tool, you can:
Add various types of borders to your images
Contrast photos with background images and textures
Apply unique effects to stylize your images
In just a few clicks, you can implement a frame, adjust the contrast, or experiment with space and color. This makes it a useful tool for enhancing visual content, improving Instagram posts, or adding flair to images in presentations.
3. Magic Eraser App
The Magic Eraser App simplifies the process of removing unwanted objects from your photos. It's designed for anyone who needs to clean up their images quickly and efficiently, saving precious time in the design process.
Key aspects include:
Rapid removal of selected objects from images
Ideal for use with uncomplicated backgrounds
Streamlining the design experience for users
With just a few clicks, you can "paint" over unwanted elements in your image and let the Magic Eraser do its work. This feature is particularly useful for templates or desktop features that require clean, uncluttered visuals.
Best Canva Apps for Business & Organization
Many people think of Canva as a tool for personal or small-scale projects. But with these apps, you can use Canva to create professional documents or organize and integrate your content more efficiently.
4. Resume Builder App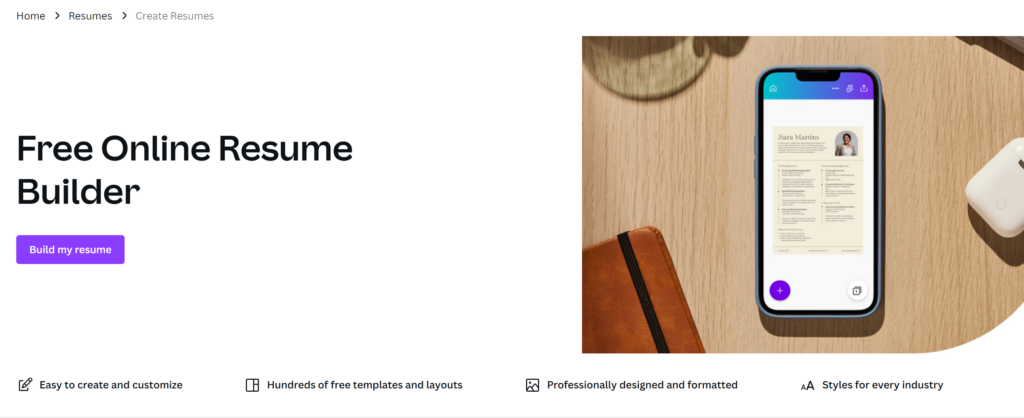 The Resume Builder App is a handy tool designed for anyone aiming to create a professional resume effortlessly. It's an ideal solution for job seekers, students, or professionals who are looking to update their CVs efficiently.
What it offers:
A free and user-friendly interface accessible on any device
A vast selection of customizable resume templates designed for every industry
Professionally crafted layouts that save you hours of design time
By using this app, you'll be able to create a standout resume in a few simple steps. Pick a template, fill it with your details, and spruce it up with additional features provided by Canva.
This is a great way to speed up the resume-building process, and you can save even more time if you use AI content tools like ChatGPT or Jasper to tweak specific details. This combination offers a powerful solution for creating resumes that catch the eye of potential employers.
5. Google Drive App
The Google Drive App is a simple yet fantastic tool for Canva users who need to integrate their designs with an efficient storage platform. It's perfect for individuals or a team working on desktop and mobile devices.
This helpful app provides:
Seamless connection with your Google account for easy access to images and videos
Convenient search and filter options for browsing your Google Drive assets
Simple drag-and-drop feature to incorporate assets into your design
Option to save completed designs directly to Google Drive
Using this app, you can back up your Canva designs in real-time, ensuring their safety and keeping them organized.
Best Cutting-Edge AI Canva Apps
From text-to-image technology to AI music accompanying your brand designs, the power of AI has finally reached Canva (also be sure to check out the best AI music generators). These apps save time, enhance creativity, and make your design experience more dynamic.
6. Magic Media App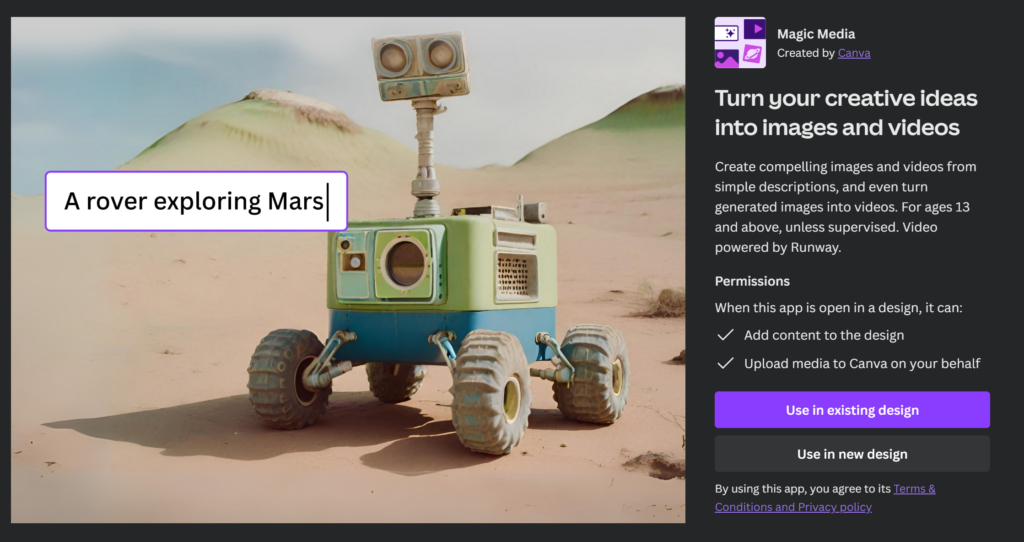 Canva's Magic Media app is a game-changer for designers. This innovative tool within Canva's suite of apps transforms text descriptions into unique images or 4-second videos with AI technology, catering to users of all expertise levels.
It takes the power of the best text-to-image AI programs and places it in the hands of users for seamless integration into their designs.
You can expect:
A diverse palette of 18 styles and customizable templates for image creation
Adjustable size or aspect ratio: square, landscape, portrait
Access to Magic Media across devices
If you can't find an image in the Canva image library that works for your designs, this app allows you to create your own, which helps create eye-catching, unique, shareable content.
7. BrandFetch App
Brandfetch for Canva is a tool that automatically finds and retrieves specific brand assets like logos, colors, and fonts. You simply type in a brand name or URL, and the tool instantly provides you with the latest brand elements.
This app offers:
Instant retrieval of brand-specific logos, colors, and fonts
Simple operation by typing a brand name or URL
Drag-and-drop functionality for easy use
This tool is especially beneficial for those managing multiple brands, as it saves time and ensures consistency when creating items like branding kits or social media posts.
8. Mockup Generator Tool
The Mockup Generator Tool is a versatile resource that allows you to create realistic mockups for various purposes. It's ideal for business proposals, student projects, prototyping products, or brand promotions, enabling you to visualize and share your ideas effectively.
It's also an invaluable tool for those running print-on-demand stores where realistic mockups are crucial for product sales. While many print-on-demand companies offer mockup options, they're often limited or tucked behind premium packages.
Since the mockup generator app offers hundreds of mockups for free, it lets you expand your creative horizons beyond your printer's limitations.
Key Features:
A range of professional mockup templates
Integration of your brand logo into stock photos for merchandise preview
Creation of previews for websites or apps for digital portfolios
Whether you're designing a new style for t-shirts or creating a book cover, this tool helps you integrate your ideas into natural environments so people can visualize the final product.
9. Magic Morph App
Magic Morph is a creative Canva tool that uses AI to transform text and objects by altering their texture and colors. It's designed for developers, graphic designers, or anyone wishing to add a unique touch to their typography. It's easier than creating your own font and far less time-consuming.
Here's what you can expect:
Transform shapes and text with naturally occurring patterns like zebra stripes or snakeskin
Use instructive prompts such as "make it look like..." to specify transformations
Obtain glossy results with prompts like "gold inflatable foil balloon"
However, avoid creating your own patterns or using grainy textures, as these may not work as well. For the best results, use bold, thicker fonts and avoid thin fonts or semi-transparent images.
Keep in mind that Magic Morph can only morph one object at a time and works best on heavier shapes and text.
10. Sketch To Life App
The Sketch to Life app is a groundbreaking tool that transforms your drawings into realistic images. It's ideal for artists, designers, and budding creatives who want support in illustrating their ideas.
Here's what you can do:
Generate lifelike images in styles such as realistic, digital, anime, and more
Refine your sketches by adjusting the strength of the AI effect
Upscale your image for enhanced resolution and quality
To start, simply upload your sketch from your phone or scan it into the app. Use the Realism Tool to adjust texture, shadows, and highlights until you achieve the desired outcome. It may take a bit of trial and error for first-time users, but the results are impressive.
11. Melody Muse
Melody Muse is a Canva app that allows you to add a musical dimension to your designs. It's perfect for content creators who want to enhance their designs with sound.
This app lets you:
Turn text into tunes, creating an immersive experience for viewers
Choose from a variety of genres and moods to complement your design
Adjust tempo and volume to balance your text and melody
Copy ready-to-use templates, which can be customized with your text
Access a rich library of audio tracks and sound effects
Simply navigate to the Apps tab in the Canva editor, select Melody Muse, and start creating music-infused designs. This unique tool takes your creations to a new level of engagement with its ability to bring sound and visuals together.
Final Thoughts: 11 Best Canva Apps to Try
These best Canva apps offer a variety of features to enhance your creative process (truly excellent Adobe alternatives). Previously hard-to-achieve tasks are now easy, with these innovative tools giving you the power to create unique designs quickly.
Once you've mastered a handful of Canva apps personally, you'll be ready to learn how to make money on Canva with your newfound design skills.
Broaden your artistic scope with Canva's wide array of options. With countless opportunities right at your fingertips, these potent apps can help you fully express your creativity.
Want to learn step-by-step how I built my Niche Site Empire up to a full-time income?
Yes! I Love to Learn
Learn How I Built My Niche Site Empire to a Full-time Income
How to Pick the Right Keywords at the START, and avoid the losers
How to Scale and Outsource 90% of the Work, Allowing Your Empire to GROW Without You
How to Build a Site That Gets REAL TRAFFIC FROM GOOGLE (every. single. day.)
Subscribe to the Niche Pursuits Newsletter delivered with value 3X per week