What's The Best Grammarly Alternative To Help Improve Your Writing?
When you buy something through one of the links on our site, we may earn an affiliate commission.
In this post, I'll be showing different proofreading tools that could be a better Grammarly alternative for you.
Because, while Grammarly is arguably the most popular grammar checking tool online, it's probably not the best one for you.
Maybe you tried Grammarly and didn't like it before for some reason. Still, you're looking for a tool to clean up your grammar before hitting "Send" or "Publish."
Luckily for you, there are other grammar checkers in the market.
They all do the same thing, which is to help you write better content. At the same time, they have differences that set them apart from one another.
Let's look at the Grammarly alternatives below and determine which among them suits your needs the best.
Try Grammarly for Free Here!
1. ProWritingAid
ProWritingAid is the closest Grammarly alternative out there.
As a grammar checker, the tool identifies errors and issues on your content that you need to address to help improve its readability.
Not only that, but ProWritingAid provides suggestions and word replacements to help make your sentences flow much better.
As a web editor, you can upload the article and make the changes from there. Moving your cursor on the underlined word will show you the issue with the corresponding correction. Click on it and the tool will make the change for you – no typing necessary!
The Summary feature is also a useful feature especially for those running a content team. It gives you a bird's eye view report of the article.
Not only does it spot the errors and issues, but it also analyzes your content on a deeper level. You can delve deeper into the writing style and sentence structure of the content and see if they align with the brand.
This way, you can make informed changes to provide content in line with your site's and clients' messages.
ProWritingAid also has integrations available to your favorite word processors (Microsoft Word, Google Docs) and browsers (Chrome extension, Firefox add-on), among others.
Its Google Docs extension is arguably the best among Grammarly alternatives. You can apply comprehensive edits to your document without any issues.
For G Suite users, you can install the ProWritingAid Google Docs add-on and choose the option of installing it on users in your account. This way, they can enjoy using your tool without having to subscribe for a paid account.
I consider ProWritingAid as the best Grammarly alternative for the reasons stated above. It also has a more affordable plan ($20/month or $79/year) and offers a one-time payment lifetime deal ($299) so you don't have to keep renewing your license.
The only quibble I have with ProWritingAid is it slows down the loading time of websites when used as a browser extension. You're better off making the changes using its web editor version.
Try Pro Writing Aid Here
2. Ginger
Ginger is a desktop-based software that lets you check grammar errors, spelling mistakes, and other issues that are plaguing your writing.
There are also browser extensions that you can use online, but you need to subscribe to their paid plans to be able to use it.
But if you're okay with using its offline version, then there's a lot to sink your teeth into the software.
For starters, Ginger's Personal Trainer helps build your confidence in writing using the English language. Learn the parts of speech and intricacies of the language through graded quizzes provided in the Trainer.
However, what sets Ginger Software from other tools like Grammarly (see Ginger vs Grammarly) is it gives you the ability to translate content naturally from one language to another.
First, it detects the language of your content and lets you translate it to over 40 languages including Catalan, Dutch, Greek, and more.
This is perfect if you're running a non-English local news site and want to translate content from reliable news outlets to your preferred dialect.
Currently, Ginger costs $29.96 a month ($12.48 per month paid annually). If you have a content team, you can buy them a license for $9.99 per month per member through Ginger for Business. It's one of the better alternatives to Grammarly especially if you write in a different language.
3. WhiteSmoke
Among the Grammarly alternatives in this post, WhiteSmoke is probably the simplest and most straightforward of them all.
This grammar checker tool is available as a browser extension or desktop software. However, you can use either depending on the plan you will purchase.
WhiteSmoke offers three packages: Web, Premium, and Business.
The Web Plan costs $10 per month billed as one payment. Under the plan is the browser add-on where it works as a grammar and plagiarism checker, as well as a translator.
But if you want to take WhiteSmoke offline, then the Premium Plan ($13.33/month paid annually) is for you. You can download and install the desktop version that's compatible with Windows and MacOS. This way, you can edit your articles even without an internet connection.
Also included in this plan is the one-click instant proofreading feature. This means you can fix the errors in your article by clicking on the correct suggestion as provided by the software.
Lastly, the Business Plan ($22.99/month paid annually) has all the features in the Premium Plan. Also, you get three licenses of the product. If you have writers, you can give them the license so they can edit the articles as they write instead of you doing it. This Plan also gives you access to its phone customer support and extended download warranty so you can get the most out of the software.
Among Grammarly alternatives in this post, WhiteSmoke is probably the weakest of the bunch. The software looks outdated and is clunky to use.
4. Hemingway Editor
Ernest Hemingway is one of the most influential writers in American literary history. His "iceberg theory," which describes his curt and understated writing style, has been imitated by writers but never duplicated.
With Hemingway Editor, you could at least capture some of the magic of Hemingway's style and flair.
The goal of the tool is to lower the readability score of your content to make it accessible to a wider audience. It does this by identifying hard-to-read sentences, passive voice, and adverbs so you can edit your article appropriately.
It also recognizes complex words and provides a replacement for each to further improve your score.
Hemingway Editor highlights all these in different colors that correspond to the issue and help you make the necessary changes.
Following the suggestions of the tool, you simplify your message and make it easier for readers to understand.
However, keep in mind that Hemingway Editor only helps you improve your writing style, learn more in our Grammarly vs Hemingway comparison. It is not a grammar checker and proofreading tool like Grammarly. You'll have to manually edit the content to spot grammar mistakes and spelling errors.
As a free browser tool, you can edit all your content using the tool. But if you want the desktop version, you need to shell out a one-time payment of $19.99 for Windows or macOS.
5. Autocrit
The aforementioned Grammarly alternatives are geared towards content writers (but check out the best text editors for blogging) and students who want to ensure that their articles and essays are completely free of errors.
But if you're a fiction or non-fiction writer, then Autocrit is for you.
Books are much more complex to edit not just because of their length and number of words. You also have to maintain a specific writing style especially if your book is under a specific genre.
With Autocrit, you can compare your manuscript with other books in your genre to ensure that you share a similar tone and style.
Autocrit lets you choose the genre of your book and compares it to the best-sellers and classics of its type.
It then breaks your manuscripts according to these factors:
Pacing & Momentum – uncovers fast-paced and slow-paced paragraphs and sections in your book.
Dialogue – measures the quality of conversations between the characters in your book.
Strong Writing – analyzes the consistency of tenses, use of passive voice and adverbs, and others in your writing.
Word Choice – checks the potency of the words you used to paint a scene or picture, the use of pronouns, and how you start sentences, among others.
Repetition – lists down words that you keep repeating in your text and suggests synonyms to replace it with.
Combination – synthesizes the words and phrases that you use and are probably causing issues in your manuscript.
Readability – shows the readability score of your book and ways to improve it.
Grammar – checks if your grammar is consistent across all boards.
You can then run a summary report of your text to know issues that need your attention and ideas to help make your writing much better relative to its genre.
You can download a PDF copy of the report and send it to your email so you can share it with your editor or for personal reference.

When breaking down each variable of your book, Autocrit shows you potential problems in your book by highlighting them on the text. Then you need to follow its advice by removing or adding more words depending on the factor you're analyzing.
From the looks of it, Autocrit is one of the most sophisticated writing tools in this list and is probably more than just an alternative to Grammarly.
Try Autocrit here!
6. GradeProof
GradeProof is a free Grammarly alternative that checks the spelling and grammar of your article. It was exclusively a Google Docs add-on but has expanded as a Microsoft Word add-on and Chrome extension.
Similar to Grammarly, you can check your article to ensure that the content is in tip-top shape. Its free version is good enough to spot common grammar mistakes and spelling errors.
Hover over the underlined word to see what the issue is. You will also see the suggested correction for each that you can click to apply the change.
Aside from its spelling and grammar checker, GradeProof has the Eloquence Engine to provide stylistic improvements to your article.
It does so by finding complex words to simplify and phrases to shorten. Applying its suggestions, you can make your content read better.
This feature, however, is only available if you subscribe to its paid plan ($10/month).
You also get a more sophisticated Grammar Engine that identifies word confusion, capitalization, repetition, and punctuation in your articles.
Finally, you can check the content if it has sections with sentences copied from existing articles online using its Plagiarism Checker.
There are 50 available in a month for the paid plan, so use it wisely. This is a good way to monitor your writers and see if they stole content online.
7. Paper Rater
Back then, teachers had to worry about whether their students submitted plagiarized work for their paper. It was much easier for students to hand off a hard copy of the paper they copied word per word from another source and not worry about getting caught.
Nowadays, teachers can ask students to submit their papers via emails. This way, they can use a tool like Paper Rater to check if the essay is plagiarized or not.
As a site owner, this tool comes in handy whenever your writers submit their articles. You don't want to publish content that's already been published somewhere else. If that's the case, then the article won't rank for your site.
You don't have to log in or sign up to Paper Rater if you want to try out its paper analysis for size.
Just upload the article or copy and paste it on the text box and choose the education level, paper type, and plagiarism detection before getting the report.
Aside from its plagiarism checker, Paper Rater has a grammar checker to see if the article is well-written. Interestingly enough, it runs the analysis using Ginger. So, if you're using Ginger to edit your articles, there's no need to use this tool.
Finally, the Feedback and Writing Instruction gives you an idea of how good the article is. It does so by grading your content using a vocabulary score that compares your article to others with the same readability level.
The tool has a paid subscription ($14.95/month or $95.4/year) where you can submit more articles to review and additional plagiarism checks.
Try out Paper Rater here!
8. Antidote
If you're from Canada and want a grammar checker that covers the English and French language, then Antidote has got your back.
It's a desktop-based software that's compatible with Windows, macOS, and Linux that works like Grammarly.
The installation file is quite large (almost 1 GB) so make sure that you have a stable internet connection before downloading it after signing up for an account.
After downloading the tool, it will download even more updates to the software. At this point, you just want to get this done so you can use the tool.
Once the application is up and running, paste your content on the editor and access the Correction feature. It will review the article for language, typography, and style features.
The tool also has a built-in dictionary where you can look up the meaning of words, their different forms, and how to use them in a sentence.
There's also a style guide to help you understand how to use certain expressions in an article.
The great thing about these guides is you don't have to leave the tool and log in online to find the answer. You stay on the editor and focus on finishing the article before you get sidetracked by something else.
The suggested retail price for the latest version of Antidote costs $129.95. You can find from the site of resellers where Antidote comes in much cheaper. However, you have to inquire first if the shop currently has Antidote available.
If you have the previous version, you can renew your license for the Basic Upgrade at $59 (English) or Premium Upgrade at $99 (English and French).
9. 1Checker
For people looking to enjoy Grammarly's premium features but find its paid plans too steep, then you should definitely try 1Checker.
It's another desktop-based software that's available for Windows and Mac OS X, as well as plugins for Microsoft Word and Outlook that's completely free.
After installing the tool, copy and paste the text onto the editor or upload the document so 1Checker can review it.
After a few seconds, it will show you the percentage of grammar and spelling mistakes it found along with the vocabulary and structure score.
Going back to the editor, it shows you what those issues are and the suggestions to help you correct each one of them.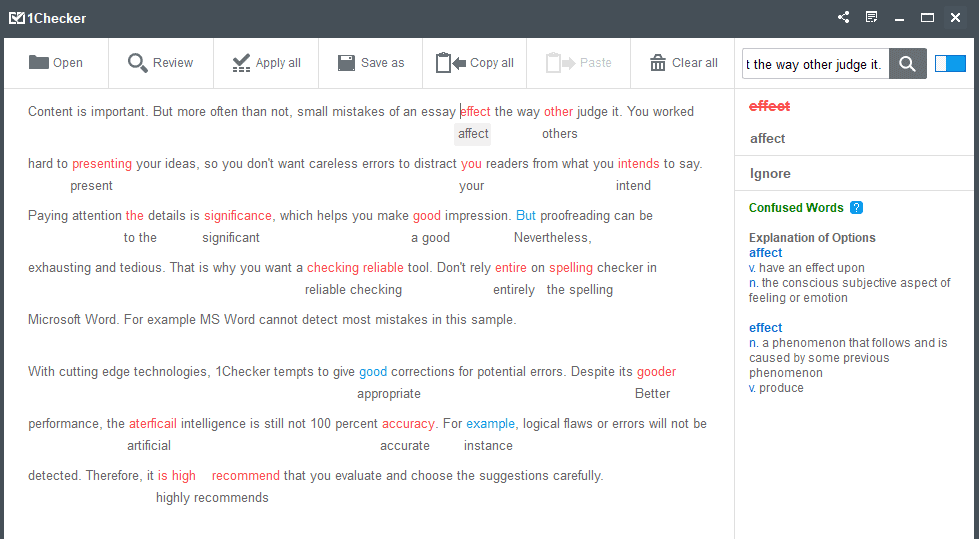 Hover your cursor and click on the suggestions to apply the changes. If you want to apply all suggestions in one fell swoop, click on "Apply All" on the menu bar.
1Checker also has a translation feature when you can copy and paste a block of text you want to convert into different languages including Chinese, Portuguese, German, and more.
Best of all, 1Checker is a free tool that you can use to improve your grammar and sentences. It's a pretty solid alternative to Grammarly if you can overlook the fact that there's no browser extension available.
10. Slick Write
Moving away from desktop applications, Slick Write is an online proofreading tool that also checks for stylistic mistakes in your article. It is available as a Chrome extension or a Firefox add-on.
Using the browser version, copy and paste your content onto the editor and let the tool critique it for you.
Slick Write delves deep into your article by analyzing the words and phrases based on different variables. For example, under the Features tab, it identifies the adverbs, prepositions, and passive voice you used in the article.
Referring to the markers in the editor, you can make the changes as you deem necessary to help make the content read better.
Another cool feature of the tool is the ability to analyze the flow of your sentences. You can examine the structural composition and the length of each.
From here, you can edit your piece accordingly.
Based on the screenshot above, some sentences under the Sentence length flow column have a red line on their bars. This indicates that the sentence is long and you may need to shorten it.
Now If you want a holistic view of your content, check out the Statistics section to get a better understanding of its quality.
Use the data here to edit your article appropriately. For instance, consider removing prepositions since it exceeds the mean for the article.
As mentioned, Slick Write is a free tool that you can use to edit your work before submitting them to clients. That said, there are ads that appear on top of the pages as their way to monetize the tool. If you installed an ad blocker, it then asks to make a donation via its tip jar.
11. Virtual Writing Tutor
If you can't get enough of completely free web-based editors, then add Virtual Writing Tutor to your list.
It's a pretty straightforward tool to use. You can paste your article on the editor box, click on "Check Grammar, and see the issues it found based on the underlined words and phrases.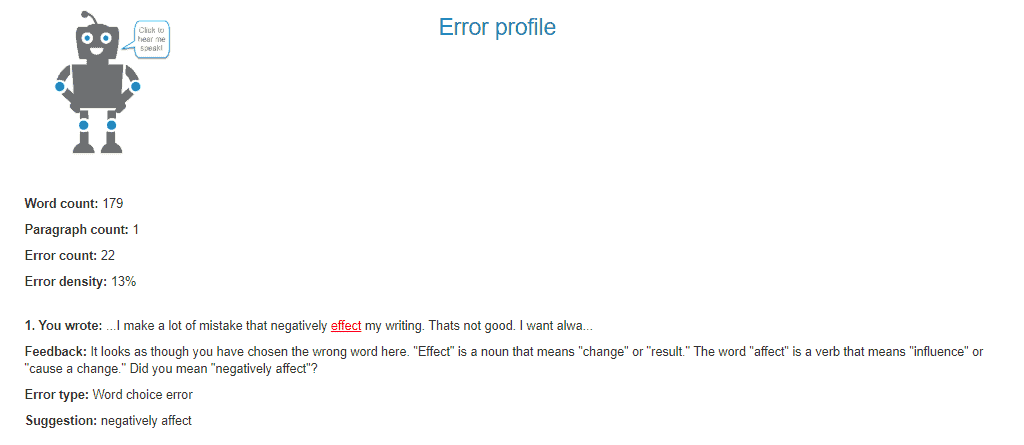 Scroll down the editor to see the errors the tool spotted. In here, it explains the mistakes and the corrections for each that you need to manually fix on the editor.
You can analyze your content such as punctuation, vocabulary, and grammar, to name a few. But you have to click them on the menu one by one to access each of them.
Aside from being a grammar check, Virtual Writing Tutor provides you with tools to help create better content from the start. For instance, you can prepare an outline before writing your article or essay using the tool's built-in templates.
Choose the kind of outline you want to write about and fill out the details by answering the questions. Then generate the outline once you're done and hand it over to your writers who will bring the content to life.
There are also IELTS or language tests you can take if you want to practice writing in the English language. These will help improve not only your skill but also your confidence when expressing yourself in writing on English.
All in all, Virtual Writing Tutor is not one of the best Grammarly alternatives from the list simply because it's not built to be one.
The tool best serves non-native English speakers who want to continuously get better at writing in this language without having to shell out cash.
Try out Virtual Writing Tutor here!
12. Copywritely
Rounding up the list is Copywritely, a Grammarly online alternative for SEO writers.
It has the tool you could expect from an online proofreading tool. After uploading the article or extracting the content from a URL, it checks its grammar and readability using different factors and provides suggestions to correct them.
As mentioned, Copywritely also works as an SEO tool by analyzing the content for variables such as keyword stuffing and uniqueness. These affect the ability of the content to rank higher on organic search.
Therefore, it's imperative that you take a closer look at the issues the tool picks up with regard to these.
It has other features to help you write content with the best chances of ranking on Google.
Its SERP Keyword Research reviews the top pages ranking for the keyword you entered in the search bar. It then throws up words and phrases you need to use in your content, particularly its title, meta description, headers, and others.
Copywritely offers a free trial to new subscribers with limited pages to analyze and tasks to perform. After you've exhausted your credit, you must upgrade your plan starting at $18/month with 50 monthly checks of 5,000 words or less.
If you want to purchase credits that you can use the entire year, the Startup Plan costs $45 and lets you analyze 200 pages the entire year.
Copywritely's rather limited grammar checker features won't supplant Grammarly as your proofreading tool of choice anytime soon. However, SEO writers will find value with the other things it offers.
Conclusion
Before wrapping up this article, keep in mind that these Grammarly alternatives can only help you to an extent.
They can only check your article's grammar, punctuation, and sentence construction.
It doesn't analyze the message or the thought behind the content and won't magically make sub-par writers great.
That said, the beauty of having different Grammarly alternatives to help you create better content is there's always that one tool that fits like a glove for you.
Do your due diligence by testing each one of these tools and see which one works best for you.
Want to learn step-by-step how I built my Niche Site Empire up to a full-time income?
Yes! I Love to Learn
Learn How I Built My Niche Site Empire to a Full-time Income
How to Pick the Right Keywords at the START, and avoid the losers
How to Scale and Outsource 90% of the Work, Allowing Your Empire to GROW Without You
How to Build a Site That Gets REAL TRAFFIC FROM GOOGLE (every. single. day.)
Subscribe to the Niche Pursuits Newsletter delivered with value 3X per week