What Is InMail On LinkedIn And How Can It Give You An Advantage?
When you buy something through one of the links on our site, we may earn an affiliate commission.
Did you know that almost 93% of recruiters use LinkedIn to find qualified job candidates? LinkedIn has more than 830 million users in over 200 countries and territories. That's a lot of potential connections! The question is how do you get the most out of them?
The first step is to understand what is InMail on LinkedIn. InMail lets you send messages directly to potential clients, partners, or employees.
InMail can be a powerful tool for networking, job hunting, and business development. It allows you to communicate in a way email can't match. And it can help you build better relationships with the people you already know.
Let's look at InMail, how it works, and some tips for using it effectively.
WHAT IS INMAIL?
InMail is LinkedIn's internal messaging system. It allows users to send messages to other LinkedIn users, even if they're not in their network.
InMails are sent through the LinkedIn desktop site or mobile app. You can also access them via the LinkedIn Sales Navigator platform. To send an InMail, users must have a paid subscription and an adequate number of credits. However, recipients can read and respond to InMails for free.
Keep in mind that the recipient must select the option to receive InMail. If they have deselected this option, you cannot message them! To send an InMail, search for your desired recipient on LinkedIn and send them an InMail directly from their profile page.
HOW DOES INMAIL WORK?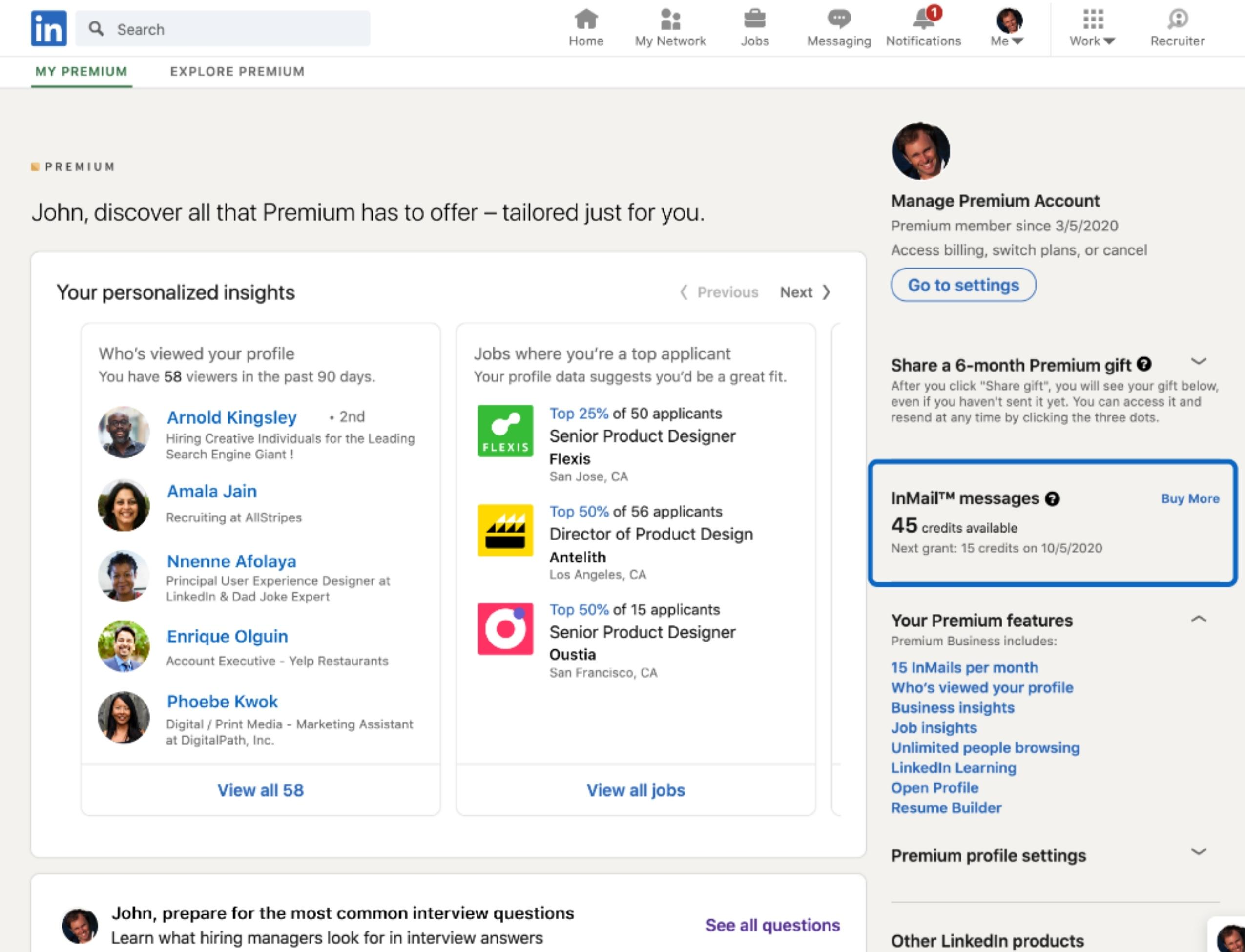 When you send an InMail to someone on LinkedIn, it goes into their "InBox," where they can read it at their leisure. LinkedIn will also email them an email letting them know they have a new message waiting for them.
However, just because they've received your message doesn't mean they'll read it. To increase the chances of the recipient reading your InMail, you must ensure it's exciting and relevant to the recipient.
THE SCIENCE OF Making Your INMAILS Cut Through The Noise
Remember people are busy, and their time is valuable. So get straight to the point and ensure your message is worth reading. If you can't do that in one or two paragraphs, you must reevaluate what you're trying to say.
When writing an InMail, it's essential to keep the following things in mind:
Be brief (no more than three paragraphs)
Keep it clean looking for those reading on mobile
Be clear about what you want or how you can help (don't beat around the bush)
Personalize the message (use the person's name, mention something you have in common or something they or their company has accomplished recently)
WHAT IS THE BEST TIME TO SEND AN INMAIL?
The best time to send an InMail is Tuesday, Wednesday, or Thursday between 10 AM and 6 PM. People are more likely to work these days and times. Therefore they're more likely to see and respond to business outreach.
However, it's important to note that every user is different, so you should also consider the person's time zone, industry, job title, company size, and location when to send your message.
HOW DO I GET LINKEDIN INMAIL?
To get LinkedIn InMail, you must be a member of the LinkedIn site. You can join LinkedIn for free by visiting their homepage and clicking on the "Join Now" button. Once you're a LinkedIn member, there is only one way to send InMail—LinkedIn Premium Membership.
With a Premium membership, you'll get a certain number of InMail messages in your monthly subscription. The number of InMail messages you get depends on your Premium membership level. Prices vary depending on the number of credits you purchase but start at $0.30 and can be up to $1 per sent message.
Here's a step-by-step process to purchasing additional InMail credit on LinkedIn:
First of all, you'll have to scroll through the "Me" tab on your profile.
Now choose the "Premium subscription options" from the list.
Then next to the InMail messages, pick "Upgrade My Plan."
Choose the number of InMail credits you think you'd be spending for your business needs.
After that, choose "Continue" to make your purchase complete.
INMAIL VS. MESSAGES ON LINKEDIN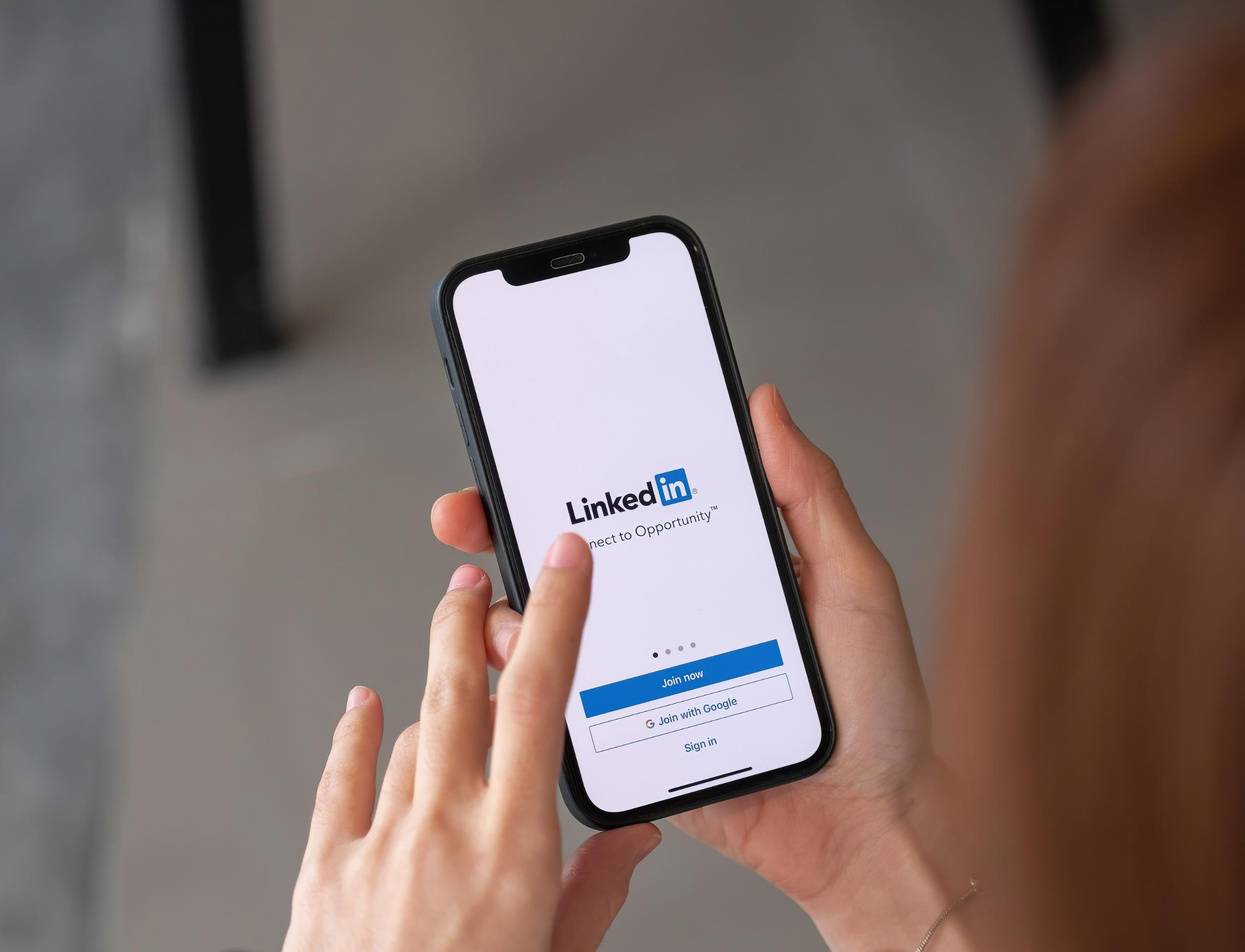 With over 830 million LinkedIn members, it can be challenging to stand out from the crowd. However, LinkedIn InMail and messages are vital areas that allow you to differentiate yourself.
There are several critical differences between LinkedIn InMail and messages that you should keep in mind when deciding which one to use. So, which one is right for you? Let's take a closer look.
LINKEDIN INMAIL: THE PROS
LinkedIn InMail is an excellent way to reach out to someone with whom you don't share a connection. Because LinkedIn InMail messages go directly to the recipient's inbox, they're more likely to see and respond to your message than if you just sent them a regular old LinkedIn message.
Additionally, LinkedIn InMail messages come with a subject line that allows you to grab the recipient's attention and explain why you're reaching out.
Never underestimate the power of a subject line. This can be the difference-maker in whether or not somebody reads your message!
Finally, LinkedIn InMail messages have a built-in template that makes it easy to format your message and include all essential information.
LINKEDIN INMAIL: THE CONS
However, LinkedIn InMail messages also have their drawbacks. Because they go directly to the recipient's inbox, LinkedIn InMail messages can often feel like sales pitches, turning people off. Additionally, because LinkedIn InMails are less personal than regular messages, it can be difficult to build rapport or establish a connection with the recipient.
Finally, LinkedIn InMails can be expensive; unless you have a premium account, you'll have to pay per message, which can quickly add up if you're trying to reach out to many people.
LINKEDIN MESSAGE: THE PROS
On the other hand, LinkedIn messages are a great way to connect with people with whom you already have some sort of relationship- whether it's someone you went to school with, worked with in the past, or even just met at a conference. Because you already have some sort of connection, LinkedIn messages tend to come across as more friendly and personal than InMails.
Additionally, LinkedIn messages are free! So you can send as many as you want without worrying about racking up a big bill.
LINKEDIN MESSAGE: THE CONS
However, because LinkedIn messages are less formal than InMails, they can sometimes come across as too casual or unprofessional. Additionally, because they're not sent directly to the recipient's inbox, there's always the chance that your message will get lost in the mix or never get seen at all.
SO- WHICH ONE SHOULD YOU USE?
Honestly? It depends on your goals and who you're trying to contact. If you're trying to connect with someone you don't have any relationship with yet and want to make sure your message gets seen, go with an InMail.
However, if you're trying to connect with someone with whom you already have some sort of relationship or want to save some money (InMails aren't free!), then go ahead and shoot them a message. Of course, this will require you to connect with the recipient first!
(But also make sure to add some LinkedIn alternatives to expand your options!)
INMAIL FEATURES
InMail has a few features that make it different from other messaging platforms. Here are some of the most notable:
Templates: InMail offers templates that you can use to send messages more likely to elicit a response. These templates are designed to introduce yourself, start a conversation, or ask for a meeting.
Subject lines: A subject line in a LinkedIn InMail is important because it's the first thing the recipient sees. The average person spends no more than two seconds looking at a piece of mail before deciding whether to open it or not. Your subject line needs to be attention-grabbing and relevant to the recipient.
Tracking: Your InMail messages are tracked, so you can see when they're opened and whether or not the recipient of the InMail message responds. This information can help you understand what works and doesn't in your InMail messages.
Scheduling: You can schedule your InMail messages to be sent later. This is useful if you want to ensure your message is seen by the recipient when they're most likely to be online.
Integrations: InMail integrates with several CRM and sales platforms to track your messages and see their performance in your sales pipeline.
HOW TO USE INMAIL FOR YOUR BUSINESS?
Now that you know what InMail is and how it works, you may wonder how you can use it to benefit your business. Here are a few ideas:
REACH A TARGETED AUDIENCE
LinkedIn gives you access to a massive audience. And because the site is geared towards professionals, you can be sure that the people you're reaching are those who are interested in what you have to say—unlike on other social media sites where your target audience might get lost in the shuffle.
ESTABLISH THOUGHT LEADERSHIP
When used correctly, LinkedIn can be a great platform for establishing yourself or your company as thought leaders in your industry. By sharing high-quality content valuable to your target audience, you can position yourself as an expert in your field—which can go a long way toward winning new business.
DRIVE TRAFFIC TO YOUR WEBSITE
One of the most important things you can do when promoting your business online is drive traffic to your website—and LinkedIn can help with that. By including links to your website in your posts, as well as in your profile and company page (if you have one), you can encourage people to check out your site. And once they're there, you have a better shot at converting them into customers or clients.
GENERATE LEADS
Thanks to all of the features mentioned above (including its large user base and focus on quality content), LinkedIn can be a great platform for generating leads for your business. In addition, if done correctly, posting on LinkedIn can help you reach new prospects and turn them into paying customers or clients—which is what every business wants!
CONNECT WITH OTHER PROFESSIONALS
In addition to being an excellent platform for promoting your business, LinkedIn is also useful for connecting with other professionals. By joining groups and participating in discussions, you can build relationships with other like-minded individuals—relationships that could come in handy down the road (for instance, when looking for referrals or recommendations). You never know where these kinds of connections might lead!
INMAIL PRICING PLANS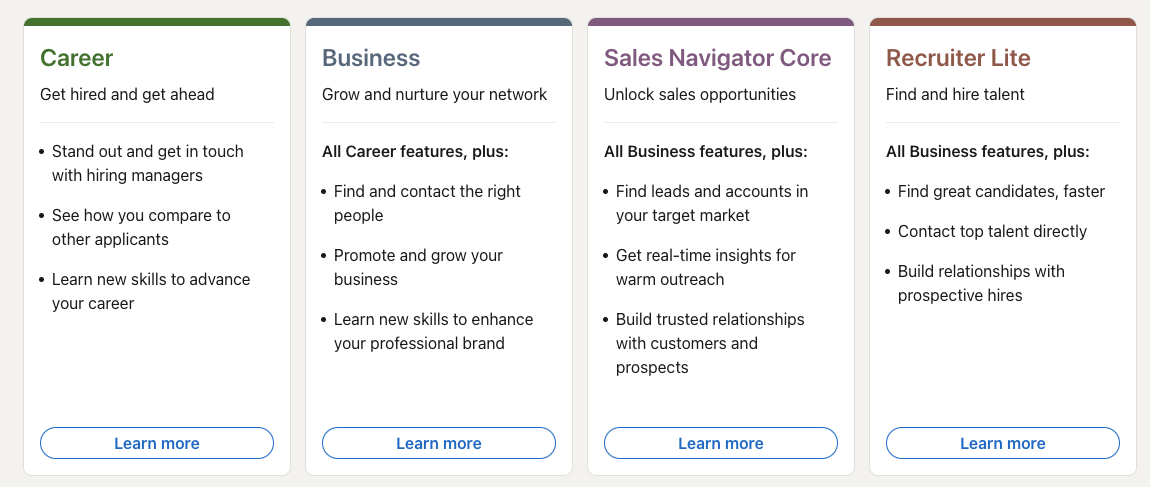 If you're wondering how many InMail messages you can send and at what cost—the price of InMail varies depending on your chosen plan. LinkedIn offers four different paid plans:
Career Plan ($39.99/month)—5 InMail messages per month
Business Plan($44.99/month)—15 InMail messages per month
Sales Navigator Core Plan ($79.99)—50 InMail messages per month
Recruiter Lite Plan ($139.99)—30 InMail messages per month, but also contains premium recruiter-specific features
Besides these plans, it's important to note that receiving InMail messages doesn't cost anything!
HOW TO WRITE An Effective INMAIL (REAL-LIFE EXAMPLE)
When writing a good InMail, you should keep a few things in mind. Here's what you need to do to write a good InMail that will get results:
WRITE AN ATTENTION-GRABBING SUBJECT LINE
Think of your subject line as a headline for an article. Just like a headline, your subject line should be engaging and informative. It should give the reader a taste of what they can expect from the rest of your message (while not revealing too much).
One approach is to use curiosity to pique the reader's interest. For example, ask a question or make a bold statement that will make them curious about what you have to say.
Another approach is to focus on the benefits of reading your message. What's in it for them? How will they benefit from taking the time to read what you have to say?

For example, you could write "[First name], 2x your leads with this simple tweak."
PERSONALIZE THE MESSAGE.
According to email personalization research, the average response rate of personalized messages is 18%, and when it's personalized in subject only, the rate is about 7%.
Here's an example of a personalized InMail:
Hey [insert name],
I hope you're doing well and staying cool in this heat! I'm contacting you because I came across your profile and was impressed by your blogs on [insert blogs from portfolio].
We are seeking someone with experience in [insert relevant skills/technologies]. I know you have a strong background in these areas, and I think you would be a valuable asset to our team. We are also offering a competitive salary and benefits package.
Please let me know if you're interested in learning more about the position. Let's schedule a call to chat about it further. How does Thursday or Friday morning work for you this week?
BE CLEAR ABOUT WHAT YOU WANT
When you write your InMail, be clear about what you want from the recipient. Do you want to meet for coffee? Schedule a call. Or just get advice on something? Whatever it is, make sure to include a clear call-to-action (CTA) in your InMail, so the recipient knows the purpose of your message
FOLLOW UP
Follow up if you don't hear back from the person you InMailed within a week! Send them a short message reminding them that you reached out and add additional value if possible. You can also try sending them a connection request at this point and following up with them in a message.
TEST DIFFERENT SUBJECT LINES
Try testing different subject lines if people aren't opening your InMail. A good subject line will pique the recipient's interest and make them want to open your message. Here are some different angles you can test in your subject line:
QUESTIONS
Asking a question in your subject line is a great way to pique someone's curiosity and get them to open your message. For example, you could try a subject line like, "Have you considered X for your business?" or "Are you doing Y in your marketing?" Questions are also a good way to build rapport with the person you're reaching out to. Remember, people like doing business with people they know, like, and trust.
COMPLIMENTS
Everyone likes receiving compliments, so it's no surprise that this subject line is compelling. When complimenting someone, be sincere and specific. For example, you might say something like, "I loved reading your latest blog post on XYZ" or "I'm impressed after reading about your company ABC." A genuine compliment will make the person feel good and more likely to read your message.
CURIOSITY-INDUCING STATEMENTS
A curiosity-inducing statement is similar to a question in that it's designed to pique someone's curiosity and get them to open your message. However, instead of asking a question outright, you state something that leaves the person wondering what you mean.
For example, you might say, "There's something I think you should know about," or "I stumbled upon something interesting for [Marketers]." Depending on the niche or profession you're reaching out to, you can personalize this portion of the subject line.
What Is inmail on LinkedIn: FINAL THOUGHTS
If you've been struggling to reach someone on LinkedIn because you're not connected to them, then never fear! LinkedIn InMail is here to help. You should now understand what is InMail on LinkedIn as well as strategies to use it to your advantage. Remember to keep the following tips in mind:
Use customization; take the time to look at the person's profile and use the data they provide to stand out from the crowd. Take it a step further and pull relevant information from their other web properties or Twitter!
Leverage catchy subject lines. Test which ones work best with your audience!
Keep your message short and sweet!
Finally, end with a clear call-to-action.
Remember that LinkedIn InMails are best used as a broader marketing strategy.
Sending a well-targeted InMail can help you build relationships and drive business results, but it's important to use this tool as part of a larger plan. By following these tips, you can maximize the impact of your LinkedIn InMails and reach your target audience more effectively.
For related reading, check out:
Want to learn step-by-step how I built my Niche Site Empire up to a full-time income?
Yes! I Love to Learn
Learn How I Built My Niche Site Empire to a Full-time Income
How to Pick the Right Keywords at the START, and avoid the losers
How to Scale and Outsource 90% of the Work, Allowing Your Empire to GROW Without You
How to Build a Site That Gets REAL TRAFFIC FROM GOOGLE (every. single. day.)
Subscribe to the Niche Pursuits Newsletter delivered with value 3X per week