Contena Review: Can it Help You Launch a Successful Writing Career?
When you buy something through one of the links on our site, we may earn an affiliate commission.
Are you an aspiring writer? Or have you been freelance writing for a while and looking to secure higher-paying writing jobs? If so, you may be wondering if Contena can help you, and this Contena review will uncover whether it's really worth the investment.
Freelance writing is a great way to make money online from home. But, as you start your freelance writing career, it can be tough working out how to find clients.
Job boards are one place to find writing gigs. Let's take a look at the Contena job board, what else Contena offers, how much it costs, what writing jobs you can find on the platform, the pros and cons, and whether it's worth your money.
In a hurry? Sign up to Contena right now.
Contena Review
Ease of Use

Platform Job Quality

Earning Potential

Price
Summary
Overall, Contena is a great place to start for new freelance writers looking to start their careers in the industry. It has a well-organized job board filled with legit opportunities and the Contena Academy contains useful information that beginners can use to set up their writing business quickly. However, the membership cost is high and you can find many similar writing jobs on free job sites. But if you're ready, check out Contena here!
Pros
Wide range of writing jobs
Simple application process
30-day money-back guarantee
Educational resources to support new writers
Access to a Contena freelance writing coach
Cons
Some may find the membership options costly
No free trial option to check out what Contena offers
Some job postings can be found on other free job boards
Contena Review: What is it?

Contena is a membership-based platform that offers an exclusive job board and a range of tools and resources to help freelance writers launch their careers.
The job listings can be filtered according to your geographical location, salary preference, writing category, and more. Plus, all job listings are screened and handpicked by the Contena team to ensure they're legit.
You can also access a large database of companies that hire freelance writers in the writing submissions section.
And after activating a Contena membership, you can access their training course that teaches you everything you need to get started as a freelance writer.
What Does Contena Offer?
The Contena website offers a few ways for freelance writers to build their careers. These include:
Job Board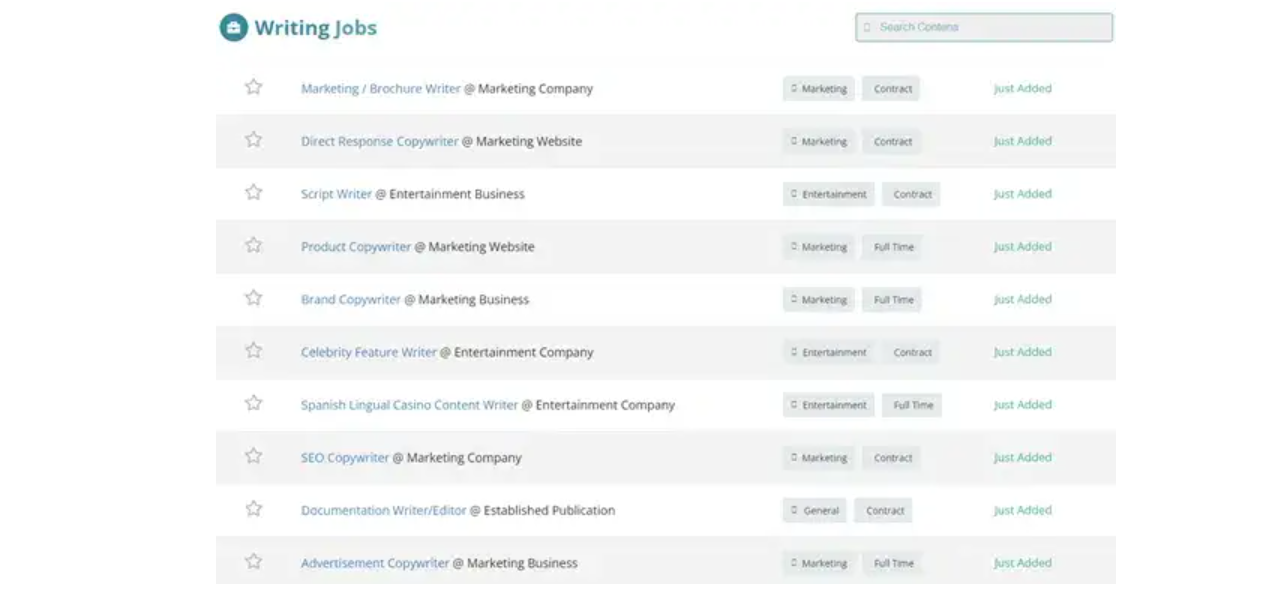 Contena members gain access to the job board that's filled with the latest, hand-screened freelance writing jobs.
These can be accessed from your dashboard by clicking on the 'Jobs' link.
If you see a writing job that you like the look of, you can click on it to see more details, including what pay is offered.
Each freelance writing job shows the industry it's in, such as marketing or entertainment, for example, plus whether it's full-time, part-time, or contract.
Contena Submissions
Contena also monitors hundreds of companies that are currently accepting writing submissions.
For each available submission, you can see the number of words required, the pay for the article, and a 'Submit Pitch' button.
If you see a submission that interests you, click the 'Submit Pitch' button and follow the instructions to send in your pitch.
You'll be contacted by email if they like your pitch, and you'll be given further instructions on the content required and the deadline it should be sent in by.
Contena Academy
The Contena Academy is useful for new freelance writers to help them break into the freelance writing world.
It includes six video modules that teach you everything that's needed to build a successful freelance writing business, including:
How to create writing samples for your portfolio
How to craft a perfect pitch to land high-paying clients
How to negotiate the best deals with clients
How to automate certain parts of your writing business
Contena Coach
If you become a paid member, you get access to a Contena coach.
With this, you receive a consultation and a range of helpful pointers to help you progress in your writing career.
Your coach will always be available for guidance if you feel stuck, including helping you to create pitches or to give advice on the best way to apply for a freelance writing job.
Contena Community

The Contena Community includes a range of resources created by professional editors, writers, and content creators.
Have a scroll through the blog, making money, lifestyle, and wall of wins sections to find information to help you along your freelance writing journey.
Contena Alerts
Life gets busy, and you might not always get time to scroll through the Contena job board.
This is where Contena alerts are helpful. Create an alert in your dashboard to notify you when writing jobs are posted that fit your niche, preferred rate, and any other filters you select.
Contena Scout
Contena Scout allows you to search for writing gigs posted across the net that fit your exact specifications in one place.
This saves you time and energy by being able to filter out the gigs you don't want, allowing you to find freelance writing jobs you do want so that you can apply quickly.
What Does Contena Cost?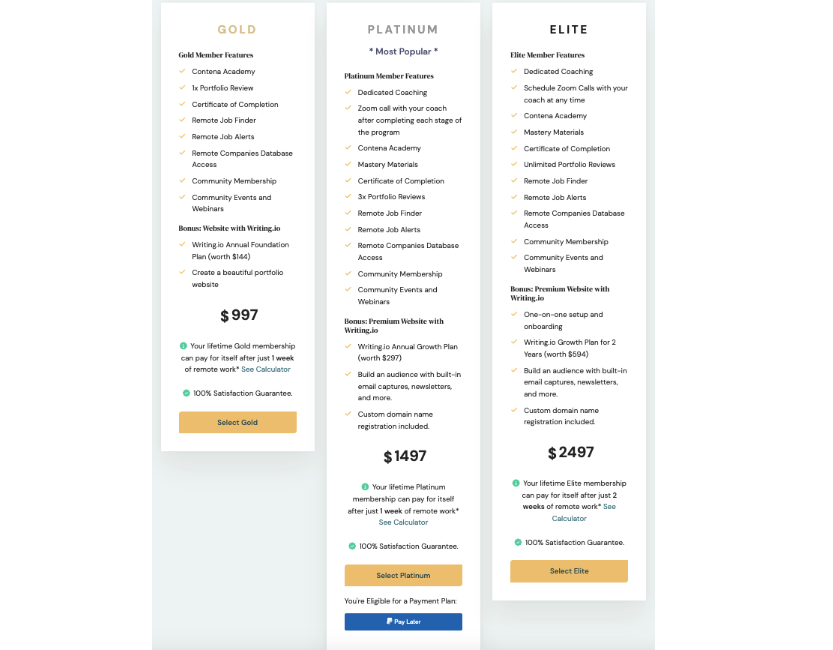 There are a few Contena membership fee options:
Gold: $997
Platinum: $1497
Elite: $2497
Is There a Free Trial?
Contena does not offer a free trial.
However, they do offer a 30-day money-back guarantee.
But, be aware that their refund policy does state that you're not eligible for a refund, if:
You contact Contena outside of the refund window
You do not provide all the completed materials with your refund request
Refunds are not made on installment payments outside the initial refund window
Contena Review: What is the Sign-Up Process?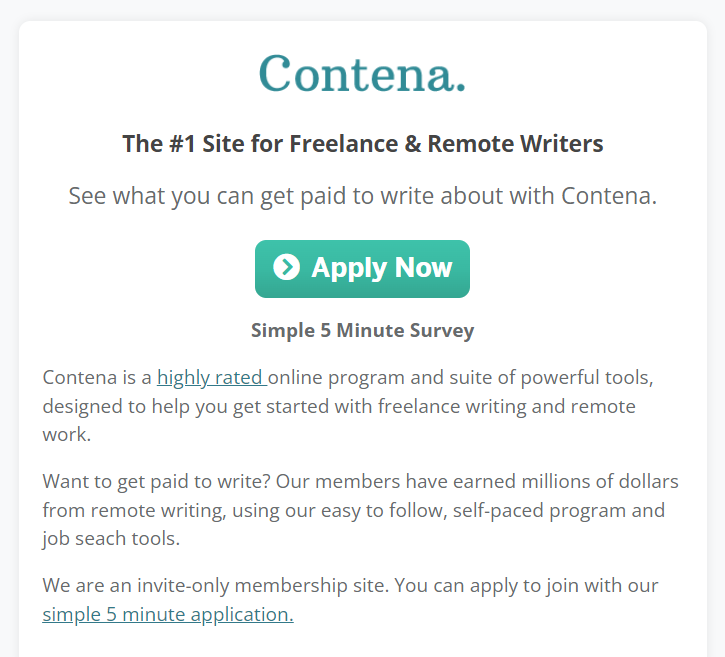 To sign up as a Contena member, you should click on 'Apply Now' and follow their sign-up process.
You'll be asked to fill out a 5-minute survey that includes questions such as:
Basic information such as name, email, country of residence
Are you interested in full or part-time work
What work do you currently do
What freelance writing experience do you have
What type of writing jobs you're looking for, and in what niche
If you're shortlisted to join Contena, you'll be notified by email alongside being sent their writing niche secrets guide and information about activating your membership.
What Type of Writing Jobs Can You Find on Contena?
Once you've activated your Contena membership, you can search for a range of freelance writing jobs, such as:
Full-time freelance writing jobs
Part-time freelance writing jobs
Contract. These tend to pay a little better than other writing jobs
Submissions. Search through hundreds of companies currently accepting writing submissions.
How Do You Get Paid On Contena?
Contena freelance writers get paid once the client has agreed the job has been completed up to standard.
Payment for the job is held in Escrow, which helps if there are any disputes. You can choose to receive your funds in a few ways, including:
PayPal
Skrill
Direct bank transfer.
Contena Review: Are There Any Positive Reviews?
Contena does have a few good reviews on its website:

Are There Any Bad Reviews?
I did find a few bad Contena reviews on TrustPilot, where they have a rating of 2.8 stars from just three reviews, with the most recent review being from 2020:

Contena Review: Who is It Right For?
Contena is best for new freelance writers who have no idea how to get started in the industry.
It has a huge range of tools, resources, and information that'll guide you to get started in the industry and start getting your first few clients.
Contena may also be helpful for writers who've been in the industry for a while but need help refining their pitches and how they market their freelance services.
If you're an experienced freelance writer, Contena may not be right for you, and you can search for new writing jobs on free job boards.
What Are Contena Alternatives?
If you're not sure about Contena, there are many alternative places to find freelance writing work, such as:
WriterAccess

WriterAccess is a platform where freelance writers can find work, develop their portfolios, and get access to free tools and resources.
To join WriterAccess as a freelancer, you need to apply and create an online portfolio of your work. You'll be given a star rating level according to your experience.
Once approved, you can explore the different freelance writing opportunities available and also get matched up with jobs using their AI-powered search.
WriterAccess is free to join, but they will take a 30% commission on the total order price a client pays you.
Learn more in this WriterAccess review.
ContentFly (Now Draft)
Draft offers freelance writing services for a range of clients in different industries.
To work as a Draft writer, you need to fill out their registration form, upload samples of your previous work and wait to be contacted.
If they like what they read, they'll send you a test article to complete, and if this gets approved, you'll be invited to the platform as a writer.
Available content writing jobs will appear in your dashboard, which you can accept or decline. And, as your rating increases, more work will be sent your way.
Learn more in this ContentFly review.
iWriter

iWriter is a platform that connects freelance writers with clients who'll pay for their services.
A few jobs advertised on this platform include product reviews, eBooks, articles, blog content, article rewrites, and more.
To get paid work with iWriter, you should fill out their application process and writing tests and wait for them to be reviewed.
iWriter is free to join, but the pay is low until you work your way up their writing levels to the Elite Plus level.
Learn more in this iWriter review.
Contently
Contently is a content marketing platform that connects freelance writers with clients that need their services.
They even have some big-name clients, such as Marriot Hotels, Dell Technologies, RBC, and American Express.
Because of this, and the fact that they pay writers some of the best rates in the industry, it is a little harder to get accepted as a writer on the platform, so it might not be the best choice for new writers.
And, because they personally match you with every client, it can take a little longer to secure paid work.
Learn more in this Contently review.
Contena Review: Is it Worth Your Money?
At the end of this Contena review, let's sum up whether it's worth your time and money.
If you have no experience in the industry, signing up for a Contena membership could be helpful and will give you all the guidance you need.
And some new writers will enjoy having a coach to ask questions regarding pitches, writing jobs, and how to build a portfolio that gets noticed.
However, the Contena membership fees are expensive and might be too much for some to afford. And, with a little effort, you can find all the information you need to start building your writing career online for free.
For example, you can read this guide on how to become a copywriter from home and this guide on how to earn extra money as a website content writer.
But, if you want support to build your writing career and don't want to spend hours trawling job boards across the internet, Contena is a great option to consider.
Want to learn step-by-step how I built my Niche Site Empire up to a full-time income?
Yes! I Love to Learn
Learn How I Built My Niche Site Empire to a Full-time Income
How to Pick the Right Keywords at the START, and avoid the losers
How to Scale and Outsource 90% of the Work, Allowing Your Empire to GROW Without You
How to Build a Site That Gets REAL TRAFFIC FROM GOOGLE (every. single. day.)
Subscribe to the Niche Pursuits Newsletter delivered with value 3X per week