31 Top Free Job Posting Sites to Help You Hire Better Workers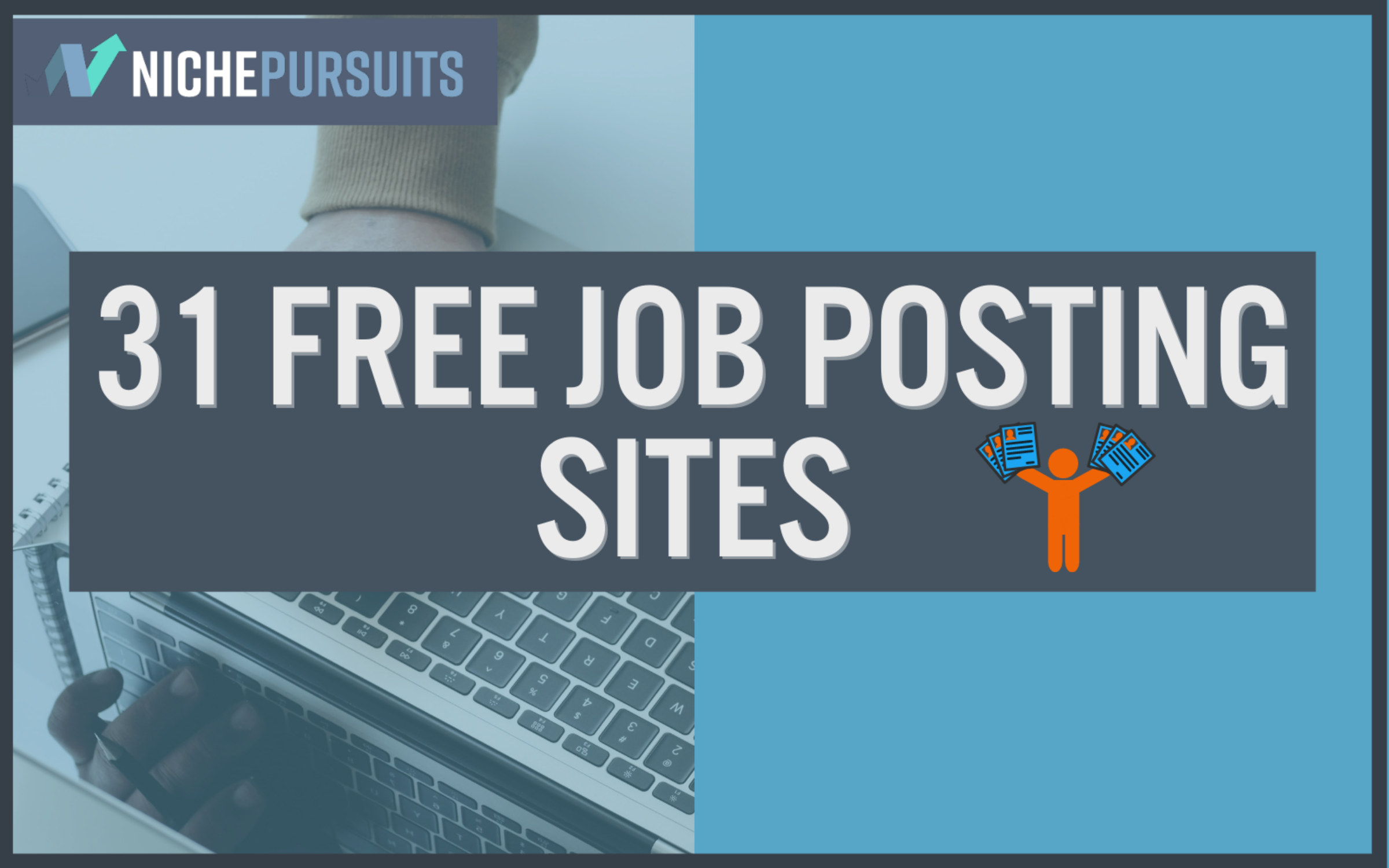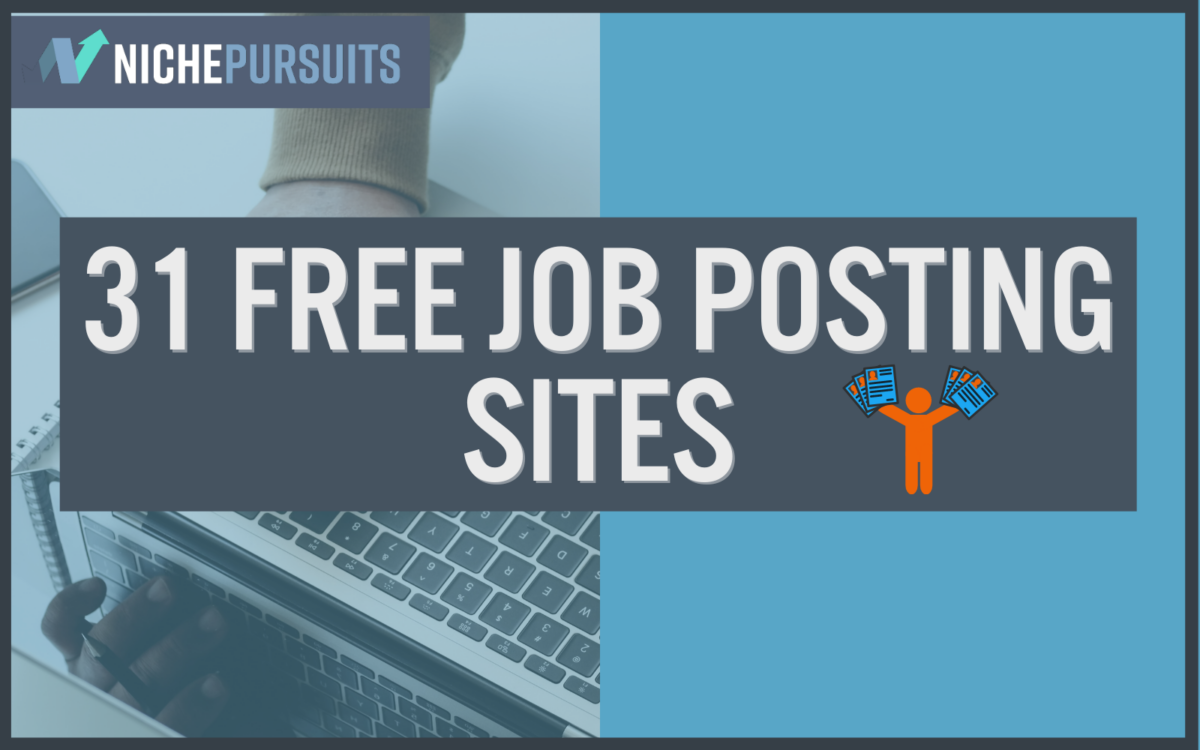 When you buy something through one of the links on our site, we may earn an affiliate commission.
Nowadays, job search happens right here online. However, the process of hunting and hiring is challenging for both parties. 
For employers, finding employees with quality talent and skills isn't easy. Equally, potential candidates find it hard to get the best job opportunity for their set skills.
Fortunately, there are many free job posting sites for employers to find top-notch candidates.
The best free job posting sites depend on several factors, though. This guide explores the top 31 free job posting sites for employers.
Top Free Job Posting Sites
Check out the best free job posting sites to understand potential candidates and effective ways of reaching them on different platforms.
Most importantly, take note of the similarities and differences to help you make a solid decision.
1. Indeed Job Posting Site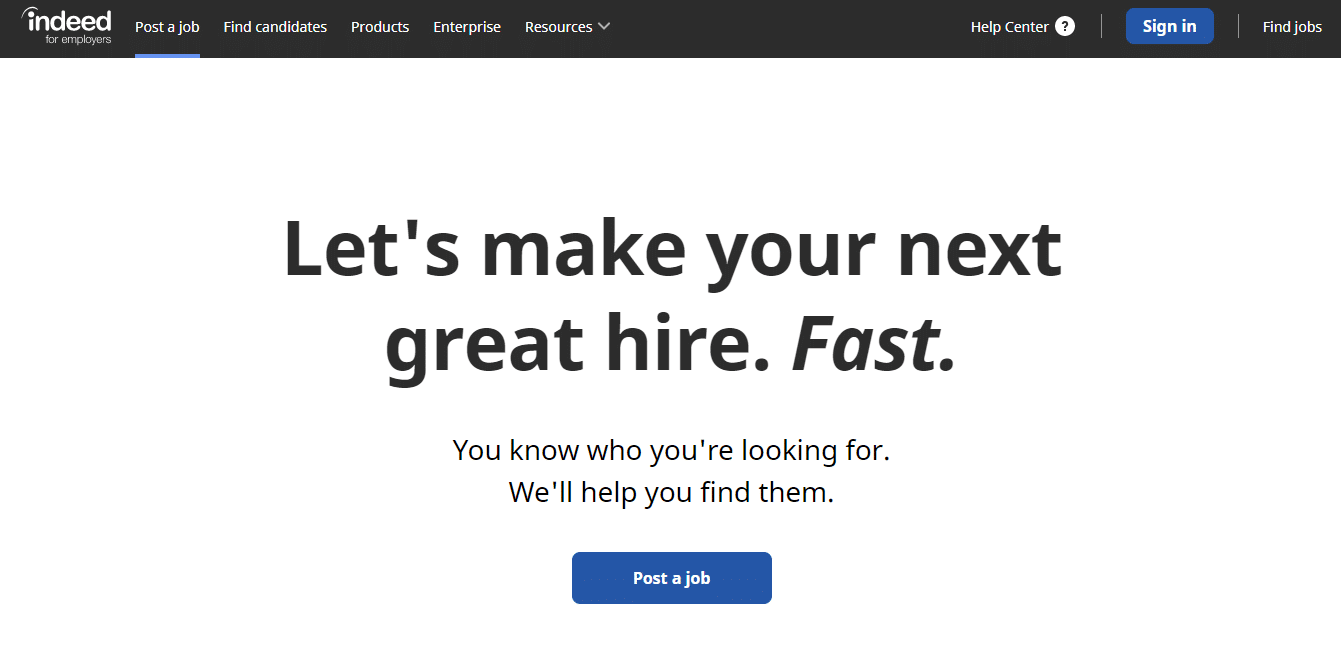 Indeed is a free posting job board with over 200 million monthly job seekers worldwide.
The platform is easy to learn and offers recruiters quick access to potential candidates. Plus, setting up your profile is straightforward and brief, requiring just a few clicks. The ease of use makes this one of the best free job posting sites.
For job seekers, Indeed offers "Indeed Quick Apply." This feature makes it easy for prospective candidates to have a quick and easy job application process. 
Also, it has a mobile app that allows job seekers to search and apply for jobs anywhere, anytime.
Because small businesses have a challenge attracting top talent affordably, Indeed offers many free job postings. Still, there's an option for pay to promote the job postings from as little as $0.10 per month. Though paying for the job ads isn't a must, they boost the visibility for job seekers to apply.
Nothing compares to over 200 million resumes monthly. Hence, Indeed is a hotbed for recruiters to find potential candidates for their clients on various job openings.
Moreover, Indeed allows location-independent organizations to access qualified job seekers across the globe. This way, it would be hard to miss the perfect candidate just because you were searching for the wrong location.
TRY INDEED
2. ZipRecruiter Job Posting Site
ZipRecruiter's platform is easy-to-use, allowing an employer to publish one job posting to over 100 job boards simultaneously. The one-click posting feature prevents the tiresome manual posting to every site.
Still, over 100 free job posting sites is a great advantage to recruiters as it offers a wide pool of job seekers.
Remarkably, your first job post on ZipRecruiter comes with a 5-day free trial. You can cancel the job posting if you're lucky to find enough prospective candidates before the trial period ends.
Otherwise, you must select a favorable pricing option that keeps your job posting published for more qualified candidates.
Another great thing about ZipRecruiter is the state-of-the-art technology like interview screening and mobile-friendly interface. It makes it easy for recruiters and candidates to connect and receive notifications via mobile and desktop.
As its overall goal, the screener questions cut down on irrelevant resumes for a quicker hiring process.  
ZipRecruiter also integrates with other job boards playing a feeder role to them. It means that job postings and resumes on ZipRecruiter can flow to the selected integrated job boards for more exposure.
Lastly, ZipRecruiter offers small businesses a special, timely offer to make the job posting stand out. Its customer care provides adequate support over email, phone, and chat.
TRY ZIPRECRUITER
3. Glassdoor Job Posting Site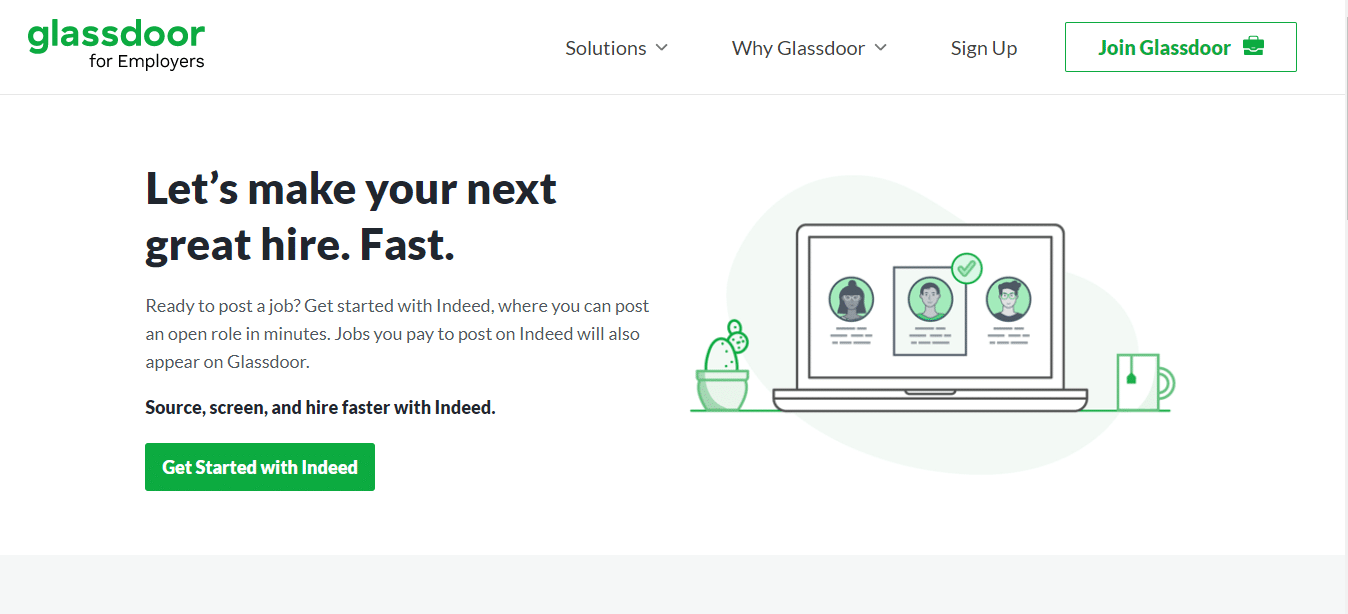 Glassdoor consists of features like:
Job posting
Recruiting platforms
Advertisements
Also, it allows companies to brand themselves online to attract the best potential candidates. The branding helps the company evaluate the employees' reviews and make necessary improvements.
The job posting feature enables employers to develop excellent, compelling job descriptions to attract quality job seekers and eliminate unqualified candidates. It's a product that assists employers in writing job descriptions that optimize keywords.
The keywords make it effortless for a job seeker to search and apply for jobs.
Glassdoor also allows small businesses to use paid but affordable advertising to reach more candidates. Still, it asks employers to pay to have their job postings rank higher.
However, there's no definite pricing on the job postings. So, employers need sales personnel for a customized quote based on their unique requirements.
A special Glassdoor feature involves adding job listings in targeted emails. Glassdoor understands and utilizes email marketing to send personalized emails with job openings to several job seekers.
This is a great way for employers to forward their information to potential candidates with email alerts, even if it costs extra.
TRY GLASSDOOR
4. LinkedIn Job Posting Site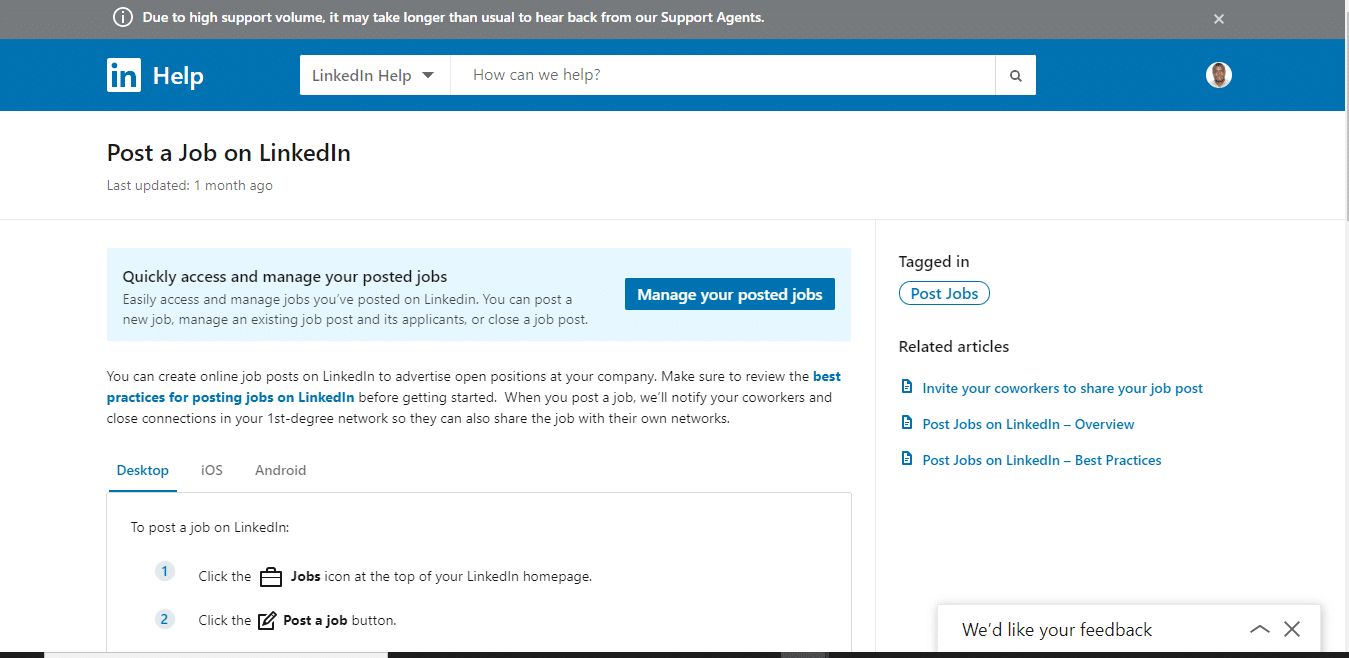 LinkedIn does not come with many bells and whistles, but it's still the best social networking platform for the working class. Though it started small, it's now a thriving environment where people create profiles, share information, post updates, and form solid networks with each other.
The best approach would be to create a LinkedIn Business Page as an employer. It's a free and excellent way to display the company culture and job postings to potential hires, making this a great option among free job posting sites.
Recently, HR managers, business owners, and recruiters are turning to LinkedIn to hire remote employees and freelancers. This is because it provides a more reliable network recommendations system than other crowdsourcing platforms.
LinkedIn also has a new ProFinder feature that helps employers hire local freelancers and remote employees based on zip codes. At just $60 monthly, ProFinder works best for businesses that want quick hires for short-term and one-off projects.
The automatic design of ProFinder enables a quick and painless job posting. Here's how:
A job posting goes live.  
The LinkedIn in-house team takes less than 24 hours to respond to the request using five local resumes.
When there's a match, freelancers receive a request in place of the client asking for a response to the job posting.
Employers can then schedule an interview with qualified candidates from the hiring request after going through their applications.
TRY LINKEDIN
5. Google for Jobs Posting Site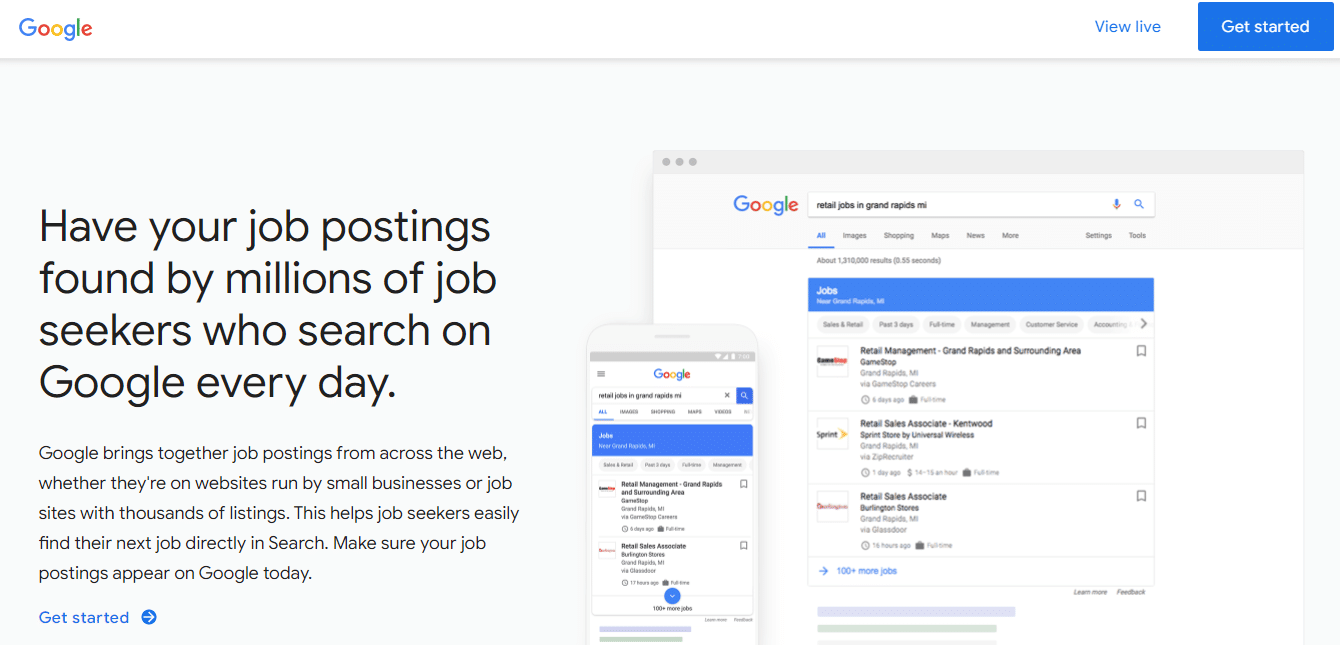 Where's the first place you run to for answers online? Google!
Besides, Google searches are over 3.5 billion daily. 
As an aggregator tool for job posting, "Google for Jobs," is an enhanced Google feature that collects several job postings from other job boards and career sites. Then, it includes them in Google Search.
Many companies rely on this free route to post job openings to attract relevant candidates to specific roles. How so?
Like many companies, it's typical to advertise job vacancies on its job page. But, how many people view those job openings? 
Google for Jobs takes you through the step-by-step process of making your job postings visible in search results. This way, your current job posts get improved distribution.
Currently, Google for Jobs exists in several regions like the UK and the US, as Google keeps growing this feature's reach.
An employer can post jobs directly from their website but must include formatted data on the job description web pages.
This advanced search feature improves the recruitment process for employers and job seekers by showing job listings in a prominent location. So, the search results display details like your logo, ratings, and reviews.
Additionally, Google for Jobs uses filters on applicants' location and job title to attract job seekers interested in the job post.
TRY GOOGLE FOR JOBS
6. Upwork Job Posting Site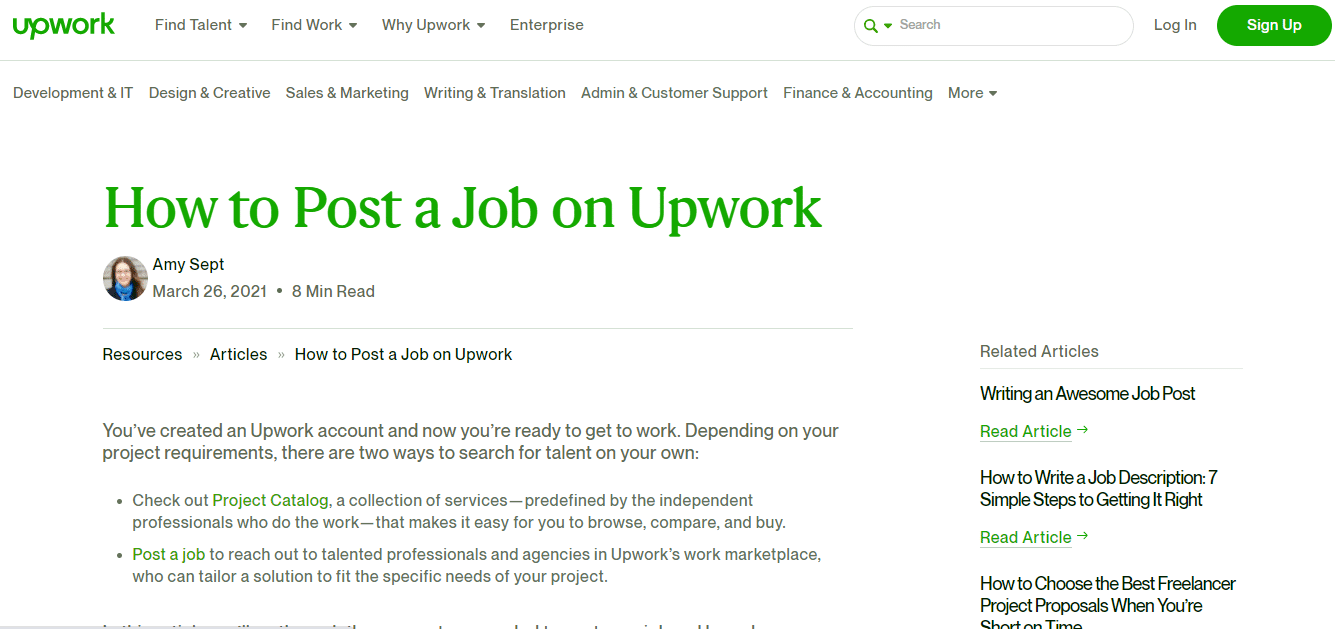 Upwork comes with excellent features for employers, such as:
Free job postings
Contract systems
Defined limits
Time tracking programs
Businesses can pay contractors, review proposals, and message freelancers using its dashboard.
Generally, employers post jobs they need applicants for, attracting several proposals from freelancers. Though it's a free job posting site, it has extra features like talent sourcing, unlimited connects, and account management.
Upwork proposals are like cover letters since freelancers sell their skills to the employer. Also, the employer has the liberty to go through the applicant's profile, qualifications, reviews from other employers, and certifications. Undeniably, it's a great method of finding quality freelancers with an impressive track record.
Conversely, applicants include an hourly rate on their profile even though they can work hourly or on a per-project basis. A work diary also allows tracking an hourly freelancer's time consumed on a project. So, contractors can't rip off businesses by overstaying on projects or demanding pay for false extra hours.
Upwork also has a mobile app and instant messaging for quick and easy communication with freelancers. Plus, it features a secure online database for the safe sharing of work between employers and contractors. Therefore, it becomes easy for contractors to submit work and do necessary corrections.
TRY UPWORK
7. SimplyHired Job Posting Site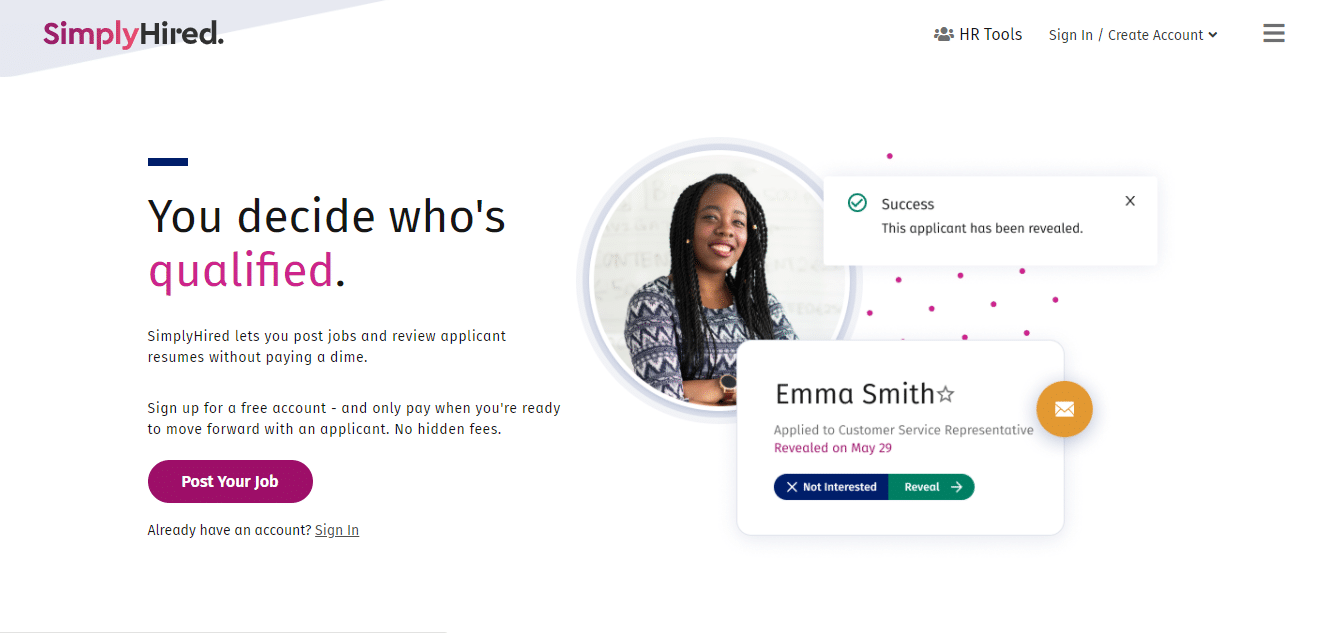 SimplyHired is a job site aggregator which sends job postings to over 100 different career sites, similar to Indeed. It has excellent features that help employers receive job applications instantly, see and evaluate recommended candidates, and post jobs for free.
While SimplyHired has free job postings, employers can also pay for sponsored job listings. Like other sites, the paid ads boost the job posts higher in the search results. Besides, the prices are flexible, allowing the employers to get a modified quote matching their situation.
SimplyHired also comes with great tools like a salary estimator. This salary tool allows candidates to compare salaries across job titles, locations, and industries. In regards to this, there are guides to several positions showing average salary and compensation ranges for each.
Finally, it has filters for job search and a mobile app. The filters quicken and ease the process of hiring by taking out irrelevant applications. On the other hand, the mobile app allows the job seeker and employer to access the site remotely.
TRY SIMPLYHIRED
8. Facebook Job Posting Site
As the largest social media platform globally, Facebook attracts more than  2.6 billion monthly active users.
Currently, posting jobs on Facebook is free. Facebook is particularly valuable for small businesses with a narrower budget than most paid sites. Besides, small businesses can access viral help from users who tag job seekers or re-share job openings.
Nonetheless, you can pay to promote your job ads if you want to extend them to specific demographics.
The Facebook job posting is straightforward. In less than 5 minutes, you can post a job on your page, track applications, and respond to candidates through Messenger.  
Likewise, the process is hassle-free for applicants. After clicking the 'Apply now' button, a pre-filled form opens with information from their profile. Of course, it's possible to edit and review your information before applying. The simple and speedy application process is a major bonus for most candidates.
Facebook reaches a considerably wider audience with potential candidates. With Facebook job posting, you can track where people spend most of their time – Facebook
Moreover, Facebook targets existing fans of your brand. If someone likes or follows your company page, most likely, your job posting appears on their news feed. So Facebook job posting attracts potential job seekers with significant brand loyalty towards you compared to cold candidates.
TRY FACEBOOK
9. Jora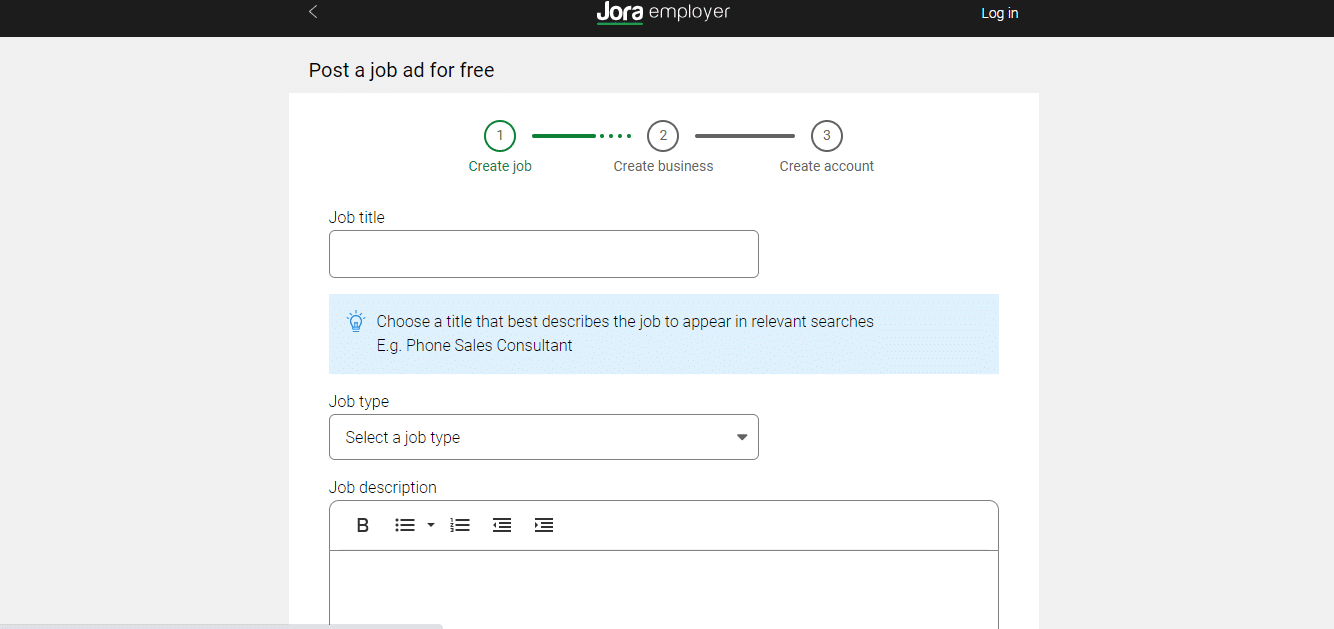 The Jora Jobs app allows you to search for job applicants in real-time. Its well-structured job boards allow you to attract competent individuals easily.
Another advantage is that Jora Jobs receives frequent updates to optimize your listing and reach large audiences with ease. With millions of users, this app is on a roll and ensures you have access to many job seekers.
Admirably, Jora doesn't interfere with any other phone apps. Plus, it operates safely, ensuring your data is secure.
The app's "find jobs near me" button shows jobs based on your location. So, you won't strain to get employees from around on short notice.
Also, the software uses your recent searches to provide related recommendations. With a well-structured job listing, you have a high chance of popping up and attracting many professionals.
You may email or save shortlisted candidates to yourself and set up push notifications if an ideal candidate shows up.
TRY JORA
10. Handshake
With so many advertised opportunities, students fight to avoid fraud and keep track of valuable tools for job progress. It also makes it challenging for them to find updated, trustworthy employment ads.
Handshake aims to ease things for college learners and new graduates as well as employers looking for such individuals. Creating a profile is simple and requires candidates to add essential detail about:
Institution
Study area
Education level
Experience (optional)
Hence, they allow you to quickly peruse through the available candidates and determine suitable ones when you urgently need to fill a spot.
The platform offers you thousands of students from various colleges, giving you flexibility in choices. Opportunities display based on how nicely a candidate's profile fits the job description.
Besides, you have to indicate whether you offer full-time/part-time work, making it simple to obtain suitable aspirants. 
The website also provides information about the university and corporate events. These include job openings, career advice, and more.
Through the app, you can network with students and other employers. You can also keep track of candidates, making the onboarding process seamless.
Each career center within the app is unique to a university, allowing you to attract the audience you desire. Candidates can sign up for employment fairs or on-campus recruiting activities and easily acquire job hunting information from the center.
TRY HANDSHAKE
11. AngelList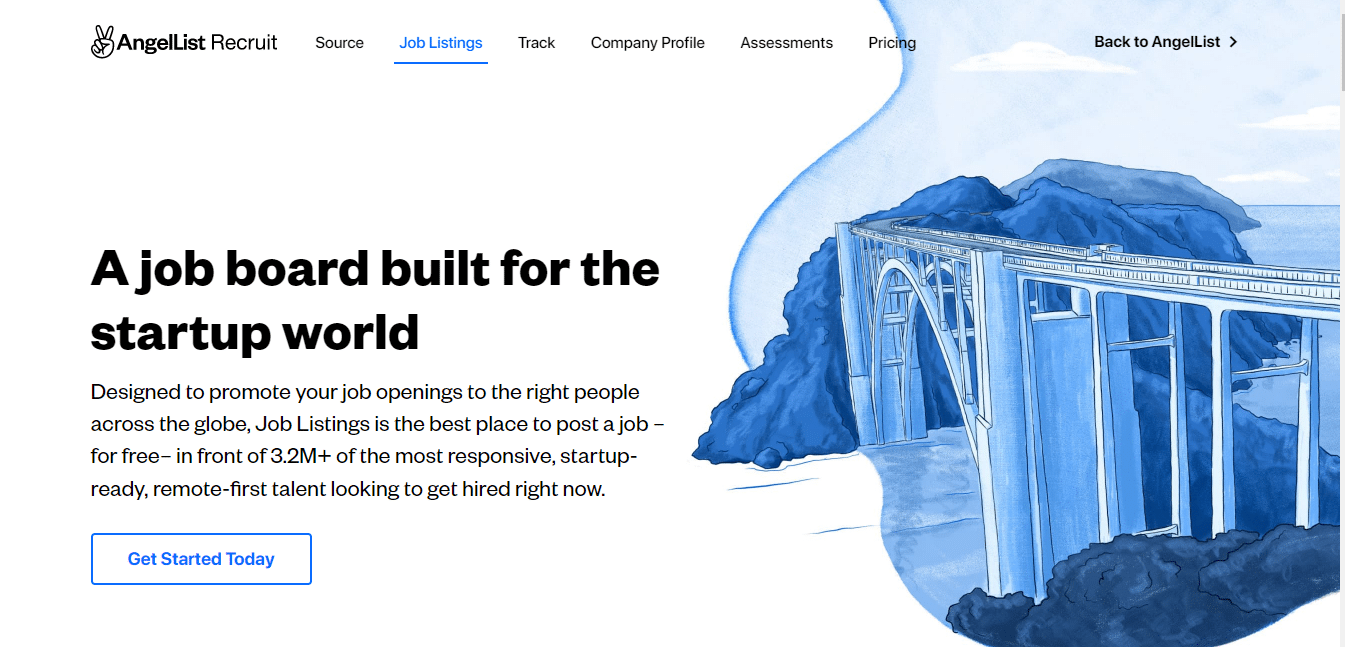 AngelList is among the few work sites specialized in the startup environment, making it a unique job-hunting platform.
The website allows startups to post positions, browse resumes, contact prospects, arrange interviews, and more. Moreover, AngelList helps startups locate funding. Indeed, it's an excellent free posting site to grow your brand's workers and financial position.
Being cloud-based, it doesn't require downloading or installation. After selecting a plan, users can immediately post open positions and manage applications.
AngelList features an online help center containing articles to get you started. You can reach their support through email or chat for more information.
Moreover, the website is flexible, allowing multiple integrations. It connects with ATS like Lever, Greenhouse, and Workable. Plus, it works with Slack, calendars, and other tools.
While it's nice to access free services, customers on paid plans get a personal account manager to smooth their operations.
Key provisions you get include:
Searchable talent database
Sponsored job posting
Candidate matching
Interview scheduling 
Candidate assessments
Company page
Analytics
Send messages
Mobile App
TRY ANGELLIST
12. Ladders
Ladders isn't your typical job site. It selectively lists top-paying jobs and senior roles instead of catching millions of job advertisements from various industries and experience levels. Interestingly, all employment on this site pays over $100,000.
That reduces the number of jobs on Ladders. As a result, it becomes easier to acquire skilled talent.
How easy is it? When signing up for Ladders, candidates tell them their current industry, job title, and pay interest. With this information, the algorithm begins matching candidates with related listings. It shortens the time for ideal prospects to access your ads.
Ladders offers free and premium accounts, both of which provide outstanding performance. Search results are to the left, with the right containing detailed information. It has a well-organized design, with precise details on candidate locations, education background, wage requests, and experience levels.
TRY LADDERS
13. Chegg Internships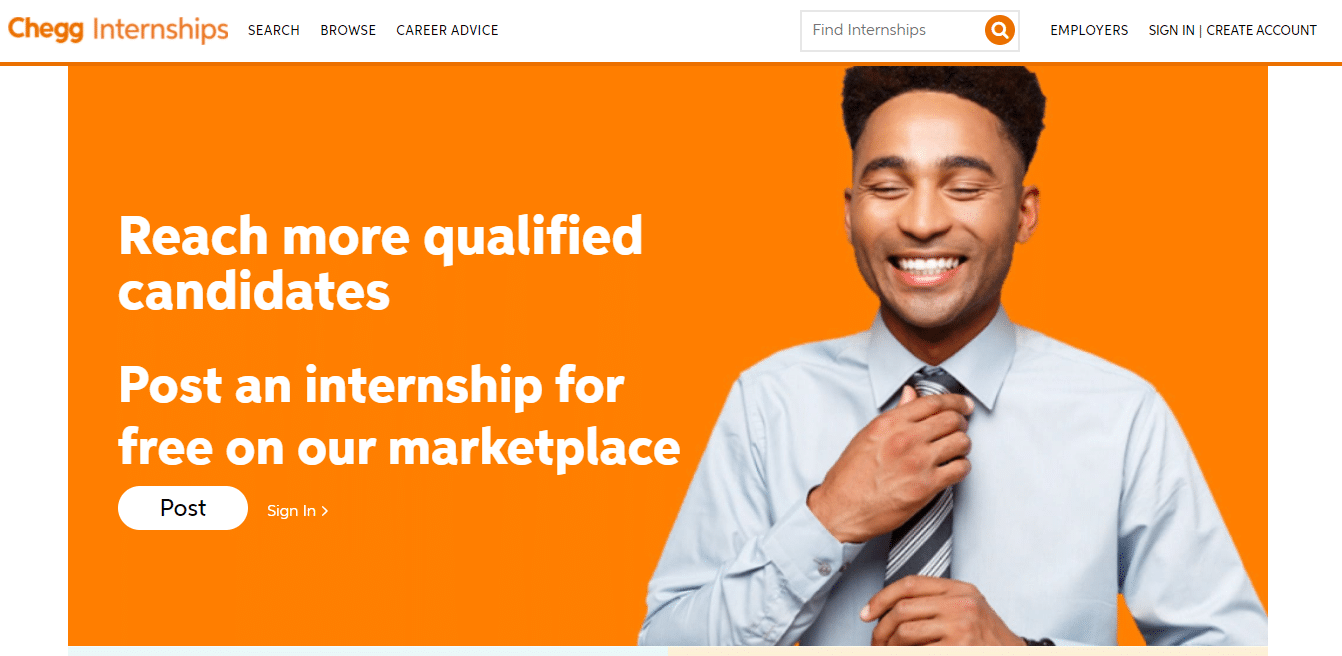 Chegg Internship, a tool for job postings and online tutoring, allows employers to share intern positions and entry-level job listings. Employers can use the website to accept aspirant requests across the US, enabling speedy onboarding.
Another benefit is employers can use Chegg to find talented and knowledgeable nominees for internships and full-time positions across the country. The website also includes many resources for running large intern programs.
Chegg allows new graduates and undergraduates to scour for work placements from over 60,000 employers. Besides, it allows candidates to constrict the search based on location, job category, and season, speeding up their interaction with potential employers.
The platform is straightforward to use. There are check filters that provide sample job descriptions to employers. Also, the site's massive network ensures positions don't have to stay for too long before candidates show interest.
Overall, Chegg's simple platform is best for a one-time hire, unlike Handshake which is best for a company that needs to fill multiple positions.
TRY CHEGG INTERNSHIPS
14. Learn4Good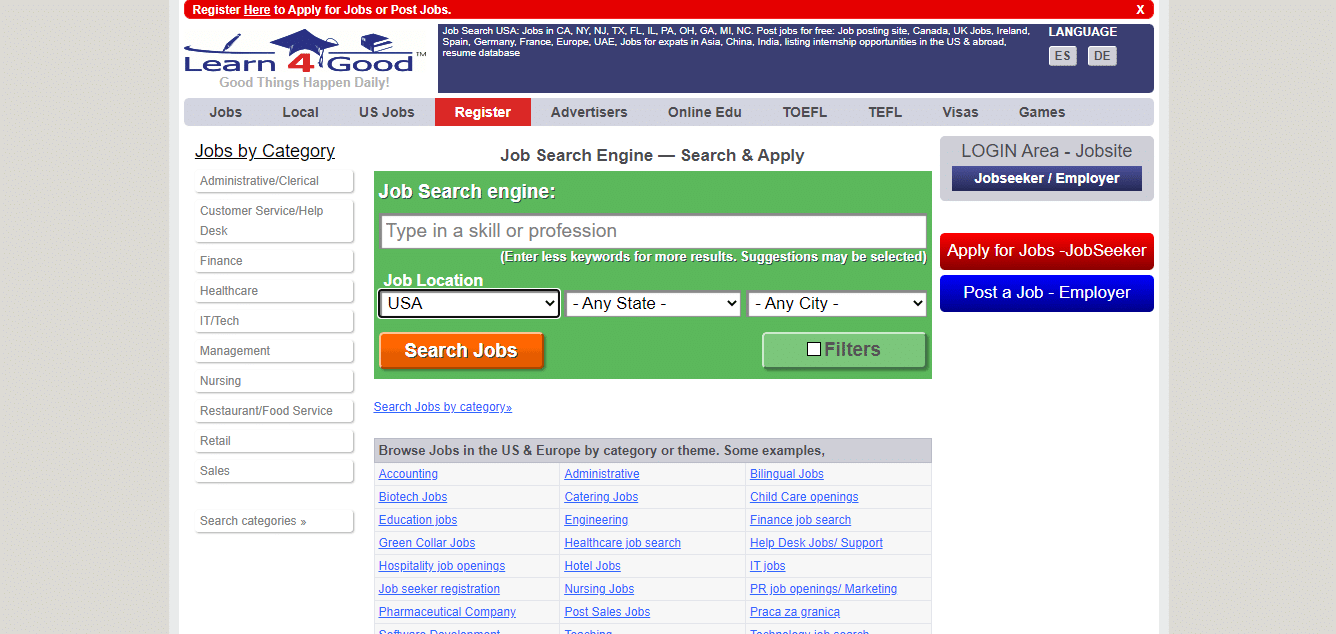 This site may be your answer if you are looking for international employees. Learn4Good is a teaching job board and educational hub with job postings in 20 countries.
Entrepreneurs and recruitment agencies can publish open positions in various sectors.
The site has a remarkable structure with jobs categorized on various pages to make things easy for aspirants to locate your ads. Included are brief job descriptions to help candidates gauge whether they meet your criteria.
Aspirants can view all pertinent information on their favorite postings and apply for the positions right from the website. This way, it shortens the recruitment procedures on both ends.
Some of its superb features are:
A free 20-credit work listing feature
Over 10 million unique yearly visitors since 2007, granting access to many talented individuals
Categorical data based on company, location, business, job ID, and sector
Personalized applicant filters and candidate matching
Overall, Learn4Good is an excellent option for luring local and international experts to your academic jobs.
TRY LEARN4GOOD
15. PostJobFree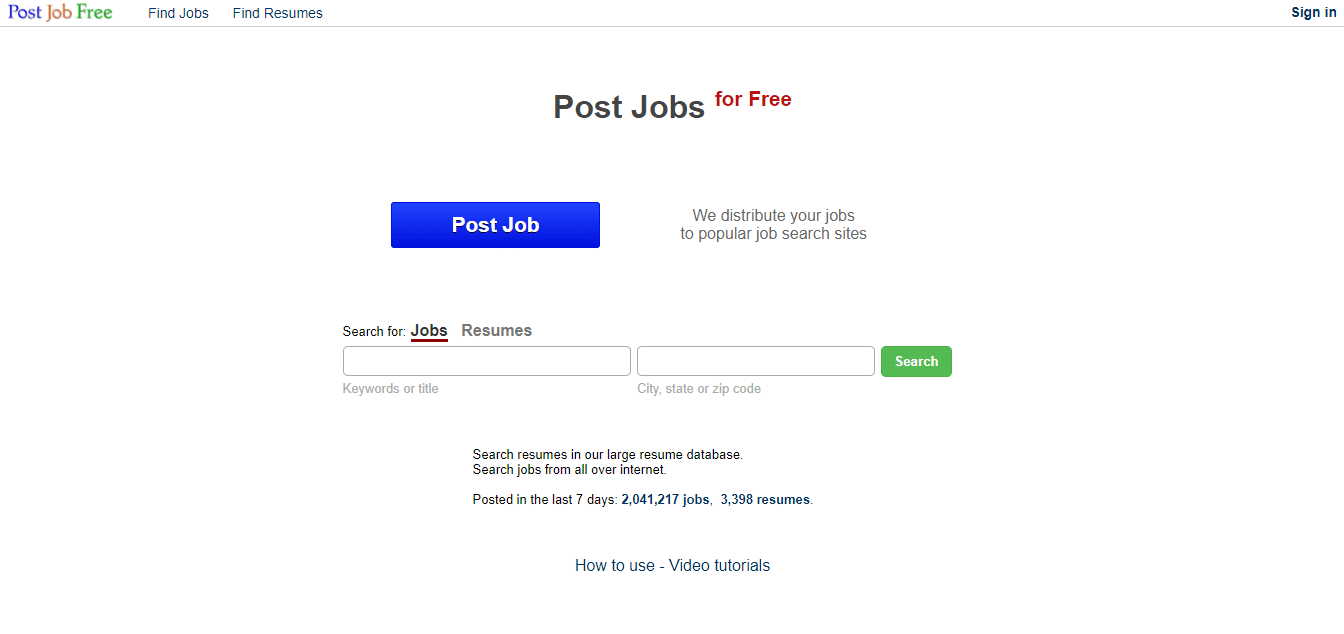 PostJobFree offers a free, simple solution to search for CVs and post jobs. Offers placed on the platform automatically spread across 20 job boards based on their detail, reducing the hassle when uploading a position.
The simplistic interface requires minimal presses to get the information you need. Besides, you don't need an account to post a job, making things quite speedy.
Monthly, their job hunting engine draws thousands of domestic and international users. PostJobFree receives over 2.1 million postings and 7.4K resumes per week.
You can use the site to recruit international workers for your US positions because they have an established US presence and also cater to worldwide audiences.
PostJobFree is compatible with various applicant tracking systems to ensure you are at par with your favorite candidates.
Lastly, it's super simple to upload your postings. Plus, unlike other websites involving pre-publishing vetting, there is no evaluation required.
TRY POSTJOBFREE
16. CareerBuilder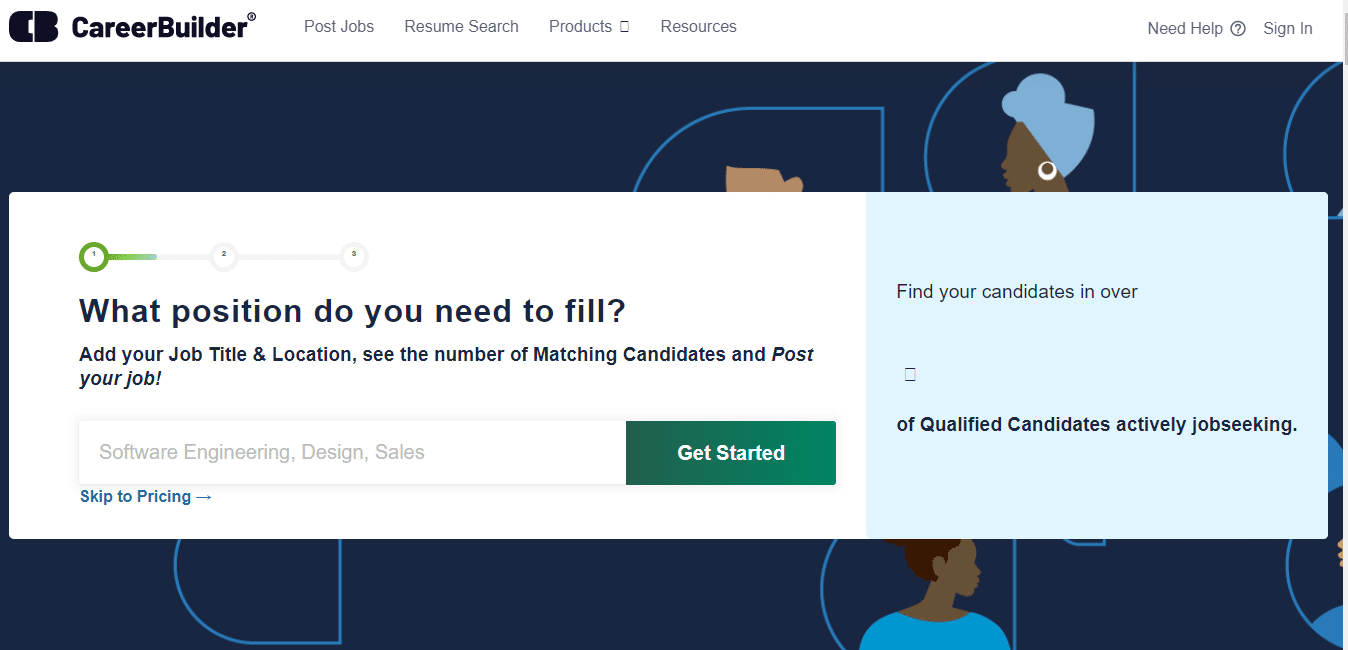 CareerBuilder has an extensive database of job candidates from the US, Canada, Asia, and Europe, giving you a broad area to source employees.
Aside from enabling employers to publish vacancies, the platform includes several marketing and recruitment tools. Hence, it assists you in finding qualified applicants quickly.
You can easily upload job listings on the site, with AI functionalities automating many of the more ordinary aspects of the process. AI also helps generate the position description, ensuring you don't skip apparent topics.
You'll receive alerts when CareerBuilder discovers a potentially suitable new candidate. However, the signals have a daily limit of 25, which is quite a lot anyway. The site features an excellent dashboard with comprehensive information on your listings and applicants.
You can submit job postings to specific applicants, automate the process, and check what competitors are paying for comparable positions.
TRY CAREERBUILDER
17. Hubstaff Talent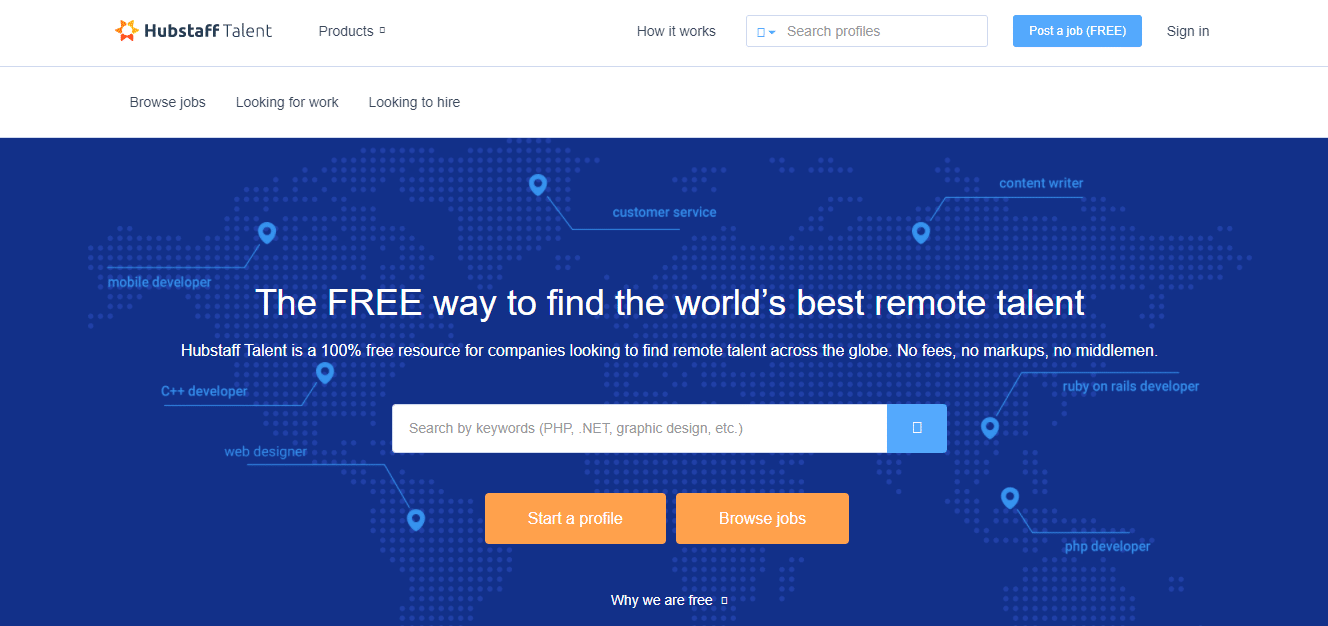 The most significant advantage Hubstaff Talent has over many similar job boards for freelancers is its free services. While it works similarly to Upwork, it has fewer job postings. That shouldn't make you write it off, as everything seems meticulously selected.
Besides, the simplicity with Hubstaff Talent is that candidates don't have to browse through hundreds or thousands of jobs they dislike. The lesser the postings, the more straightforward professionals can access your ads.
The site only facilitates the initial linking, allowing employers and freelancers to interact remotely. Over 300,000 worldwide visitors each month ensure that employers have a ready market while freelancers don't run out of tasks.
Employers can look for freelancers using advanced search filters, making it a cinch to identify suitable candidates. Moreover, employers receive notifications when interested freelancers make an offer. Also, they can contact applicants with personalized messages via email.
Another advantage is Hubstaff Talent allows the syndication of work offers to other sites and job boards. You are getting immense traffic that increases the likelihood of speedy task completions.
While job posts last 60 days, you can repost freely. But, given the high freelancer count, it's unlikely to wait two months without someone eyeing your task.
TRY HUBSTAFF TALENT
18. Jobvertise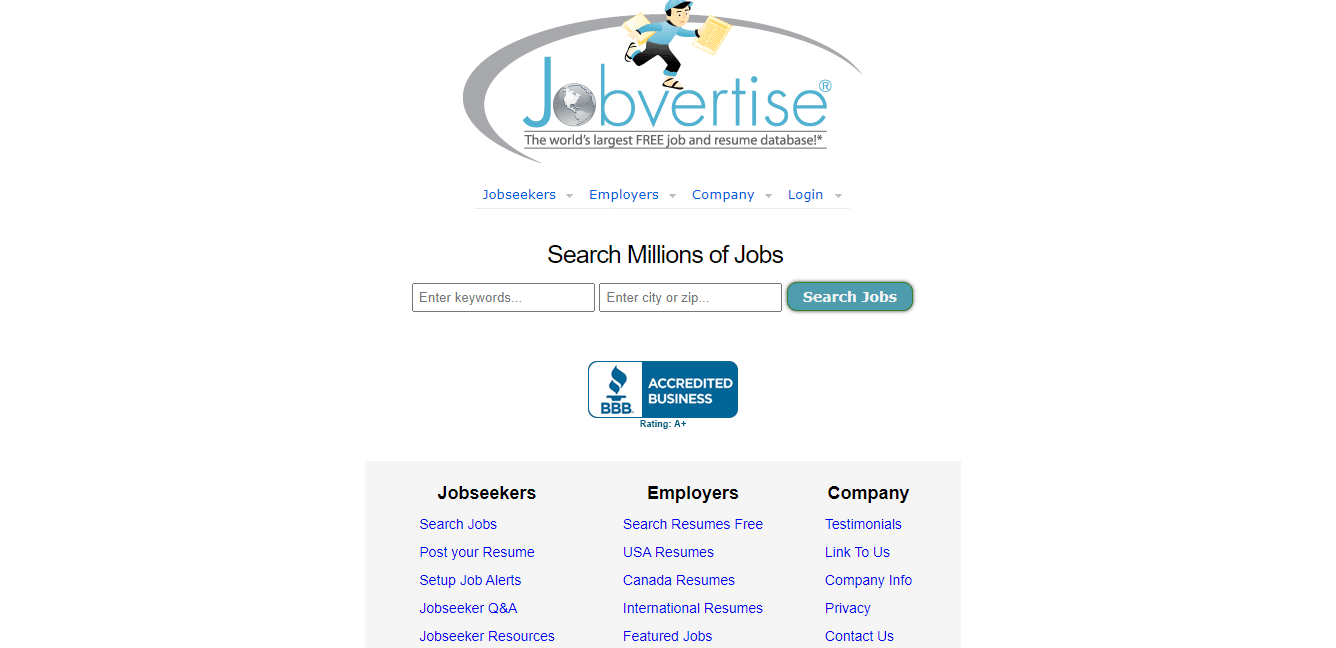 Jobvertise is a multiple job posting service based in the US. Jobseekers from the US, Canada, and other countries can post their resumes, which hiring managers can search for free. Domestic and global employers can publish jobs freely or pay to spotlight their jobs.
Employers can see the CVs posted in the previous 30 days and get resume alerts. Moreover, they can view resumes in many file formats and sift them by classification and title.
Accessing relevant resumes is as simple as entering a keyword, like the job title, plus your zip code, city, distance, and state. If applicable, check the box labeled showing aspirants willing to move and then click "Search Resumes."
When posting a gig, you need to include your job title, summary, location, and contact information. While the user interface may not be the best, the site has many excellent opportunities. It's no surprise that Jobvertise has an A+ BBB rating.
TRY JOBVERTISE
19. Startupers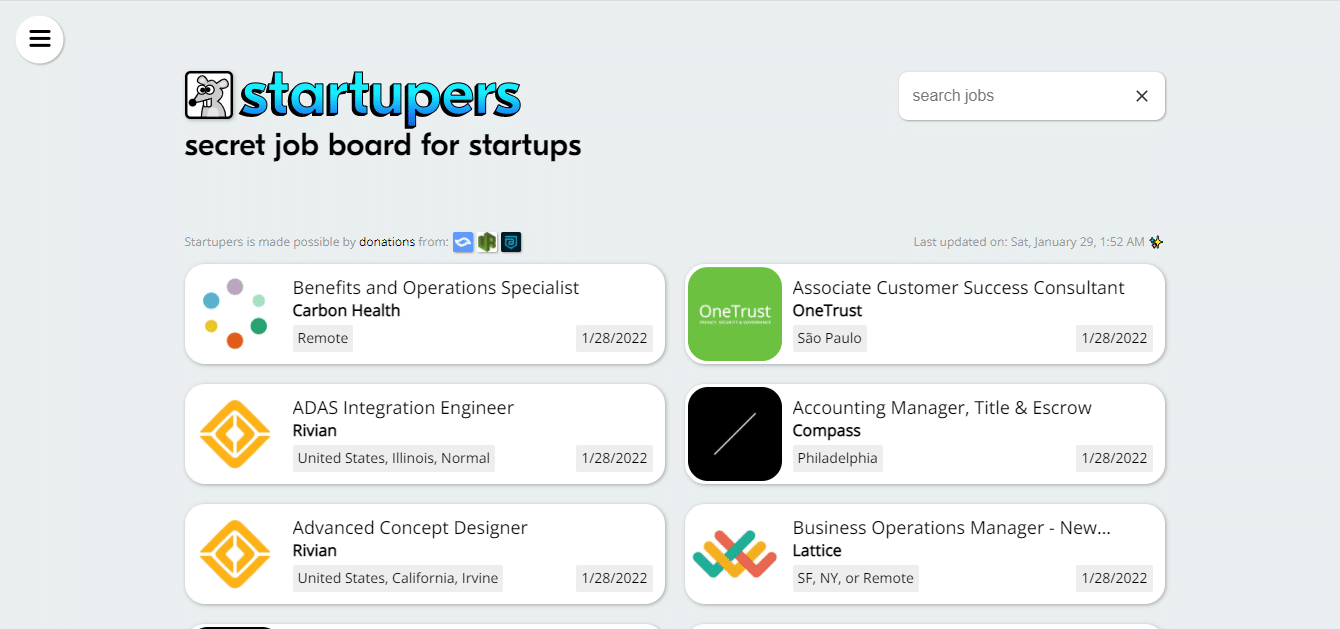 Startupers is a hiring site where startups, as implied, and tech brands post job openings. The site's straightforward interface outlines jobs by date, so prospects can easily select the most recent ones, learn more, and apply.
Employers can post job ads for many roles, like app developers, accounting associates, and analysts. Startupers allows your entry-level or junior positions to reach new graduates and students easily.
Each one undergoes a manual examination to remove spam and incorrect information from job postings. The site is an excellent place to find credible, remote, part-time, or full-time employees.
The job publishing process is straightforward. In fact, both employees and prospects don't require sign up to access its services.
AngelList and Startupers have very similar goals. Both are free job boards devoted to linking startups with skilled tech professionals. AngelList's reach in the US is more, promising faster results. However, unlike AngelList, Startupers is a better place to look for remote workers.
TRY STARTUPERS 
20. Jobxoom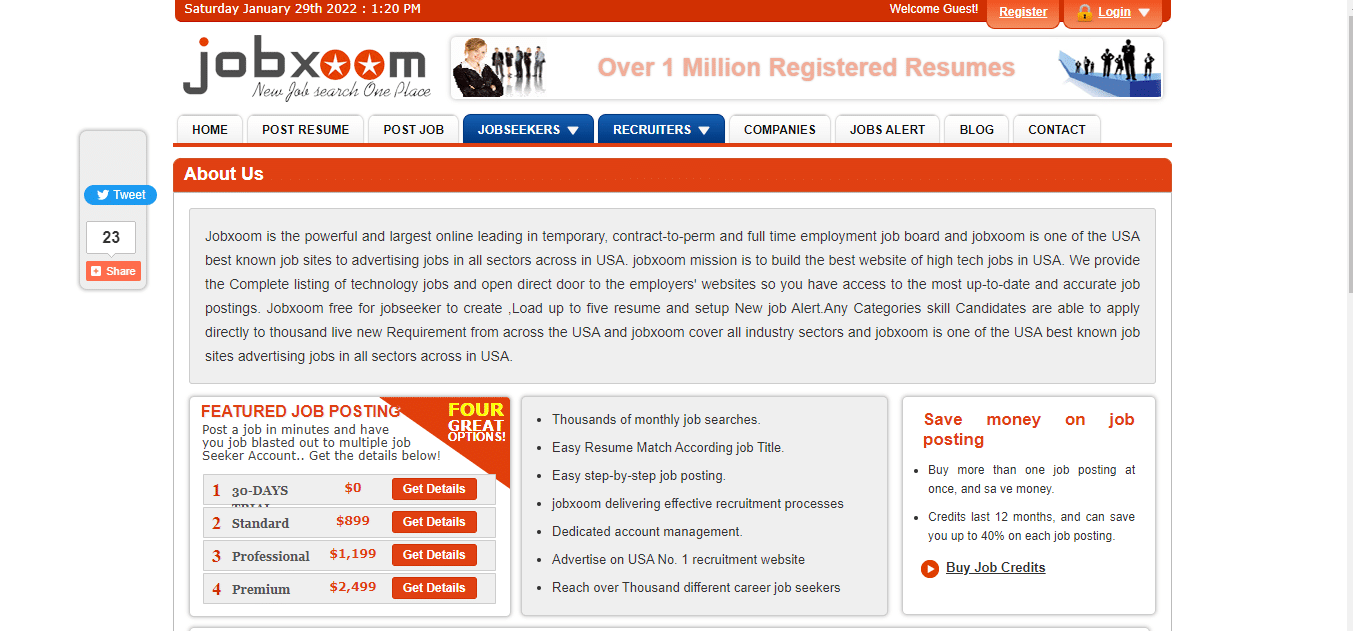 Jobxoom, a 2010-established company, features multi-sector job publications suitable for many recruiters and job searchers. Any recruiter may quickly manage various resumes and obtain statistics in a short while using this fantastic tool.
Because of their incredible tools, you can enjoy high-end conveniences like receiving vacancy alerts and routine updates in your bookmarks inbox.
With a million resumes and visits by a little under 100,000 monthly visitors, it is as popular as some options on the list. However, the ability to post jobs from any industry coupled with a three-month free trial are excellent highlights.
Employers can use the free plan to post free positions for 30 days. Moreover, an excellent account management system and the inclusion of statistics allow you to structure your ads and respond to interested individuals with ease.
TRY JOBXOOM
21. JobSpider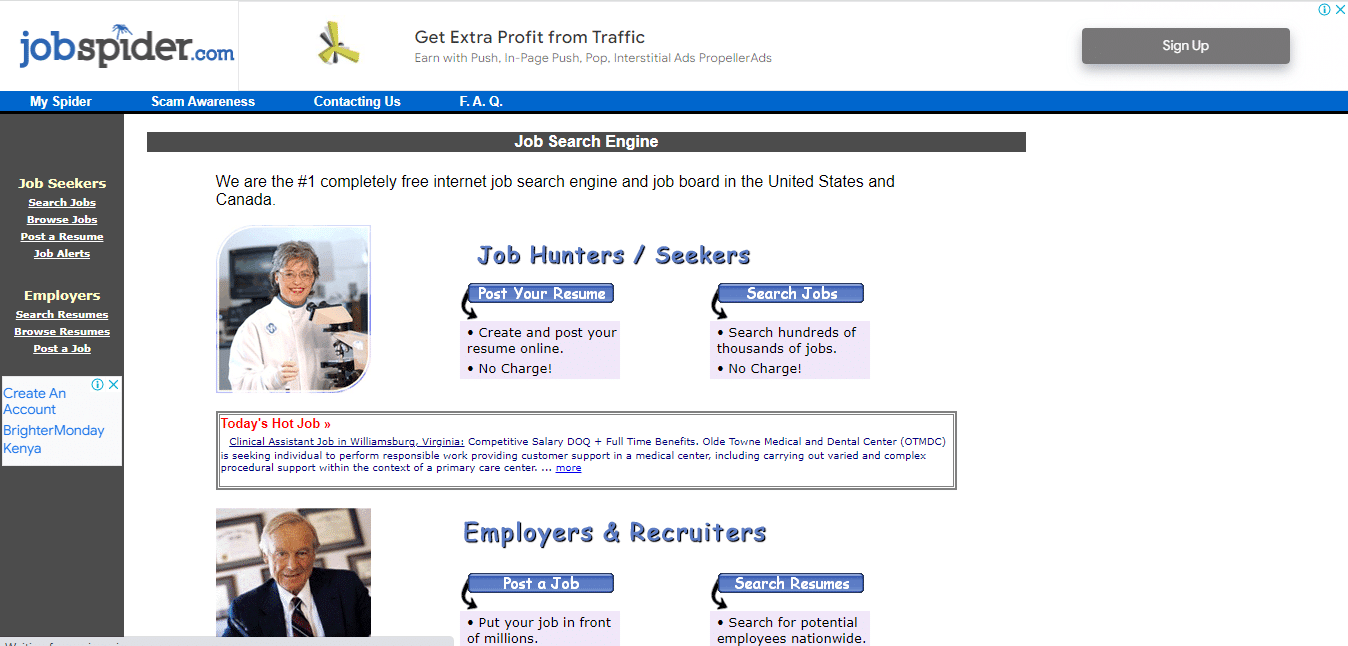 One of JobSpider's most significant pros is that it enables aggregators like SimplyHired to index jobs posted on it for increased visibility. Moreover, Job Spider is simple to use. For instance, to upload a vacancy, all you need to do is select "Post a Job" and fill in crucial details.
The website is compatible with most applicant tracking systems, making it easy for recruiters to keep tabs on aspirants. Given that all candidates submit resumes by hand, it increases the likelihood of getting quality employees.
However, the simplicity of use comes at an expense. JobSpider has a limited set of attributes. Apart from manually uploading jobs and browsing resumes, there isn't much to it. But who cares when it's free and offers massive exposure, including other sites like SimplyHired?
TRY JOBSPIDER
22. ReliefWeb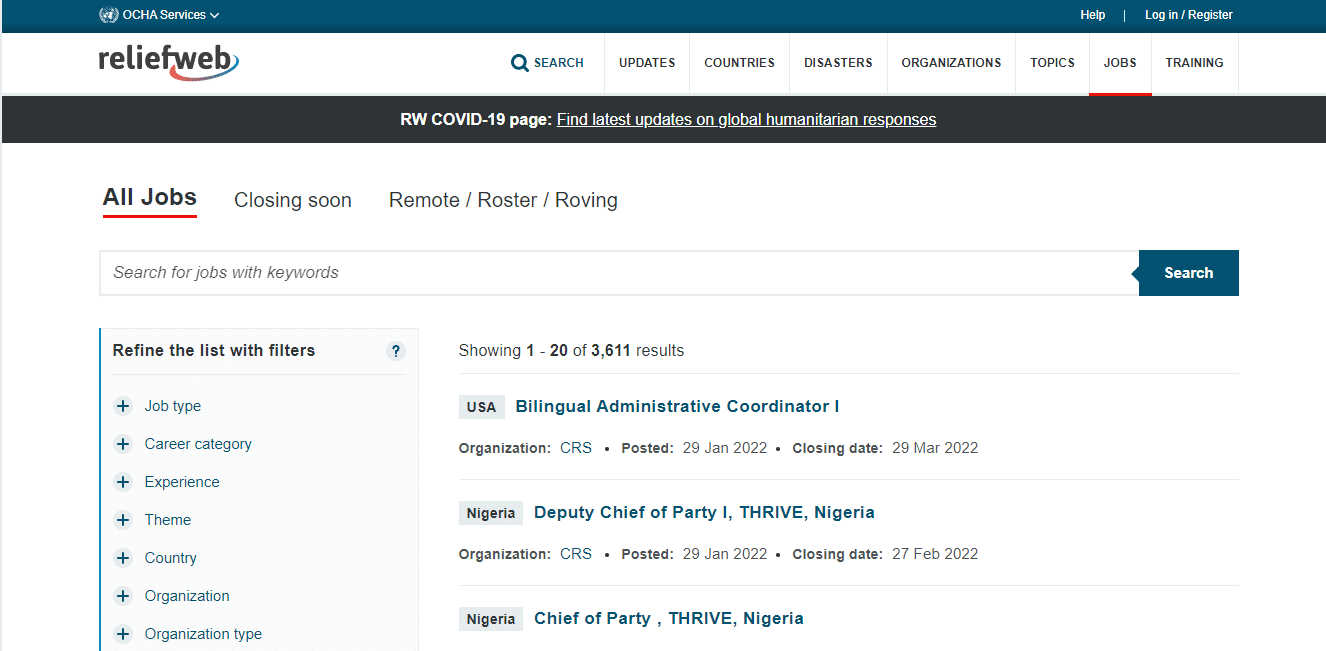 ReliefWeb is a service that offers humanitarian info on global calamities. The service also provides job postings for recruiters looking to fill specific humanitarian positions.
One of ReliefWeb's most significant advantages is its high reputation since it's a UN website. Besides humanitarian service provisions, it also provides additional resources, including: 
Allowing recruiters to delete and update vacancy posts as they please
Allowing users to advertise training opportunities
The platform attracts a specific group of humanitarian specialists passionate about their work. That ensures you have access to quality niche-specific talent.
ReliefWeb has a sizable social media following on Twitter, LinkedIn, and Facebook. This way, it provides extensive exposure to employers and gives them many candidates to select from.
However, there are no applicant tracking capabilities or resume database access on the platform. But if you need to post a gig in the humanitarian sector, this is your best option.
TRY RELIEFWEB
23. Find Jobs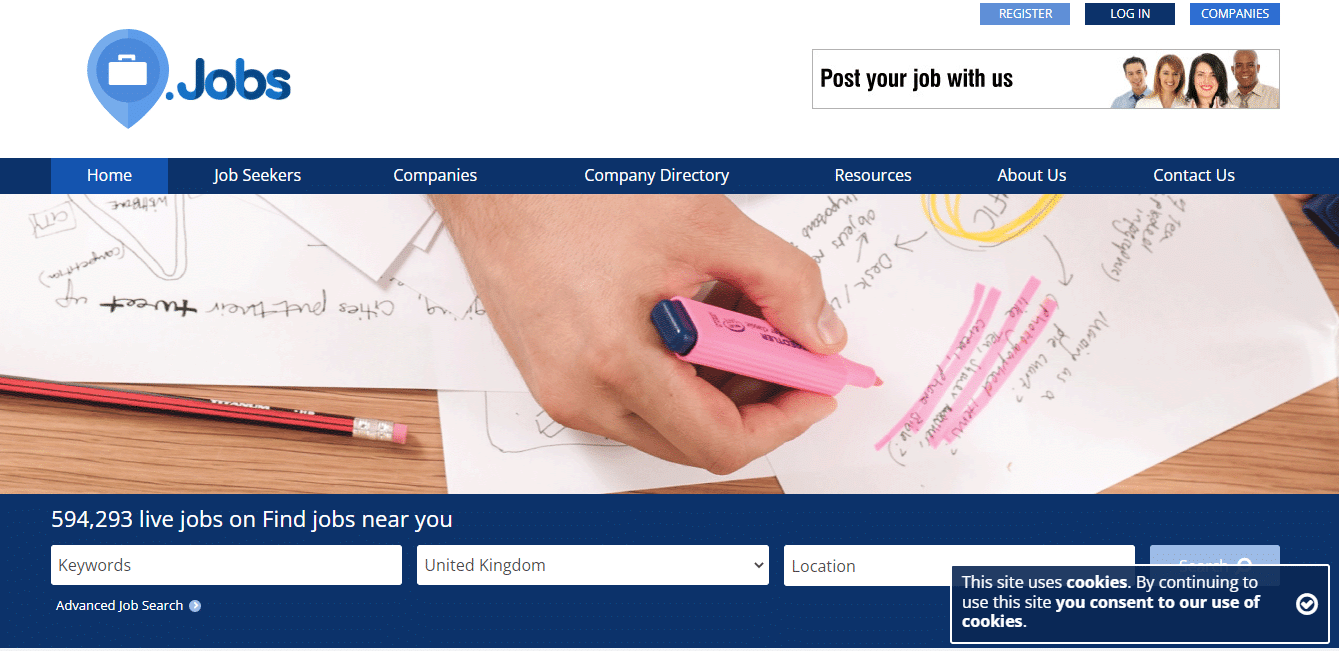 Find Jobs combines the features of a traditional work board and a search engine. The website allows job candidates to upload their resumes for free and provides employers with a CV database.
Employers can test the platform for free with a one-week job ad or buy a 45-day showcased job posting for greater coverage.
Find Jobs is a subsidiary of Jobboards.com, a UK firm with a global network of over 4,000 work boards. Employers in the United States benefit from job posting aggregation to substantial domestic and global job boards inside this network. Also, additional job seekers are attracted by the site's job-hunting blog and tips.
The site can advertise full-time, part-time, and contract roles. You have the option of setting up candidate alerts, improving efficiency.
With the site nicely allowing searches based on title, location, posting date, or wage estimate, getting suitable candidates takes a short while.
TRY FIND JOBS
24. Jobisite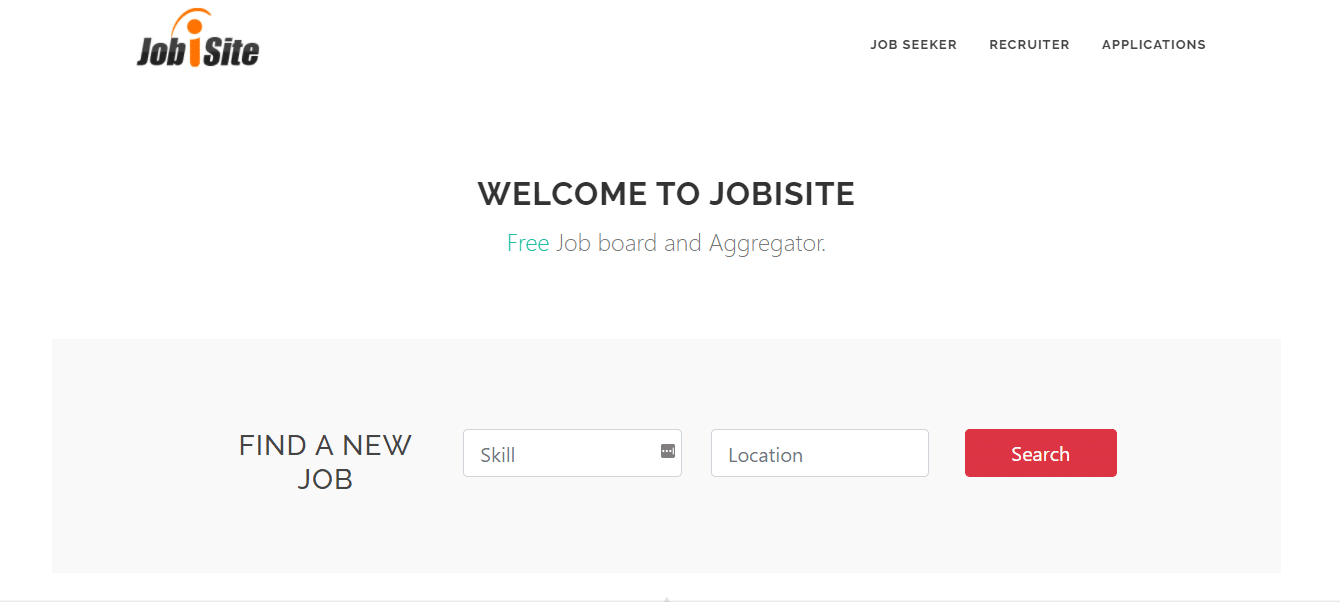 Jobisite is a job aggregator and a job board, allowing job seekers to discover and apply for positions directly on the site. Job applicants can also upload their resumes and find employers by name or category.
As one of the top free job posting sites, Jobisite doesn't require users to sign up, reducing the hassle of posting or searching for positions. Moreover, you can communicate directly with candidates; hence the process is time-saving.
Jobisite collaborates with 12 of the most popular job boards, ensuring you get more exposure for your positions. While not as vast as networks like Indeed, its 11,000+ registered users receive email notifications.
Jobisite provides free job ads and funded access to applicant profiles and a resume database. You can publish highlighted ads for a monthly or one-time fee, get your positions shared on social networks and other job sites, and obtain recruitment assistance.
Plus, if you later decide to get lifetime premium postings, the site only requires a one-time fee.
TRY JOBISITE
25. Jobinventory.com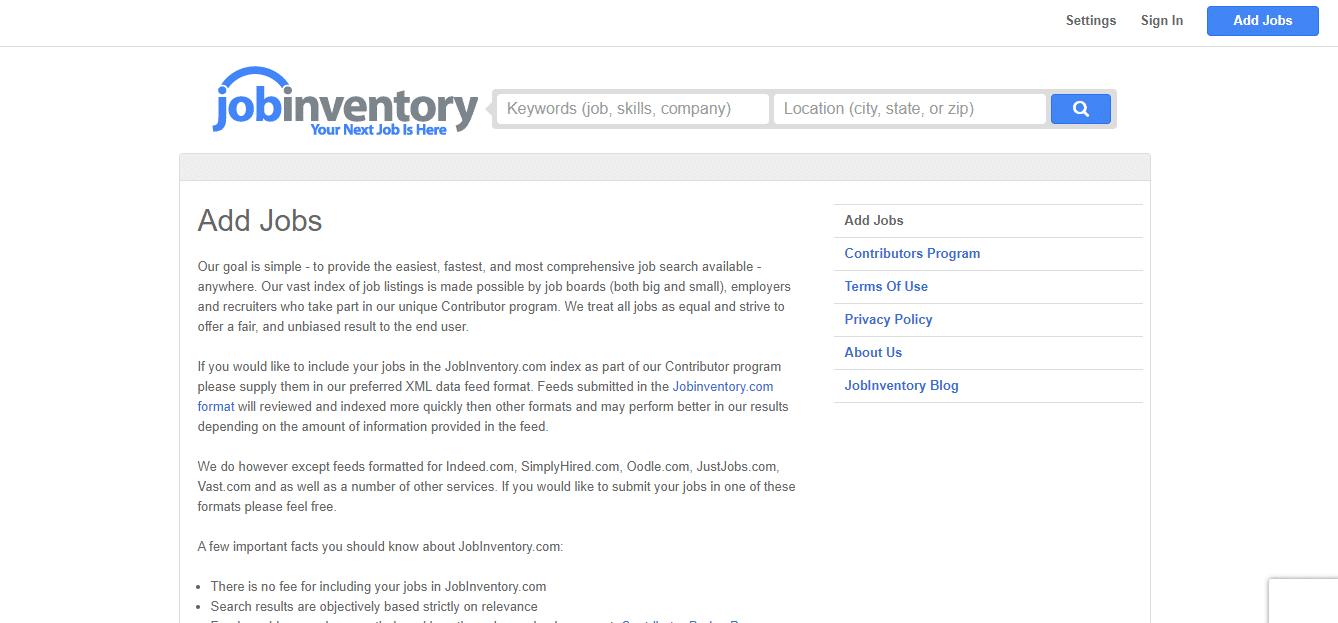 JobInventory.com allows companies in the US to advertise vacancies and take applications from suitable candidates.
When you post jobs on the site, they replicate your job ads on other sites. To make changes, you must first make adjustments to those sites.
The best time to post a job is about four months before needing a new employee. This gives you adequate time to peruse resumes and interview candidates, allowing for a smooth hiring process.
Provided your ad is still airing on the parent website, it remains visible on JobInventory.com. However, when you remove a job posting from its main site, JobInventory.com's system syncs and deletes the post from its system too. It's the perfect site that requires you to do very little once you post a position.
Nonetheless, you can also delete a post on the site while maintaining it on the main website. To do this, sign in to your profile and remove the links you placed in the ad section.
TRY JOBINVENTORY.COM
26. When I Work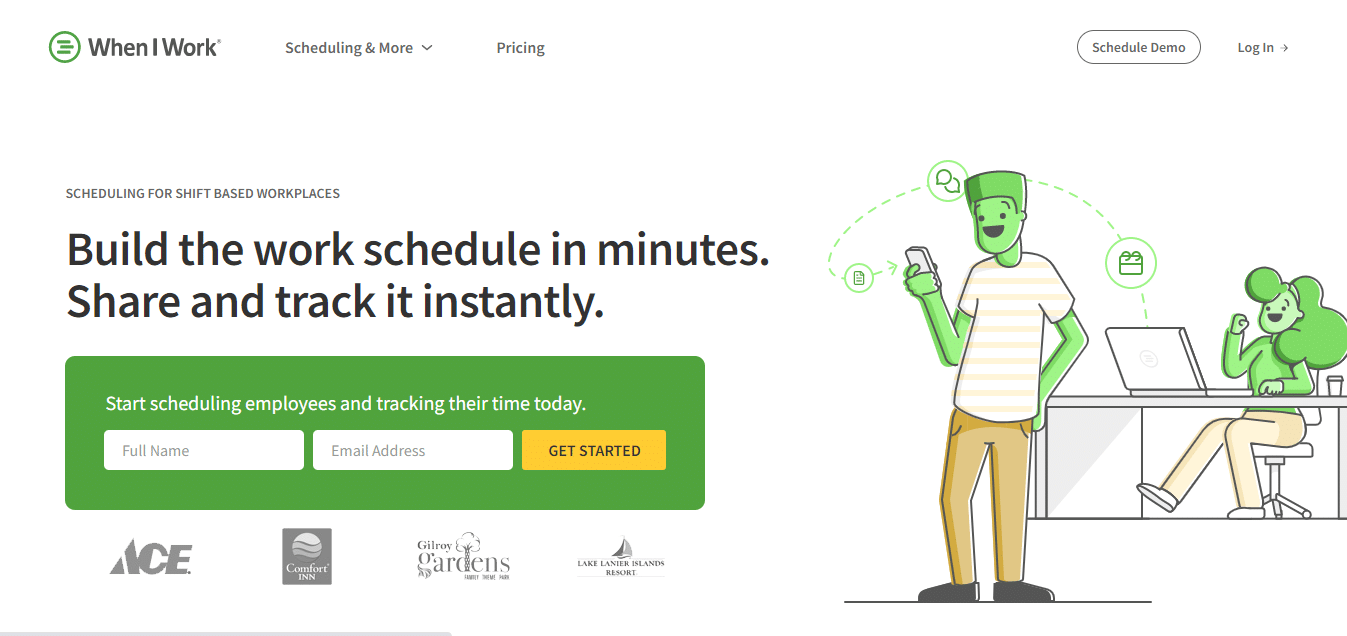 When I Work is one of the best free job posting sites for enterprises with hourly or switch workers looking for a low-cost, all-inclusive staff management system. Its robust feature set allows you to schedule, track time, and communicate with your team from a single dashboard.
You can quickly create new schedules using the drag-and-drop scheduling feature. Moreover, it allows you to customize your routine by swapping shifts or bidding on them. There's even an intelligent auto-scheduling function that generates optimized job schedules for your employees.
It's an easily-usable tool ideal for growing companies. It doesn't necessitate any complicated setup procedures and allows new staff to get up to speed quickly.
Besides, if you hire hourly workers in multiple locations, the system smooths your operation. The platform scales across single and several business locations; hence is ideal for dispersed businesses.
TRY WHEN I WORK
27. Adzuna
Adzuna is a work posting site that helps employers to reach many applicants. Though its main headquarters is in UK London, this candidate for the best free job posting sites receives visitors throughout the world. They cater to native and global audiences and are a wise option if you're hoping to engage a global team in your US jobs.
The site links you and job seekers across 16 countries worldwide, including:
The Americas
US
Canada
Australia
Europe
New Zealand
Asia
Africa
Posting a job ad takes a short time with only the title, company name, a brief description, and location needed. However, you'll need to pay for any applicants that clicked to see more details. Also, you need to pay to talk with suitable applicants, should you search for them yourself.
Adzuna also provides an API option. Any corporation can use this method to display advertisements on its website, as well as visualizations and data reports. Adding its search option to your website can be a helpful addition.
TRY ADZUNA
28. Mighty Recruiter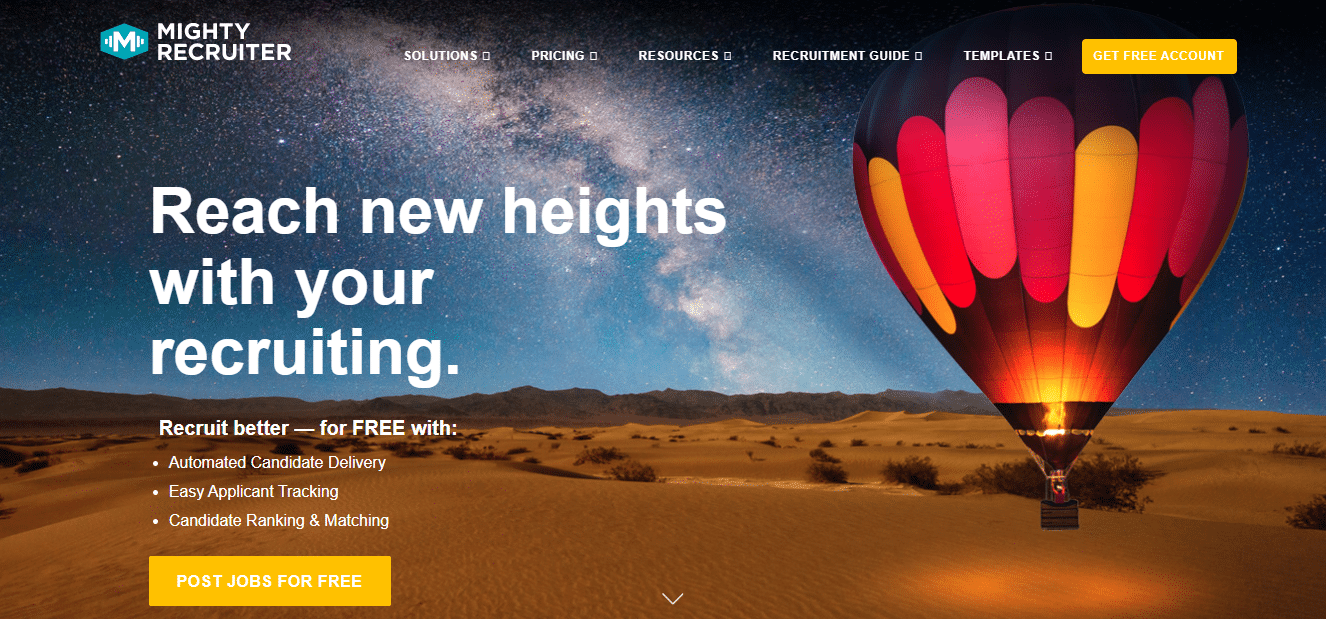 Mighty Recruiter's feature-packed system is intuitive as you exploit its capabilities like candidate tracking, applicant tracking, employee referral management, and resume searches. In one place, you can place ads that replicate to 29 distinctive job boards, ensuring you quickly get exposure.
Moreover, it ranks the most suitable candidates using proprietary AI technology. So, you quickly have to assess the top few. Besides, Boolean search is available for searching, filtering, and contacting relevant candidates.
You can also scour a database of more than 23 million job hunters to get the most suitable seekers. You can also send personalized auto-emails to aspirants.
Integration with your ATS and social networks ensures interested candidates have an easier way to link with you or access more info.
Plus, it provides over 200 customizable work description templates, ensuring you only take a few moments to get your ads up. With its in-depth reports and analytics provided, measuring the recruitment campaign success is super simple.
TRY MIGHTY RECRUITER
29. FlexJobs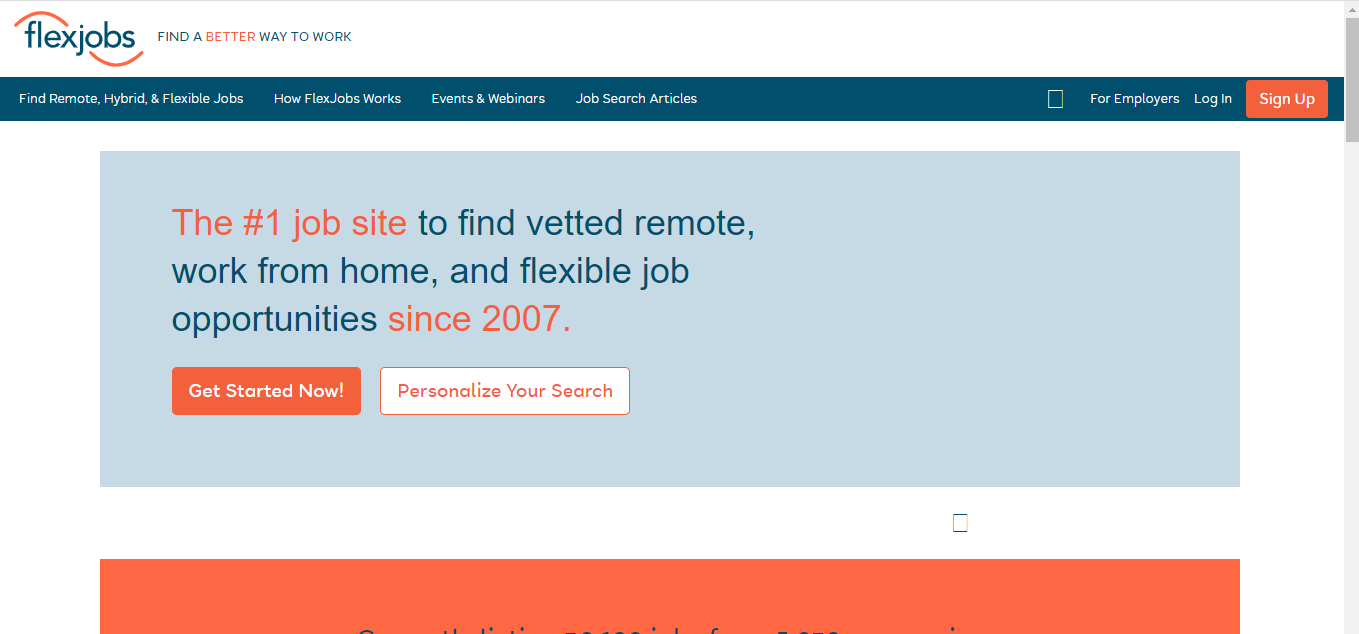 Sometimes, one's money is never sufficient. FlexJobs is one of the excellent free job posting sites for you to post your part-time or short-hour gigs, thanks to the immense visitor count. 
FlexJobs is a job posting site for employers needing remote, freelancing, or flexible job talent. The jobs are available from many sources and undergo human screening before posting on the site.
FlexJobs allows you to post jobs for any career level in a few simple steps. However, despite the remote-geared nature of the site, you can also post fixed position roles with a minimal level of remote working.
In summary, here are the jobs permitted on the site:
Work from home (telecommuting)
Office-based positions with some remote work allowed
Roles as a freelancer or independent contractor
Part-time employment.
The brand aims to make usage simple, and while the dashboard is still "busy," with many aspects, it's more streamlined than it was previously.
TRY FLEXJOBS
30. HomeBase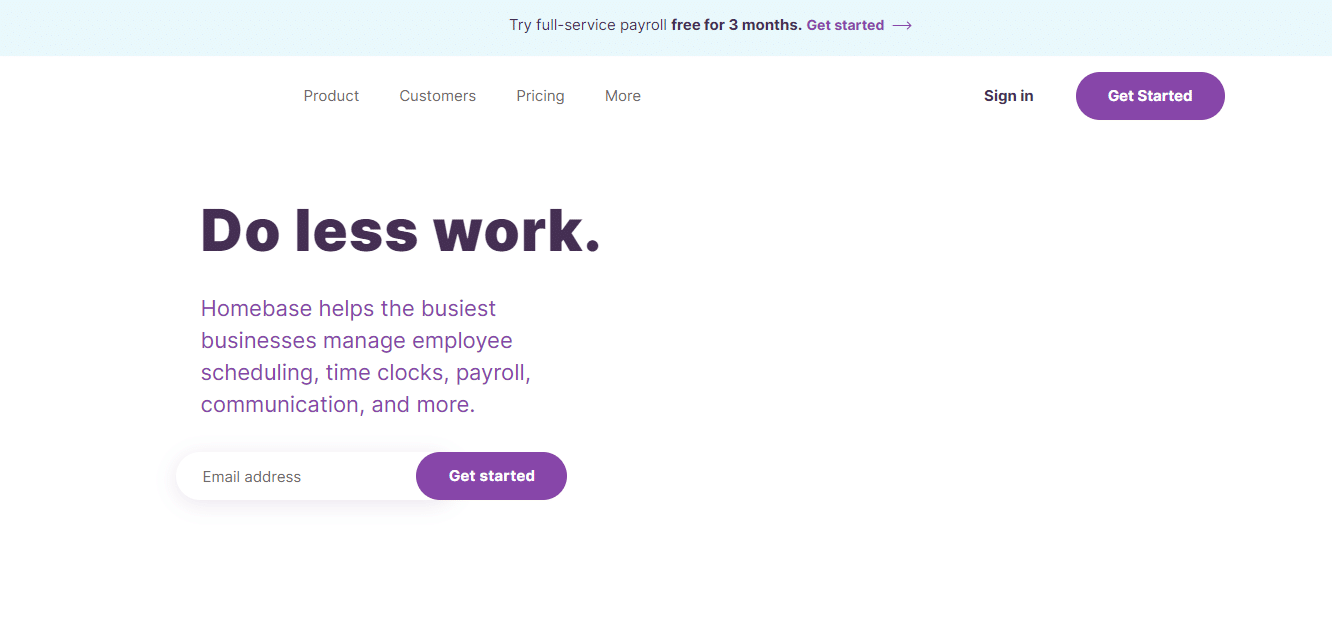 Employers can quickly post hourly job vacancies on Homebase for roles like retail clerks and waitstaff. This website creates career pages for employer websites and distributes their open positions to various job boards.
Homebase is extremely simple with a user-friendly interface that you can grow accustomed to quickly when using its comprehensive features. Employers and employees both receive real-time notifications on schedules, plus more.
Homebase assists you in hiring competent employees, managing their schedules, tracking their performance, and paying them on time.
It includes excellent scheduling, payroll, and time tracking, functionalities that smaller businesses find convenient and cost-effective. Employers can create their employees' schedules in a matter of seconds and share them with teams via the mobile app.
Overall, this is a beautiful job posting site if you want to get excellent talent and streamline communication and working procedures with them.
TRY HOMEBASE
31. Fiverr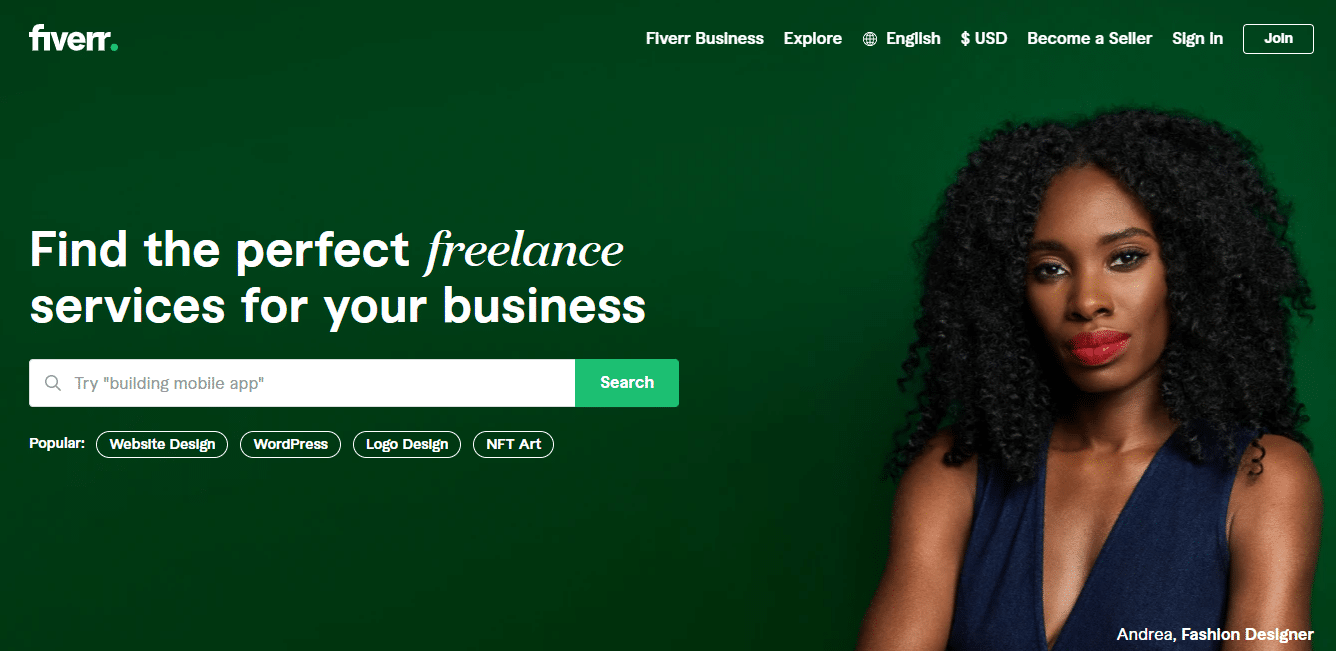 Fiverr is another of the top free job posting sites where you can find freelancers in various industries, from writing, voice overs, and web development to graphic design. Because freelancers set their price packages, the site has variable pricing. This way, it lets you filter search results depending on your budget.
You can quickly sift through many candidates using keywords depending on the services you need.
If a freelancer doesn't complete your order or you have issues with them, the site administrators assist. Not to mention, Fiverr holds payment until the freelancer completes the work.
However, little is manageable if you get a freelancer with lesser skills than required. Consider looking at the freelancer's portfolio and reviews before hiring.
On the bright side, freelancers ask for affordable rates, some demanding only $5 for some tasks. But, at this rate, you'll hardly find expert quality.
You may wonder, "which is better: Upwork or Fiverr?" Despite their similarities, Fiverr and Upwork operate in distinct ways. While Fiverr fosters a welcoming atmosphere for gigs, Upwork has a more narrow focus on per-hour and flat-rate work though both are excellent options when it comes to free job posting sites.
TRY FIVERR
Conclusion
Undoubtedly, people use different approaches to get desired jobs, but job boards and career sites are helpful.
Particularly, the free job posting sites are a great starting point for employers with limited budgets. Because the market has many free job sites, the best approach is to be savvy.
Ensure they provide solid answers to:
Who owns it?
What does Google say about it?
Are jobs postings by employers or agencies?
Does it have a comprehensive privacy policy?
Does it have hidden charges?
Our top selection provides several quality options for what you choose to focus on.
Want to learn step-by-step how I built my Niche Site Empire up to a full-time income?
Yes! I Love to Learn
Learn How I Built My Niche Site Empire to a Full-time Income
How to Pick the Right Keywords at the START, and avoid the losers
How to Scale and Outsource 90% of the Work, Allowing Your Empire to GROW Without You
How to Build a Site That Gets REAL TRAFFIC FROM GOOGLE (every. single. day.)
Subscribe to the Niche Pursuits Newsletter delivered with value 3X per week