Flodesk Review: Is this The Easiest Email Marketing Tool Around?
In this Flodesk review, we're taking an in-depth look at Flodesk and everything it has to offer. Flodesk is a new player in the email marketing game, but how good is it really? And is it as easy to use as it claims to be?
We're going to be looking at all the features offered to users, as well as the customer support, pros and cons, and the pricing so that you can decide whether Flodesk is the right tool for your business.
Receive 50% off your first 12 months of Flodesk Here
Sign up to Flodesk for FREE Here
---
Flodesk Review
Ease of Use

Features

Customer Service

Price
Summary
Overall, Flodesk is a brilliant tool that makes it super easy to create beautiful and professional-looking email campaigns for your business. It's the perfect choice for anyone looking for an affordable and easy-to-use email marketing tool to send emails to a large audience. Get a free 30-Day Trial of Flodesk Here.
Pros
Beginner-friendly
Beautiful templates
Great customer support
Unlimited subscribers and email sending
30-day free trial
Cons
No free plan
Limited integrations
Limited choice of templates
No A/B testing
Flodesk Review: Everything You Need to Know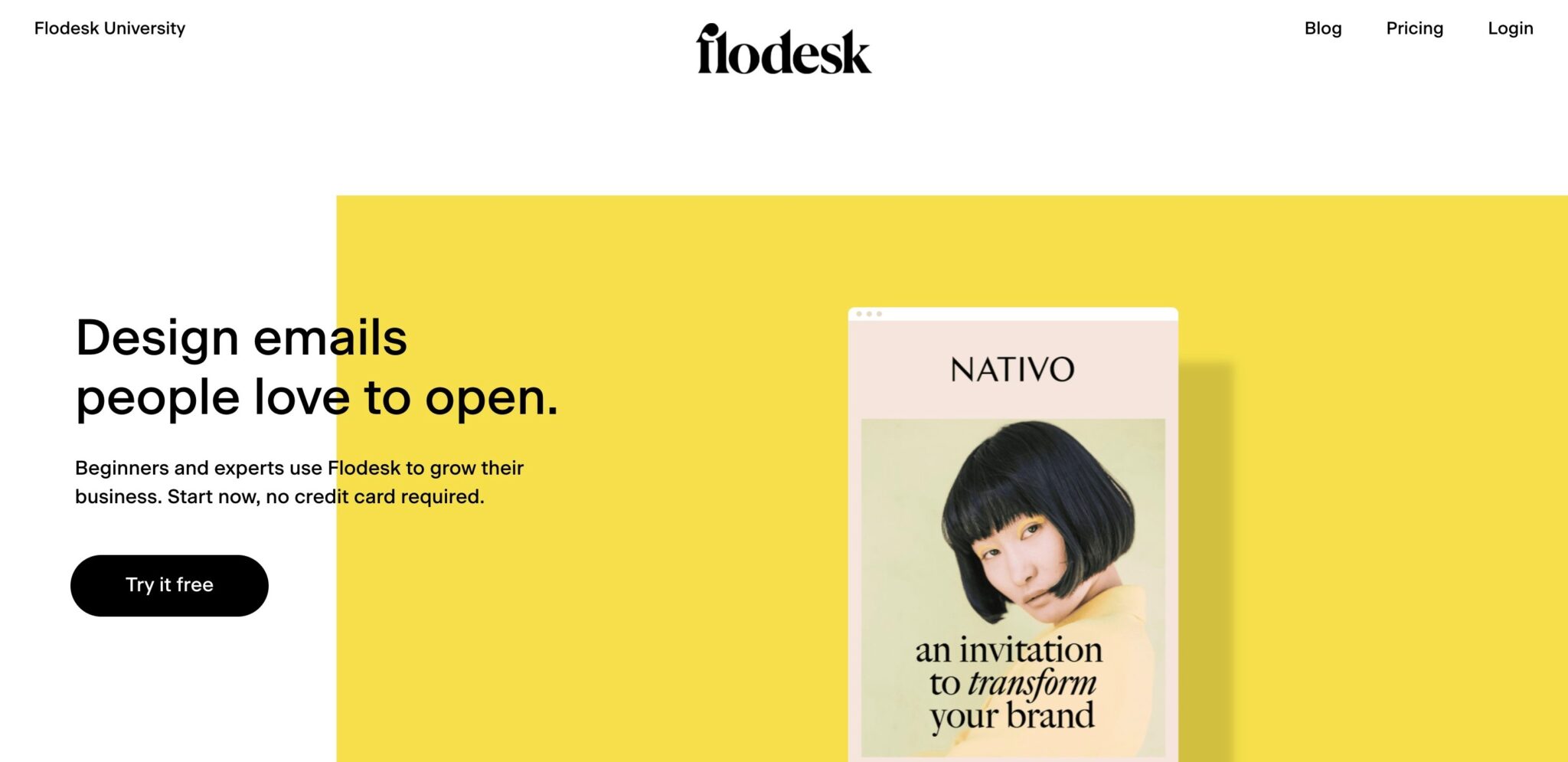 Flodesk is one of the newest kids on the block in the world of email marketing. The company was founded in 2019 with the sole intention of creating a simple email marketing tool that's packed full of easy-to-use features.
The co-founders actually had the idea to create their own email marketing tool as a result of being frustrated with the other email service providers on offer. Because of this, you can be safe in the knowledge that Flodesk is the most beginner-friendly email marketing software yet.
While Flodesk is an email marketing tool, the built-in features make it so much more than "just" email marketing software. The platform has a huge focus on design and automation. This makes it easy to build an entire campaign from within one piece of software.
The stunning email templates, simple scheduler, and easy-to-use landing page builder all contribute towards the founders delivering on their promise of email marketing made simple.
Flodesk's Main Features
Flodesk is one of the most powerful email marketing platforms on the market. It has made a name for itself by being packed full of features, incredibly powerful, and very user-friendly.
The main features include:
Beautiful email templates
Intuitive email designer that allows you to customize templates or create your own
Drag-and-drop email builder
Easy-to-use landing page builder
Landing page forms that are designed to convert
Create workflows within the platform
Ability to repurpose content for different platforms
Analytics
Uncomplicated automation tools
These features give you everything you need to create simple but effective email campaigns for your business.
We're going to take a look at some of its key features in a little more detail.
Flodesk Email Designer
Flodesk has consistently said that they wanted to create a tool that allows users to create stunning emails that are entirely on-brand without complication or a difficult learning curve. It's safe to say that in this respect, they've absolutely achieved their goal according to our Flodesk review.
The email marketing platform has a big focus on allowing its customers to create sleek, professional, and unique designs that stand out. Flodesk's tagline is "create emails that people love to open," and they delivered on the promise. The templates are stunning and could easily be used without making any changes.
The templates are simple to use, modern, and intuitive. However, if they're not quite right for you, then it doesn't matter because they're entirely customizable using a drag-and-drop block system. When it comes to customizing your emails, you can:
Upload your own font
Input brand colors
Customize blocks to make template on-brand
Once you've customized your blocks, they will stay this way for every email until you change them again.
Flodesk doesn't force you into using any kind of coding but the option is there if you want it. This makes it a great choice for both beginners and more experienced marketers.
Flodesk focuses on doing less but doing it very well, rather than packing the platform with poorly designed features that most people won't use.
This means that you know you'll be able to go in and create a stunning email with a high conversion rate in minutes. However, if you're used to more feature-dense software, then you might find yourself a little disappointed or even frustrated at Flodesk's limited menu options.
Flodesk Landing pages
One of the things that go hand in hand with email marketing is the ability to create a killer landing page. Landing pages are often used in conjunction with an email marketing campaign. If you've ever clicked on a link to fill out a form for a giveaway or to sign up for extra content, then you've had experience using a landing page.
Flodesk's expertly-designed software allows you to create your email and the campaign landing page all under the same roof.
Flodesk has a selection of beautiful landing page templates that you're able to use as they are or customize. You also have the option to start from scratch, just like with their email creator.
The landing page builder gives you the same great options of being able to customize each box individually, upload your own brand fonts, input your brand color codes, or create a landing page entirely from scratch.
Flodesk landing pages can be used as a standalone tool. Alternatively, you can create forms to embed into one of the pre-existing pages on your website.
If you choose to create a form then you will receive an HTML code to embed on your website. You can also place the form on a landing page which can be added to your site through Flodesk.
Additionally, you can create a form without needing a website. It allows you to post the link on social media or Linktree. If you're using the form to gain email subscribers, then you have the option to segment your audience from within Flodesk.
Marketing Automation Features
Flodesk has a huge focus on automating your marketing. It allows you to create entire processes depending on a customer's interactions with your content or the segmentation you've set up. You can even repurpose content for multiple channels.
One of Flodesk's most important (and most popular) features is called workflows. This tool allows you to create a set of conditions that trigger certain content to be delivered depending on the actions taken by the visitor.
This means that you can write a pre-formatted set of emails to be delivered when relevant without you needing to do anything.
For example, you can set up a trigger that sends someone an opt-in freebie when they subscribe to your email list. After this, the automation can move your subscriber into a segment where they're offered a discount on your products or services over the next few weeks as a thank you for signing up.
The ability to set up a time delay between signing up and these emails being sent out makes it even easier to make your emails feel more personal.
While this freebie for new subscribers is a basic example of what you can do with the automation software, the only limit is your own creativity. You could use this to create a free email course that emails your subscribers with each lesson at pre-determined intervals or use automation to deliver positive messages to their inbox.
Even if you're stuck for suggestions, there are loads of ideas of how to make the most of email marketing automation, both on Flodesk's website and from other bloggers and e-commerce experts.
Analytics
Flodesk has styled itself as a minimalistic but powerful platform. This extends to every feature in the software, including the analytics dashboard. The company has put a lot of work into making the analytics easy to find, read, and interpret, even for complete beginners.
Through the analytics panel, you're able to view what they call "the story of your send" which is a detailed breakdown of each email's performance. From here you can view:
Open rates
Number of click-throughs
Performance of each link
Undelivered emails
Even without going into the analytics section, the Flodesk dashboard gives you a brief overview of your email campaign's performance on both mobile and desktop. This means you always have an understanding of how well your content is performing.
You can even have the ability to resend an email to anyone that didn't open it the first time.
Flodesk also offers broad analytics about your subscribers, allowing you to filter by certain traits. You can see where they joined and when as well as individual subscriber details like how often they open your emails.
While for the most part, the analytics features are impressive, there are some areas that could be improved. While you're able to check your open rate and resend emails to anyone that hasn't opened them, you're not actually able to see which emails a subscriber has or hasn't opened.
Another frustration is that Flodesk doesn't allow users to see where a subscriber has signed up. This seems like a huge oversight as it would be very helpful to know where to put more work into promotion.
Flodesk Review: Is Flodesk Easy to Use?
Flodesk was set up by two marketeers that were frustrated with the needless complications that other platforms had engrained in their software. With this in mind, you would expect Flodesk to be incredibly easy to use...and it is!
Flodesk's entire mantra is to offer an email marketing platform that is both easy for beginners to use and powerful enough that experienced marketers can quickly access the information that they need. As such, there aren't a huge number of features available on the platform, but what is there is done very well.
This has been a source of frustration for some users who have looked for a feature only to find that it doesn't exist. However, for the most part, it includes everything that you need to create a well-developed email marketing campaign without all the extras to slow you down or confuse you.
The platform is laid out very clearly with all of the important details on the home dashboard. If you go into the analytics section, the confusing marketing terms have been done away with in favor of simpler language. Each section of the analytics is easy to follow and you can break it down by email or by subscriber list so as not to overwhelm you with numbers.
Should you get stuck, a large portion of Flodesk's website is dedicated to what they call "Flodesk University". This is effectively a kind of help section, but it's dedicated to an extensive number of written tutorials and video walkthroughs that are designed to hold your hand and carefully guide you through each part of the website.
Flodesk Customer Support
Flodesk promises to be an easy-to-use platform that's uncluttered and beginner-friendly, but should you run into any issues, it's good to know that the customer support team has your back.
The main ways you can access support are:
You don't need to look far to find absolutely glowing reviews of Flodesk's customer support service. If you get stuck, there is a help section in addition to the Flodesk University. Here you can work through any troubleshooting or confusion on demand.
If this doesn't work for you, then there is a Facebook group to ask other users for support. This also affords you access to the moderators who are employed by Flodesk to answer any questions.
In addition to this, there is a dedicated support email address you can use. When you email with a question or problem, you can expect a quick and helpful response from a member of their team.
Between the extensive help section, guided tutorials, dedicated Facebook page, and responsive customer service team, you're never too far away from accessing support when you need it.
Flodesk Integrations
While on the whole Flodesk is a fantastic tool, integrations are the one area where the company really does let itself down. It's exactly at this point where customers might begin to wonder if Flodesk has taken the "keep it simple" mantra a little bit too far.
The only native integrations offered by Flodesk are with Instagram and Shopify.
This is great news for Shopify users, but a little tedious for anyone wanting to integrate other software with Flodesk.
Flodesk does allow you to install Zapier which is a plug-in that allows you to access more integrations. However, this is never going to be quite as seamless as a native integration.
By installing Zapier you gain access to:
Facebook
Typeform
Google Sheets
One thing to be said for Zapier is how well it allows the extra functions to integrate with Flodesk. When you connect a shop to Flodesk through Zapier, it allows you to gather the contact information from your customers. Flodesk can then automatically segment them within the database to make it easy to stay in touch in the future.
As with all features of Flodesk, what is done is done very well, but there just isn't that much of it when it comes to integrations. It's understandable that they want to keep things simple to make it easier and quicker for beginner marketers to gain experience in email marketing, but at times it does feel like the focus on simplicity has been a detriment to usability.
Customer reviews
Flodesk scores very well across most review sites, with an average of 4.5 stars. One of the things that most reviews mention is Flodesk's excellent customer support which is repeatedly referred to as friendly, helpful, and timely. The advisors take care to not overwhelm newer users with the information they provide while not over-explaining to more experienced customers.
A lot of the reviews mention the stunning range of templates available that looked great straight out of the box. This, coupled with the easy-to-use interface for customization and landing page building, results in an abundance of glowing reviews
.
While the reviews were very positive overall, there were several mentions of the frustrating lack of integrations which is the reason for losing some marks.
Flodesk Review: The Pros and Cons
As with all software, Flodesk has its own pros and cons. Some of these may or may not matter to you, depending on the type of business you run. It's important to think carefully about your business needs to work out if any of these are dealbreakers for you.
PROS
Simple pricing structure
Great value for businesses with large email lists
Excellent help section
Unlimited subscribers
Unlimited email sending
Friendly and fast customer support
User-friendly interface
Modern templates
Great automation tools
30-day free trial
CONS
No free plan
Limited integrations
Limited choice of templates
No A/B testing
Flodesk Pricing
Our Flodesk review should mention that it doesn't so much have a pricing structure as one flat monthly fee. No matter how many emails you send or how many subscribers you have, you will always be charged $38 per month.
This flat rate can make Flodesk both a huge bargain and an unaffordable expense, depending on the size of your business.
If you have a larger company with tens of thousands of subscribers, then you'd likely be looking at paying $100+ per month for email marketing. In this case, a Flodesk subscription is an affordable email marketing program option for you with the option for unlimited subscribers.
However, if you're just starting out, then $38 per month might be a considerable amount of money for you. This simply may not be justifiable when so many other big-name email marketing brands offer a free plan for smaller businesses.
Convertkit is one of Flodesk's biggest competitors and offers a really generous free account, so it's surprising that Flodesk hasn't tried to compete.
While Flodesk doesn't have a free forever model, it does have an extensive 30-day free trial during which you don't need to sign up for a subscription or input payment details. This is a great amount of time to get used to the platform.
However, it's a lot of work to move at the end of the trial period if you decide you don't like it.
Flodesk Review: Is it worth the price?
After taking an in-depth look at Flodesk and how it works, it's clear to see that it's a fantastic tool.
Flodesk offers a stunning selection of user-friendly templates that are easy to customize with just a few clicks. You don't need to know how to code. You could easily use one of the templates right out of the box. The landing page generator is also a very powerful tool that gives you the ability to choose whether to embed a form onto a pre-existing webpage, create a separate landing page, or use the form as a standalone product.
The analytics are easy to find and simple to understand without years of training, thanks to the plain language that the founders have chosen to use. Should you get stuck with anything, then you are safe in the knowledge that you have a plethora of support options. These consist of walkthroughs and written tutorials, as well as the Facebook group and email support.
Overall, Flodesk is a brilliant tool that makes it super easy to create beautiful and professional-looking email campaigns for your business. The only downsides are the lack of native integrations and advanced features such as A/B testing and advanced automation.
Based on our Flodesk review, it's the perfect choice for anyone looking for an affordable and easy-to-use email marketing tool to send emails to a large audience.
If you're looking for something with more advanced features, you might want to take a look at ConvertKit (read our full ConvertKit review here). We also done Flodesk review vs Convertkit, so you can see how they measure up against one another.
Want to learn step-by-step how I built my Niche Site Empire up to a full-time income?
Yes! I Love to Learn
Learn How I Built My Niche Site Empire to a Full-time Income
How to Pick the Right Keywords at the START, and avoid the losers
How to Scale and Outsource 90% of the Work, Allowing Your Empire to GROW Without You
How to Build a Site That Gets REAL TRAFFIC FROM GOOGLE (every. single. day.)
Subscribe to the Niche Pursuits Newsletter delivered with value 3X per week