Content Marketing Blogs [35 of the Best Sources Should Know About]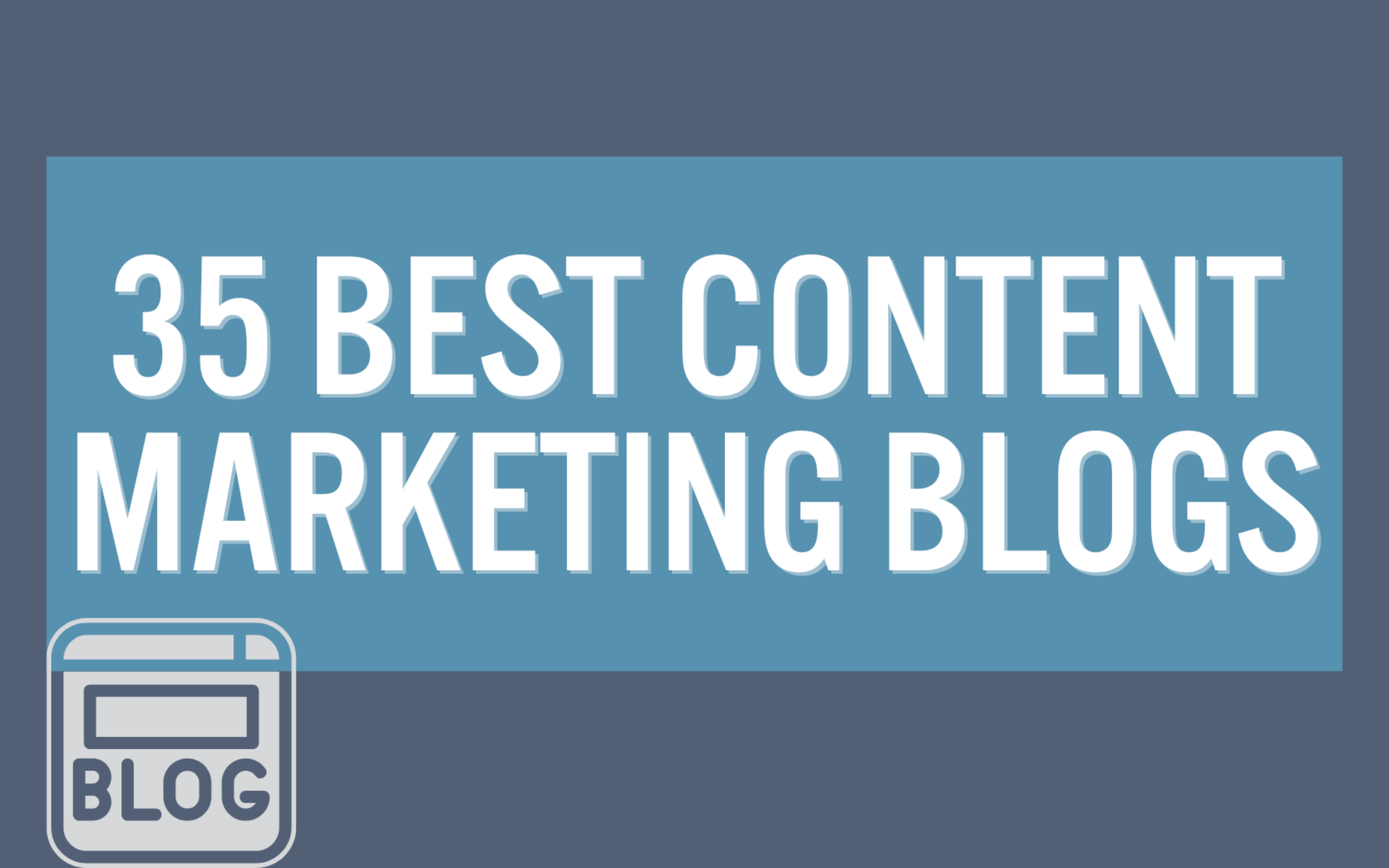 When you buy something through one of the links on our site, we may earn an affiliate commission.
Are you looking for the best content marketing blogs?
Or maybe you want to start your own content marketing blog and need some inspiration?
Look no further.
These blogs will help you uplevel your content marketing skills, write better content, and add more revenue to your business.
Let's dive right in.
35 Best Content Marketing Blogs to Take Your Business to the Next Level
Want to improve your blog content strategy or increase traffic and conversions?
These content marketing blogs have you covered.
1. Content Marketing Institute
Content Marketing Institute was founded in 2011 by Joe Pulizzi, a bestselling author of several content marketing books, including Content Inc.
Pullizzi started CMI out of the passion for sharing a better way for brands to market themselves.
CMI is now a multi-author blog and was acquired by Informa (formally UBM) in 2016, teaching and promoting the power of content marketing.
From the Content Marketing Institute blog: Developing a Content Marketing Strategy
---
2. Copyblogger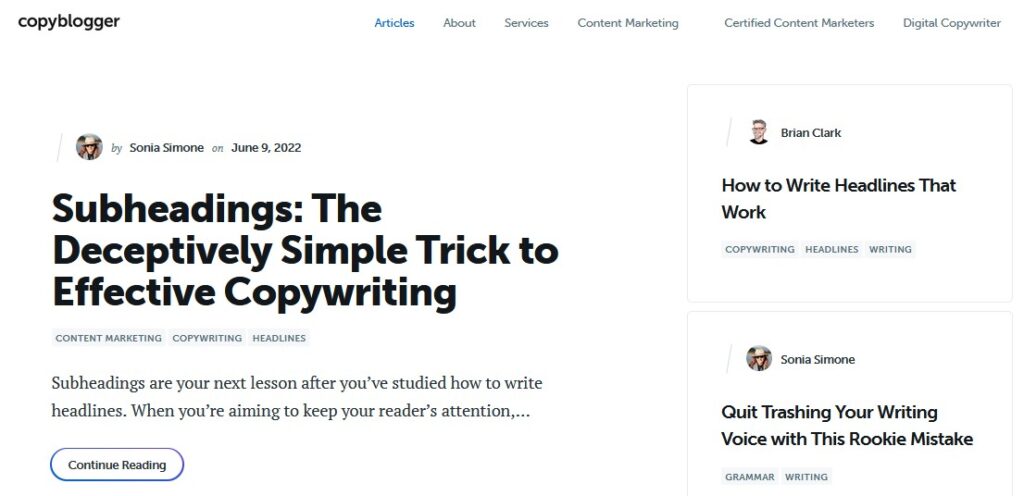 Copyblogger was founded by Brian Clark in 2006 after seeing success in three previous online businesses. They teach content marketing, copywriting, email marketing, and more with a focus on the creator economy.
Clark started the site as a one-man blog and scaled it into an 8-figure per year business using only content marketing. Now a multi-author blog, Copyblogger creates digital courses to help their audience do more and earn more with their writing.
"Copyblogger is the bible of content marketing." – VentureBeat
From the CopyBlogger blog: Content Marketing: A Modern Guide
---
3. Duct Tape Marketing
Duct Tape Marketing is a popular marketing term coined by John Jantsch in his book Duct Tape Marketing: The World's Most Practical Small Business Marketing Guide.
John believes that marketing is the most important small business system.
The content shared on the Duct Tape Marketing blog helps small businesses grow with the use of content marketing, social media marketing, strategy, SEO, and much more.
Noteworthy blog post: 7 Super Simple Ways to Get More From the Content You've Already Written
---
4. Content Strategist
Content Strategist is the blog by Contently, a content marketing business that provides a suite of marketing solutions.
The multi-author blog focuses on content strategy, SEO, social media marketing, and lead generation.
Noteworthy blog post: 13 Marketing Lessons I Learned Growing My Startup to $2 Million in Revenue
---
5. Marketing Insider Group
Marketing Insider Group is a B2B-focused marketing blog, covering topics including content marketing, strategy, branding, writing tips, and other forms of multi-channel marketing strategies.
Michael Brenner is the founder of this content marketing blog and author of the best-selling book The Content Formula. His work has been featured by The Guardian, Entrepreneur magazine, and he was named a Top Business Speaker by The Huffington Post.
Blog post to check out: The Ultimate Content Marketing Strategy Template
---
6. Convince and Convert
Convince and Convert is a content marketing agency. They create customer experience strategies for the biggest companies in the world.
They call themselves "strategists and practitioners of social media, content marketing, influencer marketing, word of mouth, and customer experience."
Topics include content creation, content repurposing, marketing strategy, organic traffic, and much more.
Jay Baer founded Convince & Convert in 2008 and this is his fifth multi-million dollar venture.
From the Convince and Convert blog: 103 Content Ideas to Add to Your Editorial Calendar
---
7. Animalz
This content marketing blog has great insights into content marketing and the business world.
They publish articles on content strategy, tips on persuasive writing, and thought leadership (but we also made our own guide to writing a persuasive article you won't want to miss).
They also publish Content Marketing Benchmark Reports and have a great podcast.
From the Animalz blog: The Animalz Method for Writing High-Quality Content
---
8. CoSchedule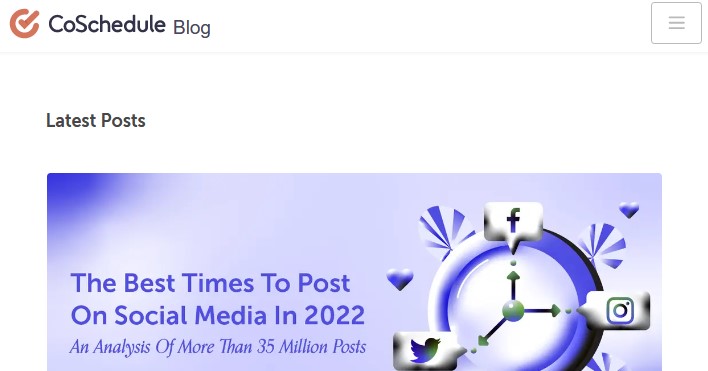 CoSchedule is a suite of content scheduling tools including a content marketing calendar and headline analyzer.
The blog offers articles on content strategy, project management, SEO, and writing tips. They also have a weekly podcast where they interview some of the world's top marketers.
From the CoSchedule blog: 11 Simple But Effective Ways to Create Content That Converts
---
9. Digital Marketer
Digital Marketer is an education and digital media company that have been around for quite some time.
Founded by Ryan Deiss in the early 2010s, they teach entrepreneurs how to create and grow brands using digital marketing.
The blog contains topics on niche marketing, content strategy, messaging, email, SEO, and much more.
They offer courses and marketing certifications in copywriting, paid traffic, funnel building, and data analytics, to name a few.
From the Digital Marketer blog: What's the Difference Between Content Marketing and Paid Advertising?
---
10. Rock Content

Rock Content has helped over 2,000 businesses create better content marketing for their customers.
Their blog is packed full of useful tips, industry insights, and trending topics in all things marketing.
Specifically, their articles center around content marketing strategy, social media marketing, branding, web design, email marketing, and SEO.
From the Rock Content blog: How to Create a Successful SEO Content Strategy
---
11. Social Triggers
The brains behind one of the most talked-about content marketing blogs was Derek Halpern of Social Triggers.
Unfortunately, Derek stopped publishing content on Social Triggers in 2019, but the content there is still incredibly valuable and relevant.
He specializes in sales psychology and copywriting to turn an overcrowded marketplace into an engaging audience.
You'll find posts on increasing conversions, psychology, sales, and life skills.
From the Social Triggers blog: 5 Psychological Master Keys That Will Open The Doors to More Sales
---
12. Groove
Groove is an SaaS tool that combines all your email communications in one place.
Since their launch, they have achieved great success, with over 5 million readers, 25,000+ comments, and over 3.5 million shares across Twitter, Facebook, and LinkedIn.
The blog shares their startup journey including inspiring case studies, as well as topics such as increasing conversions, content strategy for course creators, and much more.
From the Groove blog: The Only 5 Content Marketing Tools You Need to Get Started
---
13. ProBlogger
Darren Rowse started ProBlogger in September 2004. He is also the founder of a successful photography blog, Digital Photography School.
Darren learned about blogging very early on and quickly turned what started as a hobby into a thriving business.
ProBlogger is now home to almost 1,000 articles on blogging, blog metrics, traffic methods, and more.
If you're looking for freelance writers, check out the popular ProBlogger jobs board.
From the ProBlogger blog: 6 Reasons Your Blog Traffic Might Be Declining
---
14. Amp My Content
Amp My Content is a blog with a unique approach to content marketing strategy. It teaches how to generate more traffic, but with less content.
They used their methods to get 50,000 views to a single blog post on a new blog, which landed them around $3 million dollars in client requests.
The entire site has fewer than 30 pages and posts altogether. Topics include content promotion strategy, how to write killer content, and capturing emails.
From the Amp My Content blog: How to get 561.6% more organic traffic, $1 leads, and shared by the biggest influencers
---
15. Focus Copy
Focus Copy is a content writing agency founded by Lauren Jefferson and Stuart Broderick in 2019.
The blog is packed with articles on copywriting, content marketing tools, writing skills, and improving conversions.
From the Focus Copy blog: How to Improve Your Writing Skills: A Guide By Professional Writers
---
16. Omniscient Digital
Omniscient Digital is a content marketing agency helping B2B software businesses build and scale customer acquisitions.
Their blog and podcast share insights on content marketing metrics, storytelling, blog conversions, case studies and more.
From the Omniscient Digital blog: How to Convert Blog Traffic
---
17. Grow and Convert
Grow and Convert is a content marketing agency by Devesh Khanal and Benji Hyam.
It goes without saying that a good content marketing agency will use content marketing to grow their business and that is what they do with their blog.
The main topics covered are content strategy and SEO, content promotion, increasing conversions, and client case studies.
From the Grow and Convert blog: SEO Content Writing: A 5-Step Process You Can Follow
---
18. Grizzle
Grizzle helps SaaS and B2B companies grow organically with content marketing, SEO, and digital PR (but you may also want to check out our list of the best SaaS marketing agencies).
It was founded by Tom Whatley are they are based in London, England.
They publish well-written articles on storytelling, writing content briefs, CTR optimization, client case studies, hiring a team of writers, SEO guides, and more.
From the Grizzle blog: How to Use Bottom of Funnel Content
---
19. Copy.ai
Copy.ai is an AI-powered content generation tool that helps writers, bloggers, and copywriters write faster and more engaging content.
The blog has many articles on how to write better content, making money online, copywriting tips, personal branding, social media marketing, and tons more.
From the Copy.ai blog: How to Write a Blog Post Fast
---
20. Brand Credential
Brand Credential is a personal branding blog that shares marketing advice to help people grow and achieve their goals.
The blog focuses on content to help you improve your social media presence, email marketing best practices, stages of a sales funnel, personal branding tips, and more.
There are well detailed guides and resources you might find interesting.
From the Brand Credential blog: Explaining Each of the Marketing Funnel Stages
---
21. Single Grain
Single Grain is a full service digital marketing agency founded by Eric Siu.
The blog includes in-depth articles on marketing funnels, keyword research, content strategy, copywriting tips, and WordPress.
Their YouTube channel is also a great place to learn about the impact of AI technology and NFTs in business.
From the Single Grain blog: 5 Steps to Developing Successful Pillar Content
---
22. Growth Badger
Growth Badger is the blog by Kyle Buyers, who helps his readers get more customers with better content marketing.
You'll find articles on marketing funnels, content optimization, insightful industry reports, and blog case studies.
From the Growth Badger blog: How to Create a High-Value Content Marketing Funnel in 2022
---
23. Semrush Blog
Semrush is a keyword marketing tool that helps you uncover the best keywords for your blog and content marketing efforts.
Their blog is full of tons of content to help you develop your content marketing skills.
The main topics include SEO and SEM tips, content creation, using different marketing channels, industry news, and more.
From the Semrush blog: How to Create Website Content from A to Z
---
24. Backlinko
Brian Dean is the founder of Backlinko, one of the most popular content marketing blogs on the topic of SEO.
His articles and YouTube channel helps people write better content, get more backlinks, increase traffic, and build a thriving audience.
Here's just one article that Brian is well known for, which is called the Skyscraper Technique.
From the Backlinko blog: Skyscraper Technique
---
25. I Love SEO
I Love SEO is an SEO blog where they share SEO news, tips, editorials, and more.
It was created by Carrie Powers, a Los Angeles-based writer and Brian Harnish, who started his SEO journey in 1998.
The blog includes everything you can imagine on the subject of SEO, but they also share articles on creating better content and blog posts, content promotion tips, and other content marketing guides.
From the I Love SEO blog: Content Marketing vs. SEO
---
26. Neil Patel
Neil Patel has been in the digital marketing space for what feels like since the beginning of the internet.
Just look at how many total indexed pages he has in Google:
Yes, over 13,000 and most of those will be blog posts.
The Neil Patel blog covers topics on pretty much everything to do with digital marketing, including content marketing, SEO, social media marketing, driving traffic, WordPress tips, and so much more.
From the Neil Patel Blog: How to Use Customer Segmentation
---
27. Tiny Little Businesses
This is the website created by Andre Chaperon and Shawn Twing, two veteran marketers who specialize in email marketing and storytelling.
You can find some of his writing which uses the power of content marketing and persuasion psychology on their email archive page.
The lessons they teach on how to build and grow an audience are incredibly valuable and used by many of the most successful marketers in the industry.
The Tiny Little Businesses Email Archive
---
28. Adam Enfroy
Adam Enfroy has achieved huge success with his blog, which now receives over 500,000 monthly readers and he only launched the site in 2019 – all using the power of content marketing, guest blogging, and SEO.
The blog centers on software reviews, but there is also a ton of content on starting a blog as a startup, and how to make money through strategic marketing.
From the Adam Enfroy blog: Scale Your Influence: The Keyword Research Matrix
---
29. AuthorityHacker
The guys from Authority Hacker teach a predictable way to start and grow authority sites.
Gael and Mark are the brains behind this content marketing blog, podcast, and YouTube channel, where they dive into the details behind successful affiliate and display ad sites.
On the blog, you'll find articles that cover site architecture, the best blogging tools, SEO tips, link building, and much more.
From the Authority Hacker Blog: How We Sold An 18-Month-Old Site For Mid-6 Figures
---
30. Ryan Robinson
Ryan Robinson is the guy behind Ryrob.com, where he shares articles on work from home jobs, blogging, WordPress tips, driving traffic, affiliate marketing and more.
His blog is packed full of valuable blogging tips on turning a side hustle into a thriving digital business through blogging and content marketing.
Ryrob has been featured in Business Insider, Entrepreneur, Forbes, LifeHacker, Fast Company, and receives around 500,000+ monthly readers.
From the Ryrob blog: How to Create a Content Marketing Strategy
---
31. Blogging Wizard
Blogging Wizard was started way back in 2012 by Adam Connell, who initially shared what he was learning while working at a marketing agency.
Now Blogging Wizard is one of the most popular blogs on the topics of blogging, WordPress tips, blog promotion, social media growth, and entrepreneurship.
From the Blogging Wizard blog: How To Grow Your Blog In Record Time
---
32. Miles Beckler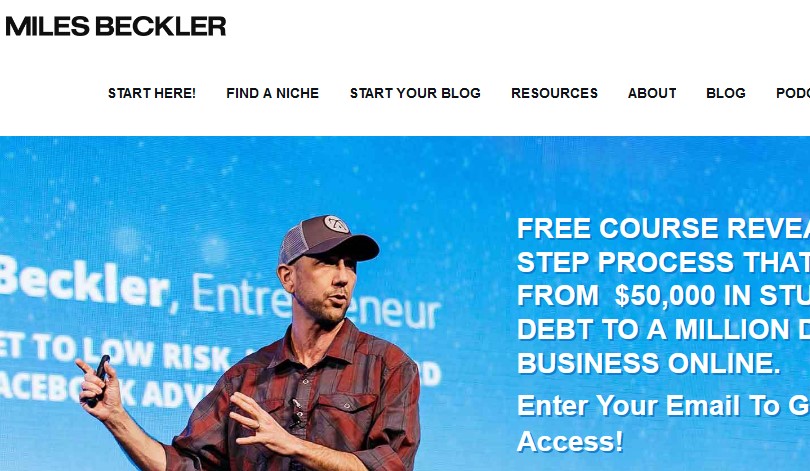 Miles Beckler started his personal brand on YouTube in 2016, detailing the business success he achieved with his wife and sharing the exact tips and strategies they used to turn it into a full-time income.
Now, the Miles Beckler brand is a successful blog, podcast, and has grown his channel to over 198K subscribers and over 10 million views.
The blog focuses on niche sites, sales funnels, copywriting, social media marketing, email marketing, and tons more.
From the Miles Beckler blog: The Ultimate Guide To Your Customer Avatar
---
33. Niche Pursuits
Niche Pursuits is the blog you're reading right now and was started by Spencer Haws back in 2011.
Spencer found success with different online business ventures, so he launched Niche Pursuits.
You'll find articles on niche business ideas, affiliate marketing, guest interviews on the podcast, and lots more.
From the Niche Pursuits blog: 19 Best Online Businesses to Start
---
34. Fat Stacks
Jon Dykstra is the man behind Fat Stacks, a blog all about making money online. He teaches how to create small niche sites, monetized with display ads that generate traffic through SEO.
The articles on this blog include content creation, traffic, monetization tips, and income reports.
From the Fat Stacks blog: 25 Clever Ways to Get More Clicks on Affiliate Links
---
35. Jeff Bullas
Entrepreneur.com listed Jeff Bullas among the top 50 online marketing influencers. And Inc.com included him in a list of 20 digital marketing experts to follow on Twitter.
Jeff has grown his blog and his name into one of the most recognized brands in the digital marketing industry.
Topics on his blog cover blogging, business ideas, social media strategies, and personal growth.
From the Jeff Bullas blog: A Complete Guide For Creating The Best Blog Content Possible
Conclusion for Content Marketing Blogs
We hope these content marketing blogs have given you some inspiration to launch a new blog or learn how to market your existing one.
If you're learning about content marketing, make sure you save this post for future reference.
Want to learn step-by-step how I built my Niche Site Empire up to a full-time income?
Yes! I Love to Learn
Learn How I Built My Niche Site Empire to a Full-time Income
How to Pick the Right Keywords at the START, and avoid the losers
How to Scale and Outsource 90% of the Work, Allowing Your Empire to GROW Without You
How to Build a Site That Gets REAL TRAFFIC FROM GOOGLE (every. single. day.)
Subscribe to the Niche Pursuits Newsletter delivered with value 3X per week