35 of The Best SaaS Marketing Agencies and What You Should Look For
When you buy something through one of the links on our site, we may earn an affiliate commission.
The software as a service industry is growing. As the industry becomes more competitive, SaaS marketing agencies are also becoming an important part of revenue growth for SaaS companies.
Continue reading to discover the top 35 marketing agencies. We also discuss how to choose the best SaaS marketing agency and SaaS marketing trends.
Top 35 SaaS Marketing Agencies
Let's review our list of the top 35 SaaS marketing agencies altogether in one place:
Bay Leaf Digital
Heinz Marketing
Ladder
Vajra Global
Refine Labs
Roketto
NinjaPromo
BAMF Media
Single Grain
Kalungi
Directive
Simple Tiger
InboundQLs
Huemor
From the Future
Inturact
Hey Digital
HookLead
SmartBug Media
Digital Current
Deviate Labs
NoGood
Ironpaper
Earnezt
Metric Theory
42 Agency
Kraftblick
Seven Atoms
Cobloom
New North
Wallaroo Media
Growth Sandwich
Klood
Riverbed Marketing
Xander Marketing
Bay Leaf Digital
First, Bay Leaf Digital is a growth marketing agency that would be a great fit for emerging SaaS companies. This is because they help with marketing automation, customer acquisition, and connecting with your target audience.
---
Heinz Marketing
Heinz Marketing helps its clients develop effective content marketing strategies. Their goal is to help SaaS companies boost revenue and achieve their desired business growth.
---
Ladder
Ladder is a great marketing agency for global SaaS businesses. They'll help you create a complete funnel strategy across your entire digital footprint. This is done through creative design and distinct messaging.
---
Vajra Global
Based out of India, Vajra Global offers B2B SaaS marketing solutions. Presently, their services include content marketing, social media management, lead generation, and more.
---
Refine Labs
Refine Labs is a B2B SaaS marketing agency. At this time, they specialize in social media management, demand generation, and unique marketing strategies.
---
Roketto
Based out of Canada, Roketto is a passionate SaaS marketing company. They focus on sustainable growth for their clients. Furthermore, Roketto boosts inbound marketing efforts using a variety of marketing channels.
---
NinjaPromo
Specializing in digital marketing, NinjaPromo wants to help their clients reach their goals. They help clients achieve their goals with their branding, multi-channel marketing strategies, and creative design solutions.
---
BAMF Media
BAMF Media is not a full service agency, but rather they focus on improving your social media presence on LinkedIn. Instead, their approach is to turn key employees of your SaaS company into LinkedIn influencers with a particularly engaged following.
---
Single Grain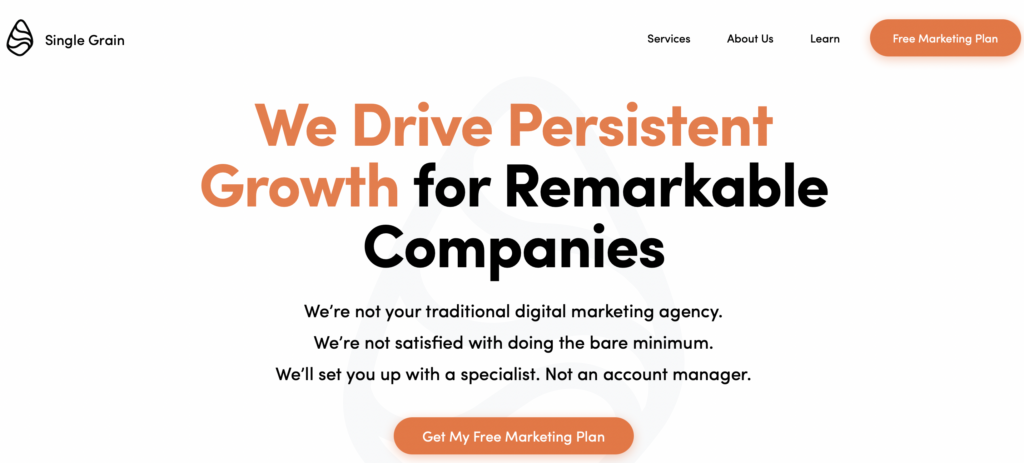 Single Grain is a particularly effective digital marketing firm. Subsequently, they offer SaaS companies help with SEO, PPC campaigns, and building a marketing funnel.
---
Kalungi
Kalungi is a full service B2B SaaS marketing agency. Even though they're a full-service agency, Kalungi specializes in marketing leadership, content marketing, and web design.
---
Directive
Directive is a full-service agency. However, their main focus is on helping clients with lead generation. They also want your SaaS company to have a full pipeline of sales and marketing qualified leads.
---
Simple Tiger
Simple Tiger is a results-driven B2B SaaS marketing agency. They focus on content marketing, SEO, and paid marketing.
---
InboundQLs
Unsurprisingly, InBoundQLs helps SaaS marketing agencies get inbound leads. Lead generation and inbound marketing are their main focuses.
---
Huemor
Huemore offers a variety of digital marketing services. This includes web development, effective web design, and creating particularly memorable user experiences.
---
From the Future
From the Future works to help clients achieve their desired growth. Above all, they're big enough to handle larger projects, and they're also small enough to know your business. Their specialties include CRO, organic social media strategies, and full funnel networks.
---
Inturact
Inturact is a SaaS marketing agency that's data-driven. First, this agency sets clear goals for SaaS companies. Then, they help them achieve them using a clear content strategy for marketing to your target audience.
---
Hey Digital
Hey Digital focuses primarily on digital marketing. They offer paid advertising, PPC campaigns, and web design services.
---
HookLead
HookLead wants to help your SaaS business boost its revenue. This is done specifically through PPC campaigns, paid advertising, and communicating to your target audience.
---
SmartBug Media
With a focus on inbound marketing, SmartBug Media wants to help its clients boost revenue. They focus on creating an effective inbound marketing strategy because they want to help SaaS providers achieve their key metrics.
---
Digital Current
With more than 15,000 happy clients, Digital Current is a leading agency. They help clients achieve their goals with a custom and effective SaaS marketing strategy.
---
Deviate Labs
Surprisingly, Deviate Labs is a growth marketing agency founded by a Silicon Valley investment banker and rocket scientist. Furthermore, they have an impressive list of clients. Deviate Labs prides itself on creating and executing a unique marketing strategy that deviates from the norm.
---
NoGood
NoGood is a growth marketing agency. In short, they focus on creative an effective sales and marketing funnel for their clients.
---
Ironpaper
One of the best B2B SaaS marketing agencies is Ironpaper. This agency helps B2B companies that have a long, complex sales cycle. They specialize in content marketing solutions, lead generation, and website development.
---
Earnezt
Earnezt has offices in New York and London. They're a great partner for SaaS businesses looking to scale because of their global presence. Their varied expertise includes branding, content marketing, and design.
---
Metric Theory
Metric Theory might be a great SaaS marketing agency for you if your company needs help with SEO, paid advertising, and digital video production.
---
42 Agency
42 Agency is a B2B SaaS marketing agency providing services that help companies scale. They help their clients create multi-channel marketing strategies. They use tools like paid social media content, compelling ad copy, and email marketing.
---
Kraftblick
Kraftblick aims to help SaaS businesses improve their brand awareness. They're able to help software companies boost their revenue growth. They use tools like content marketing, SEO, and conversion rate optimization.
Learn more about SEO in this interview with Kevin Indig on how to win and adapt with SEO changes.
---
Seven Atoms
Seven Atoms helps their clients navigate the SaaS industry while constantly adhering to best practices. They create unique campaigns that adhere to the needs of each SaaS client. Services offered include improving the number of qualified leads clients receive, increasing brand awareness, and boosting website traffic.
---
Cobloom
Cobloom was founded from their employees' own mistakes and struggles. The founders of Cobloom use the insights from these experiences to form their own agency. This agency wants to help SaaS businesses achieve revenue growth that is sustainable as they help you scale.
---
New North
New North focuses on helping each SaaS company sell its complex product to niche audiences. Their branding and lead generation solutions help clients reach their audience and increase revenue.
---
Wallaroo Media
Wallaroo Media is a full-service agency specializing in content marketing. They want to help you scale your SaaS business with digital marketing, social media management, and paid advertising solutions.
---
Growth Sandwich
This B2B SaaS marketing agency operates in a collaborative manner. Growth Sandwich will work with you and your team to conduct customer research projects, develop a product-led go-to-market strategy, and create value-based pricing.
---
Klood
Klood's goal is to help SaaS businesses fill their sales and marketing pipelines. They help clients attract new customers with good content, engaging lead hooks, and an effective SaaS marketing strategy.
---
Riverbed Marketing
Riverbed Marketing wants to help its clients attract more website traffic, high-quality leads, and brand awareness. They understand that staying visible in the minds of your customer is just as important as the SaaS product you've created.
---
Xander Marketing
Xander Marketing is a great solution for SaaS businesses looking to outsource their marketing. Their specialties include generating high-quality leads, boosting revenue, and building website traffic.
---
How to Choose the Best Saas Marketing Agency for Your Company
In order to help you choose the best marketing agency for your SaaS business, here are a few important aspects to consider:
First, do you need a full-service marketing agency or do you need something more specific? Are you looking for a growth marketing consulting agency, marketing automation services, or help with web design? Consider if you're after both inbound and outbound marketing before choosing a SaaS marketing agency.
How do their strategies align with your short and long-term goals? If you're looking to boost your customer acquisition efforts, is that something they've specifically pitched to help with? Know your key metrics. Ask how they plan to help you reach them.
What do your internal marketing efforts look like? Understand your internal marketing capacity. How will internal marketing leadership collaborate with outside SaaS marketing agencies?
Consider your budget. While you may like their sales team and the marketing plan they've pitched you, can you afford the services of this digital marketing agency?
Does the SaaS marketing agency you're considering have enough experience and expertise to market a complicated product like yours? Having extensive knowledge of your specific SaaS niche, including the longer sales cycle of SaaS products, is a must-have in a partner.
Last, ask to see their case studies. Many SaaS companies can put together an effective pitch, but do they have the marketing analytics to back it up? Tech companies should ask to see case studies proving that they can back up their claims.
What Makes SaaS Marketing Unique?
SaaS marketing is unique because you're not marketing a physical product. It's a product that doesn't have a physical presence. It's also ever-evolving as it adapts to meet the client's needs.
SaaS marketing is also unique because it involves more than just promoting a product. In order to effectively promote SaaS products, marketers must understand that they have to market the product as more than just a product, but rather as a solution.
Generating leads, bringing in new customers, and retaining those customers is a more complicated process for SaaS companies. If SaaS products are improperly marketed to potential customers, it's going to lead to a higher customer turnover rate.
It doesn't matter if your customer acquisition rate is high if your customer turnover rate is also high. The marketing must be accurate and solutions-based to retain customers in the long term.
Why is SaaS Marketing Important?
Whether you're working with an in-house marketing team or outsourcing your efforts, SaaS marketing is important. It's important because it helps SaaS companies specifically reach their business growth goals as new companies in a competitive space.
SaaS marketing is complicated. This type of marketing also helps SaaS businesses effectively promote their product as a solution for customers. Since it has a longer sales cycle, it's important to partner with an agency that knows this concept. It's not as simple as just trying something new. The agency needs to have experience with it.
SaaS Marketing Trends
Staying on top of trends is an important part of improving your marketing strategies.
Let's discuss a few SaaS marketing trends:
Marketing SaaS products as solutions that are easy to use
Incorporating video content as a key part of the marketing strategy (learn all about SEO video marketing here)
Creating content driven by the brand's persona
Prioritizing customer retention on the same level as customer acquisition
Using AI to improve the user experience
Having native ads in order to build brand awareness and fight customers' advertising fatigue
Adopting a user-based pricing model to compete with other SaaS businesses
Unbundling your SaaS product offering in order to offer concise, clear, and targeted solutions to your customers
Final Thoughts on How to Find the Right SaaS Marketing Agency
It's important for SaaS companies to explicitly understand what to look for. Choosing which agency to hire is an important step in growing your business, and we hope this guide on how to find the right SaaS marketing agency was helpful (and don't miss our guide on how to start a marketing business if you're curious).
Want to learn step-by-step how I built my Niche Site Empire up to a full-time income?
Yes! I Love to Learn
Learn How I Built My Niche Site Empire to a Full-time Income
How to Pick the Right Keywords at the START, and avoid the losers
How to Scale and Outsource 90% of the Work, Allowing Your Empire to GROW Without You
How to Build a Site That Gets REAL TRAFFIC FROM GOOGLE (every. single. day.)