Is Shein Legit? Here Are Important Things To Know About the Fast Growing Fashion Retailer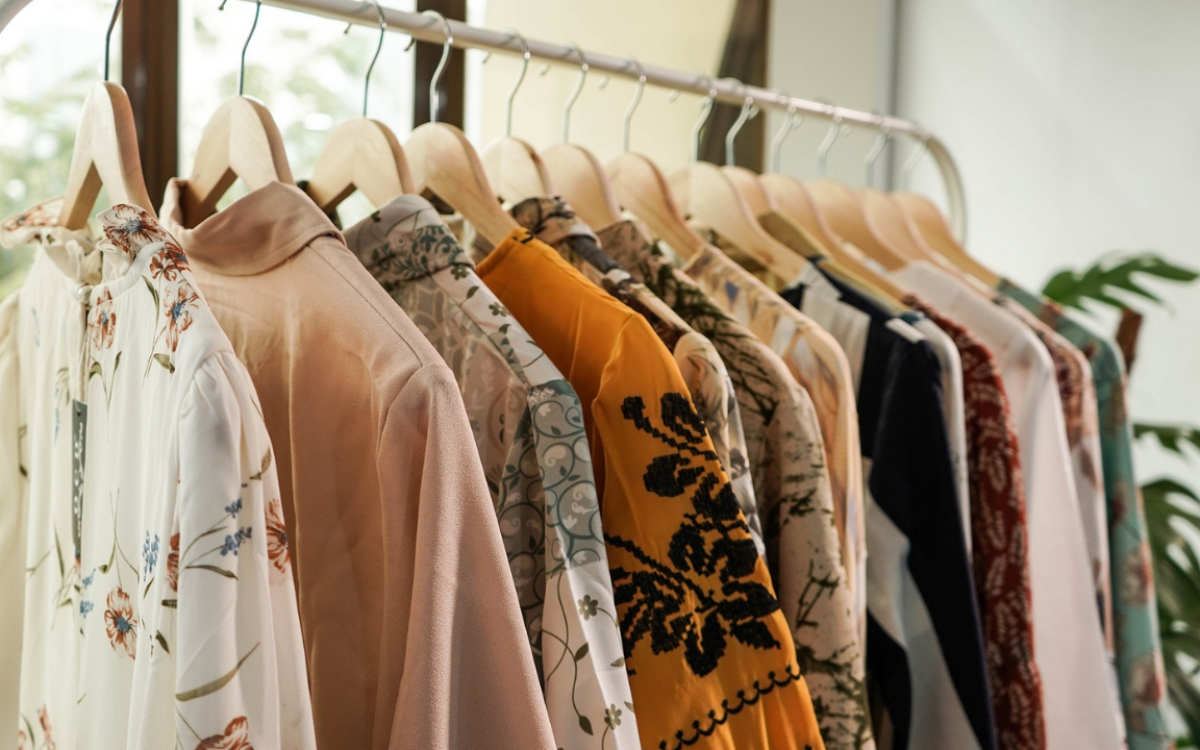 When you buy something through one of the links on our site, we may earn an affiliate commission.
Chances are that you've seen the bargain-priced clothes on your Facebook and Instagram feeds. Maybe you've even clicked through to Shein's website where the prices are unbeatable - and many items are under $20! But is Shein legit or is it too good to be true?
In this post, we'll take a closer look at Shein to see if it's a site you can trust. We'll look at the quality of the clothes, the customer service, and their reviews to see if Shein is worth your hard-earned money. Keep reading for our verdict!
About Shein
If you're a fashion-savvy individual who loves to keep up with the latest trends, then Shein is definitely a website worth checking out.
This online store is packed with stylish clothes and accessories at affordable prices, helping you to be fashion-forward without breaking the bank. Whether you're looking for a new dress for a special occasion or some trendy new sneakers to wear on weekends, Shein has you covered.
Shein is a well-known internet fashion retailer that provides clothing at an affordable price. After being founded in 2008 by Chris Xu, Shein has since become THE leading online fashion retailer.
While the company is China-based, it does ship to over 200 countries around the world. The business does not design or produce clothing, but instead purchases its goods from the wholesale apparel market in Guangzhou.
Shein sells both women's and men's clothing, as well as kids' clothes and home décor items. With over 26 million followers on Instagram, it's safe to say that Shein has built up a large fanbase. Currently, Shein is worth a massive $100 billion. So they're obviously doing something right!
Is Shein Legit?
Now that we know Shein's background, let's answer the question on everyone's mind: is Shein legit? When it comes to online shopping, it's always important to be cautious, as there are plenty of scams out there. But the short answer is yes, Shein is definitely legit and safe.
Of course, we understand that you might want a little more information before making a purchase. After all, you don't want to hand over your hard-earned cash only to be disappointed with the quality of the clothes or the customer service.
Is Shein Reliable?
There's no doubt that online shopping has become the new norm. You can have just about anything delivered right to your doorstep with the click of a button. However, with so many options available, it can be hard to know which retailers are reliable.
You want to be certain that your items will arrive on time and that you'll be able to reach customer service if you need to. When it comes to finding affordable fashion, Shein is one of the most popular choices. But is Shein reliable?
If you plan on shopping at Shein, here is what you need to know.
Unfortunately, Shein has a bit of a mixed reputation in this department. While some customers report being thrilled with the speed of their order, others have expressed frustration with long shipping times. If you need something in a hurry, it's probably not worth ordering from Shein.
However, if you don't mind waiting a little bit longer for your clothes, then go ahead and place an order. As for customer service, Shein has a range of ways to contact them and we'll look at this in greater detail further on in the article.
Why is Shein So Cheap?
If you're looking for a good deal on fashion, you've probably considered shopping at Shein. After all, the prices are super low - sometimes even 60% off! But why is Shein so cheap? Well, there are a few reasons.
First of all, the vast majority of Shein's garments are sourced from factories in China. This means that labor costs are much lower than they would be in other countries, allowing the company to keep its prices low. However, it also raises concerns about working conditions and employee rights.
In recent years, there have been numerous reports of poor working conditions in Chinese factories, including long hours, low pay, and dangerous conditions. While Shein has not been directly implicated in any of these cases, the company's reliance on Chinese suppliers means that there is a risk that its products may be produced under unethical conditions.
For shoppers who are concerned about the treatment of workers, this could raise questions.
Although Shein can be good quality for the price, most of the clothes they sell are not what you might term "high-quality pieces."
This is fast fashion like Cider, designed to be worn for a season, so the clothes may not score so high regarding the quality of the fabrics or their durability.
And finally, because Shein is an online-only retailer, it doesn't have the same overhead costs as brick-and-mortar stores.
Prices this cheap can cause shoppers to wonder whether Shein is legit, but there's no need to worry. Their prices are just really low because they source their clothes from China, sell mostly fast fashion items, and don't have the same high overhead costs as traditional brick-and-mortar stores.
So if you're looking for a cheap and trendy piece to add to your wardrobe, Shein is definitely the place to go - as long as you know you may not get the greatest quality items.
What do Shein Reviews from Actual Shoppers Say?
Shein has a Trustpilot consumer score of 3.9 from over 100,000 reviews, which is classified as "Great". Sixty percent of reviews give the company 4- or 5-star ratings.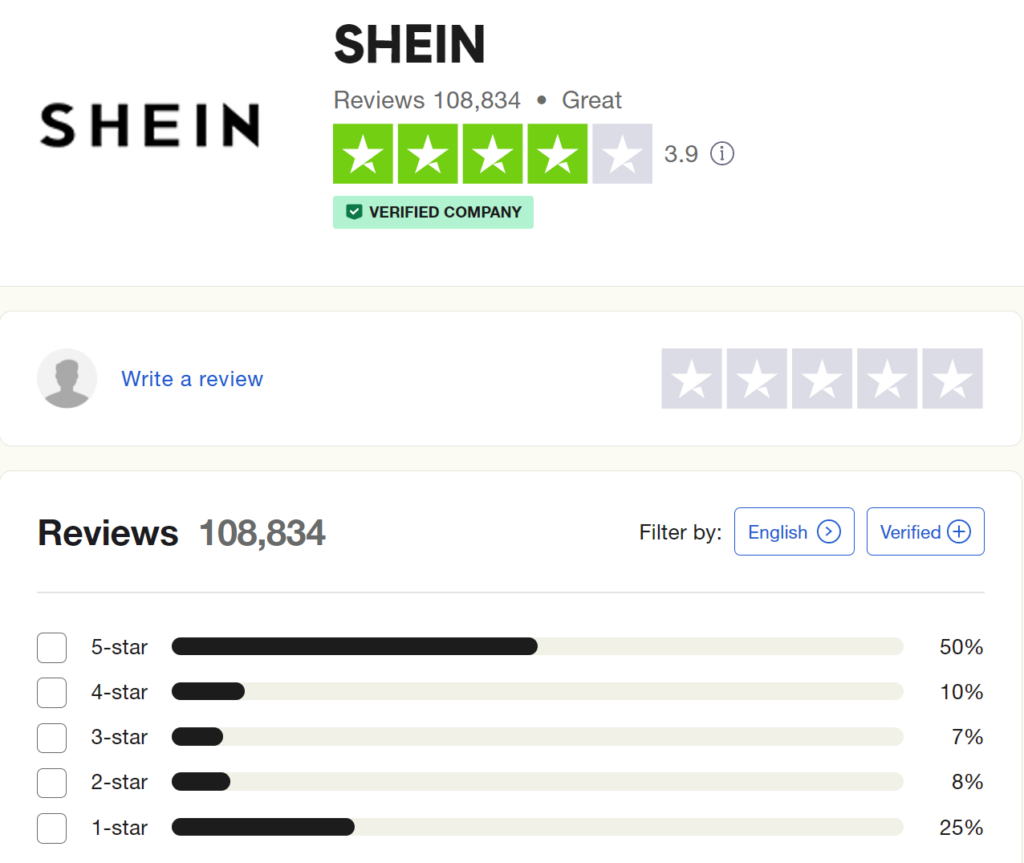 Although Shein has a quick turnaround time for responding to negative reviews on Trustpilot, this is where things fall down quite drastically.
While it's no surprise that big companies like Shein often find themselves on the receiving end of negative reviews, we can see their response is just a "copy and paste" generic reply, simply telling the reviewer to contact their live chat for resolution.
In some cases, the actual complaint has been about problems accessing the live chat - oh, the irony! Come on Shein, do better!
It would be good if they were to actually read the complaints and respond in a meaningful way! This cookie-cutter approach to customer service is not only frustrating, but it may make potential customers question whether shopping at Shein is worth the risk.
Should You Be Worried About Shein Complaints?
There have been some complaints about Shein in the past, mostly concerning quality control, the returns process, and customer service. With a company of this size, it's important to remember that they're going to have their fair share of unhappy customers. The important thing is how they deal with those complaints. From what we can see, that hasn't been going quite so well for them.
Perhaps the most common complaint is that customer service can be difficult to reach. This is definitely a valid concern, as it can be frustrating to try to get in touch with a company and not be able to get through.
Handling and processing fees for returns is another common theme in the reviews. It's not unusual for companies to charge a handling fee, but some customers feel that the fees charged by Shein are too high.
Complaints about the quality of some of the items received abound, particularly with clothing and shoes. Keep these complaints in mind when shopping on Shein: although you can find some good deals, the quality may not be the same as you would find from a more expensive retailer.
So, should you be worried about Shein complaints? We would say no, not necessarily. Yes, there have been some issues in the past, but that's true of any company. They also have a ton of great reviews from happy shoppers.
It's important to weigh up the savings you're getting against the potential risks. If you're happy to take your chances, go ahead and enjoy shopping at Shein! Just be aware of the possible issues that could arise.
Clothing Quality
If you're looking for affordable fashion, Shein is a great option (but you may also be curious to learn whether or not Ssense is legit). The online retailer offers an impressive range of stylish clothing and accessories for women, men, and children. And the best part is that Shein's prices are very budget-friendly.
So, what's the catch?
Well, some shoppers say that the quality of Shein's clothes isn't always the best. Some fabrics may be thinner or cheaper-looking than you'd expect. Plus, sometimes sizes can run small or fit oddly.
However, for those willing to take the risk, you can score some great deals on trendy pieces. Always be sure to read any product descriptions carefully and consult the size chart before you make a purchase. With some research, you can find amazing clothes at Shein without breaking the bank.
The Shein Return Policy
Shein accepts returns on most items, as long as you return them within 30 days of receipt. However, there are a few exceptions to this policy. For example, swimwear, jewelry, lingerie, hosiery and makeup, and some other items cannot be returned for hygiene reasons.
Some reviews have mentioned handling fees for returns or incurring high international shipping charges. Be sure to check the return policy for your region before you make a purchase, so you're not caught off-guard. It's also worth checking Trustpilot reviews from other shoppers in your country to see if this is a problem in your location.
Overall, the return policy at Shein is pretty standard, but there are a few things to be aware of before you shop.
If you're interested in selling your fashion items purchased through Shein when the season ends or if it isn't worth the high return fees, here is a guide to selling used clothes online!
Customer Service
Some of the 1-star reviews on Trustpilot indicate that they had problems getting in touch with customer service, so that's definitely something to bear in mind. This process can be frustrating, especially if you need help with an issue or a return.
Shein Alternatives
If you're not sure about Shein, there are plenty of other options out there. You don't have to be a fashion blogger to find affordable, stylish clothes. Here are a few more of our favorite fast-fashion online retailers to check out:
H&M
H&M is a great alternative to Shein! They offer a wide variety of stylish and affordable clothing for women, men, and children.
Their selection is always on trend, and H&M also has a strong commitment to sustainability, which is important to many shoppers today. If you prefer shopping with eco-friendly companies, H&M offers a stylish alternative to Shein.
Zara
Zara is a contender for being one of the most popular fashion retailers in the world, and for good reason. They offer stylish, well-made clothing at an affordable price point. Zara is known for offering high-quality items that will last longer.
Plus, Zara also has brick-and-mortar stores in many countries, so you can try on items before buying them (something that can be tricky with Shein).
ASOS
ASOS is a great alternative to Shein for budget-friendly fashion. They offer an affordable option with trendy styles and quality materials. You can find everything from basics to statement pieces, without sacrificing style or quality.
Plus, ASOS offers free shipping on orders over $49.99 and has a comprehensive return policy. This ensures that you get the ideal fit. ASOS is the perfect alternative to Shein.
Final Thoughts: Is Shein Legit?
The verdict is that Shein is a legit company. If you're looking for trendy clothing at an amazing price, Shein is definitely a site to check out. However, as with any online purchase, it's important to do your research before buying from any new site, just to be sure.
Read reviews from other customers and compare prices between Shein and other sites. And always remember to use a credit card when shopping online so you can take advantage of buyer protection policies if something goes wrong.
For related reading, here are the top clothing affiliate programs you can join to promote fashion on your blog!
Want to learn step-by-step how I built my Niche Site Empire up to a full-time income?
Yes! I Love to Learn
Learn How I Built My Niche Site Empire to a Full-time Income
How to Pick the Right Keywords at the START, and avoid the losers
How to Scale and Outsource 90% of the Work, Allowing Your Empire to GROW Without You
How to Build a Site That Gets REAL TRAFFIC FROM GOOGLE (every. single. day.)
Subscribe to the Niche Pursuits Newsletter delivered with value 3X per week