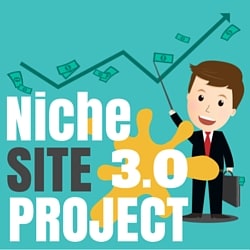 Woohoo!  The time has come to get the ball rolling on Niche Site Project 3.0!  This is going to be the biggest and best Niche Site Project ever…at least that's the plan.
As explained in the previous post; Perrin, Jake, and I will each be coaching our own student through the process of building a niche site.  So, we will have 3 public sites from 3 different "students".  As a result, even if you are not "the chosen one", you will get to follow along and actually visit the sites and see the changes as we make them.
Having said that, I'm ready to lay out the application process for those interested in being one of the three students.
Requirements to Be a Student…
Before I jump right into the application process, I think it's important to explain a little bit of what is expected from each student should you wish to apply.
Before you start following the steps I have listed below, I want to add some thoughts. First of all, if you don't think you have what it takes to commit to this process, please don't apply.
Secondly, I'm personally very excited about this project, and I hope that you are too!  If you are willing to commit to the process, then I think this can be an enjoyable project for everyone…and you might end up making some money as well.
Here are some of the things that we are looking for in a student:
Must be willing to commit to recorded coaching calls via Skype or Google+ with Jake, Perrin, or I.  (This means your voice and possibly video will be shared publicly).
Must be willing to spend up to 10 hours a week working on a niche site and spending time with us for at least a couple of months.  Time spent will likely decrease after the first 6 weeks or so.
Must be willing to invest up to $500 on this project.
Must be willing to share your domain publicly.
Must be willing to share earnings, traffic, and other stats for the niche site.
Notice that I didn't mention anything about experience, background, age, gender, location, etc.  We hope to choice applicants with a variety of backgrounds and experience…please just be honest with your application below.
So, with those small caveats, let's move into the application process!
How to Apply for Niche Site Project 3.0
You can apply starting…right now!
Step 1: Create a short YouTube video explaining why you are the best applicant for Niche Site Project 3.
Video must be under 3 minutes in length
In the video description, please reference NichePursuits.com in some way.
Part of your Youtube video title must include, "Niche Site Project 3 Applicant".
Post your Youtube video on the NichePursuits facebook page here: https://www.facebook.com/NichePursuits.
Step 2: Complete the written portion of the application by answering these 6 questions.  Email your completed questions and answers to [email protected]
Please note that all of these answers, with the exception of question 5 are meant to be fairly brief.
What kind of experience do you have building niche sites?
How much money do you currently make from any online ventures?
How much time are you willing and able to put into being coached, creating a niche site, and documenting your progress each week?
What are you and expert in or what are you really good at?
In 500 words or less, explain your dream business venture.  Don't be afraid to dream beyond niche websites.  If you could snap your fingers and make it happen, what kind of business would you own and why?
What is the Youtube link to the video you created for this application in step 1?
The Application Deadline is: Dec. 2nd, 2015 at 11:59pm PST
As you can see, this application process is much more involved than last time (for NSP 2).  To be honest, we are hoping to weed out the applicants that aren't willing to put in the time to create a video or answer the questions.  Hopefully those of you that do apply and follow the instructions will be the best applicants anyway.
You will notice that we are not having you apply to each coach individually.  Jake, Perrin, and I will be "fighting" over which applicant we want the most.
What's the Process After the Applications?
All applications received by the deadline on Dec. 2nd at 11:59pm PST will be reviewed by Jake, Perrin, or I.  This is going to take us some time, so please be patient.
Want To Build Smart & Relevant Internal Links...Quickly?
Link Whisper is a revolutionary tool that makes internal linking much faster, easier, and more effective.  It makes it simple to boost your site's authority in the eyes of Google. You can use Link Whisper to:
Bring out your orphaned content that isn't ranking

Create smart, relevant, and fast internal links

Simple yet effective internal links reporting: what has lots of links and what pages need more links? 
Click here to revolutionize your site's way of doing internal links
We will try to contact all applicants by Dec. 9th to let them know if they made it to the final round.
The final round will be the top 10 applications.  In the final round we will likely do a short skype call or some other final process to make a decision on who will be the 3 students.
We hope to make a decision on the 3 new students by Dec. 16th.
Niche Pursuits Readers Get to Help Pick Finalists!
Part of the success of the last niche site projects was because it felt like a community project.  I don't want that to change.  For that reason, each of you (even if you don't apply) will have an opportunity to pick a couple of the top 10 finalists!
I will provide more details once the applications start rolling in, but basically, we will be taking a poll to find out the top 2 favorite application videos submitted.  These top 2 applicants will automatically make it to the final round of 10; where their chances of becoming the final student are greatly increased.
Watch the YouTube Videos Right Away…
You can start watching all the application videos by searching on YouTube for: "Niche Site Project 3 Applicant".
You can also watch the videos as they are posted on the Niche Pursuits Facebook Page Here.
Upvoting on YouTube and liking/sharing on Facebook the videos that you think are the best will help Jake, Perrin, and I sort through and find all the winners must faster.
Overall, in a couple of weeks, we will be posting our favorite 10 or so videos in a blog post, and then letting the community pick out their top 2 finalists.
Final Thoughts
The application for Niche Site Project 3.0 is now open!  Based on the amount of positive feedback I've received since announcing this new project, I fully expect that we will be getting some great applicants.
This project should be a lot of fun, and hopefully a great learning experience for everyone that follows along.
If you feel like you are a great fit for this project, please apply now!
As always, I always look forward to the discussion in the comment section.  So, if you have any final thoughts, please let me know.  Just please be aware that we will not be picking our students based on your comments below. 🙂
Oh and by the way, this is officially the 400th post on NichePursuits.com!  About 5 years of blogging…I think I deserve an extra cookie tonight in celebration!
---