Grammarly Review [Is It The Best Grammar Tool For Writers?]
When you buy something through one of the links on our site, we may earn an affiliate commission.
Welcome to our Grammarly review. Maybe you want to write a blog post or email series, but perhaps you know that your grammar isn't the best.  As a result, you're scared you might end up making lots of grammatical mistakes, which could make you appear unprofessional to your audience.
I discovered Grammarly a few years ago – and as someone who writes for a living, I regularly use it for proofreading my work.
Because I found this grammar-checking tool really helpful, I decided to write this Grammarly review so you can see what you've been missing. And in this review of Grammarly's free online grammar checker, I'll show you all the fantastic things you can do with it.
Try Grammarly For Free Right Here
Try out Grammarly for free
---
Grammarly Review
Ease of Use -

100

Stability -

97

Customer Service -

93

Price -

90
Summary
Overall, Grammarly is superb writing and grammar checker tool, and I'll highly recommend it to every blogger, writer, and student who is tired of making annoying spelling and grammar mistakes while writing. It's pretty easy to use and doesn't require any learning curve. Try Grammarly for Free Now.
Pros
Grammarly is now available for Google Docs
It has a cloud version so you can access it anywhere, anytime
It sits on your browser and detects every mistake that you make while writing, makes corrections and sends you a weekly report of your progress
Unlike MS Word, Grammarly recognizes contextual errors
It also checks for copied content (plagiarism)
Cons
Grammarly is definitely not a replacement for a human proofreader
Some writers may not be able to afford $29.99 per month for a grammar checker
It is not available offline
Grammarly Review
I'm a big fan of this grammar checker. Grammarly is an online (and free) checker that will make sure that your spelling and grammar are on point. It checks blog posts, email series, articles, book chapters, and more for common errors and plagiarism.
Within minutes, this tool gives you a list of all the errors and mistakes in your article.
In summary, Grammarly will take care of the following:
Spell check: It's a great spell-checker tool.
Plagiarism: It spots plagiarism by simply comparing your writing to billions of pages on the internet.
Grammar and punctuation: Grammarly detects punctuation and grammar mistakes from basic to advance. Aside from that, it also offers guidelines and suggestions on how to correct these errors.
Writing style: The tool is also designed to help you self-edit your writing by giving insights about sentence length, readability score, etc. This is pretty handy for adapting your writing style for a specific audience.
Who Can Use Grammarly?
Grammarly is designed for both native and non-native English speakers. Grammarly is meant explicitly for:
Authors
Bloggers
Copywriters and content marketers
Email marketers
Students
Social media marketers
Grammarly acts as a line of defense for most writers, even native English speakers. You can use it to ensure your blog post, book, email, sales page, and article are correct and easy to read.
Additionally, the Premium version is useful for students who may want to check a batch of work. You can simply subscribe for a month, proofread your work and then cancel if you wish to. However, be sure you're not violating any rules and regulations set by your school.
How To Use Grammarly
The first step is to create a free account on Grammarly; then you can quickly take a tour of its editor (which was recently updated), to determine if this tool is perfect for you. I also appreciate that they have a free Chrome extension now as well as the Grammarly desktop app.
No doubts, Grammarly online grammar checker is fantastic (check out our ProWriting Aid vs Grammarly article where we see how Grammarly compares with one of the other best writing tools); here's what the Grammarly Dashboard looks like:
The tool offers you helpful suggestions on your writing effortlessly and quickly, making your writing pretty clear and precise.
Good enough, Grammarly's feedback can be adjusted according to your preferred writing style – formal, informal, etc. It's advisable to always set a goal for your writing once you open a new document. You can do this by clicking the "Set Goals" tab on the upper right corner of Grammarly editor.
Ideally, you can set your writing goals based on your:
Audience: e.g., expert, knowledgeable, or general
Intent: e.g., inform, describe, convince, or tell a story
Emotion: e.g., strong or mild
Style: e.g., formal or informal
Domain: e.g., academic, creative, casual, business, or technical
In the end, Grammarly delivers useful insights based on your selected goals.
Grammarly Review | The Apps
There are numerous ways you can use the Grammarly software to review your writing. Below are the most common ones:
1. Using Grammarly Browser Extension
Grammarly has a free browser extension, which works on most popular browsers such as Google Chrome, Safari, and Firefox. You can download the extension here to correct your punctuation and grammar errors on the go.
Once you've downloaded the Grammarly extension, login to your account to get your personalized dashboard.
The good thing is that you don't need to check the dashboard to use the extension since the Grammarly icon sits at every text field you write on your browser and suggests the errors to you.
Here are the steps to using the Grammarly browser extension:
1. Download the browser extension: Grammarly website is always able to identify what browser you're using and gives you the option to download the required add-on.
2. Look at your browser's toolbar section (In Chrome and Firefox, you can see it just to the right of the address bar). If you see a green "G" button like in the screenshot above, the installation is done.
3. Henceforth, Grammarly will always check anything you write on your browser for grammatical errors.
You can also decide to disable the extension from checking any particular website for grammar and spelling errors by turning it ON or OFF for that specific website:
2. Using Grammarly Web App
Apart from checking for errors on your browser, the Grammarly browser extension can also be used to access the web app.
For example, if you don't fancy the live checking option on the browser, you can use the Grammarly web tool for a much more dedicated space. Remember you must be signed into Grammarly before using the extension.
Here's how to go about it:
1. To use the Grammarly web app, the first step is to create a free account. Don't worry; you can select the free version while registering.
2. Click on the browser extension, and you will see a menu that looks like the screenshot below:
3. There are two options at the bottom, as you can see; one is the "New Document" tab that instantly takes you to the Grammarly editor.
And the other one is "My Grammarly" tab; clicking on it will take you straight to the dashboard – you can also choose between British and American English.
4. Grammarly web tool allows you to insert text into its editor in three different ways, as shown in the screenshot below; you can type directly into it, paste from anywhere or just upload a document.
5. I decided to choose the upload option, and here's what I got: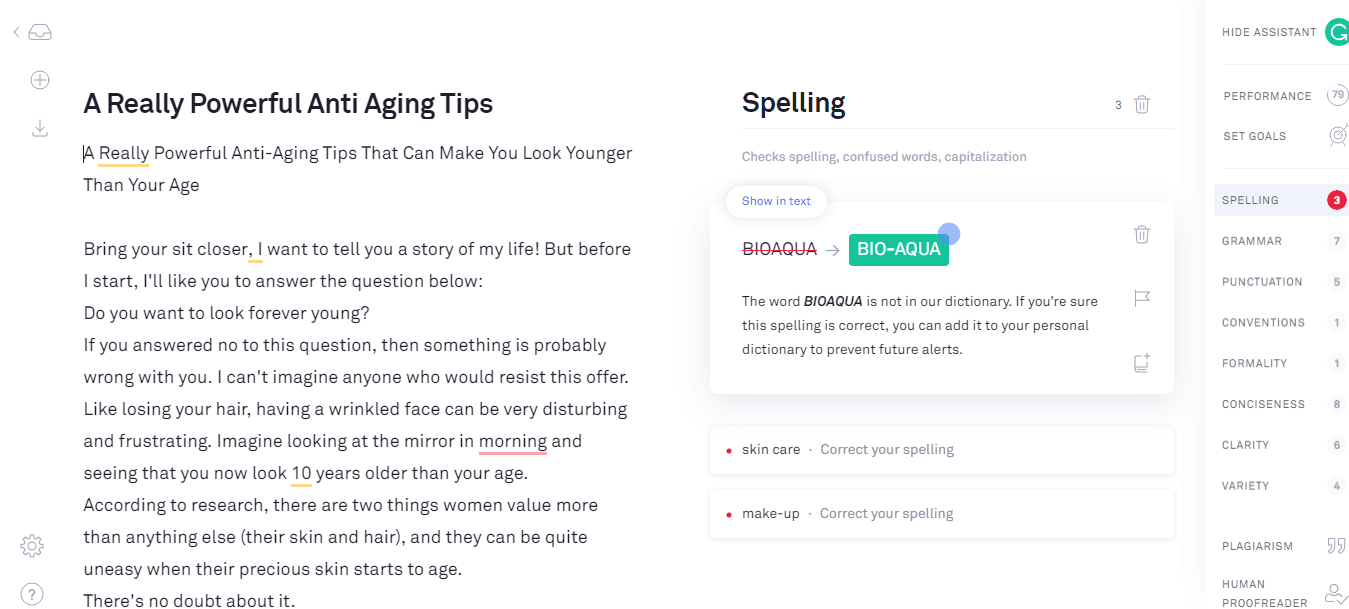 See, it spotted several errors in the article.
When you're done checking with Grammarly, you can also download the file in the exact format with a click, and Grammarly will save it in the download folder as filename.edited.
3. Using Grammarly MS Word Add-on
If you're like me and do all your writing in Microsoft Word, and you're wondering how to use Grammarly with Microsoft Word, I've got you covered here as well.
Interestingly, Grammarly does integrate with Microsoft Office through a Word add-on, which you can download here.
NOTE: The Grammarly MS Word add-on is a premium feature. Click here to get the Grammarly MS Word add-on now.
Other noteworthy apps are Grammarly native apps such as the Grammarly desktop software for Windows. This software is useful for using Grammarly directly from the desktop and Outlook.
Using Grammarly's Word Add-on is pretty simple and straightforward – just install it, and it'll synchronize with your Microsoft Word. When you want to check your writing, simply click on the Grammarly tab in the upper left corner of MS Word, as you can see below:
In a nutshell, Grammarly has three apps (Grammarly for Microsoft office, Grammarly for Windows, and Grammarly for Chrome). All these apps are designed to achieve a single purpose – to improve user experience and make your writing easy and error free.
How Grammarly Can Improve Your Writing
1. Grammarly Checks Your Content For Repetitive Word Detection and Correction
As writers, we sometimes use a word way too often than necessary when writing longer form content. These usually go unnoticed to us as the writer, but not the reader, and can lead to significant loss of impression.
In the example screenshot below, about how Grammarly pointed out common repetitive words from my writing, such as the word "even."
2. Grammarly Checks Contextual Spelling Mistakes
If you think you don't have to bother using a new tool since our traditional MS Word has all the punctuation and spelling corrector built-in, you'll have to think twice.
Grammarly is instinctive, checks for your writing pattern, and corrects contextual spelling errors that would otherwise go unnoticed when using the regular MS Word.
For instance, words like lie and lay, affect and effect, next and nest are often difficult for traditional word processors to notice.
But, Grammarly spelling checker has corrected thousands of such errors in my writing over time. Below is an example of this feature:
3. Grammarly Checks your Writing with Advanced Grammar rules
Writing grammatically correct sentences might be unnecessary on social media, you still need to be good with grammatical rules such as subject-verb agreement, etc.
In case you don't know, correct grammar and punctuation are one of the secrets to getting better grades at universities, winning solid business proposals, landing your dream jobs, and even getting a date.
Research carried out by Grammarly confirmed that "98% of candidates who used Grammarly while writing were successful than their friends."
Grammarly points each grammatical error with green and red underlines – and when you hover your mouse on them, Grammarly highlights the mistake, given you a little info about what went wrong and finally suggesting the correct option.
It's just like your personal English trainer, right?
4. Grammarly Plagiarism Checker Tool
This element of the Grammarly Premium version is undoubtedly the best plagiarism checker tool online at the moment.
Essentially, plagiarism is the duplicate content in a piece of document. Sadly, detecting plagiarism is a huge problem for lots of people, especially writers.
And if you're a digital marketer who outsources blog posts from freelance writers, then you should certainly run the outsourced document through a reliable plagiarism checker like Grammarly.
Similarly, most universities often face a lot of challenges while trying to detect plagiarism in students' projects. Thus, they prefer checking the assignments with an automated proofreader before submission.
Plagiarism is a big problem because publishing copied content on your blog can put you in a costly problem. That is why you need Grammarly Premium version to always be on the safe side.
Another good thing is that Grammarly displays the percentage of plagiarized content on your copy so you can choose if it's ignorable or not.
The Grammarly online proofreading feature is indeed a blessing for lots of writers like myself who cannot afford an expert human proofreader.
It's simply the most used online grammar checker and proofreader by millions of professional writers, bloggers, and business persons all over the world.
Other remarkable Grammarly features that made me a lifetime paid customer include:
See synonyms and definitions via simple double-clicks
Free performance stats report occasionally emailed to my personal inbox
Accessing my documents anytime, anywhere, and on the go
Add preferred words to my dictionary so that they are white-listed for future writing
How Much Does Grammarly Cost?
Below is Grammarly pricing:
Grammarly Premium monthly subscription = $29.95/month
Grammarly Premium quarterly subscription = 19.98/month (billed as one payment of $59.95).
Grammarly Premium annual subscription = $11.66/month (billed as one payment of $139.95)
Excitingly, you could always use Grammarly for free, assuming you want to test it out first before making a purchase (like I did!).
Grammarly Free Version Vs. Premium Vs. Business
The free version of Grammarly contains most of the features found in Grammarly Premium aside from plagiarism checker, advanced grammar checker, and some other vocabulary enhancement suggestions.
In other words, the Grammarly free version is ideal for bloggers and writers with a lean budget.
But is Grammarly Premium worth ponying up the cash for over the free version? If you're wondering what more you'll get with Grammarly Premium that's not included in the free version, apart from detailed info about your grammar mistakes, it also offers extra writing insights and the ability to set writing goals.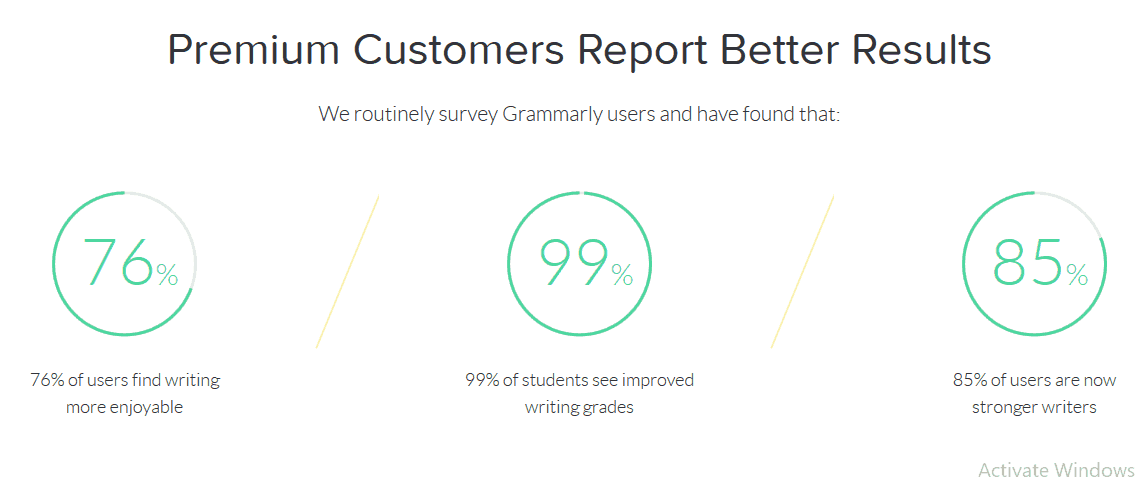 But that's not all; it also finds and fixes more grammar errors than the free version.
You can opt for the monthly, quarterly, or annual premium subscription. I usually pay for a yearly premium subscription as I consider it a good balance between affordability and handling my expenses.
Grammarly recently introduced a business version. Apart from the features offered on the premium edition, the Grammarly Business version includes features such as:
Priority 24-7 email support
Admin and user-management controls for the security and privacy of your team's work
Monitoring tools to check engagement trends
Centralized billing
Grammarly Business costs $15 per month per member and could be an excellent option for a team that needs a spell checker and grammar tool.
Is Grammarly Worth It?
Grammarly offers a lot of features in the free version, so you can't go wrong there. But what about Premium?
Is Grammarly Premium worth it?
Maybe. It depends on who you are and what you're trying to accomplish. If you want to improve your writing, Grammarly Premium does a great job of teaching tone, word order/sentence structure, and how to be a better writer (but you may also want to check out Grammarly vs Hemingway).
The plagiarism checker is great for students and teachers, but others might get less value out of it.
If you have a niche business and ever outsource your content, then I think you should consider Grammarly Premium. Plagiarized content gets a penalty in Google, and you'll never rank for it (and you'll probably want to use one of these Google penalty checker tools periodically to make sure you're in the green). It's best to know if your writers are "taking inspiration" from other sources.
Side note: Another tool on the market that could do wonders for site owners is OriginalityAI. It checks for plagiarism, detects AI content, and is built by site owners for site owners.
The moderate cost for Grammarly Premium will save you money; you won't have to order new, better content than whatever you got the first time.
All in all, I would recommend Grammarly for anyone who wants to become a better writer, anyone who outsources content for a business, and anyone who has trouble with grammar.
Prevent plagiarism and become a better writer with Grammarly
Stop plagiarized content with Grammarly
Frequently Asked Questions About Grammarly
Now let's discuss some pretty common questions about Grammarly.
1. How Accurate is Grammarly and Can It Really Help Writers?
When you click on a grammatical mistake in your article, the grammar checker displays an explanation of the error. All that's required of you is to click on the arrow to view more about the suggestions.
Grammarly identifies possible fixes and explanations for your grammar mistakes such as:
Overuse of the passive voice
Confused prepositions
Repetitive words
Common grammar and writing errors like misplaced apostrophes
Wordy sentences
Lengthy sentences to edit down
Spelling errors
Other grammar rules
After using the Grammarly grammar checker tool on lots of articles, I discovered that I have a habit of closing sentences with prepositions.
I'm equally guilty of occasionally using squinting modifiers. These are some of the writing mistakes Grammarly helped me to spot to help improve my writing skills.
Unfortunately, the inbuilt grammar checkers in Scrivener and Microsoft Word didn't give me this insight; Grammarly has helped me refine my writing skills over the years.
2. Is Grammarly Secure?
Grammarly clearly stated in their privacy policy, that you transmit writing to their servers over the web. Therefore, Grammarly cannot guarantee 100% security.
But on a practical note, using Grammarly is just like sending a private email in regard to security. Except you're writing a legally sensitive or commercial document, and your company has very stern data management procedures, you can use Grammarly without any issues.
I've been using Grammarly for the past two years, and I've never had any problems with my writing or documents.
3. Will Grammarly work on a Mac?
Yes, you can use Grammarly on your Mac – and there's a Grammarly Chrome extension as well as one for Safari. You can also use it on iPhone.
4. What is the Grammarly cancellation refund policy?
If you buy Grammarly Premium and don't fancy it, you can contact their support department within a 10-day period and get your money back instantly.
5. Is Grammarly mobile friendly?
Yes, Grammarly can be installed on both iPhone and Android devices.
Grammarly Review Conclusion
Honestly, I can't imagine writing without Grammarly, as it makes writing pretty fun and easy for me.
It has not only corrected thousands of my grammar and spelling mistakes over the years but has also helped me to improve my writing from the suggestions it makes and the useful explanations it provides.
Additionally, Grammarly's proofreader feature and its contextual grammar and punctuation mistakes checker are by far the best I have used.
In this Grammarly review, I recommend at least the free version of Grammarly to every blogger, writer, and student who desires to write better for business/academic performance or anyone who wants to learn better English on the go. This is simply because Grammarly does precisely what it promises.
Now, if you've used Grammarly in the past or you're currently using it, tell us about your experience with it in the comment section. And if you're using some other websites or writing tools similar to Grammarly, do let us and others know about it too.
Try Grammarly For Free Right Here
Get a Grammarly Free Trial Here
Finally, if you enjoyed this review of Grammarly? Feel free to share!
Want to learn step-by-step how I built my Niche Site Empire up to a full-time income?
Yes! I Love to Learn
Learn How I Built My Niche Site Empire to a Full-time Income
How to Pick the Right Keywords at the START, and avoid the losers
How to Scale and Outsource 90% of the Work, Allowing Your Empire to GROW Without You
How to Build a Site That Gets REAL TRAFFIC FROM GOOGLE (every. single. day.)
Subscribe to the Niche Pursuits Newsletter delivered with value 3X per week