11 Best WordPress Silo Plugins to Organize Your Content by Topic
When you buy something through one of the links on our site, we may earn an affiliate commission.
Are you searching for the best WordPress silo plugin?
With a content silo being beneficial for SEO, it's understandable that you'll want to have them on your website. If you're using WordPress, seeking out the best WordPress silo plugins is a smart decision to make.
This article will share 11 of the best silo plugins to use for your WordPress blog.
All of these plugins will help you in some way when it comes to adding silos to your website.
Let's jump right in.
What Are Silos In WordPress?
Silos in WordPress are the same as a silo on any website or blog. It's a way to organize your content to make it easier for search engines and visitors to navigate.
For example:
Say you have a menu called 'Clothes.' You link to jumpers, jeans, coats, and shirts on that menu — this would not be an organized silo structure because you link to multiple options.
On the other hand, if you created multiple menus for each item of clothing and only linked to content that relates to that item of clothing, you would be organizing your content better by siloing.
As another example, you would have a menu called 'jumpers .' The content from that menu will be related to jumpers — green jumper, cotton jumper, wool jumper, etc.
This structure is a silo because you organize your content into categories. Then, you can link the content in the category to other content in the same category.
You can read more about SEO silos and what they are by reading this article.  Bruce Clay also has a great blog post on SEO architecture siloing here.
How do I Create A Silo Structure In WordPress?
To create a silo structure in WordPress, you must organize your content and keywords into relevant sections and interlink to other content within that section.
For the most part, siloing content is about interlinking your content, so using a WordPress plugin to make internal linking easy is recommended.
11 Of The Best WordPress Silo Plugins
Most of the plugins mentioned in this article aren't siloing plugins alone because there aren't many plugins that silo the content for you good enough automatically.
As mentioned before, it's about internally linking content together. So you won't find the best WordPress silo plugin mentioned in this article but more a selection of plugins that work well to help you create a silo structure.
Once you understand what a silo is and how to structure your content (see the links above), you can use the following plugins to aid you in the website silo structure.
Here are the plugins.
Link Whisper
Link Whisper is a fantastic plugin from Spencer Haws. The plugin helps you add internal links fast and efficiently within the WordPress dashboard.
Once you have written your content, you can go through the Link Whisper settings, and you will be given options from the plugin for pages on your website to link to. You select the option you want, and the pages will be linked together.
Take A look At Link Whisper Here
Breadcrumb NavXT is a WordPress plugin that creates a hierarchy of breadcrumbs that lead up to the current web page. In addition, the plugin will automatically add breadcrumb links to the related content.
You have multiple settings and options, and the plugin comes with good support.
Take A look At Breadcrumb NavXT Here
Yoast SEO Premium
Yoast SEO Premium is the upgraded version of the popular free WordPress SEO plugin. The plugin offers many valuable features, and one of those is an interlinking feature to link blog posts inside your blog.
The feature we are talking about is the plugin's 'Internal Linking Suggestion Tool.' As a result, you can interlink your content with ease.
The video below explains how it can help you to create a silo page:
Learn More About Yoast Pro Here
Custom Sidebars
Custom Sidebars is a plugin that will enable you to create custom dynamic sidebars using widget areas for specific posts and pages.
You can create a menu area with the hierarchy for the silo of the page you are showing. The plugin won't cause performance issues and is a great addition to showcase your SEO silo structure.
Visit Custom Sidebars
Rank Math
Rank Math is another popular SEO plugin with numerous features and benefits. With Rank Math, you have a feature similar to the Yoast 'internal linking tool' that will help you link your content together internally.
The linking tool will optimize your menu structure which will help your content get indexed and rank higher in the search engines.
Sidenote: Rank Math also has an autopilot linking feature coming soon.
Learn More About Rank Math
Related Posts for WordPress
The Related Post plugin will display related content at the bottom of your blog post. In addition, it will display the related posts automatically.
You need at least ten published blog posts for the plugin to work, and you can also use a new related content known as 'block' which offers more features.
Visit Related Post Silo Plugin
Internal Link Juicer Silo Plugin
Internal Link Juicer Silo plugin is a semi-automatic silo plugin that will link your internal pages together. It gives you complete control over the linking suggestions and improves the user experience.
The plugin is free and will do the basics of linking content, but for more features like keyword auto-complete and compatibility with Rank Math and Yoast SEO, you will need the pro version.
Learn More About Internal Link Juicer Silo Plugin
SEO Ultimate Pro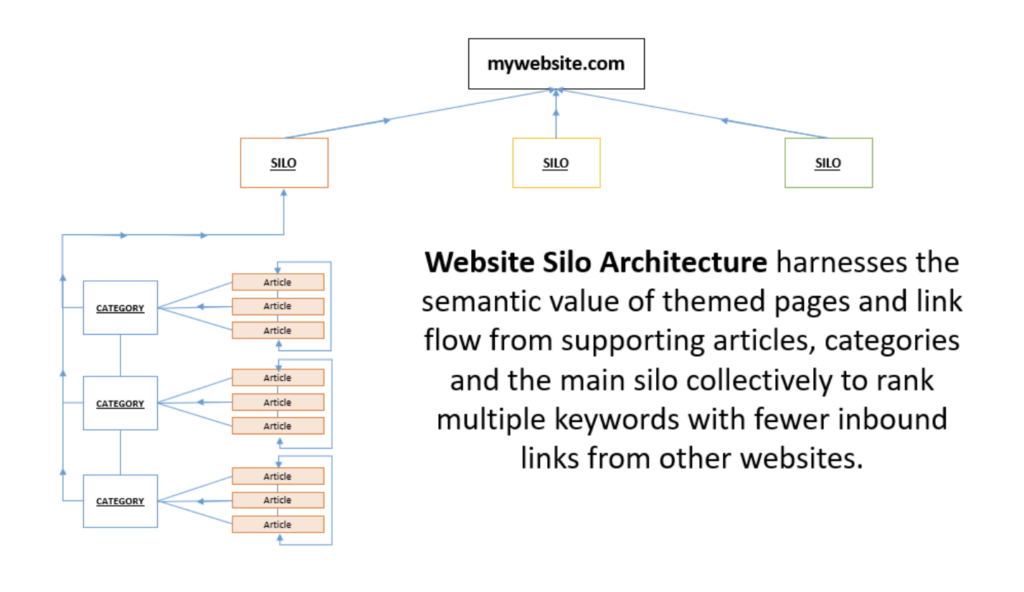 SEO Ultimate Pro is another full SEO plugin suite with many features, including a Silo Builder tool. The plugin is best for a new blog because it will change your permalink structure when you enable the silo tool.
You enable the setting inside your dashboard, fill in the settings options, and add your categories and supporting articles. Once this is complete, the silo is added to the sidebar using the included widget.
The silo plugin has some cool features like adding breadcrumbs, thumbnails and tweaking the CSS styles and formatting.
Visit SEO Ultimate Pro
Platinum SEO Pack
Platinum SEO pack is another plugin that provides SEO benefits via many plugin features. As well as being a comprehensive SEO tool, you can use the automatic internal linking feature (pro version only) that will suggest pages and posts that you can link to when editing your content.
The features come in handy with siloing your content because it makes it easy to link related pages together.
Take A look At Platinum SEO
XAGIO WordPress Silo Builder Plugin
XAGIO WordPress Silo Builder is a great plugin that offers a drag-and-drop builder to create silos on your WordPress blog.
You can create multiple silos, including:
Physical Silos

Virtual Silos

Blog Silos
The silo plugin comes with many unique features. To use the Silo builder, you will need to purchase the Pro version which isn't the cheapest option but certainly one of the best.
Learn More About Xagio here
Network Empire Free Silo Plugin
This plugin from Network Empire is a free option that you can use to create a silo structure on your website.
The plugin lets you create a silo architecture structure within minutes, and you don't need any advanced skills to use the plugin.
You can download the plugin for free here.
Grab Your Free plugin
Which Is The Best WordPress Silo Plugin?
Every plugin on this page is helpful in some way for creating or managing a silo structure. For example, you can use a plugin like Yoast or Rank Math to get the benefits of the SEO features and use their internal linking feature to connect your content in a silo (learn more in our Rank Math Pro review).
Try RankMath Here
If you're looking for stand-alone plugins because you're already set up and using an SEO plugin, then Link Whisper and XAGIO are the stand-out plugins.
Get Link Whisper Here
Both will make it very easy to build internal links for your content, and creating an SEO silo using these two plugins will be fast and efficient.
Final Thoughts On The Best WordPress Silo Plugins
Honestly, creating silos isn't tricky.
You organize your keywords, menus, and content, linking them together in a related structure. You can even do it manually if you want to.
However, if you're using WordPress, you will probably want to use a plugin for speed and ease of use. Luckily for you, many options are available, and creating silos doesn't have to be complicated.
You can use a WordPress silo plugin for complete control over siloing or use them as a semi-automated or convenient option to help you with the interlinking that you need to do.
Siloing your content is easy and beneficial for SEO, so decide how you want to approach the process, choose your plugins, and create your silos.
You won't regret creating a website silo, and your rankings will very likely improve.
Want to learn step-by-step how I built my Niche Site Empire up to a full-time income?
Yes! I Love to Learn
Learn How I Built My Niche Site Empire to a Full-time Income
How to Pick the Right Keywords at the START, and avoid the losers
How to Scale and Outsource 90% of the Work, Allowing Your Empire to GROW Without You
How to Build a Site That Gets REAL TRAFFIC FROM GOOGLE (every. single. day.)
Subscribe to the Niche Pursuits Newsletter delivered with value 3X per week