Rank Math Pro Review: Is The Premium Version Worth It?
When you buy something through one of the links on our site, we may earn an affiliate commission.
In this Rank Math Pro Review, I will introduce you to this great SEO plugin. I will look at important features and some alternatives in case you want to explore more options.
Firstly, though, I must say that the SEO tool you decide to use, whether it's Rank Math, Semrush, or AIOSEO, is secondary to your content. If you start with great content, an SEO plugin or app will just help to make your content "king" (as the popular saying goes). I am sure that good content shaped by a great plugin like Rank Math will make Google fall in love!
In this Rank Math Pro review, we will cover:
What Rank Math is
Rank Math Pro features
Plans and pricing
Pros and cons
Alternative SEO plugins
Once you have read this review you will be able to decide if Rank Math Pro is the right tool for you.
Sign up for Rank Math Pro here!
Value for money -

95

Ease of use -

85

Features -

95

Support -

90

Likely to recommend -

95
Summary
Rank Math Pro is quickly becoming one of the most popular SEO plugins available, and it's easy to see why. It offers many features essential for any serious website looking to rank high in Google, including speed, Schema Markup support, AI analysis for SEO, strong integration with Google Analytics tools, and WooCommerce support. And all of this is available at a very reasonable price. Try Rank Math Pro here!
Pros
Light and Fast
Many top features are included in the free plan
Biggest number of features among competitors like Yoast and AIOSEO
Follows every Google guideline
Easy to use
Schema Markup support
Cons
The number of credits for Content AI is too low
Beginners may find Advance configuration mode problematic (but there are very good tutorials on the subject)
Support for free and Pro plan only through a ticketing system
What Is Rank Math Pro? An Overview
The Rank Math SEO plugin shook up the WordPress SEO world with its feature-rich capabilities. And it continues to be one of the most popular plugins available.
The Rank Math plugin was released in 2019. And today, it has over a million users and growing.
Rank Math is a top product, light, and fast, with more features than any other SEO plugin included in the free plan. That includes speed, Schema Markup support, AI analysis for SEO, integration with Google Analytics, and WooCommerce support.
I can confidently state that Rank Math Pro is considered the best WordPress SEO plugin on the market.
No time to read the whole Rank Math review article? Sign up for Rank Math Pro here!
Rank Math Pro: the Best Alternatives
In this Rank Math review, I will look at three popular WordPress SEO plugins and four apps as the best alternatives.
Alternative Plugins
Yoast SEO Plugin - a WordPress plugin that can help improve your website's ranking on search engines. It does this by optimizing your site's content according to Google guidelines. While Yoast SEO can automate much of the work, it still needs your input.
SEOPress - if you want to take your WordPress SEO to the next level, then SEOPress is the perfect plugin for you! With features like custom HTML and XML sitemaps, Schema, redirections, and more, SEOPress gives you the power to really optimize your website for search engines and boost your traffic.
AIOSEO - All In One SEO is a top WordPress SEO plugin. It allows you to easily optimize your WordPress website for search engines and social media platforms. With AIOSEO, you can manage all your SEO settings in one place - a simple and effective way to improve your website's SEO.
Alternative SaaS Applications
Rank Math Pro Review: Features
You must have the Rank Math free SEO plugin installed to be able to use the full range of features from the Pro version.
Rank Math Setup Wizard
Installation works like any other plugin (I am sure you have installed a few WordPress plugins by now!) - upload the file, install, and activate.
At the beginning of the setup of the Rank Math SEO plugin, you are given the option between Easy, Advanced, or Custom mode by the Rank Math setup wizard.
Easy mode -the best way to go if you want the plugin to do most of the work. It will configure the plugin according to best SEO practices, so you can set it and forget it.
Advanced mode - this is for experienced users who want complete control over their SEO settings. This mode lets you easily tweak each setting to your liking.
Custom Mode - this is your best bet if you're transferring a Rank Math settings file from another site. This is useful for developers and SEO experts working with client sites
My recommendation is to use the setup wizard to configure Rank Math for Easy mode if you are a beginner. To help you through the setup to install Rank Math, you can watch the Complete Rank Math Tutorial 2022 video.
Search Engine Optimization
RankMath Pro implements default settings by following Google search engine guidelines very closely, like:
Placement of keywords in strategic places known to be signals for Google.
Title SEO, Image SEO, Video SEO, and News SEO.
The implementation of Schema Markup.
Measuring Core Web Vital times to assess users' experience on web pages.
The Pro version of the Rank Math SEO plugin will ensure you implement all the above on your WordPress sites. And you will not be asked to implement anything that used to be a guideline but was dropped by Google in recent updates.
We will discuss some of the above points in more detail later on.
Speed and Memory Usage
The plugin uses about 350Kb and does not slow down a page at all. It is well known that Rank Math offers more features than any of the other WordPress SEO plugins; now, the question is why the extra features do not slow down the page.
The answer is modularity. Rank Math lets you switch off functionality you don't use, resulting in a light and fast WordPress SEO plugin.
Approach to Focus Keywords
Theoretically, you can optimize for an unlimited number of keywords by making some changes in the code. This Rank Math article explains how.
Out of the box, Rank Math lets you optimize your website's SEO for up to 5 keywords with the free SEO plugin. Rank Math Pro version allows the use of unlimited focus keywords.
Rank Math will provide you with Google autosuggestions for every keyword you use. And the focus keyword is checked for usage in the following places:
SEO title - focus on the readability of the title by checking sentiment, power words, the use of numbers in the title, and focus words at the beginning of the title.
The Meta description.
In the URL.
At the beginning of the content.
In headings.
In image alt text.
The density of the focus keyword is checked as well.
Based on your audience's location and the keyword, the Content AI analysis will suggest the following:
Expected word count.
Heading count.
The number of images and/or videos expected.
Links - External links suggested will help search engines understand your article better. Good Internal linking indicates a good structure and helps Google understand your site. Your task is to create your pillar articles, and the Rank Math SEO plugin will suggest links from your post to the pillar articles.
The LSI phrases you should use in your content.
The Content AI is based on credit points. You get five credit points as a free user of the Rank Math plugin. Pro users get 15 free credit points, and Rank Math Business users get 125 credits free. Agency users get 600 free credits.
You can buy additional credit points at $19 for 50, $49 for 150 points, and $99 for 450 credits.
Rich Snippet / Schema Markup
To get a rich snippet from Google, you must implement the right Schema (And Rank Math is one of the best rich snippet wordpress plugins around). Rank Math has a video tutorial to understand more about getting a star rating for your product.
Note: make sure you know how to apply the star rating Schema. If you use it wrongly, you may get penalized by Google.
Schema Markup is important for search engine optimization; Schema informs the engine what your page is about.
The free version of the Rank Math WordPress SEO plugin provides you with 13 predefined types of Schema, and it will insert one Schema type per article. On RankMath Pro, you are provided with 20+ Schema types and can add unlimited numbers to your article (and we think it's the best schema markup generator around).
Testing your Schema can be done from inside WordPress. You don't have to copy your Schema and use the Google Rich Results test.
By the way, in Yoast SEO Premium, you are limited to one Schema type per page.
Hint: if you want to know what Schema Markup your competitors use, you can import their Schema from their article, and Rank Math will tell you all the Schema they are using.
WooCommerce SEO
In terms of SEO for WooCommerce, you can set basic parameters for single products and product archives with Rank Math PRO, including the SEO title and meta description. This can help you rank your products better in search engines.
Furthermore, select the default Schema Markup for a new product and customize it. Those details, if shown by Google, can significantly impact your store authority.
Analytics
With Rank Math Pro, you can track the performance of 500 keywords and up to 50,000 keywords with the Business plan. With other WordPress SEO plugins, keyword tracking costs extra.
The WordPress SEO plugin can integrate with Google Analytics 4, which uses machine learning, giving you better tracking and data accuracy.
After integrating analytics, in the analytics tab, you will see:
Overall optimization
Search Traffic
Search impressions
Total keywords
Average position
Top winning and top losing keywords
Google Search Console data
And more.
All the above is displayed in your WordPress dashboard without the need to log into Google Analytics or Google Search Console.
Rank Math Pro Ease of Use
As I said, some may find the setup complicated. But if you follow the video mentioned in the setup section of this article, you should manage. After setup, Rank Math is easy and intuitive to use.
Tip: If you find the advanced mode complicated, you can switch back to Easy mode at any time.
The Rank Math Pro dashboard is modular; you will find a brief explanation about each module, which can be toggled on and off.
Rank Math Pro Reliability
The Rak Math WordPress SEO plugin was developed by a meticulous team that carefully analyzed the market and successfully launched a top product.
One million installations since 2019 are one million votes for the product's reliability!
Rank Math Pro Support
On the Business and Agency plans, Rank Math offers 24x7x365 priority support.
Pro users can take advantage of SEO Suite Knowledge Base Articles, a Rank Math Forum, and the Rank Math Seo Plugin group on FaceBook (it has nearly 50,000 Members).
On YouTube, video tutorials help with nearly every subject in the Rank Math Pro plugin.
Pricing for Rank Math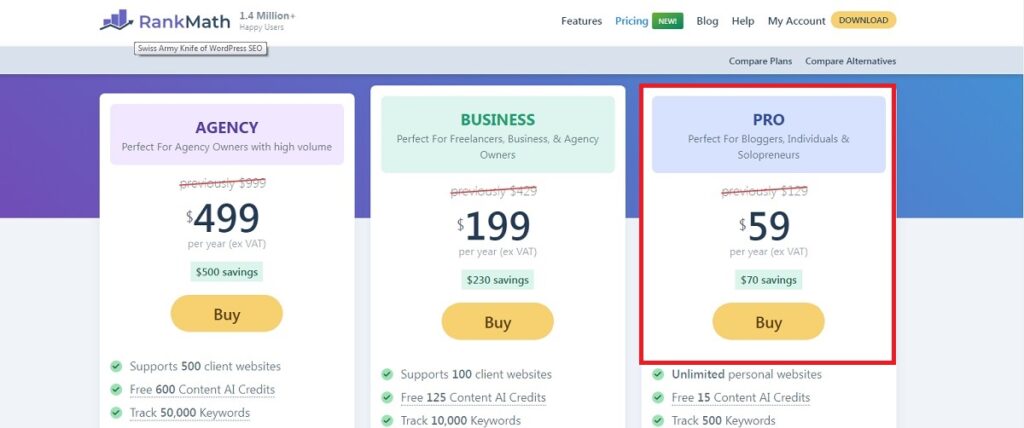 Sign up for the Rank Math plugin here!
Rank Math Pro Review: Pros and Cons
Light and fast.

Functions such as redirects, 404 monitoring, Schema, and analytics are internal functions, so you don't need extra plugins as is the case with other SEO plugins.

A large number of features.

Easy to use.

Very good support for Schema Markup.

Good support on the Facebook group.
The number of credits for Content AI is too low and sometimes disappears for no apparent reason.

Configuration can be a problem for beginners. 

The free version and Pro plan support are only through a ticketing system.
Rank Math Pro Review: Alternative SEO Plugins
Yoast
There is an excellent article on Niche Pursuits comparing Rank Math vs Yoast SEO - I suggest you read that.
Yoast SEO Plugin was considered to be the best and most popular SEO plugin for a long time. It boasts over 5 million installations and over 27,000 five stars recommendations since 2018. But at this stage, it may be the second-best SEO plugin.
As mentioned, the Rank Math plugin is currently used by over one million websites and has since received nearly 5,000 five stars recommendations.
Read our full Yoast SEO review to learn more about the product.
Some of the best features in Rank Math that succeed in shaking Yoast's control of the market are its:
Integration with Google services
News SEO
Video SEO
Multi-location Local Seo
The two SEO plugins differ in many ways, as I am sure you would have discovered in the Rank Math vs Yoast SEO article mentioned above.
The price for Rank Math Pro is $59. The Business plan is priced at $199, and the Agency Plan is $499.
Yoast has only a Premium plan at $99.
---
SEOPress
SEOPress started in 2017 and today has over 200,000 installations. So it is becoming a popular WordPress SEO plugin.
SEOPress Main Features
Installation Wizard
Edit metadata from any page builder
Optimize images by setting SEO title, caption, alt text, and description, all based on the file name
Create sitemaps of images, videos, and Author
Content analysis and suggestions for improvement
Allow or block indexing of content in the robots.txt file
SEO analysis with unlimited keywords
Integrate with GSC and Google Analytics
Add Schemas for visibility
Integrate Google Page Speed and test your site
Instant indexing
Create redirects
Seamless integration with popular social media platforms
SEOPress has a simple and easy-to-use interface. The configuration divides into five main sections: Welcome, Your Site, Indexing, Advanced Options, and Ready!, each with clear explanations.
One of the welcomed features of SEOPress is its ability to optimize for unlimited keywords/keyphrases.
To achieve a better ranking, don't forget to check suggestions made by SEOPress regarding keywords and where to place them.
Among the SEOPress suggestions to improve your SEO score will be a word counter telling you if you need to add or remove paragraphs.
For free users, support can be found on WordPress.org; Premium users can find support on the plugin site. Moreover, various guides for beginners and tutorials are easily found on YouTube.
Pricing: SEOPress PRO costs $39, SEOPress Insights $99, and SEOPress Bundle $118.
SEOPress is an excellent option if you are limited by budget.
---
AIOSEO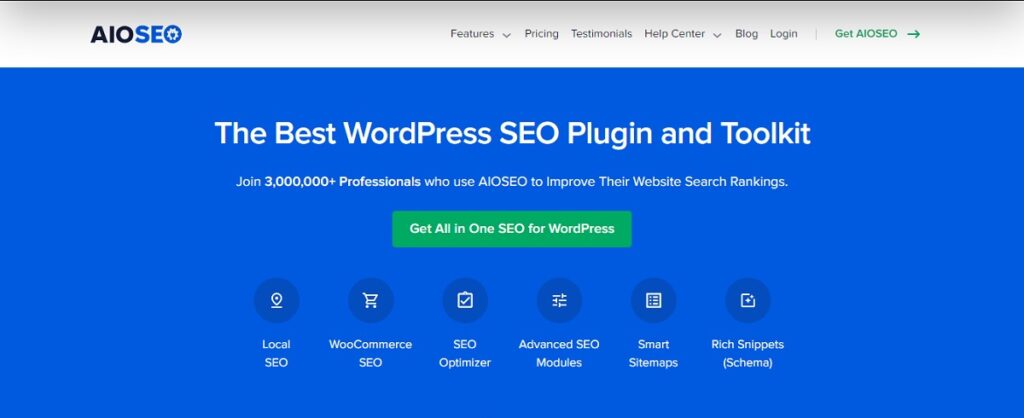 The third of our other SEO plugins, AIOSEO, was released in 2007. Today, it has over three million installations and a rating of 4.5 stars from 2,500 users. As we can see, it is a serious competitor to Yoast and Rank Math.
AIOSEO Main Features
A four steps setup wizard that any beginner can easily follow.
SEO meta box, starting with Snippet preview, Post title, and Meta description.
A very important article analysis measuring your basic SEO, title and readability, looking in depth at the usage of focus keyphrases, and internal/external links analysis.
AIOSEO will analyze the title, from SEO title length, power words, number in the title, and sentiment.
Like all other top SEO plugins, all the different sitemaps are covered.
You can add as many as 11 profiles on the social media profile.
The advanced SEO tools options will cover robots.txt, image SEO, redirects, and many more issues.
Pricing: The Basic plan costs $49.60, the Plus plan $99.60, the Pro plan $174.65, and the Elite plan $224.70.
The price and features of AIOSEO, in my opinion, explain why AIOSEO has over three million installations.
If you are still not sure, try the plugin - they offer a 14-day money-back guarantee.
Visual Comparison
Rank Math is so confident in how they compare with their competitors that they've made this chart:
---
SEO Toolset Alternatives
SEMRush
SEMRush is a complete SEO analyzer platform encapsulating over 55 tools, from keyword research to social media marketing. There is no doubt that SEMRush is bigger, stronger, and better as an SEO tool.
In developing strategies to promote your website, you need information that Rank Math cannot do. Things like knowing your competitor's strengths and weaknesses, information about PPC campaigns, and a good keyword research tool.
If you want to improve your SEO score and control the first page of Google, you will realize at some stage that you need one of the top three tools - SEMRush, Ahrefs, or Moz. The decision will boil down to price and preference. If you have never used SEMRush, you can try it out risk-free with their seven-day free trial.
Semrush main features
Keyword Research
On-page SEO
Competitor Analysis
Content Marketing
Local SEO
Rank Tracking
Social Media Management
Read our SEMRush review and tutorial to understand this toolset and its features better.
Pricing: The Pro plan is $119.95/mo, and the Guru plan is $229.95/mo.
---
Surfer Seo
Surfer SEO is an innovative, cloud-based on-page optimization tool that analyzes and compares your site against the current top-ranked pages in any Google search.
Rather than making assumptions about what Google prefers to rank, Surfer SEO provides an SEO score based on detailed data-driven analysis of where your website falls short. You can easily conclude what your site needs to improve to achieve higher rankings with this SEO analyzer tool.
Surfer SEO main Features
Average word count
Keyword density and frequency
Use of partial match keywords
Image Alt text
External and internal links
Content planner
To learn more about the product and find out if it is really the best on-page SEO solution, read our Surfer SEO review.
Surfer SEO pricing: Free plan, Basic at $59/mo, Pro at $119/mo, and Business at $239/mo.
---
Moz
Moz is an excellent SEO analyzer tool that allows users to track their website's progress in SERPs and competitor analysis. The keyword feature is very beneficial in helping users decide which search terms to target to improve SEO on their site. Additionally, features like Link Explorer and Keyword Explorer are available at no cost. However, users will need a Moz Pro account to access campaign tracking features.
An SEO platform can do wonders for your online presence and SEO efforts. A specialized platform like Moz can be a great choice if you want to go above and beyond with your SEO.
Moz is easy to use and navigate, and it offers a wide range of features to help you track your progress, compare your website to your competitors, and plan your future SEO strategy.
Moz main features
Keyword Research
Link Research
Site Auditing
Rank tracker
Site explorer
SERP Analysis
Moz has a very informative free Chrome Extension.
Pricing: The Standard plan costs $99/mo, the Medium plan $179/mo, the Large Plan $299/mo, and the Premium plan at $599/mo.
---
RankIQ
I believe RankIQ is the perfect answer for the novice who just started blogging. Especially if you're building your website and want to start writing content while learning SEO.
RankIQ is a tool that will help you write a perfectly optimized blog post in a short time. The RankIQ AI tool will tell you the word count you need for a top blog post and point out your top competitors so you can learn how to structure your article. You will find a title analysis indicating which words must be included in the headers for best results. And just like Surfer or Frase, a list of terms in order of importance and how many times each term has to be used in the post.
And all the above is generated by AI algorithms in a matter of seconds. Armed with this information, you can start editing your post in the Content Optimizer.
The AI content optimizer will count your words and the number of times the suggested terms were used, and the algorithm will calculate your grade on the fly and direct you to achieve a top grade.
Want to learn more? Read our RankIQ review to find out if this AI SEO toolset is worth your time and money.
This is a great deal as you can achieve top ranking and learn SEO with get all of the above for only $49/mo.
---
Rank Math Pro Review: In Conclusion
Rank Math Pro is quickly climbing up to take the top place as far as SEO plugins are concerned. It offers strong features like:
Speed
Schema Markup support
AI analysis
Strong integration with Google analytic tools
WooCommerce support
You cannot go wrong with Rank Math Pro, and it comes at a very affordable price.
But let's just recap the alternatives.
Rank Math Pro Best Alternatives
Yoast SEO Plugin
Yoast SEO Premium is definitely the second-best WordPress SEO plugin. It is the perfect SEO solution for busy website owners who want to rank higher in search engines without any hassle. It offers out-of-the-box guidance for writing content that Google loves, optimizing for all keyword variations and different content checks, and helps improve your pages for social media and more.
SEOPress
SEOPress is a powerful WordPress plugin that can help you optimize your site for better search engine ranking. It provides a range of features for every critical aspect of SEO, from keyword research to site speed optimization. With SEOPress, you can get the most out of your WordPress site for improved search engine visibility and higher traffic levels.
AIOSEO
All in One SEO is a good WordPress SEO plugin for those looking to improve their website ranking without coding knowledge. It is easy and user-friendly, making it an excellent option for beginners. Right now, it is second in the number of installations, which gives us a good indication of users' trust.
SEMRush
SEMRush is a tool that helps companies manage their digital marketing campaigns, including search engine optimization (SEO), pay-per-click (PPC), content marketing, and social media. Using SEMRush, you can identify trends that affect your industry to assess your website's on-page SEO performance and optimize your page for lead generation efforts.
Surfer Seo
Surfer, as a search engine optimization app, is one of the market's most popular and affordable options today. You can't go wrong selecting it. Surfer can perform content analysis, structure optimization, image SEO analysis, and suggest internal and external links.
Moz
Moz established the benchmark DA (Domain Authority), and PA (Page Authority) used as a reference by many SEO professionals. It is an essential tool for any marketer who is looking to improve their ranking, get quality traffic, and measure their results online. It's a powerful tool that will help your business grow and strengthen your presence in the marketplace. Moz Pro provides much more than just rank tracking, keyword suggestions, or analytics. It's an all-inclusive tool that will help you get the edge over your competitors.
RankIQ
RankIQ is an affordable and excellent AI tool for novices. A safe choice to start blogging, if you have a profitable niche idea in mind, use RanIq to establish a strong presence on the net.
Rank Math Pro Final Thoughts
Well, there you have it! Rank Math Pro outshines the other SEO plugins in our Rank Math review. But just know that one plugin won't give you everything you need to excel at SEO. If you are looking for more SEO features and have to consider PPC strategy, for example, or do competitors' backlink analysis, you might want to consider one of the apps we discussed in this Rank Math Pro review. There are no bad choices here!
Want to learn step-by-step how I built my Niche Site Empire up to a full-time income?
Yes! I Love to Learn
Learn How I Built My Niche Site Empire to a Full-time Income
How to Pick the Right Keywords at the START, and avoid the losers
How to Scale and Outsource 90% of the Work, Allowing Your Empire to GROW Without You
How to Build a Site That Gets REAL TRAFFIC FROM GOOGLE (every. single. day.)
Subscribe to the Niche Pursuits Newsletter delivered with value 3X per week