Bluehost vs Hostmonster: Which Budget Hosting Provider Is Better?
When you buy something through one of the links on our site, we may earn an affiliate commission.
In this article, we're comparing Bluehost vs Hostmonster side-by-side. You might be interested to know that Bluehost and Hostmonster are related Endurance International Group companies owned by their CEO, Matt Heaton. Bluehost was Matt's first internet hosting venture, which started in 1996. Hostmonster followed in 1999.
Both web hosts share hosting resources and offer their own features and benefits. But is one better than the other? Let's find out.
The Main Differences Between Bluehost and Hostmonster
As you can imagine, with both companies being based under the same umbrella and offering similar services, they have very similar features. However, that doesn't mean everything they offer is the same. There are some pretty significant differences between the two web hosting companies.
Speed and Uptime Statistics - Bluehost performs slightly better than Hostmonster in speed and uptime tests.
Security - HostMonster offers free daily backups of your data (although they advise you to do your own, too). With Bluehost's basic packages, you're responsible for your own backups.
Pricing - Bluehost is cheaper than Hostmonster, with the basic package starting at just $2.95/month. Hostmonster's most affordable plan costs $4.95/month.
Managed WordPress Hosting - Bluehost offers the option for managed WordPress hosting, whereas Hostmonster doesn't.
Overall, Bluehost is the better option for anyone looking for an affordable WordPress hosting provider. It offers great value for money and is refreshingly easy to use and navigate.
Bluehost vs Hostmonster: Overview
As you might imagine, both Bluehost and Hostmonster have an impressive number of features and benefits on offer for their customers. This is excellent news because it means that whatever you're looking for in terms of web hosting and website creation, there should be something to suit you. Let's take a look.
Bluehost Overview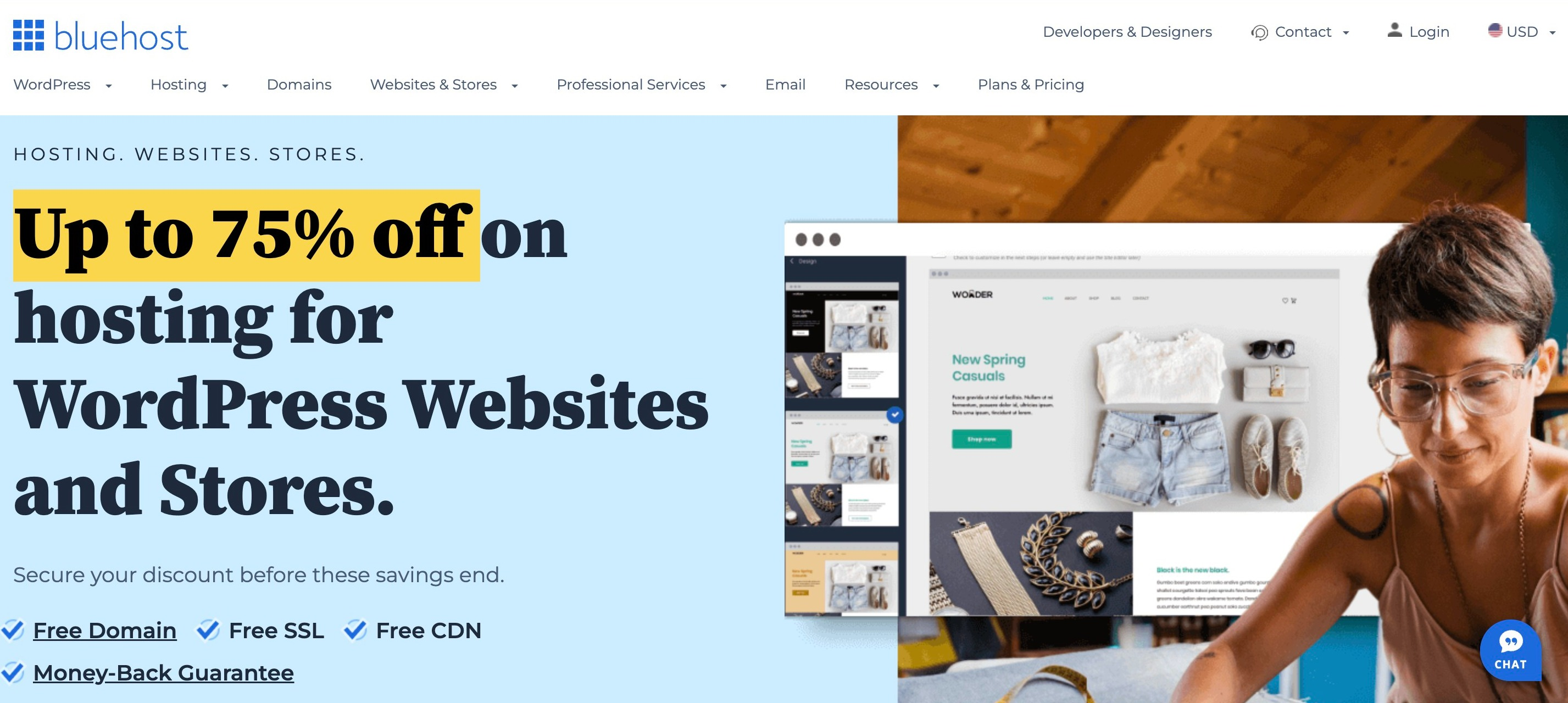 As an official WordPress-recommended hosting provider, Bluehost boasts that they have fast-running web servers and 24/7 support for those who need it.
You get several options if you sign up with Bluehost, including a free domain name when you sign up for certain packages with them.
One thing to be aware of is that renewing this domain a year later can be more costly. Alongside web hosting, Bluehost offers a range of other products, including a free site builder and several templates to get you and your website off to the best start.
Hostmonster Overview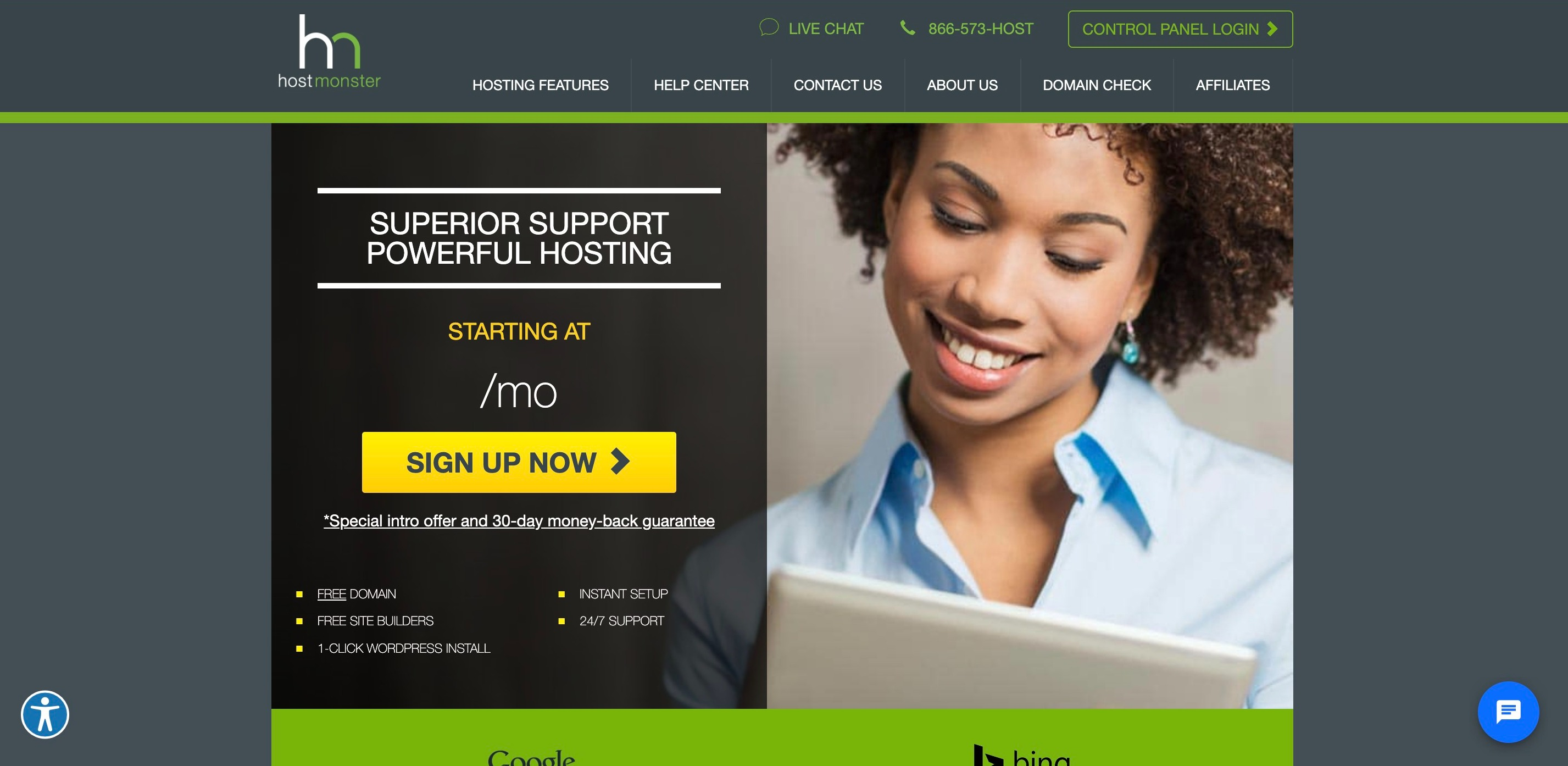 Hostmonster isn't a brand keen to be left behind in the world of online hosting, and they have a range of features and benefits too. They have various options available to their customers, including VPS hosting and near-instant set-up for those looking to get started quickly.
Hostmonster also has options for registering your domain name for free. They offer a range of packages at an affordable price, making them ideal for those who want to start their own website but don't have a big budget.
Bluehost vs. Hostmonster: Key Features
The key features you are most likely to need from your web hosting company are well covered by the plans offered by both companies. But these features differ in their detail and value, so it's a matter of looking at what they offer and choosing the right option to suit you and your website hosting needs.
Bluehost
Bluehost's main features include:
All plans come with unmetered bandwidth
A free domain name
Free SSL certificate with every plan
Marketing credits are included for both Google Ads and Bing.
On plans above the basic offering, unlimited email accounts are included
24/7 customer support
Access to Sitelock: CDN
Bluehost website builder
Bluehost marketplace
cPanel Dashboard
Bluehost is officially recommended by WordPress and features a one-click app installation. It also offers a good range of e-commerce features.
Hostmonster
Hostmonster's main features include:
Hostmonster offers plenty of hosting space, starting at 50 GB for the basic package and increasing to 150 GB with the plus package. Unlimited hosting space is provided within the Choice Plus and Pro packages.
Unlimited bandwidth on all plans
Free domain name
Free SSL certificate
Drag-and-drop site builder
Hostmonster includes both Google Ads and Bing credits on their higher plans.
24/7 support
Access to Cloudflare CDN
cPanel Dashboard
As the level of plans rises from basic, unlimited email is included. Other features include one-click app installation and a range of e-commerce features.
Both companies also offer a pro package, which means your website gets hosted on faster servers with better performance statistics.
Page Loading Speeds and Uptime Statistics
The reliability of a host to provide fast page loading speeds and almost guaranteed reliability is crucial for a hosting company to retain customers. Downtime inevitably means lost sales and revenue, which can be a crucial decision between hosting companies.
Both offer decent page load speeds and uptime. However, regarding how often their servers will be running, there are currently no uptime guarantees offered by either website hosting company.
Bluehost
Bluehost's uptime is among the top ten budget hosts, averaging around 99.98%. Again there is no written guarantee that you will experience the same, and you won't receive any compensation should they experience downtime.
But again, Bluehost hosting has a good average uptime and is reliable. Bluehost offers 'resource protection'. This system ensures your website's performance is not affected by other separate websites hosted on the same server.
HostMonster
Hostmonster has an average uptime of approximately 99.92%. This is a fairly good figure and one that has been steadily improving.
Currently, no guaranteed uptime is promised specifically. However, their track record is generally good and getting better. When it comes to page loading speed, Hostmonster often falls short.
Security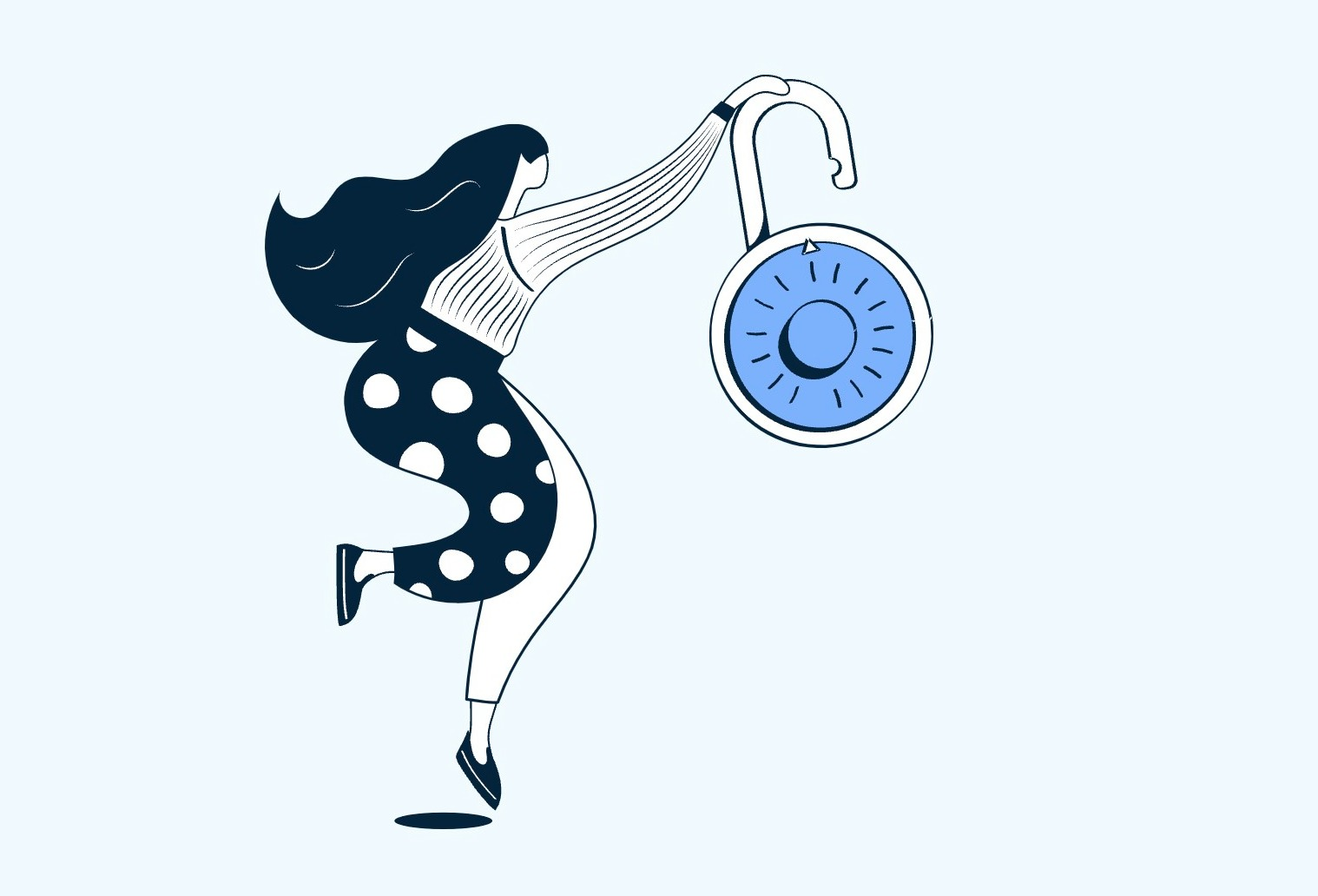 Security is a top priority when choosing a web hosting service.
With malware and even Distributed Denial Of Service Attacks, some of the most common issues, having protection from your hosting company, can be the difference between nothing happening and your site suffering problems. Ensure you always keep backups of your website and its data so you are covered in the event of a problem.
Most well-equipped web hosting companies pride themselves on their security. Bluehost and Hostmonster offer what you expect to see among the best hosting companies' offerings.
Bluehost
Bluehost only provides Website backup services for the higher cost plans, with both Basic and Plus missing the facility and requiring you to carry out your own backups.
The higher-tier plans include an automatic backup service, but you should still independently back up your website. CodeGuard Basic is available as an add-on.
Bluehost has all the security features you would expect to see, including SiteLock Security, server-side firewalls, and Denial Of Service attack protection. Protection for your email is included in all packages.
Hostmonster
Hostmonster provides a site backup service, but they note that you should independently back up your own site and its data.
The service includes security features covering the requirements and SpamAssassin Protection for email.
Hotlinking protection is provided alongside an integrated Denial of service attack protection. Site malware scanning is included, and the company's servers are equipped with side firewalls.
Hostmonster provides the option to purchase an initial subscription to SiteLock Basic at a heavy discount when you take out a shared hosting plan.
Migrations
Whether you want to change IMAP email accounts, change your website to a new host or migrate your WordPress website to Bluehost or Hostmonster, the chances are that you'll need a helping hand to do so.
One of the most important things about migrating websites is that everything should be done carefully while also fast. After all, the last thing you want is your website to be down as you migrate it somewhere else.
Bluehost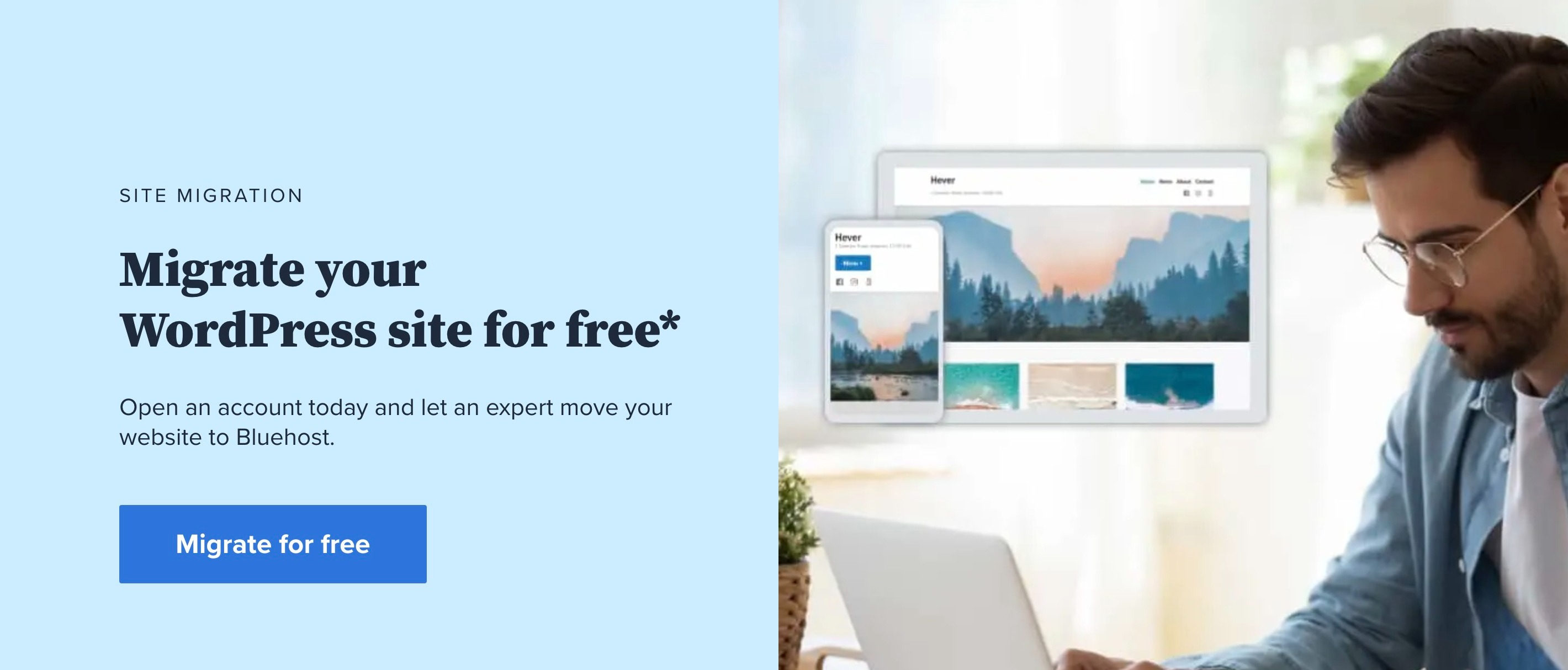 Bluehost's website says they help with a range of migration services, including IMAP email accounts, moving your website to them from a previous host, and even migrating your current website to WordPress.
They charge a one-off fee to migrate all your sites and emails to their servers and ensure that everything is up and running.
For $149.99, you can migrate up to 5 websites and 20 email addresses, including their expedited service to prioritize your migration.
Hostmonster
Hostmonster offers one free transfer for a WordPress site that meets the predefined criteria. This must be completed within 30 days.
Alternatively, if your website doesn't fit the criteria, it costs $149.99 to transfer up to five websites and 20 email migrations with Hostmonster.
They have several sections on their website that also explain how to migrate a WordPress website and export a WordPress database if that is something you want to attempt to do on your own.
Bluehost vs Hostmonster: Customer support
No one wants to think about anything going wrong with their website or their hosting. However, should the worst happen, you'll want peace of mind that you can contact the right people to get the support you need.
Both Bluehost and Hostmonster have their own customer support channels. And as you might imagine, for companies of this nature, they are pretty easy to get hold of.
Bluehost

Bluehost offers a 24/7 live chat for whatever you need to contact about. However, it's not uncommon to wait up to 20 minutes for a response.
They have a decent knowledge base with loads of articles that may answer your questions. They also have an official YouTube channel with a range of tutorials that can help you if you're stuck.
You can also get phone support if you need to, but chat is generally the best option.
Hostmonster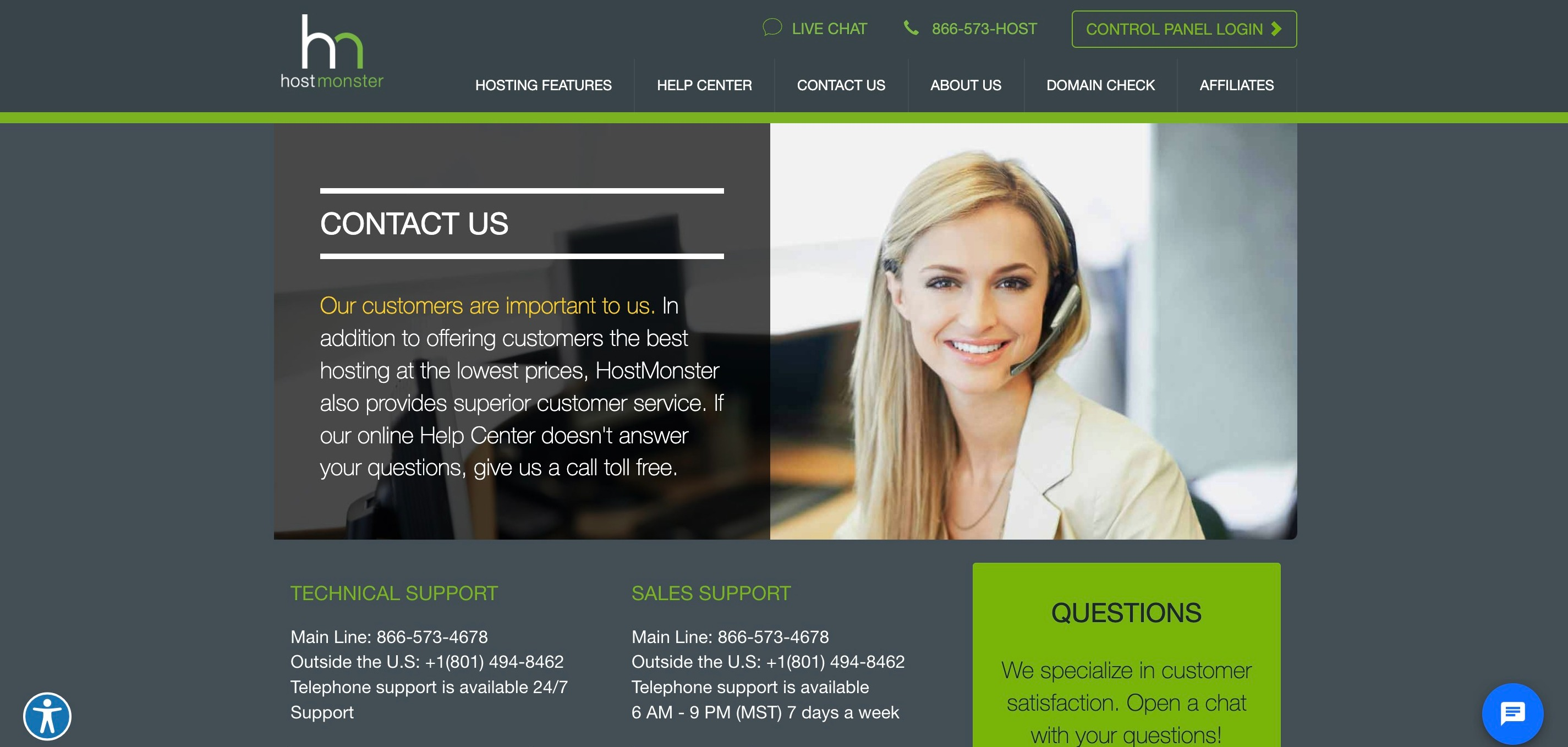 Being able to get hold of your web host when you need them is pretty essential, which is why HostMonster offers 24/7 technical support. However, if you want to contact them about your account, billing, or sales, you'll need to contact them via working hours.
Generally, if their live chat is open for what you need, you'll get connected to a customer service representative within 5 minutes. Reviews give their customer service staff great feedback, with them being knowledgeable and helpful most of the time.
There is a pretty extensive knowledge base on their website, so you will instantly find answers to lots of your questions.
If you prefer to talk on the phone, you will be happy to know that Hostmonster also offers phone support during office hours.
Bluehost vs Hostmonster: The Pros and Cons
Everyone will have their own thoughts and feelings in terms of what they offer and what parts of their packages people enjoy. Here's a quick look at the pros and cons of both Bluehost and Hostmonster to help you make up your mind.
Bluehost
Very affordable pricing
Decent uptime stats
Generous storage allowances
Unmetered bandwidth
One-click WordPress installation

Dedicated server hosting is available
Renewal can be expensive
Lots of upsells
No Cloud Hosting plans are available
Hostmonster
Good uptime track record
Customer support is super helpful
Decent security options
Fast set-up
Affordable plans
Customer support can be slow
Page load times can be slow
All packages require a 12-month commitment
Renewal costs are expensive
Bluehost Pricing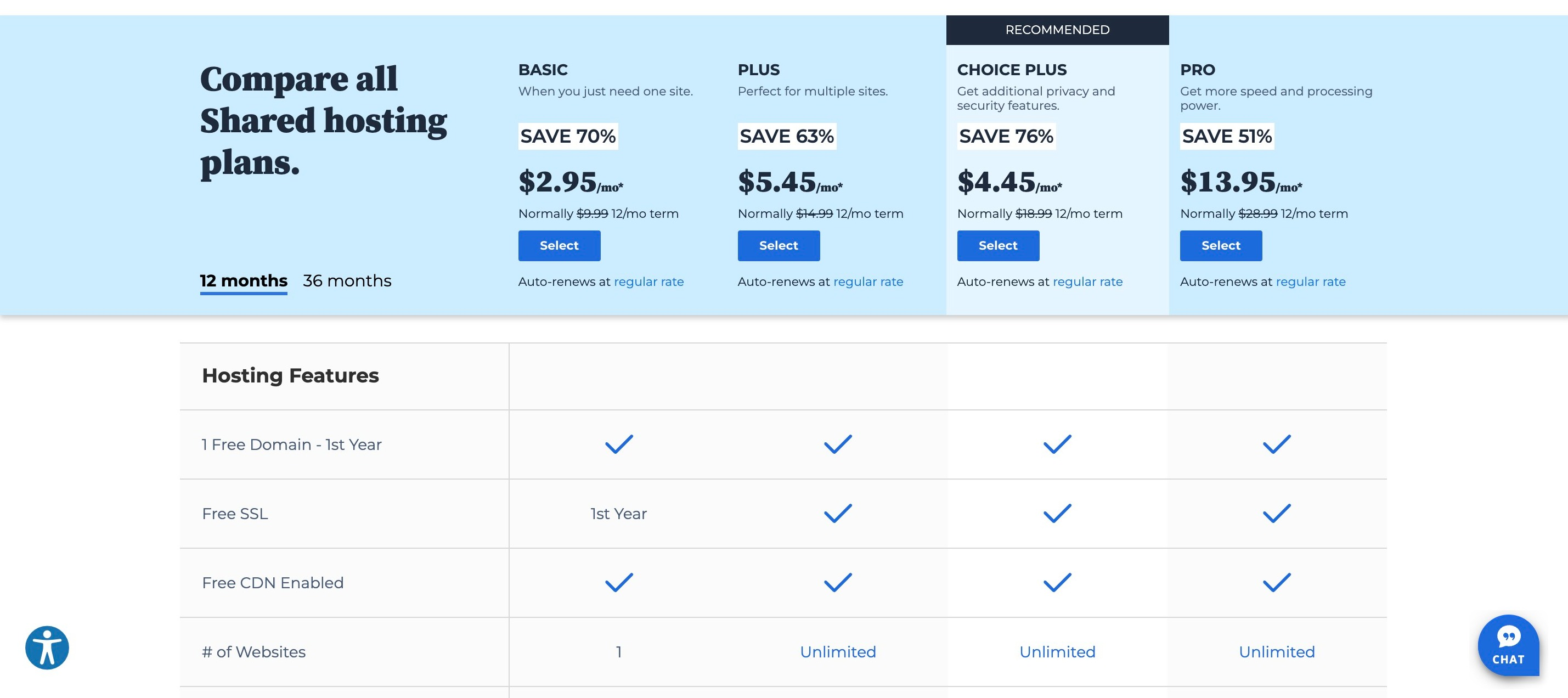 Bluehost has a range of packages, so there is something to suit everyone. For most general websites, owners shared hosting is perfect, and they have a range of packages to cater to everyone.
However, if you need more, they also have packages for running an online store, dedicated hosting, and VPS. If you're unsure what is best for you, they say to get in touch via their live chat facility, and they'll do their best to help.
Their shared hosting packages come with a 12-month commitment and offer:
Basic -$2.95/month. 1 website with up to 15,000 visits per month. You get 10GB of SSD web storage and access to things like the free version of Yoast. You also get free SSL for your first year.
Plus - $5.45/month. Unlimited websites with a total of 50,000 visits per month. You get 20GB of SSD web storage and free SSL for the duration of your subscription.
Choice Plus - $4.45/month. Unlimited websites with a total of 200,000 visitors per month. You get 40GB SSD website storage and free SSL for the duration of your subscription.
Pro - $13.95/month - Unlimited websites with a total of 400,000 visitors per month. You get 100GB of SSD web storage and free SSL for the duration of your subscription. This package is also rated high in terms of server performance.
Each package comes with 24/7 email and support as well as phone support during their opening hours.
Hostmonster Pricing: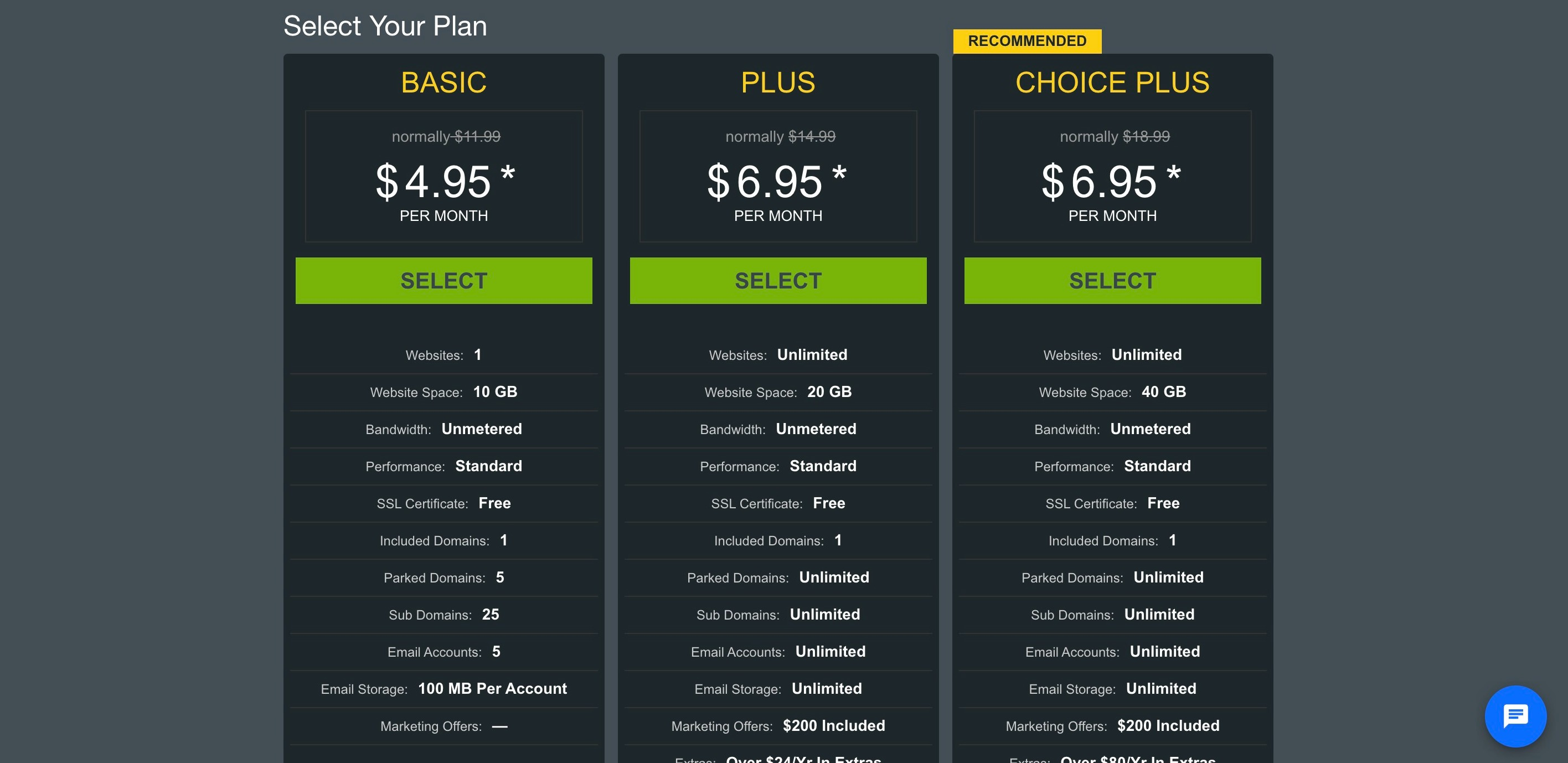 Hostmonster has various packages for you to choose from. On top of that, they often have special offers and promotions that new customers are eligible for.
It's worth checking out their website to see what is on offer to ensure you sign up for the best package for your needs.
Basic - $4.95/month. Up to 1 website and 10GB of website space. 1 domain included, and you can have up to 25 parked domains and 5 email accounts with a 100MB space each
Plus - $6.95/month. Use with unlimited websites and up to 20GB of website space. 1 domain included, with unlimited parked domains and email accounts, including unlimited email storage.
Choice Plus - $6.95/month. Currently, you can get the Choice Plus package at the same price as the Plus package, but this might not always be the case. Choice Plus allows you to have unlimited websites with 40GB of space. You can have unlimited parked domains and email storage. You also get backup protection and domain privacy.
Go Pro - $14.95/month This gives you everything that you get with the Choice Plus package, but everything is hosted on a high-performance server. You'll get an SSL certificate, domain privacy, protection, and site backup included.
Their packages, prices, and special offers are always changing, and it is worth considering that these prices are for your first term only.
After this time, the prices can and do change. Be sure you understand exactly what package you are signing up for before you commit to using them for your web hosting needs.
Bluehost vs Hostmonster: Which is The Better Hosting Company Overall?
Much like any online service, package, or software, people will have different opinions on which web hosting provider people consider best.
The best thing you can do is research Bluehost and Hostmonster to ensure that whichever one you pick is best suited to you and your web hosting needs.
Which I hope I've been helpful with!
Both Bluehost and Hostmonster offer a range of hosting packages. Using BlueHost often costs less overall and often with better specifications for their dedicated server and VPS plans. Both companies used to share technical support, with Bluehost now offering arguably a superior level of tech support.
When comparing pricing, be aware that Bluehost offers many upsells that will affect the overall price of the package.
Many people consider Bluehost the better choice between the two simply because of its 99.9% uptime. Still, there are other features and benefits that you should read up on and consider before you make up your mind.
It is worth looking at the cost as well as the other things you get for your money.
For example, is any security included, and how much will it cost you to renew next year? Looking at the bigger picture gives you a better chance of choosing the best website hosting company.
It's worth noting that neither Bluehost nor Hostmonster currently offer Cloud hosting. If you are looking for a solid Cloud hosting service, it's definitely worth checking out Cloudways. And if you're unsure, check out our Cloudways Review for everything you need to know.
Want to learn step-by-step how I built my Niche Site Empire up to a full-time income?
Yes! I Love to Learn
Learn How I Built My Niche Site Empire to a Full-time Income
How to Pick the Right Keywords at the START, and avoid the losers
How to Scale and Outsource 90% of the Work, Allowing Your Empire to GROW Without You
How to Build a Site That Gets REAL TRAFFIC FROM GOOGLE (every. single. day.)
Subscribe to the Niche Pursuits Newsletter delivered with value 3X per week