ShortStack Review: Is This Contest Tool Worth Spending Money For?
This ShortStack review will explore the software's handy and user-friendly selection of tools. ShortStack is an excellent place to start and worth spending your money on. It has innovative contest software for contest development. It also has plenty of good ratings, a free version, and fantastic usability.
No time to read the whole article?
Well, you can sign up for ShortStack right here!
We saturate users with pay-per-click advertisements and online marketing efforts on every social media platform. It is much more challenging to fight for their attention.
A unique call-to-action (CTA) on your landing page can help you stand out. And using a landing page builder is a better (or more straightforward) way to get one.
But how to choose the best software?
In the ShortStack review, we'll discuss:
What ShortStack is
ShortStack's features
Plans and pricing
Pros and cons
ShortStack alternatives
ShortStack is a great tool and simple to use.
But, you be the judge! After reading this review, you'll be able to decide if this tool is the right one for you. And, of course, if it's worth parting with your hard-earned cash on it. There are many excellent alternatives out there.
---
ShortStack
Features -

90

Ease of Use -

98

Customer Support -

95

Value for Money -

98
Summary
ShortStack is a highly useful tool for creating landing pages and running contests. It's built around features like strong third-party integrations, social media marketing campaigns, and personalized design services. Try ShortStack here!
Pros
Very simple setup
Great analytics
Outstanding support
Excellent contest creation
Cons
A limited number of templates
Not enough integrations
ShortStack Review: Best Shortstack Alternatives
We'll discuss the best ShortStack alternatives in more detail towards the end of this review. But if you don't fancy scrolling all the way down, here are five worth looking at.
ActiveCampaign is a Customer Experience Automation tool. It assists organizations in connecting and engaging with their customers.
GetResponse is a platform for email marketing. It allows you to build a helpful marketing list of prospects, partners, and clients. You can develop relationships with them. And you can also construct a responsive and profitable customer base.
LeadPages assists small businesses in connecting with their target audience. It helps with collecting leads and closing purchases. Use LeadPages to create websites, landing pages, pop-ups, alert bars, and more.
Unbounce is a one-stop shop that allows businesses to design beautiful, functional landing pages. Better still, the landing pages easily convert.
Need to know more? Please read on to find out all about ShortStack and its alternatives.
What is ShortStack - An Overview
ShortStack - the digital marketing platform created for lead generation, engagement, and marketing automation. Users can build contest landing pages, games, and quizzes from a single location.
ShortStack can also run social media contests, select winners, send emails, and analyze outcomes. ShortStack offers ready-made, editable templates to create mobile-responsive landing pages for quick wins. Plus, photo-vote, hashtags, and simple sweepstakes contests.
ShortStack Review: Key Features
To begin, ShortStack offers a great free trial version with no time limit and no credit card required. Only the number of entries and views on your ShortStack landing page is restricted.
After you sign up, the software will walk you through the initial steps. It will provide helpful advice along the way and even video training for each new task.
Templates
If I have to choose one feature that distinguishes ShortStack, this would be it. The platform allows you to develop a variety of online contests using fabulous easy-to-customize templates. And given the many comments in ShortStack reviews, other users share my opinion.
With ShortStack templates, you can create compelling landing pages and contests on social media. These templates are incredibly helpful when you want to easily and quickly construct and host a giveaway or contest. You can simply select the contest's type and a template, then adjust it to suit your requirements.
Here's more about the types of templates available.
Landing Pages
You can use ShortStack to develop several types of contest landing pages. These include giveaways, photo contests, refer-a-friend contests, quizzes, and so on.
There are various template alternatives for each sort of contest. So, if you wish to organize a giveaway, you will find a variety of giveaway templates for various types of offers.
These templates are fully customizable. Thus, you can use your brand guidelines and adjust any design element you choose. Overall, ShortStack speeds up and simplifies the creation of high-converting landing pages for your contests. I'll discuss details on the types of contests available later in this review.
WYSIWYG Builder
Your best friend when building ShortStack landing pages will be the Campaign builder. It is a website builder that uses WYSIWYG (What You See Is What You Get). The campaign you see in the editor will appear in the finished product.
It also means you may construct pages and contests without prior coding skills. Of course, if you like, you can add your own CSS (Cascading Style Sheets) code.
The ShortStack designer could be easier to use. But the helpful tutorials and wealth of resources help to simplify the processes.
Contest Management Software
ShortStack is beneficial not just for designing landing pages and building contests but also for running your contests. It features several contest management tools. These may help you build and administer a contest from start to finish with minimal effort.
Winner Selection
The selection of winners in an unbiased and fair manner is vital to administering any form of contest. ShortStack can help you automate and simplify this procedure so you don't have to do it manually.
ShortStack's Advanced Entry Picker is an excellent tool for quickly selecting random winners. You can also include your selection criteria. This is to ensure that the winner is chosen following the contest regulations.
Management of Rights
Contests are an excellent way to develop user-generated material. You can share the material on social media or exhibit it on other brand platforms. However, you must get specific permission from the people before using their content.
This is something ShortStack can assist you with. ShortStack comments on the users' postings that you want to use. And it will inform you when they grant permission. The entire procedure is automated. And you can easily locate the UGC (User Generated Content) that you have permission to use.
Restrictions on Entry and Voting
Several contests allow only one entry per user. ShortStack can help you in enforcing these entry limitations. In events where votes determine the winner, you don't want the same individuals to vote more than once. ShortStack includes various voting restrictions that you can place in such situations.
You can, for example, configure restrictions for voting. Your choices are:
No restrictions
Anonymous fingerprint
Anonymous IP address
Email address
The only negative is that not all templates are available with all plans. You must have the Agency plan or higher to use some templates.
Email Tools Built-In
ShortStack has excellent email marketing capabilities. Straight from the ShortStack platform, you can send automated emails to contest participants.
These could include "thank you" emails for taking the time to enter contests plus informational emails announcing a winner and more. You may even nurture your leads by sending follow-up emails after a contest has concluded
ShortStack also allows you to design drip email campaigns. Here, several emails are scheduled and sent to each user. So, ShortStack provides both an email marketing solution and contest management in one.
Strong Analytics
You can integrate ShortStack with Google Analytics and Facebook Meta Pixel. Or you can use its own real-time analytics.
The software tracks your views, clicks, and shares, plus it displays which devices your potential consumers are most likely to use. Even better, you may specify a date range and verify these throughout that time period.
The ShortStack email analytics functionality is the most impressive. The platform offers detailed information about the effectiveness of your campaign. You can see how many emails you've sent and how many people have opened or clicked on them.
Coupon Codes
You can design landing pages that request email addresses in exchange for a promo or coupon code. It's a wonderful strategy to get new clients or, at the absolute least, build a mailing list.
Email marketing can be extremely rewarding if it's done correctly. The Mailchimp integration gives you access to a robust autoresponder tool.
Integrations and Embedding
Mailchimp and Webhooks are the only native ShortStack connectors. The latter grants you access to other email marketing tools and CRM software.
You can also use Mailchimp and Webhook to connect your ShortStack account to Zapier. This would allow you to integrate with any app that Zapier supports.
Using the embed function, you can post your digital marketing campaign to any content management system (CMS) such as Shopify. It also means you may publish your ShortStack campaigns to WordPress or any other website that supports HTML.
Initially, it may seem pretty tricky, but it is simply a copy/paste operation. And ShortStack can show you how to do it if you need help.
Account Services and Platform Management
Aside from the tools and capabilities described in the review, ShortStack offers some personalized services for a fee. You can, for example, pay their crew to moderate contest entries on your behalf.
Hire their custom design team to create and manage your contests. You can speak with their sales team to review what you'll need and get an estimate for these services.
Try their extra services if you're new to the platform. But for most, the platform is enough to run end-to-end contests and campaigns.
No Multiple Accounts
Separate accounts are usually required to organize campaigns for different clients. That is not the case with ShortStack. You can manage all campaigns and clients with a single ShortStack account
Information Storage
ShortStack stores contact information in a database that is easily accessible and exportable.
Fraud Prevention
If you designed the contests, be sure that no entries are duplicated. ShortStack ensures this by restricting entries and confirming their legitimacy, reducing the possibility of fraud.
ShortStack Contests
I'm sure it's no surprise that social media contests are one of the most effective ways to increase attention and interaction on your page. ShortStack has a lot of different types of social media contests, such as a retweet contest, Instagram, etc.
The only challenge is deciding which channels work best for you. You also need to decide what types of rewards to offer and how to appeal to people who will give your contest the best return.
ShortStack is an excellent social media contest builder. It can assist you in answering these questions and more, thus ensuring the success of your campaign. ShortStack is a marketing automation software. And it can help you select the most efficient social media contest channels.
Giveaways & Sweepstakes
These are the contests people can enter by entering their contact information to be eligible for a reward. Such contests draw many entries and usually yield one or a few winners.
You may use these contests to generate leads and collect contact information. And this information gives folks a chance to win a reward. It's also a great way to collect email addresses from potential customers
ShortStack gives you complete control over the design of your form and landing page. This allows you to build completely customized giveaways. Of course, you can run many types of giveaways using several predesigned templates.
Photo Contests
These are contests where participants enter images as submissions and the best entries win prizes. You can also collect more information, such as their email address and contact details.
This type of photo contest provides a double benefit. They create leads and provide you with a ton of free user-generated material that you can use later.
ShortStack also allows contestants to post many photos in the same entry. You can, of course, limit the number of entries allowed for each participant.
Instant Win Contests
You can provide different prizes or special discount codes as prizes in such contests. This is so that everyone wins something. It requires participants to commit much less time, and it gives instant results while obtaining all that vital information.
And, if customers use those codes, you will get more purchases. It's a win-win situation for everyone.
Video Contests
Like picture contests, these entries take the form of videos. This user-generated content can be used in your social media feeds.
Your participants can upload movies directly to a form if you use ShortStack. You can also use it to organize a video contest on any social media platform.
Quizzes
Use a quiz to interest your audience and bring them to your website. It's another standard method of getting leads through social media. ShortStack can assist you in creating and running a quiz by giving templates to make your job easier.

Quizzes are better than contests since they create leads without investing in prizes.
Contests on Social Media
ShortStack may be used to develop landing pages and forms and social media contests. You can build and execute the following sorts of social media contests.
Hashtag Contests
A hashtag contest is where participants submit their entries using a social media hashtag. Then, using the same hashtag, you can track entries and choose the winning ones. These types of contests allow you to collect many UGC while creating awareness about your brand or products.
ShortStack can help you organize these entries, vote for the top ones, and select a winner. You can organize social media hashtag contests on autopilot.
Contests Using Comment-to-Enter
These are the most popular social media contests. Participants must comment on a post to be eligible to win a reward. This generates a lot of conversation on your social media postings. It's an excellent strategy to grow your social media following.
ShortStack can integrate all your social media post comments as entries for winner selection. The integration simplifies your task because you won't have to enter each participant's name manually. ShortStack can also be used to organize other types of social media contests. These include Instagram, TikTok, Facebook, Twitter, and other platforms.
You can also develop and run viral giveaways and multi-day giveaways. You can offer wishlist contests, refer-a-friend contests, voting contests, etc.
Contact Us Templates
Make it easy for folks to get in touch while collecting their contact information. Use the information you've gathered to personalize your reply.
It's best to restrict fields to name and email address. If users spend too much time filling out your form, they may abandon it before finishing. Make sure that the information requested is essential.
ShortStack Review: How to Create a Contest
I'll run through the basic steps of creating a contest to illustrate ShortStack's functionality and ease of use.
Creating a contest on ShortStack is a relatively simple process, and it goes like this:
Click "campaign" to start a new campaign.
Select the type of contest you wish to run.
Select a template.
Add tags and a name for your contest.
Edit and customize the template.
You can modify the photos, colors, and backgrounds.
You can change the text and add whatever you like.
Click on the section you wish to alter to view all your options.
This is a very basic approach to creating a contest. You can always add more elements, such as emails, to your campaigns.
ShortStack Review: Support
ShortStack features an extensive knowledge base and plenty of tutorials. The videos are brief and educational, demonstrating everything you need to know. Some appear automatically while you use the service.
ShortStack Plans and Pricing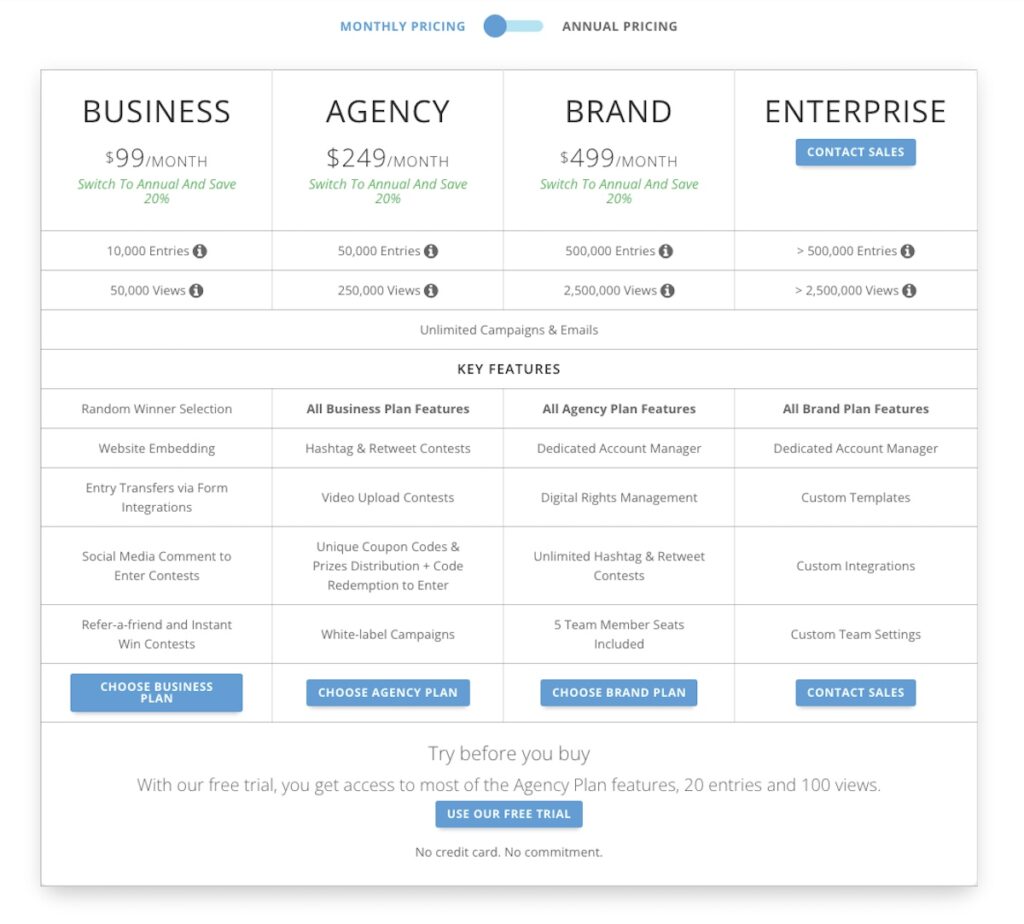 Trial
The ShortStack trial is free-for-life. Unlike many other businesses, ShortStack offers a free version that is entirely risk-free. It doesn't need payment card information and contains everything in the Business plan.
But, there is a catch. Every 30 days, you are restricted to 20 entries and 100 views. While this is sufficient to get a sense of the product, it won't be enough in the long run.
Business
With this package, you can get up to 10,000 submissions per campaign and 50,000 views monthly. You have an unlimited number of emails and campaigns you can send. You can also make freebies and take part in most social media contests. Just keep in mind that photo upload contests only allow you to post up to two photos per submission. This package costs $99/month.
Agency
The storage limit increases to 50,000, and the monthly view count goes up to 250,000. You will also have access to retweet, hashtag, and video upload competitions. Participants can submit up to five images per contest. The cost is $249/month.
Even better, this plan removes the ShortStack branding. This lets you establish your own customized ShortStack domain.
Brand
The ShortStack Brand plan is pretty pricey. It costs $499/month. But, the plan supports up to five concurrent users. Businesses have plenty of room to expand with a 500,000 admission limit and a 2,500,000 30-day view cap, an account manager, unlimited retweets, and hashtag contests. Plus, access to all templates is a valuable extra.
Enterprise
The most advanced plan removes all restrictions and allows you to customize anything. Templates, integrations, and team settings are among the customizable options. You can negotiate the number of views, entries, and images uploaded in contests with the team.
You must contact sales for the Enterprise plan price and parameters.
ShortStack Pros and Cons
The dashboard and the entire software are user-friendly and extremely simple. All the tools are easily accessible, and organizing campaigns is a snap.

Not everyone wants to pay for services right away. The free plan is a significant benefit for this type of product. You can improve your marketing talents and then upgrade.
The mobile-friendly interface makes it even easier to use.
ShortStack uses real-time data to track and analyze your campaigns. And you can see which are generating the most leads.
The platform has excellent security.
Not enough templates.

If you are running several campaigns for different businesses, it isn't easy to understand at first.
Total Security
ShortStack takes security and privacy seriously. It's GDPR (General Data Protection Regulation) compliant. It has strong SSL encryption and single sign-on (SSO) with the OneLogin integration. SSO provides an extra layer of protection.
ShortStack Review: Alternatives
ActiveCampaign
ActiveCampaign is a category-defining customer experience automation platform (CXA). It enables over 130,000 businesses in 170 countries to communicate with their customers. The platform provides access to 500+ pre-built automations. These combine email marketing and marketing automation.
It also provides CRM for effective segmentation and personalization. It does so across social, email, messaging, chat, and text for organizations of all sizes. Over 75% of ActiveCampaign clients use one of the company's 850+ connections. These include Microsoft, Shopify, SquareSpace, Facebook, and Salesforce.
Create tailored experiences for your customers across all touchpoints.
Track buyer preferences, activity, and many custom attributes throughout the customer's lifetime. This offers better segmentation and outreach.
Use data from the complete customer lifecycle. The data determines each client's best content, send timing, and delivery channel.
Create entirely personalized campaigns with no work. Then modify your send strategy in real-time based on customer behaviors.
Replicate the one-on-one personal experience for every consumer.
Pricing starts at $29/month, paid yearly.
---
GetResponse
GetResponse is a cloud-based marketing solution. It allows users to communicate with their consumers via email, and you can develop landing sites. It mostly serves small businesses, bloggers, and marketing firms.
GetResponse offers an email maker. The email maker allows you to create emails without prior programming experience. This module includes email templates as well as pictures to meet design requirements.
The Inbox Preview feature of GetResponse shows how emails appear. Users can assess the performance of a campaign by tweaking elements such as the subject line and the ideal time to send using A/B testing. GetResponse uses a responsive design strategy. This means that the appearance of emails can alter depending on the device's display.
The List Booster component of the solution may import contacts from hard drives and mail clients. These include Gmail, Magento, Salesforce, and Highrise. It also contains an auto-responder module. The module can send birthday emails and personalized offers. Chat, email, and tutorials are available for help.
Pricing starts at $15.58/month on the annual plan. There is also a pretty generous free plan.
Read our GetResponse review to find out if this email platform will help your business grow.
---
LeadPages
LeadPages is a lead-generating and sales-generation tool. It's designed for non-designers and businesses who need to execute campaigns quickly and confidently.
The tool includes:
Drag-and-drop builders for landing pages
Websites' custom templates
ROI tracking
Brand asset management and more
LeadPages allows marketers to:
Construct mobile-responsive websites
Create landing pages
Set pop-ups
Alert bars to convert your hard-earned clicks into customers
LeadPages also connects campaigns to other marketing tools. These include webinar platforms, payment processors, email automation, and more. Users can also track and analyze the performance of their campaigns using a real-time dashboard.
Customers frequently praise Leadpages' help as the finest they've ever experienced, particularly in the SaaS space. Agents are experienced, kind, and eager to go above and beyond to help you get unstuck.
Conversion coaching is also provided weekly to LeadPages clients. You get marketing guidance and feedback on your landing pages and websites. Pricing starts at $99/month.
Learn more about the features of LeadPages in our review here.
---
Unbounce
Unbounce has a Conversion Intelligence Platform. It helps you to convert more visits into sales, customers, and leads. Unbounce uses your expertise with machine learning to help you translate your ideas into marketing campaigns. The campaigns get results, from pre-optimized landing pages produced in minutes to stunning copy prepared for you.
Smart Builder may serve as your developer, designer, and conversion rate specialist. Smart Builder is a landing page builder with pre-optimized page designs. The designs target your industry, audience, and campaign goals. All are powered by data from 1.5 billion conversions.
Goodbye, writer's block, and hello, more time in your day. Smart Copy develops original text in six languages. These are for over 45 professional and personal purposes with only a few clicks. It caters to all your copywriting responsibilities, from creating great headlines and ad content to composing emails. Even long-form blog entries can be completed in minutes.
A/B testing takes time, money, and patience. If you are short of these, then this self-driving vehicle is ideal for you. All you have to do is enable Smart Traffic. And it will begin directing each visitor to the landing page that is most appropriate to them. That equates to an extra 30% in leads, purchases, and sign-ups for current Unbounce clients.
Pricing starts at $90/month.
Want to know more? Our Unbounce review will tell you all about its pros and cons.
---
Wishpond
Wishpond is a system for lead generation and marketing automation. It includes website and email subscriber engagement tools. These include a drag-and-drop landing page designer, social contests, pop-ups, and forms. This solution also provides lead scoring, nurturing tools, and performance data.
Wishpond, when combined with email marketing automation, enables marketers and business owners to construct segmented lists of subscribers. These are based on interest, location, web behavior, and other factors.
Users may create:
Bespoke campaigns
Manage landing sites
Run social contests
Set up marketing automation activities
You can also use it to handle email marketing initiatives, among other things.
Wishpond's pricing is on a monthly subscription basis and depends upon the number of leads. You'll need to get in touch with the sales team to get a quote.
---
ShortStack Review: Closing Thoughts
To sum it all up, ShortStack allows you to design bespoke landing pages and emails. These stylistic elements make it simple to adhere to brand rules.
You can have complete control. You can use your own domains for independent landing sites. And you can do this without asking for help from the IT department.
It is secure and dependable. The ShortStack platform guarantees 99.99% uptime, thus giving you peace of mind that ShortStack will be there when you need it.
You can manage your team by increasing the efficiency of your workforce with team member access. You can assign logins to your coworkers and clients. This is so that you can collaborate on marketing tasks.
Using real-time analytics, you can learn how users interact with your landing pages and emails using ShortStack.
Finally, is it worth spending my money on it? Definitely! When you're starting out, ShortStack is the one. It's easy to use, so you don't spend a whole heap of time tearing your hair out trying to work out how to use it.
There are a few drawbacks, one being that the template collection is limited. You'll quickly run through them all, so you may need to change to one of ShortStack's alternatives with more features. With that in mind, let's take one final look at the best ShortStack Alternatives.
ShortStack Alternatives
ActiveCampaign: ActiveCampaign offers list management, excellent marketing automation, and high deliverability.
GetResponse: GetResponse is an online campaign and email marketing tool. You manage and build online campaigns for different business goals.
LeadPages: LeadPages is a landing page builder that assists you in getting more email subscribers and leads.
Unbounce: Unbounce is an extremely robust conversion optimization platform and a great landing page builder.
Wishpond: Wishpond is excellent for small businesses to run contests, build landing pages, create and run email campaigns, and more.
I hope this ShortStack review gave you enough information to make the best choice!
Want to learn step-by-step how I built my Niche Site Empire up to a full-time income?
Yes! I Love to Learn
Learn How I Built My Niche Site Empire to a Full-time Income
How to Pick the Right Keywords at the START, and avoid the losers
How to Scale and Outsource 90% of the Work, Allowing Your Empire to GROW Without You
How to Build a Site That Gets REAL TRAFFIC FROM GOOGLE (every. single. day.)
Subscribe to the Niche Pursuits Newsletter delivered with value 3X per week