GetResponse Review – Will This Email Platform Help Your Business Grow?
This GetResponse review will look at everything this all-in-one email marketing and marketing automation platform offers. We will be covering all of its features. And we'll also discuss usability, pros and cons, and of course, the pricing, to help you decide whether or not it's the right tool for your business.
Overall, it's fair to say that we LOVE GetResponse. It provides everything you need to grow your business online in one easy-to-use package. And best of all, there's a fantastic free plan available that's perfect for anyone just starting out.
That being said, if after reading this review you don't feel like it's the right choice for you, we have listed some excellent GetResponse alternatives at the end of the article.
GetResponse Review
Ease of Use -

95

Stability -

95

Customer Service -

92.5

Price -

92.5
Summary
GetResponse is a powerful tool that makes it easy to market your business online, even if you're a complete beginner. There is a free plan available too—perfect if you're just looking to test the waters, or you're getting started on a budget.
Pros
Easy to use
All-in-one solution
Pre-built funnels
Free plan available
Discounts for paying in advance
Integrates well with other software
24/7 customer service including email support in 8 languages
Cons
The free plan doesn't include all features
Webinars are limited to 1,000 people
Phone support is only available to those on the highest plans
GetResponse review - Overview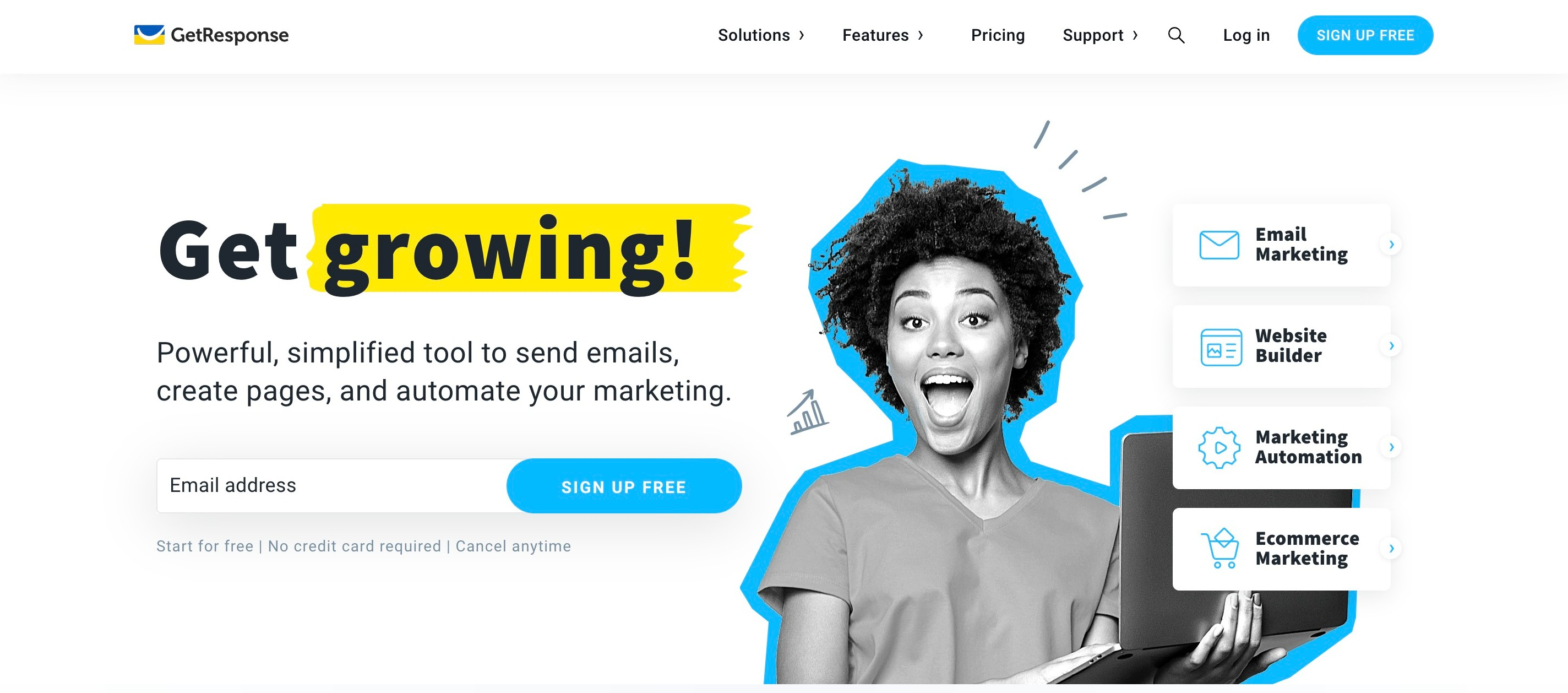 GetResponse is more than just an email marketing platform. It's an all-in-one digital marketing platform designed to help entrepreneurs and business owners grow their businesses online.
It includes a variety of email marketing tools designed to boost sales, improve the customer's online journey, grow your audience, and improve the overall running of your online business.
The company's founder, Simon Grabowski, created GetResponse over 20 years ago, with the aim to create an affordable email marketing tool that users love. Fast forward to today, and GetResponse is a successful global company. It now has over 380+ employees, and over 350,000+ customers worldwide!
With everything from a website builder to a pre-built conversion-optimized sales funnel creator, GetResponse has everything you need to start and grow a successful online business.
As well as helping you to maximize the ROI of your web traffic, GetResponse also focuses on customer retention. It includes some advanced features that help you to easily incentivize the website visitor to return and to be kept informed about your company's offerings, special discounts, and general business news.
Perhaps one of the best things about GetResponse is how user-friendly this email marketing software is. It's refreshingly simple to use, even if you're a complete beginner!
Read the full GetResponse review below for everything you need to know about this powerful tool.
GetResponse Features
GetResponse has a wide range of features and benefits, which means that whatever your needs are you can be confident that there will be something to suit you.
GetResponse's main features include:
Email Marketing
Conversion Funnels
Marketing automation tools
Website Builder
Web Push Notifications
Landing Pages and Signup Forms
Live Chat
Webinars
Paid ad management
The main GetResponse dashboard is a dream to use. It gives you a clear snapshot of your company's performance so far. This enables you to keep an eye on what you have put out so far and how it has been performing.
You can organize the dashboard with various widgets to pick and choose the information displayed on the main page.
One handy feature that some email marketing platforms don't offer is the chance to collect and store data about your customers. This allows you to see things like how long people have been subscribed to your email list and where they are from.
With this data, you have the chance to customize what you are publishing to suit various groups of customers. This helps you provide your audience with content they want to see, increasing your open rates and conversions.
Now we're going to take a deeper look into each feature. This will give you a better insight into how it all works, and the ways it could benefit your business.
Email Marketing Features

GetResponse has many features that can help perfect your email marketing campaigns. This will ensure that any campaign you put in place is as successful as possible.
The main email marketing features include:
Autoresponder - The autoresponder allows you to set up 'if this then that' type responses. Which means subscribers are contacted at a set time or after a particular event. This can help to ensure that your company reaches out to these customers at the optimum time which can help to increase business sales and growth.
Analytics - This built-in tool lets you monitor how your audience interacts with the emails you send. This gives you a firm idea of which emails are working and what you might want to change in the future. You can see which emails are opened the most and even what click-through rates are for the different emails you have sent. You can also compare them side by side.
Email Creator - As well as a number of professionally designed email templates that you can use, GetResponse has a drag-and-drop tool that allows you to move these around to customize any emails you want to send. This helps you to perfect any email campaigns you send out to your subscribers.
List Building - Organize your email lists, create contact grows and streamline your list building. This ensures that your newsletter subscriber lists are as organized as possible.
Customer Contacts - You can automate many emails outside the email marketing section. For example; send order confirmations, receipts and even email reminders This helps you to keep in touch with your customers and help keep your customer base happy.
Sales Funnels
GetResponse's sales funnel builder enables you to easily build high-converting sales funnels in minutes.
You can create a variety of different types of funnels at the click of a button, including:
Webinar funnels
Sales funnels
Optin funnels
Lead magnet funnels
The sales funnel tool within GetResponse allows you to plan sales and various marketing campaigns. It also enables you to look at areas in which you can improve and how this could help you to increase revenue.
It follows the AIDA model (Awareness, Interest, Desire, and Action), and offers plenty of tools and advice to guide you through and help ensure you are getting the most out of your website.

Within this, GetResponse can help you with creating the right type of sign-up forms, advert campaigns via social media, engagement scores, marketing automation, and setting up push notifications.
After that, it will walk you through how to create the right type of sales emails to get people over the finish line of making a purchase with you.
The sales funnel features within GetResponse allow you to monitor the steps your customers take within the buying cycle. This enables you to see what works well and what you can tweak in order to perfect your customer's buying experience.
Understanding and perfecting your sales funnel gives you the chance to work on lead generation, lead nurturing, encouraging purchases, and customer satisfaction.
Marketing Automation
The Marketing automation features allow you to set up several points at which your customers will automatically be contacted by your company.

Not only that, but the analytics of this allows you to see which campaigns are proving the most successful and if there are any you need to change in order to improve their success rates. Points at which you can opt to email your customers include:
Certain pages on your website being visited
Leaving your website with items still in their shopping basket
Subscribing to your newsletter
Completing a purchase
An event such as a birthday or customer anniversary
Perfecting the contact points between your company and your customers helps your business to generate more leads and ultimately sell more products. This means less effort once things are set up and in place.
GetResponse has a number of tools in place to help with this including pre-built workflows for specific campaigns. You're able to build in your own trigger or automation points and customize every campaign email and message.
Once it is all in place properly, your automated marketing is as efficient and easy as possible. This improves the overall flow and sales funnel processes of your business.
Website Builder
GetResponse has a solution for those wishing to build a website from scratch to get you up and running quickly.
The Website Builder software enables you to build a website from scratch, with no experience in coding needed.
It achieves this with a few clever features and creative tools.
You can start with one of the pre-designed templates. Although these are templates, each element can be customized to suit your needs.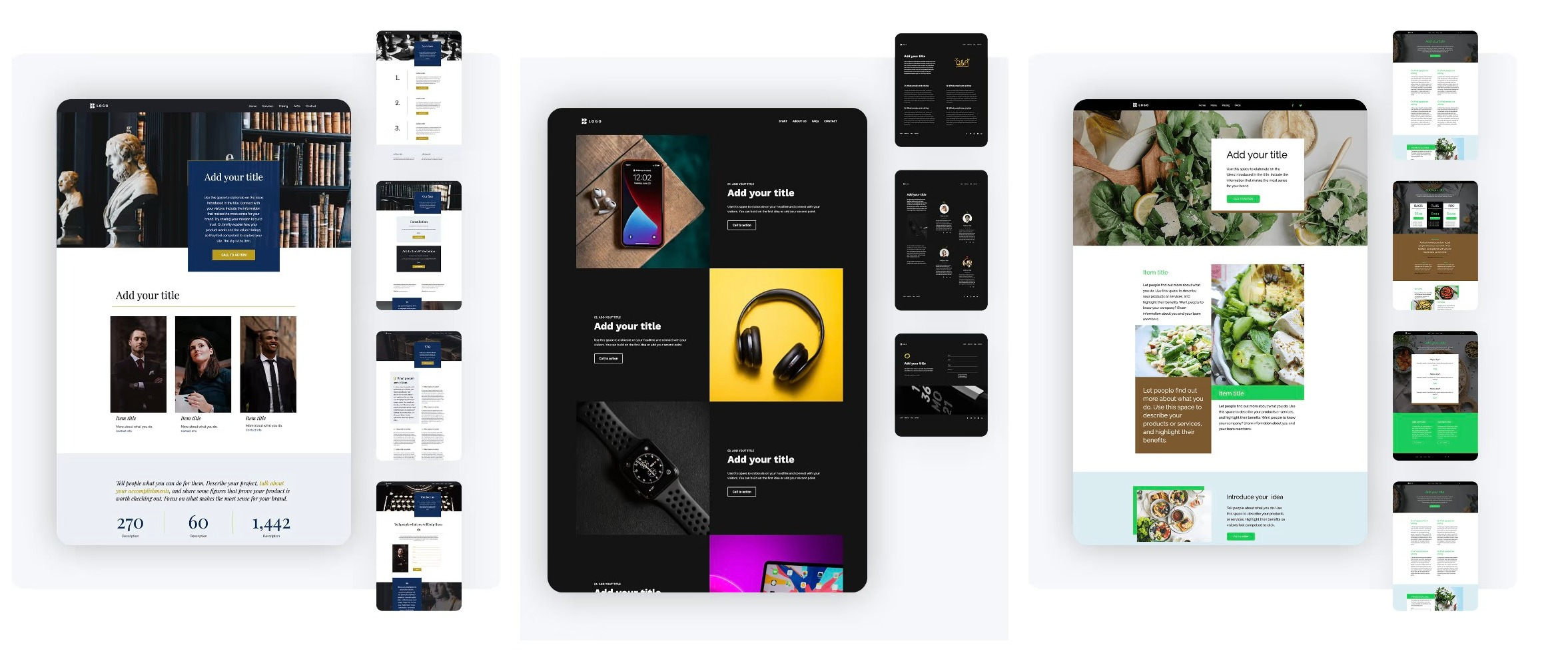 The templates are all mobile-responsive and are designed to look perfect on any device.
Creating a professional-looking website that you can promote using the complete online marketing suite doesn't take long.
This handy feature is built-in and doesn't require you to leave GetResponse and rely on other software to complete. Everything you need is in one place.
Easy to Use
It includes an AI wizard, enabling you to shortcut the website creation process. Once you have answered a few quiz-like questions, the AI can gain the information it needs to personalize your site. This means that no time is wasted in getting your site up and running.
The drag-and-drop editor lets you customize your website design without needing special skills.
You can import both text and images to the website builder so the content is both relevant and the images correct for your purposes.
After completing your site you can use SEO tools to optimize your site.
Once you have been up and running for a while, GetResponse will build up a profile of your site that can be used to see how many visits and clicks you have had.
With this data, adjustments can easily be made and you are able to learn what works best.
Live Chat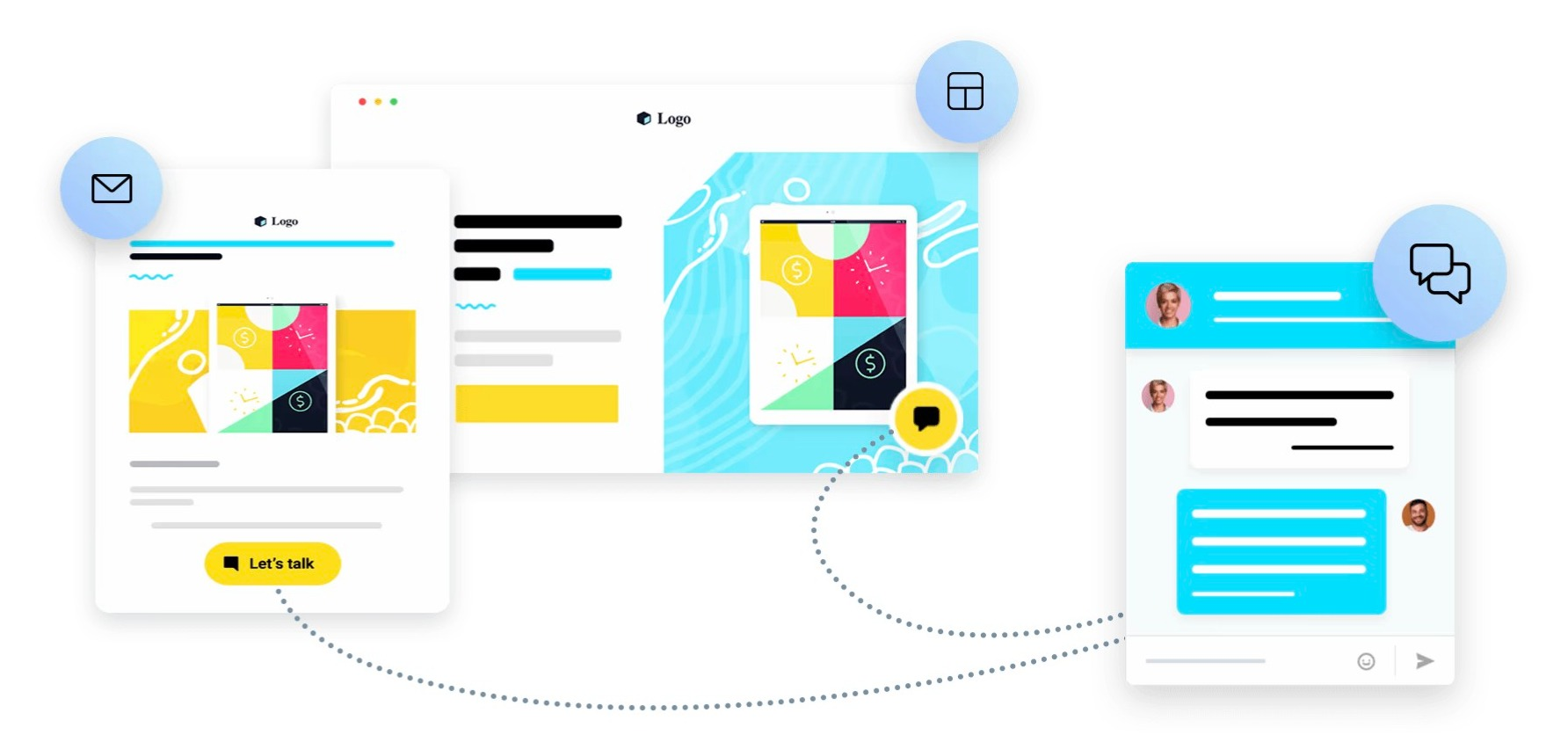 Over recent years customers have become used to getting in contact with companies via social media and the Internet. This means that they now expect a much faster response than they would have before.
Although no one can expect all businesses to offer a 24/7 customer service team, you will build confidence in your brand if you offer easy ways for your customers to contact you with a quick response.
Offering Live Chat is a great option.
Live chat allows your customers to contact you directly from the page they are already on. This is a great way to answer questions and solve any problems before they escalate into a complaint.
GetResponse includes a live chat feature that enables you to put a chat widget on your website, or even on a landing page.
You'll be able to see the customer's details, including where they have clicked through from.
This is super handy if they're asking a question about a specific product because you can see exactly where they are within your product pages.
According to stats on the GetResponse page, 92% of customers are happy when they can contact a company via a live chat feature. It's certainly something worth considering as an option on your website.
The software notifies you when you get a new chat request. Plus, you'll have their contact details should you want to follow up with the chat afterwards too.
There is no doubt that customers feel more confident in using companies that they know they can contact easily with questions or problems.
A live chat facility will almost certainly help build this confidence in your products and services.
Signup Forms and Landing Page Builder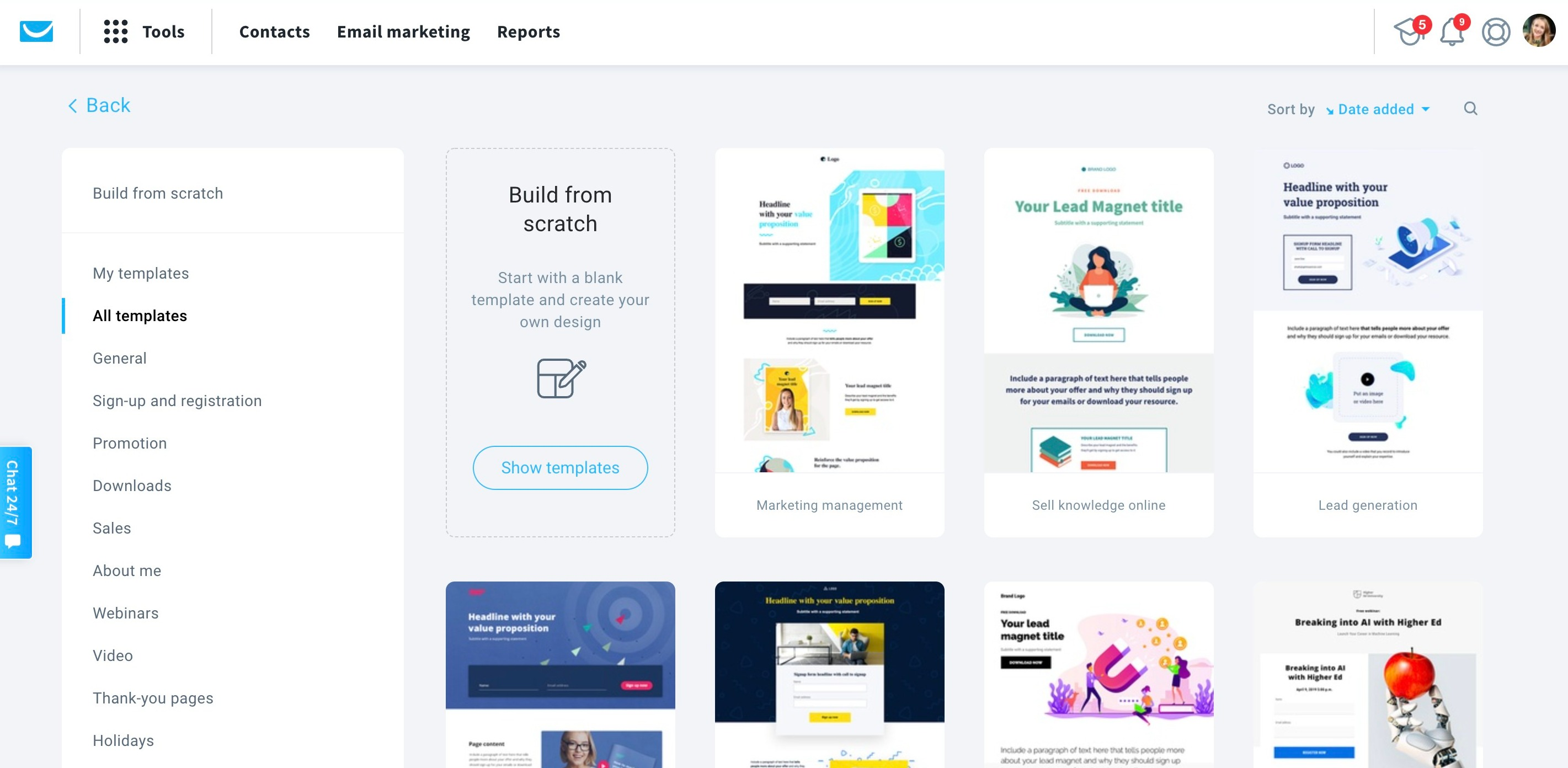 To encourage contact and interaction from your website visitors, GetResponse uses a drag-and-drop editor. This enables you to easily create great-looking signup forms, relevant comment boxes, promo bars, and other features that you can directly embed onto your site.
Depending on the page you want to feature the form on, suggestions are made. This could include trying a "Slide-In" form with a special offer that slides into your webpage window as visitors scroll down your page. The activation point is adjustable within the software.
You also have the option of a popup modal. This is activated upon your visitor trying to leave the page.
Other options include:
Embedded sign-up forms
Sticky bars
Dedicated landing pages
The landing pages feature enables you to create and schedule landing pages for up to 30 days.
These landing pages can be built from scratch or created using one of the existing templates GetResponse offers.
Clever Inputs
When creating a landing page using one of their predesigned templates you will be asked a series of questions. Firstly, the name of your landing page. Secondly, you will be asked to describe your lead magnet to encourage your site's visitors to sign up.
Further sections are then represented by different questions which when answered will build up your landing page with the best attributes to maximize the signup ratio.
A question prompts you to fill in details for testimonials, including the name of the reviewer etc. Finally, the page is finished with a prompt to enter a closing statement for the landing page.
These are cleverly designed to capture essential customer information. This information can then be used within your email list to promote specific products and services. This gives you the confidence to know that you are contacting the right customers at the right time.
Webinars
GetResponse's webinar builder enables you to easily host webinars for your audience.
This is a great way to build confidence in your brand, nurture the relationship you have with your customers, and encourage people to sign up to your email list for future contacts.
The webinar builder allows you to:
Host live webinars for up to 1,000 attendees
Host unlimited webinars
Store up to 20 hours of recordings, allowing access to replays for your audience
This powerful tool enables you to produce professional webinars with up to three presenters. This makes it a great option for those who collaborate with other businesses.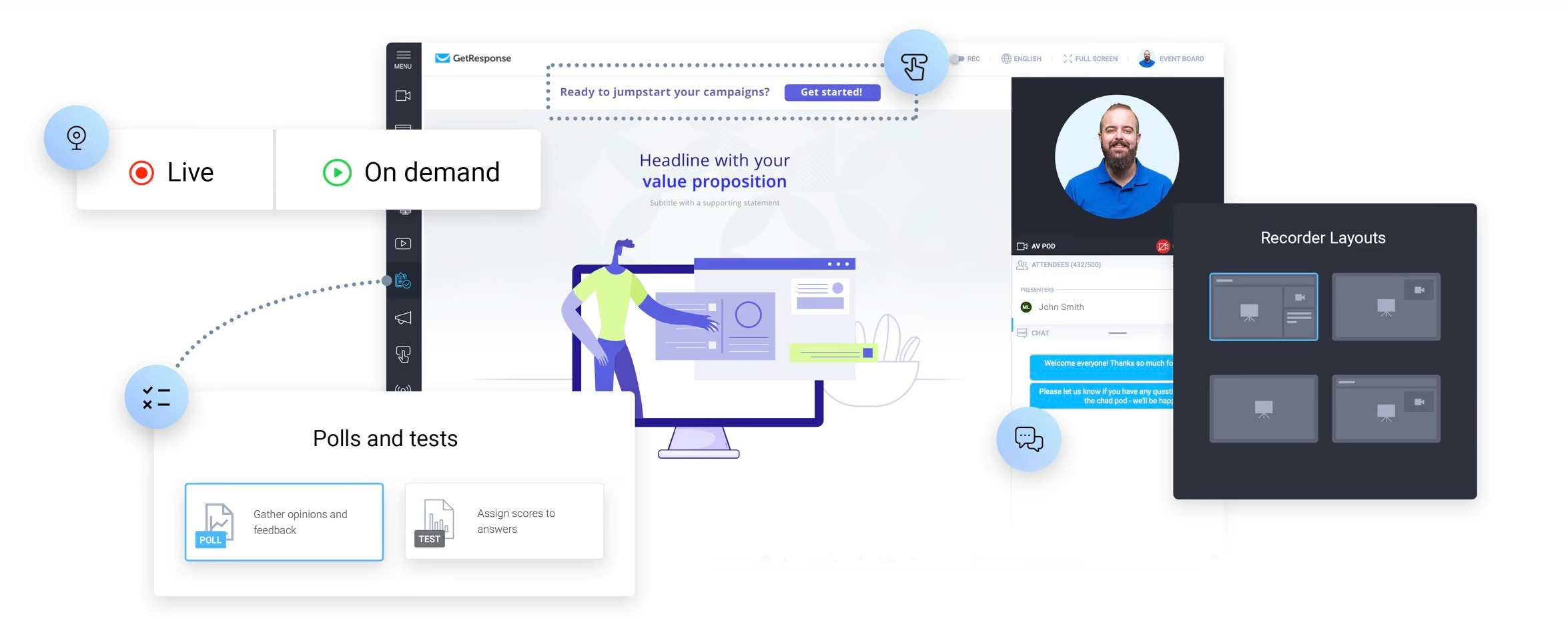 There are a variety of different ways that you can encourage interaction during your webinar section too. For example, you could host a meeting with up to 10 people and everyone can talk at the same time; almost like a virtual group discussion.
You can also have open chats where people can post comments. This can easily be switched to moderated if things get too busy or out of control.
Of course, the type of webinar you host will depend very much on your industry and the people you are trying to reach. However, GetResponse has a range of options which helps to ensure that there is something to suit everyone.
GetResponse Review: Pricing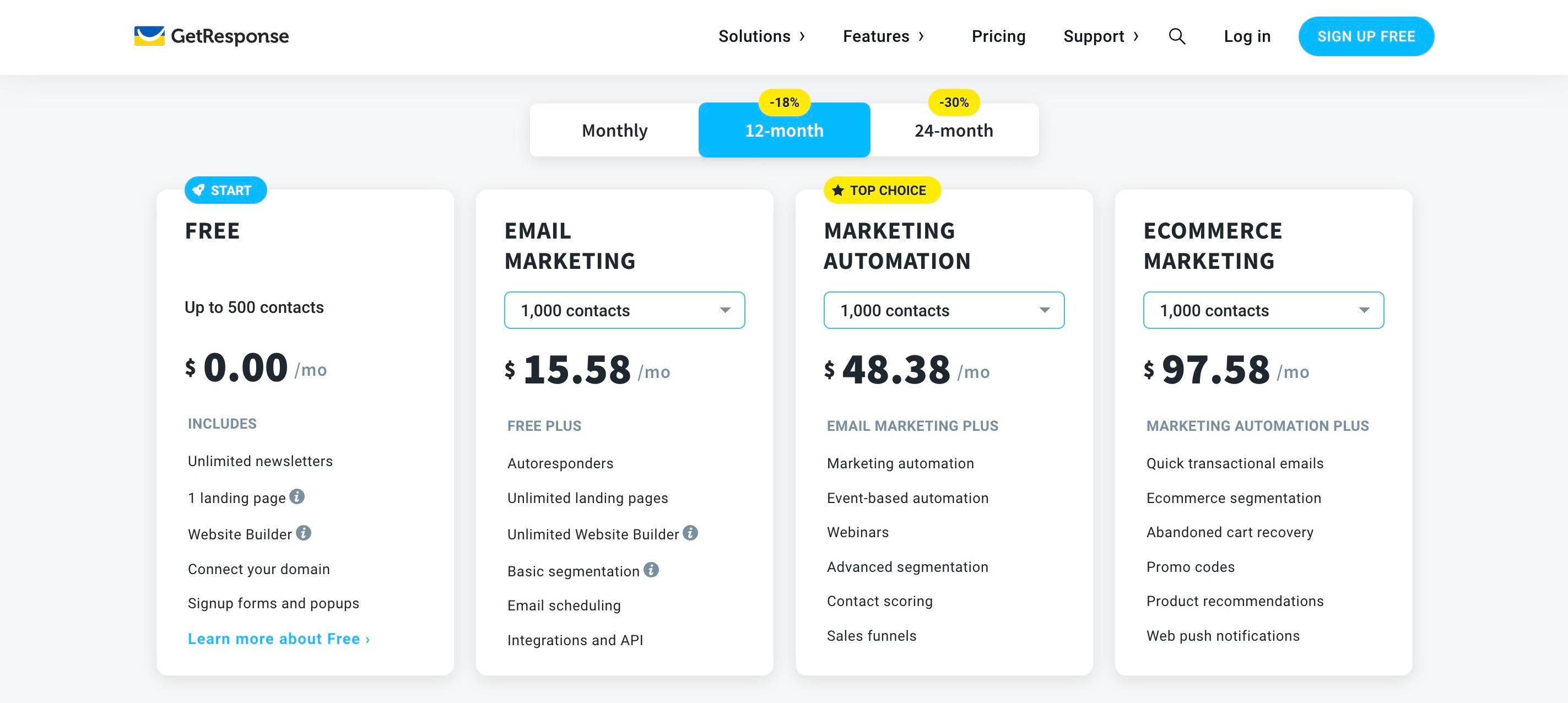 For many users, one of the highlights of GetResponse is the great value pricing plans that they offer.
Online marketing software like this can often be expensive, which although a worthwhile investment is something that many businesses simply don't have the budget to justify.
Many business owners will find the free plan is perfect for getting started. And you can easily upgrade to a paid plan with more features as your business grows.
Free Plan. This plan includes unlimited newsletters, one landing page, access to the website builder, and up to 500 contacts. You can also connect your own domain, and create signup forms and popups.
Email Marketing Plan. This plan starts at $15.58/month. It includes unlimited landing pages, auto responders, and up to 1000 contacts; with increased costs, if you want to have more contacts
Marketing Automation Plan. This plan starts at $48.38/month for 1,000 contacts and increases depending on the number of contacts on your list. It includes everything from the email marketing plan, plus, marketing automation, webinars, and sales funnels.
eCommerce Marketing Plan. This plan starts at $97.58/month for up to 1,000 contacts and increases depending on the number of contacts on your list. It includes everything from the Marketing Automation plan, plus transactional emails, abandoned cart recovery, and promo codes.
Most of their plans can be customized to your needs & are discounted if you prepay for a year.
Is GetResponse Easy To Use?
Yes, GetResponse is very user-friendly. Although everyone will have their own experiences with different pieces of software like GetResponse, the general feeling is that it is extremely easy to use.
Most Getresponse reviews mention how easy it is to get to grips with the tool, and how sleek its interface is.
Much of the user dashboard is dealt with via drag-and-drop widgets. This allows you to easily see what information you have available and move it around in order of your own importance.
Being able to see the right information for your own company quickly and easily is essential. This is something that GetResponse provides really well.
Of course, as with most software, the more you use it, the more you will become comfortable with its features. Once you feel more confident, you'll use the features and adapt them to your needs.
That said, things like their Quick Actions menu mean that you can easily navigate your way through commonly accessed features and tasks. This is a great place to start if you're just getting to know your way around the software.
What most users say they like about the software is the fact that it is completely customizable. This means you can design a user interface that perfectly suits you and your needs; like a tailor-fit marketing solution for your business.
Getresponse Review: Customer Support
GetResponse provides excellent customer support, 24/7. On their website, you're able to use the live chat feature to chat with their experts at any time of the day. This is great for those quick questions that you just want to ask in the moment. However, on top of this, they also offer email support in 8 different languages.
As well as a customer service team that you can contact anytime, it is easy to see they have put time and effort into creating an extensive help section on their website.
Their website has various sections including a help centre, useful resources, and case studies. You can also get help with specific features such as generating leads or boosting online sales.
Their blog is regularly updated with posts such as "How to Make Every Email Count" and "An Easy Way To Get Your Store Growing"; which shows they are keen on supporting their business owners in being as successful as possible.
A quick glance at their social media shows that they generally respond to queries here within 24 hours too. Using any software like this for the first time is always going to raise some questions, so having a team that you can contact quickly and easily is essential for successfully getting this section of your company's marketing off the ground.
Integrations
Much like any other type of software, there are going to be some limitations to what the software itself can do. This means that you need to look at ways to integrate other tools into what you are doing.
The great news is that GetResponse offers a wide range of integration options. This means that customizing the platform to meet your exact needs should not be too much of an issue. Some of the most popular integration options on offer include:
Shopify - Use your Shopify data within GetResponse to create targeted campaigns and reach the right people.
CatchApp - Work with the bookings you confirm, so customers can be told automatically when appointments within CatchApp have been accepted.
Bouncer - Keep an eye on spam email addresses and invalid emails to ensure your email list within GetResponse is always up to date and working in the best way for you.
WooCommerce - Collect customers data at the checkout stage and add this to your GetResponse data list
Google Analytics - The Google Analytics integration enables you to track pageviews on your website and landing pages.
There are hundreds of apps and integration options within GetResponse. This is great news for eCommerce business owners. It gives you the opportunity to be able to make the software work in sync with other elements of your website and business perfectly.
GetResponse Review: Pros and Cons
There are always going to be differing opinions with any software and GetResponse is certainly no exception. However, when you read publicly published reviews on the software the reviews are always overwhelmingly positive. Of course, there are some users that feel there could be a tweak of features or that different plans should offer something else, but in general, for most people, the pros massively outweigh the cons.
Easy to use
All-in-one solution
Pre-built funnels
Free plan available
Discounts for paying in advance
Integrates well with other software
24/7 customer service including email support in 8 languages
The free version is limited
Webinars are limited to 1,000 people
Phone support is only available to those on the highest plans
GetResponse Review: The Verdict
Overall, it's safe to say that GetResponse is a brilliant option for anyone looking for an all-in-one marketing solution for their business.
It offers a simple to use set of marketing tools that a range of businesses can use to grow their business online. Business growth is generally made up of two things - generating a good number of sales and contacting the right customers at the right time. GetResponse helps you to do both.
Features like automatically emailing customers and sending out reminders for events help to ensure that you are always at the forefront of a customer's mind when they are thinking about making a purchase.
Building an engaged list is essential if you want to be able to promote your products and services to people that have already shown an interest in your products.
Of course, there is no denying that outbound marketing can work. However, the real goldmine is inbound marketing. Engaging customers you know have purchased from you before or have shown an interest in shopping with you for the first time is invaluable.
GetResponse offers an easy-to-use platform where all of this is accessible from one dashboard. It offers numerous templates and software integration options that help you streamline the dashboard to show exactly what you need.
If you're looking to grow your business online, then GetResponse should be considered a must-have tool. With a whole heap of features and levels of support that can really help you step up your direct customer online marketing, it's a no-brainer.
GetResponse Alternatives
If you're still not convinced after reading this GetResponse review, don't worry! There are lots of other good options out there for you. These are our top three.
ActiveCampaign
ActiveCampaign is an all-in-one email marketing and marketing automation platform with a built-in CRM. With ActiveCampaign you can create stunning email newsletters, landing pages, and sales funnels, all in one place.
ActiveCampaign's main features include:
Email Marketing
Marketing automation
Service and support features
Site tracking
Predictive content
CRM
Sales engagement
Forms and landing pages
Lead scoring
ActiveCampaign has a range of different plans, starting from $9/month. They also offer a free 30-day trial so you can try out the features before choosing a plan.
ConvertKit
ConvertKit is undoubtedly one of the best email marketing services for bloggers. The software allows you to create highly engaging emails using their range of professionally designed templates that are designed to convert.
ConvertKit's main features include:
Forms and landing pages
Email marketing
Easy-to-use email designer
Sell digital products
Automatic lead magnet delivery
Personalized content
Automation workflows
ConvertKit offers a completely free plan which you can use for your first 1,000 subscribers. After that, there is a range of affordable plans to choose from starting at just $9/month. And you can learn more in our ConvertKit review!
Sendinblue
Sendinblue is very similar to GetResponse in the features it has on offer. As well as offering email marketing and marketing automation tools, Sendinblue allows you to connect with your customers using live chat. It also boasts an in-built CRM.
Sendinblue's main features include:
Email Marketing
SMS marketing
Marketing automation
Transactional emails
Segmentation
Chat
CRM
Landing pages and forms
Facebook ads
A/B testing
Visual heat maps
Sendinblue has a free basic plan which allows unlimited subscribers. This plan allows you to send up to 300 emails per day. Paid plans start at just $25/month, and increase depending on how many emails you need to send each month.
If you want to check out more options, check out our guide to the best email marketing software. We've included email marketing software options for various different business types, so there's something for everyone.
Want to learn step-by-step how I built my Niche Site Empire up to a full-time income?
Yes! I Love to Learn
Learn How I Built My Niche Site Empire to a Full-time Income
How to Pick the Right Keywords at the START, and avoid the losers
How to Scale and Outsource 90% of the Work, Allowing Your Empire to GROW Without You
How to Build a Site That Gets REAL TRAFFIC FROM GOOGLE (every. single. day.)
Subscribe to the Niche Pursuits Newsletter delivered with value 3X per week