Jasper vs Copy AI – Which is Better for Generating AI Content That Ranks?
When you buy something through one of the links on our site, we may earn an affiliate commission.
In this article, we're comparing Jasper vs Copy AI to see which of these AI writing tools is better overall.
There is no denying that creating great content is the key to carving yourself out a successful space online. And while there are many talented copywriters out there that can do a good job when it comes to creating engaging and interesting content, AI copywriting software has also helped to kick things up a notch.
Not only does AI writing software allow you to create high-quality content up to 10 times faster, but it also helps you overcome writer's block and write clearly in a number of other languages.
The improvements in AI technology and machine learning mean that many bloggers, copywriters, and marketers have realized its potential to help improve their content and are now making regular use of software such as Jasper and Copy AI.
If you're trying to decide which of these powerful AI copywriting tools is right for you, this article should help you. We'll be comparing Jasper AI to Copy AI side-by-side, so you can see which one will best suit your needs.
In a rush?
Don't worry. Here's a quick TL;DR to tell you what you need to know:
For anyone looking to generate long-form content, Jasper is a no-brainer. It's a fantastic tool that gives you everything you need to publish great, AI generated content at scale.
Jasper AI vs Copy AI - Which is Better Overall?
Although there are only marginal differences in the pricing, of all the AI writing tools out there, Jasper offers a lot more features, making it an excellent value for money. It's incredibly easy to use and even offers its own AI image generation software (for an additional $20/month) so you can create the perfect images to go with your content.
Jasper even has native integrations for SurferSEO and Grammarly, giving you everything you need to create clear, concise content that is SEO-friendly.
If you aren't sure about how Surfer SEO can help, be sure to read our Surfer SEO review here to enhance your content further.
If you're on a budget, you can take advantage of Copy AI's free plan. Although the features on this plan are limited, it's still a good option for anyone looking to try an AI writing tool without splashing out on a paid plan.
---
Jasper AI vs Copy AI: The Main Differences
Although both Jasper AI and Copy AI have very similar offerings, there are a few differences that you should keep in mind when choosing between these two AI tools.
These are the main differences between Jasper AI and Copy AI:
Content Creation - Both Jasper AI and Copy AI can help with the writing process for blog posts, but Copy AI doesn't offer support when creating long-form content, whereas Jasper AI does. Jasper AI also has a Google Docs style editor that integrates seamlessly with Surfer and Grammarly, which Copy AI doesn't have.
Pricing - Both offer a free trial and a discount if you pay annually rather than monthly. However, when it comes to paid plans, Jasper offers better value for money. The lowest package with Jasper AI is $29/month, whereas to use Copy AI, you'll be starting on a plan that is $49/month.
Extras - The extras that you get with each option vary too. For example, Jasper AI has 53 templates for you to choose from to get started, whereas Copy AI has 86 templates. On the flip side, Copy AI only supports 12 languages, whereas Jasper AI currently supports 26 languages.
AI Images - Jasper AI has a new feature called Jasper Art, which is a powerful AI image generator. Copy AI doesn't offer anything like this.
Jasper AI vs Copy AI: Features
As you might imagine, both Jasper and Copy AI have an impressive list of features. This makes them suitable for a variety of writing projects.
Although, on the surface, they both offer the same thing, they do have a variety of different features that could suit different needs. The best thing you can do is read up on both and work out which one is going to be best suited to your needs.
Jasper AI Features
Templates - One of the best things that Jasper AI offers is a range of templates to get you started. Whether you're writing a blog post, need help with long-form content or want to create things like product descriptions, you'll find templates in their database to help.
Integrations with Grammarly and Surfer - Create clear, easy-to-read text with search engines in mind. You can also take advantage of Grammarly's plagiarism checker to ensure your content is 100% plagiarism free.
Boss Mode Plan - This powerful feature helps you quickly generate long-form content, such as writing blog posts, emails, and more.
Content Improving - Jasper gives you access to a range of tools that can help you improve your content. This includes blog post ideas, how to lay out a post, and AI software to read your content and suggest changes that you could make.
Various Content Formats - Use their AI copywriting software to put together a range of content, including promotional content, website copy, marketing copy, digital ad copy, and even social media posts. It even helps you with email creation (including the subject lines) and creating scripts for videos.
Jasper Art - Jasper Art is an AI image generator that can create completely unique, highly-detailed images in seconds.
Jasper Art is one of the most notable features that sets Jasper apart from the competition. Not only can you generate content, but you can now also create the perfect images to go with it.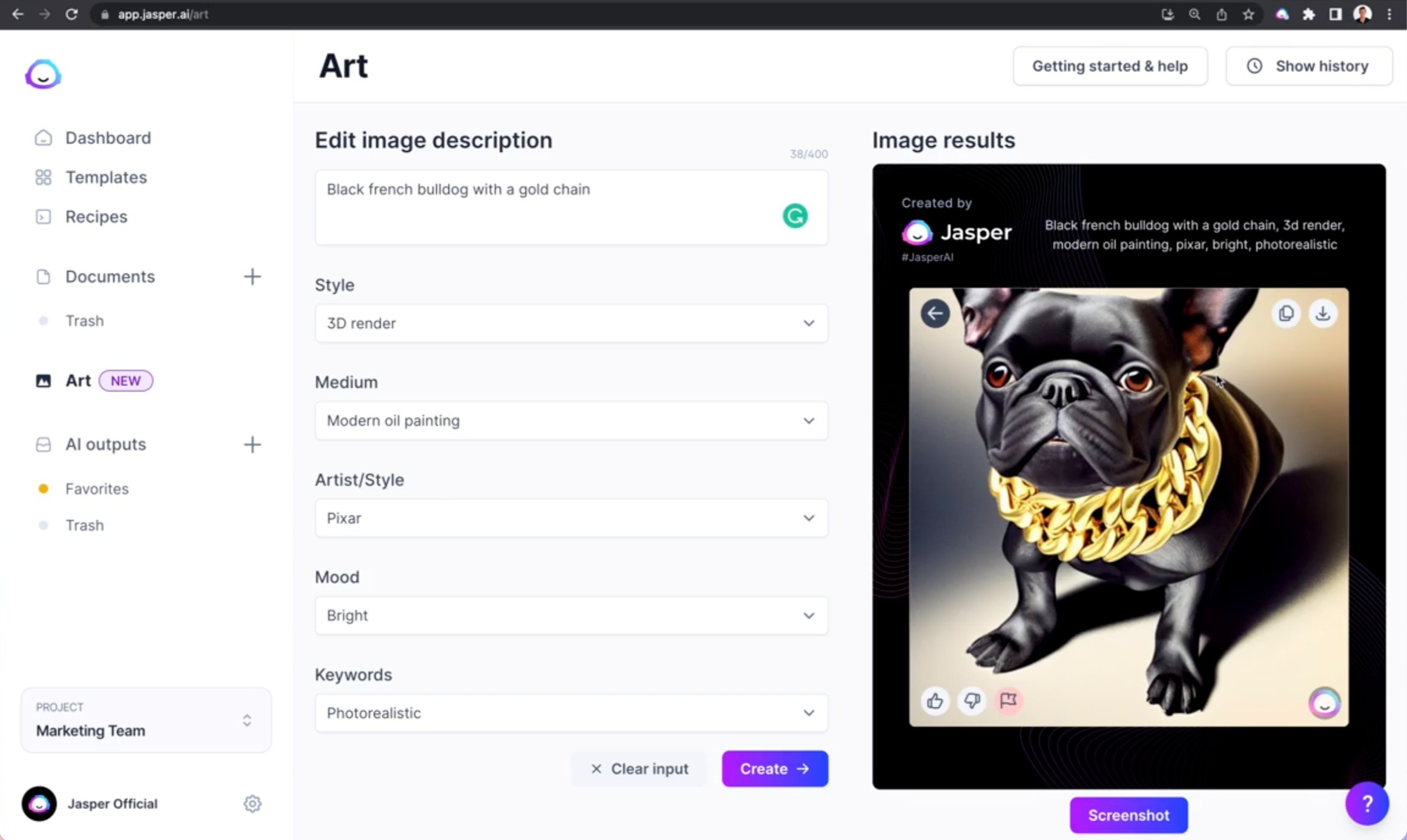 Simply enter a description of the image you would like to create, and choose a style, medium, and mood for your image. You can also add a few keywords like "photorealistic" to create exactly what you want.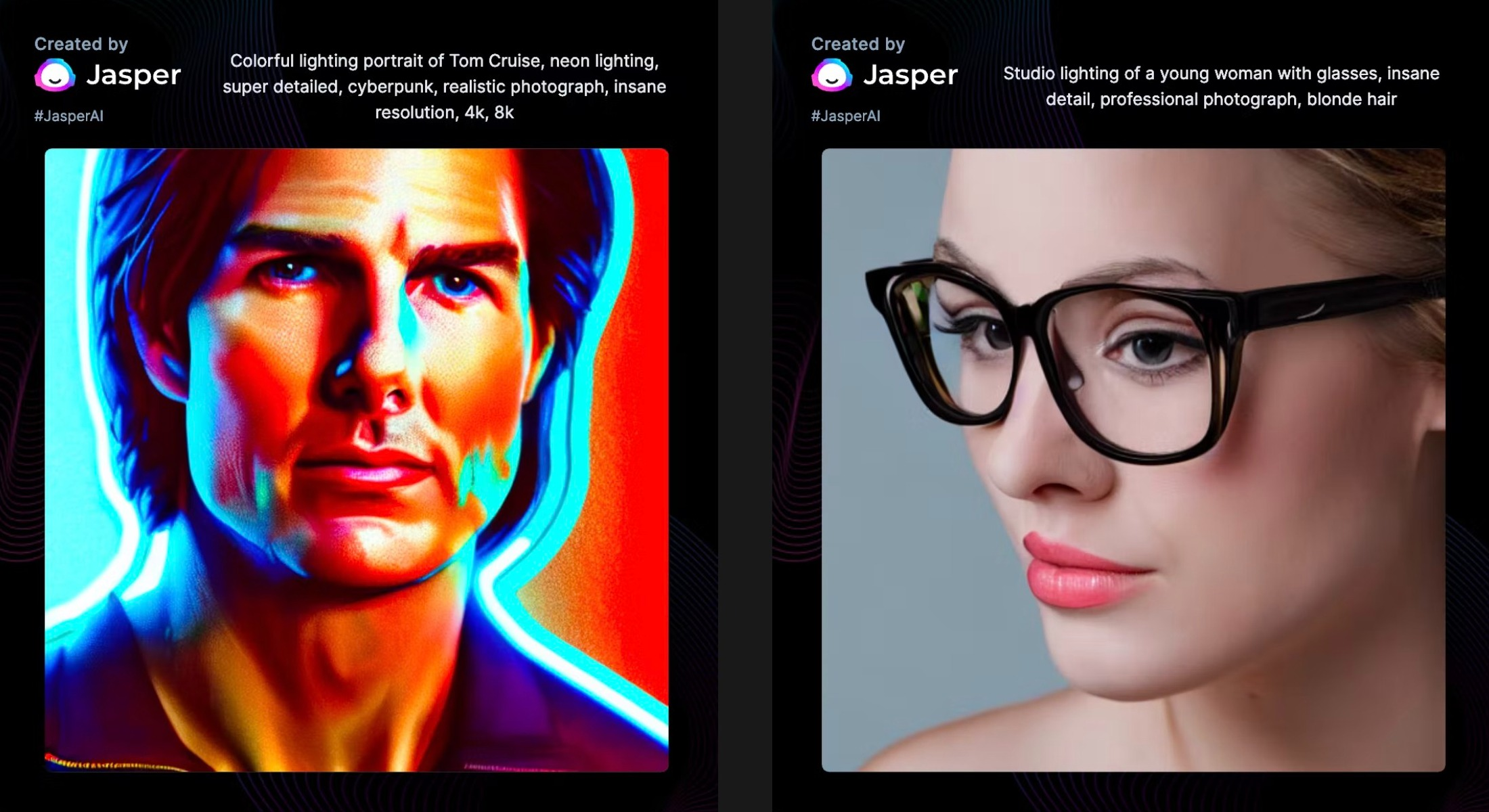 Copy AI's Key Features
Built-in Editor - As well as creating content, it has a pretty extensive editor that allows you to perfect the content and tweak it to your standards. It works within the Copy AI dashboard, which has built-in options for formatting content and ensuring the layout meets your needs.
Content Templates - Start with an impressive list of templates to get you on the right track. Copy AI seamlessly switches tone and layout for various content formats. This includes social media posts, photo captions, and even promotional content. You can even select the tone you would like the post to take from a list of predefined options.
Great Tutorials - Although Copy AI is actually reasonably easy to get to grips with, the software also has some great tutorials that can help users get the most out of all the features. Not only does it help you with setting up your account and getting started, but it also provides advice on how to get better results from your content and even how to target a certain audience.
The Winner
Overall, Jasper has more features to choose from. The Boss Mode plan gives Jasper a huge edge over Copy AI, enabling users to generate long-form content quickly. It also gives users access to Jasper Art, a game-changer for content creators who want to generate unique images in seconds.
Jasper AI vs Copy AI: Ease of Use
Both of these AI copywriting tools are designed to make life easier, so actually, neither is very complicated to use.
Both have different features, though, which may take a little more getting used to. Let's take a closer look to see which is better out of the two.
Jasper AI
One of the recurring themes within Jasper AI reviews is how easy it is to get started with creating content.
With a number of templates to choose from, there are plenty of tools to help you get started in the right direction, including:
Social media
Ecommerce
Ads
Blog posts
Video descriptions
SEO (meta descriptions and title tags)
Frameworks - Tried and tested frameworks for effective marketing content
The templates allow you to get started creating various types of content. They also provide you with handy hints and tips within this to help ensure that the content you ask the software to create goes in the direction that you want.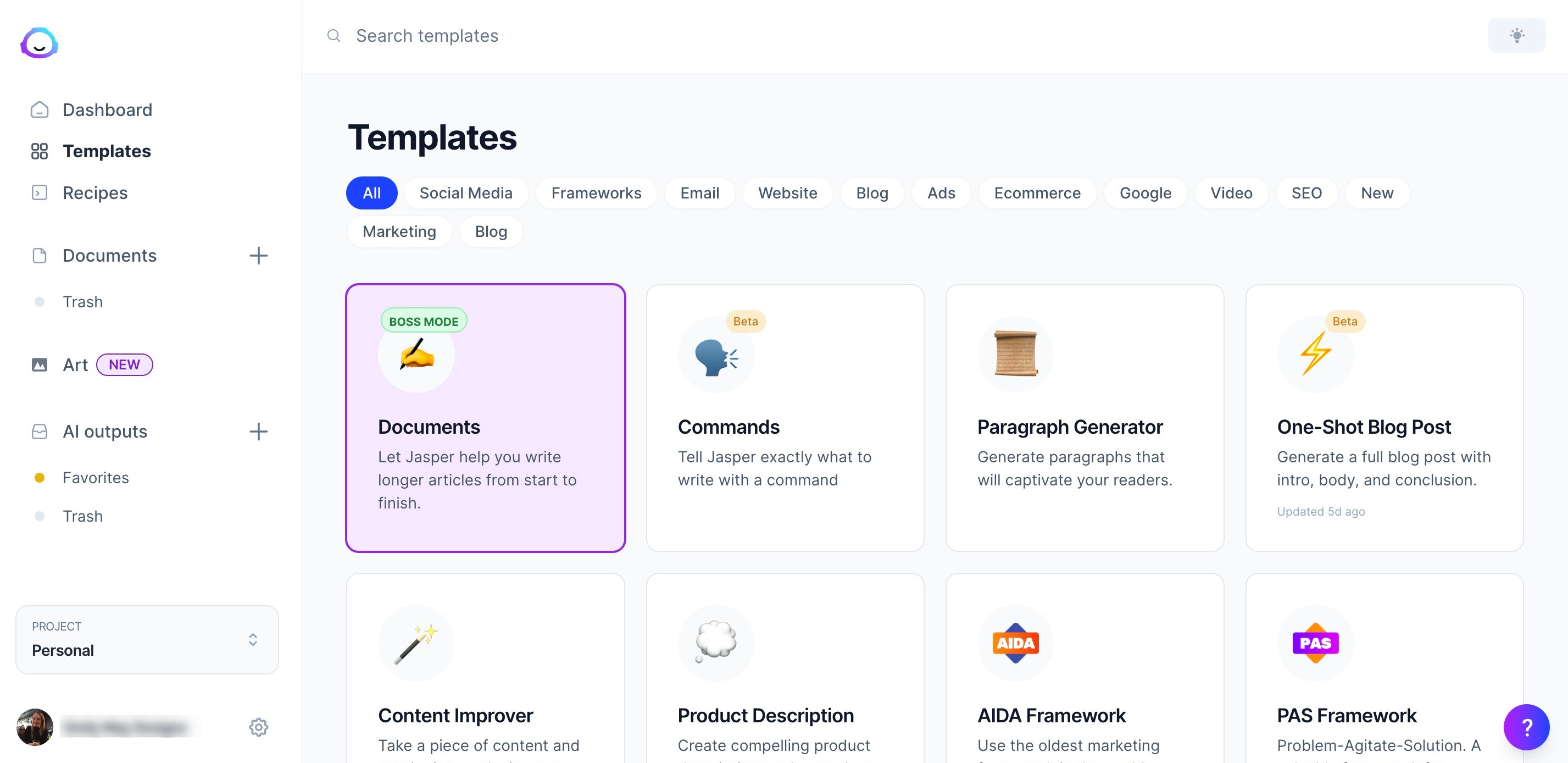 Once you have selected the template that you want to use you will be taken to a series of prompts to help ensure that the content does what it needs.
For example, you'll be asked to select the tone of voice that you want the piece of writing to take and input things like descriptions of products or company names if they are appropriate to what you are looking to create.
Another new feature (currently still in Beta) is the "One-Shot Blog Post" feature. This feature generates a full blog post from start to finish with just a few clicks and in seconds.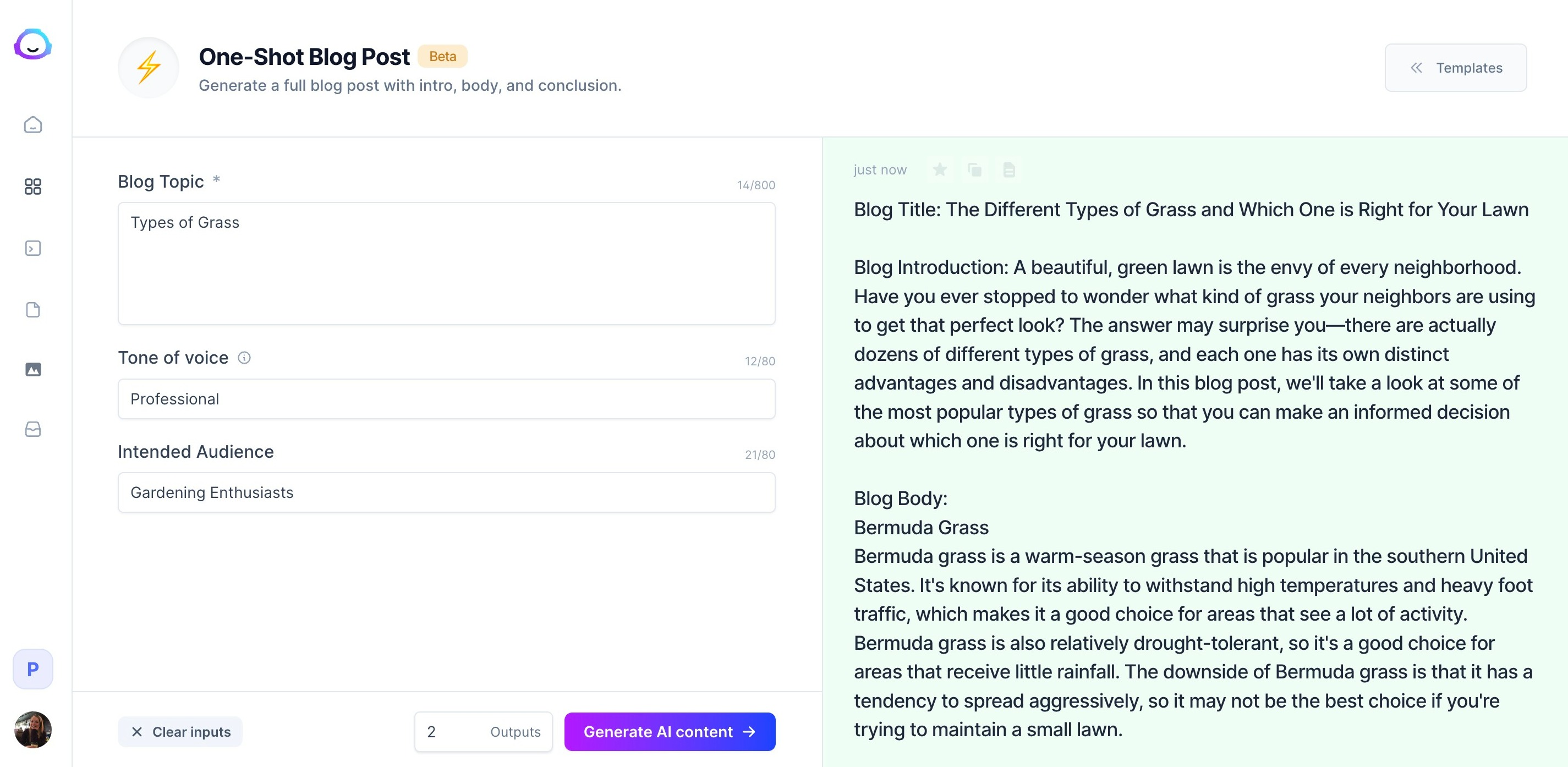 Simply enter your topic, choose a tone of voice and intended audience, and hit "Generate AI Content." As you can see in the image above, Jasper instantly generates a short blog post (this was 427 words) and generates Instagram posts, complete with an introduction and conclusion paragraph. Not bad, considering how little input I provided!
Although it isn't perfect, it's a great point that requires very little effort. From here, you can add additional prompts and commands to expand the content and create a more in-depth blog post.
Copy AI
The interface of Copy AI has been designed to be extremely user-friendly. Even people that are completely new to AI copywriting software say that it's not only easy to use, but they have some great tutorials to help if there is a stage that you are finding tricky.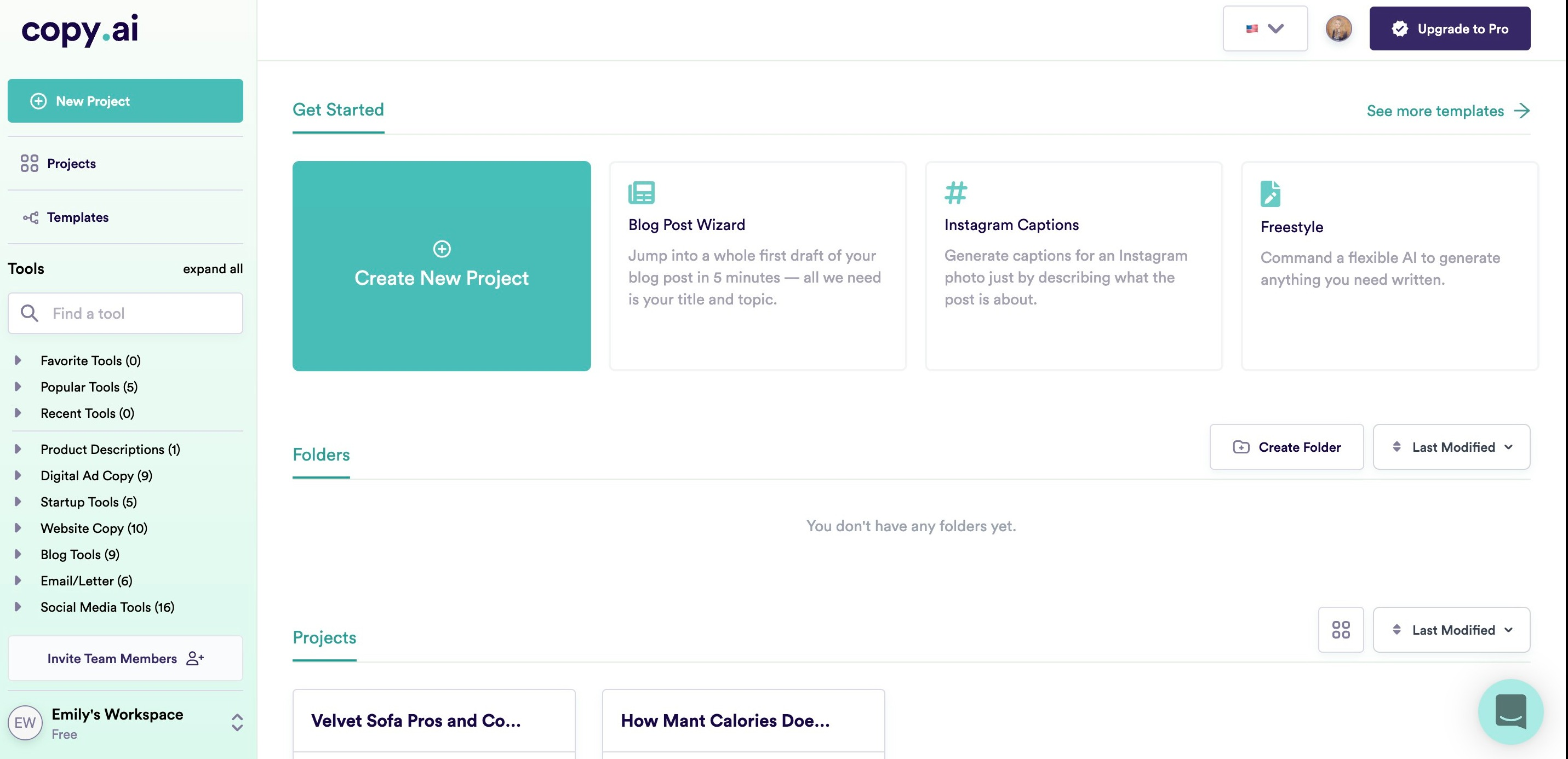 The software comes with a number of templates, wizards, and options when it comes to creating a new project. This helps to ensure that what you're writing is going in the right direction.
You can choose from:
Blog post wizard
Blog intro
Write blog outline
Social media bio
Welcome email
Email newsletter
Case studies
Video scripts
Rejection letters
… and more!
In fact, there are over 45 templates to choose from in total to help with the writing process. You can even use the templates to create things like song lyrics and wedding vows!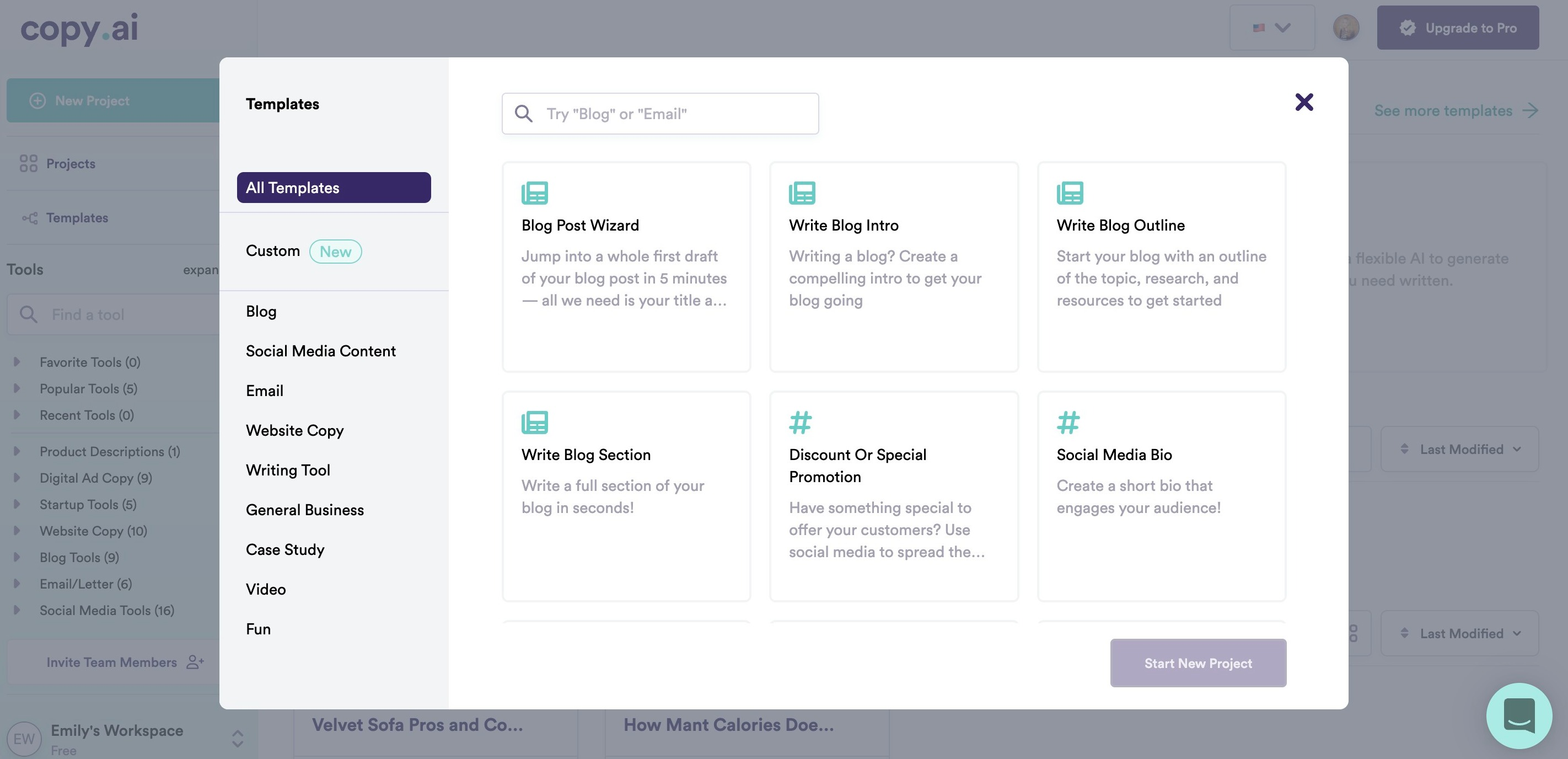 Once you have chosen a template, you also get access to a wide range of tools to help you through the content creation process.
These are listed down the right-hand side of the page, so they are easy to refer to if you need them at any stage.
The blog post wizard works in a similar way to Jasper's "One-Shot Blog Post," giving you a complete blog post in under five minutes. Simply enter your title, keywords, and preferred tone, and you will be guided through choosing talking points for your blog post.
This is slightly more long-winded than Jasper's "One-Shot Blog Post," and takes a few minutes rather than seconds, but it provides a very similar result.
The Winner
Jasper wins this round. It produces blog posts much faster than Copy AI with fewer steps from start to finish. Jasper's user dashboard is also clearer to read and easier to navigate, thanks to larger fonts, images, bold buttons, and well-thought-out use of color and contrast.
Jasper AI vs Copy AI: Support
Most of us accept that things can go wrong with anything that we purchase. However, it is the support that is on offer when this happens that makes all the difference.
Ideally, you want to be able to contact support teams at a time and use a method that suits you. So what do Jasper AI and Copy AI offer in the way of customer support?
Jasper AI
If you're having an issue with Jasper, hit the button on the bottom left-hand side of your page, and you will see the available support options. You can choose from:
Videos and tutorials
Ask the community
Join a live Q&A call
Chat support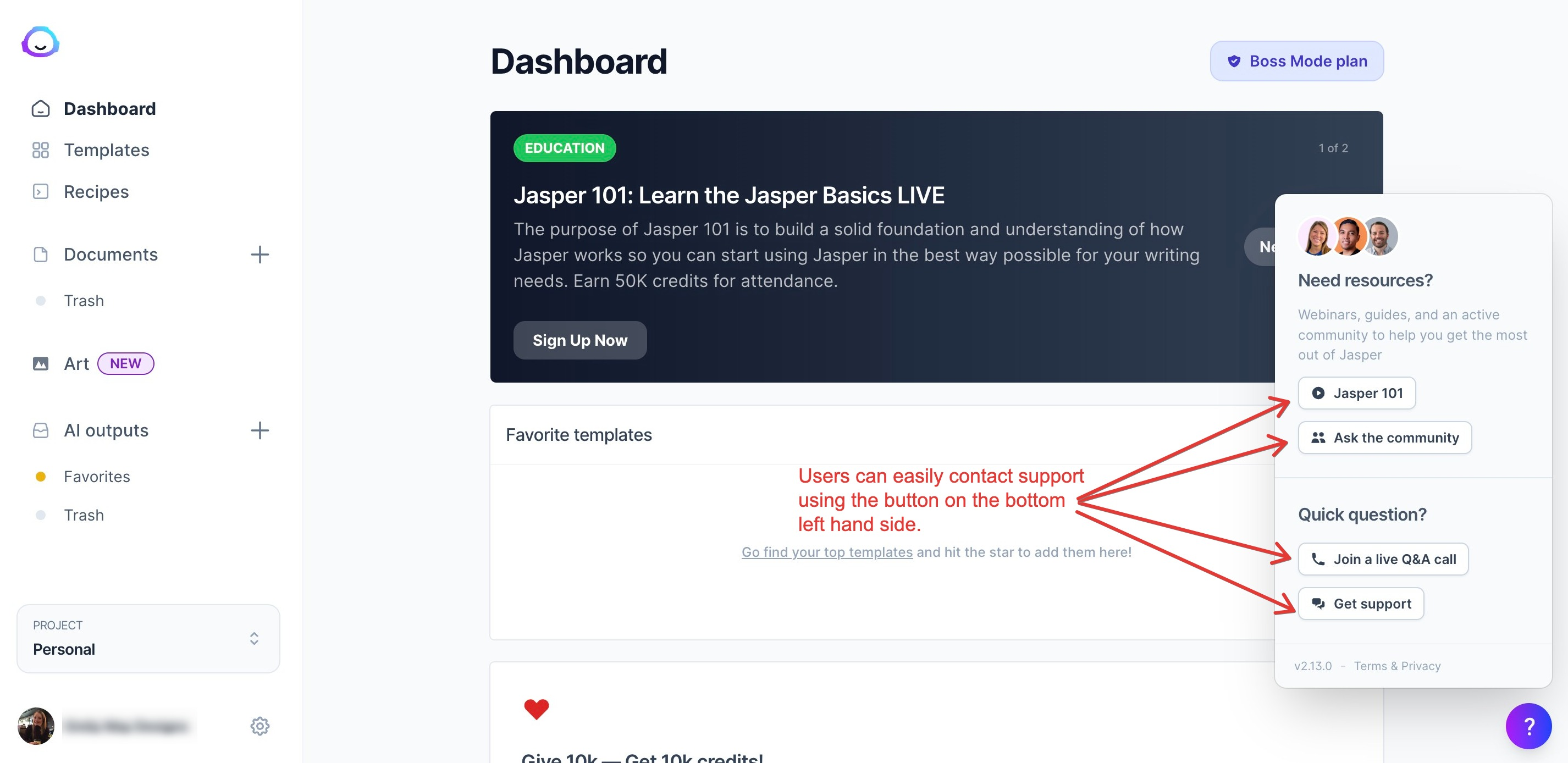 If you can't find the answers you need in the Jasper Bootcamp (Jasper 101), the chat support will be the quickest way to get in touch with someone who can help.
You can usually expect a response in a couple of hours, but be prepared to wait up to 8 hours if it's very busy.
Copy AI
Much like with Jasper, Copy AI users can easily access chat support from their user dashboard. Click the chat button on the bottom right, and you will see if support is currently available.
If they are not available right away, you will be shown exactly how long until support will be back online.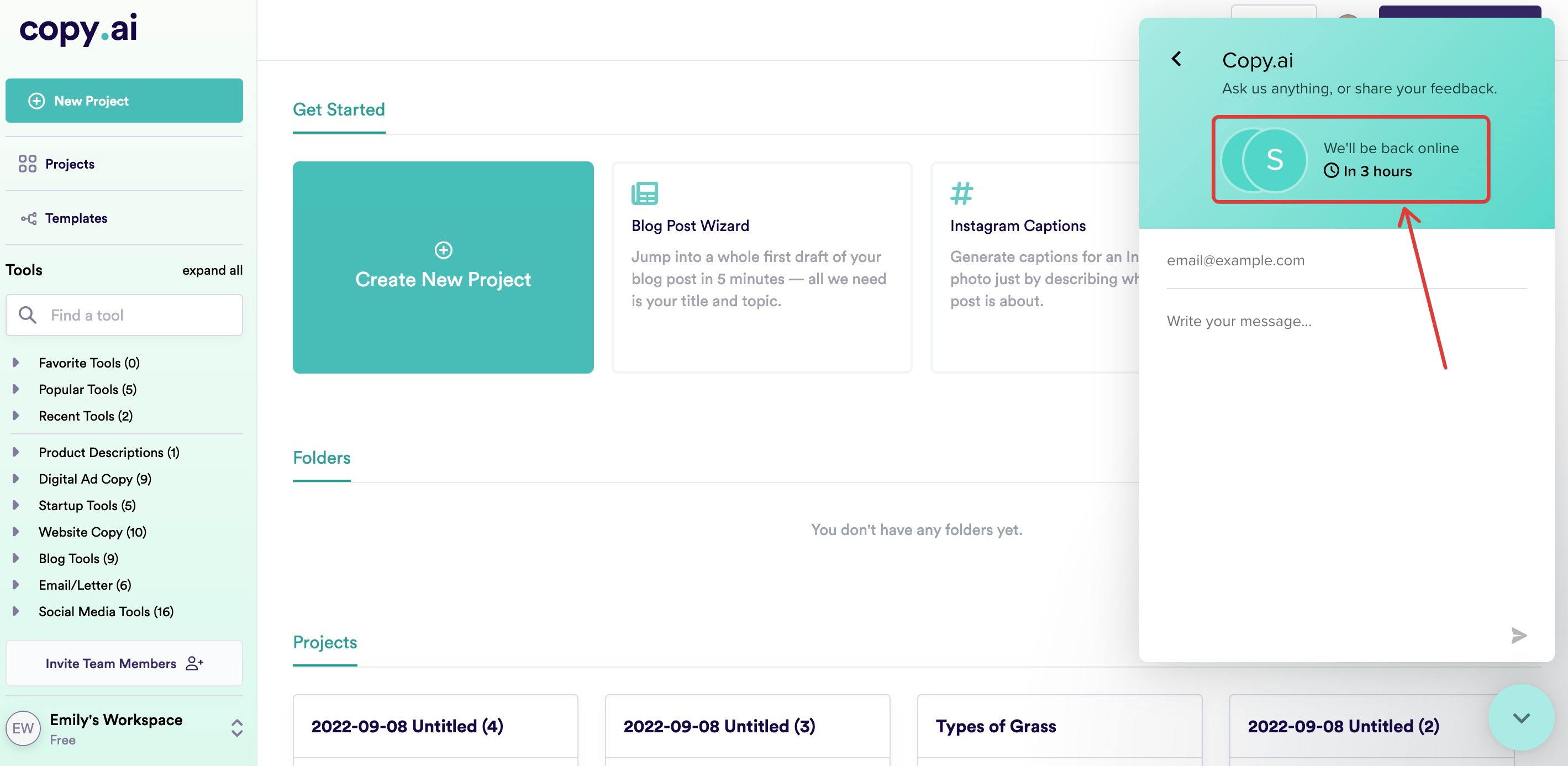 They are much more active on Twitter, and people seem to get replies quickly to any queries that they raise via the social media platform.
The CEO (Paul Yacoubian) has his DMs open, and people are invited to private message him if they have any questions.
The help section on Copy AI is pretty extensive, and they have a FAQ section on their contact us page also.
The Winner
It's a tie! Both Jasper and Copy AI can easily be contacted via email, and chat. They also both provide video tutorials and communities, where you will find quick answers to the most common questions.
Jasper AI vs Copy AI: Pricing
When it comes to pricing, both Jasper AI and Copy AI have different packages on offer.
Here, you can see the different plans and ensure that you pick the package that's best for you. After all, you don't want to be paying for either option if the package you have opted doesn't suit your needs.
Jasper Pricing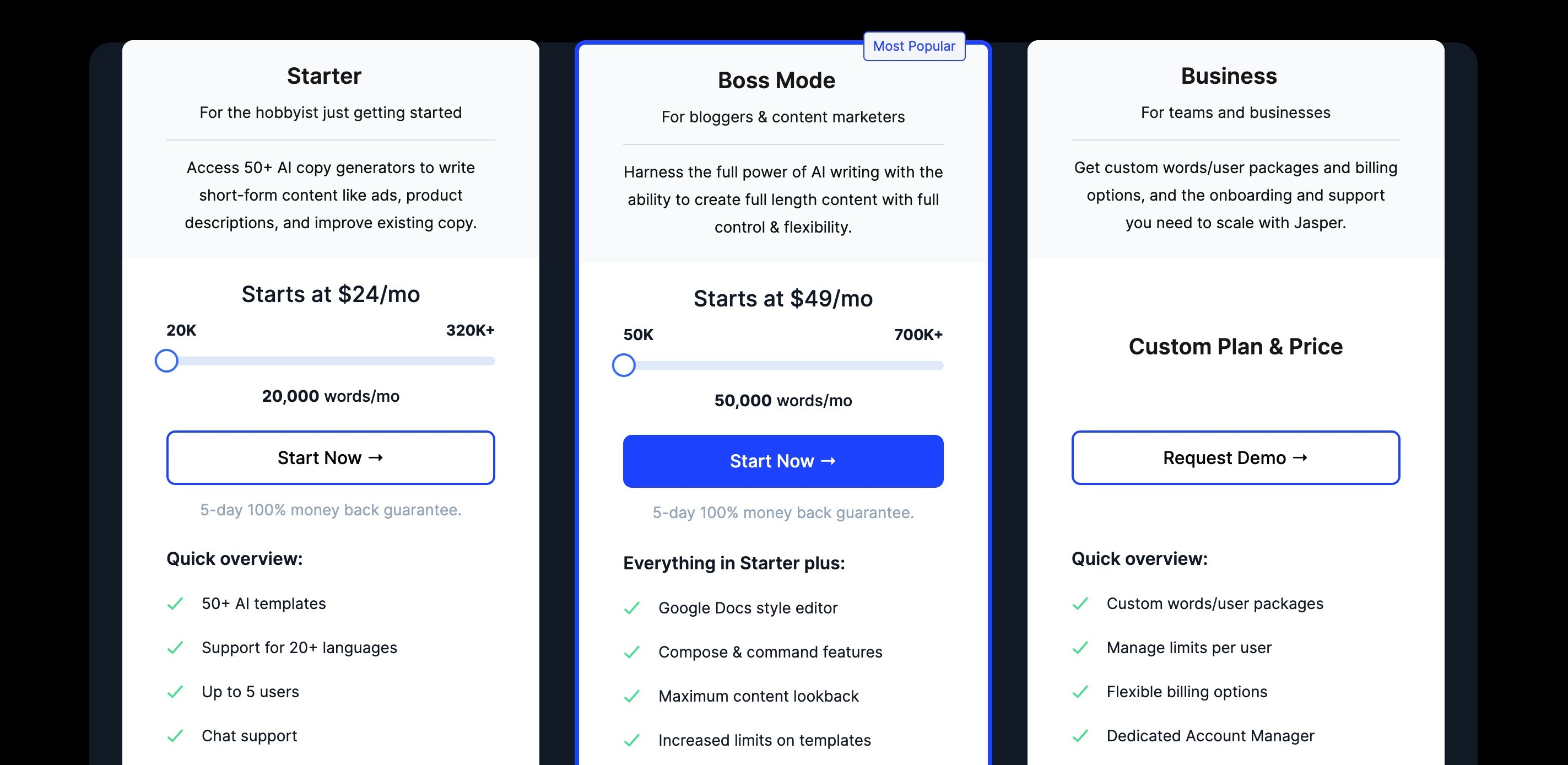 If you want to try Jasper AI, then it does have a free trial. The trial allows you to generate up to 10,000 words for 5 days.
After this time, you'll need to pick one of its packages if you want to continue:
Starter - From $24/month (discounted if you pay annually). This allows you to create up to 20,000 words a month and make use of all 50 AI templates and their editor software. The price will increase depending on how many words you want to generate each month.
Boss Mode Plan - From $49/month (discounted if you pay annually). The Boss Mode Plan allows you to create up to 50,000 words a month. It includes everything from the Starter plan, plus access to the Google Docs style editor, Command features, maximum content lookback, and priority chat support. You can use the sliding scale to check the pricing depending on how many words you want to generate each month.
Business - Custom Prices - If you need to create more words per month or need more support, then you can contact them for a custom pricing plan. You'll get an account manager and a series of onboarding and training sessions if required, perfect for digital marketing agencies and other businesses.
Jasper Art Pricing
Jasper Art is priced separately at $20 per user per month. This allows you to generate unlimited images every month.
Copy AI Pricing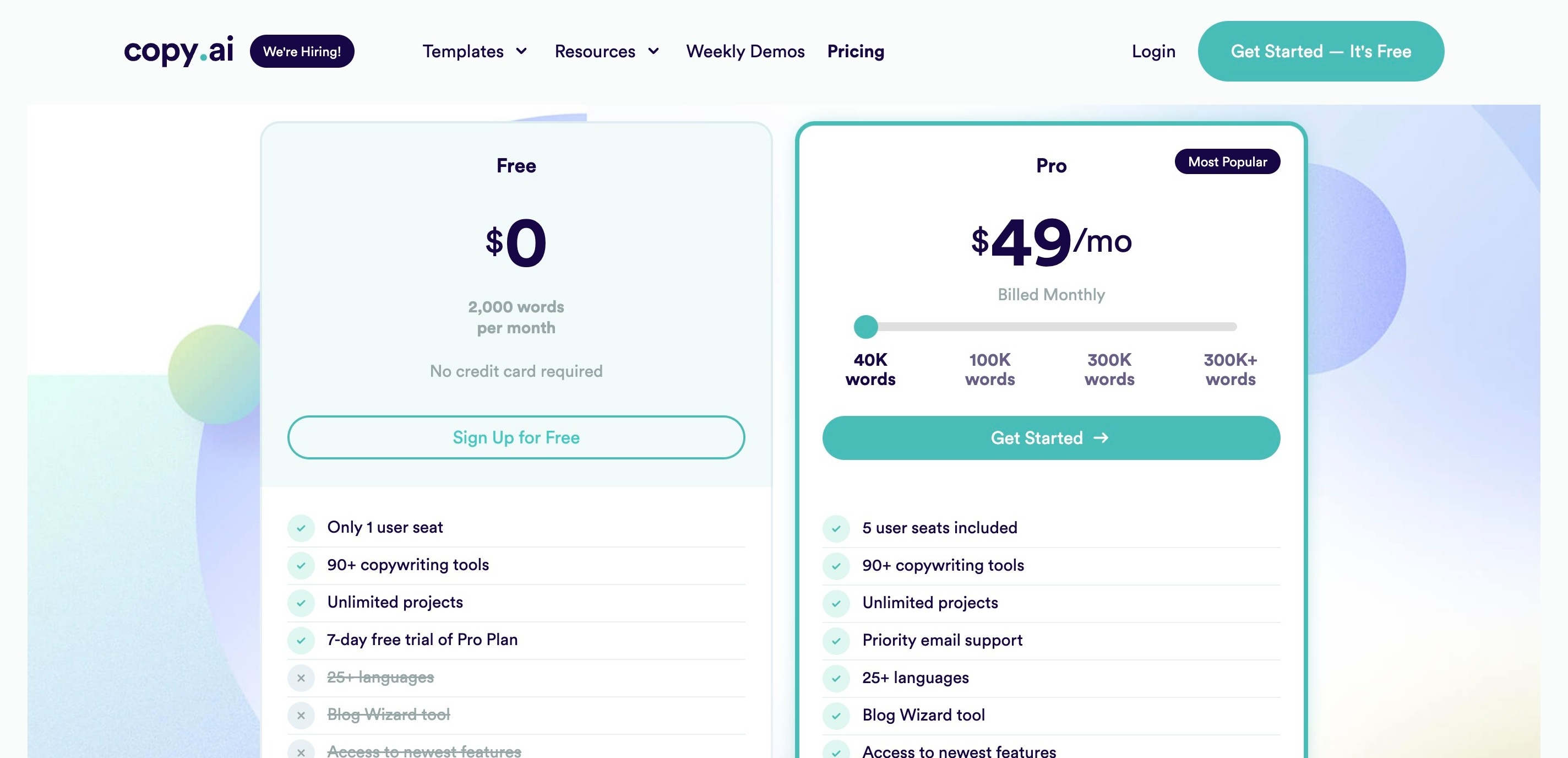 Much like Jasper AI, there is a free trial available where you can make use of their pro plan for no cost for up to 7 days. However, they do also have a free plan which you can use ongoing if you would like.
Free - Available at no cost, you get limited access to their tools and can generate up to 2,000 words each month on one user account.
Pro - Starts at $49/month for up to 40,000 words. The price increases from here depending on how many words you want to generate each month. This plan allows you up to 5 user accounts. It also provides full access to all tools, including things like their blog wizard tool.
Custom - For more than 300,000 words a month, you will need to get in touch for a custom pricing plan.
The Winner
Overall, Jasper works out to be cheaper. With Jasper, you can generate up to 100,000 words per month for $89. With Copy AI it would cost $99/month to generate 100,000 words.
We're giving Copy AI some extra points here, though, because they offer a free plan, whereas Jasper doesn't.
Jasper vs Copy AI - Which Should You Choose?
So, who's the winner in the battle between Jasper AI vs Copy AI?
… It's Jasper!
Not only does Jasper work out to be cheaper than Copy AI when it comes to generating large volumes of content, but it also offers more features. One of the best things about Jasper is that users can sign up for Jasper Art for an additional $20/month and create unlimited images to go with their content.
This is a real game changer for content creators and can save hundreds or even thousands of dollars a month compared to paying for stock photos.
And did I mention the quality of the images generated is insane?!!
However, that's not to say that Copy AI doesn't have some good points too.
If you're looking to generate lots of short-form content like product descriptions and social media posts, then Copy AI could be a good option for you. It offers a completely free plan too, which allows you to generate up to 2,000 words per month—perfect if you're just looking to test the waters with AI-generated content.
So, if you're looking to write long form content like blog posts, emails, newsletters, and stories, then Jasper is the tool for you.
Get a free trial of Jasper, and everything it has to offer here.
If you're looking to generate more short form content like blog title ideas, social media posts and product descriptions, you might prefer Copy AI. You can try it completely free here.
Want to learn step-by-step how I built my Niche Site Empire up to a full-time income?
Yes! I Love to Learn
Learn How I Built My Niche Site Empire to a Full-time Income
How to Pick the Right Keywords at the START, and avoid the losers
How to Scale and Outsource 90% of the Work, Allowing Your Empire to GROW Without You
How to Build a Site That Gets REAL TRAFFIC FROM GOOGLE (every. single. day.)
Subscribe to the Niche Pursuits Newsletter delivered with value 3X per week