The Downsides and Major Risks of Affiliate Marketing and What to Do About It
When you buy something through one of the links on our site, we may earn an affiliate commission.
Affiliate marketing can be a lucrative business.
In fact, it's how I was able to quit my job over 9 years ago and I've been building sites, products, and running various online businesses ever since.
However, when it comes to building a site like OwnTheYard.com (my Niche Site Project 4 site), it can be extremely risky.
An affiliate site that is reliant on Amazon for its earnings and Google for its traffic really is at the mercy of businesses that are out of your control.  
Today I want to take a look at both the upsides and downsides of affiliate marketing and then what I think you can do to eliminate some of that risk.
The Ups and Downs of Affiliate Sites
There is money to be made as an affiliate – no doubt about it.  I just recently shared my income report from my Niche Site Project 4 site that has been making about $3k a month for the past few months.  For a site that is less than 2 years old and requires almost none of my own time…I'll take it!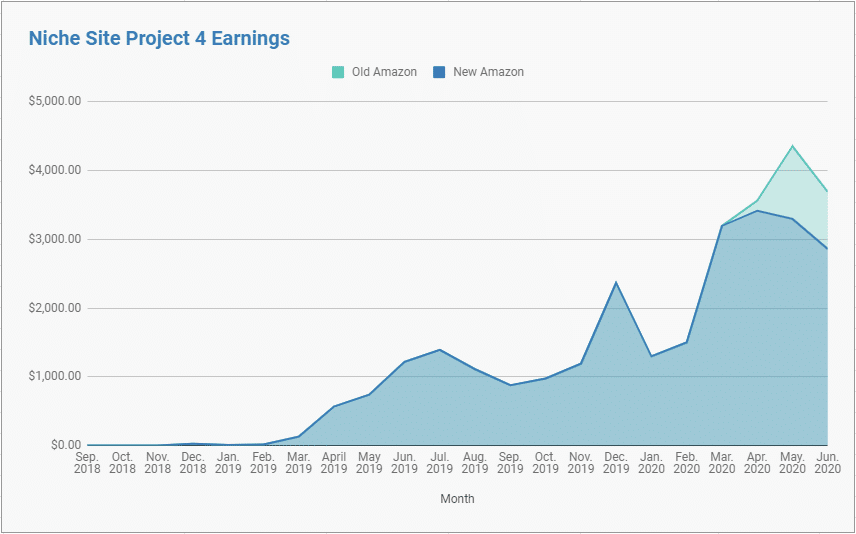 I will also say that I make significantly more as an affiliate on NichePursuits.com.  And here's where' I'd like to compare and contrast the 2 types of affiliate sites that you can run.
With OwnTheYard.com (and many other affiliate sites), I have no real position of power.  Sure, I have great rankings in Google and I make decent money as an affiliate and with Ezoic display ads.
However, when Google changes their algorithm (like they did in May), a site that gets most of its traffic from SEO can take a big hit.  Own The Yard saw a decrease in traffic.  (But fortunately, still get's close to 4,000 visitors a day). 
When Amazon decides to lower their commission structure, like they did in April, an Amazon affiliate site has no real control over that.  Sure, they can try to scramble and find other affiliate programs that pay higher – but it's a bit of a crapshoot whether you'll make more off Amazon or just sticking with Amazon.
Amazon pays commissions on the entire cart value and typically has a higher conversion rate.
Although Genius Choice Pages are one way to take the best of both worlds by letting you send visitors to multiple affiliates offers with one click.
However, when you stack the Google risk on top of the affiliate risk of Amazon – you end up with a compounded risk in your business.
Are you tired of feeling like you have no control over your business?  Here's what's worked well on Niche Pursuits.
How to Eliminate Some of Your Risk as an Affiliate
Audience. 
You need to build an audience.
The typical affiliate site is not building an email list and is missing out on a ton of opportunities.
I make pretty good money as an affiliate on Niche Pursuits.  I don't sell my own information products.  But I do recommend other software products, tools, or training that in turn pay me a commission.
My biggest source of affiliate income?  My email list.
If Google were to penalize Niche Pursuits so that it no longer got as much traffic tomorrow, I would still have my email list.
I've cultivated my audience on Facebook, Twitter, and even YouTube (trying to get better there!).
On the other hand, I have not built an email list for OwnTheYard.com and I know that many other affiliates haven't either.
I get it, the draw for me when I started was to have people visit my site, click somewhere else, and I just make money without ever having to interact with them or "nurture" them.  And I've made a lot of money doing just that.
However, I'm now WELL aware of the risks.  For all the positive case studies that you might hear about in the blogosphere, there are just as many failures.  And even the sites that were success stories often turn into duds after a year or two…and yet we never hear about those.
But if you build an audience and an email list, you have SO much more control.  You can start taking steps like I have on Niche Pursuits.  You can make even more money as an affiliate by recommending products to your email list (rather than just relying on affiliate commissions from your organic website visitors).
You can potentially take the next step of creating your own products and selling to your audience.
It probably doesn't come as much of a surprise that Long Tail Pro and Link Whisper (2 software products I've created) make more money for me than my affiliate commissions from Niche Pursuits.
But I couldn't have done as well with those software products if I hadn't built an audience on top of what originally started as an affiliate business.
Once you have an audience and a product, you can then de-risk your business away from Google and Amazon (or other people's products) by creating your own affiliate program.  You then can tap into other affiliates promoting your products.
I have something like 400 affiliates currently for Link Whisper that I've recruited over the past year.  As a result, referral traffic now accounts for a significant portion of Link Whisper traffic.
So, What's Your Risk Level?
Depending on what you are trying to accomplish with your portfolio, you might be just fine with a more risky affiliate website.  One that doesn't have an email list or one that you are not truly trying to build an audience.
For example, I certainly can't TRULY build an audience in every single niche that I go into.  I can't be the gardening expert, the running expert, and the crafting expert all at the same time.
So, while I know that I SHOULD be building an email list and truly nurturing the visitors that come to OwnTheYard.com, I have to make a choice.  Do I focus my time and energy on a business that is making about $3k a month?
Or do I focus my time and energy on a business where I've already build a significant audience, with significant traction, and that makes me significantly more money?
The answer should be obvious.
While I may try to start building more of an audience on Own The Yard, it will only happen through either outsourced labor or partnerships.  I'm not ready or willing to spend the time it needs to personally do the work required there.
So, you have to decide for yourself what your personal risk level is and your desire to put the energy and focus required to build an audience needed to lower your risk exposure.
While I love affiliate websites and will continue to buy, build, and grow them…it's now more of a "side hustle" for me.  
If nothing else, I hope that my thoughts here today have given you something to consider in your own business.
Want to learn step-by-step how I built my Niche Site Empire up to a full-time income?
Yes! I Love to Learn
Learn How I Built My Niche Site Empire to a Full-time Income
How to Pick the Right Keywords at the START, and avoid the losers
How to Scale and Outsource 90% of the Work, Allowing Your Empire to GROW Without You
How to Build a Site That Gets REAL TRAFFIC FROM GOOGLE (every. single. day.)
Subscribe to the Niche Pursuits Newsletter delivered with value 3X per week