Google and Amazon Love Me, Google and Amazon Love Me Not…
When you buy something through one of the links on our site, we may earn an affiliate commission.
Would these behemoths of the internet make up their minds?  
Do they love my site…or not?!
Google and Amazon appear to be all-powerful and that power has been on full display over the past couple of months.
First, Amazon decreases their commission rates…during a pandemic…because…Bezos money?
Next, Google rolls out a core update near the end of May, and I'm not gonna lie, my niche site took a hit.  Not a fatal blow, but a hit nonetheless.
So, after all this fire and brimstone from the internet "gods", I thought it was time to assess the carnage for OwnTheYard.com.  You know, my Niche Site Project 4 site.
I basically said that last time I did an update post, it was potentially going to be my last update post.  But I wanted to be transparent and share the bad that sometimes comes.
Affiliate marketing is hard, with lots of ups and downs.  But as you'll see in this full income report, it's not all bad.
I mean I still did make about $3k a month without really doing much :). It just could have been…oh, what could have been!
Income for Niche Site Project 4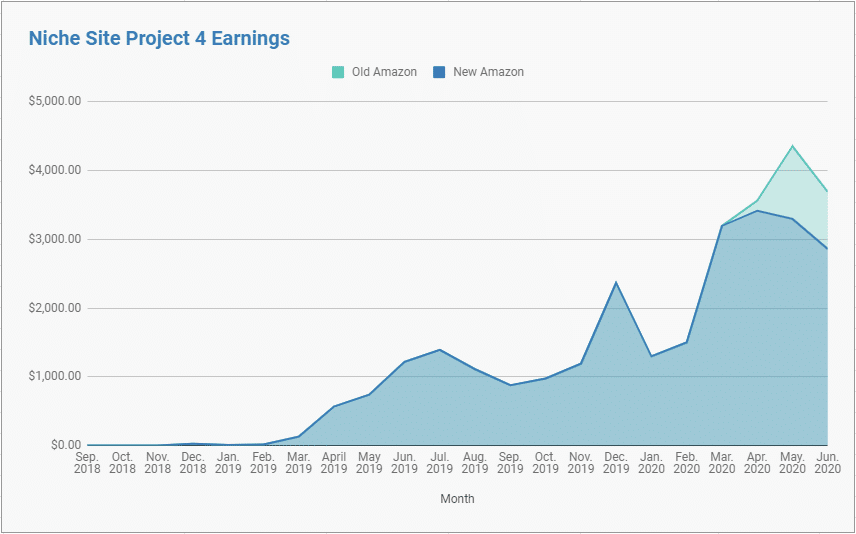 Total earnings for June 2020 – $2,857
The last report I gave was for March, where the site earned: $3,195.31.  So, on the surface, it would seem like the site has been fairly steady.
But so much has been going on below the surface!
Amazon Commission Change
As you know at the end of April, Amazon lowered its commission structure.
Thanks to Jon Gillham's handy spreadsheet, I was able to calculate what earnings WOULD have been had the Amazon commission rate not changed.
I included my chart below to show you exactly how much the old vs new Amazon rates impacted my earnings.
So, in May my Amazon earnings would have been about $1,000 higher and in June my earnings would have been about $800 higher.
As you can see roughly half of my earnings come from Ezoic display ads.  
So, I wished I could report that my site made $4,353 in May and $3,692 in June under the old Amazon rates – alas the new rates have a different story to tell.
If it wasn't just Amazon ganging up on us, it would be one thing…but Amazon invited the other heavyweight…Google…to try and deliver a knockout blow in May.
Let's see what happened.
Google Core Update
So in May, Google rolled out a core update.  Updates happen all the time, and unfortunately, we can't always predict what is going to happen.
Before the update, OwnTheYard.com was on a rocket ship directory in terms of traffic.  The site hit like 9k visitors one day in May and I thought this was going to be the new norm.
Well, Google had a different story to share.  (And also it should be noted that May is the peak season for backyard stuff).
Here's my Google Analytics for the last few months, so you can see what happened.
The traffic went from an awesome upward trajectory, to flat…almost overnight.  The traffic is now trending down, but it's really hard to know if that is a result of the Google update or partially attributed to seasonality.
Late April and May are definitely the peaks of backyard/gardening seasons.  So, I would have expected a slight downturn over the summer, but it's hard to know for sure.
Many of my keywords simply shifted from position #1 to position #2, or went from having a featured snippet to not having a featured snippet.  So, basically all my page 1 rankings are there, but a position or two in Google across lots of keywords can have a big impact.
My site still has dozens of #1 rankings for my chosen keywords, so it's not all bad.
Own The Yard still regularly gets more than 4,000 visitors a day, so that's a positive!
I just feel like without the tweak from Google or the Amazon lower commission – I'd be showing off much higher earnings…oh what might have been!
Ezoic Earnings and Information Content
I'm glad that 100% of my earnings are not reliant on Amazon.  A little over half of my earnings come from display ads on the site – powered by Ezoic.
However, lest we forget, we are in a pandemic.  Unfortunately, that has lowered the ad rates of advertisers quite a bit over the last few months.  In other words, Ezoic earnings would likely be higher if we were in a "normal" year.
However, because ad rates across the internet are more decentralized (than putting all my fate in Amazon), I've recently been focusing on publishing more informational content.  So, instead of writing a bunch of Amazon affiliate product articles, I've been having my writers focus on informational/educational articles only.
You can take a look at my recent content on OwnTheYard.com if you are curious about what I mean.
Plans Going Forward
Despite the one-two punch by Amazon and Google – my site is still standing.  I don't put any of my own time into the site.  I have writers and editors doing everything.
I'm now slowing down content production and so most of the earnings go directly into my pocket at this point.  So, an extra $2k to $3k a month without much of my own time is not the worst thing in the world that has ever happened to me.
I do still plan on growing the site.  But by the end of the summer and fall, the peak season will have ended.  As a result, I plan to focus more on link building over the next few months and see if I can get Google to "like" my site just a bit more again.
I'll keep you posted on how the link building goes.
But I hope that Own The Yard will have a great "offseason" as I have already written lots of content that peaks in fall and winter months (snow related gear, etc).
I'll keep making minor tweaks to the site, but no major changes to the overall strategy.
Thanks for following along!
Want to learn step-by-step how I built my Niche Site Empire up to a full-time income?
Yes! I Love to Learn
Learn How I Built My Niche Site Empire to a Full-time Income
How to Pick the Right Keywords at the START, and avoid the losers
How to Scale and Outsource 90% of the Work, Allowing Your Empire to GROW Without You
How to Build a Site That Gets REAL TRAFFIC FROM GOOGLE (every. single. day.)
Subscribe to the Niche Pursuits Newsletter delivered with value 3X per week