Pro Writing Aid Review: Features, Pricing, Alternatives, & More!
When you buy something through one of the links on our site, we may earn an affiliate commission.
Welcome to my Pro Writing Aid review!
It's a writing tool that flags grammar and spelling mistakes, and a few other special features to give you a nice little writing mentor. But will it improve your writing? This article will answer that.
You'll get the lowdown on all aspects of the Pro Writing Aid grammar tool.
And I'll leave no stone unturned to cover the good, the bad, and everything in between.
Try Pro Writing Aid For FREE Right Here!
ProWritingAid Review
Ease of Use

Stability

Features

Price
Summary
ProWritingAid is a great online editing tool. Its free version goes beyond most other grammar checker tools by also checking for readability. And it is actually possible to become a better writer as a result. If you're in the market for a Grammarly alternative, ProWritingAid is certainly a wise choice!
Pros
Less expensive than Grammarly
Lots of writing reports
Numerous integration options
Lifetime plans
Teaches and educates you along the way
Cons
No mobile app
Paid plagiarism tool
The free plan is minimal
What is Pro Writing Aid?
Pro Writing Aid is a grammar checker tool for (non-) fiction writers, bloggers, and really anyone else who writes content.
On its face, the software looks robust, slick, and packed with features.
You write content, and the software sets out to improve it. For example, if you make a spelling mistake, it flags it up with a red line under the word, and the same for style, flow, grammar, and engagement, and punctuation mistakes.
However, there are many more features that we'll get to soon, but to summarise:
Pro Writing Aid is like having an English teacher sitting on your shoulder, or should I say, that's the software's selling point.
Pro Writing Aid Main Features
Pro Writing Aid has artificial intelligence (AI-powered) grammar checker, numerous features, and 20 writing reports per month.
It can get a little overwhelming with all the reports, settings, and features, so let's dig a bit deeper and look at what they are and how they can help you.
Let's start with the main features:
Artificial Intelligence (AI) will ensure that you make fewer mistakes. It's a group of technologies working together to create a machine (software) that can act like a human and spot grammar mistakes.

Language Selection. You have five languages to choose from in the settings.
They are:
General English

British English

US English

Australian English

Canadian English
Integration. Pro Writing Aid integrates with Google Docs, Microsoft Word, Scrivener, Outlook, Open Office, and Final Draft. The software also has extensions for all the main web browsers such as Firefox, Chrome, Safari, and Edge.
Click here for more on integration.
Charts and Data. You get insights and graphs about your writing.

App. There's no official mobile app, but they have a desktop app.

Document Type. When using the web editor, you have a selection of writing settings. These include General, Academic, Business, Technical, Creative, Casual, Script, and Web — your writing suggestions and advice depends on the selection you use.

25 Writing Reports. The writing reports are what set the software apart from other grammar checkers. There are 25 as of counting, some you'll use regularly and others rarely.
Try Pro Writing Aid For FREE Right Here!
Pro Writing Aid Reports
The writing reports in the grammar checker software will highlight and focus on specific areas of your writing. Some are quick-fix reports, while others are more in-depth reports that analyze your content to improve it.
Here they are.
Real-Time
The real-time report is the main section of the writing tool where you will upload, paste, or write your content. You will receive real-time feedback (hence the name) as you write, just like in Microsoft Word, or immediately after uploading your writing.
Any grammar mistakes or suggestions to improve your writing will display a colored line under the word.
The colors represent:
Blue — grammatical errors

Red — spelling mistakes

Yellow — possible improvement to the style

Purple — highlights passive writing (not technically an error, but active writing is much preferred when writing
You can edit and write in real-time, and if you're a blogger or student, this will probably be the main area where you spend the most time.
If you hover over the colored suggestions (see image above), you will see a dropdown of replacement words; if you click on the suggestion, the word replaces the incorrect text in the document.
Summary
The summary report displays data for the following:
Writing Style

Length

Sentence Structure

Grammar

Pacing

Consistency

Sticky Sentences

Dialogue Tags

Repeats
You get graphs and charts for your data. The information provided is in-depth, and I've never seen a grammar tool that displays so much information.
Each summary report will score differently. For example, if you click on the 'Repeats' tab inside the summary report, you get a score for any repeated words you have and a recommendation to stay under a specific score.
The other tabs will give certain other scores, percentages, or grades and also advise you on each one.
Writing Style Report
The style editor report advises you on various sections of your writing to improve it. For example, it will tell you if you are producing weak writing.
For instance, using a passive voice, passive verbs, weak adjectives and advise you on subordinate clauses and sentence length issues.
I agreed with around 80% of their suggestions when using this report.
For example: If you look at the image below, you can see that the tool suggested that I eliminate or use a stronger verb instead of the word 'Probably."
I agreed with the suggestion and changed the sentence to the following:
The tool was then happy with my sentence structure.
This is basically what the style editor report will do for you. You can paste or upload your document, and the suggestions show up automatically.
Thesaurus
The Thesaurus is a handy tool that I (you probably will too) use more than I thought I would. The Thesaurus is used roughly once out of every three articles I write.
Sometimes, when we write a sentence, there are two words, which makes the sentence look a bit odd.
Take a look at the sentence below:
The word 'richer' doesn't look quite right, so you're often thinking of replacement words for them. That's where the thesaurus comes in handy.
When you hover over the word, it will give you a dropdown list of related words to use.
You then have the choice to select one of the replacement words.
This simple change can improve your writing skills by making it more accessible.
Overused
Some words weaken your writing, such as 'very,' 'just,' and 'that.'
Pro Writing Aid will flag these words in the content and advise you to use an alternative word. You don't have to replace the overused word if you don't want to, and there's a ignore button you press if you're happy to stick with the word.
When using the tool, I found that I would agree with their suggestion most of the time, certainly not all the time.
However, this report is pretty helpful when editing your work.
Grammar
The Grammar checker report will flag any obvious grammar errors in your writing. For example, when you paste your work into the software and select the report, it flags writing errors, whether its:
Spelling errors,
Grammatical errors,
Or words you've simply misused.
I like the Grammar report because you get a little orange icon to select, which explains why they recommend a specific suggestion, so it's learning you, rather than just giving you an alternative word.
Maybe, that's why it's like having a teacher on your shoulder?
The Grammar report also flags when they believe a sentence could be better structured.
Try Pro Writing Aid For FREE Right Here!
Combo
The Combo report allows you to run more than one report for your document. You go to settings, select the reports you want to use, and then click on the 'Combo' button, and the grammar errors will flag up for the selections you made.
When I use this report, I select about 4-5 of the reports because that's all I need for most of my writing; this makes it easier and faster to edit my work.
All Repeats
When writing, we can sometimes repeat words in the same paragraph. When I check a document in Pro Writing Aid, I often don't realize that I have repeated words until the software informs me.
Don't get mad wrong; sometimes the repeated words are ok, but other times they can make the paragraph sound strange.
Echoes
Echoes is similar to all repeats because it highlights phrases (and words) that echo (repetition) in a shortened space.
The grammar tool informs you if they think you are using repeated words close together.
Structure
The general feeling amongst readers and writers is that certain sections of your writing should be pretty similar in structure.
Pro writing Aid uses this report to tell you how many sentences are displayed in each section and advises you to keep the structure similar throughout the content.
Sentence Length
It's a good idea to make your sentences a variety of different lengths.
The software will flag up sentences they feel are too similar in length. In their opinion, and most professional writers, it's a good idea to keep sentence length varied throughout your content.
They're looking for a mixture of short, medium, and long.
Transition
Your writing should have transitions for at least  25% of the content. If it doesn't, your content can cause issues for those reading because it can become challenging to flow through the content.
The software will suggest transitions to make your writing better when writing or editing.
Readability
The readability report is a bit like the Hemingway editor in that it will score your writing on how easy it is to read based on a Flesch reading ease score.
Pro Writing Aid uses readability writing tools to provide you feedback on your content. As you can see from the image above, it gives a Flesch reading score.
Sticky
Sticky sentences include 'Glue Words,' making the sentence harder to read. Although every paragraph needs glue words, we should aim for a 40% or lower Glue Index score.
The sticky sentence report is a stand-out feature for me, and it does help to polish up your content and improve your writing online (check out our Grammarly vs Hemingway comparison for similar competitor features).
It takes away unnecessary fluff words – improving your writing skills in the longrun.
Dictation

The Dictation report highlights vague and abstract words and sentences in your writing. These are words and sentences that can be said with fewer words.
Pro Writing Aid will flag up words that can be simplified or changed.
For example, when using this report, the tool told me to use the word 'But" instead of "However.' Sometimes I hit the ignore button for some suggestions because I prefer the term I already have.
It's an excellent report to use because it will help you to simplify your writing, but sometimes it can be overkill.
Pronoun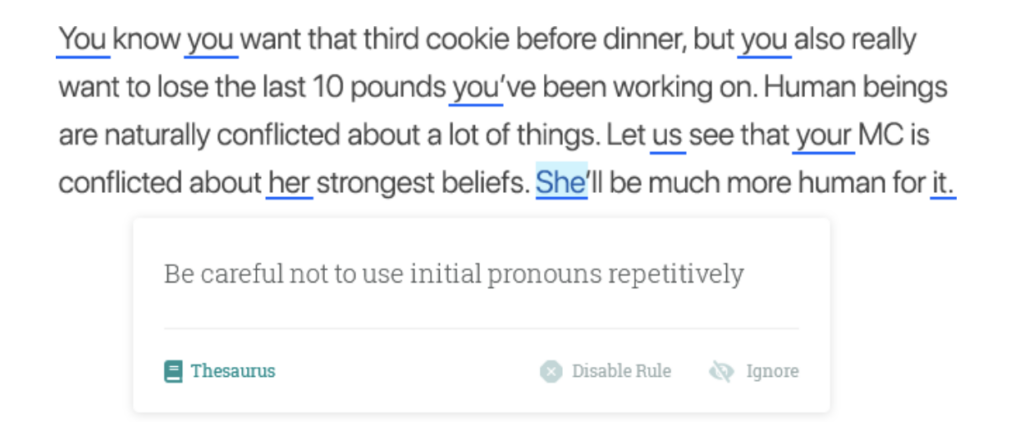 Pronoun words say, she did this, she did that, he said this, he said no, and so on. Unfortunately, using too many of these words can make your writing dull.
The tool will give you a recommended range to stay under when using pronouns for certain sections of your writing. For example, you have pronoun usage at the start of a sentence and throughout the content.
This report comes in handy because we sometimes become unaware of how many times we are using pronouns, so this does help you to polish up your writing.
Alliteration Analysis
What Alliteration does is highlight words that have a rhyming ring to them.
Such as 'for the following' or 'many as the most.'
We can often be guilty of overusing Alliteration, making our content sound unnatural. Some uses of Alliteration are acceptable, but when you read back your content, you'll probably come across sentences that sound a bit poetic.
If this is what you're looking for, fine, but for most of us, we don't want this in our writing — and that's where the Alliteration report comes in handy.
Homonym
You know the words that sound the same but have different meanings — like were and where, or knot and not?
Well, sometimes spelling checkers don't flag these as mistakes.
This report will help you to identify these kinds of words.
Consistency
The consistency report checks that you're using the same patterns in your writing. We can use different quotes at different times (curly and straight), and sometimes we might write a word with a capital letter, and sometimes we won't.
I often do this without realizing it, and it's not until I run the editing software that I notice the error.
This report will also ensure that you're not switching languages throughout your writing.
Acronym Report
If you ever write an Acronym that doesn't explain what it means or use them inconsistently, this report flags it up. It will also flag up any spelling or grammar issues.
This report comes in handy because spell checkers can ignore Acronyms, so it's good to know it's there if you need it; however, I rarely use this myself.
Try Pro Writing Aid For FREE Right Here!
Dialogue
You will use the Dialogue report to write fiction or assessments for creative writing. Most freelance writers who work for businesses won't use this as much, although that depends on the client.
The Dialogue report shows you how many dialogue tags you are using.
Pacing
This report is another one that's more suited to fiction writers. It informs you about the pace of your writing.
If you have long, tedious paragraphs, your readers can become bored, and that's what this report sets out to stop.
Sensory
Again, another one that's useful for fiction writers, although I sometimes use it to check my opening paragraph for content when writing for a client.
Sensory words will help you with using empathy in your writing. Using this report will tell you how many sensory words you have used throughout your writing. There are five sensory word types, and it's a good idea to use them in your writing.
Well, that's what the experts tell us!
House
The house report is where you can create your styles and reports. For example, if I always wanted to use 'sportsman' instead of 'soccer player,' I could do this in the house report.
It's like setting rules for your writing, and they will show up in your reports.
Plagiarism
The last report — jeez, there's a lot!
Plagiarism is where you copy other people's work, or you have written it similar to others. When writers research, we can be guilty of not wholly writing in our own words.
It's a mistake many newbie writers make without realizing they are doing it.
The Plagiarism tool checks your work against billions of web pages to check for similar writing and make sure you have cited other sources when needed.
Try Pro Writing Aid For FREE Right Here!
Who Is Pro Writing Aid Suitable For?
Pro Writing Aid is suitable for content writers who want to polish their writing skills. Microsoft Word may have a grammar and spelling writing tools but it's relatively limited.
If you're a fiction writer or need to send emails, letters, and reports, and you want to come across as knowledgeable, this grammar tool will help you.
On the other hand, if you don't care about the odd mistake because it's not your job, or you're only writing to a friend, etc., again, you can just use the free spell checkers inside Microsoft Word or Google Docs.
Is ProWriting Aid Good for students?
Yes, I would say this is one of the main reasons to use the software tool. If you're doing any kind of course (degree) in English literature, Creative writing, or any class really, using this grammar tool would be a wise decision.
Students also get a 20% discount.
Is Pro Writing Aid Good For Bloggers?
It can be, yes, although it's not essential.
I suppose it depends on how particular you are with your own writing and grammar mistakes.
One good reason to use the Pro Writing Aid editing tool if you're a blogger is when you write a blog to target a different country. For example, you could be writing for a UK-based audience, so a grammar tool will help you avoid mistakes such as using US spellings for a word, which is incorrect for UK audiences.
Try Pro Writing Aid For FREE Right Here!
Is Pro Writing Aid Good For Authors?
Yes, there's a wide range of extensive writing reports available, and if I'm honest, most of them aren't needed for most of us.
However, you'll probably use more reports than most if you're an author.
Pro Writing Aid is perfect for authors, and unless you are willing to pay for a professional online editor, this would be the best alternative.
How much does ProWriting Aid Cost?
Pro Writing Aid has two pricing categories with multiple prices inside those categories. For example, you have a price for individual use and team use.
You can pay monthly, quarterly, yearly, or lifetime, and there's also a free version!
Let's have a closer look.
Pro Writing Aid Free Plan
The free plan will allow you to use the 'real-time' and 'summary' reports without limits. All the other reports are available, but you will have a word limit of 500.
My experience with the free plan is that it can become frustrating because you can't use the addons, and for someone who uses Google Docs a lot, this can be a pain.
Try Pro Writing Aid For FREE Right Here!
ProWritingAid Premium Version
The premium plans start at $20 per month, or you can purchase a yearly plan at $79.
$20 per month is pretty expensive for the paid version of an online editing tool, and If you can afford it and want to use the writing software, go with the yearly plan, which works out to around $6.50 per month.
However, if you have a larger budget and like the software, you can purchase a lifetime subscription for $399.
There's also a premium plus plan, which includes 60 free plagiarism checks per year — this plan costs a few dollars more each month or year.
Side note: In today's world, as a publisher, you'll need to check for plagiarism and AI detection. For this, you can use OriginalityAI.
For Teams
The other pricing is for teams, which adds to the grammar checker software. In addition, you can create a style and writing guide for yourself or the workforce, integrate with help desk and chat software, and various other sales engagement apps.
A team license starts at $6 per month or $24 per month for three users.
Is ProWriting Aid worth the money?
I would say yes (for the yearly plan) because it's robust, full of features, and costs less than Grammarly.
There's also a free plan for those who don't wish to purchase a premium plan.
Is ProWritingAid better than Grammarly?
This question comes up all the time, and the following is my honest opinion after using both tools (free and premium plans.)
If you're looking for a free grammar checker, then Grammarly is much better than Pro Writing Aid. It integrates with Google Docs and seems better and easier to use.
However, Pro Writing Aid has the edge with the premium plans.
If we take the cost out of the question (although Pro Writing Aid is less expensive), you have two Grammar tools that work well.
Grammarly premium is probably a bit slicker and faster to use, but Pro Writing Aid is more feature-rich and feels better to use inside the main software.
I found that both Grammarly and Pro Writing Aid were glitchy when using Google Docs, although they both still get the job done in the end.
Ultimately, it will come down to personal choice, but in my opinion, I prefer Pro Writing Aid because of the sheer amount of reports.
Learn more in our ProWritingAid vs Grammarly breakdown here.
Plagiarism Tool
Pro Writing Aid has a plagiarism tool that starts at $10 for ten checks and rises to $100 for 100 checks and 1000 checks for $200.
If you use the premium plus plan, you get 60 free checks per year and premium plan benefits.
Pros & Cons For Pro Writing Aid
No tool is perfect, and Pro Writing Aid has advantages and disadvantages. Here is a list of each of them:
Pros
Less expensive than Grammarly

Lots of writing reports

Numerous integration options, including Scrivener and Google Docs (Premium Plan Only)

Lifetime plans

Teachers and educates you along the way
Cons
No mobile app

Plagiarism tool cost extra money

The free plan is minimal
Pro Writing Aid Review Final Thoughts
Whether you're a professional writer or not, having a grammar tool is a wise decision.
It helps you to avoid embarrassing grammar and spelling mistakes and will improve your writing.
If you're after a free option, I will lean towards Grammarly; however, if you want a premium solution with all the bells and whistles, Pro Writing Aid is a dream come true.
There are many writing reports included, and I have touched on them in this Pro Writing Aid Review, but you probably won't use them all if I'm honest.
However, the reports are handy to be there if you do need them, and this, the relatively low price, and the integration options make the grammar tool a no-brainer.
Want to learn step-by-step how I built my Niche Site Empire up to a full-time income?
Yes! I Love to Learn
Learn How I Built My Niche Site Empire to a Full-time Income
How to Pick the Right Keywords at the START, and avoid the losers
How to Scale and Outsource 90% of the Work, Allowing Your Empire to GROW Without You
How to Build a Site That Gets REAL TRAFFIC FROM GOOGLE (every. single. day.)
Subscribe to the Niche Pursuits Newsletter delivered with value 3X per week