ProWritingAid Vs Grammarly: Which Grammar Checker Tool Is Better?
When you buy something through one of the links on our site, we may earn an affiliate commission.
ProWritingAid vs Grammarly is a clash between two of the best grammar checker tools in the market.
Both identify issues in your document and provide you with suggestions to correct them, if not make it even better.
However, which one of the two is right for you and your writing style?
In this ProWritingAid vs Grammarly post, we will pit both tools against each other and figure out their strengths and weaknesses.
At the end of this article, you should be able to make an informed decision as to which tool you should use.
Try Grammarly for Free Here!
What is ProWritingAid?
ProWritingAid is an online editing tool that focuses on checking your document's grammar and style. It uses artificial intelligence to detect these issues as you write the article.
You can download the free version of the grammar-checking tool as a Chrome extension for starters. However, you are given a limited number of words to edit.
At this point, you should get one of their paid subscriptions if you enjoyed using the tool.
Once you've signed up for one of their plans, you can analyze and edit as many words as you want.
More importantly, you can get access to their Web Editor and enjoy its wealth of features. We will discuss the best ones later.  You can also read our full Pro Writing Aid Review.
Try Pro Writing Aid for free here.
How to use ProWritingAid
Log in to your account and access the Web Editor. From here, you can upload the document you want to edit or paste your content on the blank page.
Once it's up, ProWritingAid will do the hard work for you.
As mentioned, the tool works as it spots grammar mistakes in your article.
All grammar and spelling mistakes are underlined with a different color. Hovering over these words or phrases will show you suggestions on how to eliminate them, if not make them better.
You will also see why the tool tagged it as a mistake. This is a great way to learn how to write the right way and enhance your writing skills while fixing grammatical mistakes.
ProWritingAid provides you with a way to check your article's score by clicking on the Summary button.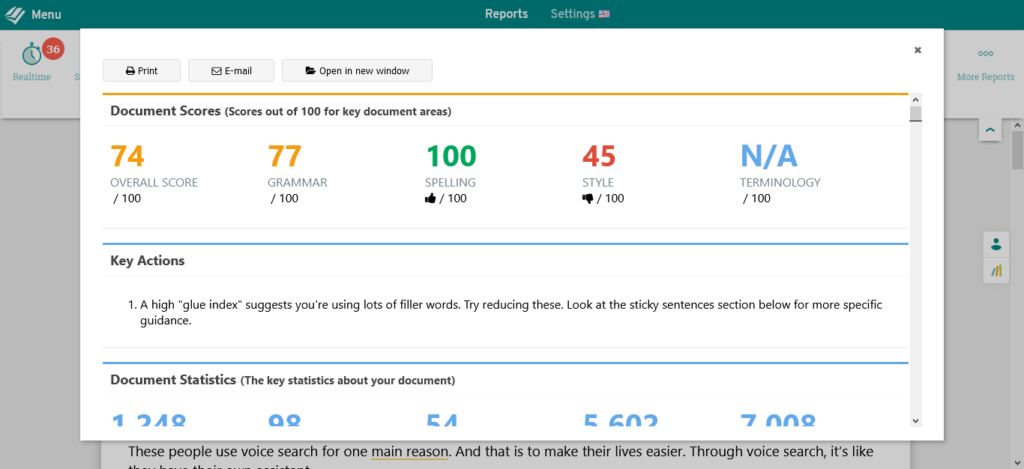 The tool grades it by combining the average scores of its style, grammar, and spelling.
The higher the grade you get, the more correct the article is. That said, strive for the highest grade you can get from the tool!
Now, if you are running a writing team, you can use the reports feature to create a PDF file of the summary or send it to you via email before forwarding it to the writer.
This way, they have a better understanding of why their content isn't up to standard, what the problems are, and how they can improve it.
Finally, you can leverage the score to ensure that writers submit the best possible content before you hand them off to clients.
At the same time, you can use the score to provide clients with proof that your articles are up to snuff.
For Google Docs lovers, you can download ProWritingAid as a Google add-on to catch grammar and spelling mistakes.
The difference is it doesn't edit your content in real-time. You have to access the summary report to see your score.
Nonetheless, the tool works great as an editor after writing your article. You can break down the content using the different checks offered in the add-on.
For Microsoft Word users, you can install it as an add-on and work on your articles from the app.
Similar to the Google Docs add-on, it's best to access ProWritingAid once you're done writing the content on MS Word. This way, you can make the final touches before saving the article and submitting it to clients.
Finally, if you want to check if a writer copied and pasted content on the document, then you must purchase the Premium Plus plan instead.
They are a bit more expensive as a result, but they're worth every penny if you're looking for a plagiarism checker software.
What is Grammarly?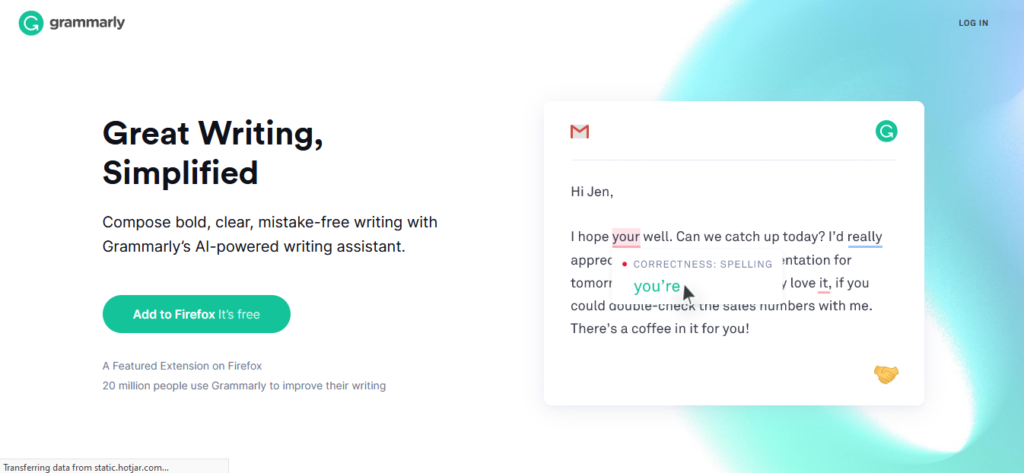 Grammarly is an ai powered writing assistant and online editing tool that simplifies the writing process for you. Even if you're not a good writer, the tool nonetheless helps flesh out your ideas with the help of its AI-powered suggestions to fix your grammar and sentence structure.
Spencer has published a Grammarly Review before in this blog, so I suggest you check it out before moving further down the article.
Sign Up for a Grammarly Account Right Here
Improve Your Grammar and Sentences Using Grammarly by Clicking Here
How to use Grammarly
You can sign up for a free version of the tool before installing its Chrome extension or Firefox add-on.
And with over 10 million downloads and a 4.5 rating from 38,000 users, you can't go wrong with this tool!
Once activated, the Grammarly extension will indicate the errors by underlining the words or phrases in question. Hover over these words to see the issue and suggestions on how to fix it.
The free version is good for catching grammar and spelling mistakes if you write sparingly, such as sending emails, posting social media messages, and the like.
However, the free version doesn't dig deep into other writing factors.
For professional writers, they need these details to provide the best-written content for their clients and brands.
If so, then you need to upgrade from the free version and subscribe to Grammarly's paid plans.
The Premium version is perfect if you create content for a living. The Business plan is best for people who manage a writing team.
Once you sign up on any of the paid plans, upload the document file or paste the text you want to edit on a blank document in the web editor. The tool will process the content and provide over 250 checks to help improve your content score.
While editing the content, you will also see its score as it increases every time you make a correction.
But before you edit your content using Grammarly Premium, you can set the goal of the article.
By identifying the intent, tone, and target audience of the content, among others, you get suggestions tailored to its purpose and more context-sensitive style suggestions.
If you manage a writing team, you can download a PDF file of the report and share it with your writer.
From here, they can follow the suggestions in the report for fixing grammar, such as passive voice and repetitive words, to improve their content.
Aside from Grammarly's web editor, you can also download the desktop app of the tool.
It works the same as the web version. But the difference is you can't create reports from the desktop app.
If you write your articles using Google Docs, you can also edit your content from the installed Chrome extension or Firefox add-on.
However, the Grammarly integration with Google Docs is still in beta stages. Therefore, it doesn't offer the depth of editing found in the web version.
Finally, fans of Microsoft Word will have their hands full with the Grammarly add-on. It works the same way as the desktop version.
Grammarly's plagiarism checker is a great way for writers to ensure their content is unique and original. With it, you can compare your writing against over 8 billion web pages and documents on the internet.
ProWritingAid Vs Grammarly – How are they similar?
Just from their use cases, as detailed above, the core features of Grammarly and ProWritingAid are virtually identical.
The tool spots grammatical and spelling mistakes for you as you write, thanks to their powerful AI, so you can edit as you go.
And they share many of the same features.
ProWritingAid Vs Grammarly – How are they different?
We can hem and haw our way to the most minute of details that render one unique over the other.
However, the real test comes with how they process the articles based on their AI engines.
From here, you will see how different one is from the other.
To do this, I'll let Grammarly and ProWritingAid analyze the same text and look at what writing errors they find in the article.
Here's the score that Grammarly gave the article:
Here's what ProWritingAid thought of the same article:
Interestingly enough, Grammarly Premium identified 83 issues (9 critical, 73 advanced), while PWA saw 67 problems with the article.
So, how is it possible for a tool that spots fewer errors than the other gives a much lower score?
To know this, let's check all the errors both apps identified.
Looking at the Writing Style Check, ProWritingAid is hellbent on keeping your word usage as simple as possible.
For instance, most of its writing style suggestions recommend that you eliminate adverbs to improve the article's readability.
However, there are instances when removing the adverb doesn't make sense in the context of the sentence.
From here, you'll see that, as sophisticated as these grammar checkers are, they don't always make the right suggestions. That's why it's vital to double-check and see if the suggestions for grammatical errors are correct before making the change.
Going back to what ProWritingAid offers, its style checker is very rigid.

In the screenshot above, the issue in question isn't incorrect, although the app thinks otherwise.
To be clear, it's not saying that the phrase is wrong. It just thinks there's a better way of saying things.
Now, this may probably be true. But at the same time, it forces writers to rethink their style and bend to the will of the app.
Some writers may find this okay, but others prefer a certain style of writing, something that ProWritingAid may not agree with.
Jumping to Grammarly Premium, you won't see this issue.
In fact, it doesn't detect some of the style issues that ProWritingAid picks up.
Instead, it picked up on some more complex issues that ProWritingAid didn't see:
Also, Grammarly does its best to help diversify the vocabulary of your article by suggesting synonyms for overused or general words.
Unlike ProWritingAid, Grammarly isn't too in-your-face with its suggestions for correcting grammatical errors. Even if you don't apply most of the advanced suggestions, your article can still reach a score of over 90.
Now, a high grade for your article doesn't necessarily mean it's a great one. Nonetheless, it is an indicator of an article with few to no grammar mistakes, which is everything you could ask for from a grammar checker tool.
A Key Difference Between ProWritingAid Vs Grammarly
And if you're not too keen on revamping your article to please the demands of an editing tool, then Grammarly is a better choice for you.
So, therein lies the difference: ProWritingAid offers a more heavy-handed approach to editing and grading a document, while Grammarly is the more lenient of the two grammar checkers.
This does not mean one is better than the other. It just goes to show how different each of them are.
From here, you will have ideas as to which of the best grammar checkers is for you (and also make sure to check out our list of the best tools for writers).
What's better about ProWritingAid?
Judging from the comparison above, what ProWritingAid offers may not be for everyone. But there's still a lot to like about it.
Below are some of the things that people will enjoy most about this grammar checker software.
Stabler integrations
If you're a frequent user of Microsoft Word and/or Google Docs, then you will find ProWritingAid grammar-checking tool more useful as a result.
It's much easier to edit your articles from both apps with this tool as an add-on.
Just choose which factor you want to check, and the tool will identify the grammar issues for you in a few seconds.
Make the necessary changes suggested by the spelling, grammar, and style editor reports of the proofreading software as you see fit. Ensure that you don't just implement the suggestions without thinking about whether or not the suggestion is correct.
Once done, apply the changes to save the revised version of the document.
Again, it's much more convenient to have the app running in real time so you can correct yourself as you write.
But in this situation, ProWritingAid proves to be the far superior grammar checker software.
Not to mention, it seamlessly integrates with other tools like Microsoft Edge, Scrivener, Open Office, and more.
The only thing ProWritingAid is missing is a native desktop app. However, given the multitude of integrations, I don't think it really matters at this point.
In-depth reporting
If you love crunching data and numbers, you'll love ProWritingAid's summary report.
Some may think the reports are excessive, and you need to focus on a handful of factors to improve your article with this proofreading software.
That may be true in most cases, but you can't deny that analyzing your writing style and habits is made much easier by this app and its more in-depth reports.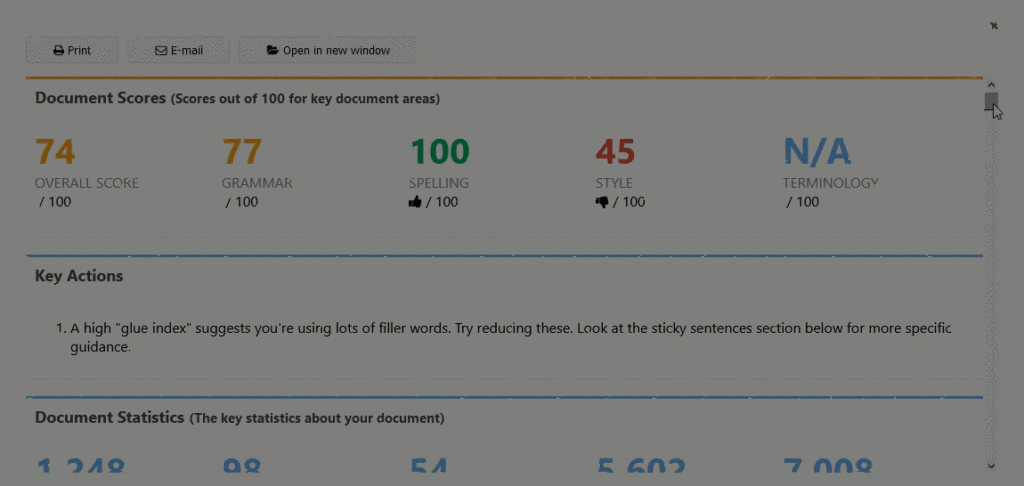 For example, there must be variation in the length of your sentence to further engage the readers. ProWritingAid manages to visualize the data of your first 100 sentences to give you an idea of how you write.
Also, I like the fact that the app compares you to ProWritingAid users with each factor.
This gives you a sense of responsibility to improve your writing and pride whenever you score higher than the rest.
More affordable
Compared to Grammarly, ProWritingAid is relatively cheaper but just as effective if used correctly.
For $20 per month, you can enjoy almost all of its premium features so you can produce better content for your clients and on your websites.
The price gets even better if you decide to purchase the annual plan, as you get a 67% discount compared to paying for the tool monthly.
To top it all off, you can own ProWritingAid for a lifetime with a single purchase. This way, you don't have to worry about recurring expenses – all you need to focus on is writing the best content possible using this grammar checker.
What's better about Grammarly?
As good a tool as ProWritingAid is, Grammarly is no slouch either.
In fact, of the two grammar checkers, there are things that Grammarly does better than its competitor.
Below are some of the advantages of using Grammarly Premium:
Simpler and more intuitive
My gripe about ProWritingAid is how clunky it can get.
Aside from its extension and add-on, making it work properly feels like a chore.
As mentioned, there's a lot of factors that you can check on your document. From a writer's perspective, the options can be overbearing.
This is where Grammarly shines. It delivers the most vital data about your content in easy-to-digest bits of information.
Using its premium version, you can find the issues organized into four sections:
And whenever you fix the problems in the document, like passive voice and others, it shows here whether the content is unclear or just right, for instance.
In relation to this, you can apply the changes by clicking on the suggestion – no need to click another button to confirm!
Judging from my time using Grammarly, I prefer most of the suggestions it provides as opposed to ProWritingAid.
I like how it's able to analyze not just words and phrases but actual sentences and offers ways on how to improve them.
Faster extension and add-on
Grammarly trumps ProWritingAid when it comes to its browser extensions.
If you edit using the ProWritingAid Chrome extension or Firefox add-on, the computer slows down because the tool is processing your text to deliver the suggestions.
The more words your document has, the longer it will take for the tool to give you its suggestions.
The Grammarly Chrome plugin and add-on does the exact same thing. The only difference is it does it faster and more efficiently.
This way, you don't have to worry about your computer freezing up when writing online using Grammarly.
Flexible
Another feature that I appreciate about Grammarly is it doesn't try to take away the character of your writing (check out our Grammarly vs Hemingway comparison).
It is focused on cleaning up your grammar and providing you with suggestions to make your article tighter and more succinct.
Thanks to its Tone Detector, the tool adapts to the writing style that you want for your document.
The same can't be said about ProWritingAid, as it analyzes all articles with the same standards without taking into consideration the objective of the article.
Who should get ProWritingAid (and why)?
ProWritingAid is better suited for book and journal writers.
Given its wide range of advanced writing checks and more in-depth reports, ProWritingAid is more than just a grammar checker tool.
It also breaks down your article into tone, readability, diction, alliteration, homonym, and others!
For freelance writers who don't need this much data about the content, ProWritingAid could be too much to handle.
However, if you're serious about your craft and want to delve deeper into your writing habits, then ProWritingAid is as good a grammar and writing tool can get.
Who should get Grammarly (and why)?
Online writers will have much more use for Grammarly compared to any other tool.
The selling point of Grammarly is its simplicity and straightforwardness.
You can make changes to your written work on the fly using its browser extension and/or add-on.
For example, if you're writing a tweet or a status update for your audience to see, you want to make sure that it's grammatically correct before you hit Send.
And Grammarly does exactly that.
While ProWritingAid also has both, it tends to unnecessarily slow down your computer that it renders the tool useless.
You won't have this problem using Grammarly.
Write Better Content Using Grammarly Premium Right Here
Sign Up for a Grammarly Premium Account by Clicking Here
ProWritingAid vs Grammarly: Who wins?
Grammarly and Pro Writing Aid are two of the best grammar tools in the market, bar none.
In this ProWritingAid vs Grammarly review, we have discussed their respective strengths and the type of writer who will enjoy one or the other.
To be clear, you can't go wrong with either tool as long as you play to the things they do well.
Therefore, and I don't mean this as a cop-out answer, but everybody wins!
For writers who need a quick and easy app to help them spot errors in their content, then Grammarly is their tool.
For serious fiction writers and academic writers who want a tool that will drill down on their writing, then ProWritingAid is their best bet.
To be fair, there's something that writers will love from either app – it's just a matter of finding out what works best for you and your writing skills.
And for more, check out our comparison between Ginger vs Grammarly.
Want to learn step-by-step how I built my Niche Site Empire up to a full-time income?
Yes! I Love to Learn
Learn How I Built My Niche Site Empire to a Full-time Income
How to Pick the Right Keywords at the START, and avoid the losers
How to Scale and Outsource 90% of the Work, Allowing Your Empire to GROW Without You
How to Build a Site That Gets REAL TRAFFIC FROM GOOGLE (every. single. day.)
Subscribe to the Niche Pursuits Newsletter delivered with value 3X per week