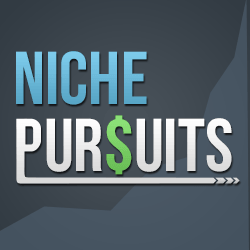 Perrin and I are happy to bring you episode 63 of the Niche Pursuits podcast. We took a bit of a break while Perrin took the plunge and joined the married club!  That's right, Perrin got hitched recently…wedding gifts still welcome!
We're back and and excited about today's episode which will be part 1 of a 5 part series on how to bootstrap a software business.
Along the way, we will look at my software company, Long Tail Pro and how it became my most successful venture and we'll also tell you, the listener, how to go out and start your own successful software business.
Perrin and I discuss the advantages of a software business. The advantages include huge profit margins, being able to create once and sell an infinite amount of times without major ongoing costs, and finally you do not have to be a software developer yourself to create a software company.
The downside is it can require more in-depth market research and more upfront investment.
Want To Build Smart & Relevant Internal Links...Quickly?
Link Whisper is a revolutionary tool that makes internal linking much faster, easier, and more effective.  It makes it simple to boost your site's authority in the eyes of Google. You can use Link Whisper to:
Bring out your orphaned content that isn't ranking

Create smart, relevant, and fast internal links

Simple yet effective internal links reporting: what has lots of links and what pages need more links? 
Click here to revolutionize your site's way of doing internal links
When you think you have an idea, research is so very important. Research what already exists and if your idea isn't different in some way then it's likely no better than what's already out there.
Three key ways to validate your software development ideas:
Solve your own problems. Long Tail Pro was developed because I was frustrated with limitations I encountered on other keyword research software.
Be different from your competition. While there will be similarities, some aspect of what you develop needs to be different from the competition. It's important to note that buying decisions made by the consumer are based on those differences.
Find out if your competition is making money. We discuss some tips on how you can learn if they are financially successful.
Software development can be an amazing business. In the next part of our series we'll talk about how to hire somebody great to be your software developer.
We'd love to hear your software ideas or learn about any cool software businesses that we may not know about. You can always send us an email or leave a comment below. If you enjoyed today's episode please leave a rating on iTunes right here. Thanks!
---