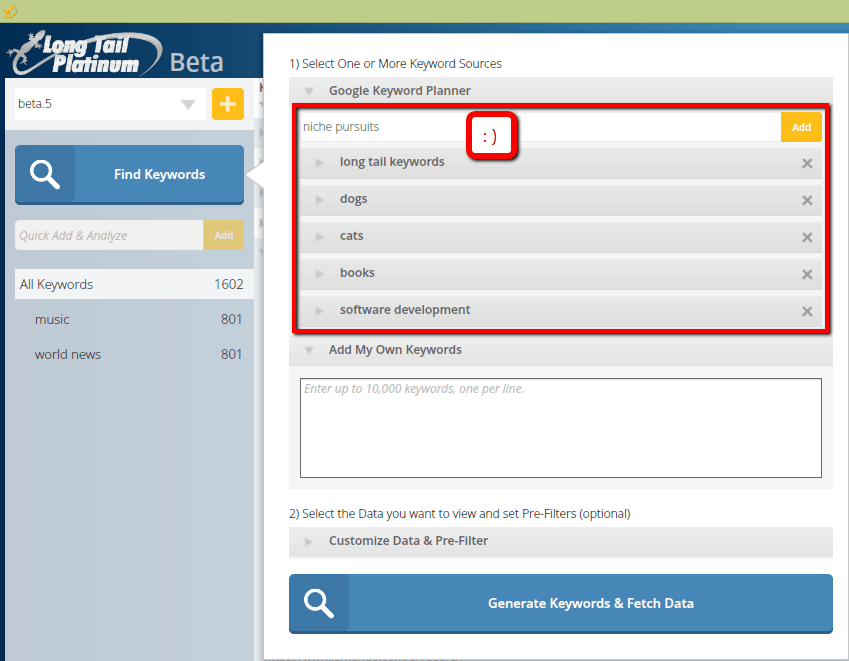 I have been running a successful software business for over 4 years now.  However, up until this point, I have not taught others how they can get their own software business off the ground.
The time has come for me to share how to bootstrap a software business and the MANY lessons that I've learned along the way.
In addition, it's time to tell the story of Long Tail Pro.
As many of you know, I am the founder of Long Tail Pro; a keyword research software started in 2011.  What you may not know is how successful this business has been for me.
I have had success in several different business ventures including:
However, Long Tail Pro has been by FAR the biggest success story of all my businesses.  As a result, I think it's time I finally give a little more insight into the business, why it's been successful, and some lessons learned.
Welcome to the Software Building Series!
Long Tail Pro has been around for over 4 years.  I purchased the domain LongTailPro.com on June 2, 2010 (the software actually launched in early 2011).  Because the business has been around so long, I can't possibly cover everything in just 1 blog post.
As a result, I will be writing a series of at least 5 blog posts to cover the story of Long Tail Pro, but more importantly the steps I followed to bootstrap a successful software business.
Hopefully you can follow these same steps to launch your own software business.
In general, here are the topics of the blog posts in this 5 part blog series:
1. Think: Make Something Useful and Better
2. Develop:  Hire Great not Cheap. (Update: Part II is now here: How to Hire a great software developer for your bootstrapped business)
3. Launch: Bootstrap using email list and active communities
4. Connect: Grow with content
5. Expand: Grow exponentially with promotions and funnels
Along the way, I will be sharing what all of you have been waiting for: income numbers!  I won't promise that I will share ALL the income for how the business is doing currently, but I will be sharing some historical income numbers to give you an idea of how the business is doing now.
I will be very clear: the business is larger now than it has ever been, and I expect the growth to continue.
Why Software?
So, you are thinking about bootstrapping a software business?  First of all, "Congrats!"  I think a software business offers a lot of advantages over other businesses that I think are important to point out.
First of all, software can have very high profit margins.  Especially if you are selling the software online or through instant download, the product cost of "shipping" one more piece of software is basically zero.
This is obviously NOT the case for businesses involving physical products.
On the same note, software is essentially something that is created once, and then can be sold an infinite numbers of times after that.  You won't ever run out of inventory.
(The reality is that software isn't created once, but requires constant updates…however, it's still better than holding inventory!)
Finally, software businesses don't have to be created by software developers!
I am not a programmer!
I don't know how to code anything.  However, I own a successful software business.
Don't limit yourself into thinking that you cannot create a piece of software simply because you don't know how to code.
Hire someone.
If I said to you, "Hey, I'm going to buy some land and build a house"…it's most likely that I mean that I'm simply going to hire a contractor to build the house for me.  It's not a big deal and people do it all the time.
In the same manner, you can just hire a developer to build a piece of software for you and you will own it (just like your house).  The "contract" developer just want to gets paid for his work, not to "own" another house software business.
I'll be diving into exactly how to hire a great developer in a future post.
For now, just realize that a software business can be excellent for MANY reasons, and it's well within your reach…even if you have no clue how to code.
Stop and Think: Make Something Useful and Better
Before you dive into hiring and building software, you need to stop and think for a minute.  The most important aspect of getting started is to find a way that you can bring the world something useful or better than the existing competition.
I know this sounds obvious, but I'm surprised how many software projects that are started that really aren't any better that what is already out there.  If you take the time to research what is out there, I'm sure you can come up with a better idea.
In the post today, I want to cover 3 simple ideas to ensure that you come up with a useful idea that has potential in the marketplace.
3 Ways to Validate Your Software Idea:
Solve Your Own Problem
Be Different From Your Competition
Competitors Making Money?
Solve Your Own Problem
There are so many ways that you can brainstorm for new software ideas.  However, I can only share what has worked well for me.
The idea for Long Tail Pro came to me because I was trying to solve my own problem.  You see back in 2008 and 2009 I was actively building small niche sites.  As a result, I was doing A LOT of keyword research.
The keyword research tools I was using (Market Samurai and Google Keyword Tool) had some limitations when it came to doing LOTS of keyword research quickly.  I was spending hours and hours performing repetitive tasks with this software and I was continually frustrated!
These tools were slow and truly felt like they were built by people unfamiliar with keyword research (like a software guy decided to just create a keyword tool without REALLY understanding how people do keyword research).
I had a problem.  I was "wasting" hours doing keyword research with tools that didn't work well in my work flow.
After doing lots of research, I was still unhappy with the other solutions that were on the market.  I felt like it was time for someone that actually did TONS of keyword research to create a better keyword tool.
I wanted to solve my own problem.
You've probably seen other businesses that have been started by people solving their own problems as well.  A couple of my favorites from Shark Tank are the Drop Stop and Chord Buddy.
Drop Stop was created by solving a problem that one of the founders Marc Newburger had experienced many times.
Here's the Drop Stop story in his own words,
Want To Build Smart & Relevant Internal Links...Quickly?
Link Whisper is a revolutionary tool that makes internal linking much faster, easier, and more effective.  It makes it simple to boost your site's authority in the eyes of Google. You can use Link Whisper to:
Bring out your orphaned content that isn't ranking

Create smart, relevant, and fast internal links

Simple yet effective internal links reporting: what has lots of links and what pages need more links? 
Click here to revolutionize your site's way of doing internal links
Since the era of the modern automobile, we as drivers have put up with the unbelievable hassle of dropping items down the crack of the car seat. I personally can count hundreds of times and many near accidents. But in the waning months of 2006, I almost met my maker. While driving along the Sunset Strip in West Hollywood, CA, I was awaiting a very important phone call. I had placed my phone on the center console to easily reach the call when it came. It rang. The phone vibrated…and fell right down the gap.

While frantically trying in vain to jam my hand down and reach for the phone, I took my eyes off the road, pulled the wheel to the right as I leaned to retrieve the phone, jumped the curb, slammed the brakes, nearly struck a pedestrian, and came within 2 inches of smashing into a metal pole. I screamed at the top of my lungs, "Why doesn't someone come up with a way to block that stupid crack??!!" After collecting myself and being thankful no one was hurt, I paused and thought, 'Yes, why doesn't someone make something? I don't think I've ever seen anything to block that problem in my entire life.'
The Drop Stop was invented shortly after that and has now sold millions and is one of the nine most successful businesses to come out of Shark Tank.
The Chord Buddy is another successful Shark Tank business that was born out of solving a problem for the founder.
Travis Perry, the founder of Chord Buddy, was trying to teach his daughter to play guitar.  However, his daughter was frustrated because the strings were difficult to push with her small fingers.
As a result, Travis developed the Chord Buddy product and his daughter was able to finally enjoy learning how to play guitar. He then went on to sell his product to lots of other people and get a deal on Shark Tank with Robert Herjavec.
Now, there are LOTS of other ways to come up with software product ideas; however, I recommend trying to solve your own problems.  This has worked very well for me as I created Long Tail Pro by doing just that.  And there are countless other businesses out there that came about by the founders solving their own problems.
Be Different From Your Competition
So, the first step in creating a software business is finding that great idea.  However, simply because your idea solves your own problem, doesn't mean it's automatically better than what is currently on the market.
Now is the time to go out and research what other products are already trying to solve the problem that you are having.
For example, with Long Tail Pro, I was particularly frustrated with the length of time it took to search for lots of keywords on existing tools.  As a result, one of my primary ideas was to simply allow users to input multiple seed keywords at once.
This is a very simple feature that was different than my competitors.
For example Market Samurai, a well known keyword tool back in 2010, only allowed users to input 1 seed keyword at a time (and it still only allows 1 seed keyword at a time).
Here's a screenshot of Market Samurai:
Sadly, I can only input "dog collar".  I have to fully start a new project if I want to search for something other than "dog collar".  It's extremely time consuming.
So, when I compared directly to my competitors, I KNEW I had something different.  Long Tail Pro would give users the ability to search for lots of keywords at once and I also streamlined lots of the filtering and research options.
Here's a screenshot of the newest version of Long Tail Pro: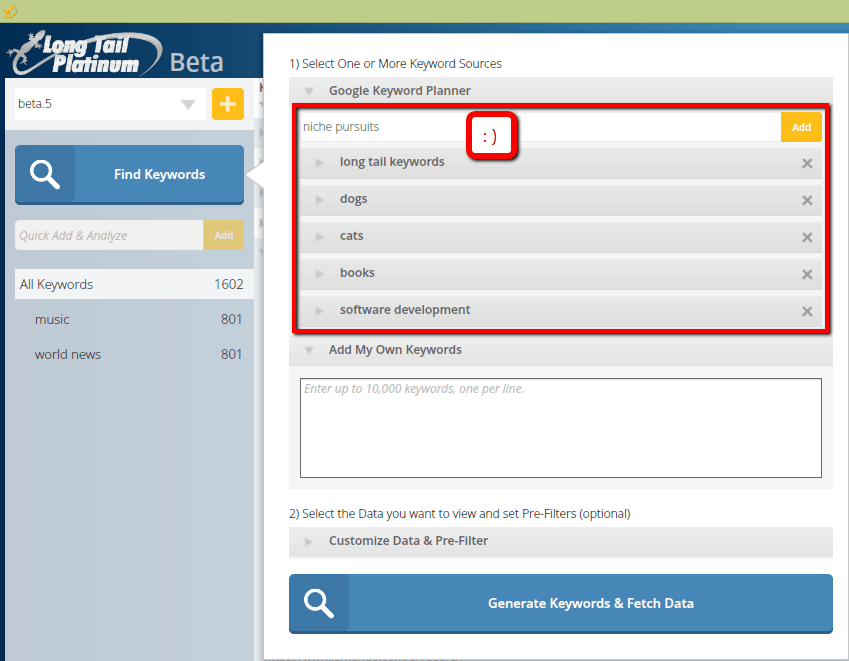 I've simply input 6 seed keywords as an example.  Now, the software will handle all this research for me at once, rather than going back and forth to input new seed keywords like competing tools were forcing users to do.
This and other simple features definitely results in a big time saving for users.  I did a video demonstration showing that Long Tail Pro makes your keyword research 8 times faster than competing products.
So, does your software idea stand out from your competitors in any way?
It needs to be either faster, easier to user, cheaper, work better, or address a pain point of users that isn't fully being addressed.
I have discussed the importance of being "the one" in a recent blog post and podcast here.  You can't expect to build a successful business if your software product is exactly like your competitors.  You need to stand out in one way or another.
Competitors Making Money?
Okay, so you've solved your own problem and you've even figured out how to make a software product different from your competitors.
However, now you need to determine if anyone is actually interested in buying a product like yours!
The easiest way to find out if there is a market for your product is to find out if your competitors are making any money.  If people are interested in your direct competitors product, then they will likely also be interested in yours (if you can convince them to buy yours first).
In some instances, finding out if your competitors are making money can be relatively easy.
For example, when I was considering whether or not I should create Long Tail Pro, I knew that one of the top keyword tools was Market Samurai.  I got on their email list.
It just so happens that the founder of Market Samurai TOLD me how much the business was making!  I didn't ask him, he just publicly revealed it to everyone on his email list. In fact, he did it on 2 different occasions.
(Remember, these emails are from way back in 2009 or 2010…I had to do some digging to find them).
Here's one:

In this first email, he simply explained that the demand was "mind-blowing" and that over 18,000 people had used the software in the first week.  Whoa…that's alot of people!
But another email REALLY told me how well the business was doing:

So, by simply joining his email list, I was able to find out that my direct competitor had made $6.7 million dollars from the software product.
The answer was pretty clear to me: my competition was DEFINITELY making money!  As a result of these emails and other research, the decision was crystal clear to me…I should definitely create Long Tail Pro.
You may have to do some more digging to find out if your competitors are making money.  However, if you can find anything that references sales, user base, website traffic numbers, or other stats, you can often extrapolate how well the business is doing.
Long Tail Pro met the 3 criteria that I think all software products should meet:
It solved a need in the market place (my own problem)
I was able to make my product different
My competitors were definitely making good money; there was a healthy market out there.
Get Started…
So, as you start brainstorming for your own software ideas, you should be looking at the same criteria.
I also want to emphasize that seeing your competitors making lots of money is a GOOD thing!  Having a healthy market of buyers (even though they are currently buying your competitors products) is better than not truly knowing if there is a good market.
This post is just the beginning.  I have lots more to share about how to actually create the software, launch the software, and grow your business over the long term.
Over the next few weeks I'll be sharing tactics that have worked well in my Long Tail Pro business, and can be applied to your own software business as you get it up and running.
As always, I would love to hear your feedback, so please leave any thoughts or questions that you might have in the comments section below.  Thanks!
Update: Part II is now live: How to Hire a great software developer for your bootstrapped business
---