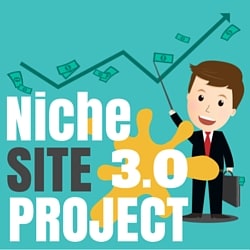 Has it really been a month since we talked? Seems like it was just yesterday. But you know what they say: "Time flies when you're grinding through outreach emails." That's what they say, right?
Really, though, in the last month, Colleen's been kicking some major butt, and we're going to get to that, but I also wanted to reshare how pumped I am for Colleen's big life update: she quit her job and is now officially a traveling site builder!
That's a pretty amazing change. As she mentioned on our call, about a month ago, she put in her notice at her job and just found the cheapest plane ticket to Europe she could find. She didn't care which country she was going to. She just wanted to be free, man!
The best ticket she could find was to Dublin, Ireland. So, now, her social media feed is pretty much all Guiness and fiddles. But I'm stoked for her. Congrats, Colleen!
Of course, she's also been working on her site…
And honestly, she's crushing it. She's had quite a bit of success with her first link building campaign. I got more than one ecstatic Facebook messages from Colleen showing me her new, shiny links.
Like we predicted in our first couple of calls, Colleen's skillset is perfectly suited for linkbuilding and outreach. In fact, her very first campaign converted as well as my best one!
Why? Mostly because communication is one of her primary skills—a skill she's developed for her entire professional career. She knows how to talk (and write) to people, and it shows.
That doesn't mean we're stopping, though. We're on a roll, so we're going to try to leverage that momentum into another great outreach campaign. To do that, we're going to refine our process even further. Here's how.
We're going to rethink linkable assets.
Here's the old way of thinking: linkable assets = epic content.
I think that is short-sighted. More importantly, I think that only thinking about linkable assets as epic content is going to bleed you dry. Creating truly epic content is just way too resource intensive to be efficient.
Say you create a great piece of content. You get an infographic designed. You pay a writer to develop a 5,000- or 10,000-word guide. You buy a press release. You boost a few Facebook posts…
…And you can see how that starts to add up.
Long story short: we don't want to spend $500 every time we need to create a linkable asset. In fact, for Colleen, there's about $50 left in her budget total! We spent most of our budget on content. So it's not even an option.
Instead, like everything else we do, we want to make our linkable assets as efficient as possible. That means we want to be able to create short linkable assets—blog posts that don't take a lot of time.
To do that, we had to rethink what a linkable asset really was. I also went through my whole link profile and all my outreach campaigns to see what it was people were actually linking to.
There were a few of the usual suspects, of course: broken links and epic content. But I also found a few types of content that really were short.
Here's the conclusion I came to: a linkable asset doesn't have to be epic; there simply has to be a good reason for someone to link to it.
After looking at all my guest posting, guestographic, broken linkbuilding and skyscraper campaigns, I was able to categorize my linkable assets into four types.
I'm only going to cover two in this blog posts—the two newer/fresher ones (the other two you've heard before).
Here's a quick rundown of the new linkable assets we created (warning: coining some new terms here, so prepare tweet). There are examples of these in the video, too.
Want To Build Smart & Relevant Internal Links...Quickly?
Link Whisper is a revolutionary tool that makes internal linking much faster, easier, and more effective.  It makes it simple to boost your site's authority in the eyes of Google. You can use Link Whisper to:
Bring out your orphaned content that isn't ranking

Create smart, relevant, and fast internal links

Simple yet effective internal links reporting: what has lots of links and what pages need more links? 
Click here to revolutionize your site's way of doing internal links
1. Overlap Assets
I'm doing this one first because I think it's slightly confusing. I'll do my best.
Overlap assets are simply blog posts bloggers in other markets would want to link to. Almost always, you use these in guest posting campaigns. Here's the idea:
Find overlap between your market and another market;
Pitch a guest post that fits with both markets;
Think about what that guest post needs to link to, and create that asset on your site so you can link to it.
An example.
Say you have a fitness blog, and you want to pitch to DIY blogs. You could pitch something like, "How to DIY Your First Home Gym." That's the pitch.
Then, you could ask yourself, "What would that guest post need to link to?" One thing it might need to link to is the cost of materials.
So, you could create a blog post on your site (the asset) about the cost of fitness equipment called "Fitness Equipment Cost List." That's the asset. It's short. Maybe a couple hundred words. A simple—but good—list.
In other words, you would write a guest post called "How to DIY Your First Home Gym," which would link to your asset, "Fitness Equipment Cost List."
If you wanted more links, you could simply pitch different versions of that guest post to lots of DIY blogs. Or you could come up with other pitches that would want to link to your asset.
2. Timely Assets
Timely assets are blog posts about something that is going to happen really soon.
They're meant to be used as sources for timely guest posts.
Here's an example.
You have an outdoors blog;
Summer is coming up, so you write a post about deer movement in warmer months;
You then pitch guest posts to hunting blogs about how to get ready for the summer hunting season;
In the guest post, you link to your article about deer movement in warmer months.
In other words, both your guest post and your linkable asset are very timely. And because they're so timely, it's almost irresistible to editors. If they want to be a good editor, they need this piece of content before hunting season starts (or whatever).
But the idea is to create an asset and a guest post that are both really timely and would naturally want to link to each other.
Here's the important thing…
These kinds of linkable assets can be short. It's a simple cost list. Or it's 700 words about how deer behave in August. Whatever it is, it doesn't need to be epic. It can be simple and short, but it still gives people a really good reason to link to it.
You can even do this process in reverse, finding good articles on your blog and asking yourself, "What kind of guest post would need to link to this?" Then, just pitch that guest post. That way, you don't have to create anything at all.
Wrapping it up…
I hope all that makes sense. It's really just a matter of pitching hyper-relevant guest posts and creating stuff on your site that your guest posts would need to link to. It's natural, and it's a great way to both get links past editors and capture some highly qualified referral traffic.
So give it a shot!
Watch the Full Coaching Call Here
Or if you would prefer to listen to the audio only, you can download it here.
---