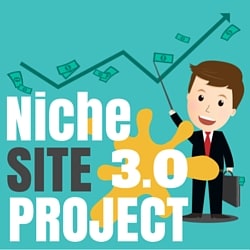 Man… we were so close to revealing our site to you guys this week. Alas, we can't. And it's all Colleen's fault!
Kidding, kidding. Colleen's kicking some major butt, per usual, but we really did want to have the site in a "showroom" state this week (and believe me… we're really looking forward to showing this bad boy off a bit).
But we can't. Not just yet.
Why? Colleen's not quite finished with content. We've been shooting for around 40 articles. That's when we'll officially "launch."
But, long story short, Colleen probably needs another week or so before we're ready to push our site out of the proverbial nest. And that's fine! We were probably overly ambitious, and real-life stuff (like jobs) can certainly get in the way.
So, we're going to give Colleen a bit more time to finish her first round of content before we really start getting busy with outreach.
That doesn't mean Colleen hasn't been gearing up to guest post…
Even though most of her energy has been going to wrapping up her first 40 articles, Colleen's still been working on prospecting some good guest post targets.
Mostly, she's been working her social network to see who has blogs, and she's been looking for very high quality sites she wants links on, so she can try to build some relationships.
And she's hit some snags.
A couple days into her prospecting, Colleen messaged me and said what basically everyone says when I tell them to go find people they know who have blogs. She said, "I asked, and no one has blogs!"
I replied, "Who did you ask?" And it turned out that she'd been just… kind of… brainstorming who might have a blog and asking them directly.
And that's cool! It's a good start! Colleen found three friends who had blogs that way.
However, we did have to expand our strategy. Here's what we did:
Instead of asking people directly, Colleen posted a status on Facebook asking if anyone was an active blogger. This was pretty successful, since people usually enjoy sharing their blogs.
We joined a few easy-to-find Facebook communities and started making friends. The strategy here is the exact same—asking friends if you can guest post; the only difference is these folks will be new friends instead of old friends.
From that, Colleen lined up about 5 guest posts.
How cool is that? All it took was a couple of Facebook messages. Normally, if you were to execute a "traditional" guest posting campaign, that would probably take hours of prospecting and hundreds of emails.
By simply asking friends, Colleen was able to knock it out in a few hours while she was writing. And, let me tell you: for a new site, five links can make an incredible difference.
Colleen's also been making some headway searching big blogs she wants links on. She's mostly been looking at lists of top blogs in her niche. I think we may actually need to shoot higher for these (I talk about another prospecting "hack" in our call), but she's found a lot of good ones already.
In this call, we discuss how to actually EXECUTE guest posting.
So, we're on a roll with our guest post prospecting, and I think it'll be fairly easy to get at least 10 links out of our first campaign.
But how do you actually do guest posting?
If you've never really executed an outreach campaign, it can be pretty daunting. And because it can be daunting, the very last thing I want to do is overcomplicate it. So, on this call, we focused on two things (1) how to set up a good outreach ecosystem and (2) how to approach different kinds of sites.
What do I mean by "outreach ecosystem?"
Basically, tools.
Here's how I define "outreach environment":
Want To Build Smart & Relevant Internal Links...Quickly?
Link Whisper is a revolutionary tool that makes internal linking much faster, easier, and more effective.  It makes it simple to boost your site's authority in the eyes of Google. You can use Link Whisper to:
Bring out your orphaned content that isn't ranking

Create smart, relevant, and fast internal links

Simple yet effective internal links reporting: what has lots of links and what pages need more links? 
Click here to revolutionize your site's way of doing internal links
A place where you can track emails
A platform that allows you to use custom templates
A way to organize your follow-up
A way to keep track of relationships
There are many, many outreach tools out there. The three I typically recommend are (in order of cheapest to most expensive) Yesware, BuzzStream, and Pitchbox.
I won't go through all of them there, and I really don't even dive too deep in our coaching call; however, I can tell you that we'll be using a combination of Yesware and Google Apps. Here's why:
Yesware has a really robust free version, which we'll use to start.
It integrates with Gmail, which greatly reduces the leaning curve
It does 90% of what we need from an outreach tool
Google Apps will let Colleen email from a branded email address (i.e. [email protected])
Google Apps increases Gmail's sending limits by a lot (from 500 to 2,000 daily emails).
Google Apps will let Colleen add team members, which could be useful if she ever wants to outsource her outreach
Is this the best way to go? No. Personally, I like BuzzStream. However, both tools combined will cost Colleen $5/mo unless she wants to upgrade, and she'll be able to do nearly everything at the efficiency we want.
And really, at the end of the day, tools are NOT the most important part of outreach. The most important part of outreach is sending the dang email.
We also talked about how to actually pitch sites.
Here, I honestly feel like Colleen may have more to teach me than I have to teach her. One of her primary skills is communicating with people over email, building consensus, and moving them to action.
That said, I have deployed my fair share of outreach campaigns, and I've come up with some general rules for guest posting.
Here they are:
For small blogs, don't pitch right away. Instead, make friends. After you've got a friend, then pitch.
For big blogs, make it short, sweet, and professional.
This is probably the biggest epiphany I had when I was learning outreach: you have to approach big blogs differently than you do small blogs.
I mean, think about who you're talking to.
The owner of a small blog probably runs it as a passion project. They're likely not making money. They're likely bombarded with spammers on a daily basis. They're ready to reject you. The simple solution, then, is to break down those defenses first, and only pitch them after they like you.
(…watch our call to see how I like to do this in my first email…)
Big sites are a different story. Here, you're likely talking to an editor—someone who doesn't necessarily even care about the site. They just want to do their job and go home. These folks may not want to be friends. They just want to know you can make their job easier. So for them, I like to pitch right up front in a very short email.
(…I show what I like to send these folks in the first email on our call, too…)
Here's the main lesson, though: it's not about your email template. So many people obsess over templates. There's this deep, undying need to know exactly what to say.
That's not important!
I've tested dozen of templates, and you know what? They all work about the same. The overall approach is what really makes the biggest difference.
Overall, we're simply setting a good strategy and gathering our tools.
That way, we can hit the ground running!
So, that's where we're at: the top of the proverbial roller coaster, getting ready to take the plunge.
And who knows, maybe we'll be ready to reveal the site next time!
Watch the Coaching Call Here:
Or if you would rather listen to the audio, you can download the MP3 Here.
---