Flodesk vs Mailchimp – Which of these Beginner-Friendly Email Marketing Tools Comes Out On Top?
When you buy something through one of the links on our site, we may earn an affiliate commission.
If you're looking for beginner-friendly email marketing software, Flodesk and Mailchimp are two of the most popular options around at the moment. In this article, we're going to be taking an in-depth look at Flodesk vs Mailchimp, to see how they measure up against one another and find out which is better overall for email marketing.

Email marketing is one of the most essential tools for growing a business. It's been proven time and time again that email subscribers are much more engaged and more likely to convert than social media followers.

So if you're spending your time growing your social media following whilst neglecting your email list, think again.

This comparison review of Flodesk vs Mailchimp will tell you everything you need to know about these two platforms. We're going to walk you through the features they each offer, as well as their pros and cons, so by the end, you will be able to decide which one is right for your business.

Try Flodesk for Free Here

or

Try MailChimp for Free Here
The Main Differences Between Flodesk vs Mailchimp
In a rush? Here are the main differences between Flodesk vs Mailchimp.
Flodesk is very much catered toward the beginner email marketer, and the platform shows this. There are limited options available for customization of email campaigns, and it can be frustrating at times, but it's also very easy to use if you are just starting out.
Flodesk has fixed monthly pricing for unlimited subscribers. Mailchimp has a completely free plan. However, it can quickly become more expensive as your list grows.
Mailchimp is built to be beginner-friendly but also serves more experienced users. Because of this, the platform feels more professional, and it has a huge range of advanced features and analytics for email campaigns.
Flodesk vs Mailchimp
When it comes to Flodesk vs Mailchimp, each company has its own fans that will swear it's the best software on the market for successful email marketing campaigns. But which one is actually better for your email marketing strategy? Keep reading to find out.
Flodesk Overview
Flodesk has become of the most popular email marketing platforms in recent years. It has a strong reputation for being user-friendly and is aimed towards beginner email marketers. The platform has an intuitive user interface, with basic but powerful features. It also offers excellent support which makes it a great option for anyone that's just starting out in email marketing.
Try Flodesk for Free Here
Flodesk Main Features
User-friendly interface
Excellent customer support
Beautiful templates
Ability to customize presets
Ability to add multiple types of content – gifs, CTA buttons, videos, etc.
Automation tools
Content repurposing
Ease of Use
Flodesk has made a name for itself by creating an incredibly user-friendly platform. The platform has been designed to be accessible for everyone and is very easy to use because of this. The tool makes it easy to create beautiful emails using their basic (but nevertheless stunning) templates.
Flodesk is built so as not to overwhelm newbie marketers. Because of this, if you're more experienced, then you might find Flodesk frustrating due to its limited features. If you want to create more detailed lists or entirely on-brand newsletters without compromise, then you're going to hit a wall with this software.
Customer Support
Flodesk has become well-known for offering excellent customer support. You can contact their support team by email, to which they usually respond very quickly.
There is also a 'Flodesk Insiders' Facebook group where you're able to ask questions and share tips on email marketing. Questions are usually answered pretty quickly by more experienced users or the admins of the group.
Flodesk also has a comprehensive help section on its website. Here you will find easy-to-follow guides and tutorial videos to help you get the answer you need when you need it.
Integrations
While Flodesk has made a name for itself by being easy to use for email marketing, the process of integrations is not quite as straightforward. Flodesk offers a very limited number of native integrations. At the time of writing, they only offer Shopify and Instagram as native integrations. This allows you to display your Instagram posts on your newsletters and gather information from your Shopify customers to add them to your newsletter database.
If you want more integrations, then you can install Zapier. This will add more functionality but can be complicated to do, and even then, you still have very few integration options.
Customer Reviews
Flodesk scores very highly with its customers! It has an average review score of 4.5 stars out of 5 on most of the major review websites, including WordPress's own review section.
The reviews repeatedly mentioned excellent customer service. Reviewers say it's friendly, fast, and suited to most users—particularly beginners with the tutorials on the help forum.
Lots of users mentioned the gorgeous templates that allow you to create a professional-looking email with very little effort. The beginner-friendly interface when creating marketing emails was also highly praised.
A lot of the criticism came from more experienced users who felt that the software was restrictive. They commented on a lack of customization options and a disappointingly lacking amount of native integrations.
Flodesk Pros and Cons
PROS
Excellent customer support
Beginner-friendly interface
Offers a longer free trial
Stunning templates
Good automation tools
CONS
Flat rate pricing can be less affordable for smaller users
No free plan is available
Limited customizations
Very few templates
Flodesk Pricing
Flodesk has quite a different pricing structure from most other platforms. While most platforms offer different levels depending on the size of your email list and what features you need, the Flodesk subscription is a one-off fee of $38 per month that gives you access to everything and unlimited email subscribers.
This flat fee can work both in your favor and against you. If you're a new email marketer or small business then this is a lot of money, and you could definitely get more affordable options with better features elsewhere for your email marketing. However, if you have a large list and you're sending out several newsletters per week then you'll actually find Flodesk to be more affordable than other options that charge by feature access or subscribers.
Flodesk sadly doesn't have a free forever model. However, they do allow you a 30-day trial to get used to the platform and decide if you like it.
Get a free 30-day trial of Flodesk here
Mailchimp Overview
Mailchimp has long been considered THE email marketing platform for small businesses. It was one of the first on the market and quickly became the standard platform for small and large businesses alike.
Mailchimp has worked for years to create a simple but effective platform that delivers highly customizable emails.
Mailchimp Main Features
Highly customizable templates
The ability to start from scratch and design your own emails
Ability to add in a color code for a complete branding match
Utilize multiple email lists and campaigns at once
Marketing automation
Read receipts and link click reports
Detailed analytics
Good customer support
Ease of Use
Mailchimp is the grandfather of modern email marketing platforms. It was one of the first popular platforms and was industry standard for a long time. While other platforms have taken a chunk of the market share in recent years, Mailchimp is still the go-to for small businesses because it's so user-friendly and accommodates total beginners.
The easy-to-use email builder lets you choose from a range of professional-looking email templates. Each email template can be customized to your branding with your own colors and imagery. You can also code your own email templates from scratch, which gives you complete creative freedom and flexibility when it comes to design options for your email marketing.
The user interface is very easy to navigate and makes it simple to follow. Everything is placed in intuitive menus, and the platform uses simple language to accommodate novice email marketers. Even newbies can create professional-looking email sequences to grow their business.
Customer Support
Despite being a relatively user-friendly platform, you might need to contact support once in a while.
Mailchimp gives a variety of support options, including:
Mailchimp assistant
Email support
24/7 chat support
Weekday phone support
The catch is, some of these support options are only available on paid plans. Free plans have access to the Mailchimp assistant and email support. All paid plans give you access to 24/7 chat support. However, phone support is only available on the Marketing Premium plan.
The blessing here is that Mailchimp is such a widely used software that you could probably google the issue that you're having and find multiple support articles on other websites.
Integrations
When it comes to integrations, Mailchimp has the benefit of being one of the older email marketing platforms that was industry standard in its heyday. Because of this, a huge number of plugins and additional software have been built to work with Mailchimp.
Popular native integrations include:
Stripe
Squarespace
Livechat
Zendesk
But there are lots more to choose from too. In fact, Mailchimp integrates seamlessly with most popular marketing and CRM software.
Customer Reviews
Mailchimp has fairly mixed customer reviews, but still scores 8.2 out of 10 on TrustRadius. It also scores 4.2 out of 5 on G2, with plenty of raving reviews.
In the positive reviews, Mailchimp is mentioned as an incredibly powerful software. Users love that it offers a lot of customization options and the ability to very easily grow and manage your email list.
The main complaint was the customer service. This is likely because customer support is limited on free accounts. Many reviews report not being able to contact anyone when they needed support and some users even said that they'd had their accounts deleted with no warning and weren't able to talk to anyone about this.
Mailchimp Pros and Cons
PROS
Free forever version
Easy to create emails from scratch
Lots of templates
Easy to manage your lists
Ability to personalize emails for each person
CONS
Limited customer service on free plans
Tags aren't as detailed as more experienced users would like
Higher tier pricing can get expensive
Pricing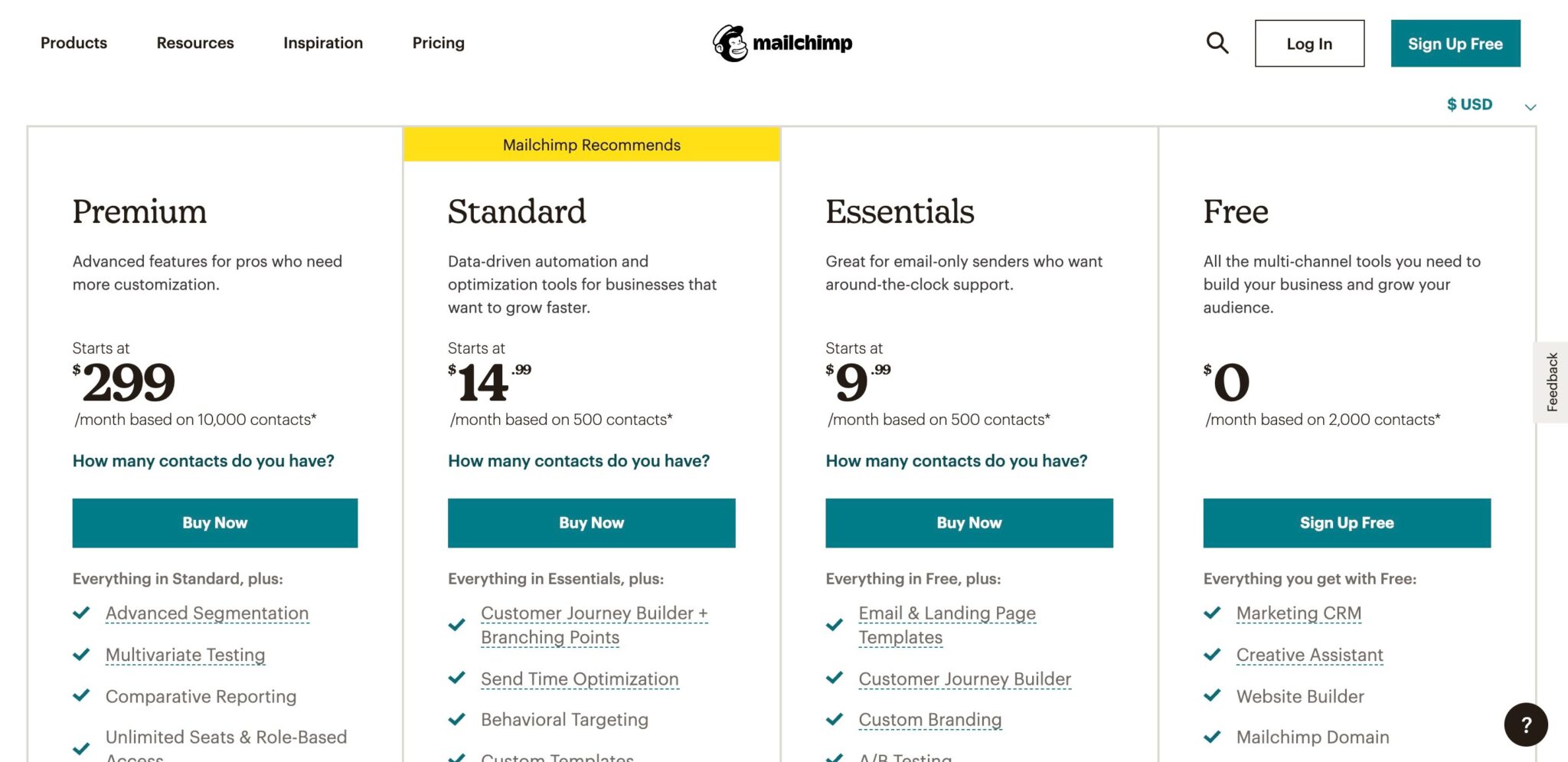 MailChimp stands out as one of the best options in terms of pricing. The platform offers an extensive free forever model, which would be great for creators or small businesses.
If you want more features or you have a larger email list, then pricing starts at just $10 per month. However, if you have a larger email list, it can very quickly get expensive. It can cost upwards of $299 based on an email list of 10,000 contacts.
Flodesk vs Mailchimp: The Verdict
When comparing Flodesk vs Mailchimp, which is better overall?
If you're looking for an email marketing platform that will grow with you and will work for you as a beginner and as you start to gain more experience, then Mailchimp wins hands down.
This email marketing tool is easy to use, well laid out, and offers lots of customization options. And it does all this without being overwhelming for new users. Because of this, it's a great all-rounder for email marketing and marketing automation.
The free forever model is hugely functional and is a great option for bloggers and small businesses alike. Once your subscriber count passes the 500 mark, the platform is still very affordable. It will continue to be reasonably affordable unless you end up with a huge email list.
If you want an email marketing software that can do it all, then Mailchimp wins, hands down.
Flodesk is also a great option for anyone looking for a beginner-friendly email marketing platform. The only real downside is that it doesn't have all the bells and whistles that Mailchimp offers. However, if you don't need all the features, it's perfect for creating beautiful-looking emails almost effortlessly.
Want to know more about Mailchimp and take the free plan for a test run? Get started here.
Try Mailchimp here
If you think Flodesk might be a better option for you, you can take advantage of their 30-day free trial right here.
Try Flodesk Here
If you're still undecided, you might want to check out ConvertKit. It's one of the best email marketing platforms around, and it even has a free plan for those just getting started. Read our in-depth Convertkit Review to find out more.
Try ConvertKit here
Want to learn step-by-step how I built my Niche Site Empire up to a full-time income?
Yes! I Love to Learn
Learn How I Built My Niche Site Empire to a Full-time Income
How to Pick the Right Keywords at the START, and avoid the losers
How to Scale and Outsource 90% of the Work, Allowing Your Empire to GROW Without You
How to Build a Site That Gets REAL TRAFFIC FROM GOOGLE (every. single. day.)
Subscribe to the Niche Pursuits Newsletter delivered with value 3X per week